The 10 Best Family Holiday Destinations for 2020
Looking for the best family holiday destinations for your family travels? Look no further!
We've pulled together a list of the ten best family holiday destinations for 2020 to help you narrow down your search. Most destinations these days are easy to travel to with a family, but these ten stand out as being exceptionally family-friendly.
These top family holiday destinations around the world cover the best family beach holidays, family adventure holidays,  all-inclusive family holidays, best cheap family holidays and a few wildcards that surprised us. We've made sure to include a large variety of family vacations so you're bound to find something suitable!
These are all destinations we've visited ourselves, where we've enjoyed our best family holidays over the years. When planning your family holiday, remember to check out our tips on finding and booking cheap flights and search the best flight deals on Skyscanner.
1. Sri Lanka
Sri Lanka has been growing in popularity over the years due to its amazing beaches, wildlife spotting opportunities and colonial tea estates in the beautiful hill country. All of this is packaged into a relatively small island, so it's easy to go to Sri Lanka and enjoy a very varied itinerary. It's had a few setbacks, but it bounces back.  We're so happy to see it consistently voted as a top tourist destination because a large percentage of the population relies on tourism. Sri Lankans welcome tourists with open arms. Their hospitality knows no bounds and they love children.
It's a 10-hour flight from the UK to Sri Lanka and while your flight may seem relatively expensive, once you're there, you can live incredibly cheaply. There's an astounding choice of family-friendly accommodation in Sri Lanka to suit every budget and the Sri Lankan food has been voted as some of the best in the world.
Whether you're seeking a relaxing beach holiday or the kids want to see elephants on safari, Sri Lanka has something for everyone and it's one of our favourite places in the world to travel with a family.
Best time to visit Sri Lanka
Sri Lanka is a year-round destination due to having two climates. When the north is experiencing a rainy season, it's dry and sunny in the south and west and when the south is having its rainy season, it's dry and sunny in the north and east.
2. Iceland
How can you not put Iceland on a list of top family travel destinations? The land of fire and ice with incredibly scenic, otherworldly landscapes. It's a quick 2.5-hour flight from the UK to Iceland and depending on the time of year, you can find very cheap flights to Iceland.
Iceland has developed a reputation for being expensive, but with our tips for visiting Iceland on a budget, you can actually have a pretty cheap Iceland holiday with the family. One of the things we loved about it is that almost all of the main sights there are free. There's no charge to visit the world-famous waterfalls, glacier lagoon, black beaches or iconic mountains. We spent every day outside visiting some of the most beautiful scenery on earth without spending a penny.
If you're visiting with kids, we highly recommend hiring a car in Iceland to give you more flexibility. This will also save you a lot of money as you can do things like searching out the Icelandic Northern Lights yourself rather than joining a long and not particularly child-friendly tour. The main roads are in great condition for most of the year, making driving in Iceland easy.
Our favourite thing to do there was to visit hot springs, but not the Blue Lagoon! Read our 6 day Iceland itinerary to find out what you can expect to do with 6 days in Iceland and why we decided not to visit the Blue Lagoon.
Best time to visit Iceland
The best times to visit Iceland in terms of getting the best accommodation prices are May and October. If you want warmer weather and hope to see the puffins, May is a good time to go. If you want colder weather and hope to see the Northern Lights, October is a good time to go.
3. Jordan
Home to Petra, one of the New Seven Wonders of the World, Jordan was going to be an adventure from start to finish. If you're an Indiana Jones fan, you'll no doubt want to visit Petra which is a fantastic place for kids to explore, but did you know that the Wadi Rum desert is the closest place on earth to a Martian landscape? Spending a night under the stars in a bedouin tent and exploring the desert by 4×4 jeep was definitely a highlight for the kids.
10 days is the perfect amount of time to spend in Jordan to see the main sights; Jerash, Petra, Wadi Rum, the Dead Sea, and the Red Sea. We also recommend self-driving in Jordan as the roads are good and everything is well signposted.
The Jordanians are incredibly friendly and they adore children. Expect to hear 'Habibi' (my darling) directed at the kids from strangers as you walk around. As for food, we picked up lots of fresh chicken shawarmas, humous, grilled chicken, flatbreads, and rice with lots of fresh fruit juices.
Best time to visit Jordan
April and October are great times to visit Jordan in terms of the weather. It's not too hot and Wadi Rum won't be cold at night.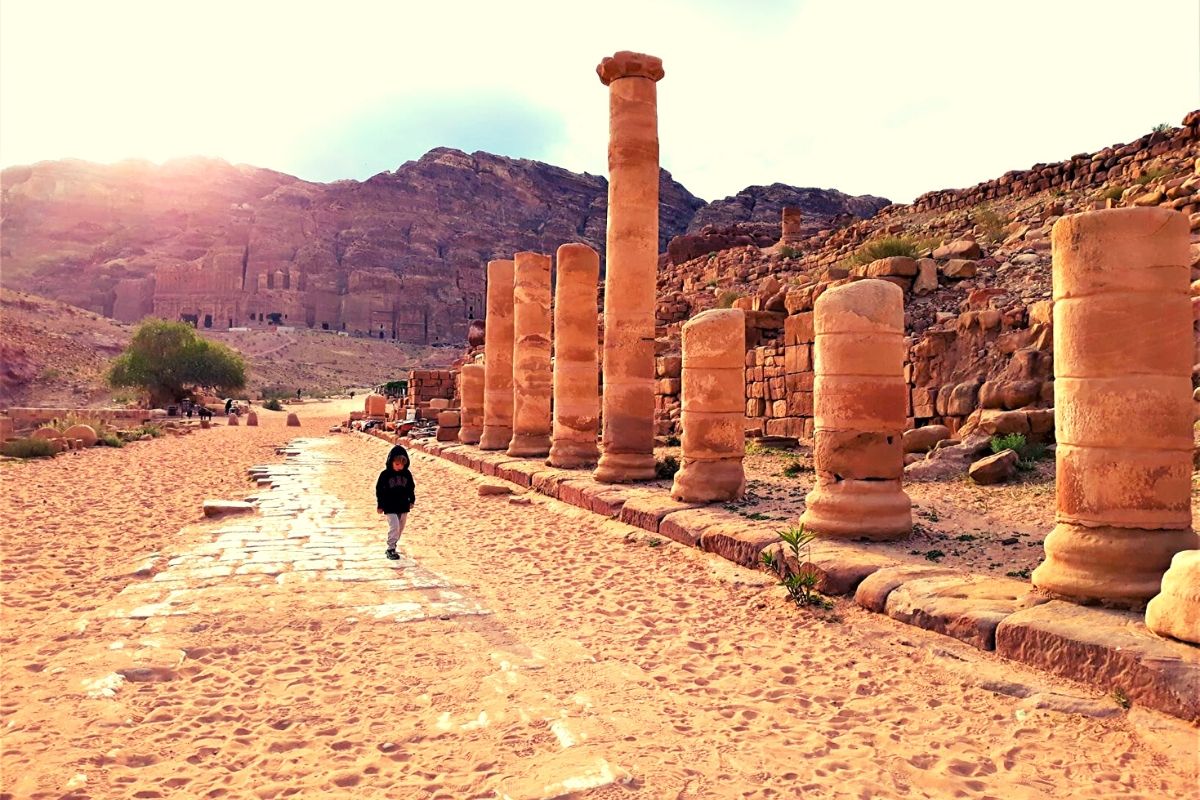 The Colonnaded Street Petra
4. South Africa
South Africa is one of our favourite family holiday destinations in the world for all-around awesomeness. Cape Town is one of the most vibrant cities anywhere, and it happens to also be one of the most beautiful cities in the world, with the iconic Table Mountain dominating its skyline and a selection of first-class beaches.
If you're a wine lover, head to the South African Winelands where you'll find many family-friendly South African wineries producing world-class wines (and be able to enjoy a memorable family-friendly picnic in a stunning location.) This is one of our favourite things to do in South Africa with the kids.
The biggest draw for us, however, is the South African wildlife. Whether it's penguins in Cape Town, whales off the coast of Hermanus or lions in the Kruger, you are spoilt for choice. South Africa is the best place for a family-friendly safari and it's why we're heading back there in 2020.
The food and accommodation choices are exceptional and with the current exchange rate, you get so much bang for your buck.
Best time to visit South Africa
If you're visiting Cape Town and the Garden Route, the best time to visit for weather is between December and March, during their summer. March to May and September to November are good times to visit as it's shoulder season and you'll find lower rates and fewer crowds. Any time of year is a good time if you're visiting the Kruger National Park.
5. Western Canada
Canada is a dream destination for nature lovers. The sheer beauty of the Rockies running between Vancouver and Calgary, including the famous Icefields Parkway, is breathtaking as are the many islands, large and small, off the west coast of Canada. Head to Whistler in summer or winter for some extreme sports action. There's also a huge amount for families to do in Banff National Park and the less-visited Jasper National Park. If you're lucky, you might spot either a grizzly bear or a black bear, as well as other indigenous animals.
There are some great things to do in Calgary, and we highly recommend visiting Drumheller for the ultimate dinosaur adventure. If you have the time, why not drive from Vancouver to Calgary on an epic road trip? It's up there with one of the best road trips in the world.
Canada is an incredibly friendly and welcoming country where people go out of their way to help you, always with a smile, whether your travelling with your family or anyone else.
Best time to visit Western Canada
The best time to visit Western Canada very much depends on what you want to do there. If you want to ski, then you need to visit between December and March. Hiking is generally better in the reasonably warm weather between June and August. If you're visiting Banff in July and August, you will encounter crowds and the only way of visiting Lake Louise or Moraine Lake is to go very early.
6. Maldives
The Maldives is no longer exclusively a honeymoon destination and has a number of family-friendly resorts these days. A Maldives family holiday is one of the best all-inclusive family holidays you will ever have. Who can resist the temptation of a tropical island with perfectly white sand and impossibly turquoise waters?
It's not the type of travel we normally do as we prefer adventure travel that's easier on the budget, but when we realised it was only a 90-minute flight from Sri Lanka we added it as a stopover to our Sri Lanka itinerary. The highlights for the kids were the baby sharks swimming next to the shore and the kids club. The highlights for the adults were the diving and snorkelling, the food, the spa and the kids club. Pretty much everything.
Granted, it's not going to make it onto a list of cheap family holiday destinations, but everyone should have a bucket list, right? Having said that, there are plenty of budget accommodation options on islands not owned by the big resorts, so you can actually have a budget Maldivian holiday if you don't need all the frills.
We stayed at the Centara Grand Island Resort & Spa.  If you'd like more information, check out our review of the Centara Grand Island Resort & Spa. Sometimes you'll find great deals if you book direct with Centara.
Best time to visit the Maldives
The Maldives enjoys warm weather all year round, but the rainy season runs from May to November. High season is December to March and prices increase accordingly.
7. London
We're all about staycations this year and will be taking some UK family holidays in 2020. Top of our list in the UK  has to be our home town, London.
London is a huge favourite with families from the UK and around the world. Big cities, on the whole, can be expensive, but the great thing about London is that there is an incredible number of free things to do in London with kids. There are also a staggering amount of restaurants to suit every budget, so London doesn't have to be an expensive place to visit.
London is a great year-round destination, although Christmas is our favourite time to spend London with the kids. It's good for a city break, a day trip or, if you're travelling to London from further afield, it's a good place to keep the family entertained for a week or two.  You can also use it as a base to explore Europe from, taking advantage of the budget airlines flying out of the London airports, or hop on the Eurostar.
Best time to visit London
The best time to visit London for the weather is between June to September. The sun is shining, the parks are green and everyone is in a better mood. This is also the busiest and most expensive time to visit. If you don't mind cooler temperatures, you should visit in March and October during shoulder season. Have you even visited London if it didn't rain?
8. France
For us, France is one of the best family destinations in Europe because it has everything. It's a little like South Africa in the sense it has great beaches, mountains, food and, of course, wine. The thing that France has over South Africa is that it's much closer to the UK. We love to go to France in the summer because we don't feel the need to travel further afield when we have so much on our doorstep.
France has so much to offer so we try to go somewhere different every summer. Some of our favourite regions are:
Gorges du Verdon (Provence)
– for unlimited outdoor activities for kids (and wine, particularly the rosé). We stayed in the fantastic Camping La Farigoulette in a safari-style tent. It was on the edge of a lake where we could hire electric boats and kayaks to explore. It's just a few kilometres from the beautiful Lac du Sainte-Croix and one of the most beautiful villages of France, Moustiers-Sainte-Marie. In June and July, you'll also see fields and fields of lavender and sunflowers.
The Loire
– for the world-famous Chateaux of the Loire Valley (and wine). There are a staggering 42 chateaux in the Loire region and we visited a fair few of them. We loved the Cheateau de Chenonceau, Chinon, Chambord and Azay Le Rideau.
Alsace
– for cute fairy tale villages (and wine). Make sure to visit Kayersberg, Eguisheim, Riquewihr and Colmar. You'll see where Disney got its inspiration for the film Beauty and the Beast.  The narrow pedestrian streets are perfect for the kids to explore. If you are there around Christmas, Colmar has one of the best Christmas Markets in Europe.
We based ourselves in Colmar and explored the Alsace region over a long weekend, but you can easily spend much longer here.
Paris
– for culture and iconic sights; The Louvre, the Eiffel Tower, the Sacre Coeur, the Arc de Triomphe. It goes without saying that the food choice is outstanding. Our boys are quite partial to a steak haché and frites which is usually on most menus.
Our top tip for visiting Paris with kids is to mix up your modes of transport. Take a Batobus between some of the sights as it's a fun and cheap way to sightsee. Hop on the Paris métro, particularly line 6 and get a fantastic view of the Eiffel Tower as the train passes over the Pont de Bir-Hakeim. Paris also has electric scooters that you can rent once you have downloaded an app. These were fun to ride around the Champs de Mars gardens by the Eiffel Tower.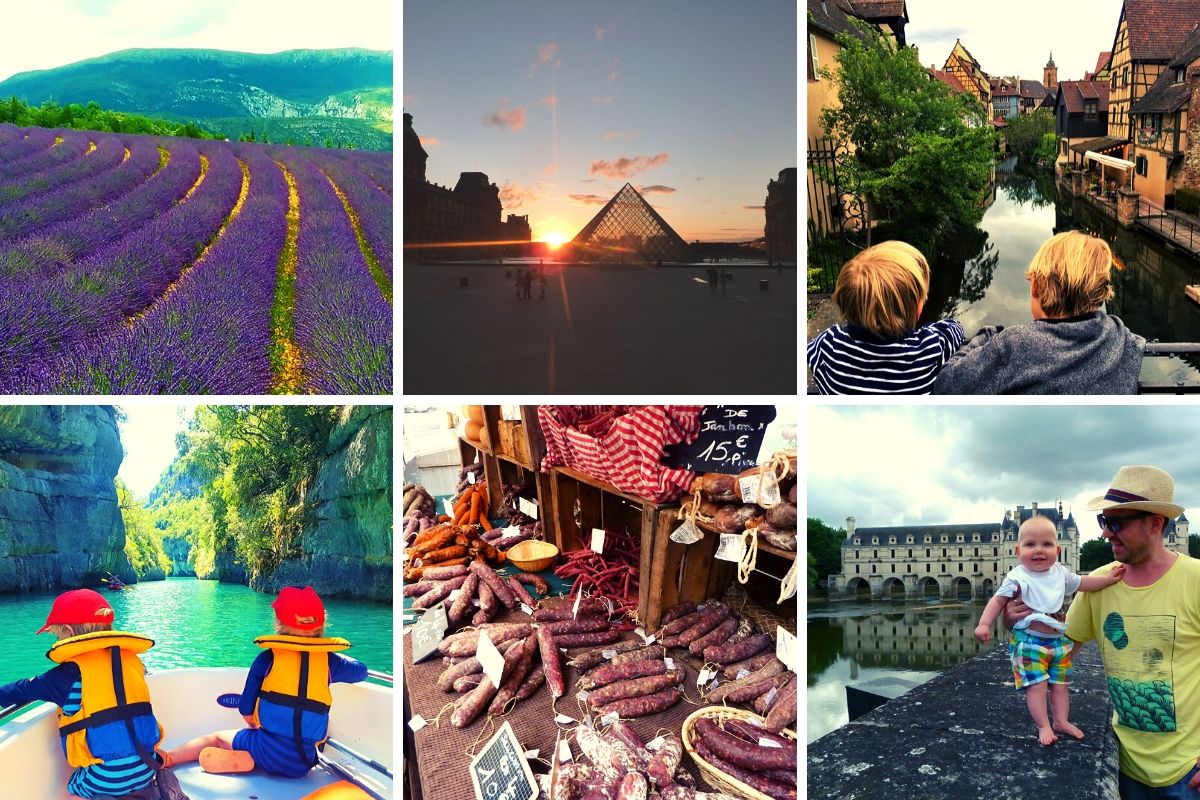 9. Florida
Who knew there's more to Florida than Disney? We took the kids aged 22 months and 3 months when they were too young for Disney so we checked out everything else Florida had to offer on a 4-week road trip.
What we love about Florida is the excellent selection of villas with pools. It's so easy and cheap to hire a car and self-cater in the US. There are fantastic villas with covered pools all over Florida, so you can swim no matter the weather.
The highlights of our road trip were:
Crystal River
– for the manatees
– for sunset walks on the long stretches of white sandy beaches, warm, calm water and the best donuts at the Donut Experiment
St Augustine
– for being the oldest city in the US and colonial architecture
Everglades
– for aligator spotting
Sannibel Island
– for shell collecting and powder-white beaches
The Florida Keys
– for watersports, sealife encounters and some great restaurants in Key Largo
Orlando
– for Disney. OK, we did sneak into one Disney park for a quick look around to see what all the fuss was about. We were there at 9 am and there were no queues. We took the kids on the safari ride and by the time we were done with that, the park had filled up and we left. I'm sure we'll be back one day to do it properly.
Best time to visit Florida
Florida is a great winter escape destination from the UK. The weather in the winter months between November to March is very pleasant, particularly further south. The weather in St Augustine in northern Florida was considerably cooler.
10. Morocco
Morocco is the closest place to the UK we've been to that feels a million miles away from the UK! It's an assault on the senses (in a good way).
If you're heading to Marrakech but don't want to stay in the Medina with little ones, head for the resort hotels around the Palmeraie. These properties will have large accommodation for families, something that is quite hard to find in the Medina. We love Le Vizir Centre Parc & Resort which is an extremely affordable family-friendly hotel, with great kids pool and self-catering apartments.
You may want to do at least one night in the Medina though – in a beautiful riad. It's an incredible experience. In this case, we recommend Riad Dar One (ask for extra beds) near the Jemaa el-Fnaa
There's so much to see and do in Morocco. We love the contrast of the hustle and bustle of Marrakech to the simple beauty of rural Morocco. If you think Marrakech might be a little crazy for you (and question whether it's safe for a family holiday), hop in your car and you can find exactly the same on a smaller scale in Fez and Meknes. Don't miss Chefchaouen, the blue city, for its laid back charm and incredible blue hues!
If you're feeling a little energetic, stay in the foothills of the Atlas Mountains and do some hiking. We highly recommend Ouirgane Ecolodge.
Best time to visit Morocco
Morocco can get incredibly hot in the summer months, particularly in Marrakech. Marrakech is great to visit in April/May and September/October. You can escape the heat in the Atlas foothills, but during the winter months it will likely be very cold here.
We'd love to know if you have any travel plans for 2020. Where's on your radar? Get in touch by leaving a comment!
If you found this post helpful, why not bookmark it, share it with friends or pin it for later?