10 Castles In France You Must Put On Your France Bucket List
It almost feels like wherever you turn there is a château or a castle in France. There are an estimated 45,000 castles in France so actually, there is pretty much one everywhere you turn!
The fantastic choice of castles in France is one of the reasons why we love France so much. They offer a fascinating insight into the history of the area you are visiting and are visually stunning with amazing views.
The castles in France are so interesting as they range from medieval fortresses to spectacular palaces. And this is where there is sometimes some confusion.
This post contains affiliate links. If you book accommodation through them, we may earn a small commission after your stay but this is at no additional cost to you.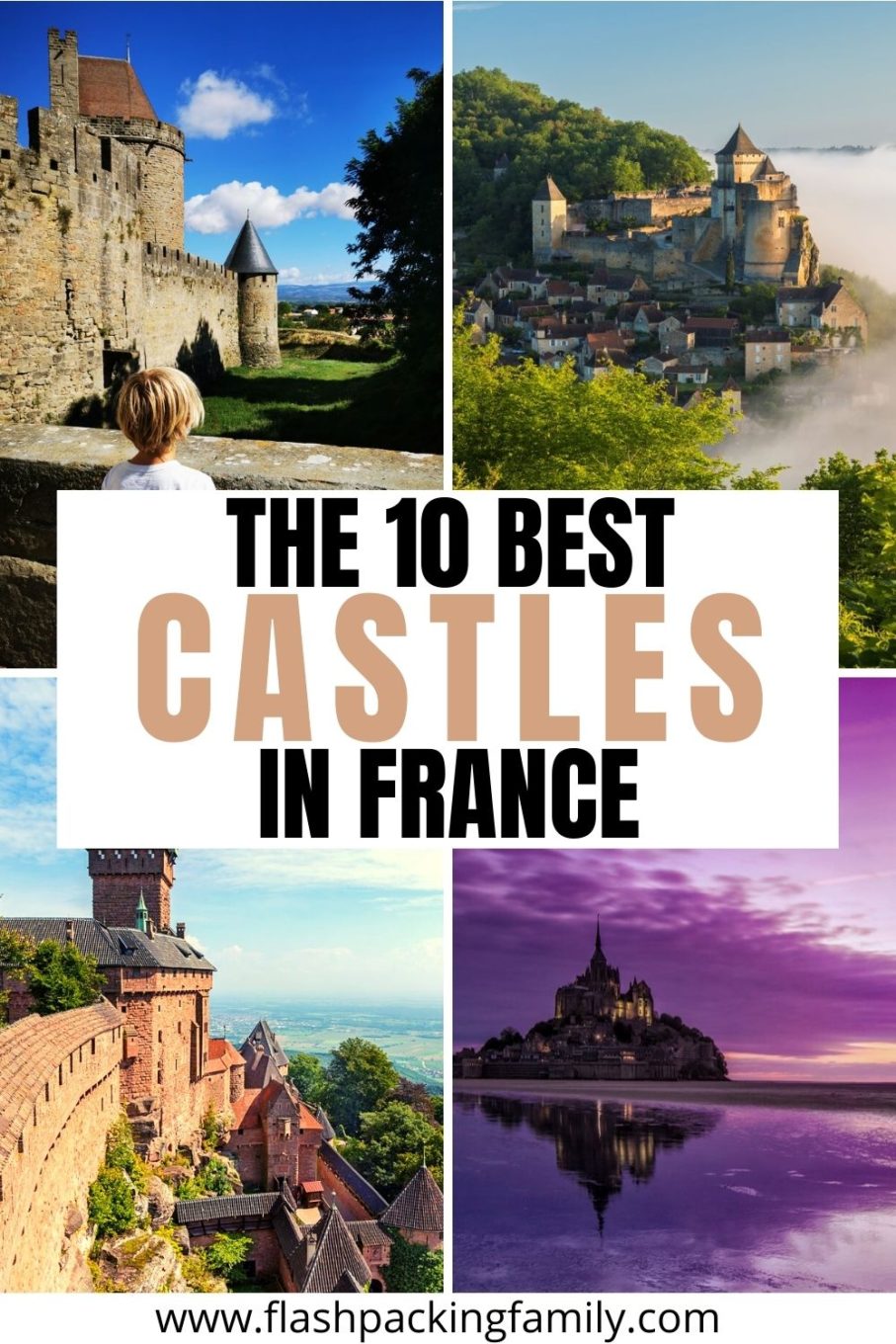 What is the difference between a castle and a chateau?
The word 'château' actually has two different meanings in English. It can mean 'castle' which we know to be a fortified structure, usually built for defensive purposes. It can also mean a palatial residence built to look like a castle (Chenonceau) or a grand residence (Versailles).
There is a debate on what is a chateau and what is a castle as the lines can get a little blurred. This is understandable when you see some châteaux in France that look like castles but were not built for the purpose of defence.
For the purpose of this post, we have focused on the castles in France in the sense of defensive fortresses. Tackling the palatial château in France is a whole other ball game.
But with so many to choose from, which are the best castles in France?
1. Carcassonne (Aude)
Carcassonne castle, a UNESCO World Heritage Site, is perhaps the ultimate fairy tale castle in France with its Rapunzel turrets. It is also one of the most famous castles in France and certainly the most impressive medieval castle in France.
There has been a defensive presence on the hilltop where Carcassonne is located since 100 BC. There are even traces of the Roman building dating back to the 5th century, although most of the castle that we see today was built in the 11th and 13th centuries.
The Cité de Carcassonne is a mass of narrow, cobbled streets, restaurants and tourist shops. It has been impressively restored, and almost has an air of a Disney castle.
If you are looking for castles in southern France, this is the one to visit, although attracting over 4 million visitors each year, it is one of those places that you really need to visit early in the day to avoid the crowds.
Once you have seen enough of the Cité de Carcassonne, don't forget to take in the view of Carcassonne from across the vines. This is actually our favourite view of this French castle. It provides a lovely backdrop for our beloved VW Campervan.
As a side not, one of the best campsites in France, Camping Domaine de la Besse, is not far from Carcassonne and is a great place to base yourself for exploring the area. don't worry. You don't need a tent or a campervan to stay there as they have lovely lodges too.
2. Château du Haut Koenigsbourg (Bas-Rhin)
We visited Chateau du Haut Koenigsbourg on a weekend trip to Alsace. We had never heard of this castle before but it is actually one of the top tourist attractions in France attracting over 600,000 visitors each year.
It was built in the 12th century and it is one of the few castles in France to have been completely restored. It is located high up in the Vosges Mountains, about 65 km southwest of Strasbourg, with unparallelled views across the Alsace Plains.
The drive up to the castle is along a road that twists and turns on itself as you ascend through the trees. As you arrive at the castle you will be amazed at the sheer size of it.
You will need around 2 hours to visit the castle, either by guided tour or self-guided tour. Note when we went in 2019, tours were only available in French.
There are lots of artefacts to view around the castle including medieval weaponry and you can climb to the highest turrets for the amazing views.
When you are in the region, you must make sure to pop in on some of the most beautiful villages in France, Eguisheim and Riquewihr, which are said to the be inspiration for the movie set of Disney's Beauty and the Beast.
3. Château de Pierrefonds (Oise)
Chateau de Pierrefonds is one of the most impressive castles in Northern France. It is the closest significant castle to Paris being only 80 km away and is easily visited on a day trip from Paris once you are done with the main Paris tourist attractions.
Chateau de Pierrefonds was built in the 14th century for Louis d'Orléans but was almost completely destroyed in the 17th century and lay in ruins for two centuries until Napoléon III decided to rebuild it in the style of the perfect medieval castle.
Being the perfect medieval castle, Pierrefonds has been a filming location for several productions including the BBC series, Merlin.
The rooms inside the castle are just as impressive as the outside, although they are very sparsely furnished..
You can probably spend a couple of hours to a half a day at the castle, so if you are looking for other things to do near Pierrefonds we can highly recommend Parc Astérix (which is a great alternative to Disneyland Paris).
We can also recommend  La Croix du Vieux Pont if you are looking for campsites in this area.
4. Château de Beynac (Dordogne)
Chateau de Beynac is located in the beautiful little village of Beynac-et-Cazenac (a plus beaux village) in the Dordogne. This 12th century fortress occupies a commanding position high up above the village with views over the Dordogne River.
It played an important part in the 100 years war, accommodating the French while Richard the Lionheart was positioned at Chateau de Castelnaud opposite. It has been restored beautifully and is a fascinating place to visit . Don't miss climbing the circular stairs of the keep for the best views of all.
There are lots of narrow little cobbled streets that wind up through the ochre coloured houses to reach the castle. As a world of caution, if it is wet, they can be very slippery.
On your way up, make sure to stop to look at the views back over the Dordogne. You will see canoeists passing by (one of the best ways to see the castles in the Dordogne) and Gabarres (traditional boats of the Dordogne).
If you're looking for somewhere for a spot of lunch in Beynac-et-Cazenac, we can highly recommend La Petite Tonnelle for excellent cuisine of the region.
5. Château de Castelnaud (Dordogne)
Interestingly, Chateau de Castelnaud is within a stone's throw of Château de Beynac. Richard the Lionheart was located here during the 100 years war and would look out across to Château de Beynac opposite.
Built in the 12th century, it is the perfect example of a medieval fortress in France. It is perched on a hillside in the Périgord Noir region of the Dordogne and has commanding views over the surrounding countryside.
The castle houses an impressive collection of medieval weaponry and replicas of machinery used when the castle was under siege are placed around the castle as if portraying a reinactment of battle.
6. Château de Niort (Deux-Sèvres)
Château de Niort (Donjon de Niort) is a located in the centre of the town of Niort.  The castle was built in the 12th century and was a strategic base for Richard the Lionsheart to control western France and maintain links with England.
The two remaining keeps were the central part of the castle and were protected by an enormous rectangular curtain wall with twelve towers which was damaged during the Wars of Religion and later demolished.
The castle served as a prison in the 18th century and now is a museum housing exhibits from the Bronze Age, Roman times and the Middle Ages.
If you are unfamiliar with this region, you really should visit nearby 'La Venise Verte'. It is called this because of its network of canals that criss-cross through green farmland and marshland.
It is the ideal location for a cycling holiday with hundreds of kilometres of cycle tracks so make sure to bring your bikes.
7. Château d'Annecy (Haute-Savoie)
Annecy Castle dominates the beautiful Old Town of Annecy, nicknamed the Pearl of the French Alps or the Venice of the Alps. Chateau d'Annecy was built between the 12th and 16th centuries and is a cross between a defensive structure and a grand residence.
Due to fires, the castle was all but destroyed but it was bought by the town of Annecy in the 1950s and has been completely restored and transfored into a museum. The Queen's Tower is the oldest surviving part of the castle, dating back to the 12th century.
There are a number of smaller castles dotted around Lake Annecy that you might want to visit while you are there: Palais de L'Isle, Château de Duingt (also known as Château de Châteauvieux or Château de Ruphy) and Château de Menthon.
8. Château de Loches (Indre-et-Loire)
Chateau de Loches is an emormous castle in the Loire Valley that dominates the town of Loches. It was built in the 9th century and is known for its massive square keep.
It was occuupied during the 12th century by Richard the Lionheart until it was finally captured by King Phillip II in 1204. In 1985 it was converted into a museum and houses one of the largest collections of medieval armour in France.
9. Rocamadour (Lot)
Rocamadour castle is one of the most interesting castles in France because, despite its very prominent position right at the top of an enormous, vertiginous cliff in Rocamadour, it is overshadowed in popularity by the religious sanctuaries below. In fact, it was built to protect this important religious site.
Rocamadour is a sacred town and an important pilgrimage site – being home to a statue of the Black Virgin which dates back to the 12th century. It is a UNESCO World Heritage Site and one of the most visited places in France outside of Paris.
Most visitors come for the religious aspect but the castle is worth a visit, even if just for the views. Actually, that's pretty much all that is available to the public because the rest of the castle is closed off.
There are two ways to reach the castle. You can climb the 216 steps from the town to the sanctuary and continue up a winding path or there is a more direct route from the car park.
The views from the castle over the Alzou Canyon are spectacular, but if you suffer from a fear of heights in any way, you may want to give this one a miss!
10. Mont-Saint-Michel (Manche)
Despite being one of the most famous landmarks in France and one of the UNESCO World Heritage Sites in France, we've snuck Mont-Saint-Michel in at number 10  because it is not actually a castle. It is in fact a monastery but due to its proximity to England and a long-running conflict with the English, ramparts were built at the base of the island to keep the English out so it is partly a castle.
The island of Mont-Saint-Michel lies just under 1 km off the coast of northern France and can be reached either by taking a Navette (shuttle bus) from the mainland near the car park or on foot.
The first church on the island dates back to the 8th century and then from the 10th century onwards, Dukes of Normandy and French kings supported the building of a grand Benedictine Abbey and it became an important pilgrimage site.
It has undergone a major restoration project and is now one of the most visited attractions in France. If you are in this area of France, you really must see it.
On the island you will encounter steep, winding village streets lined with museums, shops and restaurants. Inside the Abbey, you will enjoy the church and cloisters and marvel at the 'Marvel', a wing of the Abbey that sits perched in a gravity defying position. In the summer months you can tour the Abbey at night with lights and music.
Castles in France to stay in
If you have ever wanted to stay in a castle in France, you'll be pleased to know that there are a few great options.
Carcassonne
You can stay inside the Cité de Carcassonne at the stunningly beautiful Hotel de la Cité
Château de Picomtal
Château de Picomtal is located in the Hauts-Alps next to the Serre-Poncon lake.
Château de Mercuès
Chateau de Mercues is located close to Cahors in the Lot Valley (not far from Château de Beynac and Rocamadour).
Château de Codignat
Chateau de Codignat is located in central France close to Clermont Ferrand.
Château de Bagnols
Chateau de Bagnols is located in the south east of France close to Lyon.
Hostellerie du Château des Fines Roches
Hostellerie du Chateau des Fines Roches is located in the south of France close to Avignon on a vineyard.
Château de Camon
Abbaye Chateau de Camon is a beautiful boutique hotel in a fortified village dubbed 'little Carcassonne' and only 55 km from Carcassonne. It also has an outstanding restaurant that needs to be booked well in advance as it is so popular.
Staying in a French château is also very popular, and there are lots more choices available. You can even rent your own château in France if you are a large group.
Best castles in France map
Visiting castles is a passion of mine. Having grown up in Framlingham with Framlingham Castle on my doorstep, I've always been interested in them.
We've visited lots of the best castles in England, with our favourite being Leeds Castle in Kent which we visited on a recent UK staycation in Kent. The castles in Kent are some of the oldest in the country and date back to the Norman invasion of England in 1066. Castles didn't really take off until after the French invasion, so it's really thanks to the French that we have some amazing castles!