The Best Things To Do In Reykjavik With Kids In 2023
Reykjavik is the capital of Iceland and the northernmost capital city in the world. It is a fabulous destination either in the summer or the winter and there are plenty of things to do in Reykjavik with kids to keep you entertained for a weekend or longer.
Many people fly into Reykjavik (Keflavik) and miss out Reykjavik entirely as they set off on a Ring Road tour, but it is a beautiful city.
We highly recommend that you spend at least a day exploring it; from its cute and colourful traditional buildings to its strikingly modern concert hall and its cultural and gastronomic offerings.
It is really quite small as cities go with only 200,000 inhabitants, and you can easily see most of it on foot. Our favourite time to visit Iceland is October.
You get to do pretty much all of the things that you can do in the summer months as well as most of the things that you can do in the winter in Iceland and the weather is not so cold as to make it unpleasant to walk around Reykjavik.
You may have heard that Iceland is expensive. Well, yes it can be – but it doesn't have to be. We have a great post on how to visit Iceland on a budget and one of our top tips is to do all of the free things.
There are lots of free things to do in Reykjavik with kids and we have included some ideas below in amongst the best things to see and do with kids in Reykjavik.
This post contains affiliate links. If you click on one and book or buy something, we may earn a small commission but this is at no extra cost to you.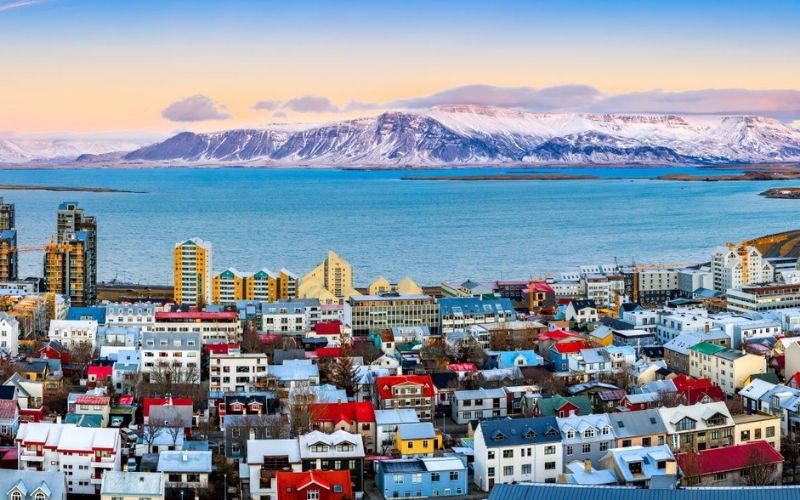 Here are the best things to do in Reykjavik with kids
1. Hallgrímskirkja
Hallgrímskirkja is one of Reykjavik's best known landmarks and you can't miss it if you try.  It stands in a prominent position at the top of a hill in the centre of town and is 74 meters tall, making it one of the tallest buildings in Iceland.
It's one of the top things to do in Reykjavik city centre.
It took 41 years to build and was only finished in 1986. It has a unique, modern appearance. The columns on either side of the main tower represent the basalt columns that you find all over Iceland, in particular at the Gerðuberg Cliffs in the Snaefellsnes Pensinsula.
If it's a clear day, head up the observation tower for fantastic 360 panoramic views of Reykjavik.
Make sure to approach it from Skólavörðustígur street  (aka rainbow street). See more on this below.
2. Sun Voyager
The Sun Voyagar (or Solfarid) is a steel structure resembling a Viking ship on Reykjavik's waterfront. We say it resembles a Viking ship because it's not actually meant to be a Viking ship at all.
The Icelandic sculptor Jon Gunnar Arnason meant this as a dream ship, an ode to the sun. But with Iceland's Viking history, we prefer to think of it as a Viking ship.
It is best visited at sunset when the gleaming structure captures the light and shines brightly against the backdrop of Mount Esja.
You can find more info on the Sun Voyager here.
3. Go to the swimming pool
Visiting a swimming pool on a city break in Reykjavik may not seem like an obvious thing to do but we assure you, it is one of the top things to do in Reykjavik in winter.
In fact, it is an amazing experience to be out swimming or sitting in the jacuzzi while it is snowing. It's also a fabulously social thing to do.
It is one of the best cheap things to do in Reykjavik with kids.
Adult tickets cost around £6.00 and child tickets (between 6-17 years old) are under £1.00.
There are a number of swimming pools in Reykjavik, but Laugardalslaug is the largest and the one that we can recommend. It is a large complex or indoor and outdoor pools and jacuzzis.
You should be aware before you go that you need to shower naked before entering the pool. There are separate male and female changing rooms. This is for hygiene reasons and is something that is practised at all pools and hot springs in Iceland.
If you are visiting Reykjavik with kids, you might be interested in the nearby Húsdýragarðurinn Park & Zoo where you'll find arctic foxes, reindeer and Icelandic horses and many other animals. Also in the same area are the Grasagardur Botanical Gardens.
If you are looking for a more natural experience than a swimming pool, you can visit a hot spring. Hot springs are one of the top things to do in Iceland. We say forget the Blue Lagoon and rather visit the Secret Lagoon if you are doing a Golden Circle tour.
If you are just spending a weekend in Reykjavik, you can also find hot springs at Reykjavík beach, Nautholsvik, and a small foot bath by Grotta Lighthouse called Kvika. Both of these small pools have free entry.
4. Try some Icelandic food
You may not know this but Reykjavik has a fantastic food scene. Many top chefs have created Iceland fusion cuisine. Obviously, seafood is big in Iceland.
You could try some traditional Icelandic food. Some of the best restaurants in Reykjavik are:
Icelandic
Seafood
Fine Dining
Our kids can be fussy when it comes to seafood though. Fortunately, there are lots of other child-friendly restaurants in Reykjavik.
Eating out in a nice restaurant is probably one of the more expensive things you will do in Reykjavik, but there are also some more budget-friendly places to eat.
Simple but hearty and warming food
5. FlyOver Iceland
If you are only in Iceland for the weekend and on't have time to see more of Iceland, we highly recommend a visit to FlyOver Iceland. It's really one of the best things to do in Reykjavik!
You literally take a flight over Iceland, hanging suspended with your feet dangling while the spectacular sights and sounds of Iceland appear before you on an enormous wrap-around screen.
One minute you are flying over lava fields and the next over ice fields. You'll also learn about Icelandic history and folklore. It's truly spectacular.
The whole experience lasts about 35 minutes with about 8-9 minutes 'flying' time. Tickets cost ISK 4,490 (£26.00) for adults and ISK 2,245 (£13.00) for children.
6. Perlan
Perlan Museum is a pretty unique place and perhaps the number one tourist attraction in Reykjavik. It is an enormous glass dome that stands on a hill just outside of the centre of Reykjavik and is a landmark as well as a museum, planetarium and exploratorium.
It has a real indoor ice cave and there are Northern Lights shows in the planetarium which are very realistic (in case you don't see the real thing).
They also have a lovely bistro restaurant in a fantastic setting. It reminds me a little of the Great Court in the British Museum in London.
If you're looking for things to do in Reykjavik at night with kids, this is a great choice.
7. Visit a Museum
If you are visiting Reykjavik in the winter and are looking to get out of the cold, one of the best things to do in Reykjavik in the winter is visit a museum.
There are a few great museums in Reykjavik (besides Perlan). We recommend the National Museum of Iceland.
And possibly one of the strangest things to do in Reykjavik, the Iceland Phallological Museum containing phallic specimens from many Icelandic mammals. We haven't done this one but have heard many people say it is fascinating!
One of the best museums in Iceland is the Settlement Centre in Borgarnes. See more on this below if you are heading to the Snaefellsnes Peninsula.
8. See the Northern Lights
OK, seeing the Northern Lights is easier said than done and don't believe anyone who tells you they can guarantee a sighting because they can't. One thing you need to know that seeing the Northern Lights in Iceland cannot be guaranteed.
We have some great tips on how to maximise your chances of seeing the Northern Lights in Iceland, but at the end of the day, it comes down to luck.
You can take a Northern Lights tour from Reykjavik or, if the lights are particularly strong, you may be able to see them from Reykjavik centre.
We saw them one night at our hotel just on the edge of Reykjavik by Reykjavik Airport which was pretty lucky as we had had a full day out and did not feel like going on a Northern Lights tour late into the night.
If you don't want to leave Reykjavik to go on a tour, we would suggest heading to the Grotta lighthouse which is the least light-polluted place in Reykjavik.
If you don't succeed in seeing the Northern Lights in Iceland, you may also want to take a look at Lapland.
We have lots of information on our budget Lapland trip. You might find our Lapland packing list helpful if you are travelling to Iceland in the winter as you will need pretty much the same clothing.
9. Go on a whale or puffin tour
Iceland is one of the best places in the world to spot whales and puffins and many of the tours depart from Reykjavik.
The best time of year to spot puffins and whales is during the summer months.
Whale watching
23 species of whale can be found in the waters off the coast of Iceland. Some are just migrating, others hang around for longer.
You can expect to see Humpback Whale, Blue Whales and Killer Whales (or orcas) as well as some lesser known whales and porpoises.
Puffin watching
If you are only in Iceland for a weekend and don't have time to visit the puffins further afield, you can see them on Akurey.
Akurey is a small island off the coast of Reykjavik and is the closest place to Reykjavik to see puffins. The best way to see the puffins is to take a boat tour.
10. Visit the rainbow street
You will no doubt come across the rainbow street in Reykjavik (Skólavörðustígur street) – but just in case  you haven't heard of it, we thought we would put it in here.
It's a pedestrianised street that was painted with a rainbow for the city's annual Gay Pride festival a few years ago and it has remained, much to the delight of our two boys.
The street is also the longest shopping street in Reykjavik and where you will find lots of great souvenirs. Definitely save some time on your Reykjavik itinerary for some souvenir shopping!
11. Buy an Icelandic souvenir
There are some fabulous souvenir shops in Reykjavik, particularly on Skólavörðustígur street above.
If you are visiting Reykjavik in the winter and are in need of some cold weather gear, you will be able to find what you need in Reykjavik.
Iceland has some lovely warm woollen clothing, particularly their jumpers and hats and they make lovely souvenirs.
We don't usually go in for souvenirs, but make an exception for something practical that we will use over and over again. We bought some brilliantly warm hats. Just wish we had bought more for the kids.
If you're visiting Iceland in December and travelling with kids, make sure to stop by the Christmas shop (Yule Store) which has an enormous array of Christmas goodies and where you can post a letter to Santa.
We didn't try this so we don't know whether you would get a reply in your own country! You can find it just on the corner of Ingolfur Square not far from the Reykjavik City Hall.
12. Feed the birds at Lake Tjörnin
This is not one of the most obvious things to do and see in Reykjavik but it seems to be pretty popular with the locals.
It's really spectacular at sunset when the last of the sun reflects (especially in the winter when there is ice on the lake) and there are thousands of birds vying for your attention.
Things to do near Reykjavik
If you are thinking of venturing out of Reykjavik (which we would highly recommend if you have time), there are some unmissable places you should visit.
We are just assuming that you are on a long weekend or a week long break, and so we haven't included all of the Ring Road highlights.
Day trip around the Golden Circle
One of the best day trips from Reykjavik is the Golden Circle. You will see some of the best sights in Iceland, including the fabulous Icelandic waterfalls of Gullfoss, Skogafoss and Seljalandsfoss.
You will also take in the Þingvellir National Park where North America meets Eurasia (and where you can actually walk between two continents), Geysir Geothermal Area and the Secret Lagoon.
You can either hire a car and drive yourself or take a tour from Reykjavik.
Visit the Snaefellsnes Peninsula
The Snaefellsnes Peninsula is situated in the north west of Iceland. It takes about 90 minutes to drive there and then you should allocate a whole day (at least) to drive the pensinsula. The main sights not to miss are:
The Settlement Centre in Borgarnes
Marvel at the Gerðuberg Cliffs
Have a dip in the Lýsuhólslaug geothermal pool (although this is only open in the summer months)
Discover more natural beauty in the Snæfellsjökull National Park
Visit Búðakirkja (Black Church)
Discover the legends of Arnarstapi Village
Kirkjufell and Kirkjufellsfoss
Try an Icelandic delicacy (fermented shark) at the Bjarnarhöfn Shark Museum
Looking for somewhere to stay in Reykjavik with kids?
There is a lot of accommodation in Ryekjavik but it can be expensive. We can highly recommend the Hotel Reykjavik Natura.
It is a little out of the centre of town (less than 5 minutes by car), but the hotel is lovely and has a spa and a fabulous breakfast that will really set you up for a day of sightseeing. It is also very reasonably priced.
Map of things to do in Reykjavik with kids