The Best Things to Do in Banff with Kids
If, like us, you are a family who loves the great outdoors, then you will find so many things to do in Banff with kids. Banff National Park in Alberta is one of those places of incredible natural beauty.
Even if you're not normally an outdoor loving family, it will make you want to get outdoors and explore.  You have to just go and see it for yourself to believe it.
When we first booked our trip to Vancouver with the kids, Banff was not on our radar. But one chance glimpse of a picture of Lake Louise while searching for things to do in Canada was enough to make us organise an epic 1500 km Vancouver to Calgary roadtrip to go and see it.
We were initially drawn by the brilliant turquoise of Lake Louise. With a little research we discovered that there were many beautiful lakes, mountains and waterfalls. And the best part, all of them were totally accessible to families who may not want to/be able to/have the time to hike long distances to see them.
It sounded like our kind of place. We visited Banff in summer but Banff in winter is just as beautiful.
This post contains affiliate links. If you should book something using one, we may earn a small commission but this is at no extra cost to you.
Banff National Park
Banff National Park was created in 1885, two years after the discovery of a series of hot springs by railway workers (although indingenous peoples had known about its existence for thousands of years). Over the years it has grown from 16 sqkm to 6,641 sqkm and encompasses many lakes, mountains and historical sites and is home to a huge array of wildlife.
Banff National Park Entrance Fees
The current park fees are:
$10.00 per adult per day
$20.00 per family per day
Youths 17 and under are free
Millions of people come each year to experience the natural beauty of Banff. Some get as close to nature as they can by camping. Some just pass through on day trips. However you choose to see Banff, here are our recommendations for the best things to do in Banff with kids.
Visit the Lakes in Banff
If you're visiting Banff National Park, you must visit at least one of the lakes. We visited three and still wanted more!
Lake Louise
Lake Louise is the jewel of Banff. It's famous for its striking turquoise water and imposing mountain peaks. It's also home to the iconic hotel Fairmont Chateau Lake Louise. It's located about 60km north of Banff town on the Trans Canada Highway.
Being the jewel of Banff, it's one of the most popular things to do in Banff. It gets incredibly busy. We have written a post on visiting Lake Louise with kids where you can find out how to get the most out of a visit to Lake Louise and avoid the crowds. We also have useful parking tips because these days, finding parking there can make or break your visit.
The great thing about Lake Louise is that there are a couple of very easy hikes for the kids. The Fairview Lookout Trail is the easiest and takes you to the far end of the lake and up about 100m from where you get a great view back over the lake to the Chateau. The Agnes Tea Trail hike is a bit longer but you get to stop for a break and a cup of tea! All of the info on these hikes is in our Lake Louise post.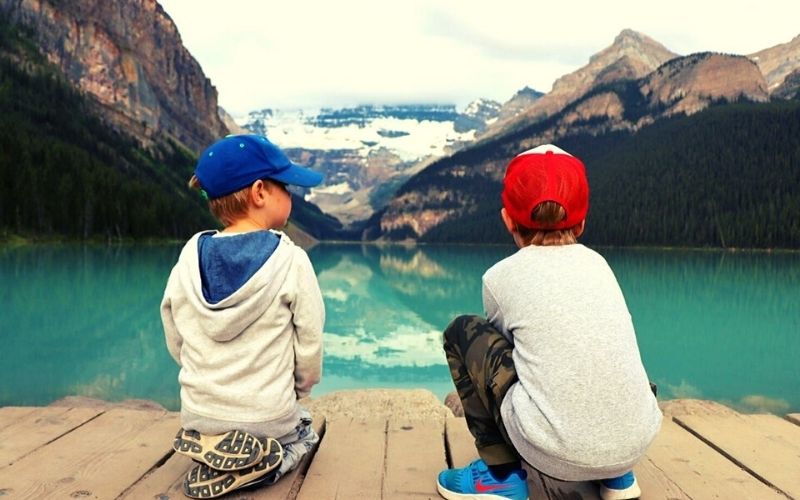 Moraine Lake
Moraine Lake is the one that got away. Unfortunately we didn't get to go because of the crazy parking situation. We understand that it is one of these Canada bucket list places to visit so we will be back for sure!
We arrived at 7 am and the road had been closed off because the car park was full. It would have meant parking in Lake Louise car park and taking a shuttle bus. There is an extra charge for this, which we wouldn't have minded paying, but we just didn't have the time. You can't do everything right?
Based on pictures (see below) and on what people have told us, we would recommend trying to go. Just be prepared to get there at a crazy early time (we have heard 5.30 am) or factor in extra time and money ($6 for adults and free for kids under 6) to get the shuttle bus from Lake Louise.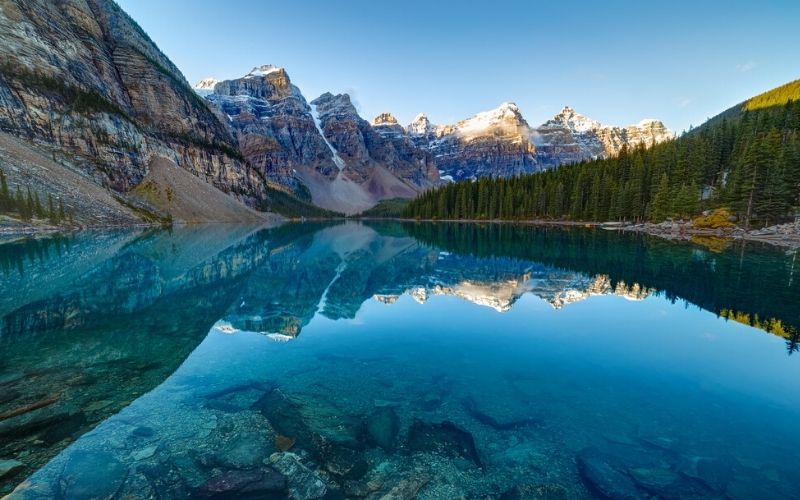 Peyto Lake
Peyto Lake was actually our favourite lake because it was a little less busy than Lake Louise and it felt more natural and rugged (without the large concrete hotel).
The water was also the most turquoise of all of the lakes. It's about 40 km / 30 minutes north of Lake Louise the From the car park it is about a 10 minute walk along a paved track (slightly uphill).
This picture was taken from the main viewing platform, although people were going past the barriers to get their photo taken away from the crowds. We didn't want the kids clambering on the rocks as it didn't look particularly safe.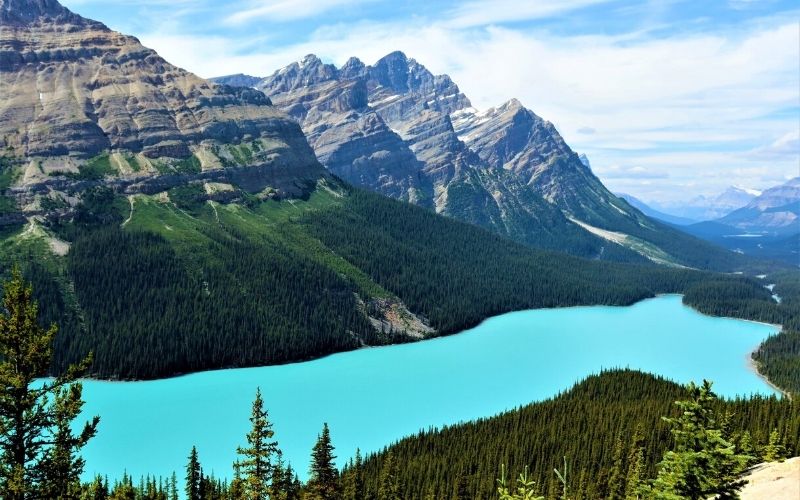 Lake Minnewanka
Lake Minnewanka is located only 5 km from Banff town. It's a great place to stop off and have a picnic with lots of picnic tables along the rocky shoreline. There are also hikes and bike trails, although there is a seasonal trail restriction from 10th July to 15th September to allow grizzly bears to eat berries without being interrupted.
You can check this helpful guide from Parks Canada to see other seasonal closures in Banff so that you are not left disappointed and having to plan a last minute alteration to your schedule.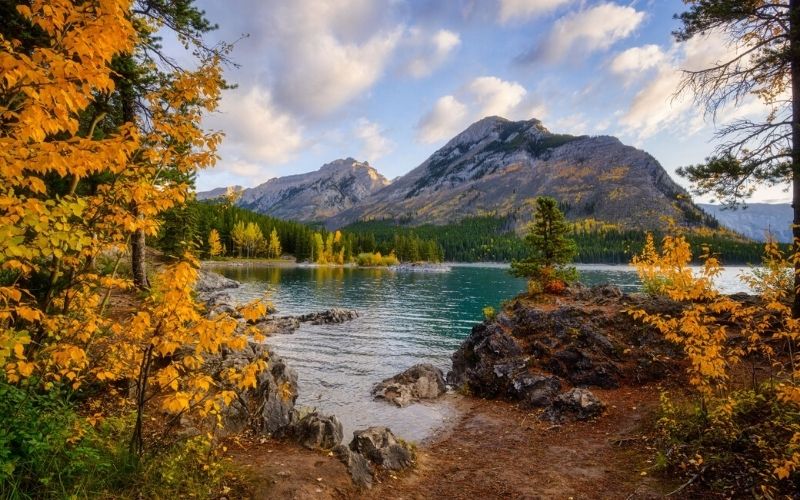 Drive the Icefields Parkway
The Icefields Parkway drive has to be one of the most scenic drives you will ever do and is up there with the most beautiful drives in the world. It's a 230km mountain road that connects the town of Jasper in Jasper National Park to Lake Louise in Banff.
You can make frequent stops along the way which we find is always advisable with kids to break up the journey. You'll pass waterfalls (Athabasca and Sunwapta) and the Athabasca Glacier, and when you make it to Jasper there's loads to do too!
The scenery from the road is just breathtaking. Remember to switch drivers if you can so that you can both get a chance to look at the scenery.
We had a large sunroof with our car which was great for the kids because they could look up and see the mountains towering over us.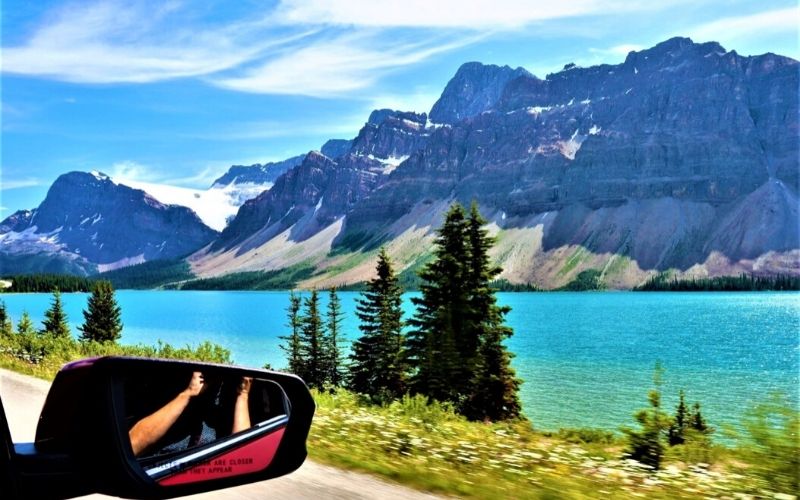 Hiking in Banff
There are lots of family-friendly hiking trails around Banff. We loved the shorter hikes around Lake Louise which gave us a good intro into hiking in Banff  with kids but there are so many more hiking trails to explore than we had time for.
Just make sure you research family-friendly (easy) hikes, have some sturdy footwear with you, take your obligatory snacks (although make sure to leave no litter or food waste) and some water.
Here is a great list of family-friendly hikes around Banff town. Also check the Banff and Lake Louise tourist board site Hikes for Families (#3). Need a backpack for the kids? Check out our helpful guide to the best kids backpacks.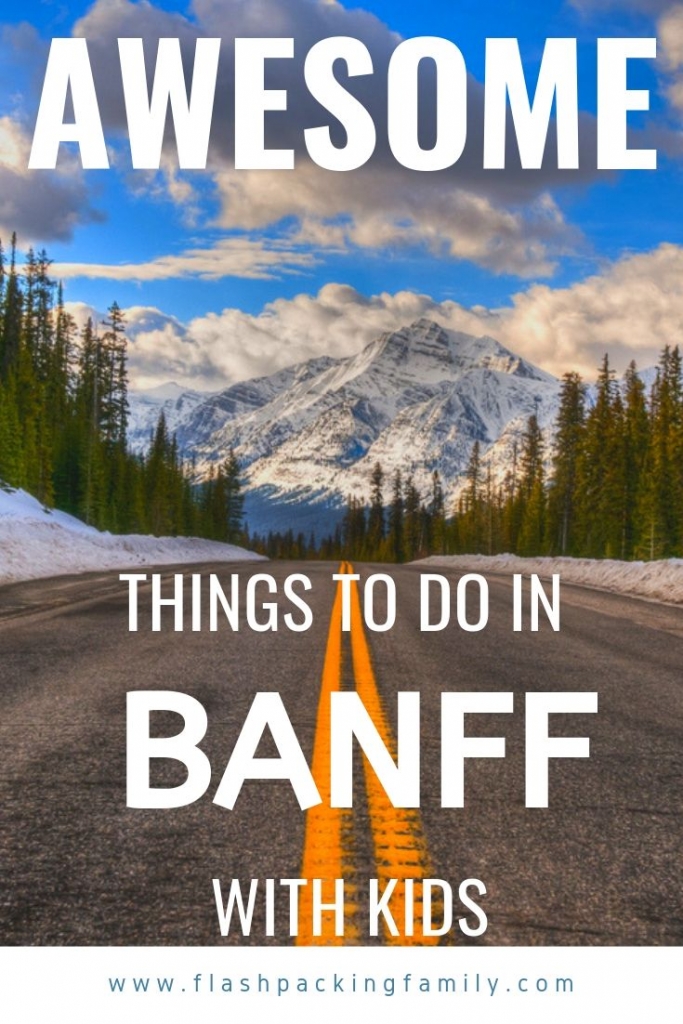 Visit Banff Town
The town of Banff is located in Banff National Park. It's skyline is dominated by the peaks of Mt. Rundle and Mt. Cascade and the streets are lined with timber framed shops giving it the feel of an old town.
There is so much to see and do there with lots of accommodation options and restaurants.  Central Park is worth a visit for a leisurely picnic lunch by the Bow River and there's a lovely natural playground for the kids to explore.
Banff town is a great place to base yourself for a few days in Banff exploring the park but even if you're not staying there, it's worth a visit.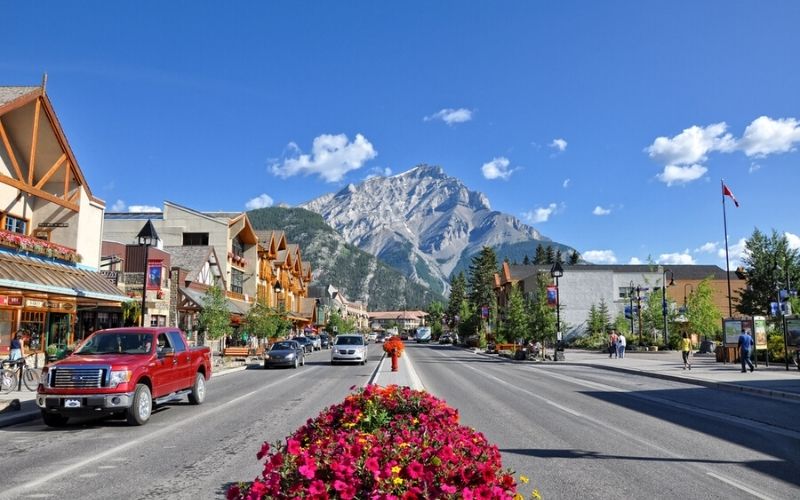 Cave and Basin National Historical Site
If you want to learn about the history of the Canadian parks, you should definitely pay the Cave and Basin National Historical site a visit. The steam from the hot spring in the cave on the lower slopes of Sulphur Mountain is what the three railway workers saw which is what lead to the creation of Banff National Park.
You can do self guided tours or you can take a tour and learn about the birthplace of the Canadian parks. There are daily activities available too.
Admission is $3.90 for adults. Children 17 and under are free.
Take the Banff Gondola
Taking the 8 minute Banff Gondola ride (located to the south of town near the Upper Hot Springs) will give you an incredible 360 degree panoramic view of Banff and the Bow Lake Valley.
Included in your gondola ticket is admission to the new multi-sensory Above Banff Theatre. This will allow you to soar over the Canadian Rockies from the perspective of the bald eagle. This is included in the ticket price.
There is also an interactive mobile game that brings the Rockies to life. Make sure to download the Agents of Discovery app before visiting. You could also just go up here for a meal with a view.
Ticket prices vary depending on the day from around $53 to $61 on a Saturday. Children under 5 are free and children (6-15) go free with paying adult if you visit before 10 am on a family experience ticket. This also includes cookies and an activity book.
Parking can be tight so unless you are getting there early, you can park in town and get a free shuttle bus.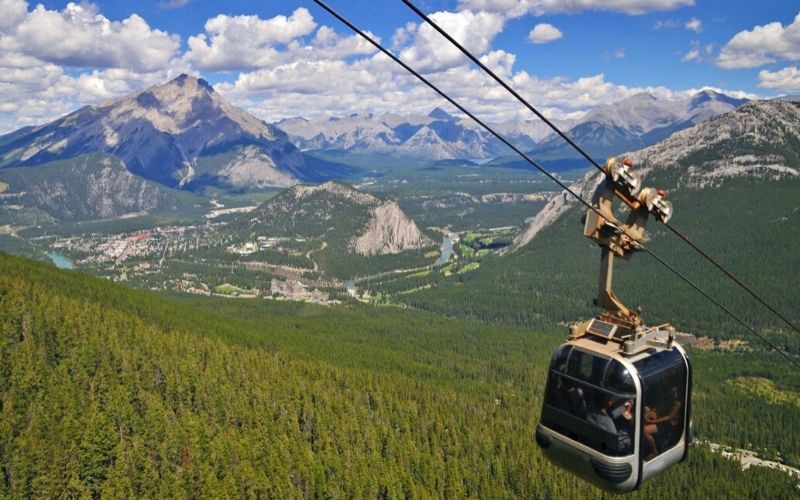 Banff Upper Hot Springs
Whether you are in Banff in winter or summer, you should try to visit one of the hot springs. Banff Upper Hot Springs are located just south of Banff town.
The water is heated geothermally, coming from 1.8 km under the earth's surface. The sulphurous water is supposed to have healing properties. We can't vouch for this but it is a lovely way to relax after a long hike.
The springs are around 37-40 degrees so if you are going on a hot summer day, you probably won't want to stay in long.  We can imagine it would be magical in the winter, especially in the snow with the steam rising off the surface. If you want a relaxing time, it is best to go early as it can get crowded.
There is a fairly large car park but it was full when we visited at 11am. We waited and circled and eventually found a spot. You'll get a locker token included with your ticket. Click here for more info on Banff Upper Hot Springs ticket prices.
The entrance fees are :
Adult (18-64)  – $8.30
Youth (3-17) – $6.30
Child (Under 3) – Free
Senior (65+) – $7.30
Family (2 adults & 2 youth) – $24.50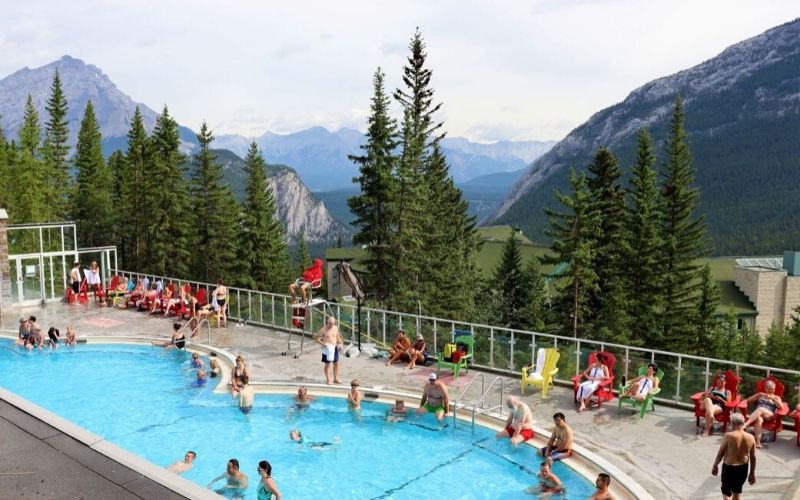 Spotting wildlife in Banff
There is so much opportunity for spotting wildlife in Banff, especially if you go on a hike and get away from the crowds. Many people come in the hope of spotting a grizzly bear (from a distance!) but there is so much more to see. The larger animals you might see are elk, moose, wolf, bighorn sheep, mountain goat or coyote.
We saw black bears but no grizzlies.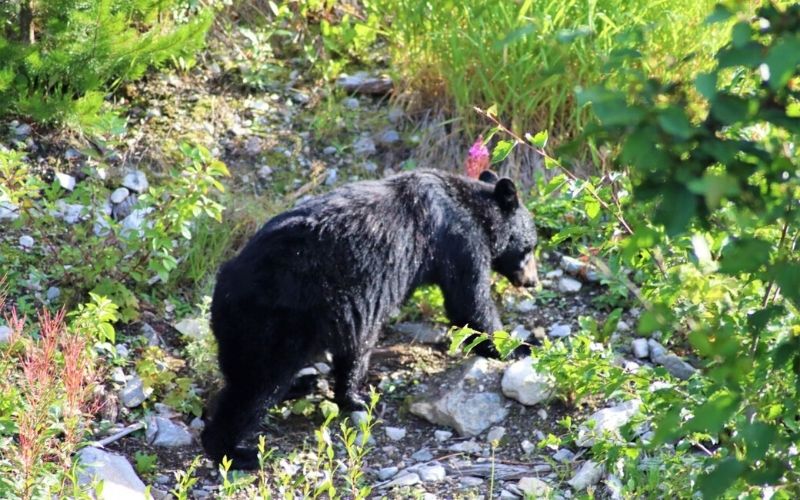 Canmore old railway bridge
Canmore is not actually in Banff but it's only 2 km from the park perimeter and the chances are you will be staying there rather than Banff town so we have put this in as it's a fun thing to do. We took the kids early one morning to see the old railway bridge. They had fun running across it and playing pooh sticks.
It's just a pedestrian bridge now so there's no need to worry about cars coming by if you want to take photos. It's such a photographic place with the mountains in the background. (Sidenote: those mountains make for some fantastic hiking around Canmore.)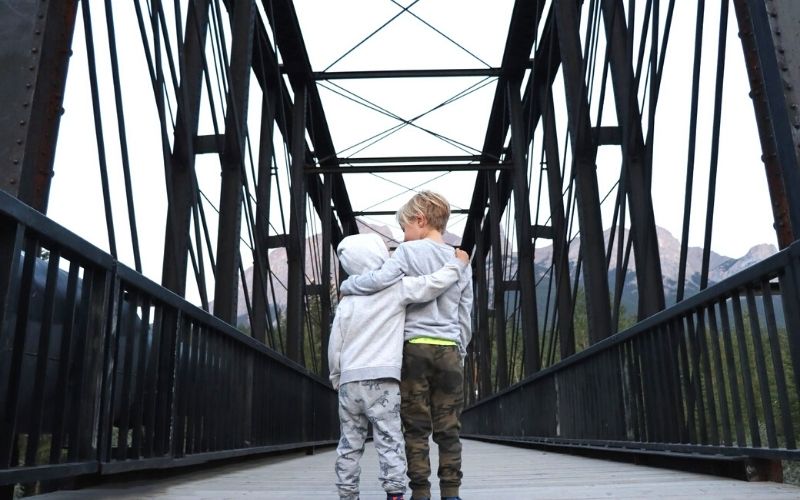 Things you need to know when visiting Banff with kids
Our kids are typical kids and love to explore in great detail. Back home this may mean picking plants while we're out on a walk or picking up rocks and pocketing them for later. Banff has certain regulations which we had to explain to the kids.
Do not feed wildlife – this includes leaving something like a discarded apple core. This can attract unwanted bears but it can also kill wildlife.
Do not pick plants or remove rocks – we instilled a look but don't touch approach during our visit. It's important to preserve the beauty of the park for others.
Stay together – there are around 65 grizzly bears in Banff and while it might be hard to spot one, you don't want your child to be running ahead and having a surprise encounter with one. Make sure to read the guidelines on being bear aware.
Accommodation in Banff National Park
One of the great ways to experience Banff is to stay in one of the Parks Canada campgrounds. Reservations for each summer will open in January and you have to be quick off the mark to get a spot.
If you are not into camping or you don't manage to get the spot you want, then there are many other options available to you.
Being in the park itself, Banff town is a great place to stay, although it has become very popular and in peak season the prices of Banff National Park hotels can skyrocket. Here are a few Banff National Park accommodation options you may like:
Banff Town Accommodation
Fairmont Banff Springs (High End)
Tunnel Mountain Resort (Mid Range)
Banff Park Lodge (Budget)
Tunnel Mountain Village I (camping)
Lake Louise Accommodation
Fairmont Chateau Lake Louise (High End)
Deer Lodge (Mid Range)
HI Lake Louise Alpine Centre (Budget)
Lake Louise Campground (Camping)
We stayed in Canmore at the Stoneridge Mountain Resort. Canmore in general is a little less expensive and only 20 minutes from Banff. This post on whether to stay in Banff or Canmore will help you make a more informed decision. Make sure to book as early as you can. We find Booking.com has the best selection of accommodation.
Our visit to Banff was a truly memorable experience and one which we would love to repeat one day at a slower pace and maybe we'll even get to see Moraine Lake. We thoroughly recommend it for a family trip and hope you can take some inspiration from this post.
If you found this post useful, why not bookmark it, share it with others or pin it for later?!