40+ Brilliant Gift Ideas for Kids Who Travel
Wracking your brains trying to think of gift ideas for kids? If you have a kid who loves to travel, these travel gift ideas for kids will go down a treat!
Of course, in our opinion, the best gift you can give a child is the quality family time and immersive learning that comes with family travel, but these travel gifts are the next best thing when you're looking for a travel related birthday gift or Christmas gift.
These gift ideas for children are all personal recommendations. They are all things that we use and that the kids love (plus a few that they would love to have).
We haven't just gone onto Amazon and typed in 'best travel gifts for kids'. A lot of travel miles and thought have gone into this list but we have also given alternative suggestions so that there are options in different price brackets.
Whether you're looking for Christmas gift ideas for kids or there's a birthday coming up, here are our favourite presents for kids who love to travel.
This post contains affiliate links. If you click on one and buy something, we may earn a small commission but this would be at no additional cost to you.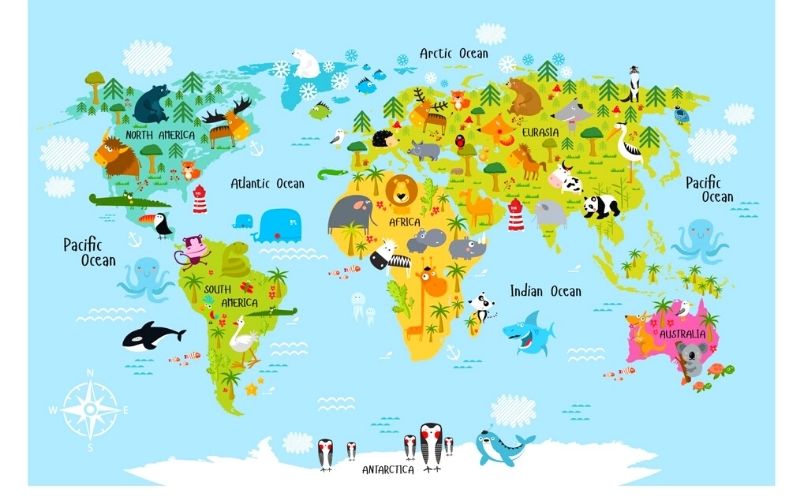 Fun gift ideas for kids who travel
Kids binoculars
Fancy taking a safari with the kids? From our experience, it makes for a much more inclusive experience if the kids have their own binoculars. It will also stop them asking to use yours every 5 minutes.
It's a challenge to see who can spot the most animals. This also gets them interested in the smaller animals which is so important.
There are lots of toy versions out there which are great for younger kids as they can be quite tricky to get the hang of but are a bit gimicky. Older kids may prefer something that is more effective.
Binoculars can be very expensive so the choice of binoculars depends on your budget and how much you think they will be used.
These are great for kids who love the great outdoors. They can even use them in the back garden or when camping with kids.
Here are a few good options for kids binoculars.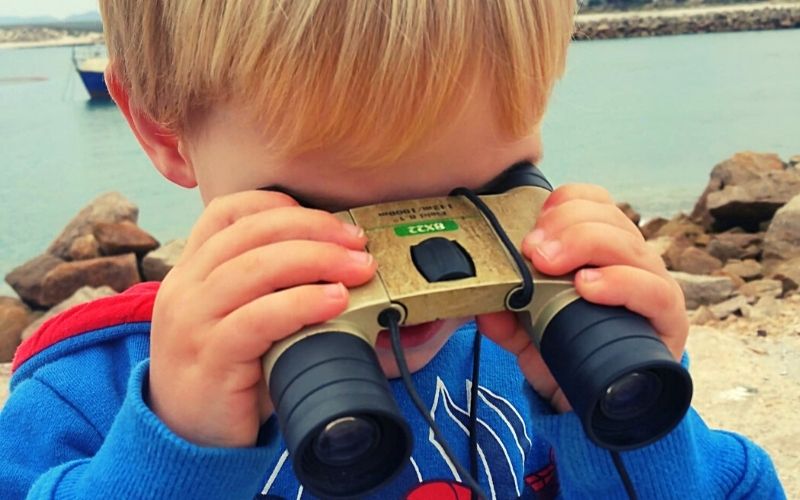 Toy animals
We found that a lovely way to get the kids interested in a trip was to buy a toy animal related to the country we were visiting. For example, going on safari in South Africa, we bought this this lovely safari set.
There's hardly one photo of us on safari without a toy rhino, elephant or lion in shot. For older children, there is the Schleich African animal set. Going to Canada, we bought a Schleich grizzly bear. You get the idea!
Sometimes we would give it to them in advance and read about the animals. Other times we would give it to them on the plane and it would keep them busy for ages.
Another alternative for smaller children (18m+) is this Melissa & Doug animal magnets set.

Travel games
We have a bunch of travel games for kids and mix them up each trip. Our favourite travel games are compact card games like Uno,  Dobble, Top Trumps and just a standard pack of playing cards. Other fun but compact games are Pass the Pigs and Boggle.
Pool toys
Our kids would spend all day in a pool on holiday if they could and it's because they love to splash around and play with their pool toys.
These toys are a huge hit not only with our boys, but also with other kids who like to join in the fun (boys and girls). They are a great way to ensure the kids make friends on holiday which is so important if you are travelling for an extended period.
The Waboba ball and the Zoggs aqua ball are great for throwing, catching and bouncing off the water while the torpedos are great for getting them to dive under the water. And there's probably not a kid on this planet that doesn't like to squirt water at their mum or dad!
Kids camera
With us taking so many photos on our trips, it was inevitable that the kids would show an interest in photography. They have a VTech kids camera for now but we will look at getting something more sophisticated for them like the Canon Ixus 185 when they're a bit older.
Also for when they're older, we know that they would love an action camera. The GoPro Hero 7 is a little cheaper as it is the older version but there are plenty of 'OK' alternatives which are a lot cheaper like the Campark X20.
Colouring books and crayons
The kids love coloring books and we have always taken them with us in one form or another. We started out with the Galt Toys Water Magic books when they were tiny as there was no mess.
We are now at a point where they really benefit from more intricate colouring books. They are great for developing their fine motor skills and are very calming.
We love these colouring books in particular because they love the characters – Harry Potter / Pokemon – but there are so many to choose from. Just don't forget your coloring pens!
Collapsible bucket
A collapsible bucket is such a clever item and something that we only came across recently when we bought our VW campervan and entered into the world of van life.
Space is an issue and we always look for space saving items. Our collapsible kettle is perhaps one of our favourite items, and while searching for that, we came across collapsible buckets.
The kids love having something to play with at the beach. They use them for carrying water to make sandcastles and to store their beach treasures.
It's not practical to take a normal bucket with you on holiday and buying them in the resort just adds to the plastic waste problem, so these are a great alternative.
Educational gift ideas for kids who travel
Travel Books
Lonely Planet have a fantastic range of travel books for kids for ages 0-12 covering topics like cool animals, the world's plastic problem and city pop-up books. We loved their flag book which came in handy for a Year 2 school topic.
Here are some of our favorite travel books for kids. And check out these fun travel quizzes which our boys absolutely loved!
National Geographic Kids Subscription
We have been getting a Nat Geo Kids subscription for a few years now. Our kids love learning about animals and collect the animal cards that come every month.
It makes a great kids travel gift for little travellers or animal lovers and is so educational. The annual subscription with 13 issues starts from £37 although you can often find deals on Groupon.
There's also a 3-month free digital access to over 40 issues of the magazine if you want to try before you buy.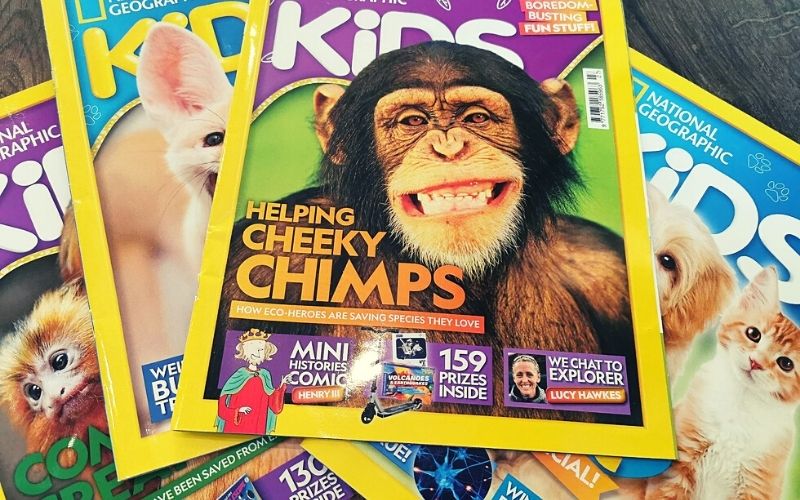 Globe light
Since the kids were small we have had a globe nightlight in their room and they have been fascinated with it. Before a trip we would study it and show the kids where we were going. It helps them to get a sense of the world from an early age.
For kids of school age, it is a great educational tool and will come in handy for geographical related projects.
Kid's Atlas
There are a number of lovely ones to choose from. We have the Usborne Picture Atlas for younger kids but there are also  similar atlases by National Geographic, Lonely Planet and Collins.

Scratch off world map
The Scratch the World map is a fun and educational gift for kids and adults. You can sit down together and scratch off the countries you have visited, talking about them as you do it.
Practical gift ideas for kids who travel
Kids travel bag / kids backpacks
When the kids were small (around 2-3 years old), they each had a Trunki. We find that these have their pros and cons. They were really great for pulling the kids around the airport (which they LOVED), but they are bulky because they are made from rigid plastic.
For kids around 5yrs+ we use a couple of different bags. The Cabin Max is great if you want to maximise the kids' cabin baggage allowance as they hold quite a lot and the kids can pull them along on their own.
We also love these Osprey Daylite kids backpacks for citybreaks as they have enough space for a water bottle, a snack and a toy.
There's also a slightly larger Osprey backpack for 8 yrs+ which is small and lightweight and fits in the cabin overhead lockers. Overall, kids backpacks are our preferred type of kids travel bag.

Kids Head torch
We almost put a head torch under the fun category because our kids have so much fun with theirs! They enjoy creating shadow shapes when we visit caves or castles with dark spaces but they are also really practical, especially when camping with young kids.
It's one of our camping essentials for our campervan. We have the USB rechargeable ones and actually these are great general gifts for people who travel.
Junior Swiss Army Knife
This multi-function junior knife is perfect for young adventurers with 8 tool functions. It is not a toy though. The blade may be rounded but it is still sharp so caution should be exercised during use.
We gave this to our nearly 8 year old and let him use it under supervision on when we go campervanning with the kids and on woodland walks. This (and the adult version) are lovely gifts for campervan owners.
Packable waterproof jackets
We love our packable jackets by TOG24. They pack into tiny pouches and take up no room in luggage. They're so handy to have in day bags 'just in case'.
You can see the best deals for TOG24 Kids' Craven Waterproof Jacket here.
Kids headphones
Childs headphones come in very handy on flights as the headphones issued by the airline do not usually fit small ears. The children's headphones go over the ears and block out a lot of the airplane noise which helps with sleep.
We also find them very useful on roadtrips so that our music is not drowned out by the sound of their games on their tables or their own music.
Tablets for kids
From an early age, our kids have taken their Amazon fire tablets when we travel. We downloaded their favourite children's tv shows and movies for them when they were young.
They are great especially for little ones as they come with a year's subscription to a bunch of kids apps, 2 year no quibble guarantee and a case that can withstand the fiercest tantrum during the terrible twos.
Similar to the Amazon tablets are the Pebble Gear tablets which also come with a 2 year guarantee and similar protective casing. We haven't used these but friends have and say they are great.
For younger kids there are the LeapFrog Leap Pads and for older kids, the Samsung Galaxy  Tab A8 or an iPad.
In terms of apps that they love, we use Wordscape (the kids are 6 and 7) – along with a bunch of Dragon themed apps and Minecraft!
Lightweight bikes
OK, you're not likely to pack up your bikes for a trip to a tropical island, but if you're taking a road trip or even visiting Center Parcs, it is a good idea to take your bikes to save on rental costs.
We have used Frog Bikes for many years now as they are the best bikes for kids. They are super lightweight and easy to pack onto the bike rack. Our boys absolutely love theirs and they make great gifts for kids.
Travel neck pillow
Travel neck pillows are often overlooked as a travel essential but they are so practical if you're doing a long haul flight or an overnight flight when the kids will need to sleep.
They come in so many fun styles that kids will love. Our kids carry their own. We have really basic ones that we bought at the airport but you can get some super cute ones like the Trunki neck pillow.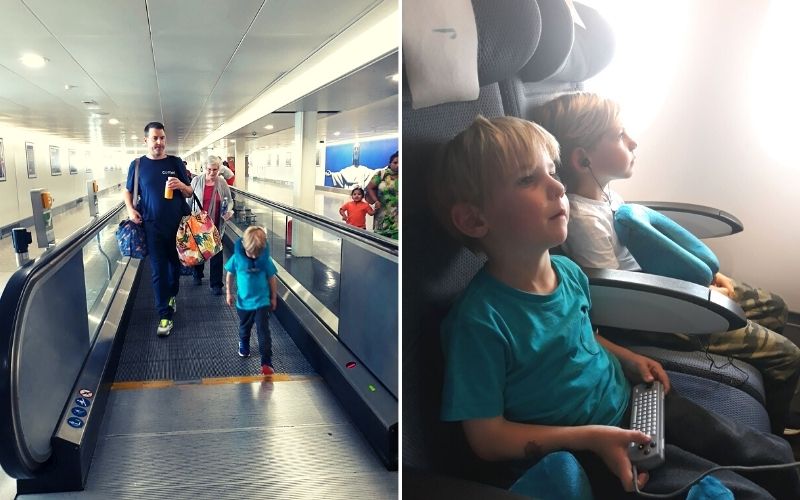 Personalised gift ideas for kids who travel
We love this personalised travel journal that they can write their favourite travel moments in. They're really great if we're away for a long period of time as they can refer to their notes to help them write school reports on our travels when we're back.
If you don't need a personalised one, check out this Lonely Planet Travel Journal which makes a lovely alternative.
Other personalised travel gifts for kids that we love are:
Personalised passport holder – there are lots of variations on Etsy that you can browse.
If you're heading to Lapland (read more about how to book a DIY  Lapland trip here), we got these personalised Lapland boarding passes and invitations made. They massively added to the magic!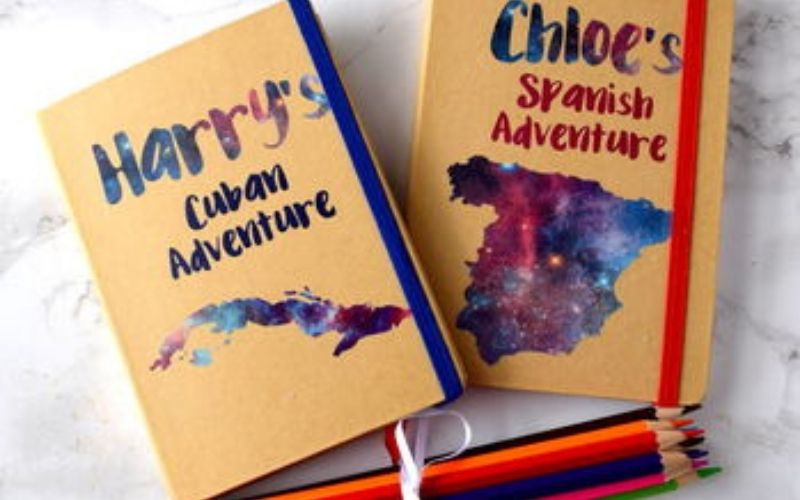 Experience gift ideas for kids who travel
If you would prefer not to buy a physical gift, have you considered an experience gift as an alternative? We love giving experience gifts for kids because they enable the creation of long lasting memories.
We have two football mad boys so we would absolutely gift them a football stadium tour if we happened to be visiting a city where one of their favourite clubs was playing. We did a Chelsea Stadium tour and they loved it.
Another idea if you are visiting London with kids would be a Warner Bros Studio tour for Harry Potter fans or a fabulously child-friendly afternoon tea.
See here for Harry Potter studio tour tickets.
Maybe it could be a day out at a theme park of their choice like Legoland or a dinosaur park?
See here for Legoland Windsor tickets | Chessington World of Adventures tickets | Thorpe Park tickets | Warwick Castle tickets