The Most AWESOME Things To Do In Cape Town With Kids In 2022
Looking for the best things to do in Cape Town with kids to keep them happy and that you are guaranteed to love too?
Cape Town is one of the most family-friendly destinations we have ever visited and it gets better every time we visit. These activities and days out in Cape Town for families are some of the things we have loved to do with the kids over the years and we're sure you will love them too.
Being the oldest city in South Africa, there is so much culture and diversity in Cape Town. Coupled with the absolutely stunning natural beauty of it, how can you resist a visit?
If you haven't quite decided, read our reasons on why you absolutely should visit South Africa with kids. And if you're going to be exploring further than Cape Town, read our guide to family-friendly things to do in South Africa and our epic two week South Africa itinerary.
This post contains affiliate links. If you book something through one, we may earn a small commission but this is at no extra cost to you.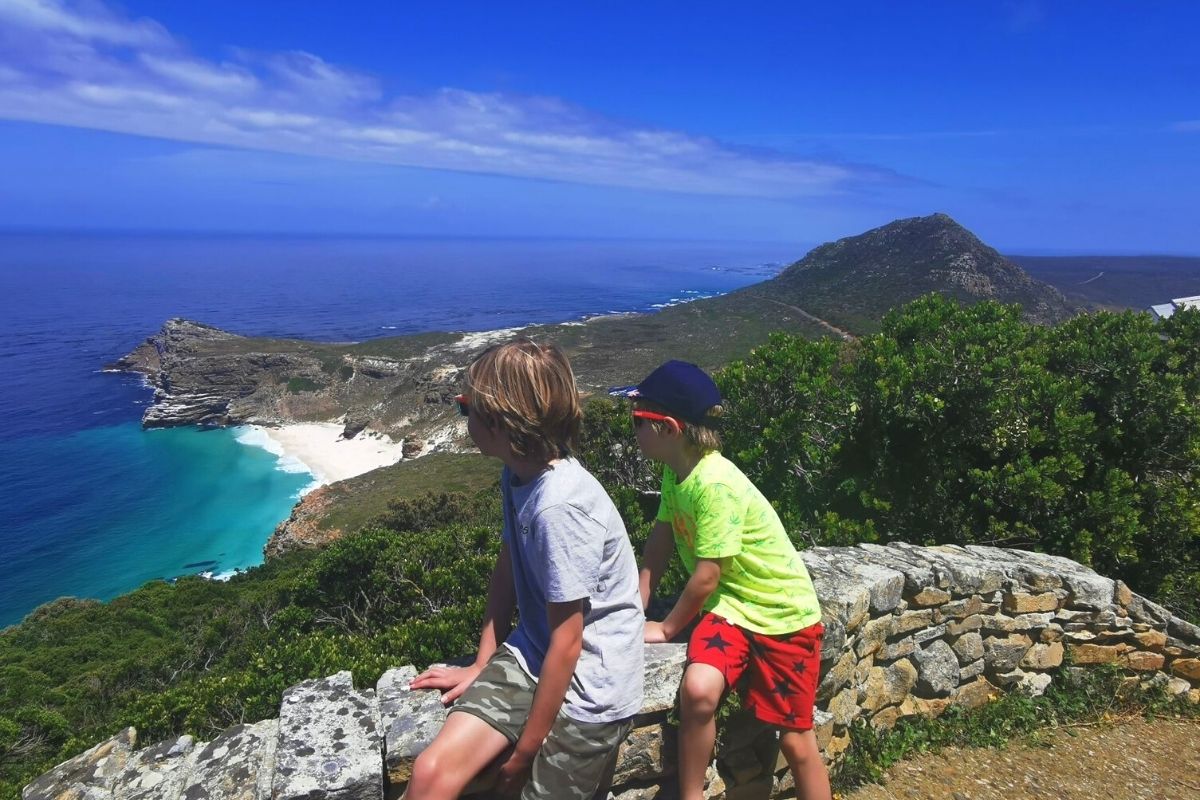 These are our favourite things to do in Cape Town with kids…
But just a quick word of advice before we go any further and before you book anything. You might want to take a look at the Cape Town City Pass. It includes over 80 attractions and will save you money if you are looking to book a few attractions in Cape Town.
A few examples of the Cape Town tours and attractions included are:
Table Mountain Cable Car
City Sightseeing hop on/hop off bus
Sunset champagne cruise
Two Oceans Aquarium
Cape Wheel
You can buy your Cape Town City Pass here – with flexible cancellation.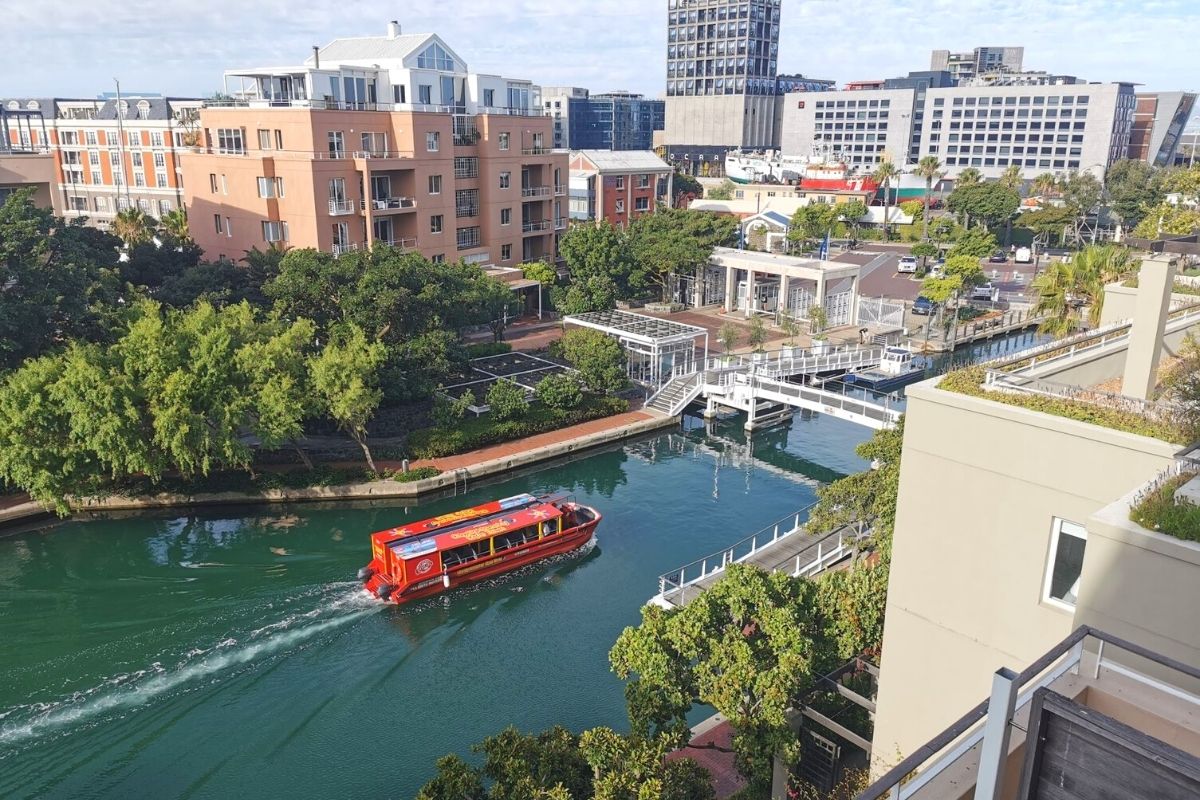 Two Oceans Aquarium
Two Oceans Aquarium is a great option if you are looking for things to do in Cape Town with kids on a rainy day. We didn't have a rainy day so we went anyway!
It was amazing and definitely one of the best things to do in Cape Town with kids!
The only let down was the shark tank. The kids were really excited by the thought of seeing sharks and I personally thought it was meant to be an amazing exhibit but in reality, there were only a few sharks of seemingly the same species.
Nevertheless, the rest of the aquarium was so lovely from the jellyfish displays to the kelp forest (which I think was my favourite) to the enormous aquarium with turtles and rays.
Where: Two Oceans Aquarium, Dock Road, Waterfront, 8002, South Africa.
When: 7 days a week: 9.30am – 6pm.
How much: Adults – R210 (£10.00), Child (14 – 17) – R160 (£8.00) and (4 – 13) – R100 (£5.00). Under 4 – FREE. Also free on birthdays!
Tip: Go when it opens.
Website: Two Oceans Aquarium
You can buy your Two Oceans Aquarium tickets in advance here with flexible cancellation.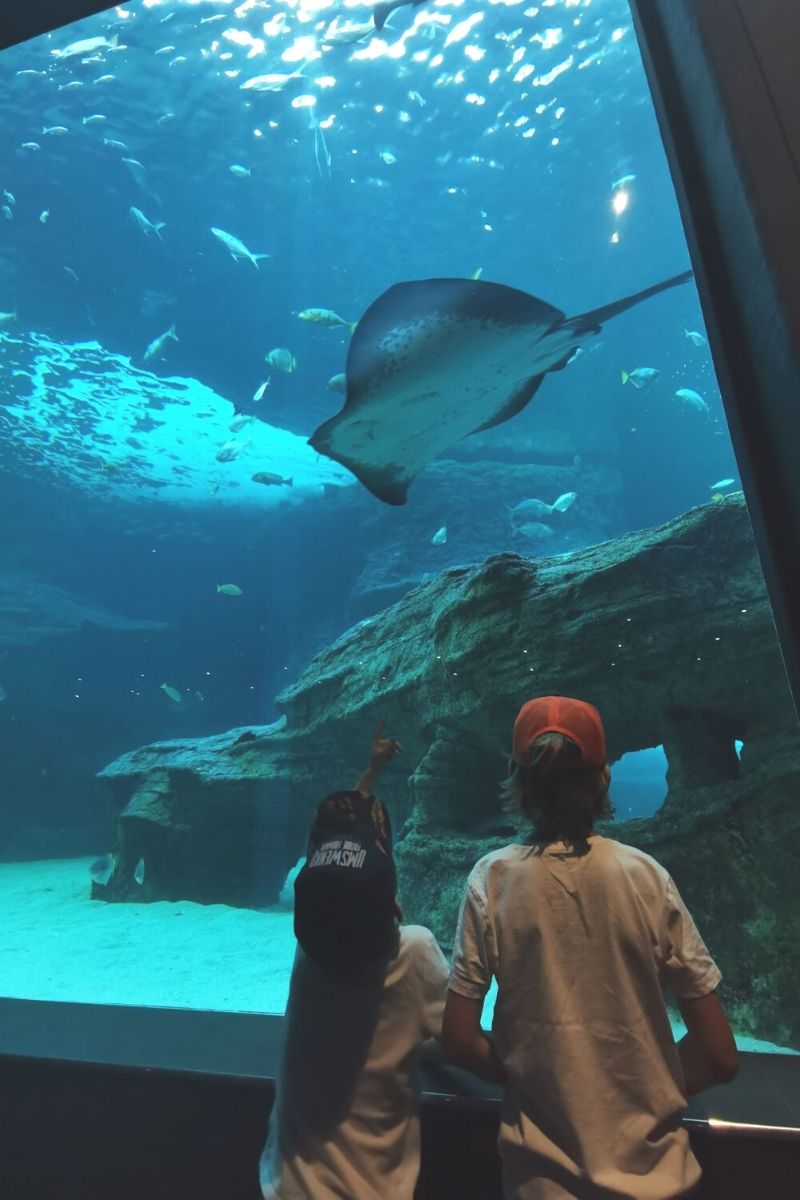 Table Mountain
You cannot visit Cape Town without taking a trip up Table Mountain, one of the New 7 Wonders of Nature! Taking the cable car up is a really fun experience for the kids. It rotates 360 degrees on the way up so that everyone can enjoy the views.
The views from the top are immense! The kids will probably enjoy spotting dassies (rock hyrax) more than the view in our experience but it's all good!
If you have younger kids with you, we recommend taking the cable car. If you have slightly older kids, you might want to consider hiking up if you are feeling energetic or take the cable car up and hike down.
To get the most out of a hike, you could consider hiring a local guide. See here for private hikes of Table Mountain with guides.
Where: Tafelberg Rd, Gardens, Cape Town, 8001, South Africa.
When: Daily – First up: 06.30, Last up: 18.30 and Last down: 19.30.
How much: Morning tickets: R390 (£20.00) per adult return (single is cheaper) and R190 (£10.00) per child return. Afternoon tickets are R320 for adults and R160 for children.
Tip: Take extra layers with you because it is colder at the top, especially if there is a lot of wind. It is also one of the most popular Cape Town attractions so get there early because it gets very busy. Buy your tickets in advance.
Website: Table Mountain cable car.
You can buy your Table Mountain cable car tickets in advance here with flexible cancellation.
It is combined with a Hop On/Hop Off bus so you don't need to worry about transport if you are not driving and can make a day of it seeing other sights around Cape Town.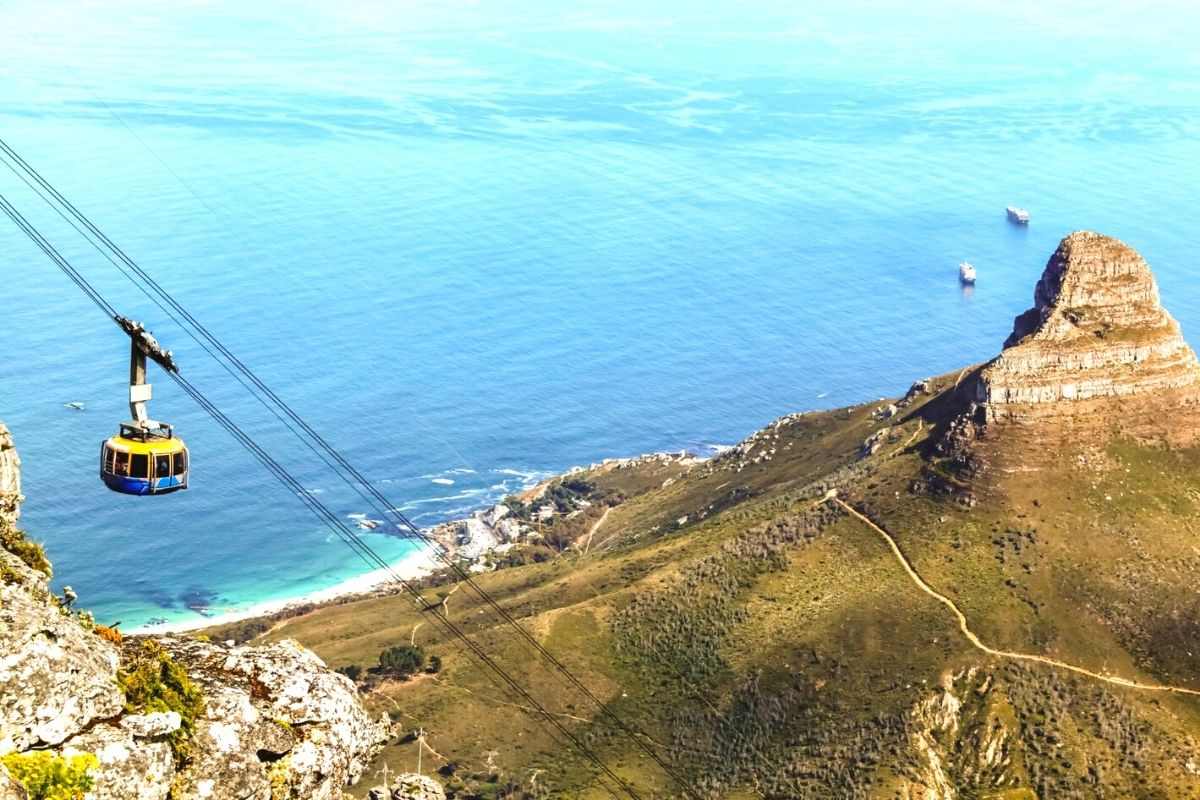 V&A Waterfront
The V&A Waterfront area of Cape Town is where it all happens. It is probably the most touristy part of town and there's something for everyone from great restaurants to fantastic shopping to endless entertainment.
The highlights for us at the V&A Waterfront are:
Hamleys Train – take a little tour around the Waterfront in a toy train. Cost R25 (£1.25) per person.
Cape Town Wheel – enjoy fantastic views of the Waterfront area with a ride on the giant ferris wheel. R220 (£10.00) per adult / R85 (£4.00) per child. Under 4 – FREE.
Watch street performers, particularly the African singers.
Play chess on the giant chess board.
Watch the seals play in the harbour.
We spent a few hours wandering around before dinner and enjoyed the buzz.
There was also a dog adoption clinic at the Waterfront when we visited and the kids got to go and pet the puppies. That was a highlight for them. We obviously couldn't adopt a puppy so we gave them a donation instead!
Where: V&A Waterfront
When: N/A.
How much: N/A
Tip: If you go early, you'll get the chess board to yourselves and be able to take photos of Table Mountain through one of the many Yellow Frames dotted around South Africa.
Website: V&A Waterfront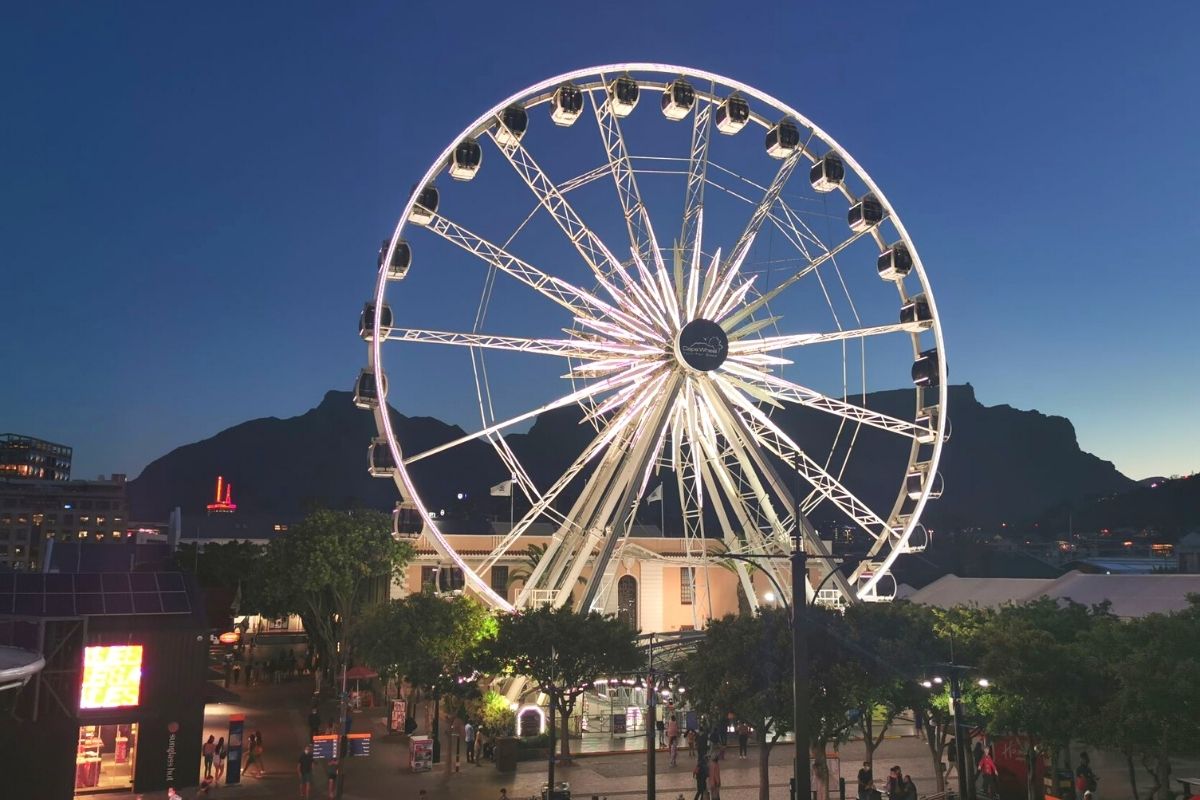 Kirstenbosch National Botanical Garden
The Kirstenbosch Botanical Gardens are lovely to visit with kids because there is so much space for them to run around.
The main reason for our visit was to check out the Tree Canopy Walkway (The Boomslang) which we hadn't seen before. It was built in 2013 to mark the 100th anniversary of the gardens.
There are restaurants there if you want to make a day of it. Check out Moyo for family-friendly, African food. There is also the Kirstenbosch Tea Room for something lighter.
Where: Rhodes Dr, Newlands, Cape Town, 7735, South Africa.
When: Every day from 8am to 7pm between September to March and 8am to 6pm between April to August.
How much: Adults – R200 (£10.00), Child (5 – 17) – R25 (£1.25) and under 5 – FREE.
Tip: Make sure to check out the views from the Boomslang!
Website: Kirstenbosch.
If you want to learn more about the Gardens, you can book a guided tour here (with cancellation up to 24 hours in advance).

Penguins at Boulders Beach
Visiting Boulders Beach is a must if your kids love penguins. The beach is protected and part of the Table Mountain National Park and the penguins are viewed from walkways.
Whilst you are restricted to the walkways so as not to disturb them, the penguins are free to roam as they please. We have seen them crossing roads in the surrounding neighbourhood before! You are advised to keep your distance because they can bite / peck!
If you don't want to spend much time there on the way down to Cape Point, you can also see them at the next door beach  – Seaforth – for free. We did this on our most recent trip because we had been to Boulders Beach before.
You will need a car to get to Boulders Beach (or take a tour) and while you're down that way, you might as well make a day of it and carry on to Cape Point.
Where: 4 Boulders Place, Secluse Ave, Simon's Town, Cape Town, 7995, South Africa.
When: Every day from 7 am to 5 pm.
How much: Adults – R170 (£8.50), Child – R80 (£4.00). South African residents and citizens receive discounts. Note – Boulders is cash-free at the moment.
Tip: Go to neighbouring Seaforth if Boulders is crowded.
Website: Boulders Beach.
You can buy your Full Day Boulders Beach and Cape Point Tour tickets in advance here with flexible cancellation.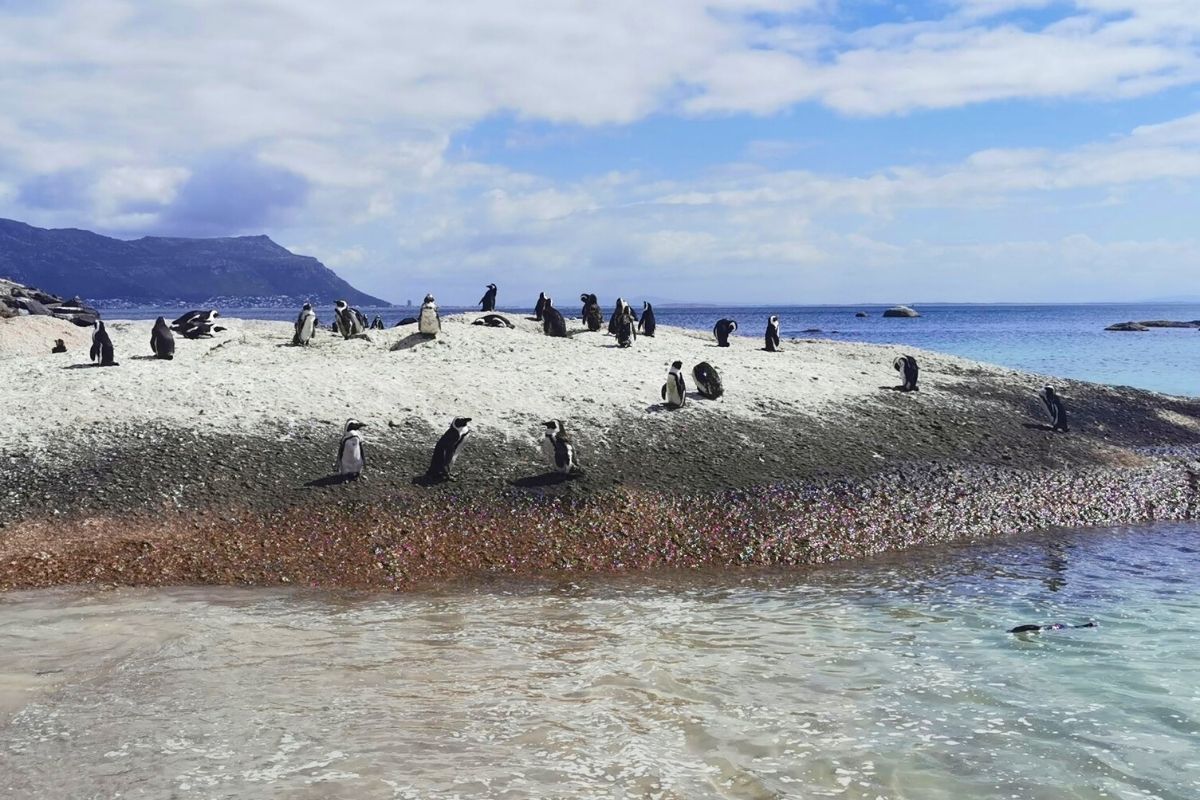 Cape Point Nature Reserve
For years we thought that The Cape of Good Hope was the southernmost point of Africa and where the Indian Ocean meets the Atlantic Ocean. It is not. Don't let this put you off visiting though. There are some spectacular views and the drive through the Cape Point Nature Reserve will almost feel like being on safari.
We spotted baboon (wind the windows up) and ostrich, leopard tortoise and lizards.
There is a funicular up to the lighthouse in case you don't want to walk (plus a few more steps at the top of the funicular) and for the brave, there is a walkway taking you right out onto the point. Not for the faint hearted or small kids.
Just as a couple of hundred metres along the road from the entrance of the Nature Reserve is the Cape Point Ostrich Farm if you want to learn all about ostriches but be aware, the only have a few ostriches these days.
Where: Cape Peninsula, Cape Town, South Africa.
When: Every day from 7 am to 5 pm. Exit by 6 pm.
How much: Adults – R360 (£18.00), Child – R180 (£9.00).
Tip: Go early. The queues to get in when we were leaving at 12.00 were huge.
Website: Cape Point.
You can buy your Full Day Boulders Beach and Cape Point Tour tickets in advance here with flexible cancellation.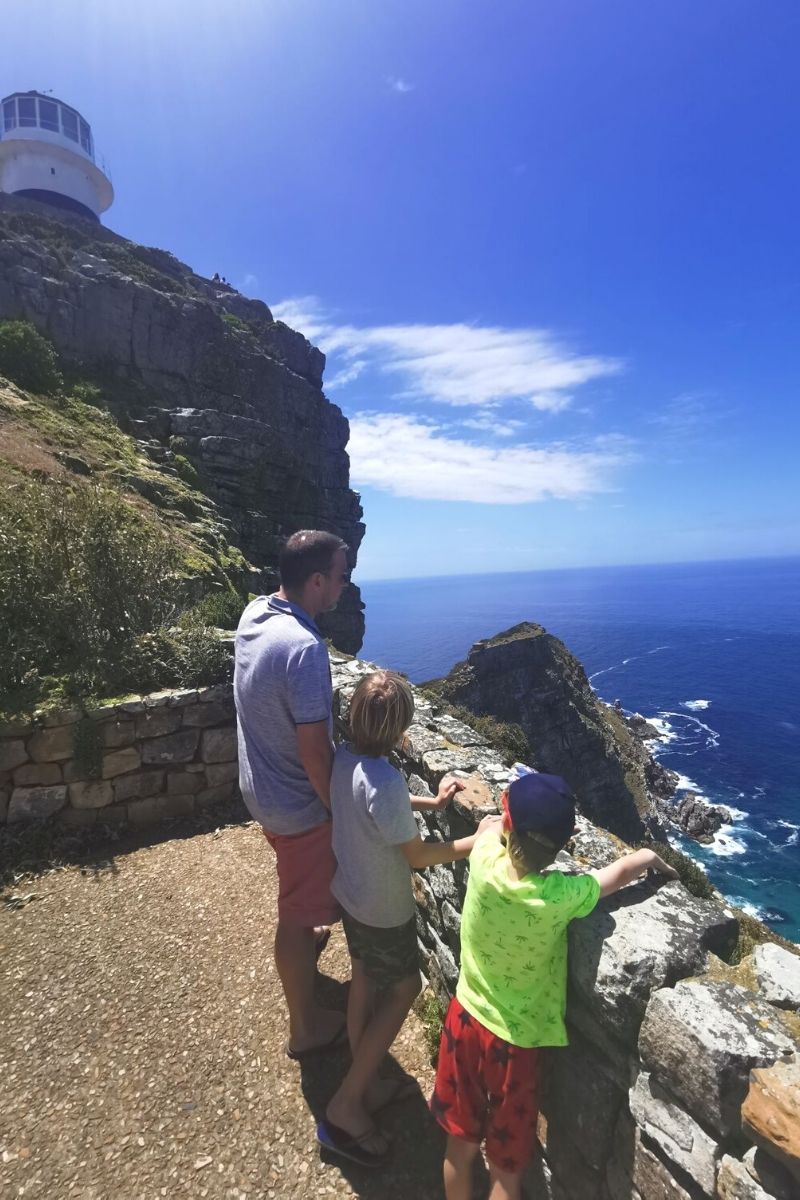 Go to the beach
Cape Town has some incredible beaches but you need to be aware that the water is very cold and can be very rough. To find out more about where to go you can read our post on the best beaches in Cape Town.
For families, Clifton 4th is very popular. Camps Bay is probably the most well known and is a huge expanse of sand dominated by the Twelve Apostles.
Bloubergstrand is a little way out of Cape Town (about 30 minutes) – but the water there is a lot calmer – despite the wind.
We (I say we but really mean I) also love Muizenberg for the colourful beach huts. They are a little run down now but still so striking, especially with a clear blue sky.
The kids love the water slides there. They have probably also seen better days but they are apparently very comfortable to ride down!?
We were there at the very end of the day in peak holiday season and at the end of our session we had the entire place to ourselves. A bargain at R55 (£2.50) per person.
While paddleboarding, we had a tip from a local to try out Cosy Beach which is between Camps Bay and Llandudno Beach.
We ran out of time to visit but apparently there are some great rocks to jump off into the water. Not sure how family-friendly it is but we will be checking it out next time according to our kids!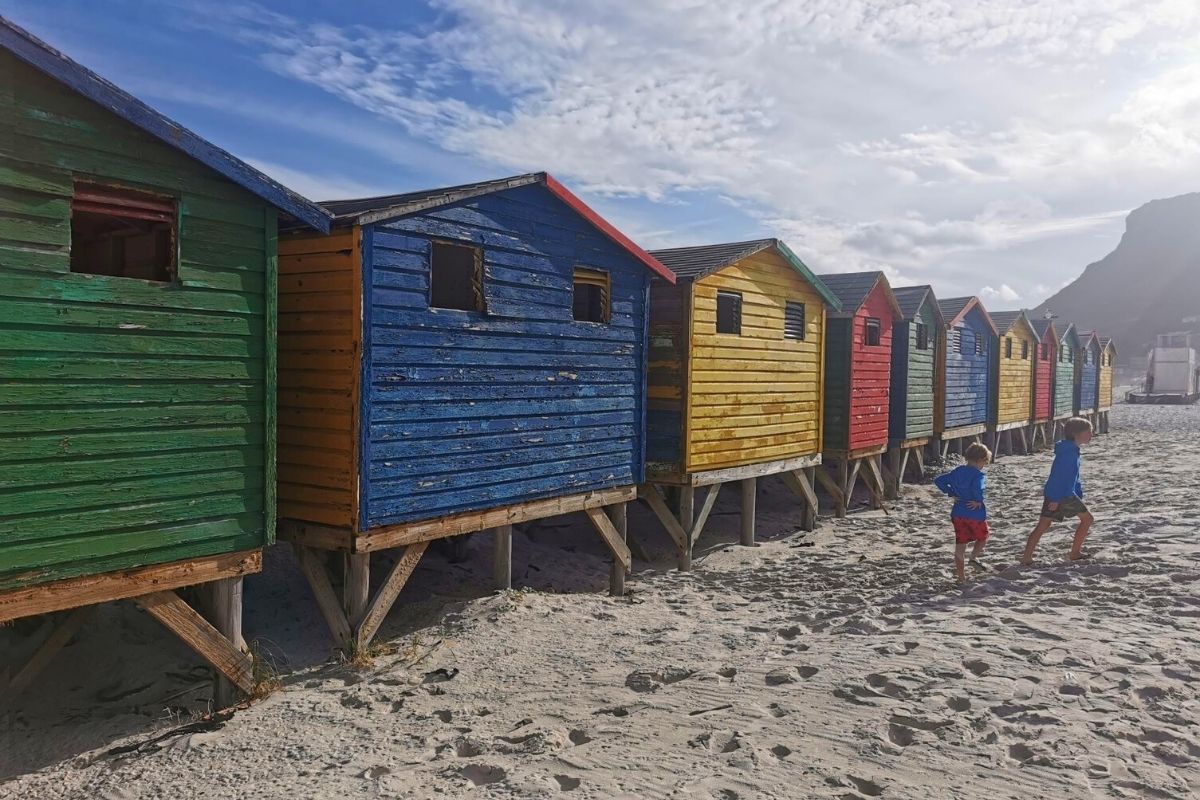 Cool Runnings
If you're a fan of the film 'Cool Runnings' then you absolutely have to try this out. This toboggan run is located about 30 minutes out of the centre of Cape Town towards the Durbanville Hills area.
It was SO MUCH FUN!
During the weekends and school holidays, it can get very busy. We arrived at 9.30 and were already faced with queues. We struggle to see that you would get more than 3 runs done in half a day. We have vowed to go back outside of peak holiday season so we can enjoy a few more runs.
Where: Off Carl Cronje Dr, Tygervalley, Cape Town, 7530, South Africa.
When: 7 days a week. Mon to Fri: 11am – 6 pm. Weekends and school holidays: 9am – 6pm.
How much: There are different packages so it is best to check their website for prices but 1 ride starts at R80 (£4 per adult).
Tip: Kids under 8 must ride with an adult. If it is raining, check if they are open as they may close on wet days due to safety.
Website: Cool Runnings.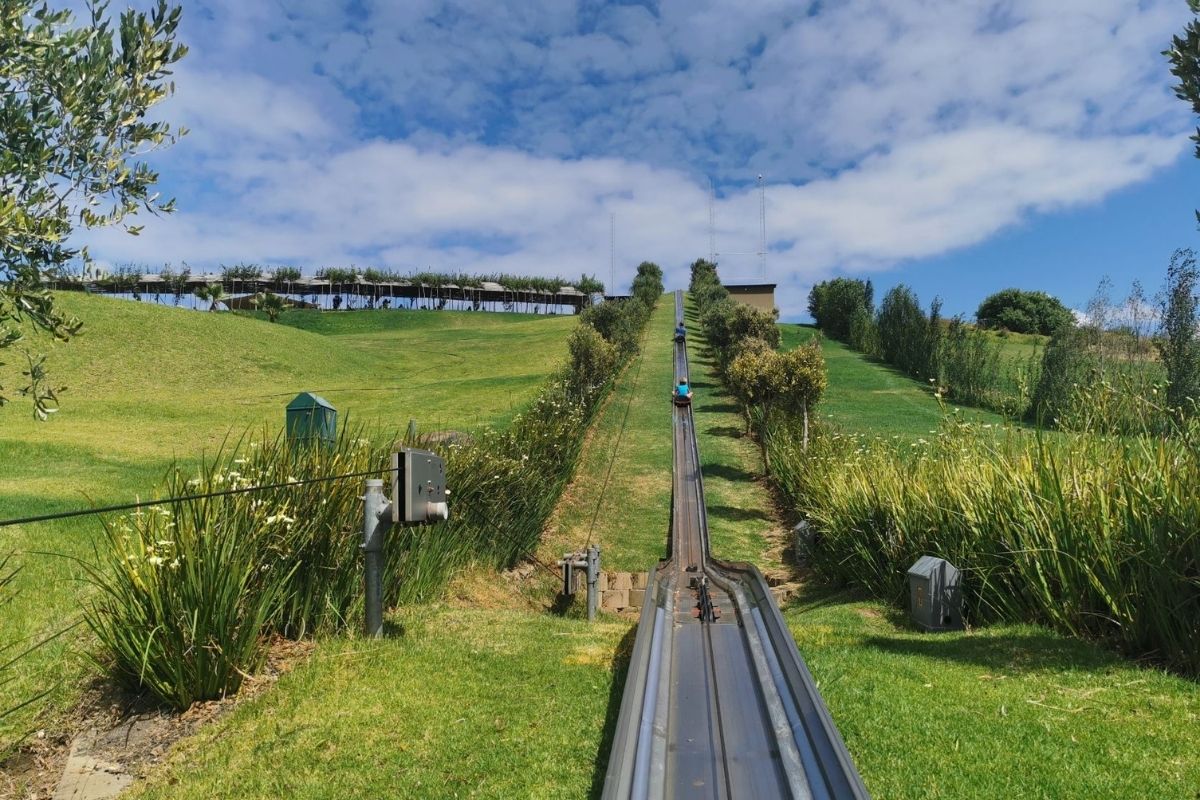 Paddleboarding or kayaking
If you want to try out some watersports but don't fancy tackling the large waves at the beach, paddleboarding or kayaking in the safe waters of the canals around the Waterfront may be for you.
We stayed in a lovely apartment at the Waterfront overlooking the waterways and admired the paddleboarders at the passed below so we thought we would give it a go.
We tried paddleboarding, kids kayaks and double kayaks and have to say, the kids had the most fun with the kiddie kayaks.
The staff were incredibly friendly and helpful. They have loads of paddle boards including one enormous one which can take 4 people. There are less double kayaks or kiddie kayaks available so you may need to pre-book these.
Where: Battery Park, Alfred Road, Victoria & Alfred Waterfront, Cape Town, 8012.
When: 7 days a week. 8am to 6pm in the summer months (October to March).
How much: There are different packages starting at R150 (£7.50) for 30 minutes.
Tip: Kids may prefer a kiddie kayak.
Website: SUP Cape Town.
You can book your paddle boarding experience with SUP Cape Town here with a flexible cancellation policy (up to 24 hours in advance).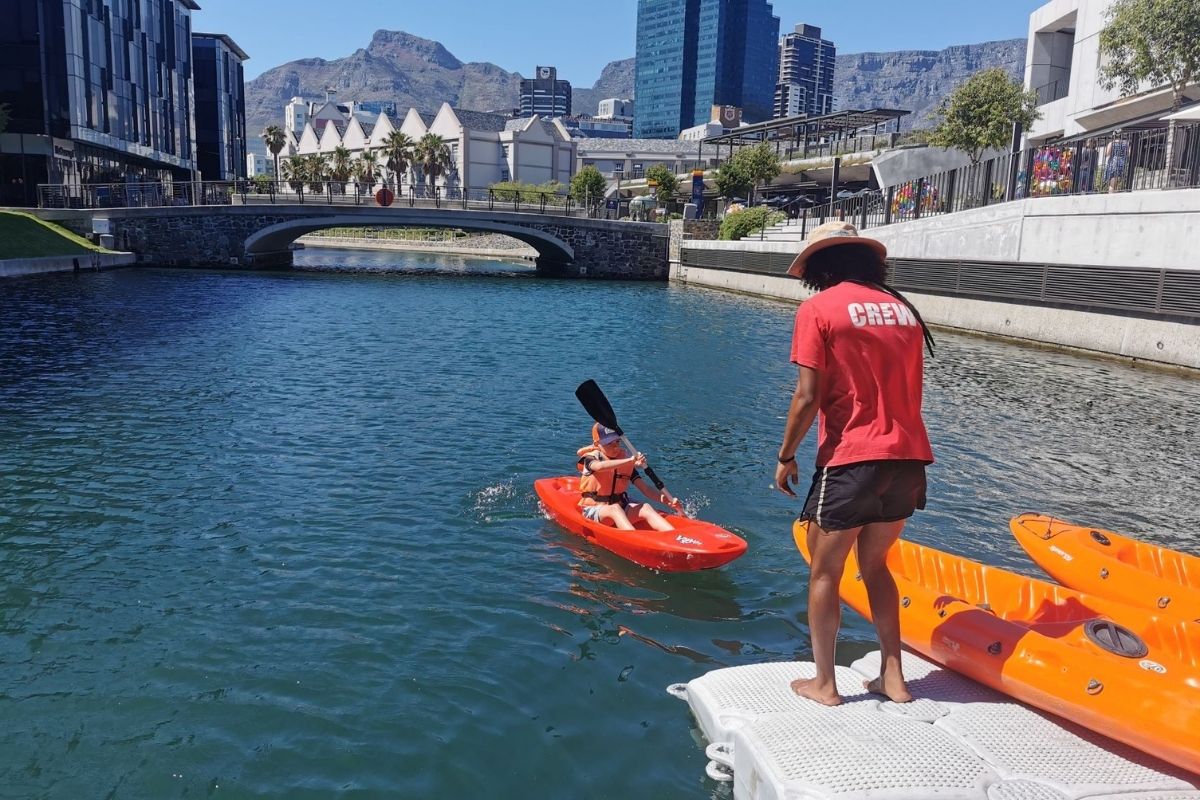 Boat trip seal watching
When I realised it would cost just £6 for the 3 of us for the 30 minute trip, I booked it straight away. It is perfect for kids because it is not too long and it stays within the harbour walls (for the most part) so it does not get choppy.
Disclaimer – you can see seals from the harbour but it's always nice to get on a boat in warm, sunny weather and the view back to Cape Town is very impressive.
The boats depart from the V&A Waterfront opposite Sevruga restaurant.
If you don't fancy leaving the Waterfront, you can even do a Hop on, Hop Off boat tour of the canals. We didn't do it but saw the boat passing by our apartment and leaving a wake for us to navigate while out paddle boarding :).
We also didn't go out on one with the kids but a sunset catamaran cruise along the coast is something we would like to try next time!
Where: Shop 5, Quay 5, Victoria & Alfred Waterfront, Cape Town, 8001, South Africa.
When: Departs on the hour between 10 am and 4 pm.
How much: Adult: R120 (£6.00), Youth: R60 (£3.00) and Under 12 – FREE.
Tip: Turn up a good 15 minutes before the boat departs as you may need to collect your tickets from the ticket office.
Website: Waterfront Charters.
You can book your harbour boat trip with seal watching here with a flexible cancellation policy (up to 24 hours in advance).
You can book your Cape town City Sightseeing cruise here with a flexible cancellation policy (up to 24 hours in advance).
You can book your Cape Town sailing trip here with a flexible cancellation policy (up to 24 hours in advance).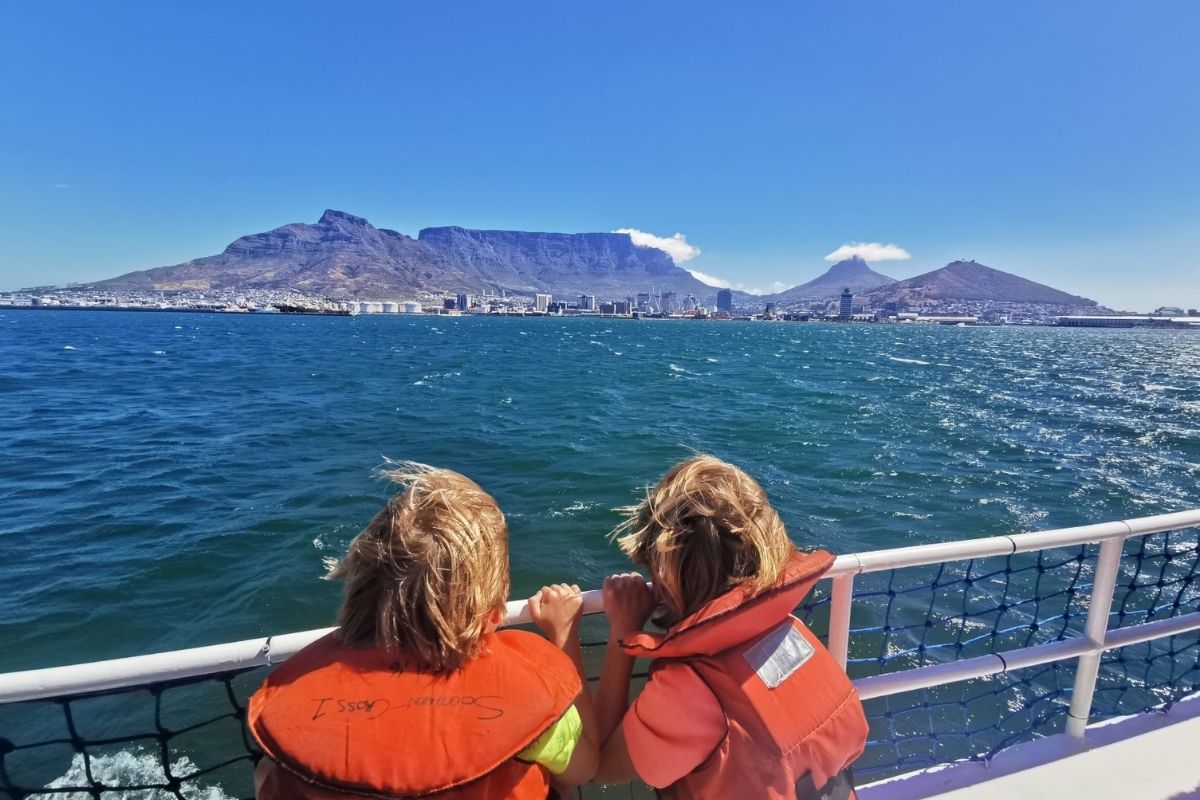 Other things to do in Cape Town with kids
There are a couple of kids activities in Cape Town we wanted to try but didn't have time for. We'll put them here in case you want to check them out yourself and when we get the opportunity to try them, we will update this post!
Bike Park at Constantia Uitsig
Green Point Park – we did actually take a stroll through the park but didn't check out the playground this time. The biodiversity garden was lovely though and the huge green expanse of the park is a lovely escape from the city. It is one of the most fun parks in Cape Town for kids.
Note – we didn't do Robben Island because we are saving that for when the kids are a bit older so that they can really appreciate the history and the story. Robben Island tours depart from the V&A Waterfront and take around 3 hours.
We recommend combining the tour with a township tour which will add some more interesting insight into the Nelson Mandela story.
You can book your Robben Island tour here with flexible cancellation (up to 24 hours in advance).
If you're feeling adventurous, you can book a helicopter tour of Robben Island!
Family day trips from Cape Town
OK, not things to do with kids in Cape Town as such but if you are looking for day trips from Cape Town, we have some great suggestions..
Cape Winelands
Visiting the Cape Winelands may not sound like on of the most family friendly things to do in Cape Town but we promise it is – especially if you take the Wine Tram tour!
See also our family-friendly wine estate picnics and guide to family-friendly South African wine estates where you will find the best playgrounds!
If you're looking for family-friendly accommodation in the Cape Winelands, we highly recommend Boschendal Farm Estate with their fabulous kids club, exquisite cottages and top quality restaurants!
You can book the Franschhoek Wine Tram Tour from Cape Town here with flexible cancellation (up to 24 hours in advance) – but we'd really recommend saving some time in your itinerary to spend a couple of nights in the winelands!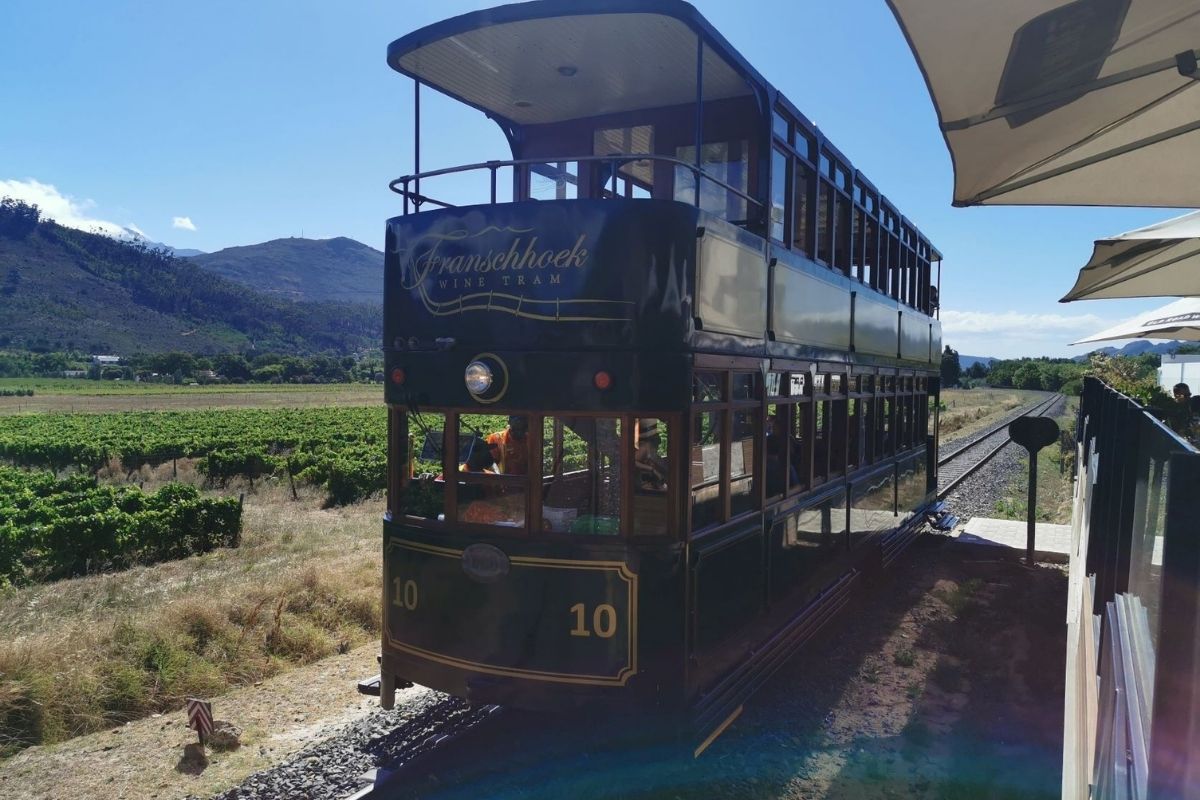 Hermanus
If it's whale season (July to December), you might want to consider a trip along the coast to Hermanus, one of the best places in the world for whale watching.
It is around a 90 minute drive from Cape Town and easily doable in a day trip but we think it's best to stay over there to really enjoy it.
While there, some of our favourite things to do in Hermanus include taking a hike in the Fernkloof Nature Reserve, checking out the wineries in the Hemel-en-Aarde Valley (Creation and La Vierge in particular) and pop into Ficks for some outstanding pinchos and sundowners in an incredible location!
If you are looking at a whale watching trip, you can get tours from Cape Town.
You can book your Cape Town to Hermaus whale watching tour here with flexible cancellation (up to 24 hours in advance).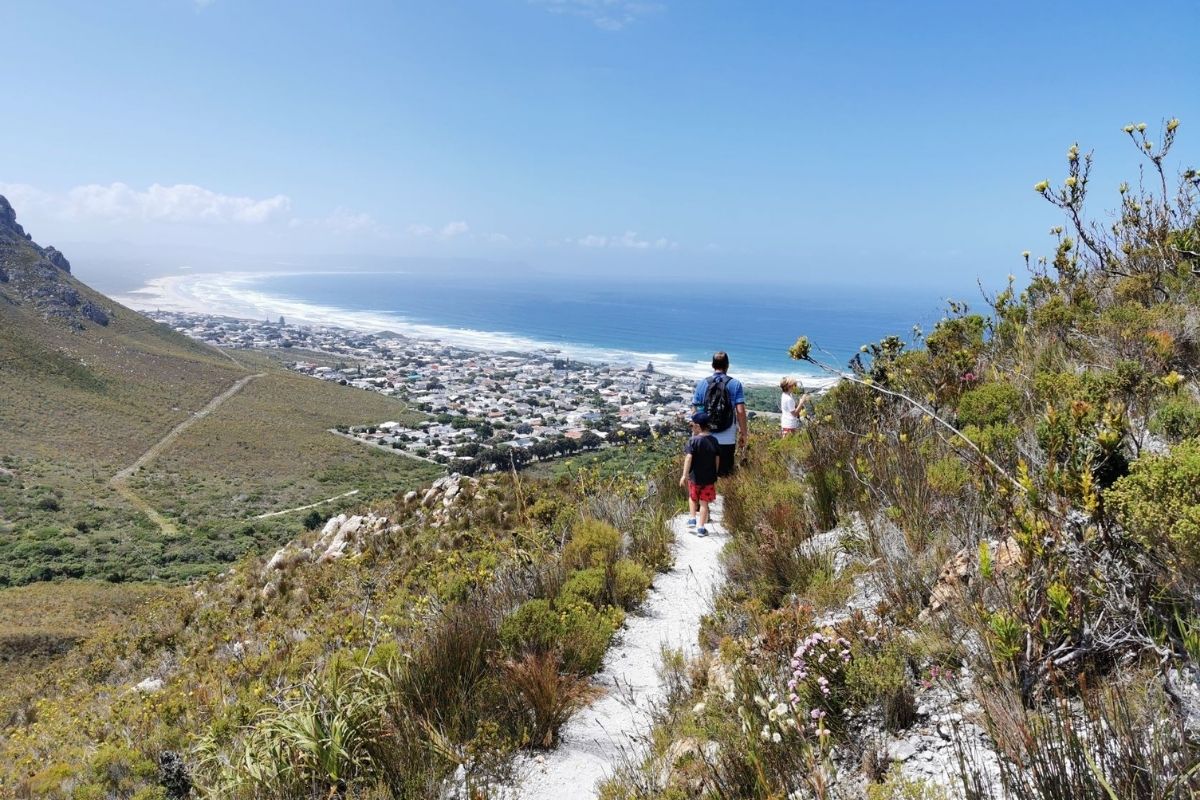 Safari
We haven't mentioned safaris yet because there aren't really any great safari experiences near Cape Town. The closest would be Aquila – but it is quite commercial with lots of day trips from Cape Town. For a more authentic experience, you really need to get up to the Eastern Cape and further north.
If you would like to read about safaris with kids – we have a guide to the most family friendly places in South Africa to safari.
Accommodation in Cape Town
We stayed at 401 Apartment which is located in the V&A Waterfront area. We like to stay in apartments so that we have the option of cooking if we want to to help keep costs down.
We usually always make our own breakfast because the kids are up early and can't wait until we're all ready to go out to eat!
The apartment was perfect. It was a huge, 2-bedroom apartment with 2 bathrooms and a full kitchen. It is in a very secure apartment complex which can only be accessed via entrances with security guards and a key fob.
The apartment is on the 4th floor and the main terrace overlooks the V&A waterways. The view from the kitchen sink is of Table Mountain which makes washing up more interesting (although there is a dishwasher)!
The location really was excellent for visiting the Waterfront (the Aquarium, the restaurants and shops, boat trips including Robben Island).
Here is a selection of photos of views from the apartment. I forgot to get photos of the apartment but you can see them on Booking.com.
If you prefer to stay in a hotel, we can also highly recommend Table Bay as being great for families with lovely family rooms and child-friendly activities.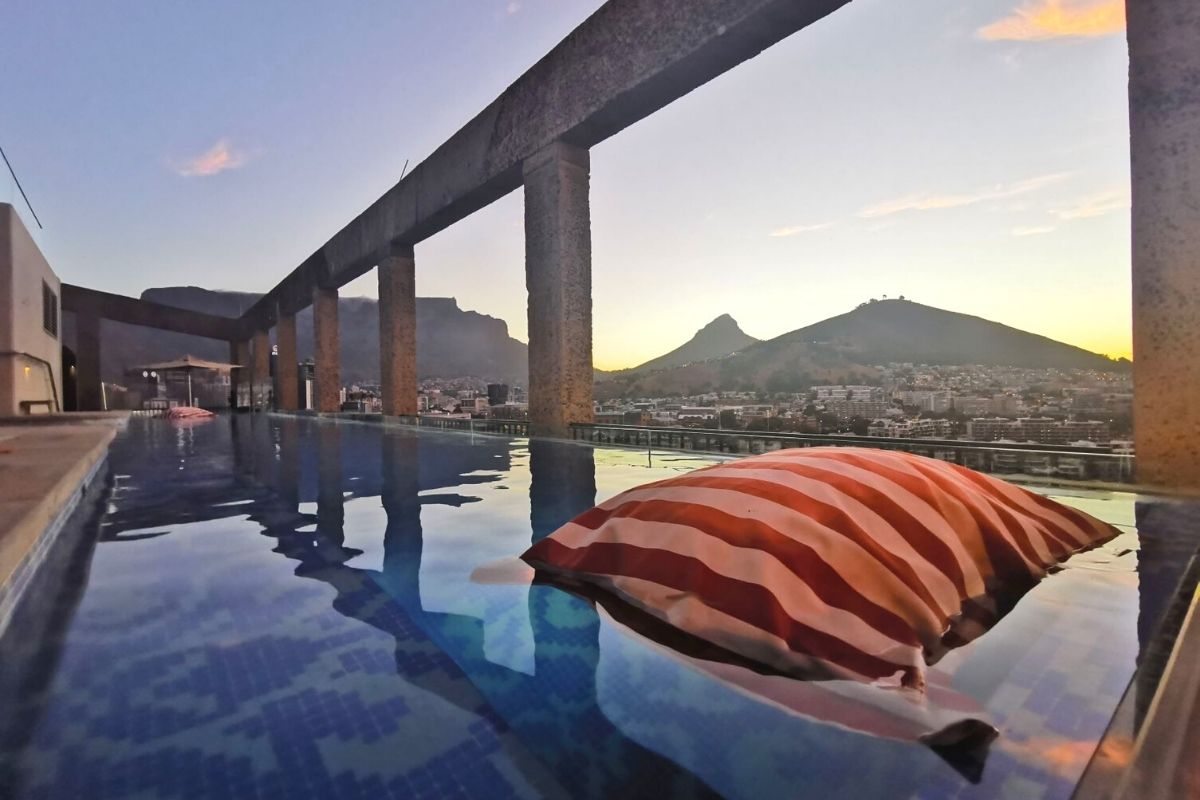 Restaurants in Cape Town
We went to some lovely restaurants in Cape Town and as there are so many to choose from, we thought it would be helpful to list a few of our favourites.
We love so many of the restaurants on this list so rather than re-list them, you can check them out here.
If your kids love steak, we can also recommend Nelson's Eye Restaurant. There's nothing particularly child-friendly about it – it just has THE BEST STEAK! We also loved The Yard next to The Silo in the Silo District. Mum and Dad can enjoy a bottle of wine while the kids play boules.
For sunset drinks, try The Lawns sitting high above Camps Bay or The Silo – one of the poshest hotels in town – or the Grand Africa Café & Beach for a really cool Ibiza style setting. Maybe this one is more for the adults but the kids will love playing in the sand while you enjoy a drink!
Want to read more about visiting South Africa with kids? We have more on the South Africa section of our blog.
If you have any more suggestions for cool things to do in Cape Town with kids, let us know!