The 6 Best Beaches In Cape Town: A Visitor's Guide For 2023
Cape Town is a city dominated by Table Mountain and the Twelve Apostles and some of the best beaches in Cape Town are also some of the best beaches in the world.
Whether you're a beach lover or not, there is a beach for you in our guide to Cape Town's best beaches.
There are buzzing and social city beaches, secluded white sandy coves, beaches teeming with wildlife and wild and windswept beaches for long walks.
Although the beaches are a big reason to visit South Africa, Cape Town has so much more to offer its visitors than just its fabulous beaches.
Visiting Cape Town with kids? Make sure you read our recommendations on where to stay in Cape Town with kids. It also explains which areas are good for families in Cape Town.
Cape Town is the perfect place to base yourself and enjoy trips to the wine regions to visit some world-class South African wine farms or to enjoy a family picnic on a wine farm which is one of our absolute favourite things to do in South Africa. See also – things to do with kids in the Cape Winelands.
Venturing a little further afield you can find yourself on safari viewing some spectacular African wildlife. Did you know that South Africa is the perfect country to enjoy a family-friendly safari?
It has some of the best options for a budget-friendly safari in Africa.
This post contains affiliate links. If you click on one and book or buy something, we may earn a small commission but this is at no extra cost to you.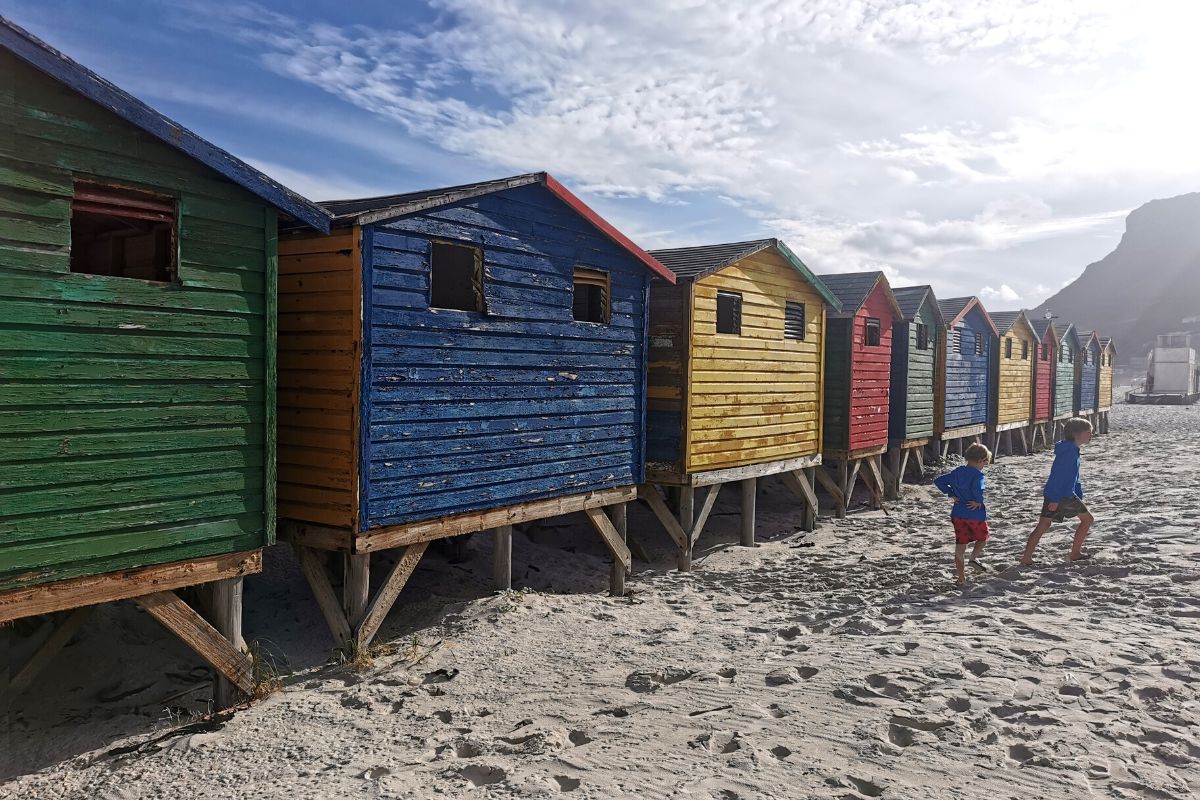 If you're looking for things to do in Cape Town besides visiting the beach, make sure to check out some of these tours.
Getting back to the beaches (and you will want to get to the beaches), we've picked the best beaches in Cape Town to visit during your stay.
Just a quick note though, if you want to make the most of these stunning Cape Town beaches, we would say that the best time to visit Cape Town is from November to March, during their summer months.
March would be the ideal time because there are fewer tourists and the winds die down a bit. One final note – that although the water looks inviting, it can be incredibly cold!
These are the best beaches in Cape Town
1. Camps Bay
Camps Bay is Cape Town's most famous and probably its busiest beach. It's lined with dozens of bars and restaurants and has all the amenities you could possibly need.
There's a buzzing atmosphere and you can't really get a more dramatic backdrop than the Twelve Apostles which, if you're lucky, may be covered by clouds dripping over the edge. This effect is also seen over Table Mountain and known as the Table Cloth. It's such a beautiful sight.
Be warned that the water here is limb-numbingly chilly. In all the years I've been visiting Cape Town, I've never made it into the water for a swim here. The same is true of all the Cape Town beaches on this side of the peninsula.
Location: Follow the coastal road around from the Waterfront via Green Point and Sea Point or take a shorter (and quicker) route along the M62.
Accommodation  in Camps Bay
| | | | |
| --- | --- | --- | --- |
| Name | Rating | Top Features | More information |
| The Bay Hotel | 4/5 | Free Wifi, pool, restaurant, free breakfast, fitness centre, airport transportation | Click here |
| POD Camps Bay Boutique Hotel | 5/5 | Free Wifi, pool, free breakfast, fitness centre, airport transportation | Click here |
| South Beach Camps Bay Boutique Hotel | 5/5 | Free Wifi, pool, free breakfast, fitness centre, airport transportation, bicycle rental | Click here |
2. Clifton Beaches 1 – 4
Although Clifton is really one long beach, rock formations almost divide the beach into four sections, all overlooked by the huge (and hikable) 'Lion's Head' mountain peak.
Each beach has its own identity but all of them attract a bronzed and beautiful crowd who come for the pristine white sand.
Not that it really matters but as a quick guide to the Clifton beaches: Clifton 1st is the quietest and hardest to reach and attracts older residents while Clifton 2nd attracts pretty much anyone.
Clifton 3rd beach is more popular with gay men and Clifton 4th seems to attract a young, trendy crowd as well as families, mainly because it is a Blue Flag beach and is closest to facilities and parking.
Don't worry about the classification of beaches though. We visited most of the beaches, except 1st, and felt completely comfortable at all of them.
The only thing you need to consider is that parking can be very tricky if you arrive after 9 am and that there isn't a great deal in the way of facilities (unless you visit 4th) so you need to bring everything you need with you otherwise it's a long trek back up the steps.
Location: Next bay along from Camps Bay, closer to Cape Town.
Accommodation in Clifton Beaches 1 – 4
| | | | |
| --- | --- | --- | --- |
| Name | Rating | Top Features | More information |
| Wixy | 9.9 | WiFi, garden, barbecue facilities, whole house, ocean view, kitchen, pet friendly | Click here |
| Clifton 3rd Beach house | 9.6 | WiFi, garden, barbecue facilities, whole apartment, ocean view, kitchen, airport shuttle | Click here |
| Bungalow on 4th | 7.9 | WiFi, whole apartment, ocean view, kitchen, washing machine,  | Click here |
3. Llandudno Beach
Llandudno is a little further along the coast from Camps Bay away from Cape Town but it couldn't be more different. It is wild, rugged, and much quieter.
There aren't any facilities here so you need to bring everything with you, including your food. If you love a rugged beach and like to get away from the crowds, this is a great choice.
Location: 17 km along the beautifully scenic coastal Victoria Road.
4. Muizenberg Beach
Muizenberg South Africa is a great beach for families because the water is slightly warmer than the beaches closer to Cape Town.
Being on the other side of the peninsula to the city beaches of Cape Town, it benefits from the warmer currents coming down from Mozambique.
The enormous long stretch of white sand makes it an ideal beach for long walks with or without a dog. Be sure to stop by and grab a picture-perfect shot of the colourful Muizenberg beach huts which really stand out against the incredible blue of the South African skies.
If you are visiting Cape Town with kids and want to take them somewhere fun, you can visit the water slides in Muizenberg.
Location: 25 km south of Cape Town following the M5.
Accommodation in Muizenberg
Name

Rating

Top Features

More information

Sunrise Penthouse

7.4

WiFi, whole apartment, ocean view, outdoor pool,

free parking

Click here

Neptunes Rest

7.9

WiFi, whole apartment, ocean view, outdoor pool,

free parking

Click here

Admiralty Bed & Breakfast

9.1

WiFi, outdoor pool, pet friendly, airport shuttle, free parking

Click here
5. Boulders Beach
Boulders Beach is a must-do for families visiting South Africa. It's famous for its large colony of African penguins and our boys loved seeing them up close.
There are wooden walkways that allow you to wander around the colony and get close to them without disturbing them too much. You may also see them wandering around the neighbourhood.
There's a conservation fee to enter the beach of R152 for an adult and R76 for a child.  More information about visiting the penguins can also be found here: Table Mountain National Park Marine Protected Area
As well as wandering along the boardwalks and learning about the penguins from informational displays, you can have the chance to swim with the penguins in their natural habitat.
As the name suggests, there are also lots of boulders which are great for little rock-climbing
Location: 40 km from Cape Town near Simon's Town in the direction of the Cape of Good Hope.
6. Bloubergstrand
Head to Blouberg beach if you're into kitesurfing. It's one of the best kitesurfing destinations in the world and one of the best beaches in Cape Town for kitesurfing.
This does mean though that it can get a bit windy there so you need to be prepared for that, especially if you're visiting with little ones.
It's not ideal for relaxing in the sun if the wind is strong and the sand is whipping around you. One of the other reasons to head here though is that you get a completely different and arguably better view of Table Mountain across Table Bay.
Location: 18 km north out of Cape Town along the M5.
Map of the Best Beaches in Cape Town
So these are the best beaches in Cape Town. If you have any more you would like to recommend, let us know in the comments.
If you found this post helpful, we'd love for you to bookmark it, share it with friends or pin it for later!