The Best Things To Do In Sri Lanka With Kids In 2023
There are so many fabulous things to do in Sri Lanka with kids but this is not the only reason that Sri Lanka is one of our favourite destinations in the world to travel with kids.
It has beautiful beaches and abundant wildlife. It has stunning mountain scenery, a fascinating history and delicious food.
But what makes Sri Lanka an amazing destination for families is that the Sri Lankan people are among the most friendly people we have met during our travels.
They love children and everywhere you go in Sri Lanka with kids, you will be made to feel very welcome. This is so important when travelling with kids.
If you would like to see what you can do in Sri Lanka with kids, we have a 2 week Sri Lanka itinerary which includes where we stayed and what we did.
See also our recommendations for the most family-friendly accommodation in Sri Lanka.
This post contains affiliate links. If you click on one and book or buy something, we may earn a small commission but this is at no extra cost to you.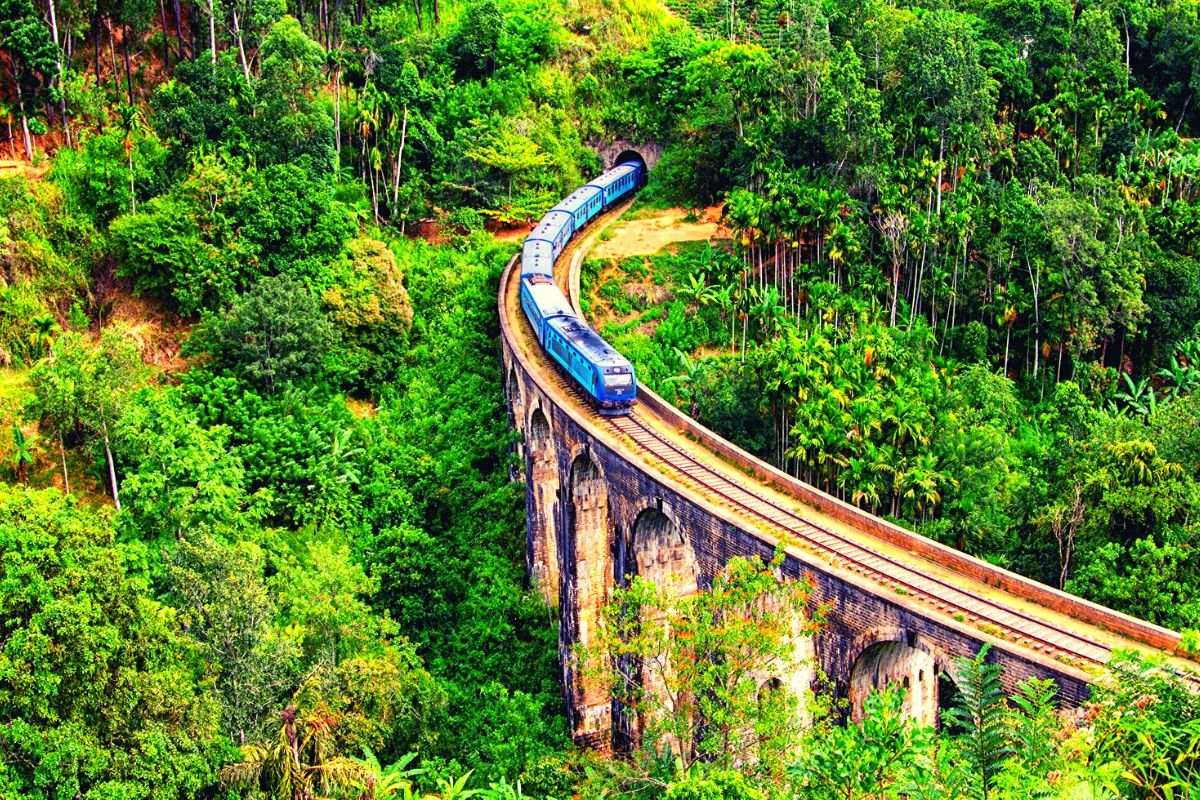 Things to do in Sri Lanka with Kids
Visit the family-friendly beaches
With so many wonderful beaches in Sri Lanka, you're bound to want to kick back and spend some time at the beach.
Not all of the beaches in Sri Lanka are suitable for kids though, so make sure to read our guide on the best beaches in Sri Lanka for families.
Our absolute favourite beach (and the safest beach in Sri Lanka for kids) is Dalawella Beach near Galle.
The calm waters of Dalawella were great particularly if you have small kids. There is also a good chance of spotting turtles there as they come in to swim in the shallow waters.
We also loved the wide stretches of golden sand on Bentota beach (about 100 km south of Colombo on the west coast). It never gets crowded and there is a good choice of hotels there.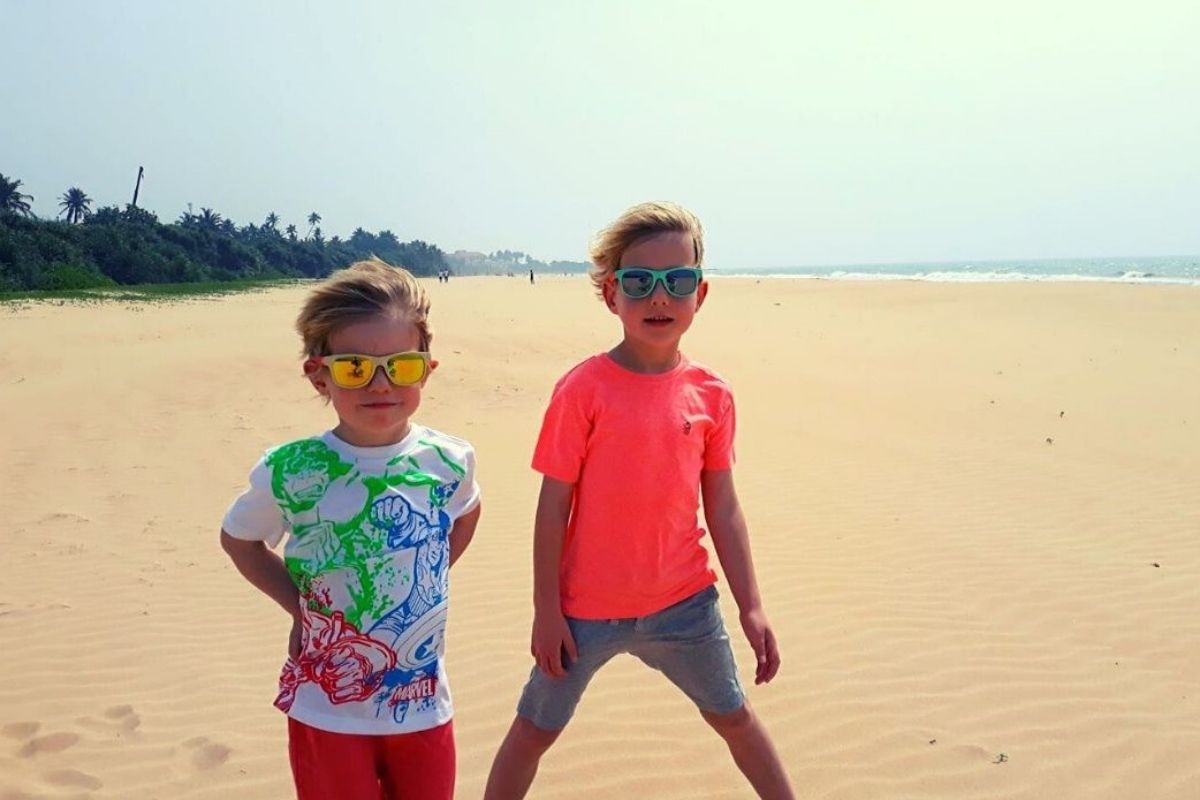 Take a Safari
There are a number of national parks in Sri Lanka and no trip to Sri Lanka would be complete without going on a safari.
Spotting the wildlife in their natural habitat is one of the most fun and educational things to do in Sri Lanka with kids.
The best places to do a safari are in Yala National Park (best for leopards) and Udawalawe National Park (best for elephants). We have lots more information on taking a safari with kids in these posts. Make sure to also check out recommendations for family accommodation in Udawalawe.
One thing we would like to say here is that if you want to see elephants, please do take one of these safaris as opposed to seeing the elephants at Pinnawala Elephant Orphanage.
We decided not to got there because we heard reports of the elephants being treated badly.
As a rule, we don't like to see animals in captivity and so the great thing about Sri Lanka is that you can see so many animals in their natural habitat that you don't need to visit them in captivity.
Whilst these tips on animal spotting on safari and what to take on safari with kids are written from the perspective of taking an African safari with kids, some of the tips still apply to a Sri Lankan safari.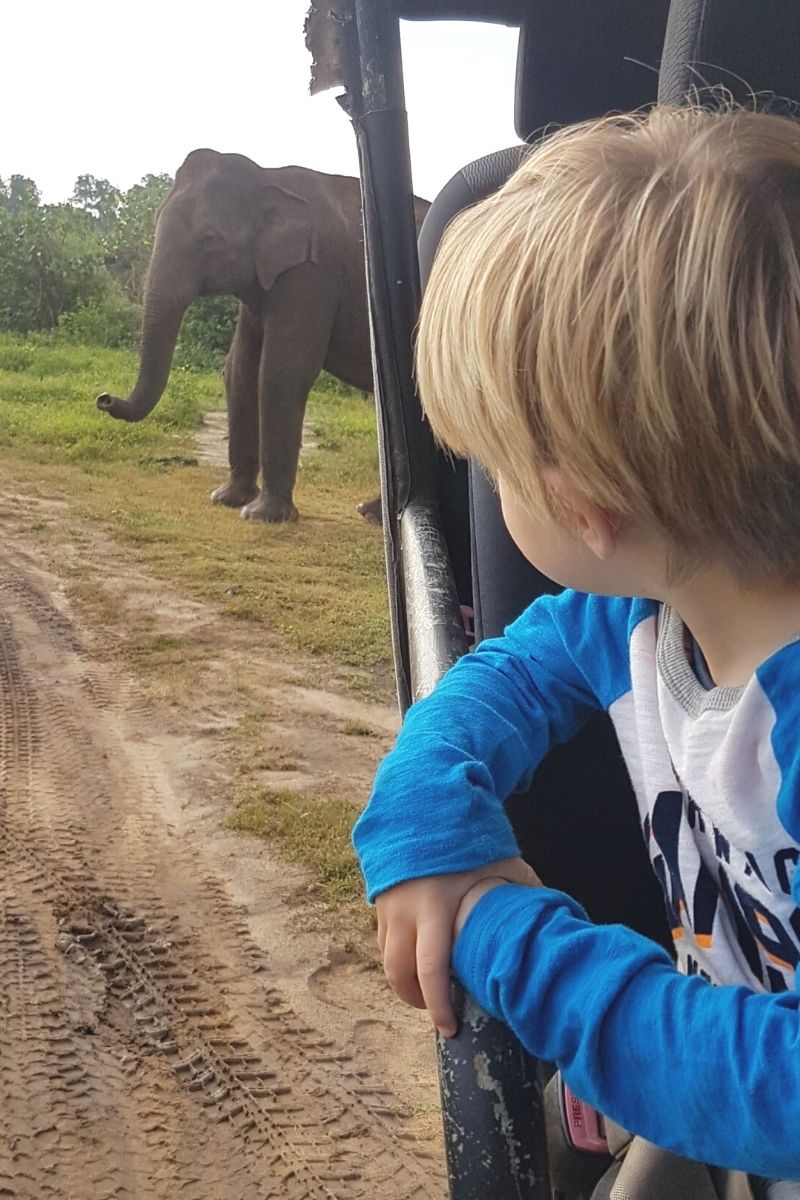 Take a spice tour
Sri Lanka is home to an incredible variety of spices which is why the Sri Lankan food is so fragrant and delicious.
We took a complimentary spice tour with the kids when we were staying at the beautiful Strathisla Tea Estate in the hill country near Matale but you can organise spice tours independently.
It was amazing to learn about the spices that we use in everyday life and to see them grow either on a plantation or in the wild.
The kids absolutely loved the closing plants where the leaves fold inwards when they're touched. They are called Mimosa Pudica or the Touch Me Not Plant or the Tickle Plant.
The boys found this hilarious. If you go on a spice tour, ask your guide to point these out. This is such an interesting day out for families in Sri Lanka.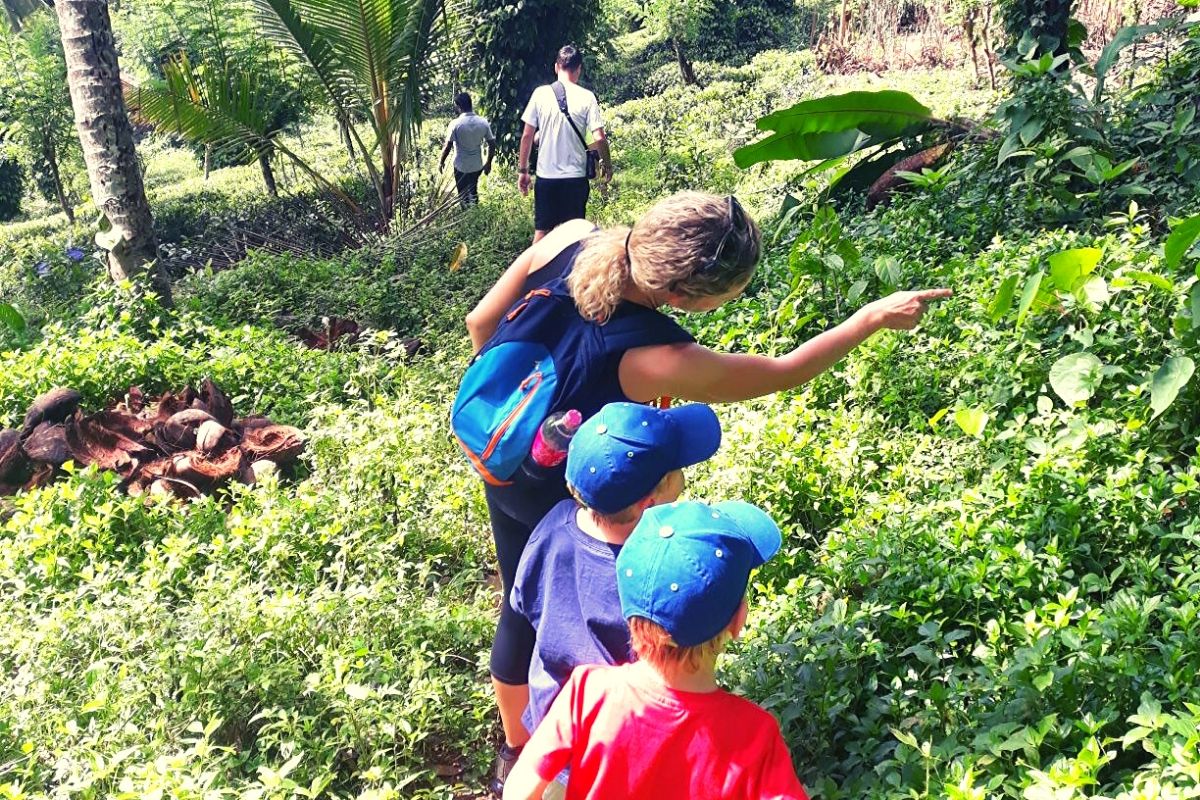 Watch the iconic Sri Lankan Stilt Fishermen
Stilt Fishing in Sri Lanka is a dying art but you can still see some of the stilt fishermen if you head to Koggala, about 25 km along the coast from Galle.
There are some arguments as to whether these fishermen are authentic or whether they are just there to pose for photos for tourists.
Either way, they are a great sight and it is a fun  as it is also a trip to the beach. You will also be able to see them at Weligama beach.
The best time to see the stilt fishermen in Sri Lanka is at sunrise or sunset. They mostly catch their fish in the morning and then in the evening it is more about posing for photos!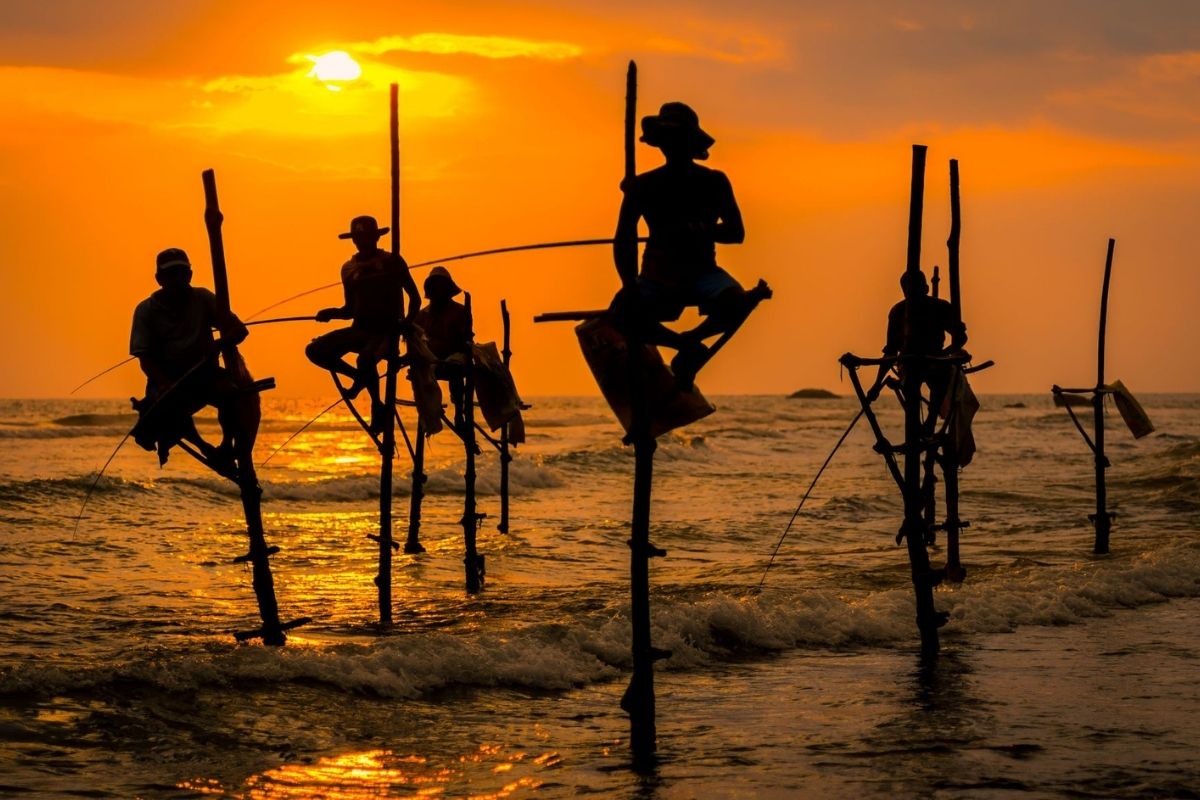 Climb Little Adam's Peak
Climbing Adam's Peak may be a stretch too far for the kids but Little Adam's Peak in Ella is just perfect for them.
The path up to the peak is mostly paved and is a lovely easy walk. It's one of the best things to do in Ella with kids.
There is a small stretch towards the end that narrows and there is a bit of a climb to the top, but it was perfectly manageable for a 3 and a 5-year-old.
The walk took us about 3 hours, including some time at the top to take photos and a drink on the way back at the beautiful 98 acres resort.
Make sure that you have some good walking shoes or decent trainers for the walk.
It is best to do it in the morning when the views are clearer. Clouds tend to roll in later in the afternoon, and it will be much busier. We stayed at the Chillout Ella which is right at the start of the path to Little Adam's Peak.
It is a lovely budget-friendly option in Ella as it was a little out of the hustle and bustle of town and had beautiful views over the tea plantations.
See here for Little Adam's Peak and Nine Arch Bridge half day tour with flexible cancellation.
Take a ride in a tuk tuk
Tuk tuks are such a great way to get around Sri Lanka. Don't be afraid of taking one with the kids. It will be such a fun and novel experience for them.
We recommend only using them for short distances though because they are noisy and slow. You also don't want to be taking a tuk tuk on routes like the south coast up to Ella.
The road is winding and large trucks and buses use that road. It is much safer in a car.
Tuk tuks are everywhere and you won't be waiting long before one comes by and you can flag it down. They are also a cheap way to get around but make sure you set the price before you set off.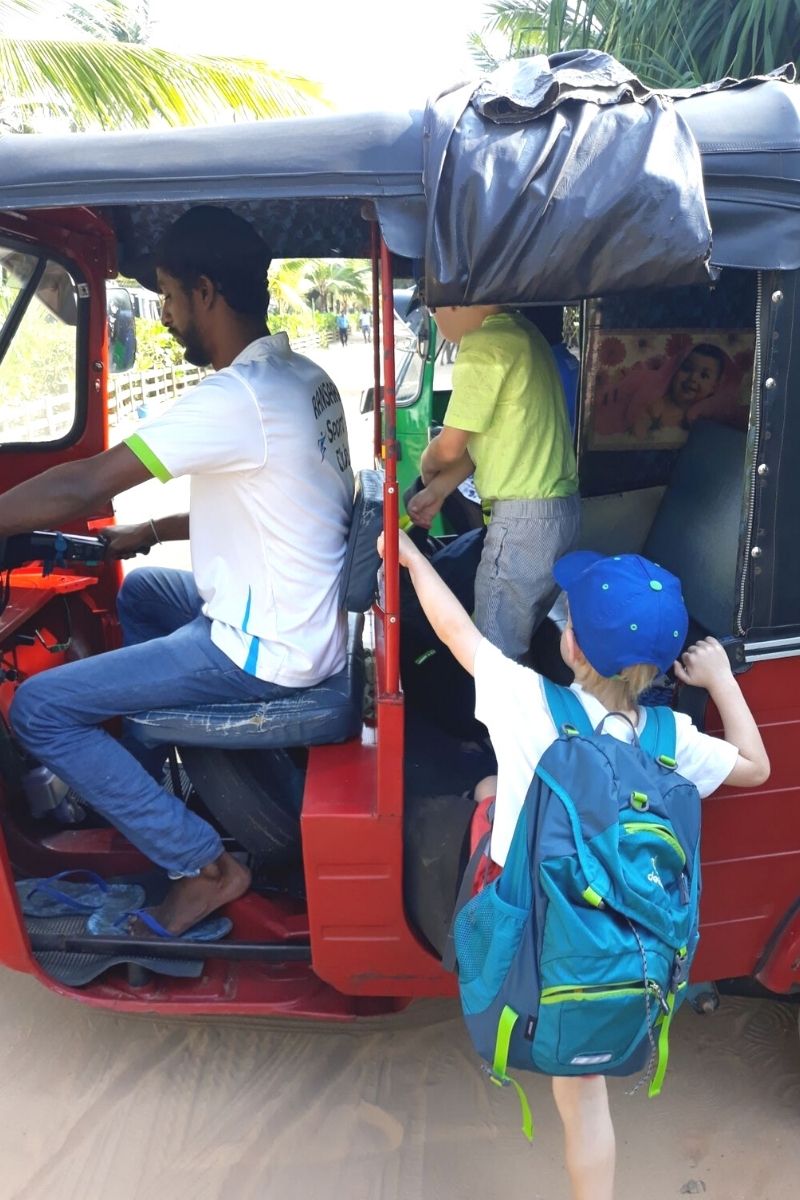 Visit a turtle hatchery
In theory, rescuing turtle eggs from poachers and releasing the baby turtles sounds like a good idea but something didn't sit right with us when we visited the turtle hatchery in Koggala.
We were shown around tanks containing various species of turtle. Some had been injured and we were told they would never survive if they were released back into the ocean.
We did wonder what sort of life it must be being confined to these tanks for however long they would live (and turtles live a long time).
Maybe it would be better for them for nature to take its course rather than keep them in tanks and charge tourists to view them.
The kids were oblivious to our conflicted feelings and loved seeing the turtles, particularly watching them being released.
If you do want to go and visit a turtle hatchery in Sri Lanka, just make sure to ask around and do your research to make sure you visit the ethical hatcheries.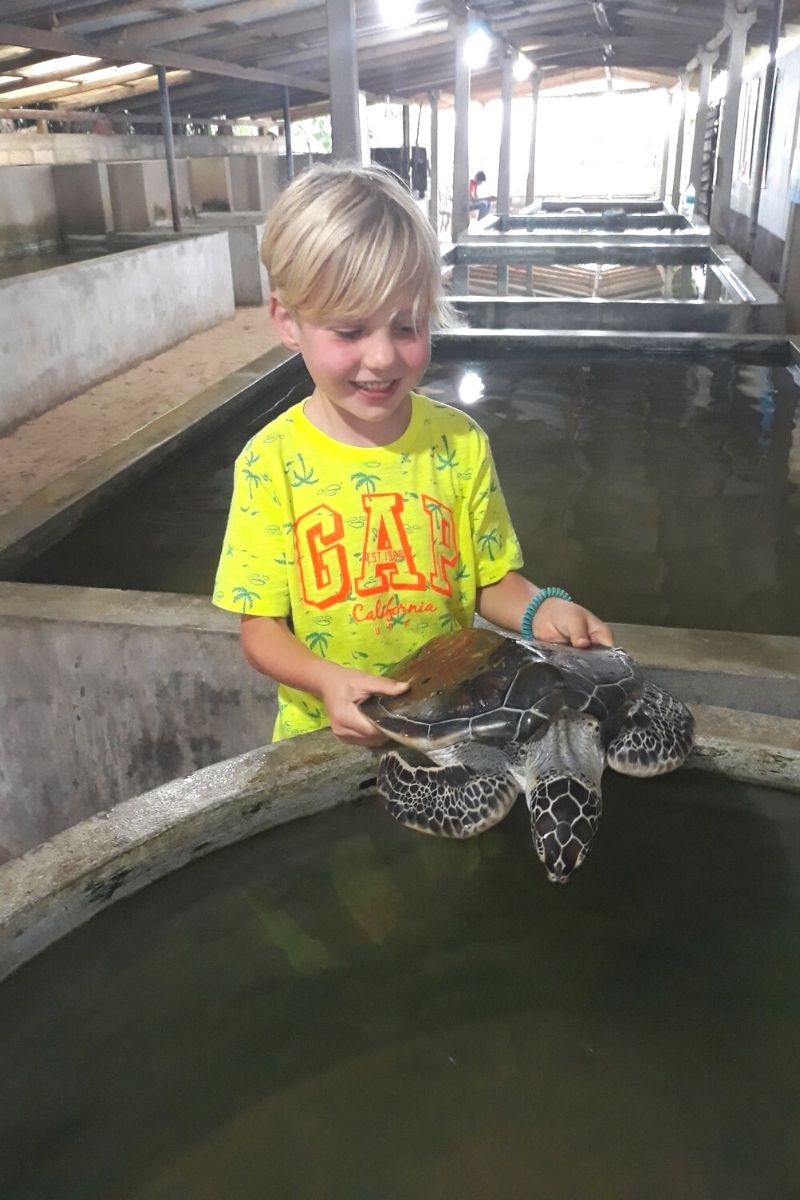 Take a scenic train rideTaking a train in Sri Lanka is an experience not to be missed, especially if you are visiting the hill country.
The stretch of track between Haputale and Ella is one of the most scenic train journeys in the world.
If you're in this part of the country, you must take a tour of a tea plantation to learn all about the tea industry in Sri Lanka!
Our tips for taking the train in Hill Country are:
We would recommend taking 2nd class or even 3rd class. If you know the dates you will be travelling, you can make reservations in advance. This line can get extremely busy in peak season and at weekends so you may not even get a ticket on the day. It's best to try to reserve in advance, even if it means paying a bit more.
Sit on the right-hand side of the train on the way to Ella from Kandy and on the left-hand side on the way to Kandy. This seating arrangement will give you the best views of the rolling hills.
Try the food from the sellers on the train. If you're lucky you might also get a seller coming along selling freshly made wadi wadi (or wade wade) which are lentils, curry leaves, chilli rolled into balls, deep-fried and served in a newspaper!
If you don't want to organise the train tickets yourself, you can organise a tour which incorporates a train ride. See here for tour options with flexible cancellation.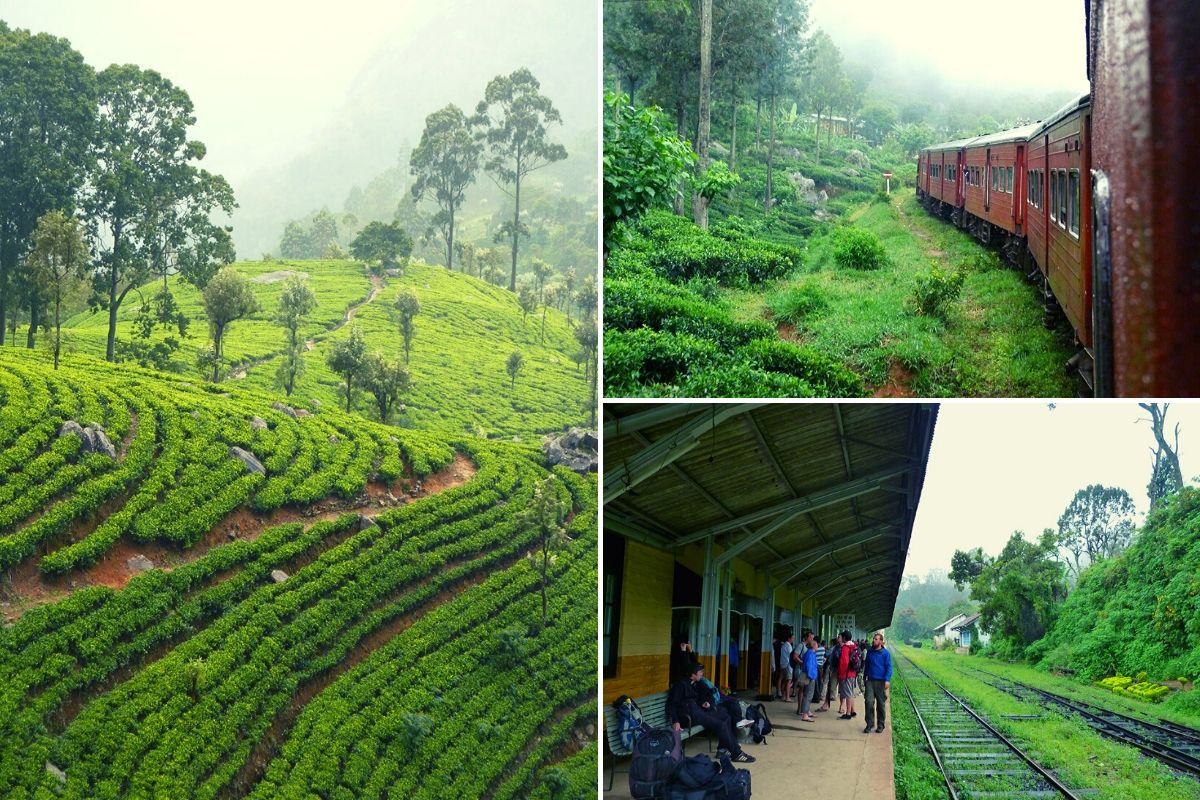 Go whale watching
Sri Lanka is one of the best places in the world to spot the mighty blue whale but you need to be aware that it may not be right for kids.
For this reason, we haven't put whale watching in Sri Lanka at the top of the list of things to do in Sri Lanka with kids.
The trips can be long and you may have to go quite far out to sea to spot them where the waters can get very choppy.
We took a trip from Mirissa before we had kids and suffered from seasickness. The trip took 6 hours and as you are on a group trip, they won't turn the boat back to shore if you or the kids aren't feeling well.
That being said, if you're confident there will be no seasickness and the kids can manage a 3-5 hour trip, spotting that iconic whale tail will be one of the most memorable things to do in Sri Lanka with kids.
When selecting a tour, make sure the company is accredited by the Whale and Dolphin Conservation Society (WDC). They also a lovely whale resource you can check out with the kids before you go.
See here for a whale watching tour from Mirissa with flexible cancellation.
These are our favourite things to do with kids in Sri Lanka. We hope you have found some inspiration here and enjoy your trip!