23 Top Places to Visit in Florida On A Family Vacation
Contrary to what many people might think, there are so many amazing places to visit in Florida with kids that aren't theme parks.
In addition to being the theme park capital of the world, Florida, the sunshine state, also has great beaches, beautiful natural springs, abundant wildlife, National Parks and an incredible space exploration centre.
There's pretty much something for everyone.
In fact, it's why Florida is considered to be one of the best destinations in the world for a family holiday.
We took a 4 week road trip around Florida when the kids were really small (3 months and 22 months) and had a fabulous holiday.
Admittedly, I had to be talked into it because I thought Florida was ALL about Disney but when I started looking into places to visit in Florida with kids, I was really surprised.
Florida is a fantastic destination for families and the theme parks really are just the cherry on top. We've included all the best places in Florida that families will love.
Before you discover the best places to visit in Florida with kids, make sure to check out our guide to the most family-friendly beach resorts in Florida!
This post contains affiliate links. If you click on one and book something, we may earn a small commission but at no extra cost to you.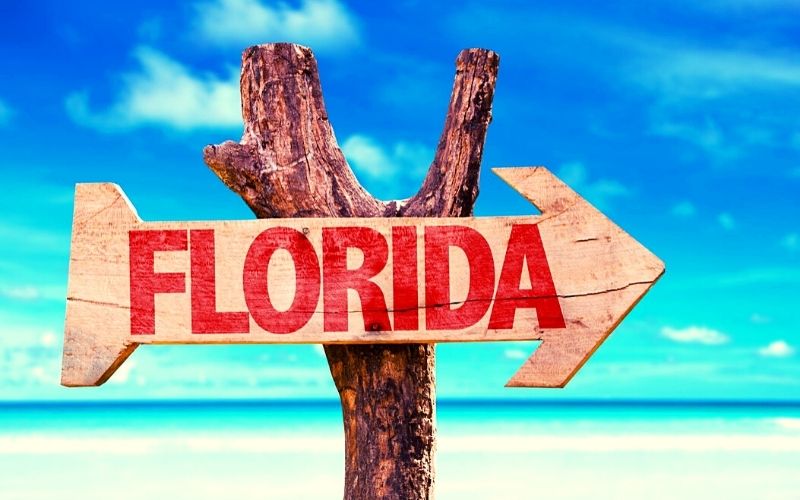 The Florida Beaches
The beaches in Florida are some of the best in the world and they can sometimes be overlooked if you're just focused on Disney. With the second longest coastline in the US, there are plenty of amazing beaches to choose from.
Visiting the Florida beaches is one of the best things to do in Florida with kids. Here are some of the very best:
South Beach, Miami
South Beach is perhaps the most well-known beach in Florida. It has a string of Art Deco buildings lining the shore, restaurants and fancy hotels.
It's a great place to take a stroll along the boardwalks and just people watch. There's so much colour and vibrancy here. Make sure to take a walk along the beach and view the colourful lifeguard huts.
Anna Maria Island
Anna Maria Island is located just off the west coast of Florida, near Tampa. It's such a great location for a family beach vacation with its relaxed, low key vibe.
The water is calm and blue. The sand is white and there are plenty of family-friendly restaurants.
There are some great piers to check out, including Rod and Reel and Bradenton Pier and the best beach on Anna Maria if you're looking to get away from the crowds is Bean Point in the far north.
Choosing Anna Maria Island, you're choosing one of the best beaches in the US.
Sannibel Island
Sannibel Island is located off the west coast of Florida near Fort Myers. It's the perfect place for shelling.
The white sandy shores are covered in an estimated 250 different variety of shells, ranging from tiny sand dollars to large conch shells. The waters are also frequented by dolphins and pelicans.
Cocoa Beach
Cocoa Beach is on Florida's Space Coast, not far from the Kennedy Space Center. The beach has soft, white sand and there are loads of family-friendly restaurants on the historic Westgate Cocoa Beach Pier.
The Space Coast is the surf capital of Florida and there are plenty of opportunities for you to learn to surf here.
Cocoa Beach is one of the closest beaches to Orlando and all of the theme parks which makes it a good choice if you are looking for a day trip to the beach.
If your kids love dinosaurs (by the way, we have a great post on Dino Parks in the UK and on Drumheller in Canada, the Dino capital of the world!), make sure to check out the Dinosaur Store in Cocoa Beach.
Natural Springs in Florida
There are more than 700 freshwater springs in Florida. These springs are the most beautiful places to visit in Florida and really should be on your must see places in Florida list.
The waters of these natural springs in Florida are so clear and almost iridescent. They're so inviting and some of the best places in Florida for a swim, but make sure you only swim in safe areas. There will also be great wildlife spotting opportunities.
Crystal River Florida
Crystal River is located right on the west coast of Florida, about 90 minutes from Orlando in Florida's Citrus County.  It's one of the best places in Florida to see manatees with over 800 manatees seeking shelter here in the winter months.
There are loads of other water adventures to be had here and lots of wildlife to be seen, particularly in the Crystal River National Wildlife Refuge and Kings Bay Manatee Refuge.
Homosassa Springs
The Ellie Schiller Homosassa Springs Wildlife State Park is located just south of Crystal River. Here you can discover animals native to Florida such as the Florida panther, red wolves, manatees and alligators.
Make sure to visit the underwater observatory, an underwater viewing area, to get a view of the astounding array of fresh and salt water fish in the springs.
The park is great for hiking along nature trails and learning about native species.
Ginnie Springs Florida
There are no two ways about it, Ginnie Springs (High Springs) is just absolutely stunning. Near the town of High Springs just north west of Gainesville, the springs are located along the Santa Fe River.
The crystal blue waters which maintain a year round temperature of 72 degrees are perfect for swimming, tubing, kayaking or paddleboarding.
Wakulla Springs
Wakulla Springs are located 15 miles (24 km) south of Tallahassee and are the largest and deepest freshwater spring in the world. They are great for swimming and snorkelling.
Disney theme parks in Florida
Florida is the theme park capital of the world. When anyone talks about Florida, they immediately think Disney. If you have very young children when you visit Florida, you probably won't get as much out of the parks as you would with older children but can you really go to Florida without visiting one of the theme parks?
If you are a theme park enthusiast, it's probably best to wait until the kids are 5 or older to be able to make the most of the rides.
Here is a quick summary of the Disney theme parks in Florida. If you have never been before, here are some great Disney Park tips.
For discounted Disney tickets – take a look at Attraction Tickets. They have some great deals.
Walt Disney World
Walt Disney World is the number one attraction in Florida. It's located just south west of Orlando in the Bay Lake area and is made up of four theme parks.
Have a look at some of the virtual Disney rides before you go to check which ones might be more suitable or more enjoyable for the family.
Check here for discounted Walt Disney World tickets.
Disney's Animal Kingdom
Disney's Animal Kingdom was our top choice for a Florida theme park family day out because our eldest son loves animals. We knew the kids were too young to do any rides and we love Africa, so we headed straight for the Kilimanjaro Safari. Taking an African safari in the middle of Florida was quite surreal but great fun.
Check here for discounted Animal Kingdom tickets.
For accommodation choice: check out Disney's Animal Kingdom Lodge on Expedia below or see what packages are available on Attraction Tickets.
Epcot
A visit to Epcot will take your around the world, under the sea and into space all in a day.
Check here for discounted Epcot tickets.
For accommodation choice: check out Disney's Beach Club Villas on Expedia below or see what packages are available on Attraction Tickets.
Magic Kingdom
The world's most famous theme park and home to the iconic Cinderella Castle and the oldest of all of the Disney attractions, Prince Charmings' Regal Carousel.
Check here for discounted Magic Kingdom tickets.
For accommodation choice: check out Disney's Grand Floridian Resort on Expedia below or see what packages are available on Attraction Tickets.
Disney's Hollywood Studios
Head to Disney's Hollywood Studios for all things movie related, especially if you're a Star Wars fan. You'll be able to get up close and personal with the Millenium Falcon on a smuggler's run and meet Star Wars characters.
Check here for discounted Disney's Hollywood Studios tickets.
For accommodation choice: check out Disney's Boardwalk Villas on Expedia below or see what packages are available on Attraction Tickets.
And if you're not staying in Disney accommodation, take a look on Airbnb at the end of the post for a great selection of Florida accommodation. And if you are planning a trip to Disney you might want to check out this complete guide to planning a Disney resort break.
Things to do in Orlando (that aren't Disney)
If you're looking for things to do in Orlando not Disney-related, these are some of the top Florida attractions for families.
Universal Studios
At Universal Studios, your favorite movies and television shows come to life with thrilling rides, shows and attractions, including Harry Potter -(see below). The theme park is enormous so you will probably benefit from taking a virtual tour of Universal Studios Florida before you go.
The Wizarding World of Harry Potter
Harry Potter fans will love The Wizarding World of Harry Potter at Universal Studios. You'll find Hogsmeade in Islands of Adventure and Diagon Alley in Universal Studios Florida.
The best ride is arguably Harry Potter and the Forbidden Journey which transports you back to Hogwarts where you will feel like you are really flying on a broomstick.
Legoland Florida
If you have a Lego fan, you'll want to head to Legoland where you'll find Lego themed rides, attractions and shows. Make sure to check out our visiting Legoland Windsor with small kids post if you are in the UK. Many of the rides are the same in Florida and this post will give guidance on the ones most suitable for smaller kids.
Madame Tussauds
Visit the world's greatest wax museum at ICON Park where you'll find life-sized wax figures of famous Americans and historic figures.
Wild Florida Airboats & Gator Park
Wild Florida is located a little way south of Orlando on Cypress Lake. Here you can take an airboat ride to view alligators or try the Wild Florida Drive Thru Safari to see some exotic African animals.
WonderWorks
WonderWorks, the upside down house on International drive is home to over 100 hands-on educational exhibits (edu-tainment) and is a really fun place to take the kids in Orlando.
Florida National Parks
Everglades National Park
The Everglades National Park is one of the largest national parks in the US at 1.5 million acres, half of which is water and swampland, and is what many people think of when they think of Florida.
This is one of the best places to visit in Florida to see alligators in their natural habitat (and even Nile crocodiles, although how they got there is anyone's guess!)
There are only two roads through the park, the main one being the I75 (the Everglades Parkway) which crosses almost the width of southern Florida between Naples and Fort Lauderdale.
The more scenic route is along Highway 41 (Tamiami Trail) which crosses the State slightly further south between Naples and Miami. Drive slowly and you'll see an abundance of wildlife.
The best way to see the Everglades is by boat (airboat, kayak or canoe) but as the kids were very young when we visited, we opted for a Shark Valley Tram Tour. The commentary by an elderly Floridian lady, a park-trained naturalist, was great and we enjoyed the views over the Everglades from the observation tower.
The other National Parks in Florida are:
Dry Tortugas National Park
Myakka River State Park
Biscayne National Park
Kennedy Space Centre
Space enthusiasts will love the Kennedy Space Centre. It is located about 50 miles (80 km) directly east of Orlando on the Space Coast.
You'll learn about space exploration from the beginning up to current day missions. Time your visit right and you'll catch a space rocket launch.  Check out their countdown on the website to tell you when the next one is launching.
You can also try out the astronaut training experience (for age 10 and older) and here are a few tours that might be of interest.
St Augustine
St Augustine is located on the northeast coast of Florida, about 37 miles (60 km) south of Jacksonville. It is the oldest city in the US and one of the most historically interesting places to visit in Florida.
The main sights in St Augustine are the Castillo de San Marcos which is a 17th century Spanish fort and the oldest stone structure in the US. Also Flagler College and Ponce de Leon Hall are worth seeing – but really, the whole colonial area is beautiful. There are lots of great things to do in St Augustine.
We visited close to Christmas and really enjoyed the Christmas decorations along the pedestrianised St George Street as well as the tall palms in the Palm Garden by Flagler College which were adorned with Christmas lights and looked truly magical.
It's a great town for just wandering down little narrow streets where you'll find cute boutiques and great restaurants.
The beaches along this stretch of coast are rugged but beautiful.
Map of places to visit in Florida
Pin me….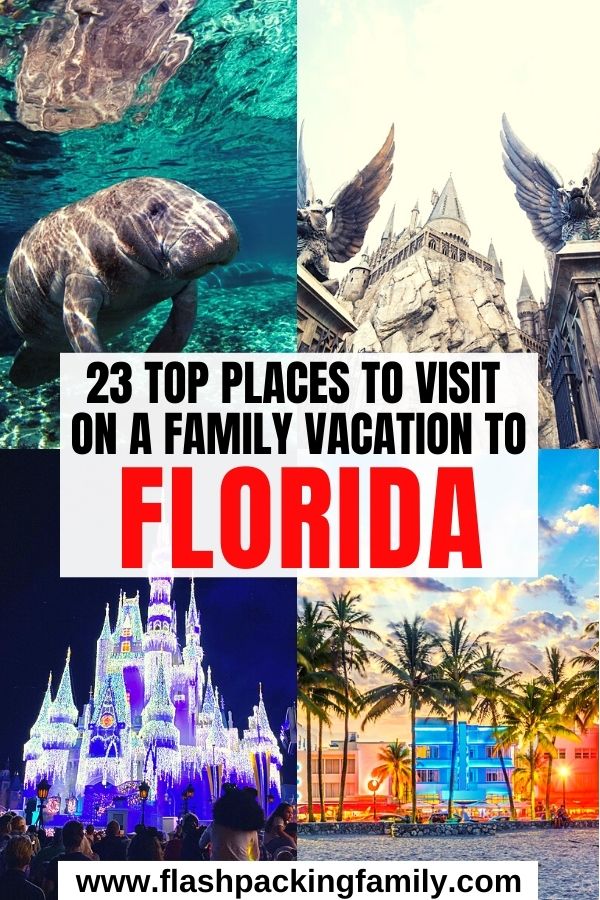 Pin me….