The Most Magical Things to do at Christmas in London with Kids 2023
Christmas in London with kids is so magical, and it's when London really does excel as a child-friendly city.
Of course, there are always great things to do in London with kids, but visiting London at Christmas with kids with all of the twinkling Christmas lights and decorations is very special.
It is one of the best cities in the UK to visit at Christmas with kids.
We've been taking our boys every year since they were tiny, more for ourselves than for them. But now they really get into the Christmas spirit.
They remember all the cool Christmas things to do in London from last year's visit. They get particularly excited about seeing the Christmas lights in London and going ice-skating in London.
Looking for family-friendly accommodation in London? Check out our recommendations on the best hotels for families in London. We've listed a few in each budget category to cover all requirements.
**This post contains affiliate links. If you click on one and book something, we may earn a small commission but this is at no extra cost to you**
Can't make any of these 2023 London Christmas events? Take a look at these virtual Christmas events instead. 
London has something for everyone. Because our planned weekend break to visit a Christmas market in Europe and our DIY Lapland trip may not happen this year, we always have  London as a back up!
With so many cool Christmas things to do in London, it's a good thing we live very close by and can make a few trips in.
It seems that the number of Christmassy things to do in London is getting bigger and bigger each year. Good news for the kids who can barely contain their excitement and have been on countdown since 26th December!
**If you're looking for somewhere to eat with the kids in London, make sure to check out our post on the most child friendly restaurants in London, including information on where kids can eat for free. Looking for a special treat for the kids? We've listed the best child friendly afternoon teas in London as well as the best all-round places for afternoon tea in London including where to find festive afternoon tea menus**
London with kids
Before we list the best things to do at Christmas in London with kids, have you started planning your trip?
Here are some things we recommend for great family days out in London that you can do as well as the Christmas activities in London.
For meal times, take London themed colouring kits or another child friendly activity. We bring a card game like London Top Trumps or a London colouring book and pens just in case.
We also love these kids' travel guides to London, a London sticker book and things to spot in London book.
And if you're looking for ideas of things to do in London with kids, we have recently discovered these London TreasureMapTrails.
They are a really fun way to sightsee with kids and are great value. You can also get 10% off with code: FLASHPACKING.
These are some of the top London attractions that we recommend for kids:
Also, take a look at the London Explorer Pass. It includes a large number of top London attractions. Add 2,3,4,5,6 or 7 attractions and make huge savings. See how it all works here.
These are some of the best things to do at Christmas in London with kids in 2023.
Note that we are still waiting for some of the 2023 dates to be released and will update this post as and when the dates are released. 
1. Ice-skating in London
Ice-skating is one of the really fun family things to do at Christmas in London. The general consensus seems to be that kids from age 4 will pick it up quite quickly.
If they've never been before, they get a push along penguin aid (or similar) to help if they need it.
Come to think of it, if you're not a natural, adults can use them too (and you can also read these 10 essential ice skating tips for beginners before you go).
The best places to go ice-skating in London this year are:
Somerset House – such a beautiful setting for an ice rink in the middle of Somerset House on the Strand. Tickets are from £10 – 22.
Date: 16th November to 15th January 2023.
Natural History Museum – situated in front of the Natural History Museum, one of our top rated London attractions for families and with a large Christmas tree in the middle to skate around, it's a really magical setting.
Update for 2023. It has been decided after 16 years of running the ice skating at the Natural History Museum for the area to be transformed into a wildlife garden.
Date: There will be no ice rink here this year.
Glide at Battersea Power Station –  A new ice rink to hit the London scene with an incredible backdrop.
Adults from £12.00 and children from £8.00. You can also hire private igloos for up to eight people.
Date: 11th November to 8th January 2023.
Winter Wonderland –  set in the grounds of the Winter Wonderland in Hyde Park, this is the largest of the ice rinks.
You can book tickets in advance. Adults are £10.50 and children are £7.50 (cheaper if you go off-peak).
Date: 18th November to 2nd January 2023.
Hampton Court – this rink is a little out of London, but how can you argue with the location when it is set in the grounds of one of the most impressive royal palaces in the world?
You can book tickets in advance. Adults are from £20.50 and children (3-12) are from £15.50.
Date: 17th November to 8th January 2023. Why not visit Hampton Court while you are there? See here for tickets.
Skylight – this is one of the least known ice skating rinks in London and a real London hidden gem. It's a rooftop ice rink where they also have igloos so why not combine the skating with an igloo dining experience? Kids are welcome during the daytime between 12.00 – 18.00. Opens in November.
See here for the 10 best places to go ice skating in London.
2. Christmas lights in London
The London Christmas lights are spectacular and change every year. We love to wander around the streets and soak up the festive atmosphere.
If you don't want to walk, you can take guided tours.  The Big Bus Tour company offers a Christmas Bus Tour where you will get amazing views of the main London Christmas light displays from the open top deck.  See here for tickets.
Here are some other highly recommended London Christmas light tours:
London Christmas lights by open top bus.
Tootbus Christmas lights tour.
London Christmas lights walking tour.
London Christmas lights private tour by black cab.
Here are a few of the best Christmas lights in London.
Regent Street – Our favourite Christmas lights in London. The switch-on date is 13th November 2021.
Oxford Street – probably London's most famous lights. A long, long street of over 1700 installations. The switch-on date is early November.
Carnaby Street – one of London's coolest shopping areas. Lots of boutiques line the streets so why not enjoy a spot of Christmas shopping while admiring the lights? The switch-on date is 4th November 2021.
Bond Street – ever so classy and worth checking out the extravagant window displays of the designer stores at the same time.
Kew Gardens – perhaps the most magical lights of all (although not in central London). You follow a one-mile route through trees adorned with lights and watch laser projections light up the Temperate House all while listening to classic Christmas music. Magical is the only word to describe it. 16th November to 23rd January 2023.
Harrods – the lights of Harrods are not officially Christmas lights as they are on every evening but if you are in the area, it's well worth going to see the lights.
Also check out Covent Garden, Royal Exchange, Sloane Square and The Kings Road and this post has more information on where to find the best Christmas lights in London.
3. Christmas shows in London
Take in a Christmas themed show at one of the many London theatres. There are lots of Christmas events for kids to choose from. Here are just a few ideas.
A Christmas Carol – a classic Christmas tale of the life of Ebenezer Scrooge from past, present to future. Showing at the Old Vic Theatre. Recommended for children 8+. Tickets prices start at £20.00 and performances run from 12th November  – 7th January 2023.
The Nutcracker (at the London Colliseum) – in Edwardian London, a little girl receives an enchanted nutcracker as a gift. Together, they discover a magical world. This is a stunning ballet and a lovely family Christmas tradition. 15th December to 7th January 2023.
Elf – at the Dominion Theatre from 14th November 2022 – 7th January 2023. Ticket prices from £20.
My Christmas Orchestral Adventure (at the Royal Albert Hall) on 11th December 2022. Tickets from £20.50. There are two performances on 11th December 2022 only.
The Nutcracker (at the Royal Albert Hall) – story as above. From 28th December to 31st December 2022.
The Snowman – The animated timeless classic of a snowman that comes to life brought to the stage at the Peacock Theatre at Sadlers Wells from 19th November 2022 – 31st December 2022. Tickets from £18.00.
Sleeping Beauty – a fantastic world of fairies and vampires comes to the stage at Sadler's Wells from 29th November to 15th January 2023. Tickets from £18.00.
Father Christmas at the Hall – join Santa for storytime at the Royal Albert Hall. Dates from 2nd to 20th December 2022.
Frozen – ongoing performance at the Theatre Royal Drury Lane. Tickets from £27.50.
The Nightmare Before Christmas – experience the film on a big screen with a live orchester at Wembley's SSE arena. 9th and 10th December 2022.
You might also like to check out the best Christmas movies for kids!
4. Christmas light trails in London
Kew Gardens lights up at Christmas with a dazzling display of lights and lasers and it's one of the loveliest things to do in London during Christmas with the whole family.
You follow a mile-long route past trees dripping with lights, through a tunnel of light and end up at the Palm House pond with dancing jets of light while listening to classic Christmas tunes.
There are rides for the kids (and big kids) and you can enjoy hot chocolate or mulled wine while toasting marshmallows around a fire pit. You may even catch a glimpse of Santa.
This is on from 16th November 2022 to 8th January 2023 from 4 pm – 10 pm. Adults tickets are £21.50 off peak  and £26.50 peak. Children 4 – 16 are are £16.50 and under 4s are free.
Family tickets are £76.00. You must book in advance for this one as it is extremely popular and tickets sell out fast. They tend to go on sale towards the end of June but you can sign up to their newsletter to stay informed.
This is one of the best things to do at Christmas in London with kids if you want to ensure social distancing.
London Wetland Centre
Another fabulous light trail in London is Illuminature at the London Wetland Centre. Here you can explore the wonder of wildlife after dark.
When: 18th November to 8th January 2023.
Where: WWT London Wetland Centre, Barnes, SW13 9WT.
Tickets: Adult – £18.50. Child (4 – 16) – £14.50. Family (2A & 2C) – £60.00.
Finally, you might also want to check out Christmas at Kenwood which offers a very similar experience in North London.
We have a more detailed post on light trails if you're looking for light trails around the UK as well as a review post of the Blenheim Palace Christmas lights which you can easily do on a day out from London.
5. Hogwarts in the Snow
For the Harry Potter fans among you, experience Hogwarts at Christmas when you take a tour of the Warner Brothers Studios.
See how the filmmakers created all the special effects for the Christmas scenes in the movies as well as the usual set tours, props, costumes.
It's the best Harry Potter experience in London and possibly the best Harry Potter experience in the UK.
The special Christmas tour is on from 11th November 2023 to 14th January 2024. Tickets must be purchased well in advance.
See also Get Your Guide for skip the line tickets including transfer from central London.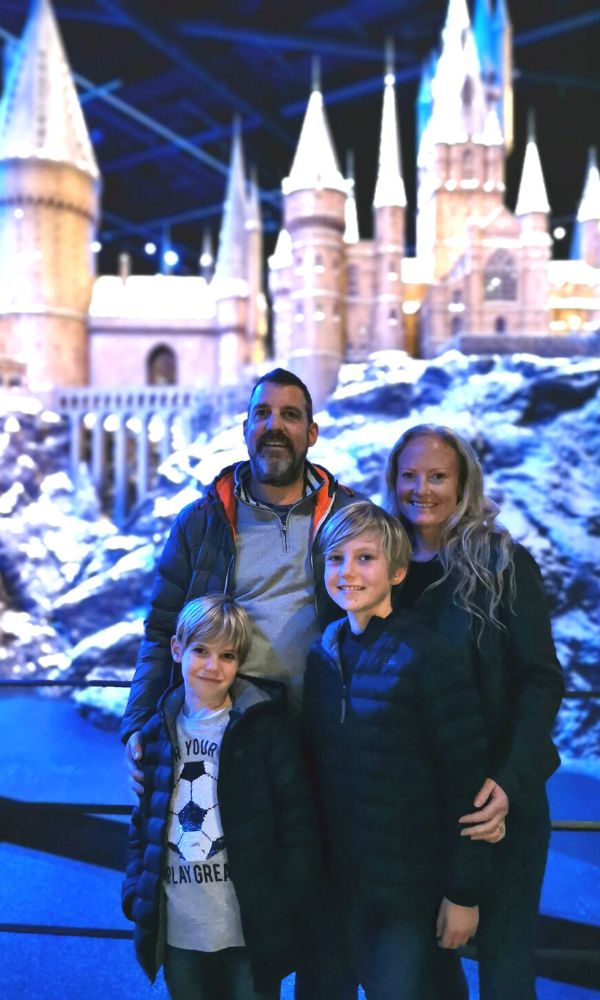 6. Christmas at Shakespeare's Globe Theatre
Shakespeare's Globe usually has a sing-along of your favourite festive songs in one form or another.
It's outside so wrap up warm (a great excuse to get the Christmas jumpers out!) and treat yourself to a festive mulled wine.
This year they are offering The Fir Tree – a telling of Hans Christian Andersen's fairy tale – The Fir Tree – told from the perspective of the trees. There will be singing and mulled wine afterwards.
Why not combine this with a visit to the Southbank Christmas market which is just down the river, about a 10 to 15-minute walk away?
Tickets from £15.00 to £49.00. Standing tickets are £5.00. 15th to 31st December 2022.
7. Hyde Park Winter Wonderland
There's so much more to Winter Wonderland than the ice skating rink mentioned above.
It seems to get bigger each year – with ice sculptures, fairground rides, Bavarian food halls, traditional Christmas market, a 45-metre ice slide, shows and more.
Entrance is free but you will end up spending on fortune on extra activities if you want to experience everything it has to offer.
It runs from the end of November until the beginning of January (except for Christmas Day) so if you're wondering what to do in London on Christmas eve, you could spend some time here.
It's certainly one of the Christmas things to do with kids that we enjoy on the run-up to Christmas, but we tend to avoid weekends as it can get really busy.
Dates: 18th November to 2nd January 2023.
8. Christmas Panto in London
Christmas is not Christmas in the UK without a Christmas pantomime. Oh yes, it is! Oh no, it isn't! We haven't come across it anywhere else in the world. If you haven't either, then let us try to explain.
The pantomimes are essentially plays based on popular fairy tales and are performed in the theatre. You will usually find a famous TV star in the leading role(s) and we can only imagine they do this because it is so much fun!
The plays incorporate song and dance, tom-foolery, slapstick, cross-dressing, topical references, and, most importantly, unsuspecting audience participation. It's loud, it's over the top. The kids will love it!
Popular pantomimes Cinderella, Jack and the Beanstalk, Aladdin, Dick Whittington, Peter Pan, Puss in Boots, Snow White and Sleeping Beauty.
The biggest and most star-studded production is at the London Palladium.
London Eye
Christmas Panto Pod (Dick Whittington).
Date: From 14th to 18th December 2022.
Where: The London Eye, Riverside Building, County Hall, London, SE1 7PB.
Price: From £51.00 per adult, £46.00 per child (4-16 yrs). Under 3 – FREE.
Pantoland at the Palladium
Pantoland at the Palladium (Jack and the Beanstalk)
Date: From 10th December 2022 to 15th January 2023.
Where: The London Palladium, 8 Argyll Street, Soho, London, W1F 7TF.
Price: From £25.00.
The Lyric Hammersmith
Date: From 19th November to 7th January 2023.
Where: Lyric Hammersmith Theatre, Lyric Square, King Street, London, W6 0QL.
Price: £15 / £23 / £32 / £42 – Family of 4 – £75.00.
Nimax Theatres
Date: 17th December to 8th January 2023.
Where: Apollo Theatre, Shaftesbury Avenue, London, W1D 7EZ.
Price: From £20.00 per person.
Hackney Empire
Date: From 19th November to 31st December 2022.
Where: Hackney Empire, 291 Mare Street, London, E8 1EJ.
Price: From £25.50 to £42.00.
Stratford East
Date: From 19th November to 7th January 2023.
Where: Theatre Royal, Stratford East, Gerry Raffles Square, London, E15 1BN.
Price: From £10.00 to £35.00.
Queen's Theatre Hornchurch
Date: From 24th November to 31st December 2022.
Where: Queen's Theatre Hornchurch, Billet Lane, Hornchurch, RM11 1QT.
Price: From £13.15 to £34.65.
There are also some great pantos happening in smaller towns and cities around the UK. Take a look at the following guides in case you want to choose a panto near London.
9. Christmas markets in London
Winter Wonderland Christmas market – with over 200 traditional wooden chalets selling Christmas gifts, decorations and confectionary, there will be something for everyone at the Winter Wonderland Christmas market.
Southbank Centre Christmas market – you'll find traditional wooden chalets with Christmas fayre, including lots of food stalls lining the walkway along the river and underneath the impressive London Eye at the Southbank.
Leicester Square Christmas market – The market is a lot smaller than the others but offers charming hand-crafted toys, delicious food, ornaments and is close to the theatres if you are catching a show.
And a new addition – Old Spitalfields Christmas market – there will be plenty of Christmas gift ideas here from the traders at Old Spitalfields market with a unique offering. Sharky and George offer a fun Christmas club for kids. You can book the kids in for some festive fun while you get some child-free Christmas shopping done! Can't wait for Christmas? They also organise fabulous Christmas parties.
Make sure to check out our Christmas Markets in London post for more info.
10. Carol Singing in London
If you haven't managed to get into the Christmas spirit yet, joining in with some carol singing has to be one of the most traditionally festive things to do in London. Here are a few places to try it out.
Some 2022 Christmas carols in London dates are still to be announced
St Paul's carols –  This is a free service and it is very popular. There are no tickets so you would need to get here early to queue to get a chance of entry. Christmas Carol Service – 23rd December 2022 and Christmas Eve Carol Service – 24th December 2022.
Trafalgar Square carols – Over the Christmas period, different carol singing groups sing in Trafalgar Square to raise money for their chosen charities. They gather around the Christmas tree which is gifted by Norway each year as a thank you for our help during the Second World War.
St Martin-in-the-Fields – the beautiful baroque church of St Martin-in-the-Fields is the perfect setting for enjoying a spot of carol singing. Set just off Trafalgar Square, there are a variety of carol singing sessions over the Christmas period.
Royal Albert Hall – sing along to all the favourites with world-class musicians. Ticket prices range from £22.49 to £73.50. Performances run from 17th to 24th December 2022.
There may also be some virtual Christmas carols organised by some of the large charity organisations.
11. Visit a Santa's Grotto in London
Christmas days out in London would not be complete without a visit to see Father Christmas. Santa will be busy all over London this year, but we've picked the consistently best places to visit a Santa's grotto in London.
Leicester Square – a chance to meet Santa, hear a Christmas tale and receive a gift. Tickets from £11.50. Book in advance. 12th November to 9th January 2023.
Winter Wonderland's Santa Land – Visit Santa in his grotto. It's free to meet Santa and he will have a little gift for children. This cannot be booked in advance so best to get there early. It's open from 18th November to 2nd January from 10 am to 6 pm (apart from Parade days when it closes at 4.30 pm).
Hamley's Santas Grotto Workshop – children will become one of Santa's elves, learn special elf songs and dances and meet Santa himself. 14th November to 24th December 2022. Tickets cost from £50.00 (for up to 3 people).
Storytime with Santa at Selfridges – as an alternative to visiting Santa in a grotto, why not join him at the Corner restaurant in Selfridges for a festive breakfast? Tickets are £10pp. 2022 dates TBC.
Selfridges is also running a virtual meet Santa. TBC for 2022.
The Magic of Christmas at London Zoo – little ones get to make festive crafts and then meet Santa in his Grotto. 26th November to 3rd January 2023. Exclusive dates available for zoo members. See here for Zoo Membership and tickets.
We also have a post with over 100+ ideas for visiting Santa in the UK !!
12. Dino Snores at the Natural History Museum
We always like to think of something a little different to the mainstream activities and this year it's a festive sleepover at the Natural History Museum.
This is open to children aged 7 to 11 (with an accompanying adult). You get to enjoy an evening of activities with a festive twist:
explore a torch-lit trail of the Dinosaurs gallery
participate in a Christmas-decoration-making workshop
learn about winter animals from a museum scientist
watch a live animal show
enjoy festive treats and a hot breakfast
At the end of the evening, you get to sleep under the Blue Whale in the Hintze Hall.
2022 dates TBC.
See here for our favourite museums in London to visit with kids.
13. Christmas movie experiences
St Katherine's Docks
Christmas Floating Film Festival is showing classic family Christmas movies from late November. Dates TBC.
14. Harrods Christmas Department
Why not finish up your time in London with a visit to the Harrods Christmas shop? It undergoes the most magical transformation and is a delight to visit. You don't have to be a millionaire to buy something in here.
There are plenty of Christmas themed tourist gifts starting from £5. Try to go after dark and you will see Harrods lit up with 12,000 lightbulbs.
So these are our favourite things to do at Christmas in London with kids.
We guarantee you'll find something fun for the family in London this Christmas. The only thing we can't guarantee is that there will be a white Christmas in London this year!
Family accommodation in London
We have a guide to the best family-friendly hotels in London to complete your visit to London at Christmas as well we the best family hotels in London with pools.
We recommend the following:
Luxury
The Athenaeum Hotel & Residences – Located in Mayfair, this is a 5 star luxury aparthotel with a difference.
See also:
The Ritz – Located on Piccadilly near Hyde Park Corner.
The Rubens at the Palace – Located near Buckingham Palace.  Children under 12 stay and eat for free and there's a 6pm check out on Sundays.
St Ermin's – Located near St James's Park. They also do a fabulous afternoon tea for kids.
Mid-Range
Park Plaza County Hall – Located near the London Eye. There are also interconnecting rooms for larger families.
Budget
Premier Inn Waterloo – Located by Westminster Bridge near the London Eye. See here for more London Premier Inns for families.
If you found this post helpful, why not bookmark it, share it with friends or pin it for later? 
Travel Resources
Accommodation: Booking.com is our favourite choice for booking places to stay with their flexible cancellation policy.
Flights: Find cheap flights using Skyscanner.
Insurance: Staysure is our go-to travel insurance provider. This link gives you 20% off your first policy.
We would not be without: Our National Trust and English Heritage memberships.