The 25 Best UK Beaches for Families In 2023
Searching for the best UK beaches for families has not previously been high on our agenda as we have favoured international family travel over UK staycations.
But with recent travel restrictions (and the purchase of our VW campervan), we've had to rethink our international travel plans and are focusing more on domestic travel in the UK, including some beach time.
The UK is known for many things. We have a long and fascinating history including our Royal Family, Shakespeare and the Beatles. We have stunning national parks, beautiful little chocolate box villages, historic castles and famous landmarks like Stonehenge  – but amazing beaches?
I wouldn't have said that the UK is traditionally known for having amazing beaches.
So when we asked some great travel bloggers to recommend the best beaches in the UK for families, we were truly blown away by what they sent and asked ourselves why we hadn't explored the UK more.
There are some genuinely beautiful family-friendly beaches in the UK. There are white sand beaches with turquoise water.
There are dramatic Jurassic and pristine heritage coastlines. There are beaches with wildlife in abundance. There are tiny coves and long stretches of sand as far as the eye can see.
If you're looking for UK beach holidays, we have you covered with a selection of the best UK beaches for kids from Land's End to John O'Groats (and beyond).
Read more: If you love camping, we have a great post on 55 stunning coastal campsites in the UK.
This post contains affiliate links. If you book something using one, we may earn a small commission but this is at no extra cost to you.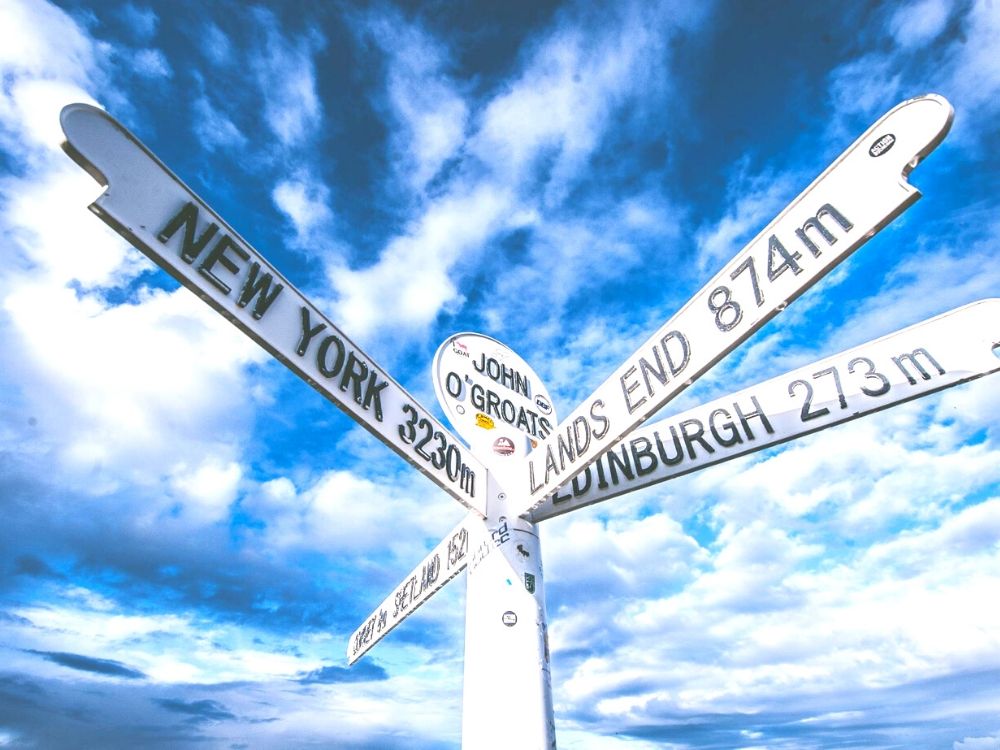 Best UK beaches for families – England
This selection of beautiful beaches in England offers something for everyone, whether you're looking for the best sandy beaches in England or a traditional Victorian seaside town.
Best Beaches in South East England
Southwold Beach in Suffolk
Suffolk has a beautiful 50-mile stretch of heritage coastline that has also been designated an Area of Outstanding Natural Beauty. The beaches in Suffolk are completely unspoiled (much like the rest of the county) and are a lot quieter than many of the best beaches in the UK.
The quietest of the beaches is Dunwich if you want to completely get away from it all. Make sure to also check out our Dunwich walks guide.
Southwold Beach is a lovely example of a traditional Victorian seaside town. The beach is a mix of sand and shingle and has recently been designated a Blue Flag beach, making it a very popular beach in Suffolk for families.
There are lots of things to do in Southwold. Start with Southwold Pier, the focal point of the town. Whilst a lot of piers around the country are in decline, this one is thriving. Make sure to walk to the end past the funny mirrors and the water-powered clock to get lovely views back of Southwold.
Colourful beach huts line the seafront either side of the pier which you can rent out for a day or a week if you want to experience a truly British seaside holiday.
Southwold is also famous for the Adnams Brewery. Note that children under the age of 18 are not allowed on the Adnams brewery tour but the Adnams Southwold shop and café is a lovely place to visit.
Whilst we're on the subject of alcohol, there is a lovely vineyard in Suffolk not far from Southwold that you may want to visit.
If you want a break from the beach, there's lots of fun to be had at the Southwold Maize Maze.
Also worth checking out are Thorpeness (a little holiday village built around a Peter Pan themed boating lake), Walberswick for crabbing and great walks and Southwold's more famous neighbour, Aldeburgh, where you'll find lots of things to do.
Make sure to read our complete guide to Suffolk for more ideas on what to do in Suffolk.
Accommodation near Southwold
The Swan Southwold or The Crown Southwold are two lovely family-friendly hotels in Southwold. See here if you prefer to find holiday rentals on the Suffolk Coast.
Or maybe you prefer to check out some of the lovely family-friendly campsites in Suffolk.
Holkham Beach in Norfolk
Holkham beach on the north Norfolk coast has golden sand stretching as far as the eye can see and is one of the best sandy beaches in UK.
It's part of the Holkham Hall & Estate on the Holkham Nature Reserve in the Norfolk Area of Outstanding Natural Beauty and is backed by sand dunes and pines which are abundant with wildlife.
It is certainly one of the best beaches in Norfolk and has also won a best beaches in UK award.
You access it by driving down a long track with a car park at the end. There are no facilities on the beach so you will need to bring a picnic with you if you want to spend the day here.
Or you can have a lovely meal at the nearby Victoria Inn run by the Holkham Estate.
If you're up for a long walk, head east along the coast to neighbouring Wells-next-the-Sea which has many beautiful colourful beach huts and more facilities.
You also can't visit Norfolk without stopping in at one of the best attractions for kids, the enchanting BeWILDerwood.
If you're there in July, check out nearby Norfolk Lavender – one of the best places in the UK for Lavender.
See our guide for child-friendly things to do in Norfolk for some holiday inspiration.
Accommodation near Holkham Beach
The Victoria Inn is a beautiful pub with rooms just at the top of the track to the beach (ask for their interconnecting rooms).
Hunstanton Beach in Norfolk
Hunstanton Beach is one of the most interesting beaches in Norfolk. It's a mix of ancient and modern with a classic British seaside town beachfront leading to a fabulous stretch of Jurassic coast.
It has the most intriguing red and white striped cliffs that are rich in fossils and perfect for kids if you're looking for something other than sand.
The huge green boulders offer numerous rock pools for exploring but you need to check the Hunstanton tide times because at high tide the beach is completely submerged.
If you're visiting on a rainy day, the Sea Life Centre is worth visiting. You may also want to check out the Norfolk Lavender which is a 5-minute drive as it's one of the best English lavender fields.
Accommodation near Hunstanton
The Caley Hall Hotel is a lovely family-friendly hotel or if you want to try out some glamping in Norfolk, check out Wild Luxury.
Frinton-on-Sea in Essex
Submission by Anna from Twins and Travels
Frinton-on-Sea is a quiet family beach located on the Essex coast. It's a gently shelving sandy beach rated for its cleanliness and perfect for families.
Along the sea wall, there are miles of pretty coloured beach huts, some of which are available to hire.
When the tide is out, there are wonderful safe shallows for the children to run about and play in. There always seems to be plenty of space for everyone.
Whilst the main areas can sometimes get busy, if you keep walking towards the Walton end, you will often find a quiet spot.
Frinton beach does have lifeguards patrolling from July to September.
There are no amusements or shops on the seafront so make sure you take a picnic but there are public toilets. If you do need shops, however, take a short walk into the town centre where you will find a full range of shops.
A walk in one direction brings you to Walton on the Naze, a lively seaside resort and in the other direction to Holland Haven Country Park, a local nature reserve.
Accommodation near Frinton-on-Sea
For family accommodation, try Flat 1, Cambridge Court
Best Beaches in South West England
Cornwall is well known for having some of the best beaches in the country. Before checking out these Cornish beaches, here are some great tips on how to spend 5 days in Cornwall.
Porthcurno Beach in Cornwall
Submission by Lee and Stacey of One Trip at a Time
Porthcurno Beach is right at the far tip of the Cornish peninsula, just south-east of Land's End. The beach and town of the same name are looked after by the National Trust and are in an area of outstanding natural beauty.
Set in a cove, the deep, sandy beach is perfect for enjoying the water and partaking in all the best beach activities on a sunny day. It is one of the best beaches in Cornwall for families and one of the best clear water beaches in the UK.
But the beach holds a secret that most people walk right by without noticing. At the entrance is a small nondescript hut which contains the entry point into the UK for some of the first submarine communications cables that enabled real-time communications, linking Britain to as far away as India and beyond.
For a time, this beach was also the home of the largest submarine cable station in the world.
You can learn more about the beach and its important role in the history of communication at the nearby Telegraph Museum.
And, for a view from atop the cliffs down onto the beach, visit the Minack Theatre which is well worth a trip to in its own right, and sits beautifully carved into the rocks above the sea.
Accommodation near Porthcurno Beach
There are two beautiful holiday homes near Porthcurno beach. Beachcomber is right on cliffs above the beach by the Minack Theatre and The Beach House is set about 500 m back from the beach. There are also lots of beautiful coastal campsites in Cornwall.
Watergate Bay in Cornwall
Submission by Dave Chant of Dave Chant
There's just something about Watergate Bay, nestled 3 miles North of Newquay in Cornwall. It is not the most secluded or the prettiest beach you've ever seen.
Yet it is a very beautiful place and has a pull that cannot be resisted from the moment you come down the road and see the sprawl of Watergate's sandy beach and hotels and apartments below you.
It's great for families and activity freaks, offering two miles of golden sand to tread on. There are RNLI lifeguards from May to September making it safer for the little ones especially.
Furthermore, the Extreme Academy will get you surfing or paddleboarding in no time, or you can just rent a board if you already know how to.
There are two beach car parks and toilets, and though Jamie Oliver's beautiful Fifteen Cornwall sadly closed in 2019, there's a variety of cafés and restaurants on the beach and slightly set back.
You can reach the bay by public bus from Newquay, but the trip is best done in the car.
Accommodation near Watergate Bay
You can also stay at Watergate Bay. Try the Watergate Bay Hotel for 4-star elegance or rent an apartment from Waves or Beachcomber Apartments. At sunset, most people have left the beach and you'll see its quiet, romantic side.
Porthminster Beach in Cornwall
Submission by Sylvie from Travels with Eden
Porthminster beach is located in the picturesque town of St Ives in the South West of Cornwall. Its clear waters, white sands and backdrop of palm trees make Porthminster stand out from surrounding Cornwall beaches.
For families, there are all the facilities you may need, including a great takeaway, beach shop and mini-golf course.
Sitting on the beach, there are stunning views out into St Ives Bay of Godrevey lighthouse and the surrounding area. The location of Porthminster is ideally located on the South West Coast Path, a 630-mile walking route from Poole Harbour in Dorset to Minehead in Somerset.
The walk to Carbis Bay from Porthminster beach has stunning views of the beach from above.
The best way to get to Porthminster is by train. St Ives train station is located just a few minutes walk away overlooking the beach. The 12-minute journey to the mainland station of St Erth is one of the most scenic train journeys in the UK.
It  takes in stunning views of Carbis Bay Beach, Porthkidney Sands and Hayle Estuary. To drive, its best to take the park and ride from St Erth railway station.
Accommodation near Porthminster Beach
The Pedn Olva Hotel overlooking Porthminster is excellent for families with family rooms available and even a small outdoor pool.
See also these family-friendly glamping sites with hot tubs in Cornwall.
Ilfracombe in North Devon
Submission by Suzanne from TheTravelBunny
Tunnels Beaches in Ilfracombe, north Devon are some of my favourite UK beaches as well as being some of the best beaches in Devon.
These Devon beaches are only accessible through four tunnels which were hand-carved through Ilfracombe's rugged cliffs back in the 1820s. Kids love the adventure of walking through the long tunnels to emerge into the beautifully sheltered coves.
The beaches have a backdrop of craggy cliffs and a shoreline edged with dramatic rocks interspersed with sandy areas and a natural calm tidal bathing pool. Although the sea might be crashing against the rocks, the pools are calm and perfect for paddling.
The sheltered aspect means that the beaches are perfect sun-traps, even when it's chilly on the town's other beaches. Rockpools are an endless source of limpets, sea creatures, shells and seaweeds.
There are charges to access the beaches but they're not excessive and you can stay and enjoy the facilities all day or come and go as you please.
There are toilets, a shop and café. The tidal pool is visible 3 hours before and after low tide and the tunnels are easily walkable if you're staying in Ilfracombe.
Accommodation near Ilfracombe
There are many accommodation options in Ilfracombe. We stayed at Horizons, a seaside themed apartment within a few minute's walk of the harbour and loved it.
Best Beaches in South England
Brean Sands in Somerset
Submission by Suzanne from Meandering Wild
Brean Sands are located in the south-west of England just a short distance from Bristol.  They stretch from the seaside town of Burnham-on-Sea all the way to the large headland called Brean Down.
The beach is 6.5 miles long and has various entry points.  You can park your car on the beach which is perfect for family days out.
This is a very basic beach experience.  There are no rides or attractions, it is just the beach, toilets and an ice cream van.  If you don't drive you can take the bus or train to Burnham-on-Sea and then explore the southern end of the sands.
The beauty of this beach is the space that it gives you even in the summer months.  You can choose to explore the large sand dunes or walk to the shipwreck which appears at low tide.
There is also the wooden lighthouse that is surrounded by water at high tide or Brean Down Fort which is great for exploring.
Brean Sands have the second largest tidal range in the world.  The sea goes out a long way and comes in very fast.  Visitors have to stay off the mudflats and not try and find the see at low tide.
Accommodation near Brean Sands
The easiest place to stay for families is at Warren Farm.  This has options for caravans, tents as well as static caravans for hire and also has ensuite camping pitches.  It has direct access onto the beach from the site which is a bonus.
Camber Sands in East Sussex
Submission by Annabel of Smudged Postcard
Camber Sands in East Sussex is a particularly spectacular expanse of sand on England's south coast. The beach is brilliant at any time of year. Come in summer and you'll find thousands of people enjoying the area: swimming, paddling or building a sandcastle.
Camber Sands is so big that even in the height of summer there's plenty of space for everyone. The beach is almost three miles long.
In wintertime, the beach is popular with dog walkers and horse riders as well as people of all ages enjoying the wide-open space and stunning sunsets.
Camber Sands is located just outside of Rye, a beautiful medieval port town near the border with Kent. There are buses from Rye to the beach so it's a good option for people who would prefer to reach a beach via public transport.
There's a train station in town with regular connections to London which is an hour away by train making Camber Sands one of the best beaches near London.
If you are looking for a day trip to the beach from London, we recommend Camber Sands as a lovely family day trip from London.
Although much of Camber Sands is backed by sand dunes, there are several cafes and restaurants dotting the beach where refreshments can be bought.
There are toilets at the various car parks which are located close to the beach. Just ensure you arrive early for a parking space as the beach does get very popular.
Accommodation near Camber Sands
Stowaway Beach House – right on the beach Camber Sands.
The George – Rye.
West Wittering in West Sussex
Submission by Paul from The Two That Do
West Wittering, 9 miles south-west of Chichester, West Sussex is one of the country's most popular all year round beach destinations.
Located in an Area of Outstanding Natural Beauty the beach forms part of the privately-owned West Wittering Estate.
Set up by local residents in the 1950s to preserve the beach and waters for the enjoyment of the public they continue to maintain this area to this day.
Boasting the prestigious Blue Flag Award for cleanliness this large sandy beach offers family-friendly activities such as windsurfing and kite surfing as well as the traditional 'bucket and spade' day out.
Out of season the beach is ideal for dog walking, horse riding and a leisurely stroll around the adjacent National Trust managed East Head sand dune spit. Whatever time of year the Beach Cafe is a perfect refreshment stop.
It is possible to catch a bus to West Wittering but a car is preferable. From Chichester take the A286 south and you should arrive in just 10 minutes.
Ample parking is provided with payment required on entry at the manned kiosk.
Accommodation near West Wittering
In this picturesque corner of Sussex self-catering accommodation is favoured. Look out for charming cottages with magnificent sea views like Apple Tree Cottage just a short walk from the beach or if you prefer a B&B, try the Beach House.
Lulworth Cove in Dorset
Submission by Ana of Parenthood4ever 
Dorset has one of the best 100 miles (160 km) of coastlines in England with its sandy beaches and miraculous landscapes.
It is also very accessible for family holidays, but to make the most of it, it is highly recommended to explore by car.
There are two standout spots in Dorset. Located at West Lulworth in Wareham, Lulworth Cove is an incredibly beautiful cove with the white pebble beach and blue waters.
The cove and the stunning view literally blew us away.
A 10-minute drive from the beach is Lulworth Castle. It is a 17th-century mock castle that has been recently rebuilt as a museum. Many grand festivals and shows take place here, such as a motor show or camp festivals.
Another must-visit spot is Durdle Door. It is a natural wonder and deserves to be highlighted. Most people come to Dorset because of Durdle Door. When you arrive, you will see just a vast field with parking available.
You can either take a walk around or walk down the stairs to Durdle Door beach to get closer to see the iconic natural arch facing the sandy bay.
Accommodation near Lulworth Cove
Dairy Cottage in nearby Shipton Gorge is a lovely guest house with a family room.
West Bay Beach in Dorset
Submission by Helen from Helen on Her Holidays
If you enjoy watching British TV shows, you might recognise the lovely beach at West Bay as the setting for Broadchurch. The wide beach backed with dramatic honey-coloured cliffs is undeniably photogenic. It's also a superb place to visit for all the family.
West Bay is on the Dorset Coast, often known as the Jurassic Coast for the spectacular geology and fossils along the 96 miles from Old Harry Rocks near Swanage to Orcombe Point near Exmouth in Devon.
West Bay is on the most interesting part of the Jurassic Coast, between Chesil Beach and traditional seaside resort Lyme Regis.
Getting to West Bay is easy. If you have a car, there are car parks in the village. A bus service runs from Bridport, or the old railway line from Bridport to West Bay is now a footpath and cycleway.
Accommodation near West Bay Beach
There's a wide choice of family-friendly accommodation near West Bay like 6 Driftwood. One of the most affordable accommodation options on the Jurassic Coast is renting a static caravan.
The West Bay Holiday Park is a short walk from the beach and offers static caravans and luxury "glamping" tents.
Best Beaches in North West England
Crosby Beach in Merseyside
Submission by Emma from Journey of a Nomadic Family
You wouldn't expect a bustling city to have an area of extensive coastline and dunes on its doorstep but Liverpool is full of quirky surprises & this elongated beach stretches from Crosby for over 5 miles up to Formby and the red squirrel reserve.
Crosby Beach is just 30 minutes out of Liverpool city and is easily accessible by train, bus, bike (if you have the stamina) and car.
The beach starts with a big coastal park complete with kids play park, cafes, gardens, a promenade, boating lake and is also home to the permanent Antony Gormley's "The Another Place" sculptures.
The beach, an enormous expanse of golden sand, green dunes, huge tides & sand puddles and has 100 life-sized, iron sculptures each weighing 650kg that stretch one kilometre out into the sea.
They harness the ebb and flow of the tide to explore man's relationship with nature.
There are plenty of serene coastal walks leading for miles up to the historical remains of Fort Crosby, old wartime defences, Bergers Bench & Cabin Hill Nature Reserve which is a paradise for bird lovers.
This west-facing beach is especially beautiful at sunset where the skies frequently glow in red and orange and don't forget to look out for dinosaur footprints.
There is on-site parking at Cambridge Road, Mariners Road and Hall Road car parks. There is some free car parking on the roads but watch out for residents only areas.
The nearest train station is Waterloo, an 18-minute walk from this kid & dog-friendly beach. The beach is also on the 53 bus route which leaves Liverpool & goes through Bootle.
Accommodation near Crosby Beach
Hard Days Night Hotel for a quirky experience or Lock and Key Boutique Hotel for an upmarket boutique hotel.
Best Beaches in North East England
Ravenscar Beach in Yorkshire
Submission by Nell from Adventures with Nell
Ravenscar is a must-visit for wildlife lovers. It's located in North Yorkshire, halfway between Scarborough and Whitby and about a 20-minute drive from both.
Getting to the beach takes a little effort and a steady footing, as you'll need to park outside the visitor centre and descend down the cliff edge to reach it.
The path is steep, and it's eroded right at the end, but it's simple to navigate, suitable for families (although not pushchair friendly) and the views from the path are spectacular.
The unique thing about Ravenscar beach is the colony of seals that live there. Within a few metres of the cliff path, you'll be up close and personal with these beautiful animals, of which there are around 300.
It's advisable not to get too close to the seals, but walking along the beach you'll find yourself unexpectedly face-to-face with one that you thought was a rock!
Some will be enjoying some alone time, whilst others will be lying on the shoreline in large groups.
Accommodation near Ravenscar Beach
The cliff-top hotel, Raven Hall Hotel, offers luxury for adults whilst being family-friendly with a games room for everyone to enjoy. Interestingly, the hotel is owned by the family of Dr Francis Willis who was physician to King George III.
Robin Hood's Bay in Yorkshire
Submission by Sinead from Best in York Guide
Robin Hood's Bay is a long, secluded stretch of sandy beach on the North Yorkshire coast.
It surrounds the car-free fishing village of the same name which is approximately a 1 ¼ hour drive across the North Yorkshire Moors from the historic city of York.
You will need a car to access Robin Hood's Bay and visitors must park in the car park at the top of the hill outside the village and descend by foot into the village in order to access the beach.
Due to the car-free nature of Robin Hood's Bay, the beach itself is very tranquil.
As it is not a beach to visit when lugging windbreaks and camping chairs, the beach never feels busy or overcrowded.
Stroll along the expansive stretch of sand alongside the towering cliffs which form part of the North Yorkshire coastal path.
This beautiful stretch of coastline is known as Yorkshire's 'Jurassic Coast' and sharp-eyed beach visitors to Robin Hood's Bay will spot many fossils including ammonites, belemnites and Devil's Toe Nail.
Accommodation near Robin Hood's Bay
The charming, narrow cobbled lanes of Robin Hood's Bay village are packed with attractive, quirky holiday cottages as well as private residences.
Families can choose to stay at the popular Bay Hotel on the seafront or find a peaceful, tucked away, Airbnb cottage packed with old-world charm.
Filey Beach in Yorkshire
Submission by Anna from My Travel Scrapbook
One of the best beaches in the UK is Filey beach. I have very fond childhood memories of Filey beach.
Building sandcastles with my dad from the excellent sand, splashing about in the cold North sea with my sister and eating an ice cream with my mum are some of my most cherished family moments.
Filey Beach is a 5-mile-long sandy beach on the Yorkshire coast. Getting to Filey beach is easy by public transport too. Filey train station is just a 7-minute walk from Filey beach or you can hop on a bus or in a taxi to get there.
Just make sure you check the tide times or you could be paddling to get back onto the promenade!
There is a lovely sculpture trail and some fantastic rock pools to the north on Filey Brigg. There is plenty to do and see on this Yorkshire beach to keep the kids be entertained all day long.
This is one of the best beaches in Yorkshire for families and should be on every family's ultimate Yorkshire bucket list!
Accommodation near Filey Beach
For a truly exceptional holiday home with beautiful sea views, try The Waves or a more affordable family room in Athol House B&B.
Bamburgh Beach in Northumberland
Submission by Sarah from ASocialNomad
Bamburgh beach is located in the county of Northumberland on the North East Coast of England adjacent to the picturesque town of Bamburgh.
The beach boasts miles and untouched golden sand and sits in the shadow of the stunning Bamburgh Castle, one of the most impressive castles in England.
This is a wild beach, with no facilities outside of the town itself.  The seriously bracing winds from the North Sea will blow away any cobwebs and the sand dunes provide a little, but not much respite from the wind.
It is easy to walk to the beach from the town, which is on a local bus route.  You'll never find crowds on this beach, rarely people at all and it's a great beach for hikers and dog walkers alike.
On clear days there are fabulous views of the Farne Islands and this beach is a great place for building sandcastles and exploring rock pools.
Close to the beach is the RNLI Grace Darling Museum where you can support the RNLI through donations and learn about Grace's famous rescue and her life in the area.
Accommodation near Bamburgh Beach
There are several bed and breakfasts in the area, or the northeast coast is a great location to rent a cottage and explore the area. The Pintail Apartment is very close to Bamburgh Castle and the beach.
Best UK beaches for families – Scotland
When you think of Scotland, you may picture the highlands but did you know that there are some utterly beautiful Scottish beaches? Some of the most beautiful beaches in Scotland are quite remote but they're worth the effort to get there.
We were most blown away by the Scotland beaches as they reminded us of the Caribbean or the beautiful waters in the Maldives. Take a look for yourself and see what you think.
Bosta Beach in Great Bernera
Submission by Kathi of Watch Me See
The Outer Hebrides are among the most beautiful places to visit in Scotland, especially if you are looking for breathtaking Scottish beaches.
Bosta Beach is a white sandy jewel on a small island of Great Bernera, just off the west coast of Lewis – the largest island in this archipelago.
The two islands are connected via a small bridge, so even though Bosta Beach is far off the beaten path, it is quite easy to get to by car.
After a winding drive down a single-track road, your driving efforts will be rewarded by a sheltered bay with clear water, soft sands, and colourful machair flower meadows.
The bay offers stunning views of the Atlantic as well as several rocky islands closing out the waves – spectacular material for photographers!
The beach is part of the South Lewis, Harris and North Uist National Scenic Area, that covers several islands in the Outer Hebrides.
Behind the beach, you can visit the excavated ruins of an Iron Age House as well as a replica to show what it would have looked like to live here thousands of years ago.
Accommodation near Bosta Beach
Overnight parking is possible at the nearby car park, so I recommend at least an overnight stay to enjoy the beach in its full glory – either camping or booking a nearby cottage on Visit Outer Hebrides or try Stornaway Apartment.
Oldshoremore Beach in Northern Scotland
Submission by Emma of Witrag Travel
Oldshoremore Beach is the wild Scottish Highlands at its very best. Located around two miles from the town of Kinlochbervie in the far northwest of Scotland, this outstanding stretch of sand can't be missed when you're enjoying the North Coast 500. Besides – you'll need a car to get there.
There's a free car park with a public toilet, and it's just a short stroll along the footpath until you get your first glimpse of the turquoise waters and powdery white sands.
On a sunny day, you won't believe you're in Scotland.
One of the best Scottish beaches, it is long and wide with few other visitors, and the water's perfect for swimming as well.
For the adventurers, there are a few coves to explore towards the far end of the beach, which is part of the North West Highlands Geopark. Keep an eye out for beautiful flowers and wildlife as well!
There are no facilities on Oldshoremore Beach, so remember to stock up on everything you need before you arrive.
Accommodation near Oldshoremore Beach
Oldshoremore is a great base for the whole family to explore the area. Pet friendly with views over Oldshoremore, it has everything you need for a fun family getaway.
Luskentyre in Isle of Harris
Submission by Sonja from Scotland for Families
Luskentyre has regularly been named as one of the best beaches in the world, and when you visit it's easy to see why!
This stunning stretch of sand, framed by turquoise water wouldn't be out of place somewhere in the Caribbean, and yet it's located on a remote isle off the west coast of Scotland.
The south of the Isle of Harris is well-known for its beautiful beaches, with Luskentyre being the jewel in the crown.
It's 20 minutes drive from Tarbert, the main town on the Isle of Harris, and just over an hour from Stornoway on the Isle of Lewis, which is connected to the north.
The best way to travel there is by car so that you can come and go as you please and stop at different spots for views, although it is possible to visit by bus from Tarbert and walking from the bus stop if you time it right. There are car park and toilet facilities at the end of the road through Luskentyre.
The main attraction is the beach itself, and there are lots of walks and cycling routes nearby too. Other things to do on the Isle of Harris include visiting the home of Harris Tweed and the Harris Gin Distillery.
You can also travel to the historic attractions in the Isle of Lewis like the Callanish Standing Stones, the Blackhouse Village and Dun Carloway Broch.
Accommodation near Luskentyre
Family Friendly accommodation nearby: Luskentyre Lodge.
Best UK beaches for families – Wales
The beaches in Wales are safe, sandy and above all, family-friendly. This small selection of Welsh beaches are typical of what you can find all along the Welsh coast and are truly spectacular.
Aberdovey Beach in Snowdonia
Submission by Dan from Hōrō Travel Memories
Aberdovey is one of Wales' slightly lesser-known beaches, especially compared to nearby Aberystwyth, so it enjoys a quieter, less touristy feel.
The town's beach is greeted not by the sea but by an estuary of the River Dyfi, making it a fairly unique destination and one certainly worth a visit.
Visiting Aberdovey is easy even from London, despite its location on the Mid-Wales coast. By train it requires just one change and you can be there in under four and a half hours from the English capital. From Birmingham it takes under three hours on the direct service.
Whether you arrive in the town by car or train, you'll be greeted by stunning views of the estuary and the Welsh scenery of Snowdonia National Park.
The beach itself is beautiful and blessed with golden sand worthy of seaside picnics, meandering dog walks and general merriment.
With dunes overlooking the beach that provide an additional playground for children, Aberdovey is undoubtedly one of Wales' best beaches.
As if that wasn't enough, the town itself is quaint and picturesque too. It, of course, has the quintessential colourful seaside front, but the houses continue up the hill that overlooks the estuary, dotted on its slope like the sheep that populate the area too.
The whole place has a tranquil, holiday vibe and it is a beach I would highly recommend.
Make sure to read our guide to things to do during a weekend in North Wales with kids.
Accommodation near Aberdovey
The Penhelig Arms Hotel provides an excellent base from which to explore, especially for families.
Rhossili Beach in Gower
Submission by David from Delve into Europe
Rhossili Bay is more than just one of the best beaches in the UK – it frequently features in best beaches in Europe and best beaches in the world polls and is, without a doubt, one of the best beaches in Wales.
It's located in the far west of the Gower Peninsula, the first part of the UK to be designated an Area of Outstanding Natural Beauty in 1956.
Gower is immediately to the west of Swansea, the second city of Wales, and Rhossili is around 14 miles away from the city.
Rhossili is the most famous of the Gower beaches, and this remote spot draws around half a million visitors a year.
It's a stunning beach, over three miles long, a vast swathe of golden sand below the scenic Rhossili Down hill. The beach is at the foot of 250-foot-high cliffs, and it's a 10-minute walk down the pathway to get onto the beach.
The beach has plenty to offer kids, with plenty of rockpools and even a couple of shipwrecks. The tidal island you see from the beach is Worm's Head – if you check the tide times you can walk out to it.
Most visitors travel to Rhossili by car though there is also a good bus service – the 118 – which runs from Swansea bus station.
Accommodation near Rhossili Beach
Gower is largely camping country, but there are a few hotels and B&Bs around the peninsula. For Rhossili, you can't beat the Worm's Head Hotel, which also serves as the village's pub.
Ask for a room with a beach view – you'll never wake up to a better sight.
Traeth Mwnt Beach in Pembrokeshire
Mwnt beach is a beautiful, sheltered sandy beach on the Pembrokeshire coast managed by the National Trust.
There's a stunning little whitewashed Celtic church that sits at the bottom of Foel y Mwnt hill and overlooks the Cardigan Bay.
The fact that my brother got married there makes it one of the best Welsh beaches for me personally, but I'm not being at all biased when I say it is one of the best beaches in Wales as it has been awarded a Blue Flag.
It's a little off the beaten track which means it's less busy than many of the beautiful Wales beaches. You access it via a single dirt track but it's not completely wild and remote as there is a car park and a small café.
Being such a sheltered bay, the water is very calm making it perfect for families, although you need to be aware that there are quite steep steps down to the beach making it unsuitable for pushchairs.
The sheltered bay is a popular spot for dolphins and seals. Make sure to walk up to the top of the hill for spectacular views down over the beach and across the bay and you might just spot some.
Accommodation near Mwnt
If you fancy a spot of camping, this is the area to do it. Try Blaenwaun Farm camping or Beudy self-catering holiday cottage if camping is not your thing.
Best UK beaches for families – Northern Ireland
Helen's Bay Beach
Submission by Alan from It's Sometimes Sunny in Bangor
While Belfast is a coastal city in Northern Ireland it is more industrialized and lacks completely in sand. But just down the line is the seaside town of Bangor and the coastline between is known as Northern Ireland's Gold Coast partly due to high property prices and the golden sandy beaches.
And it is coastline stretch known for the 'North Down Coastal Path' stretching from the town of Holywood right down to Bangor.
The best beach for families along this stretch would then be Helen's Bay Beach, a relatively sleepy residential part of the coastline, which is part of the wider Crawfordsburn Country Park in the area.
It is also simple to reach from Belfast City Centre leaving any central train station on the Belfast to Bangor train line (aka The Gold Coast Train line).
It's around 25-minutes to reach the coastal village of Helen's Bay. From the station it is then a short walk following the golf course perimeter to reach the beach.
The beach itself is compact/small but the surrounding woodlands make up for it with a lot to explore in the area.
Just a short coastal walk (5-minutes) also finds the better known Crawfordsburn Beach which is central to the Crawfordsburn Country Park.
This also connects to the quaint village of Crawfordsburn. This entire area is also relatively empty as it's more of a local secret than a tourist hot-spot.
Accommodation near Helen's Bay Beach
The historic Old Inn is the perfect hotel for longer stays and for simple food and snacks there is always the Woodland Cafe by Crawfordsburn Beach.
Map of the UK Beaches for families
So which beach wins your vote for the Best Beach in UK category? I know where we'd love to go first! If you have a little gem that you can recommend, we'd love to hear from you.