The Ultimate Campervan Essentials Packing List
Having been campers for most of our lives, we thought that we already had most of the campervan essentials that we needed for our new VW campervan. Turns out we were wrong!
Space is always an issue in a small campervan with kids so we did a lot of research and selected the items we needed, ensuring they were as compact as possible.
We set off on a 6-week French road trip but soon discovered there were still things missing (as well as learning a few helpful tips about campervanning with kids)! During this trip, we talked to fellow campervan owners and had a nosey around their set-ups (something we found is quite common among the #vanlife community).
We gained invaluable tips and information during these chats. Our conversations were usually all about 'must-have' campervan essentials or campervan accessories. Perfect for new campervan owners like ourselves! There are, of course, lots of nice to have campervan accessories which you can find on this campervan gift guide, but this post is about the campervan essentials.
Having lived and travelled in our van for 6 weeks, we feel pretty good about having the campervan essentials nailed. With the surge in campervan purchases over the last few months, we thought we would try to help other new owners work out what the essentials are to avoid the mistakes we made.
This post aims to answer the question 'what does every camper van need?'
**Make sure to see our free downloadable campervan packing list at the end or click here and if you want to learn more about why we decided to buy our campervan and a couple of tips about campervanning, watch our YouTube video we did in partnership with the Caravan and Motorhome Club**
This post contains affiliate links. We may earn a small commission if you click and purchase something but this is at no additional cost to you.
Campervan essentials for the campsite
Drive away awning
If you're travelling with a family, you will need more indoor space than just your campervan. We recommend a drive away awning for 3 main reasons.
The campervan awning can reserve your pitch while you explore the local area
You can put your stuff in the awning while you are sleeping in the van
It's good to have an additional camping shelter in case of rain
We bought our Vango awning  (Vango Noosa Low awning) from Outdoor World Direct. It is one of the small to mid-sized awnings and uses poles so it is a bit cheaper than the Vango airbeam awnings. It takes about 20 minutes to put it up now that we know what we're doing. The first time was probably more like an hour!
It is a good size for our family of 4 and we love the large porch area which is big enough to fit our table under so we can still eat outdoors in the rain.
We also have a large Olpro Cocoon Breeze air awning which is ideal for longer trips and wet weather camping as there is so much space in it! As Olpro Ambassadors, we can we can pass on a 10% Olpro discount code to our readers. Please use : FLASHPACKING10.
See here for the latest prices on the Olpro Cocoon Breeze.
If you have a Reimo awning rail on your van, make sure to buy the Vango driveaway kit so that you can easily attach the awning to your van. Top tip – when driving away, put a marker behind the back wheels so that you can easily line up with the awning when you return. This will save you a lot of time trying to get back into the right place to re-attach the awning.
You could go for a separate tent but the benefits of a van awning over a tent are:
You are completely protected from the rain when moving from the van to the awning
In really warm weather, you can leave the side door of the van open for better air circulation
Campervan levellers
We didn't get much sleep on the first night in our campervan because we made a rooky mistake. We parked on a bit of a slope. It was hardly noticeable when parking, but that night we felt it.
Our top tip if you are new to camping in a campervan (or caravan or motorhome) is to take a little time when you first arrive at your pitch for the night to pick a level spot.
Sometimes this is just not possible if all of the best spots have been taken and for those occasions, we use levellers. Trust us. They make all the difference and are high up on our esential campervan accessories list list.
These Thule levellers or Fiamma levellers are great.
Camping table
Your campervan may come with a table as standard, but consider whether you are really likely to eat all of your meals inside your van. We have actually taken our table out of the van and just use our camping table. Having a folding camping table will give you much more flexibility and it's so much nicer to eat under the shade of a tree on a warm day or in your awning on a rainy day than in your van.
We have the Vango Granite Duo 120. The table is just the right size for a family of 4 as it can actually sit 6 people but we like to have the additional space to fit 4 adult sized plates with room for a couple of dishes. It packs down flat and weighs just under 6 kg. We store it just behind the driver's seat where there is a narrow gap before the kitchen unit starts.
Other options would be:
Camping chairs
Folding camping chairs are definitely a camping essential. There are lots of different types but not all are created equal. We have the Outwell Sevilla chairs which pack down into 88 x 13 x 13 cm and each weigh 3 kg. These lightweight camping chairs are really comfortable and well made and hold up to 125 kg which is more than some of the cheaper camping chairs can support.
A similar version but with a drink holder is the Outwell Catamarca.
You can also get smaller kids camping chairs if you prefer but our kids love snuggling into these ones and we wanted to have ones that would allow them to eat at the same table as us.
Here are some highly recommended alternatives if you can't source the Outwell camping chairs:
Trekology Yizi Go camping chair
Sunmer padded chairs (hold up to 120kg)
Camping electric hook up
You will need to have a good length camping electric hook up cable. We recommend a 25m cable to give you the most flexibility. Whilst most campsites in France seem to use the 3 pin system, some still use the older 2 pin system.
To be prepared for this, you can consider getting adapters if you are travelling to Europe. We didn't have an adaptor but found that most of the campsites were able to lend us one if we needed.
Buy Semloh 25m cable here.
Buy UK mains adaptor here.
Camping gas
You will need to make sure you have the correct camping gas bottle for your van. The standard is the Camping Gaz 907. The initial cost is quite high (around £80) because you are essentially leaving a deposit for the bottle, but each bottle thereafter should be around £37.
It can be exchanged in most European countries. In France you could exchange bottles at most large supermarkets.
Collapsible bucket
A collapsible bucket has so many uses and is high on our campervan essentials list. We use it to collect waste water from sink drainage. You may have had a waste tank fitted in which case you wouldn't need this, but if you don't, then you will need to catch the water draining from your sink so that it doesn't flow directly onto the campsite. It folds down almost flat.
(It can also be used as a night time toilet or you can take it to the beach. You may not want to use it for both!)
Beldray 10L collapsible bucket
Bramble Pack of 3 x 5L collapsible buckets
Camping lights
You may want to consider a nightlight as it will be almost pitch black at night with the blackout blinds. If there are any wakings in the night or the kids need to climb down from the campervan roof, it is easier to have some low-level light.
There are a few different options. There are also fairy lights which we haven't gone in for just yet but we did have light envy when we saw how cosy it made people's pitches look!
Camping lantern
It's good to have a portable camping lantern that you can use on your table if eating outside in the evening or to place in your awning. We went for the Duronic Hurricane which provides great light output and is charged by usb. There's also a winding handle to power it up if you are out of electricity – it's very useful, great fun and would make a great gift for a campervan or motorhome owner.
It can take a long time to wind it up fully. We gave this task to the kids to keep them occupied for a while!
Head torch
A head torch is good for night time trips to the toilet and the kids love to play with them to make shadow animals or read in bed. We prefer the USB rechargeable ones.
Mosquito repeller lamp
Your mosquito repeller can double up as a lamp. We bought the Outdoor Revolution Lumi mosquito light which can be recharged by USB. It has 4 light settings which we found really useful. The dim is good to keep on in the van as a nightlight and the bright is good for hanging from the awning if you are sitting outside in the dark while the kids sleep.
Camping mallet
If the ground is dry and hard, you will need a good, sturdy mallet to drive in the tent pegs. You don't need to get a camping mallet. We have a builder's mallet and it does the job just fine. It's not an expensive piece of camping kit but it is probably one of the most essential!
You may want to also look at getting storm pegs or some hard ground pegs so that you can camp in any conditions.
Milestone camping rubber mallet
Campervan essentials for the kitchen
Camping kettle
You can boil your water in a pan for your tea or coffee but when you're using that pan to cook fragrant food like curries or a chilli, we find it taints the taste of the hot drink. We're not purests, but a separate kettle is one of the best campervan accessories to have.
With this in mind, we love the Outwell collapsible kettle for easy storage. It collapses down to a really small, compact size. It boils quickly and makes about 3 cups of tea. This is probably one of my FAVOURITE camper van accessories (other than my Aeropress – don't forget the filters)! It seems quite hard to get hold of, maybe because it is so popular, so here are some alternatives.
Camping stove
Most campervans are kitted out with a 2 hob gas burner so it is not essential to have an additional camping stove but if you are cooking something particularly spicy or heavy, you might want to do this outside.
We opted for the Von Shef electric frying pan and went for the 30cm diameter which is big enough for us but if you need a bigger one, it comes in a 42cm diameter size too. It has come in so handy, making anything from sausages and stir-fries to pancakes and popcorn.
Another alternative to consider is a portable camping BBQ that can double up as a wok like a Cadac.
Serving bowls
We're a fan of anything collapsible in the van and thought that the  Sea to Summit collapsible bowls looked great.
Turns out they are a little smaller than we expected, but they still hold a decent amount of food. The XL bowl collapses down flat for easy storage and the base can be used as a (small) chopping board.
Camping crockery
We love the Vango 4 person bamboo set as it is made from highly sustainable and eco-friendly material (see more eco-friendly camping gear ideas). It's very lightweight and stylish. Note that if you love black tea, the mugs will stain!
Melamine, enamel or bamboo sets are great for the van because they are not easily broken.
Read more: 5 ways to be more eco friendly 
Vango 4 person bamboo crockery set
Camping water carrier
To avoid the need for constant trips to the nearest water tap, it is a good idea to have a decent-sized water carrier.  You probably have an on-board water tank, but we don't like to use this for drinking water (especially if the water has been in the tank for longer than 24 hours).
It can get stale and hot in warm weather (the perfect breeding ground for bacteria) and therefore, unsafe.
For drinking water, we prefer to fill the water carrier once a day and leave it in the awning. One thing to bear in mind if you want to fill your water tank in your van is that you will need something with a spout (like a watering can) if you don't have access to a long hose that you can use to directly fill your tank.
In terms of the water carrier, collapsible is a good option for easy storage, but a lot of them are not very durable and some contain plastic nasties which we prefer to avoid. Our much-preferred camping water carrier is the Sea to Summit Pack Tap (10 L). You can hang it from a tree and it's easy to open the tap one-handed.
Alternative option – 5L / 10L foldable water carrier.
Miscellaneous small kitchen items
Here is a quick list of small kitchen items that we consider essential:
A Swiss army knife is good for any odd jobs. Depending on the one you get, it may also double up as bottle opener, tin opener and have scissors. A separate sharp knife for the is a must if you're going to be preparing your own food. (This is also a great present for a travel-loving man).
Eco friendly washing up liquid
Microfibre cloths – these are useful for doing the dishes, wiping down surfaces or giving the van windscreen a wipe. They wash and dry really quickly.
Chopping board (if you don't get the Sea to Summit bowl with a built-in chopping board or you need a larger one)
OXO Good Grips nesting bowl and colander set works really well for us. One of the bowls is a colander, the large one is good for mixing pancake mixture and the smaller ones for dishing out berries, nuts, olives or other small aperitifs and the other bowls come in handy for just about everything else.
Camping cutlery set – having a camping cutlery set that stores away in its own carrier is really useful. We like this Regatta 4 person set.
Camping pans – we like these removable handle pans that fit inside each other to store.
(We would also include tin opener and bottle opener here if you haven't got a Swiss army knife)
Campervan essentials for the bathroom
Before going into the bathroom essentials, it's worth saying that you should make sure you pack a travel first aid kit. It doesn't take up much space and is so much easier to have the essentials to hand, especially if you are travelling to another country and aren't familiar with their medicines/brands.
*With new regulations and changes to some campsites for the 2021 season, some campsites are not opening up their facilities and so require you to have your own toilet and shower facilities. There are a few campsites with ensuite facilities if you don't want to buy all the gear*
Camping toilet
We didn't want to go for a sophisticated portable camping toilet system like a Thetford Porta Potti because we didn't want to deal with all of the chemicals (and also they are pretty large) so we opted for a very simple collapsible bucket system for nighttime emergencies but there are options in between.
It's just best to go for what suits your needs. We were camping in France where we knew that all of the facilities were open, but our next trip in the UK will be different and we may need to re-think our options.
Camping shower
Normally we wouldn't class a shower as an essential item but with some sanitary blocks closed due to government guidelines, you may want to have an alternative option.
We opted for a USB rechargeable pump shower which can attach onto the side of the van and pumps warm water from a bucket of water. A 14L bucket of water (we use our Gorilla tubs) should give you around a 2-minute shower. We fill up the bucket and top it up with boiling water to make it warm.
There are simpler systems like a hose that attaches directly to your water tap and out through the window (although that would give you a cold water shower) or a solar shower bag.
Microfibre towels
These pack away into small carry bags and are perfect multi-purpose towels for the beach (sand resistant meaning you don't bring half the beach back with you) or bathroom (they dry really quickly).  We use Dock & Bay towels but there are lots of options out there.
Nomandia microfibre beach towel
Amazon brand microfibre beach towel
Toiletries
What you pack in your toiletries bag is a personal choice so the only thing we would say here is that where possible, try to choose eco-friendly items that are not harmful to marine life. We also like to use biodegradable Water Wipes in case we can't have a shower. See also Travel Buddy body wipes.
We keep our toiletries in an Osprey washbag that rolls up and can hang in the shower.
First Aid Kit
We have a helpful Travel first aid kit post if you need inspiration on what to include in yours.
Camping essentials for the bedroom
Sleeping bags
You can argue that sleeping bags are not essential as you may prefer to take your own bedding, but when space is an issue, we look for lightweight sleeping bags that can pack down into the smallest size possible.
[AD] We use the rectangular Jack Wolfskin Re Blanket +5 which is made from recycled materials. It opens up into a lightweight summer blanket or can be zipped together with another one to form double sleeping bags if you prefer.
[AD] For kids sleeping bags, we are using Jack Wolfskin Grow Up Star for our eldest (aged 7 and 130 cm) and the Jack Wolfskin Grow Up Kids for our youngest (aged 5 and 115 cm). We love these sleeping bags for kids because they have a zipped section at the bottom which allows you to extend the bag as your child grows. Again – these are good for summer camping only.
VW Thermal Windscreen covers
Our CarBest Reimo windscreen covers act as Blackout blinds to avoid early morning sun shining in and provide privacy at night when you have the lights on inside the camper van. The reflective insulated layer helps keep the van cooler in summer months and warmer during cooler months.
They also help with reducing condensation. Our set of blinds include a windscreen cover and left and right cab window covers which attach to the inside of the van using suction cups. We prefer the internal screens as there's less chance of them getting wet!
Also don't forget…..
Pillow
Bedsheets
Fleece blanket for cooler weather
Miscellaneous camping gear
Packing cubes
These are great for keeping everyone's clothes separate and can store easily under the bed. We are huge fans of packing cubes and use them on all of our travels but they come in especially handy in the van. Everyone has their own cube and can pull them out from under the bed when they need to get their clothes.
We have the Amazon Basics packing cubes and the Osprey Packing Cube bundle (for smaller items).
Multi-purpose storage boxes
We love using the 36L Gorilla tubtrugs for storing food and other items. They fit nicely on the back seat when travelling and are easily lifted out and stored in the awning while camping.
They can also be used for washing clothes and dishes (and children if they're small enough!). We use the smaller 14L size tubtrugs to carry dishes to the sanitary block and they also come in handy at the beach. If you're not using them, they stack neatly inside each other for compact storage.
Note that campsites do not always have plugs for the sinks which is why a tub like this is good for the dishes or laundry. For dishes, you could also consider a collapsible washing up bowl.
Clothes line
We take our travel washing line which has hooks on each end to hook between trees. Make sure to bring a few pegs with you for smaller items that you don't want flying off into your neighbour's pitch when the wind picks up.
We saw a lot of people with a freestanding airer that folds down. This is ideal if there are no trees to hook your line onto.
A lot of campsites will have washing machines on-site but in case they don't (or as mentioned above there are no plugs), we find that a Gorilla tub is handy for doing the laundry in.
Packable jackets
Our packable jackets by TOG24 live in the campervan as they are so handy to have 'just in case' and don't take up much space at all. They pack into really small pouches and are ideal for vanlife. We have them for the whole family.
Check here for the best deals on TOG24 Craven Women's Waterproof Packaway Jacket
Check here for the best deals on TOG24 Craven Men's Waterproof Packaway Jacket
Check here for the best deals on TOG24 Craven Kid's Waterproof Packaway Jacket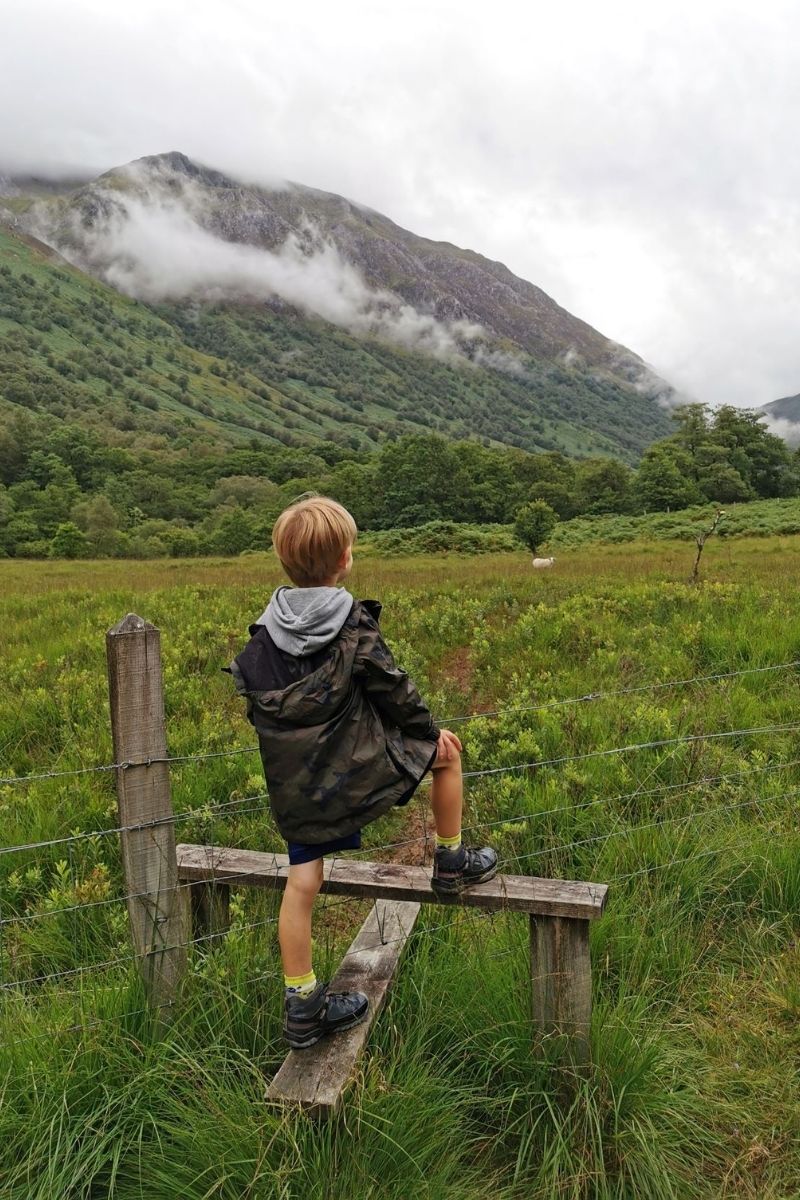 Kids games
Some of our favourite kids travel games to take with us are card games like Dobble, Uno and Top Trumps. We also pop in bat and ball, a football, colouring books and pens and table tennis bats (especially if going to France).
Camping with young kids? Here are some top tips for camping with toddlers.
Mosquito repellant
In addition to the mosquito lamp, we make sure to pack bug spray and mosquito bracelets. Strangely, the Avon Skin So Soft works well for us but we also take a stronger (but still child-friendly) mosquito repellant just in case the mosquitoes are more resilient.
*These products do no contain deet and therefore are not sufficient if you are going to a malarial area*
Water bottles
We take our reusable water bottles with us everywhere and they are especially useful when camping when you don't want to fill up the whole water carrier. In warm weather, we use our Chilly's Water Bottles to keep the water cool all day.
If you prefer something with a filter, we love the LifeStraw Go 2 bottle.
Doormat
A doormat will go a long way to keeping a lot of mess out of the van. We have a super-thin non-slip one that just stays in the main living area without getting in the way.
Small dustpan and brush
This may not sound very exciting but a mini dustpan and brush set is probably one of the most important items on our campervan essentials list, especially if you're staying on a sandy coastal campsite.
There's just no way to completely keep sand out of the van (even with a doormat) if you have little ones going in and out and there's nothing worse than sand in your bed. This tiny set stores easily.
Day bag / backpack – make sure to check out our guide to kids backpacks if you are looking for something for the kids
A 3m extension lead for using the multi-cooker (or any other electrical appliance) outside
If you're a long-term campervan owner and have any tips for newbies, we'd love to hear from you. Please let us know in the comments. Likewise, if you're a newbie and have any questions, please ask in the comments.