WORK WITH US
Behind the scenes of the award-winning blog – Flashpacking Family – is Jacs (Mum and content creator), Ed (Dad and digital marketing expert), Ernie (10, wildlife enthusiast) and George (9, fearless explorer).
We are all passionate about travelling the world together one adventure at a time and inspiring others to do the same.
We've been travelling as a family since our children were babies and have more than 20 years of travel experience pre-kids visiting over 85 countries.
We are absolutely passionate about family travel and love to be able to pass on helpful tips and advice to our followers.
We also have digital marketing expertise in content marketing, display and SEO, amongst other areas. Ed has worked in digital marketing in the travel industry for 20 years and is a leader in his field.
If you're looking to promote your brand or destination to an audience of well-travelled families or families looking for that extra bit of encouragement, we can help.
We value collaborations and partnerships with brands that have similar values to us – a commitment to quality, authenticity and a passion for responsible family travel.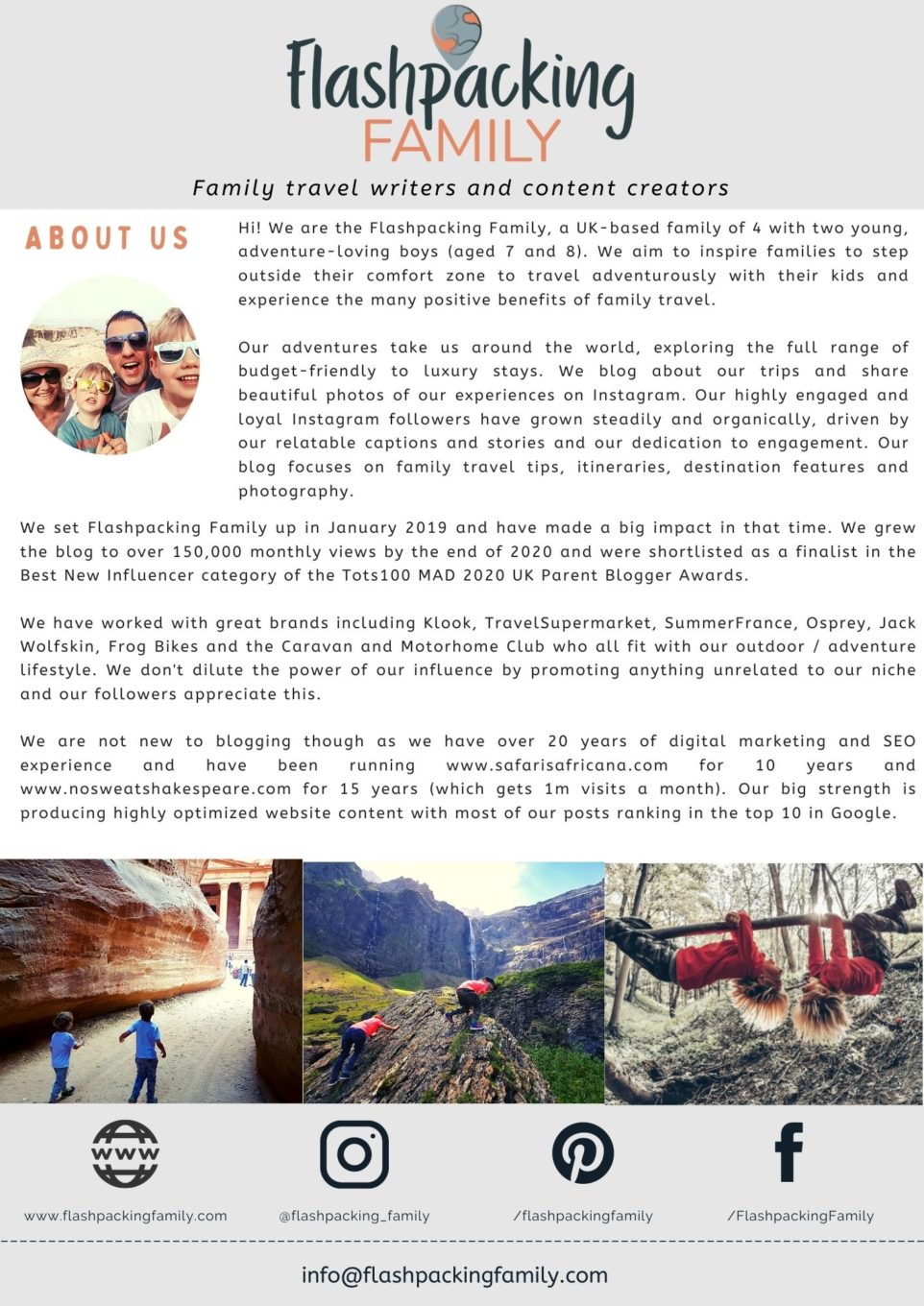 Please contact us to request our full Media Kit
Want to get your brand in front of an audience of thousands of engaged family travellers?
Our readers and followers are predominantly families interested in travel from English-speaking countries.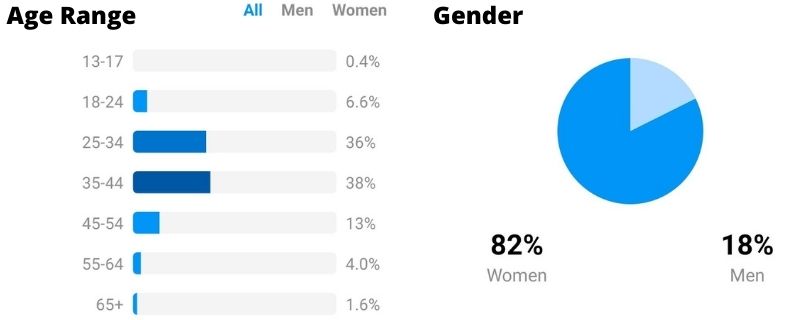 WORK WITH US – WHAT WE OFFER
We have built up a loyal audience of thousands of followers interested in family travel, and offer promotion of your destination or brand through our social media channels (Instagram, Facebook, Pinterest and Twitter) and our family travel website. Our readers and followers relate to our experiences and trust our recommendations.
Work with Flashpacking Family:
Destination Marketing: Highlight your country / region / town to thousands of family travellers across our social media channels with:
Sponsored Instagram posts / stories with brand's website link in bio / Swipe Up.
Press trips promoting a destination, company or event on social media and our blog.
Featured blog posts including links and sharing on social media.
Product Reviews: In-depth reviews of your travel related product highlighting the features and benefits of the product.
Photography: Showcase your destination or brand with our award winning travel photography.
BRANDS WE HAVE WORKED WITH
(click on the logos to see examples of our work)
WHAT OUR PARTNERS SAY…
Original Travel
"We worked with Flashpacking Family as part of their incredible holiday to Namibia in spring 2023, by arranging two wildlife tours in Swakopmund for the whole family.
Jacs was a pleasure to work with and provided some fantastic content following on from the trip, which aligned perfectly with Original Travel's brand and audience. We would love to work with her again in future."
Emily Dundas
Website Marketing Manager – Original Travel
Leeds Castle
"Leeds Castle collaborated with Flashpacking Family over October Half Term in 2020. Flashpacking Family's loyal audience of followers match one of Leeds Castle's key demographic target markets of family day out/destination travellers.
Working together worked really well and we were very pleased with the high levels of engagement. We look forward to continuing to work with Flashpacking Family in the future".
Sam Bromley
Senior Marketing Executive, Leeds Castle
iCrossing – Global Digital Marketing Agency
"Jacs and her family have been a true pleasure to work with. Always prompt to respond, friendly and cooperative and their content outputs were superb. We have a very happy client and would have no hesitation working with them again in future!"
Jill Alger
Audience Intelligence Director, iCrossing UK.
Wands & Wizard Exploratorium
"Thanks so much for sending this over-it's great to see all the engagement you had and the content you did was fabulous. Our client was really happy with it!"
Georgia Bell
Account Executive, Storm Communications Ltd.

flashpackingfamily@gmail.com