Top family-friendly activities in South Africa
South Africa is easily one of our favourite places to travel with kids. It is vast with an incredible variety of landscapes and wildlife, so it is somewhere we can go back to again and again and still find somewhere new to visit or something new to do. It is absolutely breathtakingly beautiful with the sun-soaked white sandy beaches of Cape Town overlooked by Table Mountain, the wild and rugged beaches of the Eastern Cape, the soaring peaks of the lush green wine regions, the craggy cliffs and valleys of the Drakensberg, the wetlands of the west coast and the dry desert landscapes of the Karoo. We should also mention that South Africa has the biggest, bluest skies and the sunsets are something else which we find are best enjoyed with a delicious bottle of wine we picked up from one of the many stunning wine farms!
If you're not sold already, then here are some more great reasons to try South Africa with kids;
Cape Town is an easy 12 hour overnight flight from the UK and virtually no time difference which means no jetlag. Jetlag is something many kids struggle with so to be able to go somewhere where you don't spend the first few days battling tired and grumpy kids is a huge benefit.
With the many different sides to South Africa, there is something for everyone.
English is widely spoken so there are no communication issues and it is very westernised. There will be shops and restaurants you recognise, but also some you won't, and those are always worth trying.
The Western and Eastern Capes are malaria free so if you are planning on seeing wildlife, you won't need to take anti-malarials which are essential in other game viewing parts of Africa.
Lastly, the exchange rate makes everything so reasonable, particularly eating out in world class restaurants.
The kids always have a blast in South Africa because there is so much for them to do and most of it is outdoors, which they love. Here are some ideas for family-friendly activities in South Africa.
Table mountain
Table mountain is one of the world's most iconic landmarks and Cape Town's number one attraction. You can either hike up or take the cable car. With kids aged 3 and 18 months we opted for the cable car but we did see families with slightly older children hiking. The views from the gondola as you ascend or descend are magnificent. The gondola rotates so as long as you are located close to a window, you should get a good 360 view. There is usually one window open so try to get that one for the best photos.
Once at the top you can wander around and enjoy the magnificent views of Cape Town and further afield. There are some places where there is a vertical drop and there's no fencing so watch little ones!
The weather can be very changeable on the top. We went prepared with extra jumpers. As you can see from the pics, it was very windy and the kids complained of being cold, despite it being 30 degrees at the bottom. Tip – buy your ticket online before you go. It is cheaper and you will avoid the queues.
Beaches
Everyone loves a great beach and there are so many beaches in South Africa. Some of the most popular beaches in Cape Town are Clifton (of which there are a few), Camps Bay, Llandudno, Muizenberg (where they also have Planet Kids which is an indoor play area in case you encounter bad weather). Beware, the water around Cape Town looks gorgeous but it is very cold!
Bloubergstrand is good for watching kite surfers but as the name suggests, it is famous for being very windy. You do get a beautiful view back to Cape Town and Table Mountain though.
As you carry on up the coast on the garden route, the beaches start spreading out into long stretches of sand. If you get as far North as Kenton-on-Sea, you will start to see very wild and deserted beaches.
Safari
Going on a safari with kids should be on everyone's travel wish-list. It is amazing for them to see the animals in the wild and also very educational. Can you imagine how excited little kids get when a lion gives off an enormous roar or a huge elephant wanders right by the jeep with ears flapping and trunk swaying on its way to find water? Our boys get excited about any animal spotting, whether it be a dragonfly hovering over a pond or an ant gathering leaves, so we knew a safari would be a hit with them. There are many places to go on a family-friendly safari in South Africa. If you want to avoid the malarial areas of the Kruger, you can stick to the Western and Eastern Capes and you will still be able to see the Big 5 (Lion, Elephant, Leopard, Cape Buffalo and Rhino). If you are prepared to take precautions against malaria, the Kruger National Park is well worth a visit.
Wine tasting
Due to the increase in families travelling to South Africa, the wineries have cottoned on and now include child-friendly wine tasting alongside their standard tastings. This is a great activity for the kids as they don't know they are having grape juice and they feel very grown up being included in an adult activity. For more info, see our post on family-friendly wine tasting in South Africa
Wine estate picnics
A great activity to do with the family. Much more relaxing than a sit-down meal in a restaurant as it is a novelty for the kids and they can get up and run around when they are done and leave the adults in peace to finish at a leisurely pace. For more info, see our post on family-friendly picnics on wine estates in South Africa.
The V&A Waterfront
A very popular place to go when in Cape Town is the Victoria & Alfred Waterfront. It is packed with shops and restaurants, and has amazing views of Table Mountain. There are usually street performers and a little colourful train for the kids. At the waterfront is also the Two Oceans Aquarium which is a good place to go if you encounter bad weather in Cape Town.  Make sure you schedule your visit to coincide with penguin and shark feeding. There is also a touch pool with anemones, starfish and seaweed.
Penguins
Head to Boulders beach to spot the colony of African penguins. There are around 2,000-3,000 living there now. There are wooden walkways that allow you to wander around the colony and get close to them without disturbing them too much. You may also see them wandering around the neighbourhood. It's best not to get too close though as they have sharp beaks! Boulders beach and its surrounding beaches now form part of the Table Mountain National Park Marine Protected Area so the penguins are protected. As the name suggests, there are also lots of boulders which are great for little rock-climbing enthusiasts.
Oudtshoorn
Oudtshoorn is actually a town, not an activity, but there are several great family-friendly activities here so we have lumped them all under Oudtshoorn. It is a town in the Klein Karoo which is an extremely arid area and is famous for ostrich and crocodile farms. If you are doing the garden route it is worth taking a little detour inland to visit Oudtshoorn as there are many ostrich farms offering tours to choose from. Some will be more commercial than others. Some offer tractor rides and have gift shops with an array of ostrich products. The visit allows you to get very close to an ostrich. Interestingly, ostrich meat is very healthy for you and did you know an ostrich egg is the equivalent of about 24 chicken eggs? You may see ostriches running freely as you drive around South Africa (which is how we prefer to see all animals really) but if you don't and you would like to get up close and personal with them, then Oudtshoorn is the place to go.
There are also a few crocodile farms that you can pop into where you can see baby crocodiles through to huge adult crocodiles. You may even get the chance to hold one of the little guys!
If you're in Oudtshoorn to see the ostriches and crocodiles, you'll be very close to the Cango Caves, about 30km out of Oudtshoorn. Kids can visit the main chamber and go on the Heritage (easy) tour, but under 8s can't go on the 'advanced' tour. I tried the 'advanced' many years ago and I think my claustrophobia started right there and then when I got stuck in the devil's postbox, squeezing myself through a 27cm gap. Don't say you weren't warned! If you still want to do it, you need to book in advance due to their popularity.
Whale spotting
You will usually find that you will need to go out on a boat in order to see whales – sometimes for hours, bobbing up and down… We have two members of the family who suffer from sea sickness so this isn't really an option. We tried it once and vowed never again. If you would like to have a chance of seeing whales without taking a boat trip, Hermanus is a great place to visit. Sightings from land are not guaranteed (neither are they if you take a boat trip), but it is one of the best whale spotting destinations in the world and if you go between July and November, your chances of a sighting are better as this is the best whale spotting season.
We hope you have been inspired to give South Africa a go. We have a lot more information in the South Africa section of our blog and please get in touch if you have any questions.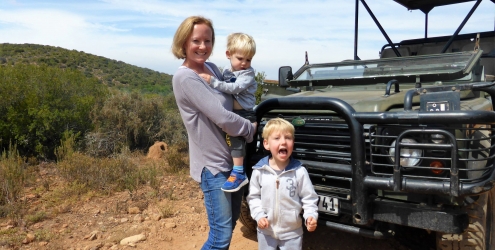 https://flashpackingfamily.com/wp-content/uploads/2019/03/safari-1.jpg
1732
2309
Jacs
https://flashpackingfamily.com/wp-content/uploads/2019/02/white-logo-300x150.png
Jacs
2019-03-22 14:00:23
2019-09-29 13:37:45
South Africa's best family-friendly safari options
https://flashpackingfamily.com/wp-content/uploads/2019/03/camps-bay.jpg
1500
2666
Jacs
https://flashpackingfamily.com/wp-content/uploads/2019/02/white-logo-300x150.png
Jacs
2019-03-20 20:49:34
2019-09-29 13:38:01
Top family-friendly activities in South Africa