The 10 Best Museums In London For Kids In 2022
London is a fabulous city to visit with kids. There is so much culture and history, much of which can be found in the best museums in London for kids.
We aren't huge history buffs but we do love visiting these particular museums in London with our kids because they have so many fun and educational activities for the whole family.
One of the best things about these London museums for kids is that most of them are completely free to visit. Incredibly, 8 out of these 10 child-friendly museums in London are free (we have indicated which ones). Having said this, a donation is always welcome!
We all know that London can be an expensive city but it doesn't have to be with so many free museums to visit. We have many more ideas for free things to do with kids in London in case you are visiting London on a budget.
**Before you find out which are the best museums in London for kids – take a look at these family-friendly places to eat in London and bookmark it for your London visit**
This post contains affiliate links. If you click on one and book or buy something, we may earn a small commission but this is at no extra cost to you.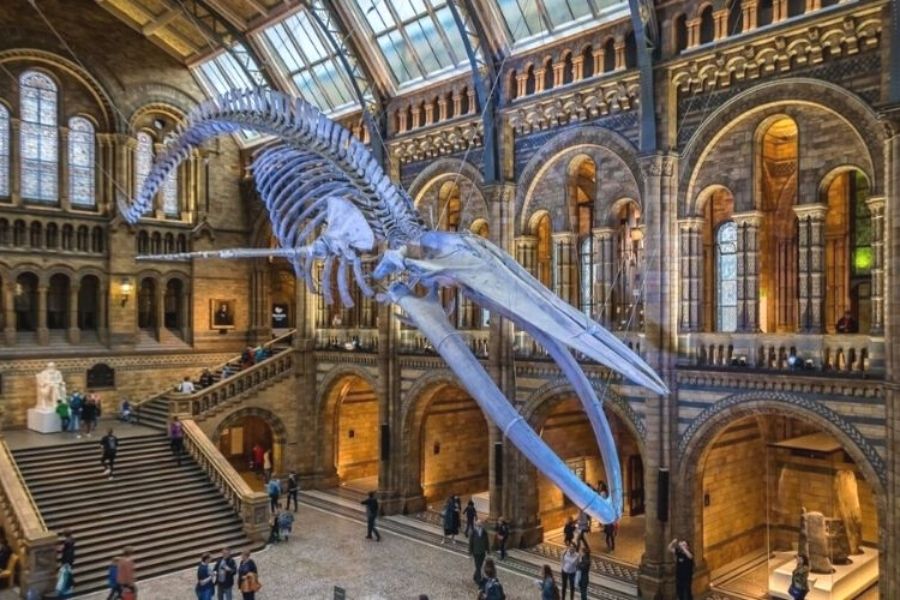 These are our favourite museums in London for kids…
One final word of advice about visiting the best museums in London for kids. Just check before you go whether they require booking. Some have implemented this policy and some haven't. The most up to date information can be found on their websites (which we have included).
In no particular order..
1. Natural History Museum
The Natural History Museum is free to visit.
We have been visiting the Natural History Museum since the kids were tiny. We are also lucky enough to have a smaller Natural History Museum near us in Tring which is worth a visit if you are looking for a day trip from London. It's one of our top recommendations for days out from London with kids.
It is one of the most visited museums in the world and really has to be on your list of museums in London to visit with kids.
Top things to do in the Natural History Museum with kids
Visit the dinosaurs
Back when the kids were little, we loved dinosaur days out and Dippy the Diplodocus at the entrance of the Natural History Museum was just the start of the dinosaur adventure.
These days Dippy has been replaced with a skeleton of a Blue Whale suspended from the ceiling in Hintze Hall, but their dinosaur section is perfect for any budding Palaeontologist – and Dippy has returned for a short visit until 2023.
The ultimate dino experience there would have to be their Dino Snores sleepover which needs to be booked well in advance.
Take a selfie with Andy's Clock
If you're a fan of Andy's Dinosaur Adventures on CBeebies, then they will love to have their photo taken with Andy's Clock.
Experience an earthquake
If you head to the Volcanoes and Earthquakes section, you will get to experience a simulation of the Kobe earthquake. Watch out for items falling off shelves!
Check the temporary exhibits
Many of the temporary exhibits are family friendly. We love the Young Wildlife Photographer of the Year.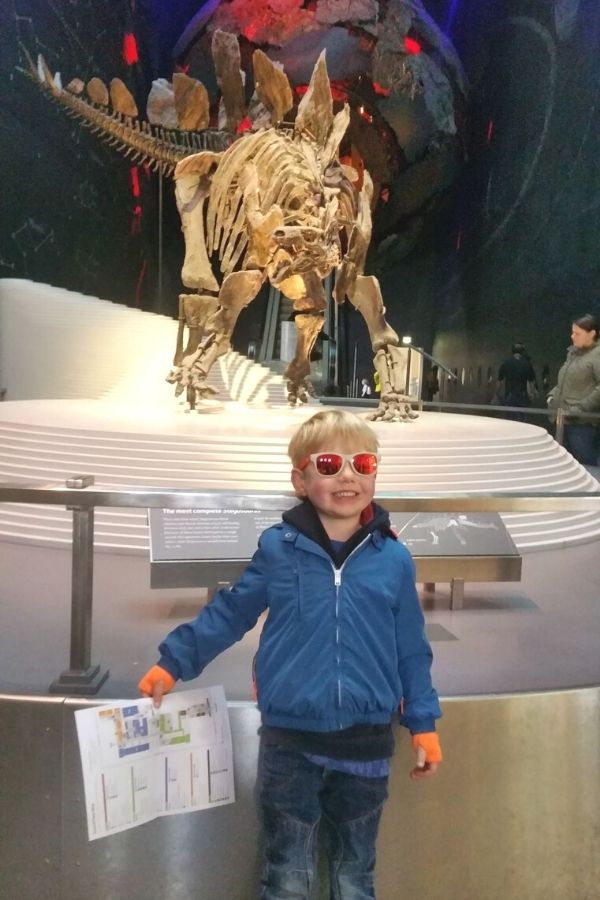 2. Science Museum
The Science Museum is free to visit
The Science Museum is just next door to the Natural History Museum. If you are looking for things to do on a rainy day in London, head to these two museums in South Kensington and you won't have to step foot outside all day!
The Science Museum is full of gadgetry big and small to capture the imagination of little scientists.
It's fun and interactive and good for children of all ages – including toddlers who can get involved in some fun water play.
They also have an IMAX theatre and a Red Arrow flight simulator which is great for older kids.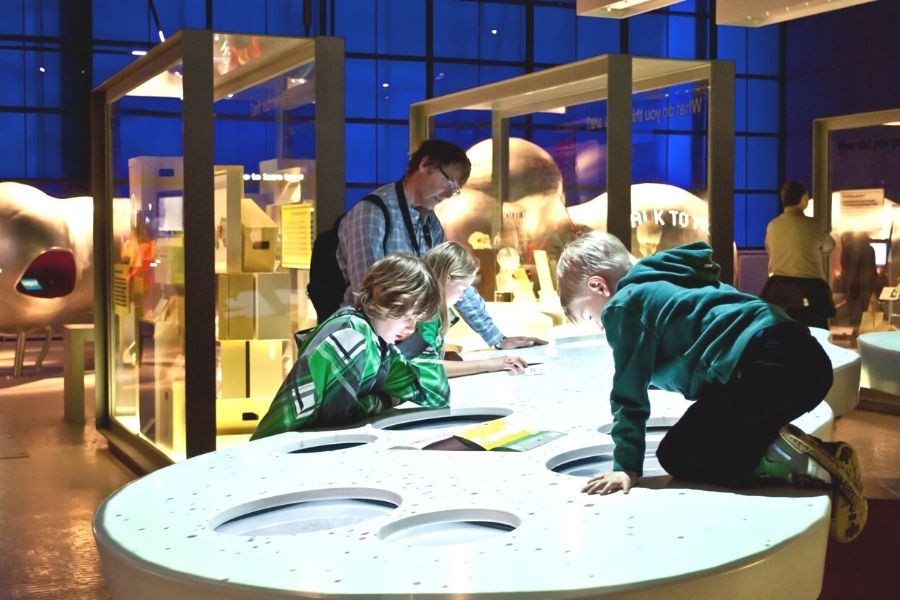 3. Horniman Museum and Gardens
The Horniman Museum is free to visit.
Many of the best museums in London for kids are quite central and firmly on the tourist trail. This means that they can get incredibly busy.
One that is more off the beaten track is the Horniman Museum and Gardens. It is a little way out of the centre of London which is why most tourists don't visit, but it is very easily reached in 15 minutes by overground train from London Bridge to Forest Hill.
You can book your train tickets in advance here.
Their gardens are really beautiful and they also have a fabulous collection of natural history exhibits.
One of the highlights for kids will be the butterfly house and the aquarium. Entrance to the museum and gardens is free but there is a charge to visit the aquarium and butterfly house and other exhibits.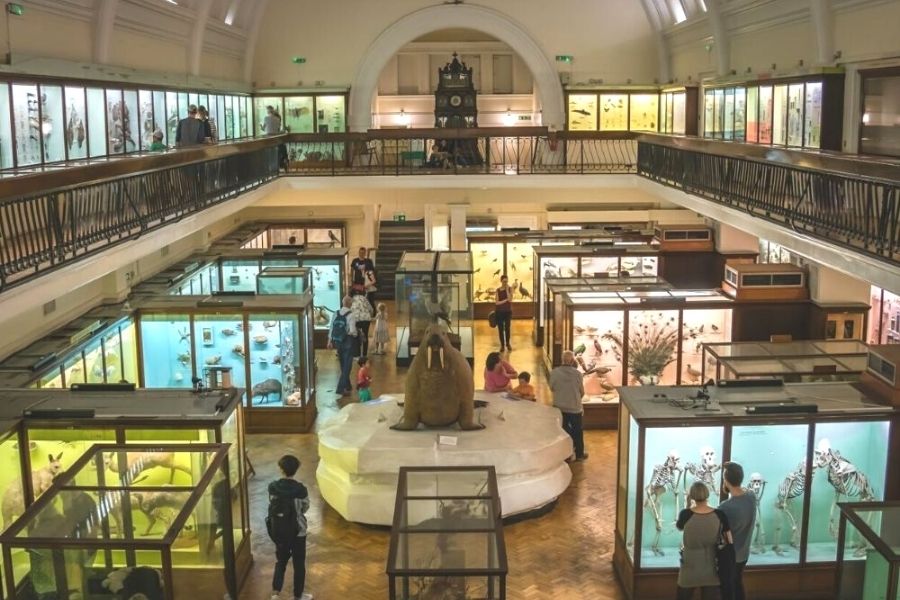 4. Young V&A
The Young V&A is free to visit.
You will probably have heard of the Museum of Childhood which was associated with the Victoria & Albert Museum. It has been undergoing extensive renovations and will be opening up in 2023 under the new name of The Young V&A.
It is located in Bethnal Green which, although is in East London, is just on the fringes of the City of London and very easy to get to.
This is a really great area of London for families to explore with its many hip cafés and the wonderful green space of Victoria Park. It is a little more off the beaten track and away from the main tourist sites. There are plenty of hidden gems to discover here and it is so vibrant and colourful.
We recently spent the weekend at the Town Hall Hotel in Bethnal Green in one of their incredible 2 bedroom apartments and really enjoyed wandering around the local area.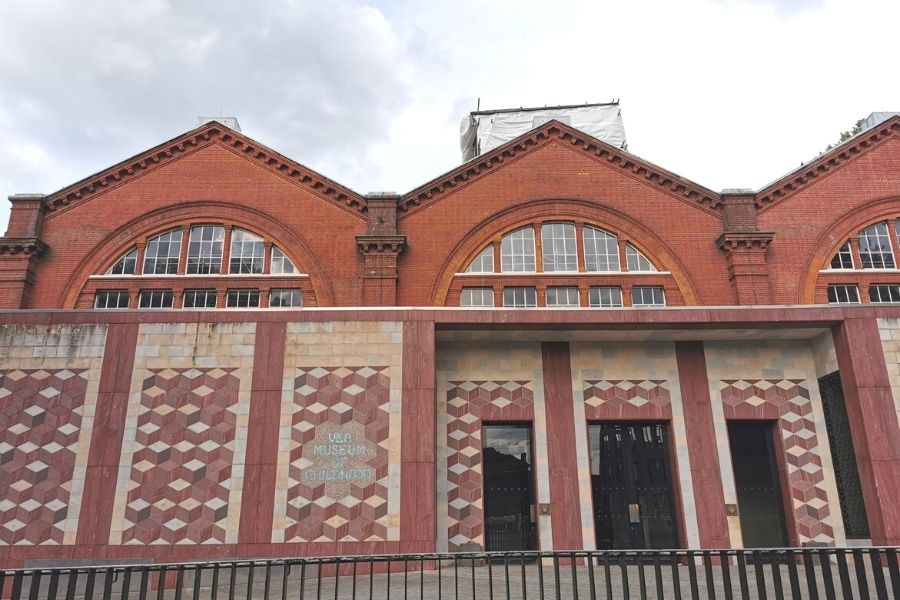 5. British Museum
The Science Museum is free to visit
You don't have to be a history buff to enjoy a visit to the British Museum. The entrance hall (the Great Court) is worth a visit in its own right!
It's such a fun and educational place to visit and one of our top recommendations for free museums in London for kids.
Once past the entrance hall, there is so much going on in this London museum for families.
There is a families desk at the weekends where you can pick up an activity backpack or a museum explorer trail. These booklets cover the main areas of the museum and set kids various challenges.
We highly recommend visiting this London museum for kids if you are planning a trip to Egypt. We visited the Egyptian section the week before we took the kids to Luxor (and completed the Egyptian museum explorer trail).
If you are interested in visiting Luxor with kids, you can find our family-friendly Luxor itinerary here.
6. National Maritime Museum
The National Maritime Museum is free to visit.
The National Maritime Museum is part of the Royal Museums Greenwich.
There's always something fun going on for families at the National Maritime Museum during school holidays. You can keep up to date with their events here.
Similar to the British Museum there are family trails at the National Maritime Museum. There is also a Children's Gallery for under-7's with lots of interactive play. The Children's Gallery is free during the week but £3 at weekends and during school holidays.
While you're here, head up to the Royal Observatory for some incredible views of London.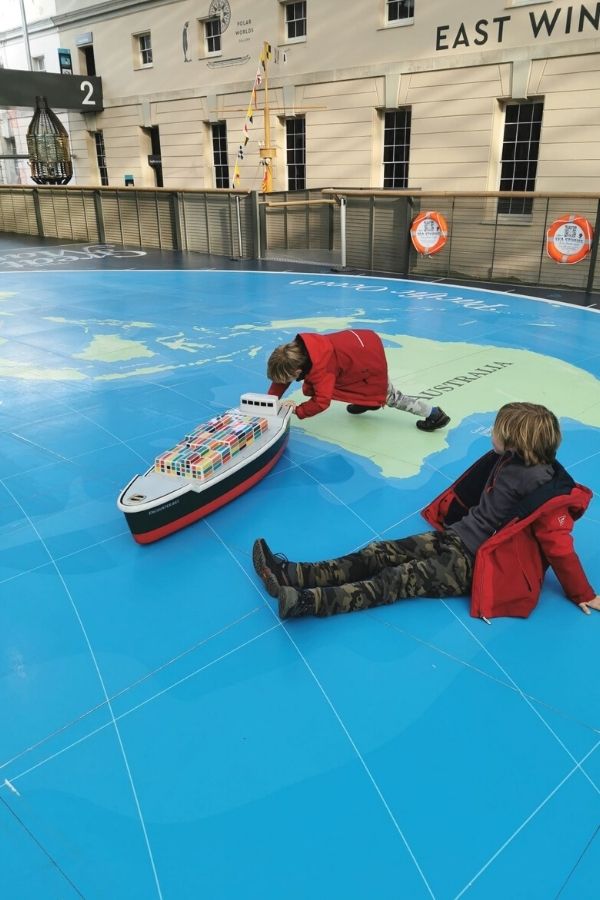 7. Museum of London
The Museum of London is free to visit.
The Museum of London is a museum dedicated to telling the story of the City of London. And being one of the greatest cities in the world, there are lots of stories to tell!
The stories start before London was even built – way back in 450,000 BC. There are sections on Roman London, Medieval London, Victorian London with a recreated Victorian street and present day London.
Make sure to check out their family events. They run fun and interesting family walks around London – including a Great Fire of London family walk and a Roman London family walk.
8. RAF Museum
The RAF Museum is free to visit
The RAF Museum, based in Hendon, is one of the most family-friendly museums in London if you are looking for somewhere to take the grandparents.
It explores the first 100 years of the RAF with close to 100 planes on display. There is lot of walking involved as the planes are displayed in the enormous hangers. They even have an enormous Lancaster Bomber.
There are interactive displays too and a number of play areas for the kids.
If you're in this neck of the woods, you might also like to know that the Harry Potter Studios are close by. Harry Potter fans should take a look at these Harry Potter things to do in London. You can grab your WB Studio Tour tickets here (they must be booked well in advance).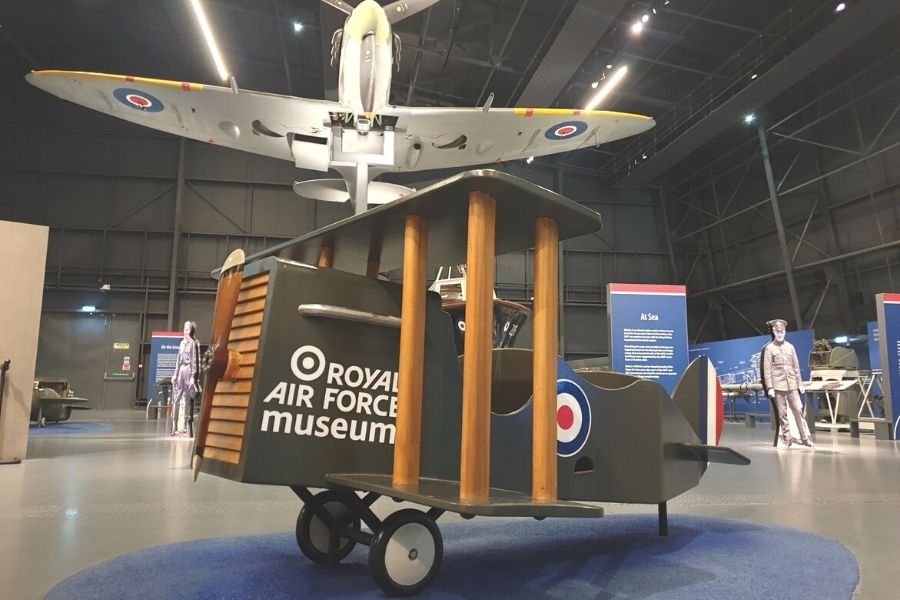 9. London Transport Museum
One of the best child-friendly museums in London for transport enthusiasts. Here you can discover the history of London and its transport system over a period of 200 years.
You can also learn about the future of travel in London. Special events are run during the school holidays for families. You can check their schedule here.
Kids will love being trained as a Tube driver in the Future Engineer's simulator.
You can buy your entry ticket to the London Transport Museum here.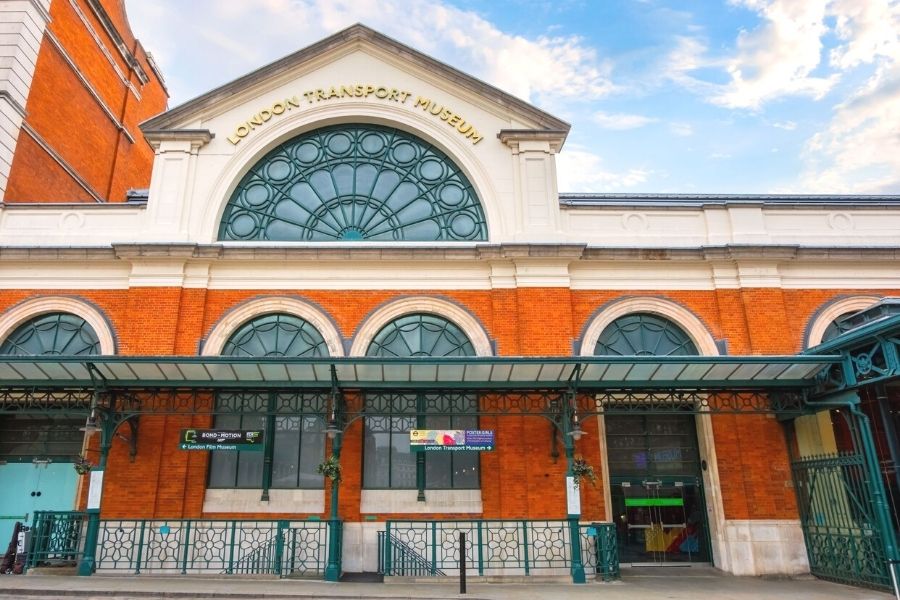 10. Postal Museum
If the idea of riding on a Royal Mail train deep under the streets of London sounds exciting – it is!
Take a ride on Mail Rail at the Postal Museum and you will discover all about Britain's postal history.
There is also Sorted! Postal Play Space – a dedicated area for children under 8 where they can get involved in Royal Mail role play.
Find out what is going on for families at the Postal Museum here. There are often extra activities for kids at weekends and during school holidays.
Although there is a fee to visit the Postal Museum, your ticket gives you unlimited entry for a year following your first visit.
Other museums in London for kids
Tower of London
Again, although not technically a museum, you will find lots of historical artifacts at the Tower of London. Make sure to take a Yeoman's tour and visit the Crown Jewels. The kids will love it! You can book your skip the line tickets here.
Grant Museum of Zoology
If you miss out on tickets to the Natural History Museum, you could always pay a visit to the Grant Museum of Zoology at the University of Central London.
The Imperial War Museum
The Imperial War Museum is a way to see war through the eyes of Londoners who lived through it. We feel that this museum is more suitable for older children.
HMS Belfast
HMS Belfast is London's Warship that has been on the River Thames for 50 years. There are 9 decks to explore; some of them are under the waterline!
Tate Modern
We debated whether to include the Tate Modern in our list of best London museums for kids because we wouldn't really class it as a museum. It is more of an art gallery but it is definitely a fabulous place to take the kids.
We love their temporary exhibitions. In the past, we have been able to skate in bare feet in the Turbine Hall and colour the floor. We have booked tickets to see the Infinity Mirror Rooms by Yayoi Kusama and cannot wait!
If you go up to the top floor of the Blavatnik building, you can step out onto the terrace and you get wonderful panoramic views of London. You can also enjoy a drink and a snack here.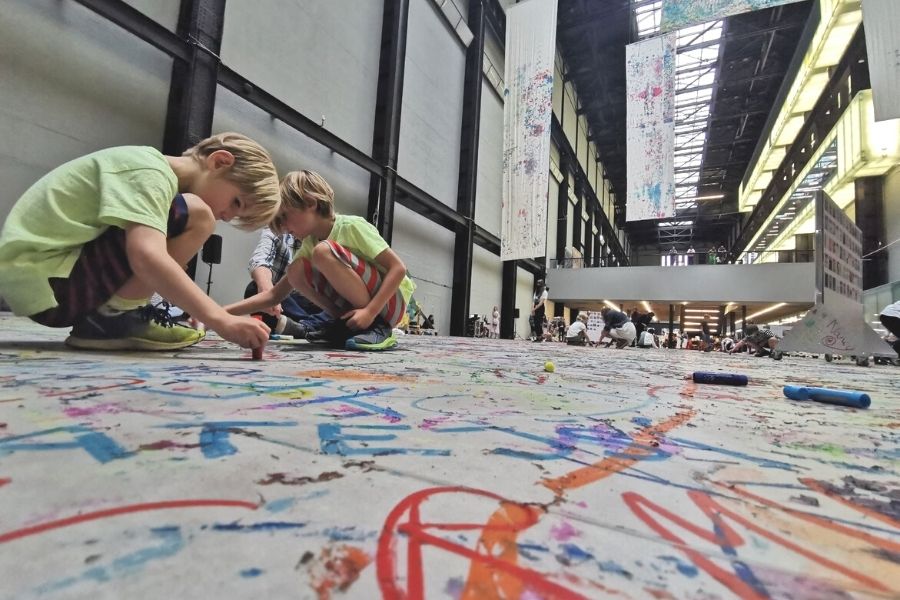 We hope you enjoy these London museums for kids as much as we do. Let us know in the comments if you have any more suggestions!