Is the London Eye Worth It? All Your London Eye FAQs Answered!
The London Eye is one of the most popular things to do in London and yet 'is the London Eye worth it?' is the most frequently asked question we get from visitors to London.
If you're comparing it to all of the other amazing and free things to do in London, then is the London Eye worth it? No, probably not. But that doesn't mean you shouldn't do it!
We have been on it many times over the years and the London Eye views (on a clear day) are spectacular. Yes, it can be expensive, but there are often London Eye discounts (we will mention a few later in the post) and it really should be on your list of London things to do.
Visiting London with kids on a budget? We have some great ideas for free things to do in London with kids, including where to get great views of London for free. We also have some suggestions on child-friendly restaurants in London and places to have afternoon tea in London with kids.
This post contains affiliate links. If you buy something through one of them, we may earn a small commission but this is at no additional cost to you.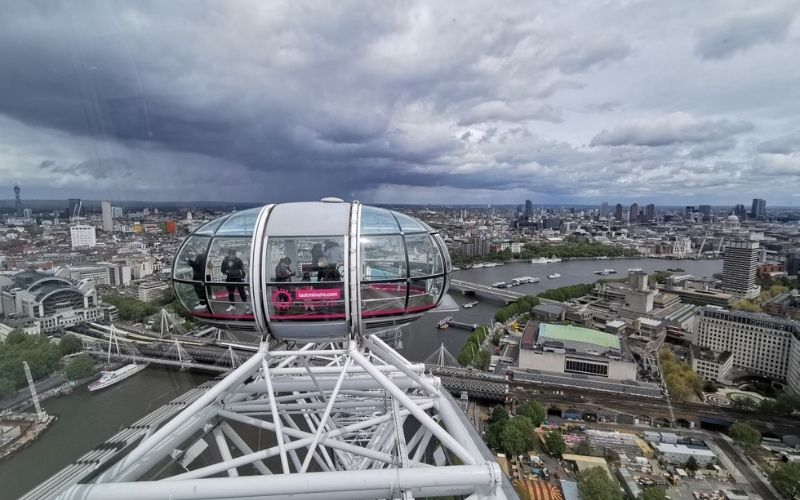 London Eye facts and FAQs
When was the London Eye built?
The London Eye was built in 1999 and opened in 2000 which is why it is also referred to as the Millennium Wheel.
How tall is the London Eye?
The London Eye stands 135 metres tall and at the time it was built, it was the tallest giant Ferris wheel in the world. It is now the third largest behind The Star of Nanchang in China and the Singapore Flyer.
How long does the London Eye take?
The total journey time on the London Eye is 30 minutes. The wheel turns continuously and moves so slowly that you can barely notice it. It moves so slowly that it doesn't need to stop for you to get on or off.
One thing to note is that the pods are enclosed so you will be taking photos through the glass but don't worry, they are kept pretty clean. You just need to be aware that there may be a small reflection in some of your London Eye photos.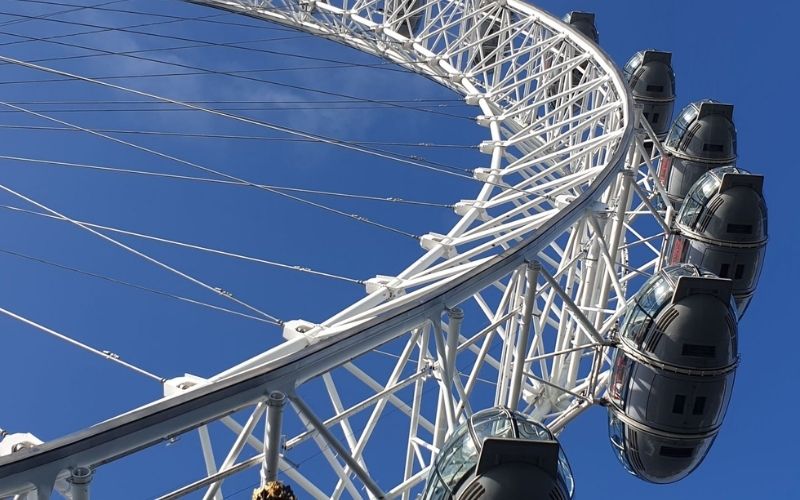 Where is the London Eye?
The London Eye sits on the South Bank of the River Thames opposite the Houses of Parliament. The address is: Riverside Building, County Hall, London SE1 7PB.
By train
The nearest train station to London Eye is Waterloo. Take the South Bank exit and follow the signs. Charing Cross station is the next closest.
By tube
The closest tube to the London Eye is Waterloo, closely followed by Westminster (across Westminster Bridge).
By car
If you are driving into London, the closest car park for parking near London Eye is Waterloo Car Park. The address is 39 York Rd, London, SE1 7NQ. Parking costs £5.00 for up to 1 hour, £10.00 for up to 4 hours and £20.00 for the day. Make sure you are aware of the Congestion Charge of £15.00 which is in place EVERY DAY (except Christmas Day) from 7am – 10pm.
By boat
Quite a nice way to get around London, especially in the summer, is to take a Thames River Bus. Conveniently, there is a river bus stop right beside the London Eye at the London Eye Pier. Find out more about the Uber Boat by Thames Clippers here.
If you like the idea of travelling by boat in London, there are a few other options you can try:
See here for speed boat tours.
See here for London Eye sightseeing river cruises.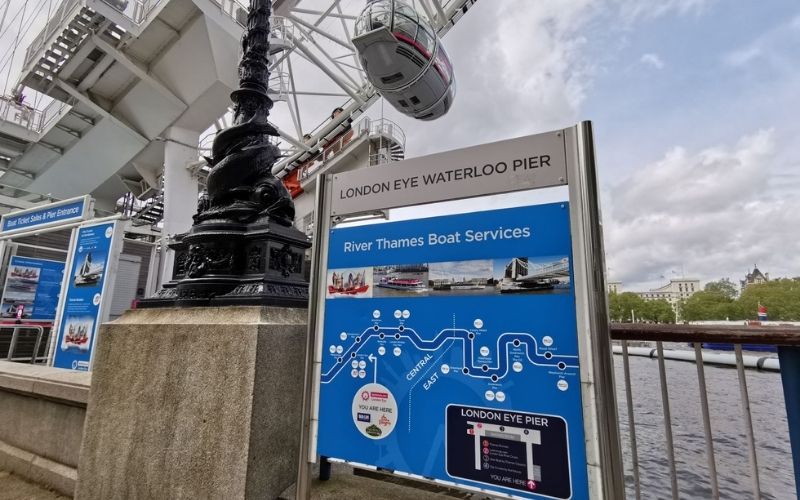 When is the best time to visit the London Eye?
The busiest time is between 11.00 and 15.00 so it is best to go outside of these times if you can so that you don't have to queue as long (although this is not an issue if you get the Fast Track tickets).
Whatever time of day you go, you really need clear weather to make the most of the views. As we all know, the London weather cannot always be relied upon so if you can, it is best to leave the booking until closer to the time so that you can check the weather. This is obviously not necessarily possible if you are visiting during the peak season as tickets may be sold out in advance.
The choice between going on the London Eye at night or during the day is a personal one. Personally, I think that twilight is a magical time, just as the sun has set and the city lights are coming on. Certain buildings really stand out, like the Houses of Parliament. The wheel itself also lights up. The queues also die down later in the day.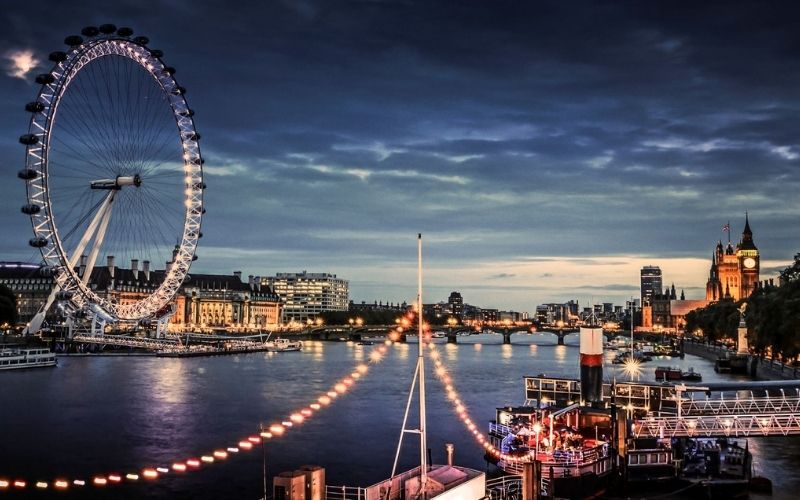 How much does it cost to go on the London Eye?
There are different London Eye ticket prices on the official Lastminute.com London Eye website.
Standard tickets
£31.00 per adult (there is a 20% saving if you book in advance making it £24.50).
£27.50 per child (3-15 years)
Under 3 – free (although a ticket must still be booked)
Fast Track tickets
The fast track ticket skips most of the queues.
£41.00 per adult (there is a 20% saving if you book in advance making it £34.50).
£37.50 per child (3-15 years)
Under 3 – free (although a ticket must still be booked)
See here for discounted FAST TRACK TICKETS.
Family tickets
The family tickets are a set £28.00 per person for adults and children over 3 (or £22 per person if you book in advance).
Combination tickets
There are also combination tickets available where you can combine the Eye with Madame Tussauds or SEA LIFE or a River Cruise and make savings.
See here for London Eye, Madame Tussauds and SEALife combo ticket.
See here for London Eye and London Dungeons combo ticket.
See here for London Eye and SEALife combo ticket.
Are there London Eye discounts?
As above, if you book your tickets in advance, there are savings of up to 20% on the price of the ticket. There aren't a lot of London Eye offers around – but here are the best and most consistent:
National Rail are offering 2 for 1 days out in London on a number of London attractions when you visit London by train. Check here for the London Eye 2 for 1 offer. Also included in this deal are: Madame Tussauds, The London Dungeon, Tower Bridge and the SEA LIFE London Aquarium.
Sometimes Kellogg's runs a 'Grown Ups Go Free' promotion (for this and many other attractions around the UK, including Legoland Windsor) so you can really save on London Eye tickets.
Sometimes there will be savings when using a company like Klook or Get Your Guide. They may not offer discounted tickets, but they may be running a site wide promotion so keep a look out.
As a side note, if you are going to be visiting a number of London attractions during your visit, you might want to take a look at purchasing the London City Pass. Although it doesn't include the London Eye, over 80 London attractions are included.
Click here to purchase the LONDON PASS.
Is it worth getting fast track for the London Eye?
During peak season when the queues can get really long, you may appreciate fast track access, especially if you are visiting with small children.
However, with current restrictions and social distancing measures in place, the number of people allowed to visit the London Eye has been reduced and the queue times are shorter so you may not feel that fast track is worth it.
See here for discounted FAST TRACK TICKETS.
London Eye opening times
The London Eye is open from 11 am to 6 pm daily.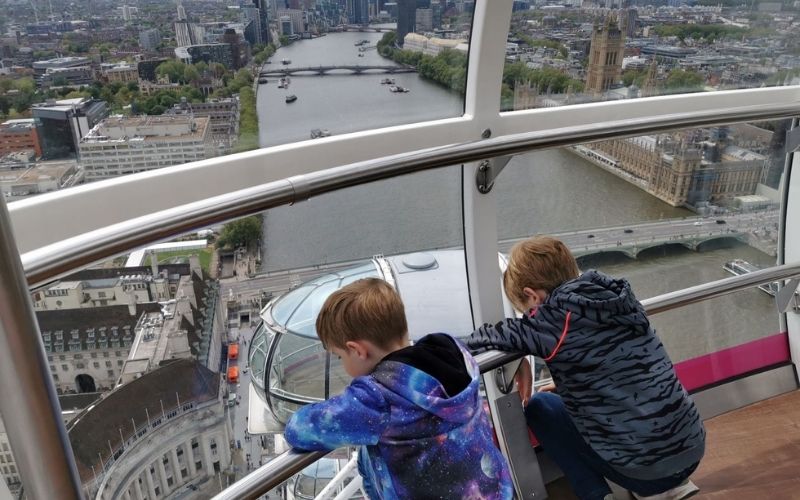 Which is better the Shard or the London Eye?
If you are looking for the best views of London, you are probably wondering whether to go for the London Eye or the Shard. There is no right or wrong answer here. They are two totally different experiences.
The Shard offers London's highest viewing platform with 360 degree views from 244 metres up but it is a static viewing experience.
Although the London Eye is not as tall as the Shard, the whole experience of getting on a moving viewing platform is quite exciting and the London eye views are just as good, possibly better because you can make out more of the detail below you.
If you can't justify the cost of either attraction, you can also get great views of London from these places for free.
The Tate Modern viewing platform.
Greenwich Park.
Parliament Hill.
Primrose Hill.
Sky Garden.
So – is the London Eye worth it?
The big question…..Is the London Eye worth the money? We think so and here's why…
Why is the London Eye worth visiting?
The London Eye is one of the most iconic landmarks in London and taking a ride on it will offer a really unique experience. There are lots of other giant Ferris wheels around the world these days, but London is one of the best cities in the world so if you want to experience a giant Ferris wheel ride, London is the place to do it.
If you take a ride on it at the beginning of your visit to London, it really helps you get your bearings. Have a London map with you and see if you can locate all of the main London attractions like Buckingham Palace, Trafalgar Square, The Shard, The Houses of Parliament and Big Ben.
Can't get there right now? You can check out the London Eye live cam here.
Attractions near London Eye
As the ride only lasts 30 minutes, you are bound to want to find other things to do near the London Eye.
There is lots to see and do within walking distance. Here are just a few suggestions:
Leake Street Graffiti tunnels are one of the hidden gems in London.
Visiting with kids? Make sure to give them time at the play park just under the London Eye.
The Southbank Centre is right next to the London Eye where you will find lots of street food vendors as well as a number of restaurants and the Queen Elizabeth Hall rooftop garden.
Gabriel's Wharf with yet more shops and restaurants.
Big Ben and the Houses of Parliament.
The Tate Modern.
Shakespeare's Globe.
Tower Bridge.
St Paul's Cathedral.
Trafalgar Square.
The National Gallery.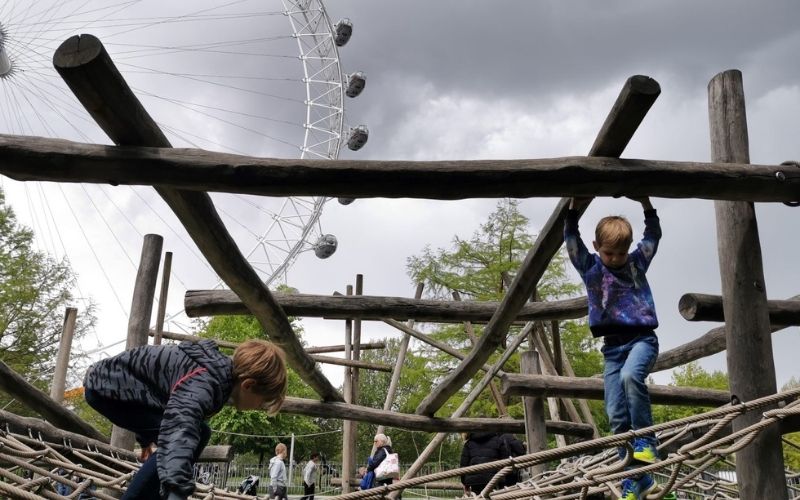 Hotels near the London Eye
There are a few hotels close to London Eye if that is where you want to base yourself. The hotels in this area are quite reasonable compared to other areas (Kensington and Mayfair) and the location is good for sightseeing. Here are a few options:
Luxury – London Marriott Hotel County Hall 
Mid-range – Park Plaza County Hall or Park Plaza Westminster Bridge
Budget – Premier Inn London County Hall or Premier Inn London Waterloo
If you are looking for hotels overlooking the London Eye – then The Savoy has some of the best views from across the river. You would need to book a river view room.