Our Complete Thornybush Game Lodge Review For 2023
If you're wondering about booking Thornybush Game Lodge but want an independant opinion from someone who has recently visited, you're in the right place.
We stayed at Thornybush Game Lodge in November 2022 and wanted to write a thorough Thornybush Game Lodge review to help you decide whether it is the right game lodge for you.
Picking the right accommodation for a once in a lifetime safari holiday can be daunting. It is not a cheap holiday and you want to get it right.
There are so many game reserves and beautiful safari lodges in South Africa. So why pick Thornybush Game Lodge?
Our review of Thornybush Game Lodge aims to help you get a better understanding of what is on offer.
We have also reviewed Jackalberry Lodge which is under the Thornybush group.
Thinking of a trip to Sun City after your safari? Take a look at our Sun City review to decide whether it's for you. We stayed at The Palace of the Lost City at Sun City.
This post contains affiliate links. If you click on one and book something, we may earn a small commission but this is at no extra cost to you.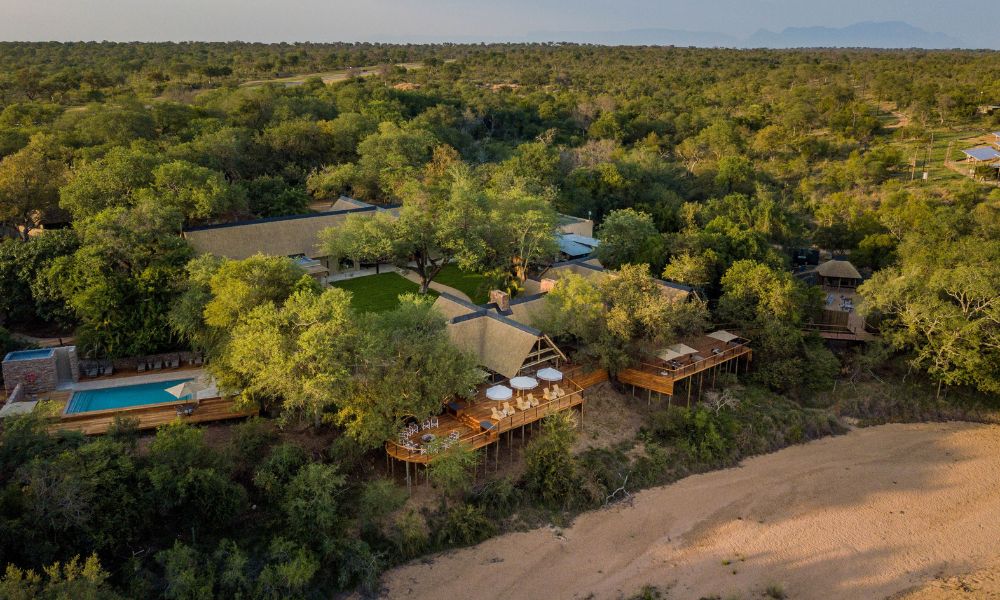 Visiting South Africa with kids? We have lots of information to help you plan your trip.
If you are going on safari with kids, we have a guide explaining the main things you need to know about taking a safari in Africa with kids.
We have visited South Africa with kids many times. There is so much for families to do in South Africa, but what we love most is that there are so many places for a family-friendly safari in South Africa.
See here for a fabulous 2 week itinerary for families visiting South Africa.
You need to also read this post if you want to find the best family accommodation in Cape Town.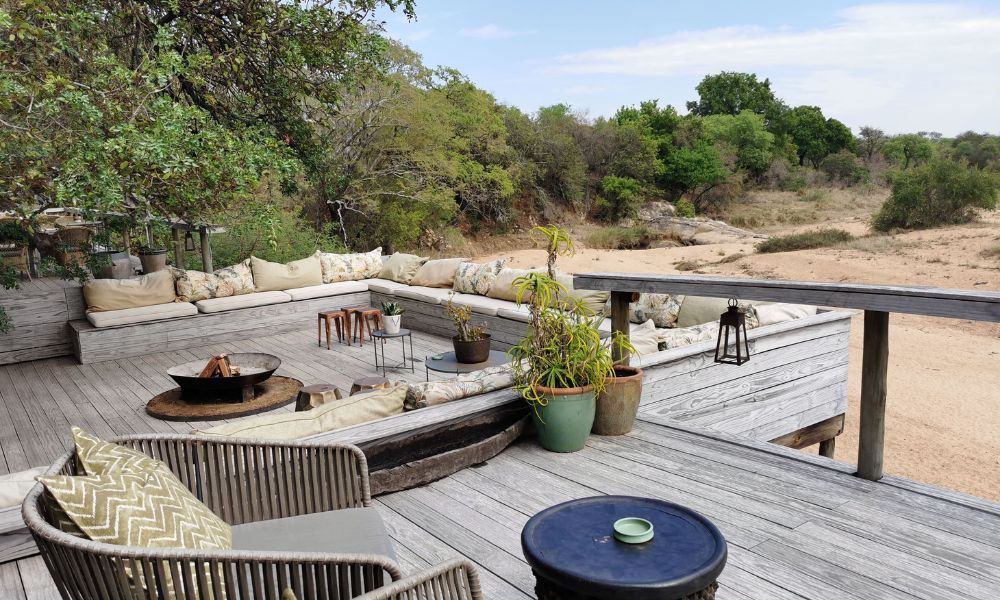 Thornybush Game Lodge review
Before we start our Thornybush Game Lodge review, we should explain that the whole lodge was refurbished right after we stayed.
Whilst the look and feel of the camp remained the same, it just has a fresh, new look. Safari chic perfectly sums it up.
Our accommodation was organised by Go2Africa who are the leading luxury tour operator in Africa.
Where is Thornybush Game Lodge?
Thornybush Game Lodge, one of the first commercial safari camps in South Africa, is located in the Thornybush Game Reserve.
Thornybush Game Reserve is a 15,000 hectare private reserve sharing a 22-kilometer fenceless border with the Kruger National Park. The Kruger is one of the best destinations for a safari in Africa.
See here for the best time to go on safari in the Kruger. Note that Thornybush Game Reserve is in a malarial area – although the malarial risk is lower in the dry season.
Thornybush take preventative measures by spraying their camp at least four times a year and there is mosquito repellant in the rooms.
See here for malaria free South African safaris.
It also shares a fenceless border with Timbavati Game Reserve.
If you're interested in Timbavati, see here for our family-friendly lodges in Timbavati.
The main entrance to Thornybush Game Reserve is off the Guernsey Road which is a gravel road running almost parallel to the R40 from Hoedspruit.
It should take about 30 minutes to drive from Hoedspruit to Thornybush Game Lodge.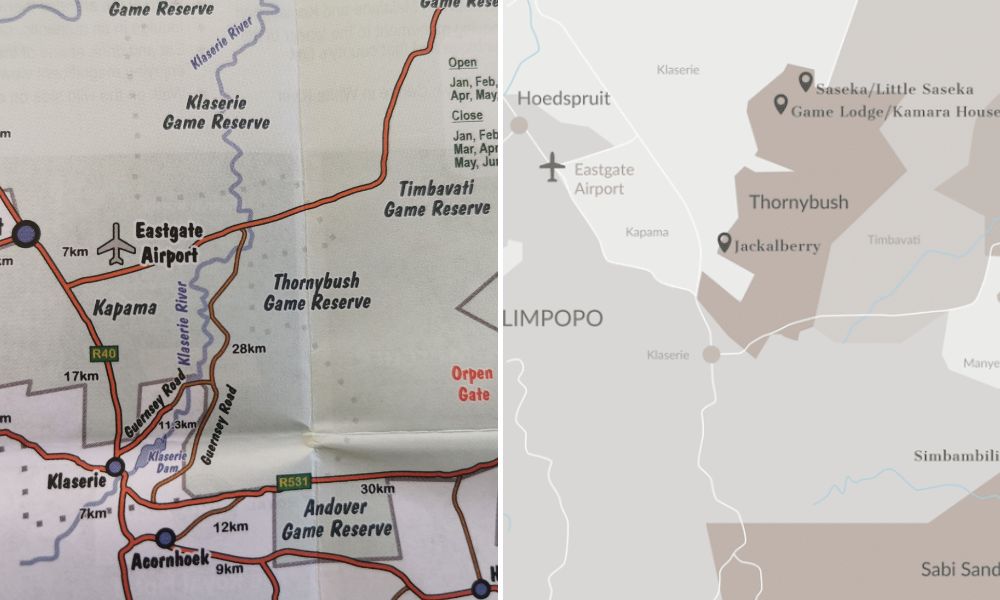 Arrival at Thornybush Game Reserve
If you are on a self-drive trip, you will need to have your reservation details to hand to give to the security guard on the gate. They will direct you to Thornybush Game Lodge.
There are signs along the way to help guide you. You must stick to the speed limit because you are in the Game Reserve and you will come across animals.
Our drive from the gate to the lodge took about 30 minutes but we treated it as a game drive and stopped a lot on the way.
Thornybush Game Lodge can also arrange transfers for you. You may also have transfers included in your safari package in which case you do not need to worry about getting lost!
When you arrive at the main lodge, you will be greeted with a welcome drink and checked in. Check-in is from 2pm.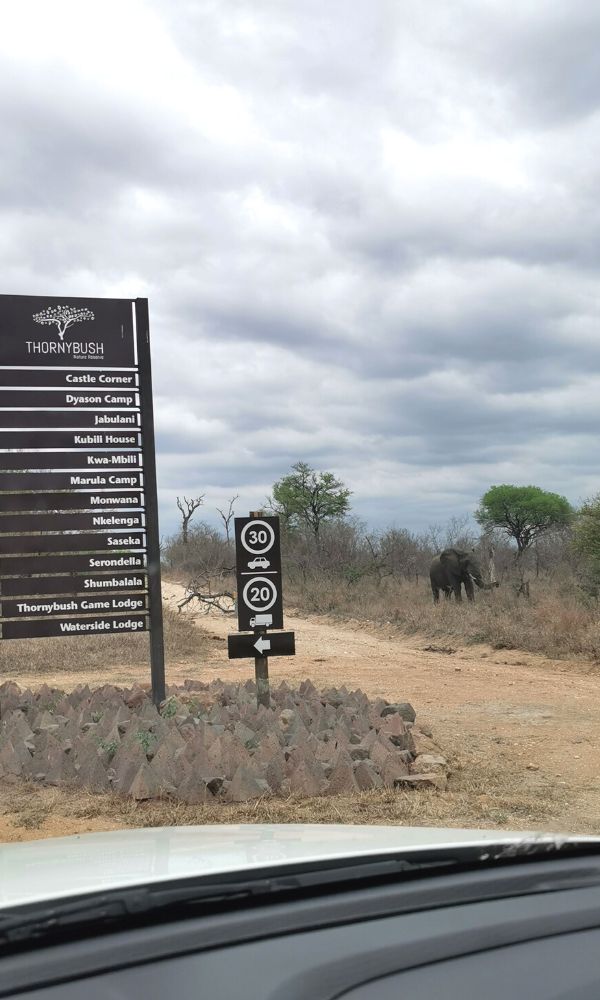 Which animals can I see if I stay at Thornybush Game Lodge?
For most people, an African safari is all about seeing the Big 5 (Lion, Leopard, Buffalo, Elephant, Rhino).
Whilst sightings cannot be guaranteed, Thornybush Game Reserve is home to the Big 5 so it is possible to see them.
Whilst Sabi Sands Game Reserve to the south of Thornybush is better know for leopards, we did see a leopard at Thornybush.
There are so many more animals to see than the Big 5 though.
As well as the Big 5, we saw a huge array of birdlife and our first ever (and normally very elusive) honey badger.
You can read this post on some of Thornybush's more unique animals.
Our guide at Thornybush Game Lodge (Sarah) was incredibly knowledgeable and really great with the kids. She helped point out even the tiniest animals.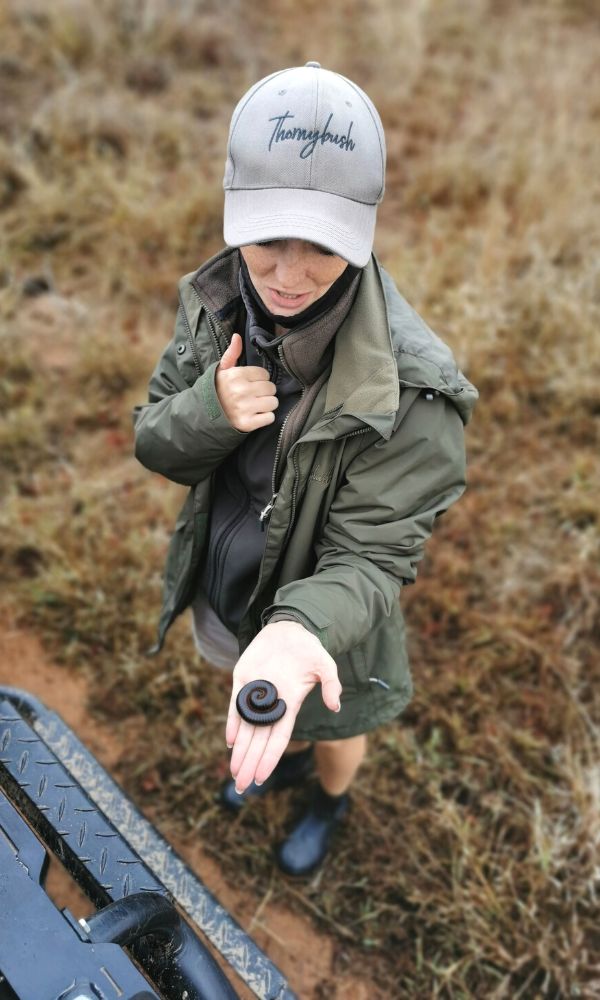 Accommodation at Thornybush Game Lodge
There are 16 luxury suites at Thornybush Game Lodge. They each have large sliding doors opening out onto your private viewing deck. The bathroom has a huge window looking out onto the bush.
Thornybush Game Lodge family accommodation
Families can book one of the two family villas at Kamara House (opening in May 2023). Photos to follow after opening.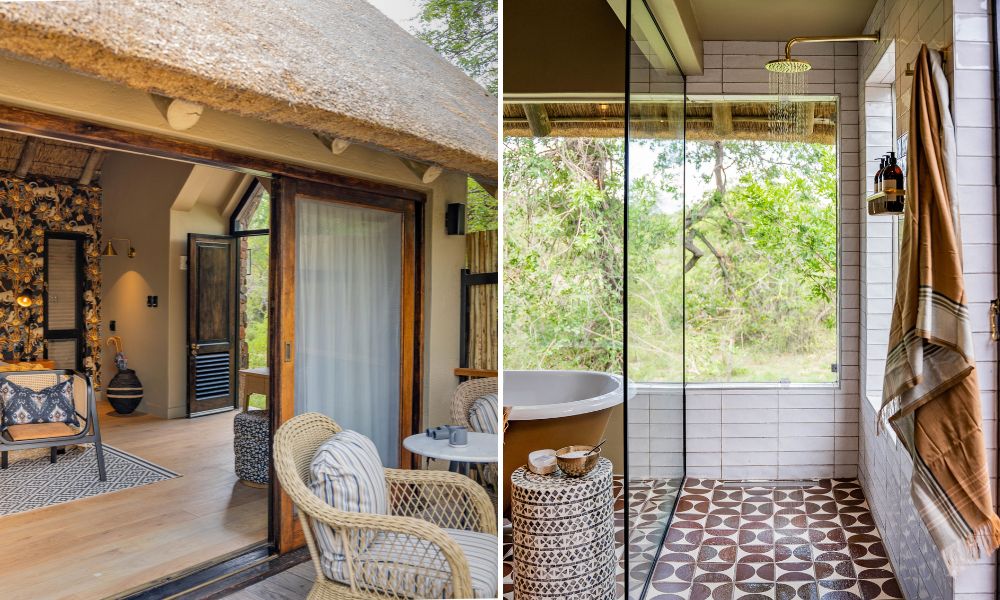 Is Thornybush Game Lodge family friendly?
Thornybush Game Lodge is one of the most family-friendly game lodges in the Kruger.
We stayed at Thornybush Game Lodge with our 8 and 9 year old boys and they loved it.
Whilst there isn't a Kids' Club, there are other activities to keep the kids entertained when not on safari.
On arrival, they were thrilled to see a Thornybush 'Ranger in Training' backpack for them on their bed. It was full of safari goodies such as an animal spotting book, a mini microscope and mozzie bands.
You can read more about what is available for families at Thornybush here.
Thornybush Game Lodge is considered an open camp. There are electric fences around camp but these are really to stop elephants from coming in and causing destruction.
Smaller animals like leopards can get in so you do need to keep and eye on the kids. At night, you will be escorted to your room.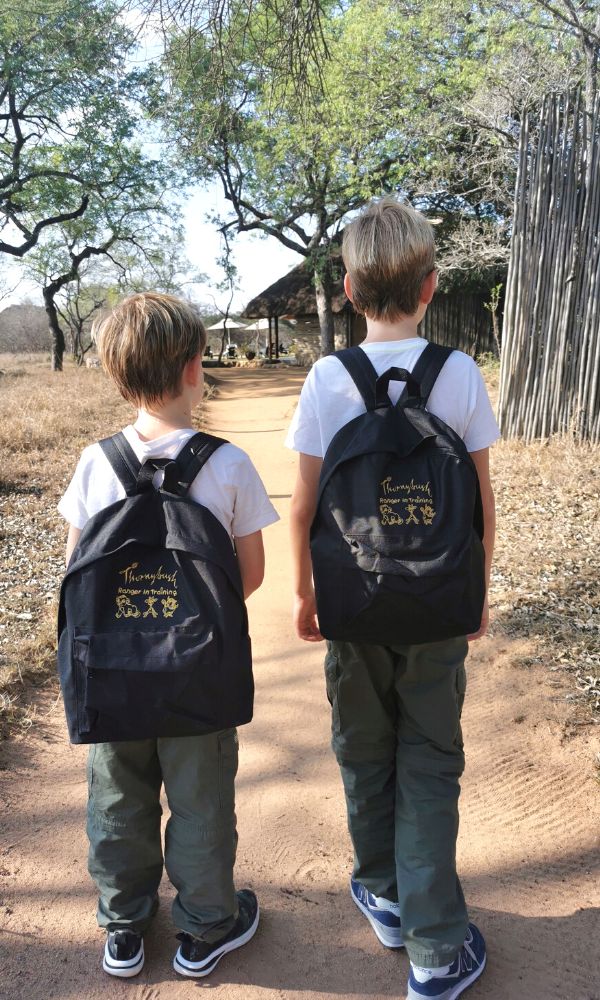 Food at Thornybush Game Lodge
The food at Thornybush Game Lodge was something we looked forward to (in between all of the snacks on safari)!
The catering team is headed up by Chef Solly (Meet chef Solly here).
Between them, they conjour up the most delicious food.
Breakfast is a buffet with eggs to order.
Lunch is a buffet with the salads on offer giving Ottolenghi a run for his money.
Dinner is a la carte.
You can also request to have dinner by candlelight on your own private deck and there are bush dinners on offer when the weather permits.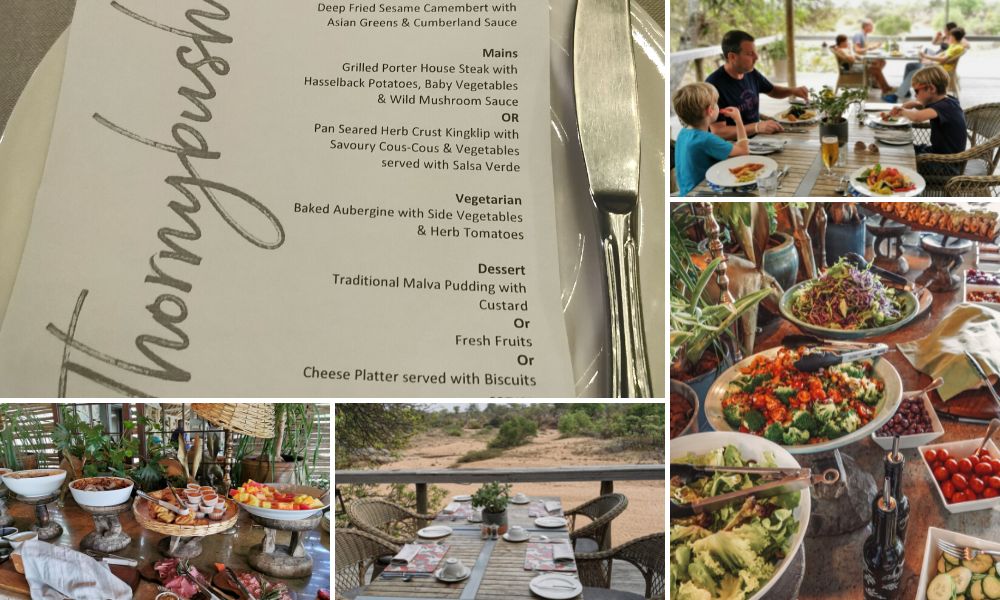 What to wear at Thornybush Game Lodge
We get asked a lot what to pack for a luxury safari holiday. It can be confusing. You may think staying in a luxury lodge means getting dressed up for dinner.
There is absolutely no obligation to get dressed up at all.
You may want to get changed out of your safari clothes if you are particularly dusty (or wet)!
Some evenings we would come back from a game drive (at 7pm) and dinner would start at 7.30 so we just washed hands, had a drink in the bar and went straight to dinner.
It is really casual and you will find this is the case at most safari lodges.
If you are going on safari with kids, you might find this guide to things to take on safari with kids helpful.
Can children go on game drives at Thornybush Game Lodge?
Children of all ages are welcome at Thornybush Game Lodge but children under the age of 6 cannot go on game drives.
Thornybush offer bush walks within camp for children under the age of 16.
Please refer to the Thornybush terms & conditions at the time of booking to make sure you have the most current information.
Our children were 8 and 9 when we went on safari at Thornybush Game Lodge and they were the perfect age.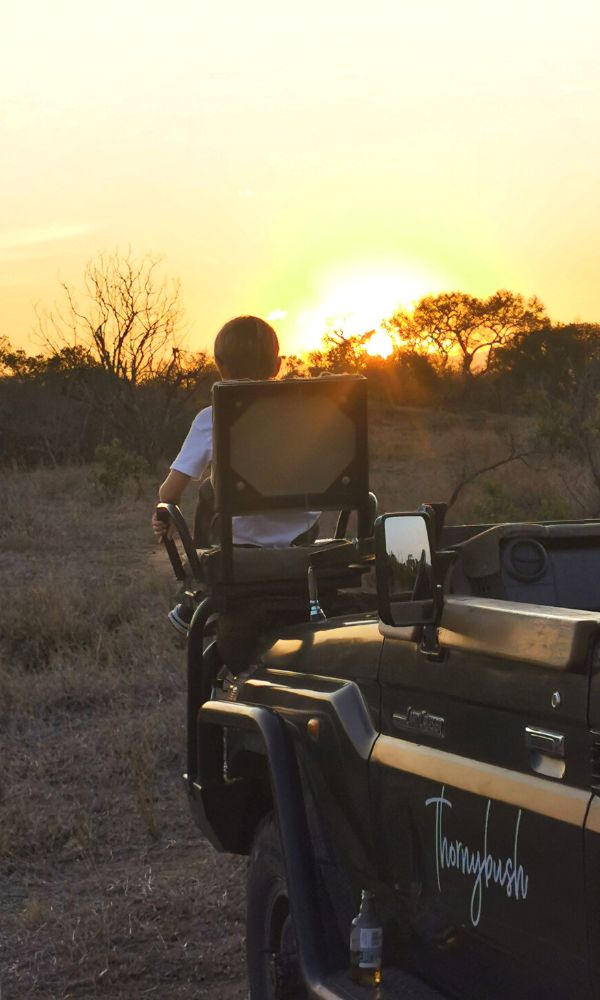 Is Thornybush Game Lodge eco-friendly?
Thornybush Game Lodge is doing its bit to be eco-friendly by using solar panels to provide power during the day.
There is also a zero plastic policy.
Activities at Thornybush Game Lodge
One of the most common questions we get asked is 'What is there to do at Thornybush Game Lodge when not on safari?'
One of our most common answers is – sleep!
When you're getting up at 5am to go on safari, there's no harm in getting a quick nap in after breakfast. This is particularly important when you go on safari with kids.
When you're not napping, here are some other things to do at Thornybush Game Lodge.
Relax with a spa treatment in their luxury Bush Spa.
Enjoy some quiet time and brush up on your safari knowledge in their beautiful library.
Relax by the pool overlooking the riverbed.
Get comfortable with a drink on the viewing deck and keep a look out for animals wandering along the dry riverbed.
Enjoy one of the guest experiences such as a demonstration by the K-9 anti poacher team.
Go on a walking safari with a skilled ranger (over 16s only).
Swap safari stories with other guests at the boma after dinner.
Visit Nourish Eco Village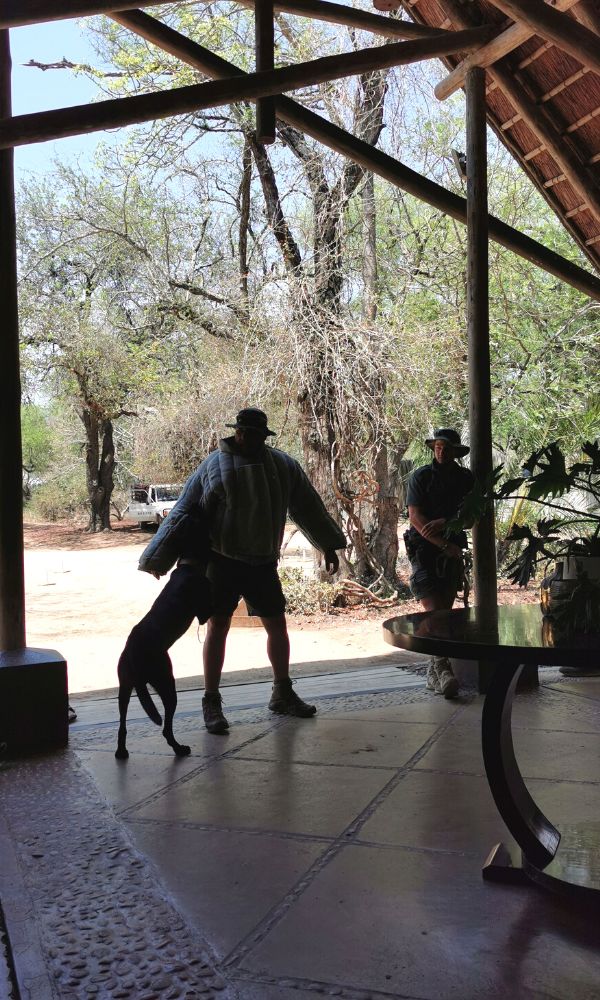 Photos of Thornybush Game Lodge
Since there have been extensive refurbishments since we visited, we thought we would include some more recent photos in our review of Thornybush Game Lodge.
This way, you will have a better idea of what to expect.
Our final thoughts on Thornybush Game Lodge
As a family with young children, we felt very comfortable at Thornybush Game Lodge. The lodge is luxurious but relaxed at the same time.
Most of the guests there during our stay were older, but we were there outside of the school holidays.
All of the staff were friendly and welcoming.
We hope you found our Thornybush Game Lodge review helpful. If you have any questions, please get in touch!
Other accommodation in Thornybush Game Reserve
There are 6 lodges under the Thornybush umbrella. 5 of them are located in the Thornybush Game Reserve.
All of them are family-friendly except Simbabili. Simbabili is located in Sabi Sands Game Reserve and is more aimed at couples and honeymooners.
Other lodges in the Thornybush Game Reserve are: