The 10 Best Florida Beach Resorts For Families In 2022
Looking for Florida beach resorts for families for your next family vacation?
With warm temperatures year-round and 1,350 miles (2,170km) of coastline and some of the best beaches in the US, it's no wonder millions of people choose to travel to Florida for the sun, sand, and fun.
When traveling as a family, Florida is the ideal place for all of you to relax and enjoy yourselves. Besides the fabulous kid-friendly resorts in Florida, there are so many family-friendly things to do in Florida. If you happen to be visiting Florida in the Fall, check out these amazing pumpkin patches in Florida!
Many Florida beach resorts for families have features like multiple pools, water sports, and organized activities for kids including camps.
Here, we break it down and highlight the best family-friendly beach resorts in Florida.
But before we list the best Florida beach resorts for families, why not take a look at our guide to the most family-friendly beaches in Florida to help you figure out where you might want to base yourself.
This post contains affiliate links. If you click on one and book or buy something, we may earn a small commission but this is at no extra cost to you.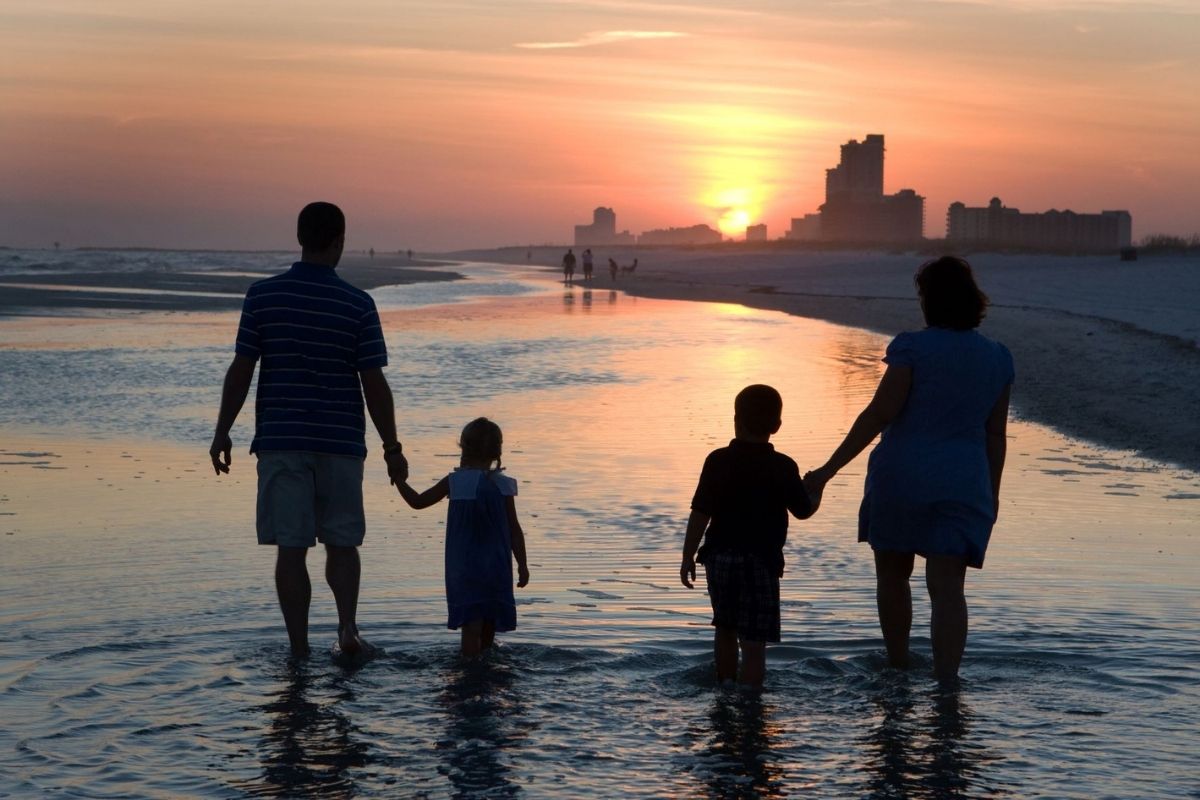 Here are our top 10 Florida beach resorts for families…
PONTE VEDRA INN & CLUB, JACKSONVILLE
Ponte Vedra Inn & Club, established in 1928, is one of the original Florida beach resorts.
Four different pools mean that the kids can go for it in nearly every type of water imaginable. There is also a children's playground and nursery.
The mini water park has a 7-foot-high slide and wading pool for the little ones. What we really appreciate is that Ponte Vedra also has a camp for kids in addition to activities each afternoon for them in the summer.
Whilst the kids are enjoying these activities, you might want to check out the golf course or take a relaxing spa treatment.
Ponte Vedra offers different room options, many with Atlantic Ocean views. Some include kitchenettes and living rooms so you  may not need to take advantage of the 10 different onsite dining options.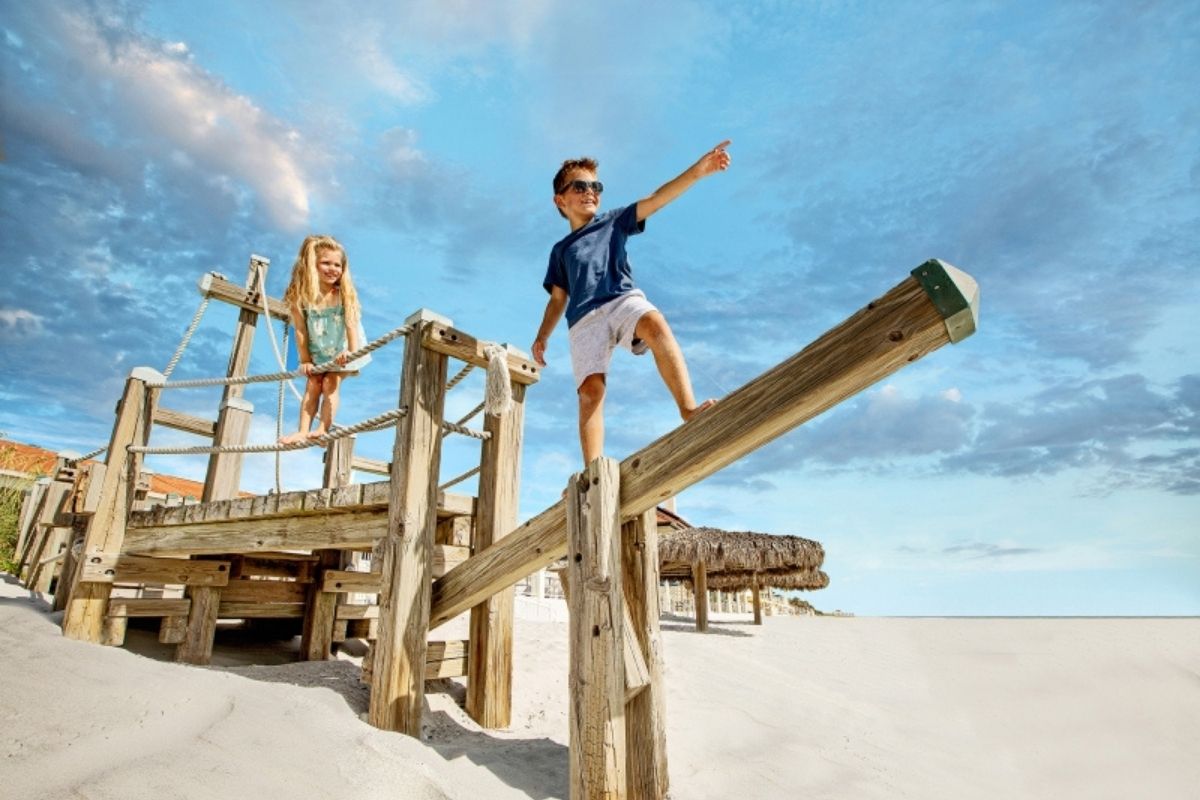 THE BREAKERS PALM BEACH
The Breakers Palm Beach is a family run resort, and it shows. Situated on a half mile of private beach, it has a range of family-friendly rooms, including gorgeous suites with private balconies. On-site there are 9 restaurants and 11 boutiques.
The resort is designed to keep the kids entertained with four different beachside pools and a Family Entertainment Center. For the adults, there is an on-site spa and 2 championship golf courses.
The Breakers hosts snorkeling tours, kayaking, paddle boarding and Catamaran cruises. Out of the water, keep the fun going at the arcade or at mini golf or children's playground.
Something we appreciate is that The Breakers has things for teens and tweens to do– satisfying the more independent young guests.
The Breakers is one of the best luxury family beach resorts in Florida for the whole family.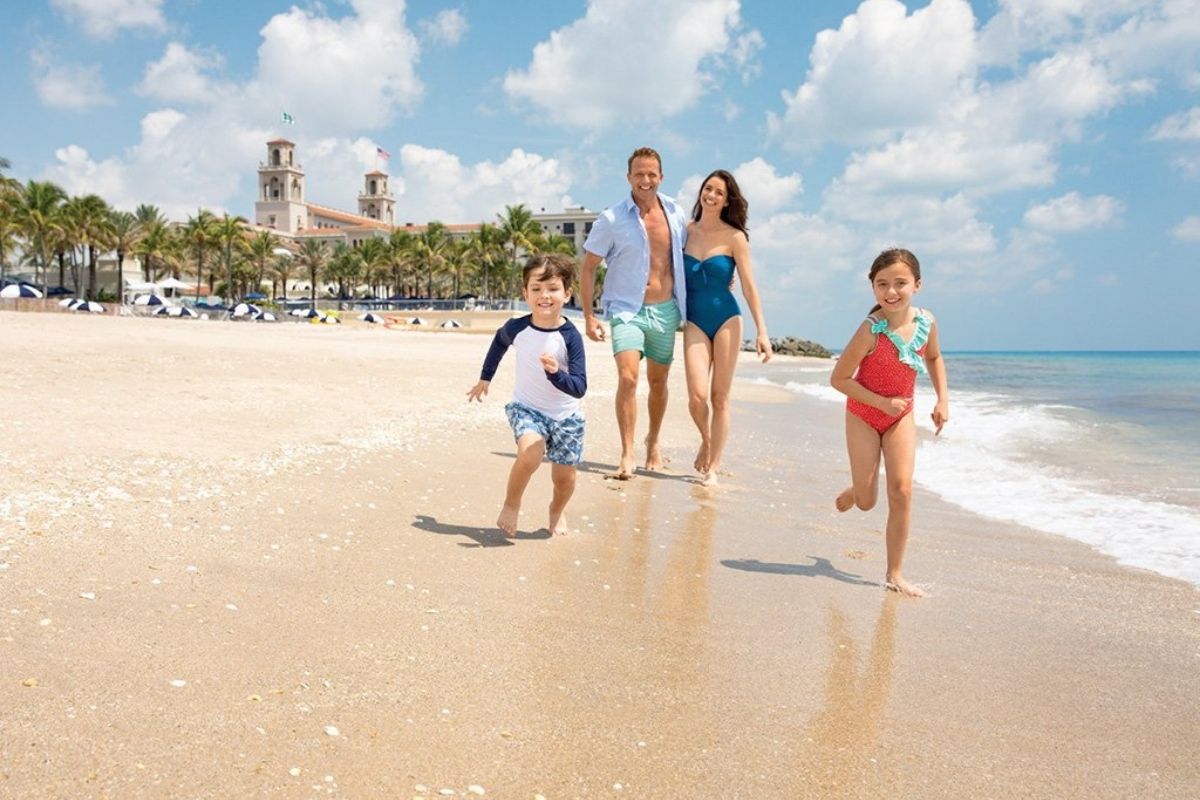 THE RITZ CARLTON KEY BISCAYNE, MIAMI
The Ritz Carlton Key Biscayne is one of the best beach resorts in Florida with a kids' club which takes the kids' experience to the next level.
Situated on a 5-mile barrier island just off the coast from Miami, this fabulous Florida beach resort for families offers a luxury Florida vacation for families.
Clearly designed for engagement and learning, the kids' club and activities are not your average babysitting service. Instead, children (5 to 12 years old) learn about the wonders of the sea, recycling, play sports and even create art.
Beyond formal activities, the beach and separate kids pool are where your family can have fun together.
CHEECA LODGE & SPA ISLAMORADA, FLORIDA KEYS
Cheeca Lodge & Spa has a ton to do for the whole family which makes it one of the greatest beach resorts in Florida with activities for kids.
Get out on the water with any of the watersports offered including kayaking, paddle boarding or fishing off the 525-foot pier. On the sand, ride a beach cruiser or play a round of volleyball.
If you want to take a minute in doors, hit up the games room. It is outfitted with everything from ping pong to air hockey and even XBox.
On-site there are three restaurants and two open air Tiki Bars. This is a great option if you are looking for Florida Keys family resorts.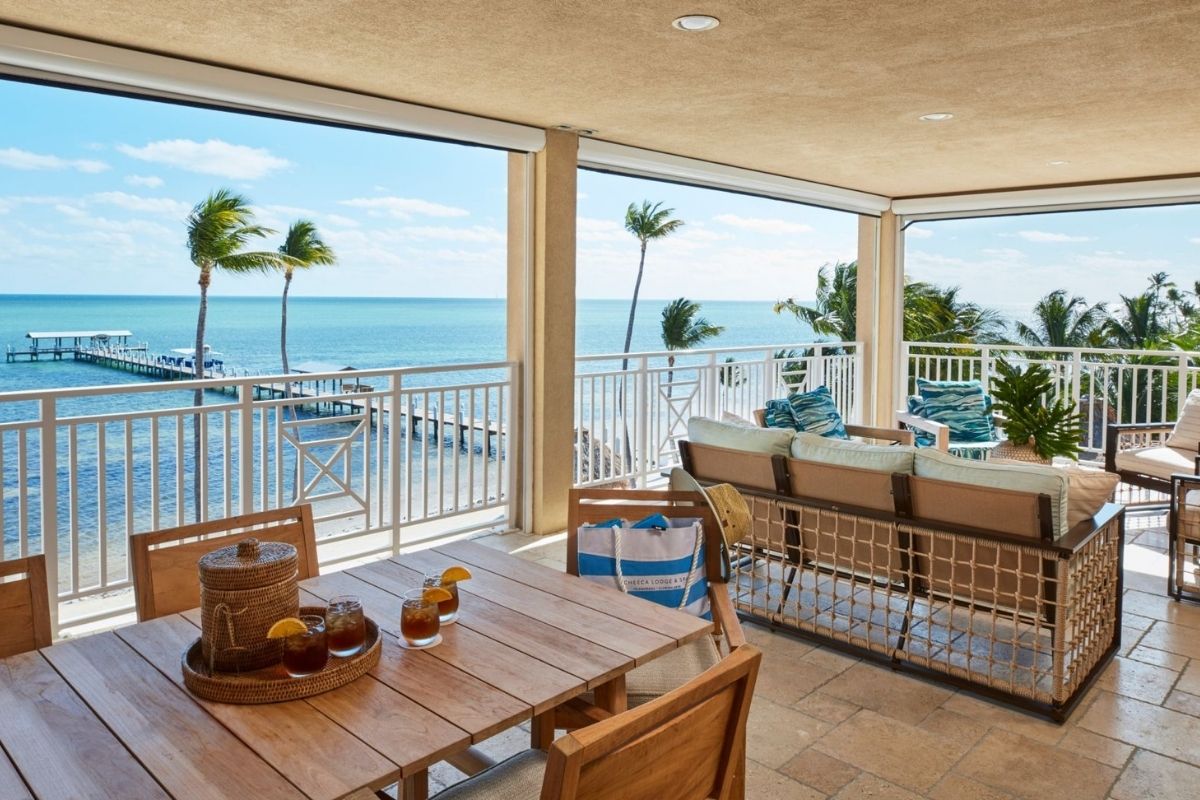 ISLANDER RESORT ISLAMORADA, FLORIDA KEYS
Another of the best kid-friendly Florida beach resorts in the Florida Keys is Islander Resort. Situated on a pristine stretch of white sand with swaying palms, it is one of the best Florida beach resorts for families who want to unwind.
Here, they host fun activities for the whole family like tie dying crafts, friendly games of Uno, and paddle board races.
Looking for an educational experience? Head to the Florida Keys History & Discovery Center to learn about the area's ecosystem and the history of the Keys.
For fun in the water, choose from either of the two saltwater pools, the splash pad or the beach that has calm waves, perfect for new swimmers.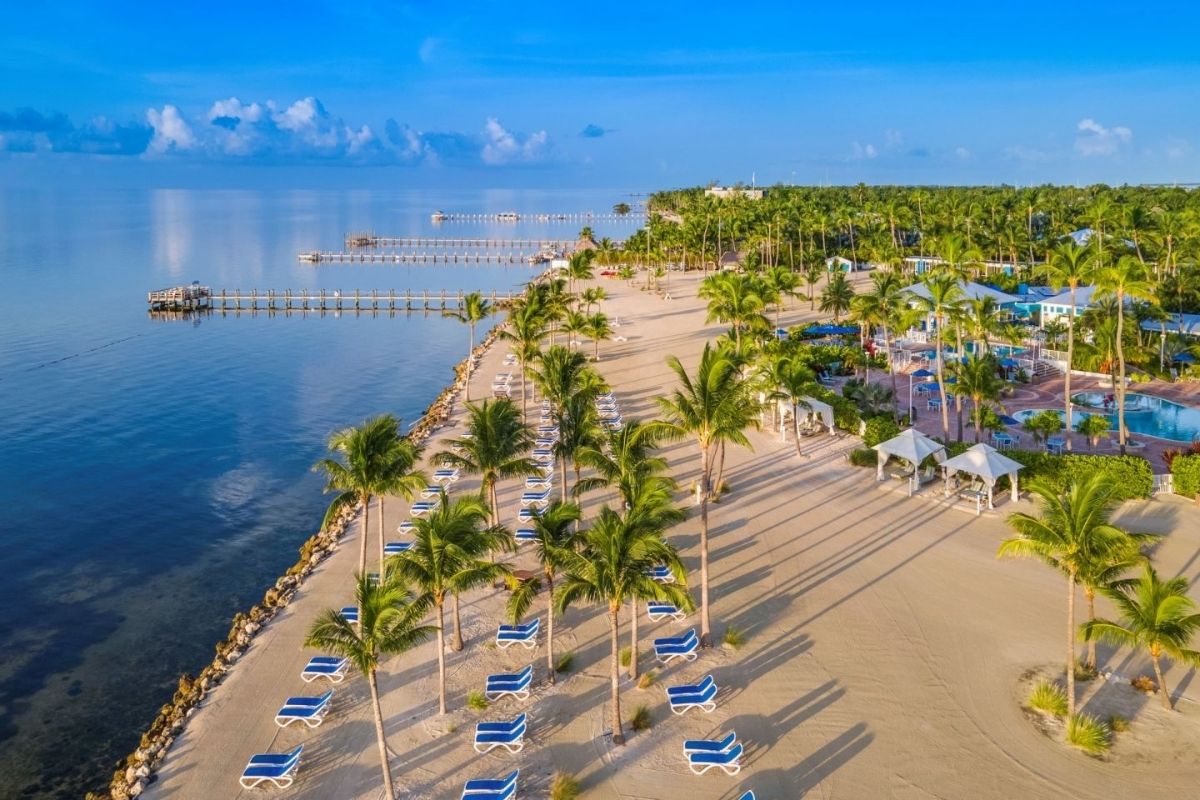 HYATT REGENCY COCONUT POINT AND SPA, BONITA SPRINGS
Did somebody say "waterslide"?! Hyatt Regency Coconut Point has five (yes, five!) different waterslides, four different pools, and a lazy river. It is one of the best beach resorts with water parks in Florida.
Your water-loving kids will have the time of their lives at Coconut Point, the best all-inclusive beach resorts in Florida for families.
When they're out of the pool, hit up the firepits to make s'mores or see the dolphins at the resort's Big Hickory Island.
The resort's five restaurants offer something for any family no matter if there are picky eaters in the group.
All of this is why Coconut Point is one of the best family-friendly all-inclusive beach resorts in Florida.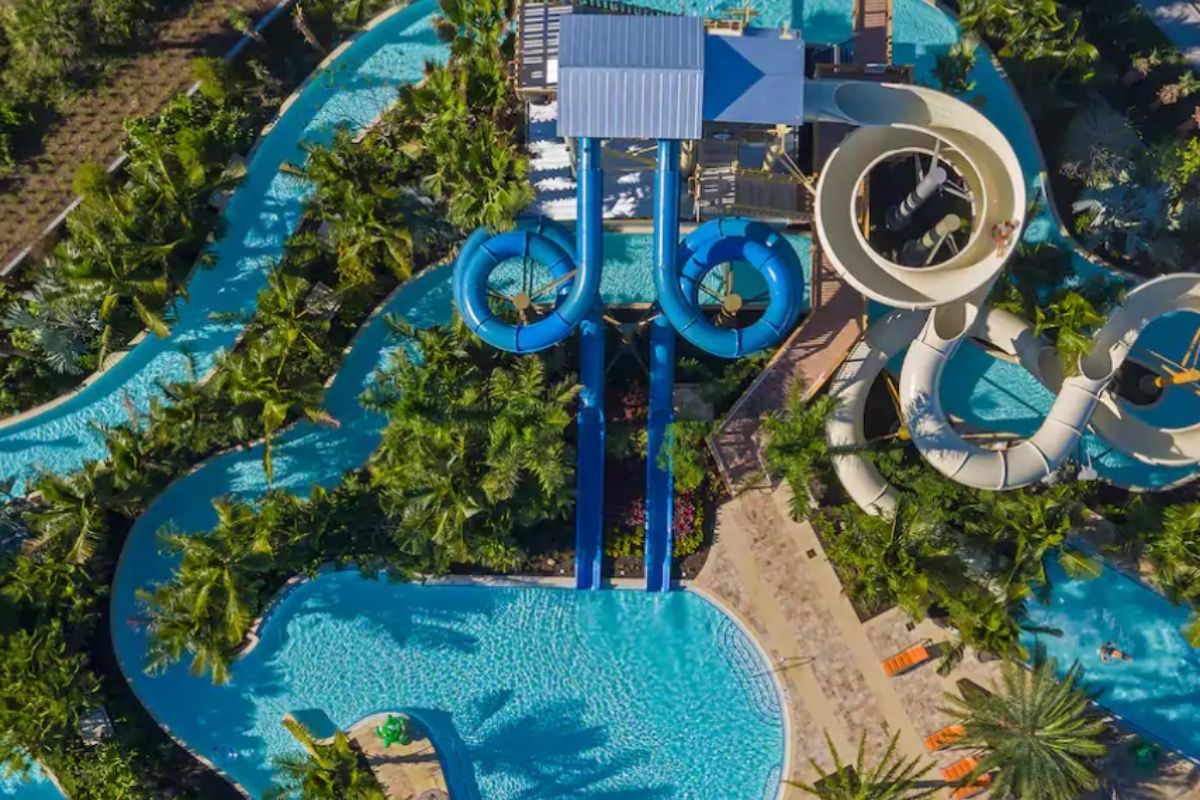 JW MARRIOTT MARCO ISLAND BEACH RESORT
JW Marriott – Marco Island is one of the greatest Gulf Coast beach resorts for families. As part of the Marriott chain of hotels, it is a great option if you have Marriott Bonvoy points to redeem.
Two pools (including a waterslide) and a huge beach on the Gulf of Mexico means your family has options of where you'd like to set up for your water-fun filled day.
Also, there are so many different places to eat on the property (12 on-site restaurants) so there's really no need to leave.
Choose your next family activity at the resort– will it be parasailing, catamaran sailing, or kayaking? One thing we definitely recommend is taking a boat tour of the everglades.
DISNEY'S VERO BEACH RESORT
Disney's Vero Beach Resort is just 2 hours drive southeast of Walt Disney World on Vero Beach, one of the closest beaches to Orlando on the Atlantic Treasure Coast.
If you are heading to Orlando for a Disney vacation, why not combine your theme park break with a beach vacation?
Not only is Disney's Vero Beach Resort one of the best beach resorts in Florida with villas, it's also hands-down one of the most affordable family beach resorts in Florida.
That's right, Disney's various room choices at Vero Beach appeals to all families no matter what your travel budget.
The thing we love best is that Disney knows families and they cater to the kid in all of us– and Vero Beach does not disappoint.
The Mickey Mouse shaped pool has a huge slide for the big kids and a wet play area for the littles.
Head out to the beach for fun in the sand. There you can rent chairs, umbrellas, boogie boards, sailboats and even jet skis.
Out of the water enjoy mini golf or learn to fish at the resort's freshwater lake. All of these things make it clear that Disney's Vero Beach is one of the great beach resorts in Florida with family accommodation and certainly one of the Florida beach resorts for families who love Disney.
THE DON CESAR, ST. PETE
Looking out over the beautiful Gulf of Mexico, Don CeSar is a sprawling resort perfect for Florida family beach vacations.
Running since 1928, this 'Pink Palace' is one of the long standing luxury all-inclusive beach resorts in Florida for families.
With two large pools and the soft white sand of the beach, you'll have your pick of where to have your water fun.
Daily activities for kids will keep them happy. A variety of restaurants onsite lets the family pick their next meal with ease.
Head to Uncle Andy's Market, a 1950s style ice cream parlor, to satisfy everyone's sweet tooth.
It's obvious that Don CeSar is one of the best beach resorts in Florida for kids of all ages.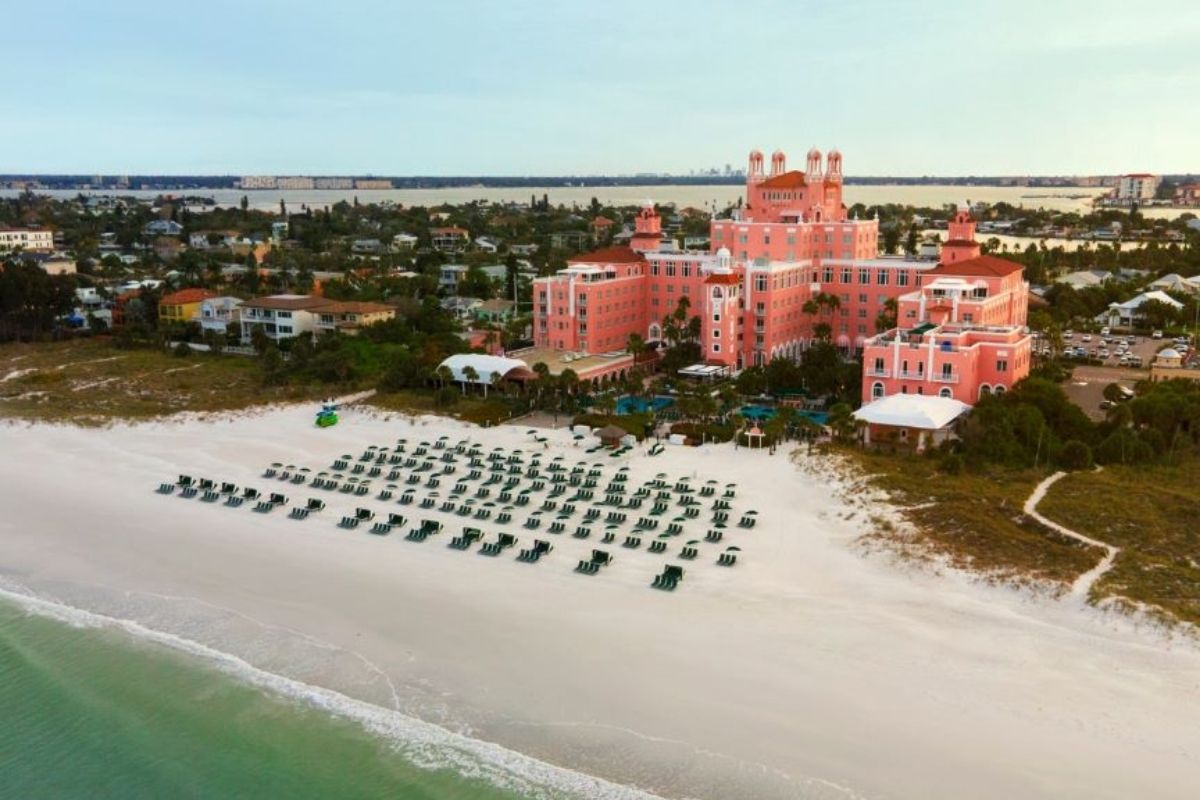 PLAYA LARGO RESORT & SPA – KEY LARGO
Playa Largo Resort & Spa is part of the Autograph Collection of hotels, meaning that you will earn Marriott Bonvoy points if you stay here (or you will be able to redeem them if you are already a member).
There's so much to do at Playa Largo Resort & Spa, your family will be hopping from one activity to the next.
The resort hosts several watersports including swimming with dolphins, glass-bottomed boat rides, and scuba diving. Paddle boards and kayaks are also available to guests for free.
The beach and large pool are also the perfect way to have some relaxed family fun. With all of this it's clear to see why Playa Largo is one of the best family beach resorts in Florida.
FINAL THOUGHTS ON THE BEST FLORIDA BEACH RESORTS FOR FAMILIES
Well, there you have it: The best Florida beach resorts for families. No matter which one you choose, you'll soon be enjoying your next family vacation in the sunshine state.