The Best Things To Do In The Cape Winelands With Kids 2023
When we tell people that we love visiting the Cape Winelands with our kids, we get a few raised eyebrows.
Wine tasting and kids? Not a great mix surely?
But there are actually so many fun things to do in the Cape Winelands with kids. I might even go as far as to say it is our favourite area of South Africa.
And given how much we love the family-friendly vibe of Cape Town with its lovely Cape Town beaches as well as going on safari in South Africa, this is saying something!
By the way – if you are looking for somewhere to stay in Cape Town, these are the hotels in Cape Town for families that we have tried and tested.
The Cape Winelands in South Africa are breathtakingly beautiful and should be included in any South African itinerary – as should a visit to Sun City with kids as we recently found out when we stayed at The Palace of the Lost City.
If you are going to be going on safari, we have lots of info on South African safaris with kid.
But visiting the Cape Winelands is not just about the wine as you will find out below.
As well as listing the best things to do with kids in the Cape Winelands, we've also included family-friendly places to eat and stay.
So – if you're planning a family holiday in the Cape Winelands, read on…
This post contains affiliate links. If you click on one and book or buy something, we may earn a small commission but this is at no extra cost to you.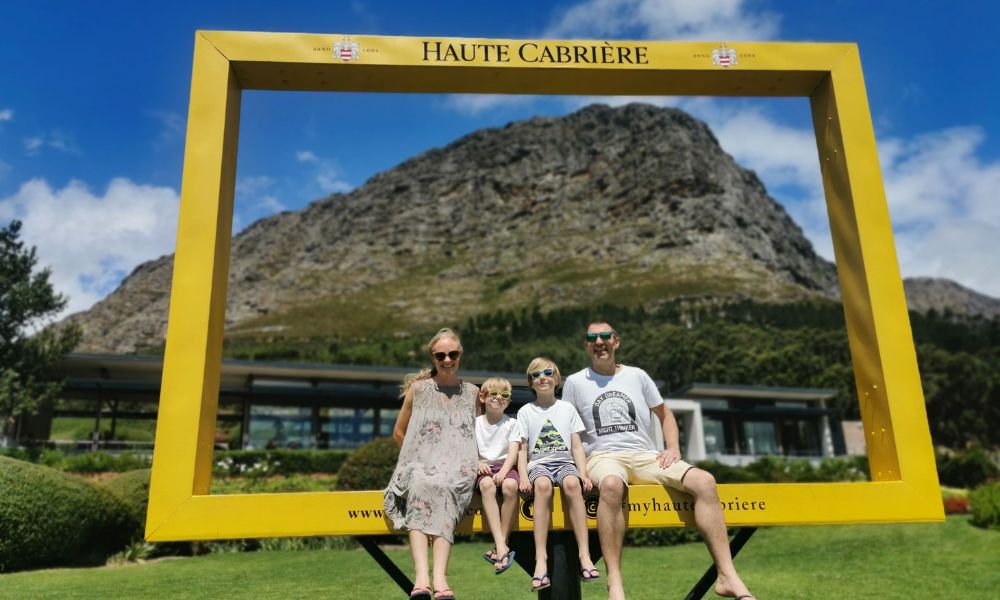 Where is the Cape Winelands?
The Cape Winelands is the largest wine growing area in South Africa and forms part of the Western Cape in South Africa. The most well-known wine producing regions of the Cape Winelands are Stellenbosch, Franschhoek and Paarl.
You can reach Stellenbosch in about 46 minutes from Cape Town. Franschhoek and Paarl are just a little further.
You can easily visit the Cape Winelands on a day trip from Cape Town but with so many fun things to do in the Cape Winelands with kids, why not stay a while?
We're not suggesting you visit all of the 500+ wineries in the Cape Winelands. There are lots of things to do in the Cape Winelands besides  visiting wineries. But whilst in the area, we do recommend visiting a few of the more family-friendly wine estates.
More details on which wine farms are the best suited to families at the end of the post.
To really get the most out of this beautiful area of South Africa, you should consider spending a few days there.
If you would like help working this into your itinerary, we highly recommend Go2Africa who create the most amazing tailor made South African family holidays.
So what is there to do in the Cape Winelands with kids?
We've visited the Cape Winelands many times over the years and this is a list of our favourite things to do as a family in the Cape Winelands.
The Outdoor Experience Programme at Boschendal
We spent a lovely Christmas at Boschendal Farm Estate staying in one of their beautiful 2-bedroom Orchard Cottages.
We chose to stay there because they had so many fun things for the kids to do.
If you are staying at Boschendal, you receive one free session at the Kids Outdoor Experience.
You don't have to be an overnight guest to benefit from the amzing facilities for kids though.
There are three two-hour slots during the day and children will partake in an immersive, educational experience learning about life on this beautiful wine farm.
During this time, parents are free to try some wines or just wander the grounds. If you want, you can also book them in for a full day of fun!
There is also a lovely playground (not supervised) and a bike track. You can either bring your own bike or rent one there.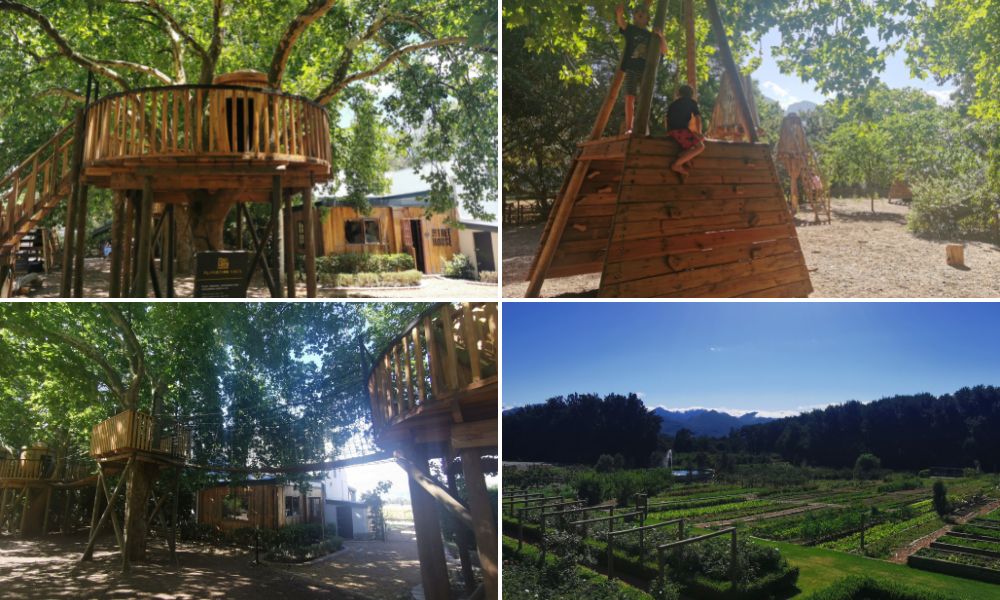 During our stay, we also enjoyed a spectacular picnic among the trees listening to live music. More on our favourite wine estate picnics and why they are one of the most family-friendly activities in the Cape Winelands below!
Here are some images from our Boschendal picnic. There are certainly worse ways to while away a summer's afternoon.
If you are there on a Friday, hang around for the Friday Night Market during the summer months and subject to good weather.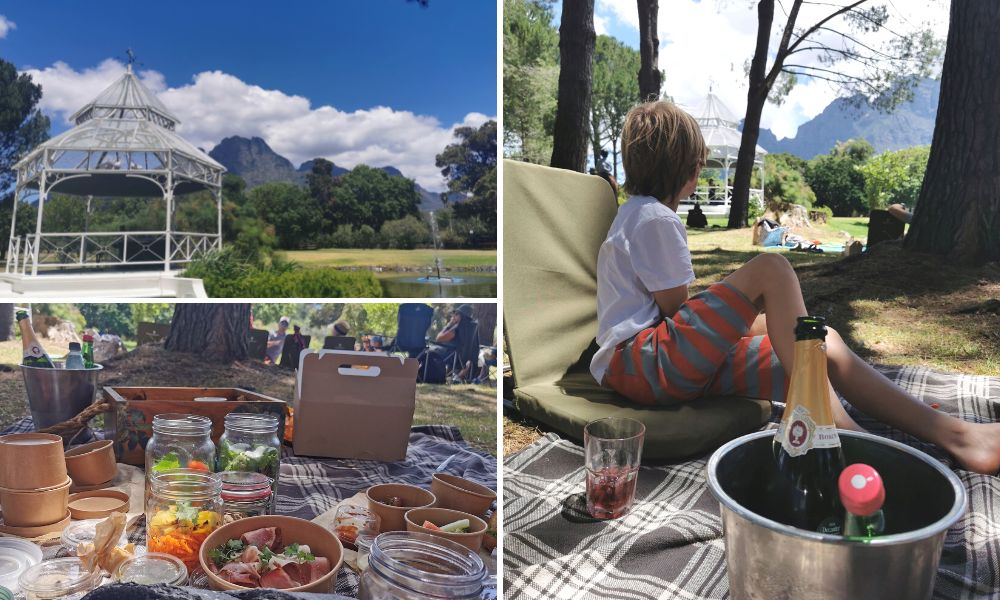 Enjoy a wine estate picnic
One of our favourite things to do in the Cape Winelands with kids is to enjoy a picnic on a wine estate.
As we've mentioned before, the scenery of the Cape Winelands is just beautiful, so eating outdoors is a must.
There's nothing better on a warm summer's day than relaxing with a bottle of wine and some delicious fresh local produce with views to die for.
Each one offers something slightly different. Yes, that is a freshly baked squid ink baguette in the picture below!
We discovered that they were a fantastic alternative to restaurants when the kids were little. Having a meal in a restaurant always seemed like hard work. The kids would want to get up and walk around and there was always a lot of mess.
With a picnic, they could get up and wander around when they wanted. Sometimes we could have our picnic right next to a playground so we could eat while they played.
And yes, that is one of our kids playing in the water feature at Warwick Wine Estate while we were enjoying our picnic.
See here for our favourite wine estate picnics in South Africa for families.
Explore the gardens of Babylonstoren
See here for Babylonstoren visitor information.
Another wine estate that you need to visit is Babylonstoren. It is one of the oldest Cape Dutch farms in South Africa.
If you're wondering where this wine farm got it's name, it dates back to the 1700's. The first owners thought that the hill on the farm looked like the Tower of Babel, so they named it Babylon's Toren.
There is actually a trail to the top of this hill from which you will have stunning panoramic views of the farm.
The gardens are beautiful and immaculate and promote a sense of wellbeing. They also promote a farm-to-fork philosophy and use seasonal produce from their gardens in their restaurants.
There are so many different parts of the garden to explore. Our kids loved the water-squirting animals (of course).
We visited in December when the lavender was in full bloom and it was stunning.
There are a few places to eat at Babylonstoren (Babel and the Greenhouse) as well as an in-house bakery or you can also look at staying there. They have an absolutely stunning family house in the Cape Dutch style and slightly more affordable two-bed cottages or family rooms.
Here are a few images from our visit.
Let the kids have fun at Spier Wine Farm
There are lots of fun activities for the kids at Spier Wine Farm.
They offer kids' wine tasting and pick your own from the food garden. There is a lovely play garden and an exciting animal encounter (see below for more animal encouters).
Basically, the grounds are at your disposal. They have bikes for hire at reception with safe bike tracks to explore the farm. They also have a lovely family-friendly picnic.
See here for a list of all activities available to kids. You can easily spend a day exploring Spier Wine Estate.
If you are staying at Spier (see here for family accommodation at Spier), there is a really fun kids clubhouse offering childcare.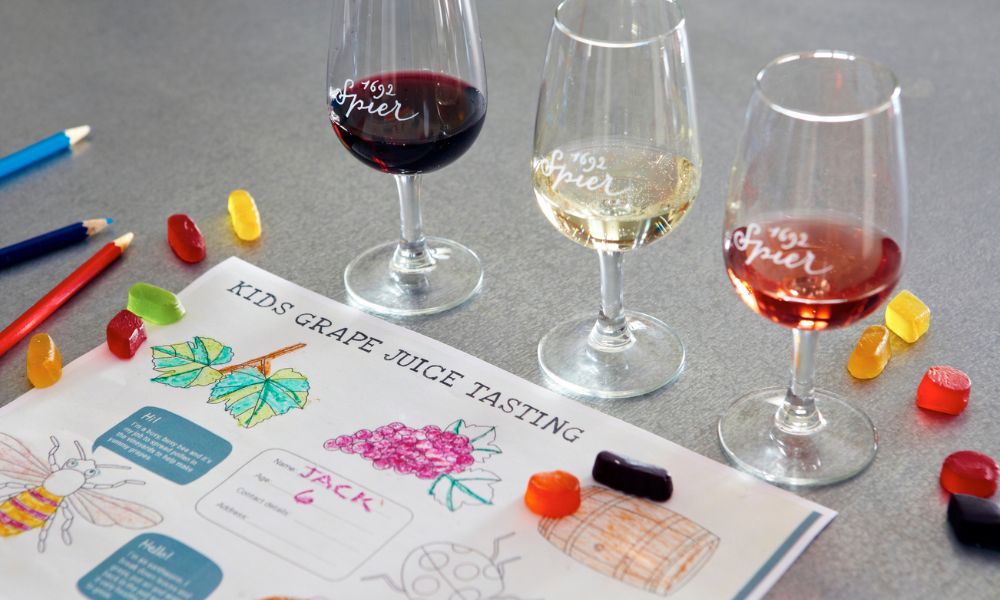 Visit 'Pigcasso'
Have you ever met a painting pig? No? Neither had we until we visited Pigcasso Wine Estate.
This alternative wine farm is located in Franschhoek and is home to the (in)famous Pigcasso.
The abstract impressionist artwork by Pigcasso has taken the art world by storm and one of his paintings sold for £20,000.
We weren't able to see Pigcasso paint in person but we did watch a video of the creative pig and actually got to feed the big man (pig) himself.
They got to scribble on a huge table and meet other farmyard animals.
To be honest, we didn't even do the wine tasting here. We only went because we thought the kids would enjoy it and they did!
Pigcasso Wine Farm is reached on the blue and green lines of the Franschhoek WineTram. If you're visiting on a day trip from Cape Town, you can get a tour from Cape Town which includes WineTram tickets.
This is probably one of the more unusual things to do in the Cape Winelands with kids if you are looking for something a little different.
Take an Alpaca for a walk
Alpacas are the most adorable animals and we love taking them for walks. We fell in love with them during our stay at Sandyballs Holiday Village in the New Forest.
Alpaca Loom in Southern Paarl offers tours and walks. The Alpacas accompany you on a walk around the farm where you learn more about the life of an Alpaca.
You can pop into the weaving studio to watch weavers creating products from the Alpaca wool.
If you happen to be there between March and May, you may even get to see some baby Alpacas!
There is also an onsite coffee shop and a jungle gym.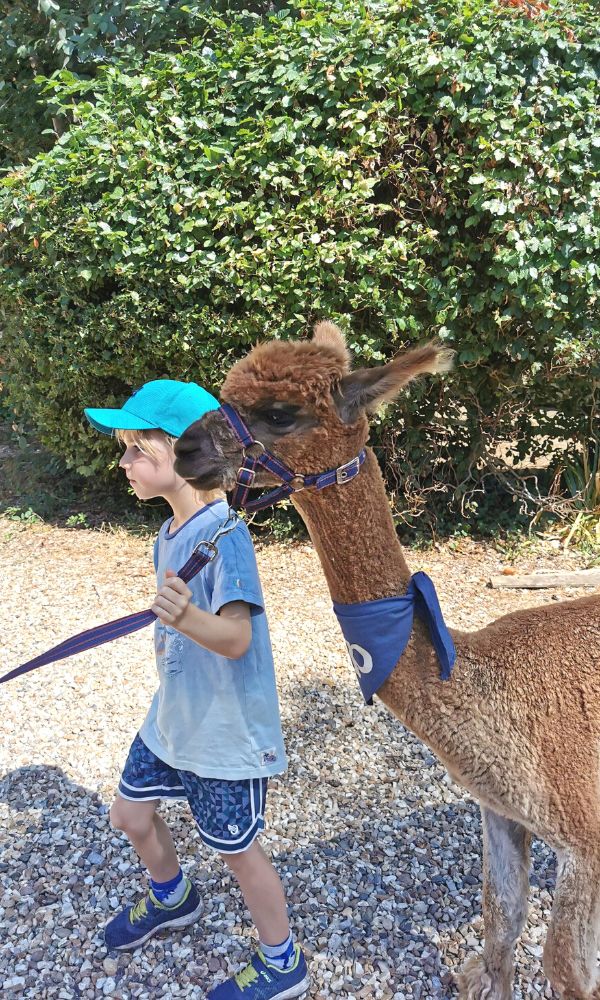 Other animal related activities in the Cape Winelands:
I'm going to give these family-friendly Cape Winelands activities a quick mention because we don't particularly like to visit animals in captivity ourselves but we know that many do.
Taking a safari in South Africa with kids is much more preferable.
We have visited some animal parks in the past though and the kids have always enjoyed them.
We have heard from friends and other readers that these animal experiences can be fun days out in the Cape Winelands with kids.
Here are some of the top things to do in the Cape Winelands with kids that involve animals.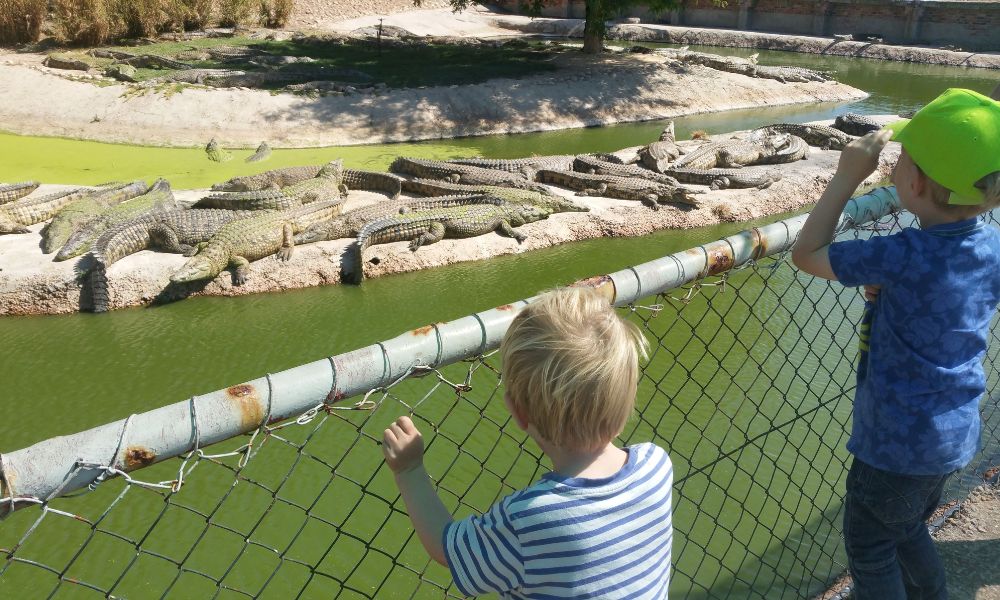 Winelands Light Railway
The Winelands Light Railway opened in 2019 and is one of the best things to do in Stellenbosch for young (or old) railway enthusiasts.
The train ride around the 760m scenic track lasts around 7 minutes.
See here for more info on opening times and prices.
Take a Tuk Tuk ride between the wine estates in Franschhoek
One of the best ways to get around the wine estates in Franschhoek is to take a tuk tuk.
The wine estates in Franschhoek are all fairly close together, but it wouldn't be walkable and we do not advise driving while wine tasting.
We loved taking tuk tuks in Sri Lanka with the kids and thought it would be fun to give it a go.
We booked our tuk tuk in the centre of Franschhoek but you can also book online here.
You can also try the Franschhoek wine tram if you want to try another alternative mode of transport to visit the wineries in Franschhoek.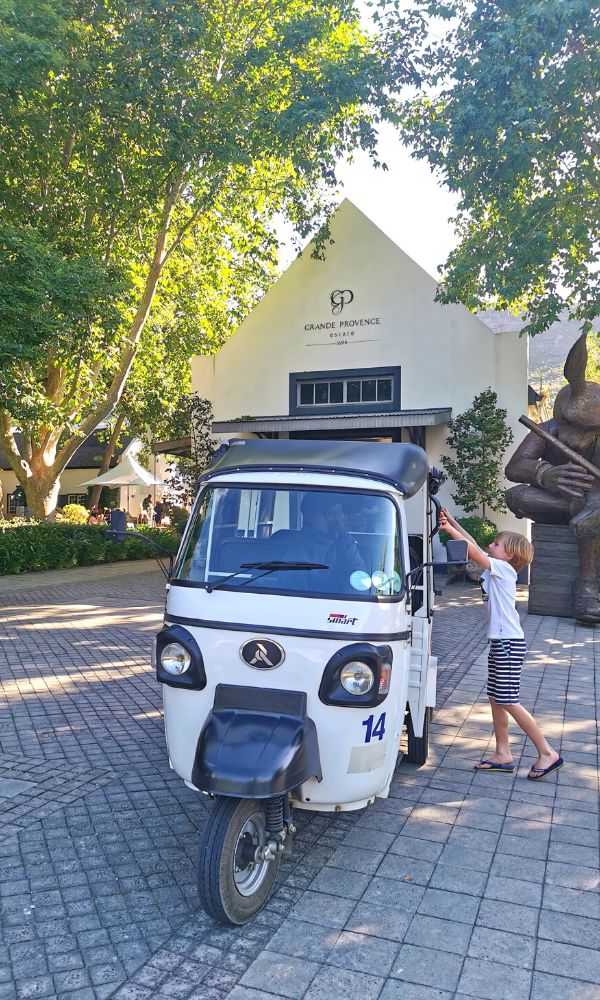 Try some family-friendly wine tasting
You heard me right. Wine tasting can be family-friendly.
We have visited a lot of wine estates in the Cape Winelands (as well as Constantia and the Hemel-en-Aarde Valley near Hermanus) and know what to look for when visiting a winery with kids.
We look for places that offer wine tasting for kids (in the form of grape juice tasting). The kids love to join in!
We look for places with picnics so that we can eat outside.
We look for fantastic play areas.
These are our favourite wine estates in South Africa to visit with kids.
And even if the wine estate isn't billed as family-friendly, there will be something to entertain the kids!
We visited Haute Cabriere, renowned for stunning views over Franschhoek. While we enjoyed the most delicious cheese board and bottle of wine, the kids played on the rotating yellow frame. Yellow frame? What's that?
Yep. All over Cape Town and the surrounding areas you will find giant yellow picture frames framing some of the most beautiful scenes.
See how many you can find.
So that's the list of our favourite things to do in the Cape Winelands with kids.
Do you have any child-friendly Cape Winelands activities you would like to add? We'd love to hear from you.
If you are thinking of staying the in the Cape Winelands and are looking for family-friendly accommodation, here are a few options that we recommend.
Family accommodation in the Cape Winelands
Family accommodation in Franschhoek
The Orchard Cottages at Boschendal have been our favourite accommodation for families in the Cape Winelands. There is just so much to love about it (as mentioned above). The wine farm is located a little way out of the centre of Franschhoek.
Le Clé Village is just a little bit special. A gorgeous 2-bedroom family villa with a private pool located in central Franschhoek.
If you want a villa with a pool, we loved Rose Cottages on the outskirts of Franschhoek. Our 2-bedroom villa was nestled in the vineyard and completely secluded. You would need to have a car to stay here.
Family accommodation in Stellenbosch
Spier Hotel and Wine Farm is excellent for families because there is so much going on there for kids. They also have a fabulous kids club.
Family accommodation in Paarl
We absolutely loved our stay at Denneboom Vineyards & Wildlife. There are a couple of cottages inside the wildlife reserve and you can sit and watch wildlife (including zebra and wildebeest) wander past your window. They also have BBQ facilities and a small plunge pool.
There are also a couple of cottages on the vineyard. All set among 200 hectares, there's plenty of space for everyone!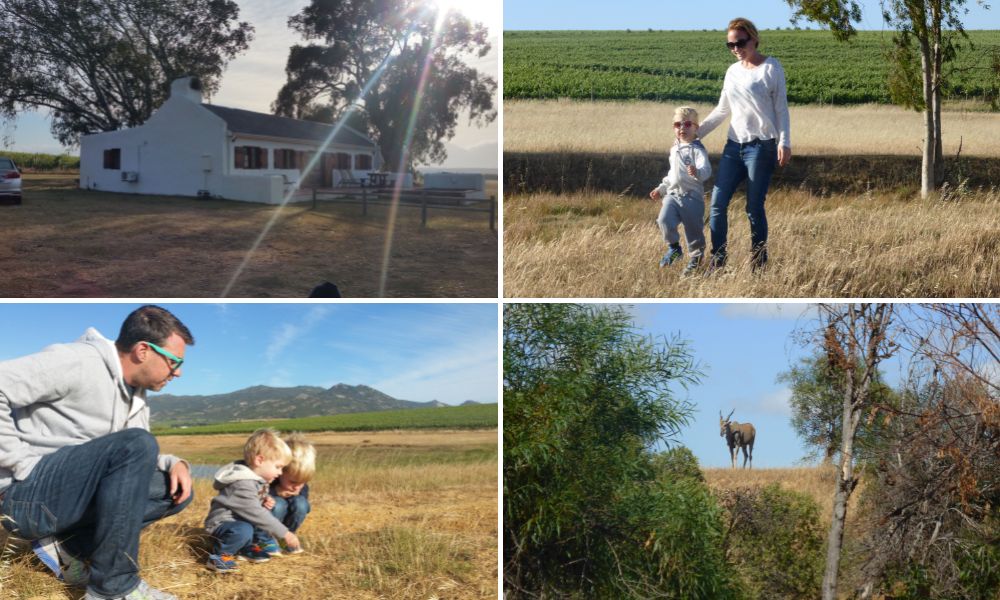 Child-friendly restaurants in the Cape Winelands
First and foremost, we would recommend a wine estate picnic as mentioned above. But if the weather isn't great or you are looking for something different, we can recommend:
Spice Route – As well as the wine tasting, they also have chocolate tasting and the best (and biggest) ice creams you've ever seen! There are also a couple of lovely restaurants there and the views are spectacular.
Tokara Delicatessan – almost half way between Stellenbosch and Franschhoek is a beautiful family-friendly bistro nestled in the vines with a great play area for kids right outside.
Babylonstoren – if you drew a triangle between Stellenbosch, Paarl and Franschhoek, Babylonstoren would be almost in the middle. We love the relaxed Greenhouse restaurant in the gardens at Babylonstoren.
Col'Cacchio – a pizza restaurant chain with delicious pizzas and a small play area for the kids in the centre of Franschhoek.