10 Top Family-Friendly Things to do in Galle with Kids
Galle is one of those places that just gets cooler every time we visit. It's not the largest city in Sri Lanka but it's the most well-known after the capital of Sri Lanka; Colombo and the great thing is – there are lots of fun things to do in Galle with kids.
It's jam-packed with history and hipness having undergone a regeneration transformation in recent years and it's a great place to visit as a family.
Galle is most well known for Galle Fort, which is a UNESCO World Heritage Site. If you're interested in Dutch colonial architecture, this is the place to go. It's very picturesque, being surrounded by the Indian ocean.
It is also the largest remaining fortress in Asia built by Europeans and has a striking lighthouse on the ramparts, the most iconic sight in Galle.
Even if you're not that interested in colonial architecture (and let's face it, the kids probably aren't), it's still worthwhile including it in your Sri Lanka holiday itinerary as a standout highlight of the southern coast,
Galle should be high up on your list of must-do things to do in Sri Lanka along with tea-tasting in Sri Lanka's hill country, taking a safari in Udawalawe or Yala National Park, or just relaxing on one of the many family-friendly beaches in Sri Lanka.
First, here is a little helpful information on Galle including how to get there, where to stay and where to eat.
Where is Galle?
Galle is located about 150km south of Colombo on the south-west coast of Sri Lanka.
Map of Sri Lanka
If you zoom in, you'll be able to find all the places mentioned in this article on this Google Map.
How do you get to Galle?
If you're heading to Galle from Colombo, there are a few transport options available to you.
Car – you can get there by car in about 2 hours if you take the Expressway. We highly recommend Kings Tours who have a fleet of cars, including a very comfortable new 7 seater. A car should cost you about LKR 10,000 / £43 / $56. If you're travelling in Sri Lanka by car with little ones, we suggest taking your own car seats.
Train –  taking the train in Sri Lanka is a great experience and the Colombo to Galle train is a very cheap and efficient way to travel. A ticket will cost around LKR 200 / £0.80 / $1 for 2nd class and takes between 2 – 3 hours from the central Colombo Fort station.  This is a busy line though so we recommend getting on at Maradana station which is the start of the line and will make it easier to get a seat.
Bus – The express EX001 departs from Maharagama station every 15/20 mins, costs about LKR 420 and takes about 4 hours. It's the most comfortable of buses with AC, however, the downside is that it is a bit of a trek to get to the bus station. If you're staying quite centrally in Colombo, it could take about 30 mins by tuk-tuk depending on traffic.
Weather in Galle
One of the questions we get asked a lot is 'When is the best time to visit Sri Lanka?' The truth is, you can visit Sri Lanka at any time because it has two seasons. When the weather is nice in the south and west, it's rainy season in the north and east and when it's nice in the north and east, it's rainy season in the south and west.
Once you've booked your flights to Sri Lanka, you can start planning your itinerary based on the time of year you're visiting.
Galle is on the south coast of Sri Lanka and as such the Galle weather is dictated by the south-western monsoon between May and September. The best time to visit Galle is between December to March during dry season.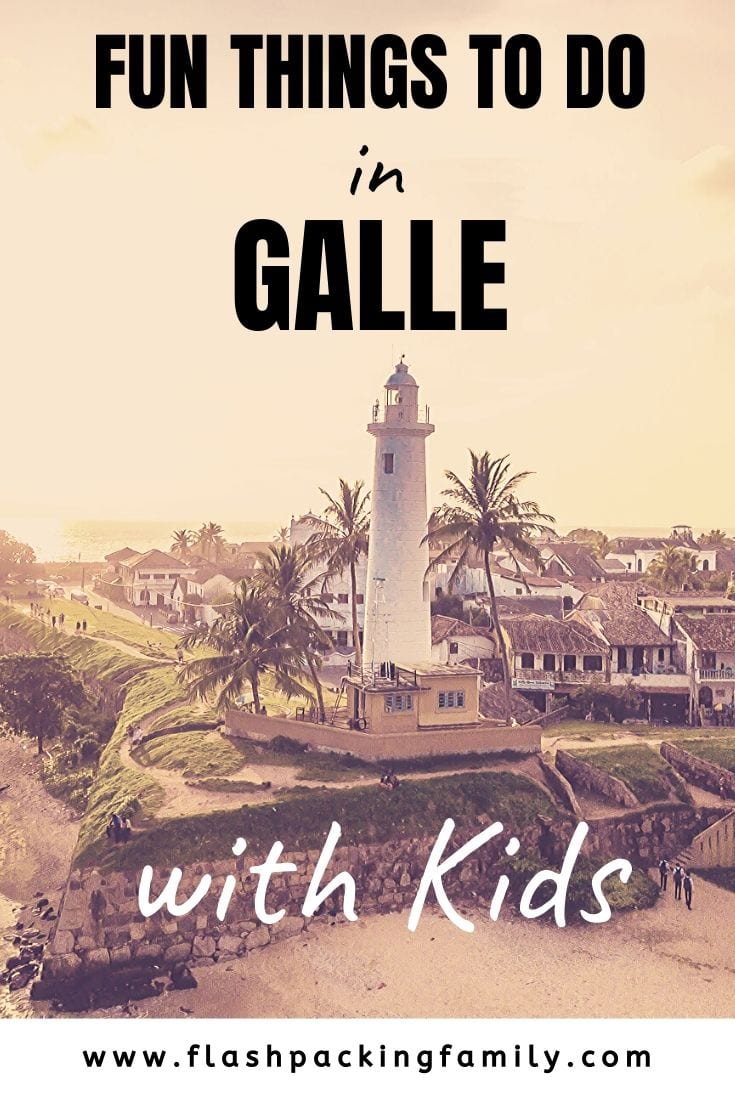 Family-friendly hotels in Galle
Galle has a fabulous mix of hotels to suit every budget and every taste. There are luxury Galle hotels dating back to colonial times. There are boutique hotels in Galle that effortlessly ooze colonial chic and there are budget-friendly hotels that offer a warm Sri Lankan hospitality.
We've highlighted a few hotels in each budget category which offer family-friendly accommodation.
Luxury hotels in Galle
Le Grand Galle (outside the Fort) located near the Galle cricket grounds, beautifully modern and large family rooms with stunning pool facilities
Galle Fort Hotel (in the Fort) originally a Dutch mansion and warehouse that has undergone a stunning restoration. You can't beat it for colonial charm. The huge library suite is suitable for families and there is a pool.
The Heritage Galle Fort (in the Fort) another beautiful old building with a large family suite overlooking the garden courtyard.
Boutique hotels in Galle
The Bartizan Galle Fort, – (inside the Fort) original Dutch colonial building with a beautiful family suite, one of the best roof terrace views in Galle and a sumptuous breakfast
Fort Square Boutique Villa, – (inside the Fort) beautifully restored building with family room overlooking the courtyard garden on the trendy Leyn Baan street
Ceylon Olive Grove (outside the Fort) huge family room in a traditional Sri Lankan villa with outdoor bathroom and shared pool
Budget hotels in Galle
Old Dutch House (inside the Fort) basic but spacious family room centrally located on Lighthouse Street.
Secret Garden Fort, (inside the Fort) basic but stylish accommodation in a colonial building with a lovely veranda and delicious breakfast
Beach Haven Guest House (Mrs Wijenayake's Guest House) (inside the Fort) basic but clean with lovely four-poster beds. Good breakfast included.
Hotels near Galle
Although there are many beautiful places to stay in Galle, Galle beach is nothing to write home about. If you prefer to stay nearer the beach, then you might want to consider Unawatuna beach or one of the smaller beaches close to Unawatuna like Dalawella.
These beaches are less than 10km from Galle and a quick and cheap tuk-tuk ride away. Dalawella is the most child-friendly beach in Sri Lanka, with calm waters.
Our recommendations for Unawatuna hotels and Dalawella hotels are:
Luxury – Why House Galle (Dalawella), On the Rocks (Dalawella)
Mid-range –  Nooit Gedacht Heritage Hotel (Unawatuna) Good Vibes Villa (inland from Unawatuna)
Budget – Bedspace (Unawatuna) Rockside Cabanas (Dalawella)
If none of these recommendations take your fancy, try searching here:
Where to eat in Galle with kids
The Pasta Factory (16/1 Leybann Cross Street) – great-tasting homemade Italian food. Good choice if they want a change from rice and curry. No alcohol served but you can bring your own.
Coconut Sambal (68 Church Street) – authentic Sri Lankan food – buffet style so the food is ready straight away which is great if your kids are anything like ours and go from not hungry to hungry in 0.5 seconds. Lovely juices but no alcohol.
Amangalla (10 Church Street) – High Tea….What else would you expect in one of the finest examples of colonial-era architecture? Tasty homemade scones and jam with a selection of other tiny sweet and savoury treats with some fine Sri Lankan tea. Starts from 3 pm and is a lovely way to escape the heat of Galle.
Galle Fort Hotel (28 Church Street) – we are including this one because although it doesn't cater too well for kids, it's a beautiful restaurant with amazing food. We don't see the harm in parents occasionally having a lovely meal while the kids eat fries and ice cream. Let's face it, at least they won't turn their noses up at it. They also serve alcohol.
The Fort Printers (39 Pedlar Street) – lovely atmospheric restaurant with beautifully fresh seafood and organic local produce. Kids menu available. Alcohol is available
Isle of Gelato (60a Pedlar Street) – perfect to cool down after a hot and sweaty stroll around Galle Fort. Lots of flavours to choose from, including some interesting Sri Lankan ones.
Things to do in Galle with kids
Sri Lanka is one of our favourite places in the world for a family holiday because there is so much to do over and above visiting the spectacular beaches that Sri Lanka is famous for.
One of our top recommendations in Sri Lanka is Galle because it's very different from the rest of Sri Lanka, mainly due to its extensive regeneration. It is impossibly cool and yet still quaint at the same time.
Here are some of the things we recommend doing in Galle in no particular order.
Family cookery lesson
We find that the kids are more keen to eat their food if they have some involvement in making it. They love to help out at home in the kitchen and we love Sri Lankan food so we wanted to get them involved in a Sri Lankan cookery class.
First of all, they learn about the ingredients that go into Sri Lankan food by visiting a local market. The sights and smells are fascinating. Then they set about helping to prepare various dishes. We still put our Sri Lankan cookery skills into practice and the kids favourite Sri Lankan food is a spicy Sri Lankan chicken curry.
We recommend Sri Lanka InStyle for family-friendly cookery classes.
Visit Galle Lighthouse
The lighthouse in Galle is perhaps the most iconic landmark in Sri Lanka. It sits on the ramparts at the Point Utrecht Bastion on the southern tip of Galle Fort and dates back to 1848, making it Sri Lanka's oldest lighthouse.
National Maritime Archaeology Museum
Located in an Old Dutch warehouse. Opened in 1992 but many of the maritime artefacts were lost in the 2004 Tsunami. After a 3-year reconstruction period, it re-opened to the public in 2010. Some of the artefacts are nearly 800 years old and mostly come from ships wrecked off the southern coast of Sri Lanka.
Afternoon Tea
You're in the most perfectly preserved colonial town in Sri Lanka, so why not have high tea at Amangalla in a perfectly restored 17th-century colonial building?  It's also a great excuse to escape from the mid-afternoon heat of Galle.
You can enjoy homemade scones and strawberry jam along with other sweet and savoury delights. We took ours outside by the pool so the boys didn't disturb the tranquillity of the indoor setting!
If you happen to be in Galle for Christmas, Amangalla will put on a fantastic traditional roast turkey dinner with all the trimmings. You need to enquire directly with them to book it.
Catch a cricket match at the Galle cricket ground
situated just outside the fort walls and is one of the most picturesque cricket grounds in the world. If you are lucky enough to be there when a Sri Lanka v England game is on but don't want to go and see the whole game, you can catch the action from the ramparts. You can get a great view from the Clock Tower ramparts.
Visit Dalawella beach
If you're staying in Galle and just fancy a bit of beach time, it's easy to hop in a tuk-tuk and head to Dalawella, about 7 km south along the coast from Galle. This is our favourite beach in Sri Lanka.
If you're going to go, try to be there around 11 am – 1 pm as this is when the turtles seem to be around. This is also a great time to escape the heat of Galle.
You'll find a shallow lagoon which is very safe for kids without the waves that you can encounter on other Sri Lankan beaches. There's also a great restaurant there called Wijaya Beach where you can get a variety of western beach food and delicious smoothies.
Take a walking tour of Galle
For a self-guided walking tour of Galle, start at Fort New Entrance. Here you will see the clock tower. Head towards Flag Rock Bastion, National Museum, Amangalla (stop for high tea if you have time).
Head on to the Maritime Museum, Old Gate, Dutch Hospital, Galle Lighthouse and the Mosque and promenade along rampart street to flag rock where you will see some snake charmers which is sure to perk the kids up again.
From here head in to explore some of the quaint streets. This will take you about 1.5 – 2 hours. Try to avoid the midday heat.
If you don't think the kids can manage all that, then just take a walk along the ramparts. Once you have had a bit of a wander along the fort walls, you can head into the quaint little streets of the old town (Lighthouse Street being one of the best) to check out the boutiques, galleries, restaurants and more colonial architecture.
Boutiques in Galle
There's a great mix of boutiques and not all of them will interest the kids, but there are lots of lovely souvenir shops filled with local crafts and toys which they will love.
Barefoot (41 Pedlar Street) – fabrics, linens, clothes, bags, toys & crafts
Exotic Roots (50A Lighthouse Street) – art, jewellery, home décor, clothing
Three by TPV (43 Leyn Baan Street & 77 Pedlar Street) – home décor, jewellery and clothing
Spa Ceylon (54A Lighthouse Street) – Ayurvedic based bathing and scented goodies.
Azeiya (80 Leyn Baan Street) – a high-end tea shop with lovely gift ideas
Galleries in Galle
I hesitated putting this in here because our kids are not into art galleries but Galle has some beautiful galleries featuring local Sri Lankan artists and it would be a shame not to pay a quick visit to them.
Galle Fort Art Gallery (60 Leyn Baan Street) – contemporary Sri Lankan artists
Hempel Galleries (6 Pedlar Street) – featuring contemporary Sri Lankan artists
Stick No Bills Ceylon (35 Chruch Street) –  vintage Ceylon posters
Enjoy a sundowner at Mama's Rooftop Bar
This may not sound very family-friendly but it's a super chilled bar and a great spot to watch the sunset. It's one of our favourite things to do in Galle with kids at the end of the day before dinner.
Bring along one of the kids favourite travel games and enjoy some down time after a busy day.
If you found this post useful, why not bookmark it, share it with friends, or pin it for later?