11 Awesome Harry Potter London Experiences You Will Love
If you're a Harry Potter fan and you're planning on visiting London on a UK staycation or from further afield, there are lots of fun Harry Potter London experiences just waiting for you to try. And the great part? Some of them are free!
From the home of Harry Potter at the Warner Bros Studios where Harry Potter was filmed to the filming locations around London and Harry Potter foodie experiences, there's something for everyone.
And once you've tried all of the London experiences, you can start planning to see the other Harry Potter experiences around the UK.
Looking for a gift for a Harry Potter fan in your life? Make sure to check out our Harry Potter gift guide.
Staying in London with kids? Check out our guide to the best London hotels to suit all budgets and the best family hotels in London with pools.
Here are the 10 best Harry Potter London experiences you need to try on your visit to London.
This post contains affiliate links. If you click on one and buy or book something, we may earn a small commission but this is at no extra cost to you.
1. Harry Potter World
The Harry Potter World London Studio tour surely has to be top of any Harry Potter fans' list of Harry Potter London experiences.
Every one of the Harry Potter films was filmed at the Warner Bros studios and as you wander around, you'll get to see film sets, special effects from the movies and some of the props used.
Unlike all of the other Harry Potter London experiences listed below, the Harry Potter Studios are located a little outside of London in a place called Leavesden.
The easiest way to reach the studios is to take the train from central London (not from Platform 9 3/4!).
There is a direct train from Euston station to Watford station which takes about 20 minutes and from here you can take a shuttle bus to the studios. This is one of our top recommended days out for families from London.
If you would prefer to stay closer to the studios, we have a list of family-friendly hotels near Harry Potter World.
Address: Warner Bros. Studio Tour London, Studio Tour Drive, Leavesden, Hertfordshire, WD25 7LR.
Tickets: See here for the best deals on Harry Potter tickets.
If you're visiting London at Christmas (which we highly recommend because it is one of the best UK cities to visit at Christmas with kids), you'll be able to catch Hogwarts in the Snow which usually runs from November to mid-January. It's one of the best Christmas events in Hertfordshire.
If you're visiting the studios in the spring and would love to see some English bluebells, you really should head to nearby Whippendell Wood, one of the best bluebell woods in Hertfordshire.
2. Platform 9 3/4
Is there another more famous platform in the world? We don't think so. So where exactly is Platform 9 3/4? You need to head into Kings Cross Station walk towards platform 9.
It is right next door to the Harry Potter shop and you really shouldn't miss it because there is usually a queue of people waiting to have their photo taken with the trolley.
Note that it is not in Kings Cross St Pancras where the Eurostar trains operate from.
The store photographer will be there from Monday to Saturday (8am to 10pm) and on Sunday (9am to 9pm). You can purchase your photo in a frame or as a keyring or magnet.
If you prefer to take your own photos, you are more than welcome to do so which means that visiting Platform 9 3/4 can be completely and utterly free (and is one of the fabulous free things to do in London that we recommend).
**Note that outside of the shop opening hours, there is no trolley there**
By the way – on the 1st September every year, there is a special train departure announcement at Kings Cross station.  The train to Hogsmeade departs from Platform 9 3/4 at 11am. Don't miss it!
3. Harry Potter Shop London
The Harry Potter shop is right next to platform 9 3/4. Here you will find every sort of Harry Potter merchandise imaginable from house scarves to Harry Potter wands and more.
You don't want to miss out on picking up some Harry Potter gifts here.
The shop is open every day from 9am to 7pm.
If you're in central London, you can also get Harry Potter clothing from Primark. The flagship store is on Oxford Street near Marble Arch and there is another one towards the Tottenham Court Road end of Oxford Street.
See below for details on the Harry Potter shops at the London airports.
4. Harry Potter and the Cursed Child London
Harry Potter and the Cursed Child is the eighth story in the Harry Potter series. The show has been playing at the Palace Theatre in the London theatre district since 2016.
Something you need to consider before booking tickets is whether you have enough time to see the whole play.
The play is so detailed that it could not be condensed into one normal-length theatre show so they split it into two parts with each part running about two hours and forty minutes.
It is recommended that you see both parts, but if you cannot dedicate that amount of time in one day, you can split it up between days.
For example, you could see part one as a matinee on a Wednesday and part two as an evening show on a Thursday.
You can find tickets for the Harry Potter play London here.
Address: Palace Theatre, Shaftesbury Avenue, London, W1D 5AY.
5. House of Minalima
Minalima is a gallery / shop dedicated to all-things Harry Potter. It is run by a couple of graphic designers who worked on the Harry Potter movies.
It is located in the heart of SoHo, and actually not far from the Palace Theatre so you could pop in either before or after a show if you are watching the Cursed Child.
It is a bit of a hidden gem in London in terms of Harry Potter experiences but well worth a visit.
Address: 157 Wardour Street, London, W1F 8WQ
6. Walking Tour for Muggles
Taking a Muggles walking tour around the Harry Potter locations in London is one of the best Harry Potter things to do in London if you are not familiar with London and would like a guided tour.
The guides (witches or wizards) are thoroughly knowledgeable and thoroughly entertaining as they guide you through well-known and less-well-known Harry Potter hot spots in London.
The tour lasts around 2 hours and will start at Monument Station and end at London Bridge station.
7. Harry Potter Afternoon Tea
Nobody does afternoon tea quite like the Brits and Harry Potter enthusiasts will be pleased to know that there are a few places in London that do Harry Potter themed afternoon tea.
Just around the corner from The Cursed Child in SoHo, Wands & Wizard Exploratorium offers one of the most fun, interactive magical afternoon tea.
You can use your newly made wand (or borrow one) – see #8 below – to unlock secret chambers and reveal magic potions. The tea stand topped with dry ice is a great touch.
Cutter and Squidge offer a lovely afternoon tea in London for Harry Potter fans and the other place to take a Harry Potter afternoon tea is at the Georgian House Hotel (which has fabulous Harry Potter themed rooms too – see below).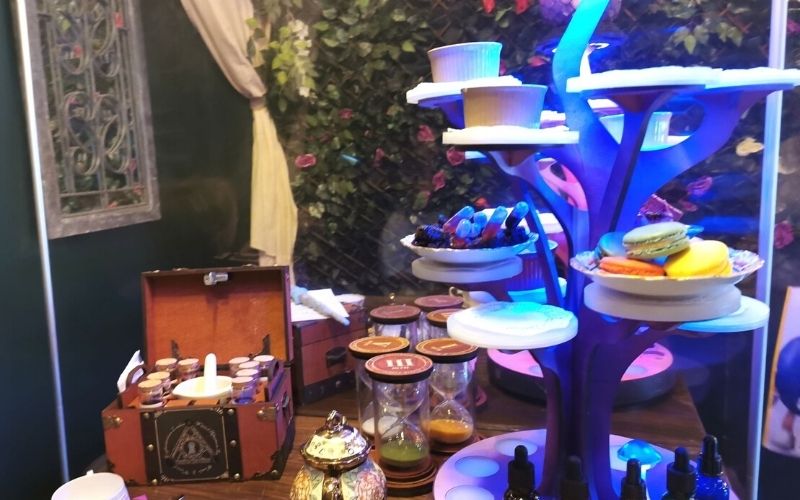 8. Make a Magic Wand
Yes you can buy a Harry Potter wand at the Harry Potter shop but where's the fun in that? Why not head to Wands & Wizard Exploratorium in SoHo to design and build your own interactive wand?
On arrival you are taken to the master wand maker's room. You get to choose from a range of elements that go into making your perfect wand.
The experience lasts around 30 minutes and is one of the most fun Harry Potter London experiences for kids.
We recommend making an afternoon of it by making your wand and then head downstairs to enjoy afternoon tea (see above) where you can use your wand to open magic tea chests.
Address: 26 Greek Street, Soho, London, W1D 5DE.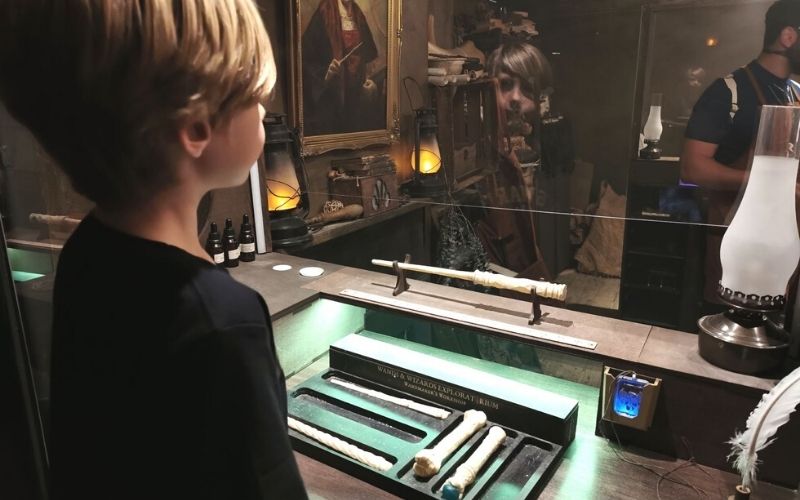 9. Enigma Quests Escape Room
Fancy getting locked in a Harry Potter themed room for 60 minutes and having to work as a team solving Harry Potter clues to escape? Sounds like fun to us.
Check out Enigma Quests'  School of Witchcraft and Wizardry. No age limit but recommended age is 9+.
Address: 2-12 Wilson Street, London, EC2M 7LS.
10. Cocktails at the Cauldron
If you're looking for the perfect way to end your Harry Potter themed day out in London, look no further than The Cauldron where you can mix cocktails with a difference.
Your cocktail making class is themed around the art of concocting magic potions and will involve cauldrons, magic wands and molecular mixology (and a little alcohol).
If you are visiting with kids, they offer non-alcoholic family-friendly potion mixing sessions.
Address: 26 Greek Street, Soho, London, W1D 5DE.
11. Visit the Harry Potter London filming locations
There are several scenes in the Harry Potter movies that are filmed in and around London. Here are the most famous Harry Potter locations in London.
You can take a self-guided Harry Potter walking tour around the sites or take one of the many highly rated guided tours on Get Your Guide.
Leadenhall Market – where the Diagon Alley scene from the Philosopher's Stone was filmed. Look for the blue optician's shop at 42 Bull's Head Passage which was used as the entrance to The Leaky Cauldron.
Nearest Tube: Monument
Australia House – The scenes inside the Gringotts Wizarding Bank were filmed inside Australia House. Although not open to the public, you can take a peek through the glass doors (weekdays only) at the impressive marble interior and great chandeliers.
Nearest Tube: Temple
King Cross Platform 9 3/4 – although there is a Platform 9 3/4 (mentioned above), the station scene in The Philosopher's Stone was actually filmed between platforms 4 and 5 at Kings Cross Station. The impressive red brick exterior of Kings Cross St Pancras station was also used.
Nearest Tube: King's Cross
Millenium Bridge – used in the filming of Harry Potter and the Half Blood Prince where the Death Eaters fly over London, destroying everything in their path, including Millenium Bridge.
Nearest Tube: St Paul's
London Zoo – the reptile house was where Harry Potter started talking in to the python before he knew he was a wizard.
Nearest Tube: Regent's Park
Piccadilly Circus – used in the filming of the Deathly Hallows I where Harry, Hermione and Ron are fleeing from the Death Eaters who storm the wedding of William Weasley and Fleur Delacour.
Nearest Tube: Piccadilly Circus
St Pancras Renaissance Hotel – used to film the entrance to Kings Cross station.
Nearest Tube: Kings Cross St Pancras
Great Scotland Yard – used to film the visitor's entrance to the Ministry of Magic.
Nearest Tube: Trafalgar Square
Looking for somewhere to stay in London?
Stay in the Harry Potter Hotel (the Georgian House Hotel) for the ultimate Harry Potter sleepover. They also offer wizard themed afternoon tea and potion making.
It is a bit of a splurge so if you are looking for somewhere more affordable, the St Pancras Renaissance Hotel is a Harry Potter filming location and is within walking distance of some of the Harry Potter experiences.
Address: Georgian House Hotel, 35-39 St George's Drive, London, SW1V 4DG.
For more accommodation suggestions for families – check out our post on the best family hotels in London.
Final chance to buy Harry Potter merchandise
If you are visiting London from abroad and fly out of Heathrow, make sure to check out the Heathrow Airport Harry Potter shop for your final Harry Potter London experience. It's located in Terminal 5 (British Airways terminal) on level 3.
The Harry Potter shop in the North Terminal in Gatwick Airport closed down but you can buy HP merchandise in Duty Free. These shops are great for picking up any final souvenirs that you didn't manage to get in London.
Map of the Harry Potter London Experiences