21 Deliciously Child Friendly Restaurants in London
Living in London for nearly 20 years and being a massive foodie, I've tried a lot of restaurants. They've not all been family friendly but what I have noticed is that there has been an increase in child friendly restaurants in London over the years.
Even some of the most celebrated chefs in London have opened their doors to kids which means that you can enjoy excellent food when eating out as a family.
There's a lot to be said for a quick and easy meal at Wagamama and Pizza Express. They are actually a couple of the kids' favourite restaurants. But if you're looking to try something different, there really are so many nice restaurants in London for families.
We're always searching out the best places to eat in London with kids and doing a 'best kids restaurants London search' (note that best doesn't always translate as expensive). We have our favourites, but it's good to try new places.
This post contains affiliate links. If you should buy something through one of them, we may earn a small commission but this is at no extra cost to you.
What we look for in a family friendly restaurant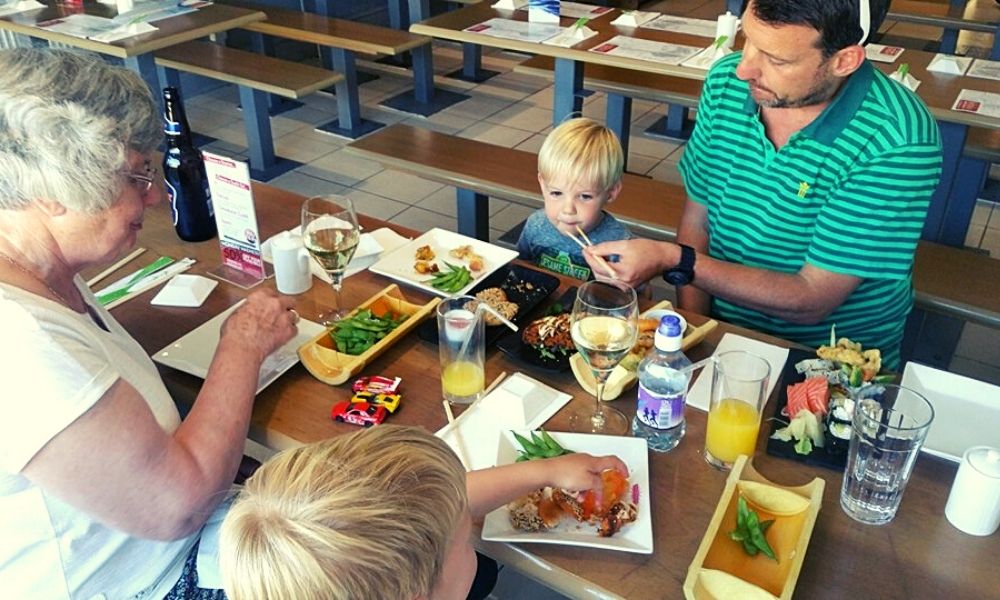 These are restaurants that our kids love. We have very broad tastes and so there's a good mix of restaurants here from Indian to Italian and high-end to street food. Make sure to check out the Kids Eat Free section at the bottom of the post which we aim to update when new offers become available.
So if you are planning on visiting London and wondering where to eat in London with kids – read on…
The MOST child friendly restaurants in London
Gordon Ramsay Restaurants
When it comes to family dining, Gordon Ramsay has all the bases covered with some of the best family restaurants in london. Not only does he offer tasty, healthy food but he really wants kids to enjoy the experience.
See some of the kids' activities below. Kids under 12 eat free at nine of his London restaurants (one free meal with every adult meal).
Heddon Street
Bread Street Kitchen
Kids' Pizza Masterclass & Brunch (temporarily on hold)
Best child friendly restaurants in London for Indian food
Dishoom
Having visited Sri Lanka with the kids we discovered that they love a bit of spice. One of our absolute favourite child friendly restaurants in London for food with a bit of a kick is Dishoom.
Dishoom is probably also one of the coolest restaurants in London with its Irani-café-in-Bombay style décor so even if you're not a fan of spice, go there for a quick cup of chai and be transported to early 20th century colonial Bombay.
Where: They have five locations in London. Kings Cross | Covent Garden | Kensington | Shoreditch | Carnaby Street
Kids menu: The kids menu is small and consists of lightly spiced chicken thighs or Paneer and peppers served with Bombay potatoes and coleslaw with a fruit juice. Our kids like to order extra rice and naan breads.
Masala Zone
Masala Zone is rated as one of the best-buy kid friendly restaurants in London. Their little colourful and lightly spiced thali dishes are the perfect introduction to Indian food for little ones.
Where: They have seven locations across London. Covent Garden| Soho | Earls Court | Islington | Bayswater | Camden | Selfridges
Kids menu: They have mini thalis (a platter with a mix of dishes) with less spice than the adult dishes as well as some standard kids menu food for around £6.
Best child friendly restaurants in London for Mexican food
Wahaca
We love Wahaca because it is vibrant and informal. As well as the options on the kids' menu, they have lots of small and reasonably priced dishes which are great for sharing.
This means that the kids can try something a bit different. Don't miss the churros! If you can't get to a Wahaca, you can try out their Wahaca at Home recipes.
Where: There are seven locations across London. Check here for locations.
Kids menu: The kids' menu has build your own tacos so you can leave out the bits you know they won't try, or cheesy quesadillas. The small plates are also great for getting the kids to try something different.
Best child friendly restaurants in London for Asian food
Yo! Sushi
You would think it might be a hard sell getting kids to eat raw fish. It is with ours – but we've included Yo! Sushi for 2 reasons. It is FUN!
Back in early 2000, it was pretty cool to go to a sushi restaurant and pick your food off a revolving conveyor belt. Maybe you got over this novelty – but the kids LOVE it.
It's not all raw fish either. They have so much on the menu that our kids eat. You can also order dishes from the menu in case nothing on the conveyor belt takes their fancy. But we promise, they won't be able to resist picking something from the conveyor belt.
Yo! have come up with a new, socially distant way to Yo! The conveyor belt will deliver your order to your table (watch the video below).
They also offer sushi making classes for kids as well as adults (although this is temporarily on hold).
Where: They have Check here for locations.
Kids menu: There is no kids' menu as such but they have a huge range of small dishes to try. Our kids love the chicken katsu (fancy chicken nuggets with rice), edamame and fried rice dishes.
We haven't been too successful on the raw fish front yet but we're working on it!
Benihana
They say that if you get kids involved in the preparation of the food, they are more likely to try it. Well it doesn't get much more interactive than at Benihana.
Benihana was one of the first restaurants to use an open kitchen. The chefs cook your meal at your table in a thoroughly entertaining way.
As far as fun family friendly restaurants in London go, it doesn't get much better than this. The preparation of your food is an art. It's like dinner and a show at the same time.
Where: Benihana, 37 Sackville Street, London, W1S 3EH
Kids menu: The Benihana Kids' menu includes a choice of chicken, steak or prawns (or a combo) – done in the Benihana way and served with rice, a cucumber roll and a dessert.
Inamo
Inamo offers a high-tech dining experience that the kids will love. The cuisine spans Japanese, Korean, Chinese and Thai.
The kids can watch the chefs prepare your meal on the chef-cam or draw on the table and play games using the interactive table technology. Watch out for their pop up igloos (winter garden dining pods) that may make a come back this winter.
Where: They have three restaurants in London: Covent Garden | SoHo | Camden
Kids menu: There is no kids' menu but they have a range of small dishes. Our kids love the panko chicken lollipops, chicken satay and yuzu pork belly.
Best child friendly restaurants in London for burgers
Five Guys
What we love about Five Guys is that it is quick and easy and the kids never say no to burger, fries and a milkshake. The burgers are made to order and they're good.
They have large boxes of monkey nuts that you can help yourself to and nibble on while you're waiting for your order. (Note that these have been temporarily removed due to Covid).
You can also get unlimited refills of your drink at the drink vending machine and their milkshakes are great.
Where: There are a whopping 32 Five Guys restaurants across London so there's bound to be one near you.
Kids menu: There is no kids' menu but they have little burgers and you can customise your burger order by selecting the toppings you want.
Honest Burger
Honest Burger have great burgers! We're pretty picky when it comes to burgers but this is our go-to place for a burger treat. And those rosemary fries are something else!
The burgers are juicy and fresh and fully loaded with fresh, locally sourced ingredients. We love how that, despite being a chain, their offerings are a little different in each restaurant because they try to source ingredients from local producers and beers from local breweries.
Where: Similar to Five Guys, there are 32 locations across London
Kids menu: The kids' menu consists of a burger and a fruit juice for £5.50
Best child friendly restaurants in London for pizzas
Homeslice
There is no kids' menu here but this is a great choice for family style eating. They make enormous 20 inch pizzas with half and half options that are perfect for sharing.
You could have basic margherita on one side and wagyu beef and truffle creme fraiche on the other. If this is too much for you, you can also order pizza slices.
Where: There are six Homeslice locations across London.
Kids menu: Pizzas start from £20.00 (or from £4.00 for a slice) – see menu here.
Polpo
Polpo may not spring to mind as a pizza restaurant (and it's not really a pizza restaurant) but this is a little gem. The Venetian tapas-style dishes are beyond delicious and if your kids won't touch the tapas, they have pizzette that are the perfect size for little diners which are delicious too. It is an Italian restaurant after all!
Where: There are two Polpo restaurants in London – SoHo and Chelsea.
Kids menu: There's no kids' menu but take a look at the pizzette here.
Best family restaurant in London for a meat feast
Bodean's
Bodean's have a very reasonably priced kids' menu and are great if you are a meat lover. Their large game day platters are great for sharing, or there's a dedicated kids' menu.
Where: They have five locations across London. Clapham | Fulham | Old Street | SoHo | Tower Hill | Covent Garden
Kids menu: The kids' menu is very reasonably priced at £4.95 for 3 courses.
Best Fun restaurants in London for kids
The Rainforest Café
The Rainforest Café really is one for the kids. As the name suggests, it is a café in an Amazonian rainforest setting. There are sound effect, animatronics, waterfalls and the occasional tropical rainforest thunderstorm.
The kids will be delighted with the surroundings and the American style food. We would say that this one is great if you're looking for the fun places to eat in London and are not overly fussed by the food. It also falls under cool restaurants for kids in London.
There's also a gift shop where you can buy Rainforest Café merchandise, including the cutest cuddly toys.
Where: 20 Shaftesbury Avenue, London, W1D 7EU
Kids menu: The kids' menu is pretty standard with burgers, pizzas, chicken bites and pasta.
Best child friendly restaurants in London for foodies
Café Murano
Looking for child-friendly Michelin star restaurants in London? A meal in Café Murano will delight your tastebuds. This modern Italian restaurant is run by Angela Hartnett who trained under Gordon Ramsay and was head chef at the Connaught for many years.
Her Covent Garden restaurant is a great option for a pre-theatre meal.
Where: Café Murano, 36 Tavistock Street, London, WC2E 7PB
Kids menu: The 2-course Café Murano Kids' menu is simple but the food quality is amazing – and all for £10
La Famiglia
La Famiglia is a little hidden gem and an institution in Chelsea. It is one of my all time favourite restaurants in London serving delicious, comforting, home-cooked Italian food.
And really, you can't go wrong choosing an Italian restaurant when looking for places to take kids in London. The Italians adore kids and they will be thoroughly spoiled.
Their Spaghetti al Cinghiale (wild boar ragu) is out of this world and the dessert trolley alone is worth coming here for. The main restaurant is quite unassuming, but on warm summer days or evenings, there is a lovely outdoor dining area at the back.
Where: La Famiglia, 7 Langton Street, The Worlds End, Chelsea, London, SW10 0JL
Kids menu: For the kids (Bambini) they have two different types of pasta with a choice of sauces, chicken breast (breaded or grilled) or steak with chips and a couple of desserts.
The Langham
Just putting The Langham in here as an extra one because, although it is not particularly child friendly (there are no kids' menus), they do offer 50% off for children under 12 at all of their restaurants in the group.
If you have a particularly adventurous young foodie that you want to treat, this is the place to go. Also see below for best afternoon tea spot in London.
Best child friendly restaurant in London for Afternoon Tea
The Langham
The Langham was the first place to serve afternoon tea in London 155 years ago and their award winning Afternoon Tea is a real treat. The children's afternoon tea is a little pricey, but a great idea for a birthday treat or a special occasion and is one of the most child friendly afternoon teas in London.
Where: The Langham, 1c Portland Place, Regent Street, London, W1B 1JA
Kids menu: The Langham Afternoon Tea Kids' menu
Best child friendly igloo restaurant in London
Coppa Club
The Coppa Club may not spring to mind as one of the most kid friendly restaurants in London as it is one of the 'cool places to eat in London'. We were pleasantly surprised at how family friendly this restaurant is and you can't beat an igloo for the ultimate socially distant dining experience.
Note that Igloo bookings are quite hard to make so make sure to read our Coppa Club FAQ post. If you're looking for an igloo dining experience in London, definitely give this a go. If you can't get in here, you could try Skylight where there are igloos on the rooftop alongside an skating rink!
Where: Coppa Club, 3 Three Quays Walk, Lower Thames Street, London, EC3R 6AH
Kids menu: The kids' menu is very reasonably priced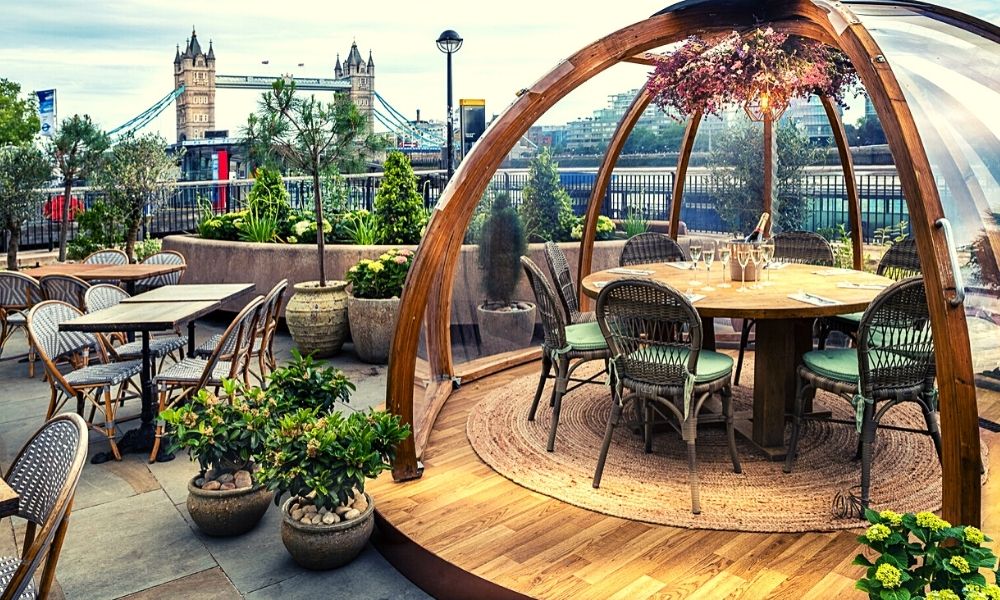 Child friendly chain restaurants in London
If you're new to the UK and are not familiar with the restaurants, then these are the main kid friendly restaurant chains in London that provide consistently good food. They are a great fall back if you don't manage to book somewhere else.
Wagamama – this has been a favourite of the kids since they were small and we now cook the chicken katsu curry at home since they released the recipe.
Giraffe – great value and good quality food. The smoothies are delicious!
Pizza Express –  the kids love it so much, we've even had pizza making birthday parties here.
Kids Eat Free Restaurants in London
You can't argue with a free meal, especially if you are spending an arm and a leg visiting London (although remember there are lots of free things to do in London with kids).
Sadly, Coronavirus has had a huge impact on London restaurants. There used to be a long list of restaurants that offered a free kids meal with a paying adult, but understandably, this is just not possible at the moment for many restaurants. Here are some of the family friendly restaurants in London offering free kids meals.
Active
Gordon Ramsay has a bunch of fantastic restaurants across London where kids can eat free (under 12 and one child meal free with one adult meal).
The Real Greek offers kids eat free on Sundays at all of their restaurants. They have 12 restaurants in London.
Yo! Sushi – during half term
Carluccios – kids eat for £1 during half term
Temporarily on hold
Pizza Pilgrims – currently only at their Oxford restaurant
Looking for family accommodation in London?
Looking for the perfect, family-friendly hotel in London to complete your visit to London?
We recommend the following:
Luxury
The Athenaeum Hotel & Residences – Located in Mayfair, this is a 5 star luxury aparthotel with a difference. We find it so useful when staying in hotels in with kids to have a kitchen. They also have a kids' concierge service where they arrange your kid's favourite DVDs and treats for the room. Guest can use all of the hotel facilities and they have a pool.
See also:
The Ritz – Located on Piccadilly near Hyde Park Corner. One of the most well-known hotels in London. The Ritz being the Ritz, they have a Very Important Kids programme providing anything a child could want in their hotel room. Children under 15 stay for free with their parents in a Junior Suite or above.
The Rubens at the Palace – Located near Buckingham Palace. This boutique hotel has their own Director of Fun and Adventure to organise activities for kids. Children under 12 stay and eat for free and there's a 6pm check out on Sundays.
St Ermin's – Located near St James's Park. They offer a kids concierge to take care of the kids needs with fun and games inside of the hotel as well as outside. They even have their own bee hotel within the hotel. There are 2 new rooms that cater for families of 6. They also do a fabulous afternoon tea for kids.
Mid-Range
Park Plaza County Hall – Located near the London Eye, this is an excellent, centrally located mid-range family hotel in London. If booking the Family Getaway Package, they offer goody bags for kids at check-in and 'Park Plaza money' to spend in the Spectrum Bar and complimentary breakfast for children up to 12 years old. There are also interconnecting rooms for larger families.
Budget
Premier Inn Waterloo – Located by Westminster Bridge near the London Eye. Family hotels in London can be eye-wateringly expensive but the Premier Inn is a great, no-frills budget family hotel in London option if you are looking for a central location.
Map of the most child friendly restaurants in London
Our Favourite Travel Resources
Accommodation: Booking.com is our favourite choice for booking places to stay with their flexible cancellation policy and VRBO for their huge selection of self-catering rental properties.
Flights: Find cheap flights using Skyscanner.
Insurance: Staysure is our go-to travel insurance provider. This link gives you 20% off your first policy.
Tours and Activities: We find that GetYourGuide has the most comprehensive range of activities worldwide.
Airport Lounge Pass: For getting access to 1300 airport lounges in 600 countries around the world, use Priority Pass.
We would not be without: Our National Trust and English Heritage memberships.