What To Pack For Lapland: The Ultimate Family Packing List 2022
What to pack for Lapland with kids?
I cannot tell you how many times we get asked this question in relation to our Lapland holiday.
I get it. Before we went, we fretted over what to pack for Lapland with kids. For us, it was mainly due to the fact that Lapland is in the Arctic Circle, the furthest north we had ever been and therefore would be very cold in winter.
The last thing we wanted to do was to spend all of that money on a once in a lifetime trip (actually we saved thousands booking a DIY Lapland holiday) and feel too cold to enjoy it!
In the end, we packed way too much. To help you avoid the mistakes we made, we've put together a complete packing list for Lapland.
This Lapland packing list for families includes what to pack for a Lapland holiday with a tour operator when the snow gear is provided AND what to pack if you are organising the trip yourself.
As well as advising what to wear in Lapland in winter, there are a few other suggestions at the end for miscellaneous items that you might not have thought about packing for Lapland.
Before we get onto what to pack for Lapland specifically, we thought you might like to read our post containing lots of helpful holiday packing tips including why we wouldn't travel without packing cubes!
Here's what to pack for Lapland with kids..
This post contains affiliate links. If you buy or book something through one, we may earn a small commission but this is at no extra cost to you.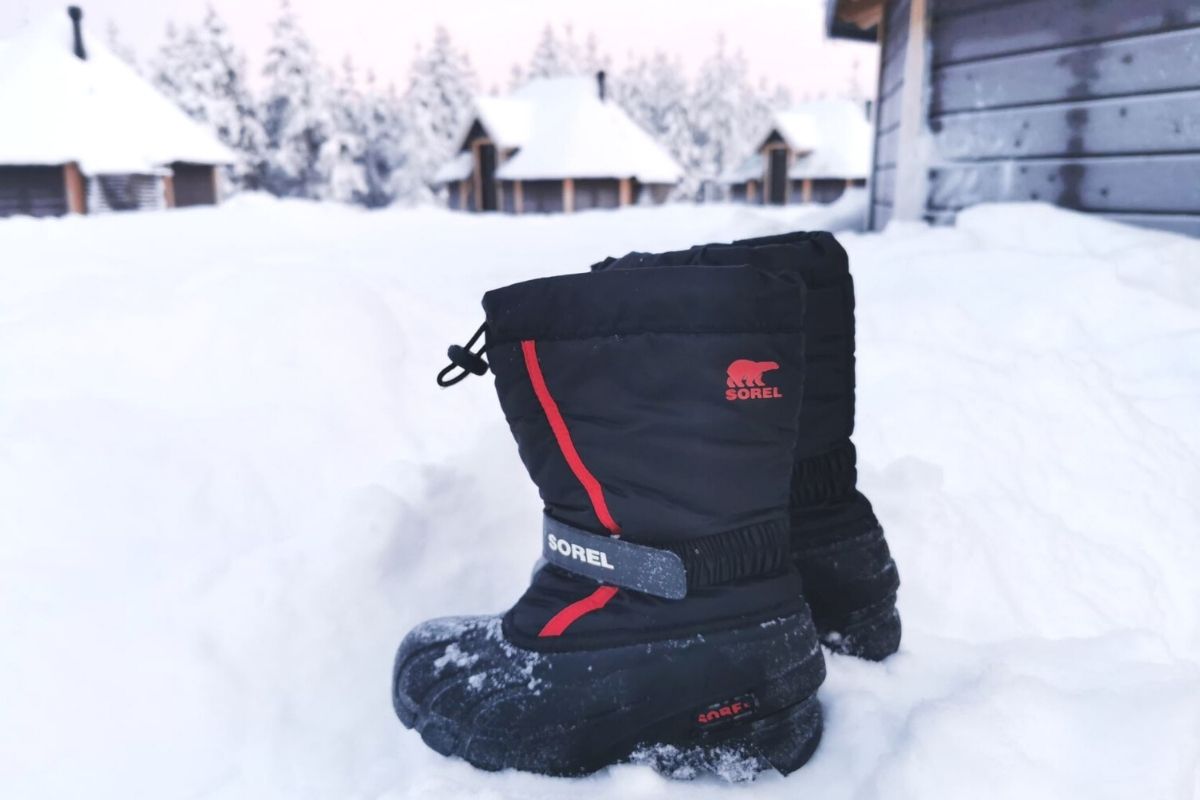 What to pack for a Lapland package holiday
If you are travelling to Lapland to see Father Christmas with a tour operator, you will be given snow suits for the duration of your trip.
This Lapland packing list assumes that you will get the main snow gear (snow suits, snow boots and gloves) as part of your package.
You will pick these up shortly after landing and drop them back shortly before departing.
You can gauge how many of each item you will need depending on how long your trip is. We will just say that we wore our base layers more than once so you shouldn't worry about having a pair for each day you are there.
Thermal base layer top – preferably made out of Merino wool.
Thermal base layer bottoms – preferably made out of Merino wool.
Fleece jumper (mid layer).
A normal pair of leggings or joggers (mid layer).
Good quality wool socks.
Snood or balaclava.
Waterproof gloves (see below).
Woollen gloves (to put under waterproof gloves if it is very cold).
Lightweight warm and waterproof jacket (yes – even on a package holiday).
Hat with fleece lining.
If it is exceptionally cold, you might want to put another layer over the base layer and under the fleece. The key to a successful Lapland trip is layering!
By the way – your snow suits will look something like this. This is why we recommend taking some kind of spare jacket for the times you just want to pop out for dinner. Putting the snow suits on every time you go out anywhere is a faff!
There were also some days when the temperature was just below freezing. We talked to people who wished they had a lighter alternative to their snow suits.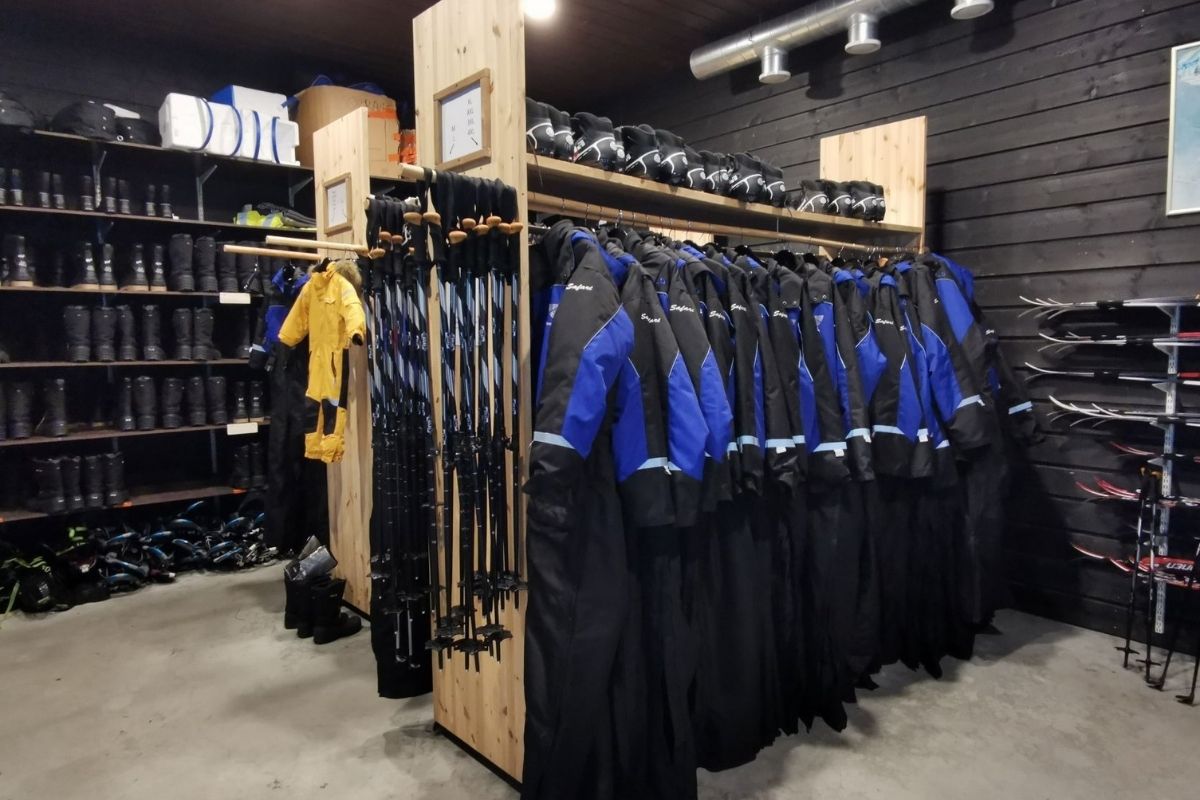 What to pack for Lapland with kids (DIY holiday)
We went to Levi ski resort which is the best place to ski in Finland. We did a DIY Lapland trip and so we didn't have the snow suits that are provided by the tour operators.
By the way – if you are thinking of skiing in Levi – check out our review of the Levi Hotel Panorama.
This packing list for Lapland assumes that you will not get the snow suit and snow boots etc from a tour operator.
This is a quick list and below we explain which brands we love and know work.
Thermal base layer top (preferably made out of Merino wool).
Thermal base layer bottoms (preferably made out of Merino wool).
A fleece jumper.
A normal pair of leggings or joggers.
Snood or balaclava
Good quality wool socks
Waterproof gloves
Woollen gloves (to put under waterproof gloves if it is very cold).
Lightweight warm and waterproof jacket (yes – 2 jackets in total which we will explain below)
Hat with fleece lining
Ski jacket 
Ski trousers
Good quality snow boots
Essentially, the only difference would be the addition of ski jacket and trousers and snow boots.
If  you don't have your own ski gear or snow gear and don't want to buy it because you may never use it again, you can hire snow gear at the main ski hire shops in each resort.
If you don't have a snow suit through a tour operator, check to see whether snow gear is provided as part of your excursion. The excursions at the Northern Lights Village in Levi provided everything you needed.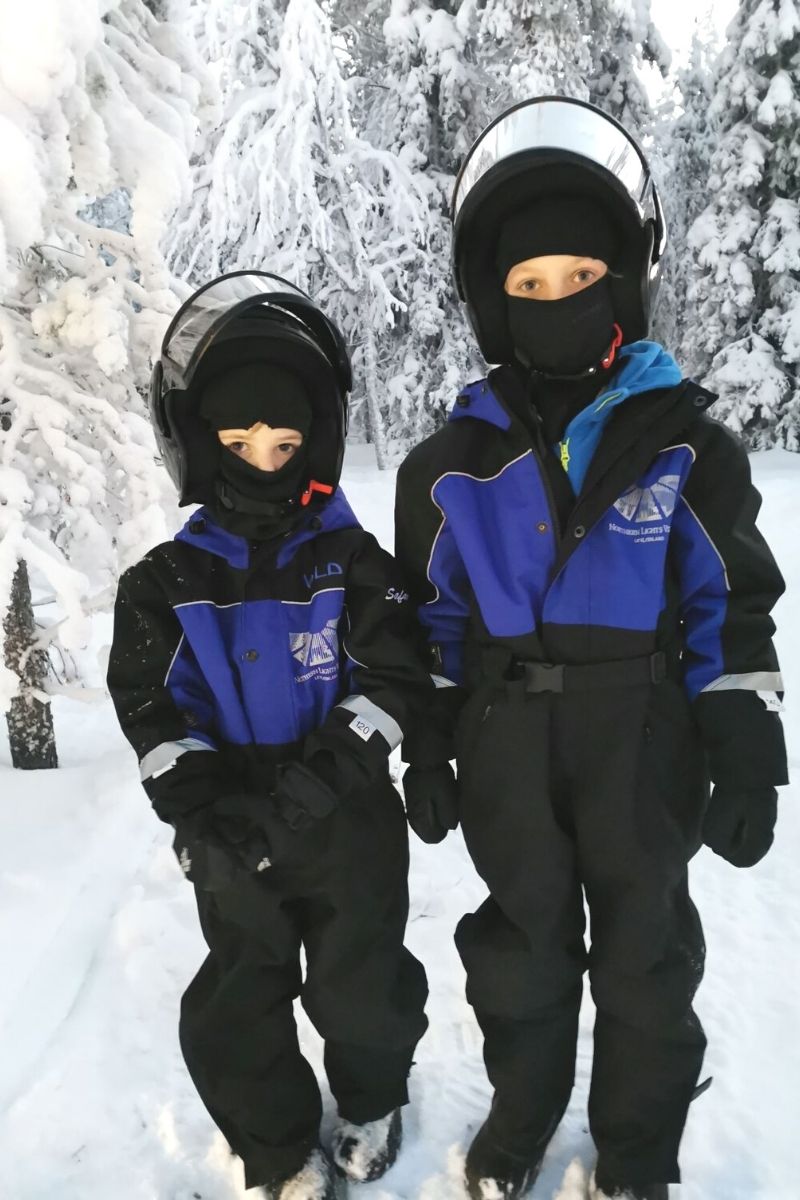 Lapland packing list essentials
When we're asked what to pack for Lapland with kids, we break it down into essential must haves and then regular items.
We thought it would be helpful to  give a bit more information on the essential things to pack for Lapland to help make sure you buy the right gear.
Socks
Toes (and fingers) are usually the first part of your body to get cold and once you have cold feet, it can become quite unpleasant.
The key to keeping your feet warm is to have good quality socks, ideally made from wool. AVOID COTTON (this goes for other clothing items too).
You don't want to use cotton socks as your feet may sweat in the boots and cotton holds onto moisture which will cool you down.
If it doubt, layer up with 2 pairs of wool ski socks (see our tip below on snow boots if you do this)! We love Smartwool socks but Mountain Warehouse offers a great (cheaper) alternative.
I suffer from Reynaud's and get really cold feet and the Smartwool socks have been a life changer for me!
See here for Smartwool socks for women .
See here for Smartwool socks for men.
See here for Smartwool socks for kids.
See here for Mountain Warehouse socks for men.
See here for Mountain Warehouse socks for women.
See here for Mountain Warehouse socks for kids.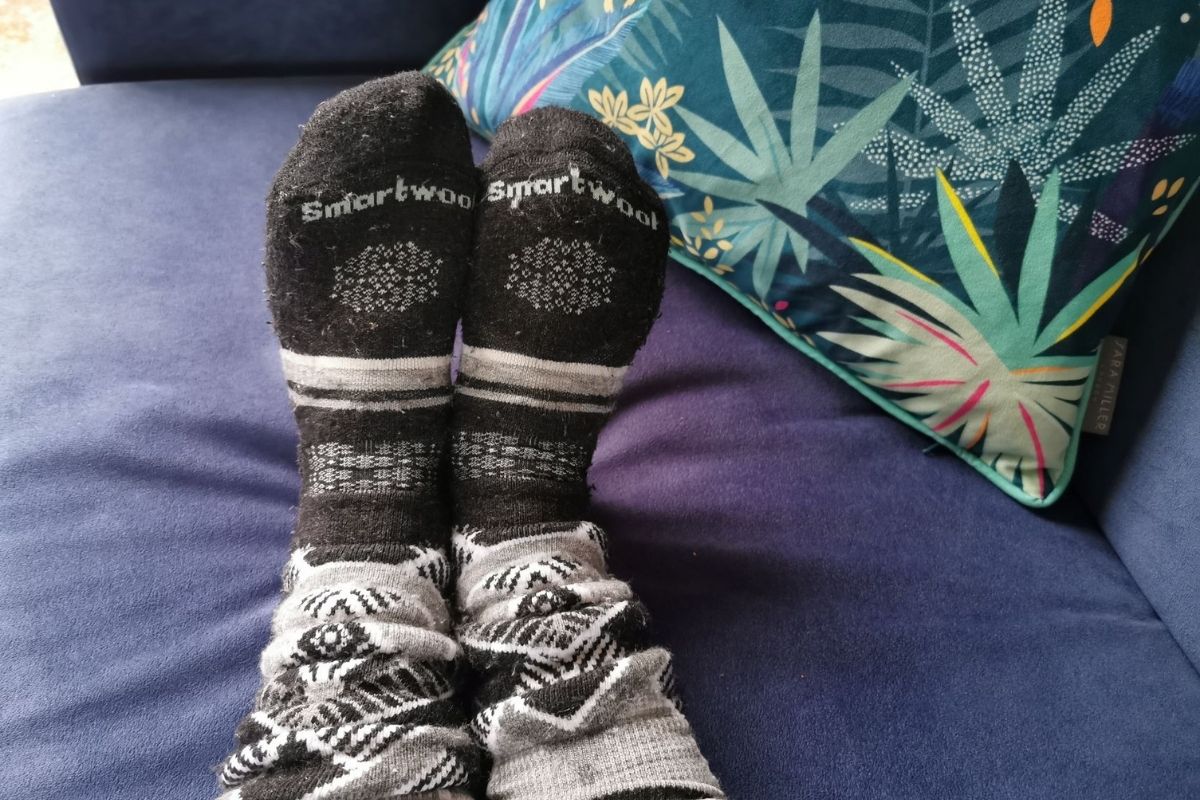 Boots
Choosing the best footwear for Lapland is essential if you are doing an independent trip.
If you are doing a package holiday and don't like the idea of wearing boots that countless other holiday makers have worn, then there is nothing stopping you taking your own boots.
We chose Sorel Boots for the kids. They have a toggle at the top that you can pull tight to ensure snow doesn't get in.
This is essential if you have kids who will love to play in the snow… And if you're going to Lapland, we'll assume your kids will love to play in the snow!
If you are doing any of the main Lapland activities with kids in Levi – you will be very grateful for a good pair of boots.
They also have excellent grip, a removable wool liner in case they get too hot (!?) and are very comfortable. We did a day of sightseeing in Helsinki in them with no complaints.
They are excellent quality and we found that they were a lot cheaper on the Sorel store on Amazon.
You can find the exact Sorel boots we bought for the kids here. They are expensive but this is something you don't want to scrimp on if you think your kids will be out playing in the snow.
We have also used Mountain Warehouse Whistler boots on other ski holidays which have been fine.
For adults, we also recommend Sorel Boots. See here for snow boots for women and snow boots for men.
Top tip for snow boots: Size up so that you have room for multiple pairs of socks if need be. Also, wear them on the plane because they take up a lot of luggage space.
When our feet got hot, it was easy to take them off. Be aware that you will probably be asked to remove them while going through security at the airport.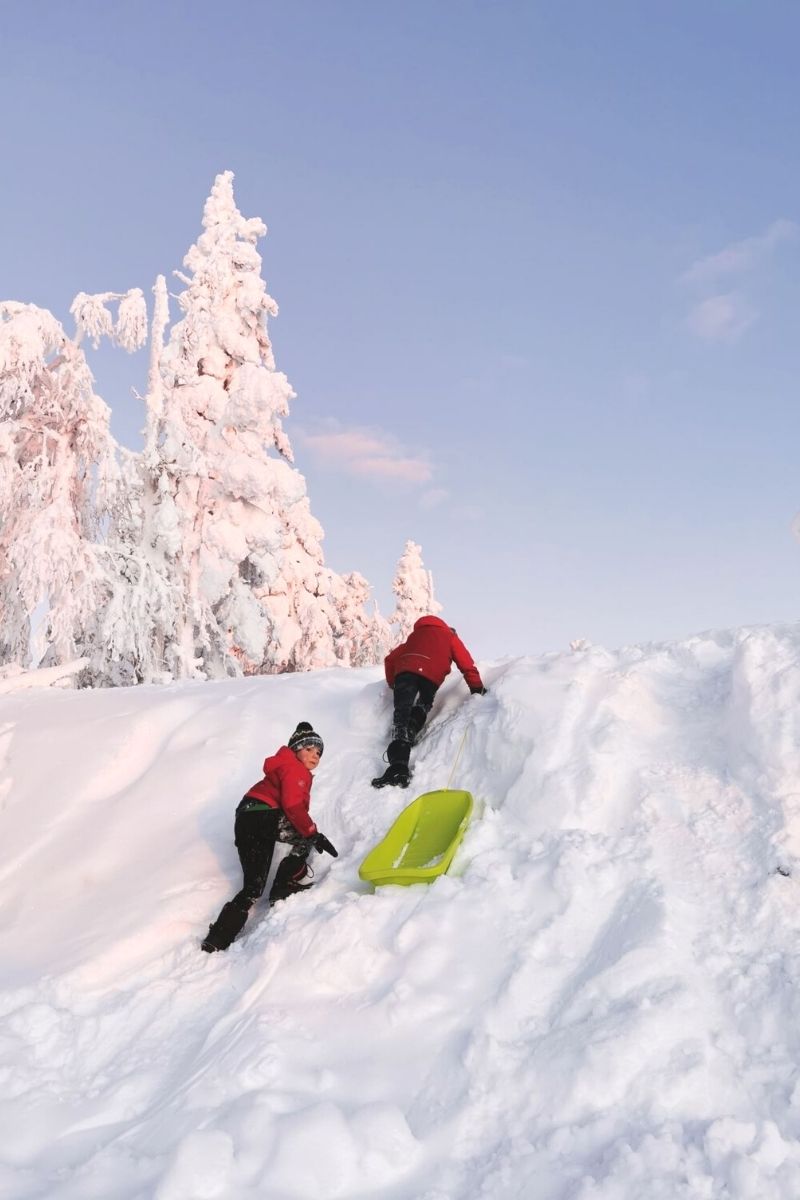 Gloves
Waterproof gloves or mittens are an absolute must on your Lapland packing list for kids. I would suggest taking a couple of pairs (for the kids) as they get wet eventually after lots of snow play.
Even if they are waterproof, the snow will find a way in if the kids insist on making snow angels! Having a second pair will allow you time to dry one pair while wearing the other.
We prefer mittens over gloves – especially when out skiing all day – because it is easier to wear another pair of woollen gloves underneath and / or pop a hand warmer in there if need be.
If you're just going to be out for a short time to build snowmen or through snowballs, waterproof gloves will be just fine.
We bought one pair of Trespass gloves and one pair of Trespass mittens for the kids. They are a reasonable price and work well. See here to see the gloves and here for the mittens.
The Trespass gloves also worked perfectly well in the adult size. Click here to see gloves for adults.
On the days it wasn't too cold and knew I wanted to take lots of photos, I managed to wear my special gloves that just expose the fingertips! See here to see what I'm talking about.
You can also get touch screen compatible gloves. I like these ones with a Nordic pattern. I used them on days when it wasn't so cold (and they get a lot of use at home in the UK too).
Top tip : If you are looking at the Decathlon gloves for kids, make sure to get them ahead of the winter season. They are such a good price that they can sell out during the winter months. We didn't use them so can't comment on how good they are.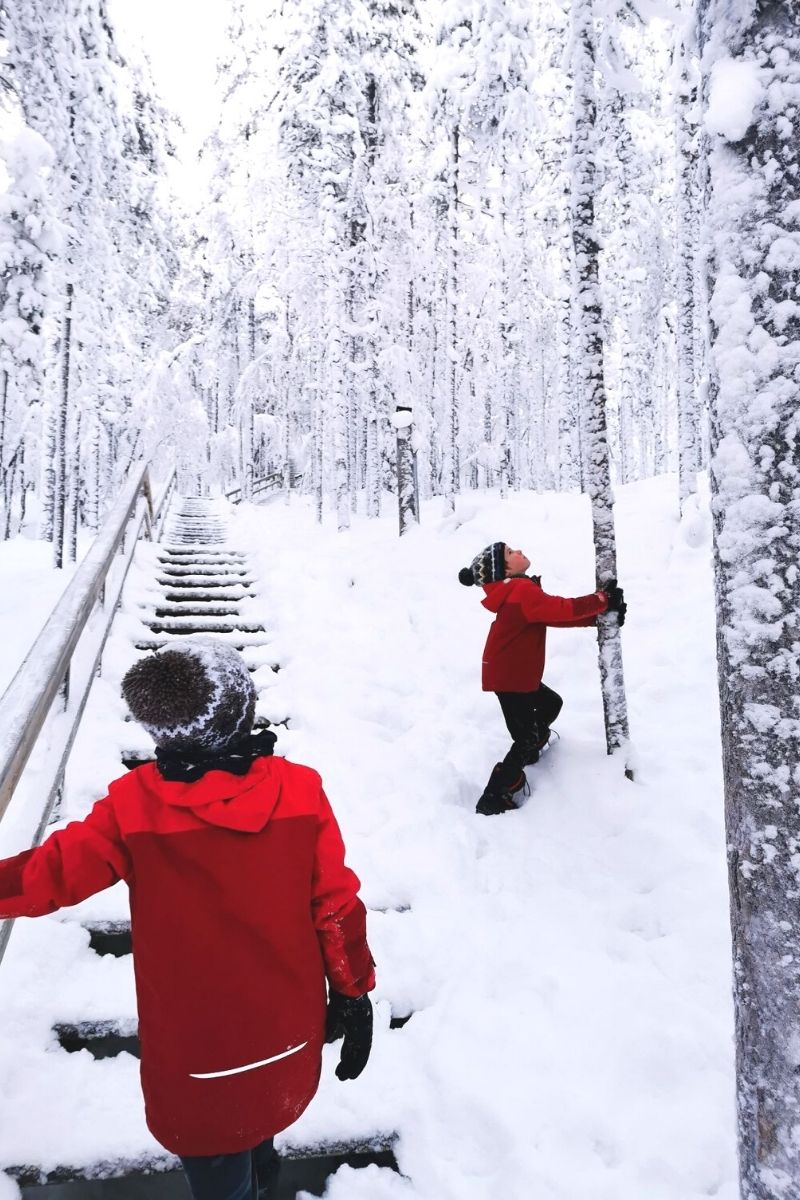 Thermal base layers
Thermal base layers are absolutely essential in Lapland. We use them on any cold weather holiday, even in the UK  in winter.
You don't want to buy sizes that are too big in the hope that they will last a few years because you want them to be snug.
There are some really expensive thermal layers out there but honestly, we love the Mountain Warehouse ones. Remember – don't buy anything with cotton in them.
I also loved the fleece thermal tops from Uniqlo as they were a bit more feminine and can easily be worn around the hotel.
Top tip: the Mountain Warehouse merino kids base layers are quite generous in size. I am a size 10-12 and 155cm and I can quite comfortably wear a kid's age 13 years. If you can buy them in a set, you will save money.
See here for merino wool base layers for kids.
See here for merino wool base layers for men.
See here for merino base layer top for women and merino base layer trousers for women.
Mid layers
As we've already mentioned, layering up is your best bet for keeping warm. You need to consider having another (preferably non-cotton) layer on top of your base layer.
For tops for the kids, we used Mountain Warehouse fleeces because they are very reasonable, warm and super lightweight.
They come in loads of colours so you're bound to find one to suit. Again, generous sizing means that age 13 tops should work for a size 10-12 lady of medium height.
For bottoms, just any normal joggers will do. Try to avoid jeans if you are skiing or snowmobiling as they can restrict movement.
Snood / balaclava / hats
Don't underestimate the power of a snood! They are much less faff than a scarf as they stay put.
We bought some from Decathlon for the kids but they frequently sell out. Look for fleece snoods like these which are really cosy.
They really came into their own on excursions like a husky safari when it is hard to avoid the cold wind on your face. The kids will also think they are ninjas if they are anything like our boys.
For hats, aim for good quality hats that have a fleece lining. We loved Barts and Heat Holders.
Our 9 year old son has quite a large head and kids' beanies don't fit him so we went for an adult version of the Heat Holders hat. It was a little big but was very warm. My husband also has this one.
Our 7 year old doesn't have a particular large head but the kids' version of Barts beanie was just verging on being too small.
I had a Barts fleece lined pom pom hat which I love as it is so warm.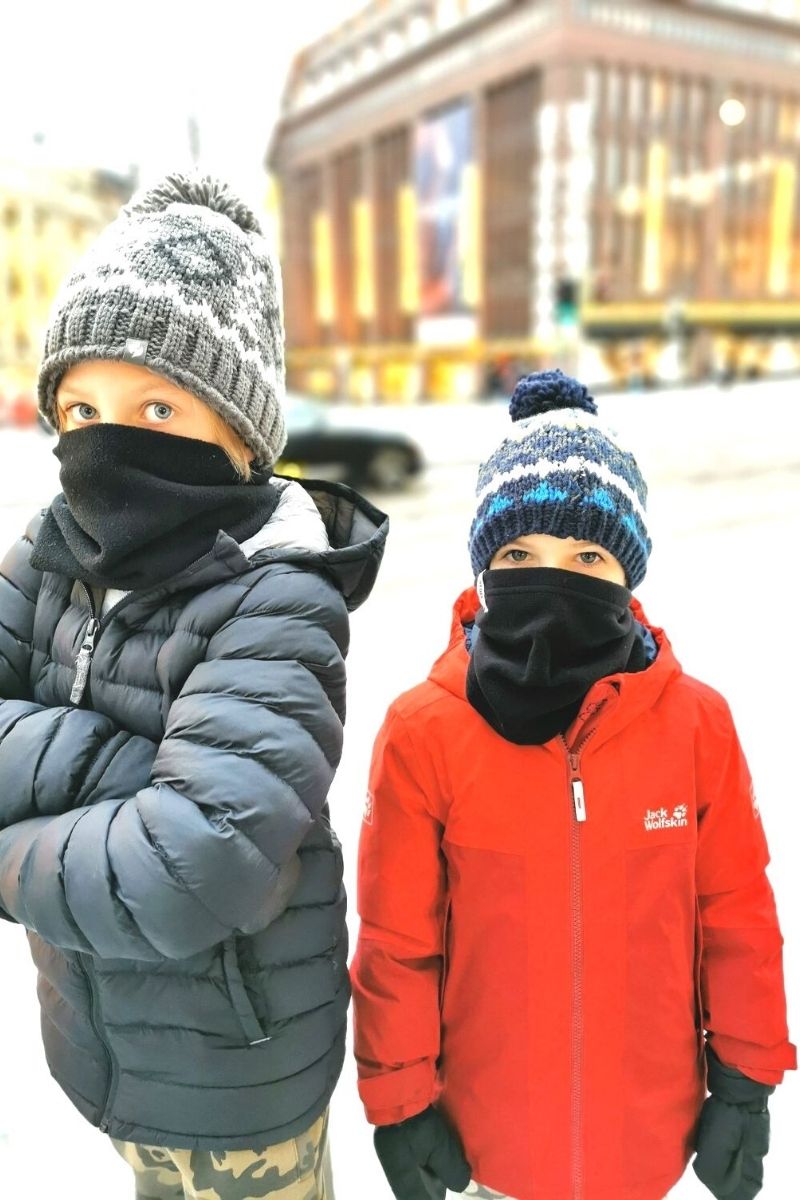 Ski Jackets and Ski Trousers
We won't say too much on ski jackets and ski trousers as this is a very personal choice but it is important to have a good quality winter jacket on your Lapland packing list.
We use:
What I will say is that I am SO glad we took 2 jackets each for the kids. Yes, I know I said we over packed but I would do the same again.
The boys each had their ski jacket which, although waterproof, was sometimes wet inside at the end of a day of skiing. They fell in snow at the side of the piste which would get down their sleeves or their neck and then melted.
We would come home to the hotel, put their ski jackets in the drier and then head out to dinner in their Mountain Warehouse jacket.
We took the Mountain Warehouse jackets with us because they are so lightweight and they can pack down really well. They are surprisingly warm too!
The ski jackets were then nice and dry for another day of skiing. Rinse and repeat.
There's no point in listing a whole load of expensive ski trousers. If you ski, you will know what you want to get.
What I can say is that we were pleasantly surprised with the quality of Mountain Warehouse ski trousers and Decathlon ski trousers for the kids in case you are in doubt.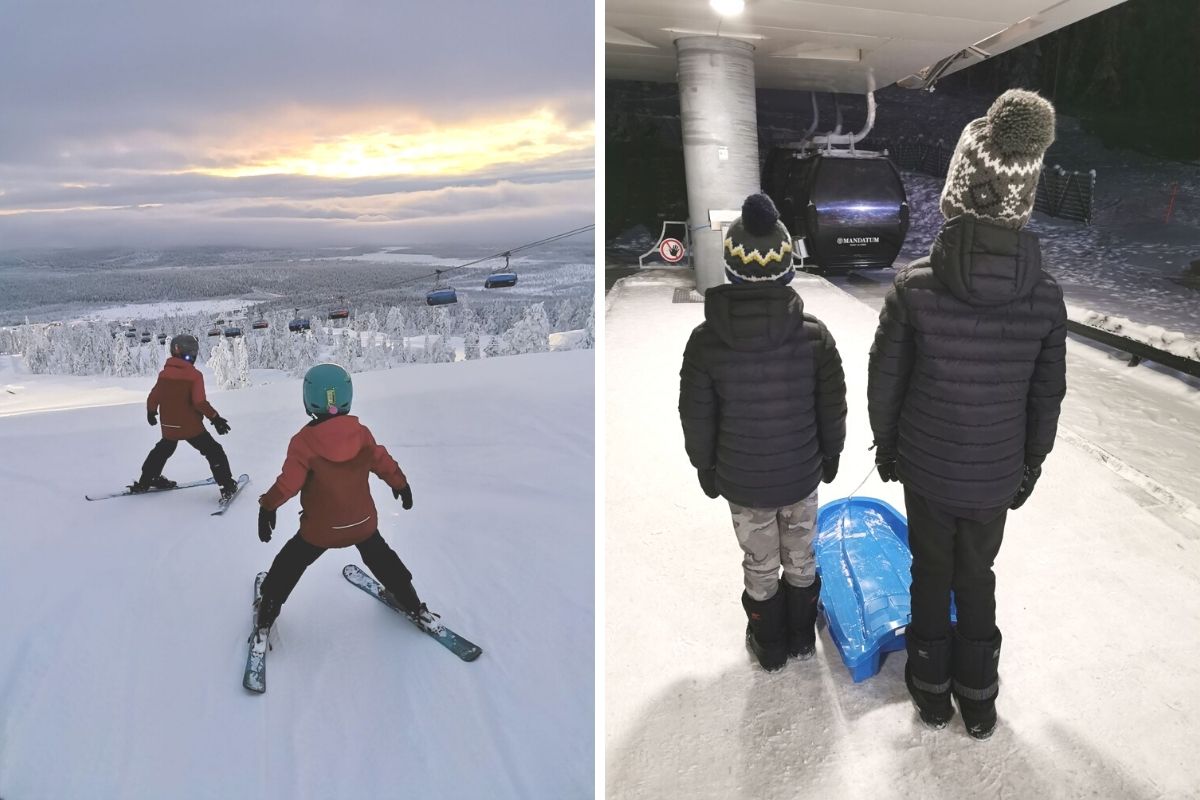 So that's really all we need to say on what to pack for Lapland with kids in terms of clothing.
There are a few other questions we get asked so we'll just answer them here.
What to wear on the plane to Lapland
If you are travelling to Lapland in the winter, it will no doubt be cold in your departure country too. If you need to wear a jacket to the airport, you might as well take one that you can wear in Lapland too. See our note above on jackets.
If you are taking a lot of your own snow gear, then you will probably want to wear as many of the heavy layers as you can on the plane – unless you have paid for hold luggage for everyone.
We wore our snow boots on the plane as well as our ski jackets.
If you aren't taking snow boots, trainers or similar will be just fine to get you from the airport to the place where you will pick up your snow boots.
What to wear in Lapland in the hotel
Anything goes really – from thermal layers to Christmas jumpers. This is where your trainers or comfortable shoes will come in handy.
Jeans are fine to wear in the hotel – we just wouldn't recommend them under snow suits because of the cotton element and the fact that they can be quite restrictive.
You need not worry about bringing bulky pyjamas like onesies. The hotels and cabins are very warm (and sometimes with no windows to open) so there is no need for thick fluffy ones to sleep in as you will get too hot.
Saying that, having a onesie for the kids to lounge around in is great if you have the space.
What to wear in Lapland in the evening
Our only tip would be not to expect a fashion show. EVERYONE will be wearing snow gear to restaurants. The key is to stay warm and comfortable.
What to pack for Lapland
Miscellaneous
Hand warmers – if you are worried that your hands or your kids hands will get very cold, you can buy hand warmers but we didn't ever need them. We just put on an extra pair of 'magic gloves'.
We bought these lights that clipped onto the back of their ski helmet. They really helped on the days when visibility was poor or light was low. We even did night skiing – at 4pm! Bright ski gear is also a good idea.
Camera with extra battery (if using a DSLR or similar) because the extreme cold can drain a battery quickly.
Small backpack/rucksack for day tours and to put the discarded layers in if you get hot. We just used one of the kids' backpacks.
Torch or headlight if you are staying in a wilderness cabin or want to take a walk through the woods in the dark.
Power bank (if you have an older phone or take lots of photos!!). The newer phone models seem to cope well with the cold and the battery doesn't drain as quickly. We use the Anker brand and have found it very reliable. It even charges the kids' Nintendo Switch and other stuff when we travel.
Lip balm and moisturiser are great things to have in your travel first aid kit to protect sensitive skin from the cold. They need to have very little water content to avoid freezing! Elizabeth Arden Eight Hour Skin Protectant and Weleda Calendula Weather Protection Cream offer good skin protection for Lapland.
Snacks
It's always about the snacks with our kids and if you are visiting Lapland on a budget, you might want to consider popping a few of their favourite snacks into your luggage.
The cost of snacks is not prohibitive in Finland, but it is a bit more expensive and you might not find what you're looking for.
Other things to consider packing are lightweight foods such as cereal or marshmallows to roast. Now that we are no longer in the EU, you need to check exactly what you can and can't take into Finland now. See here for more information.