The Best Kids Backpacks For Travel (For Younger Kids) 2023
Wondering what is the best kids backpack for travel?
Choosing the right travel bags for your kids can be a bit of a minefield with so many options out there.
Having tried many different types of kids travel bags ourselves, we have settled on using kids backpacks for our travels.
Want to know why we prefer kids backpacks for travel over the other kids luggage options? OK, before we go into why we prefer kids backpacks, we wanted to share this cute video with you showing our toddler pushing his Trunki suitcase through the airport.
As you can see, it's great fun but, he couldn't carry it! Many airlines also now don't accept a Trunki as your basic handluggage allowance.
This post contains affiliate links. If you buy something, we may earn a small commission but this is at no extra cost to you.
So, why do we prefer to use kids backpacks for our travels?
With so much choice out there, why do we prefer backpacks?
Well, backpacks are so much more versatile than other kids travel bags like Trunkis or rolling backpacks because they can be used as carry on luggage, school bags and hiking bags.
Backpacks make excellent travel bags for kids because they are lightweight and some will last for many years as the straps are adjustable and will grow with the child. I can even use our six-year-old son's deuter backpack.
Most of the budget airlines charge you to put carry-on luggage in the overhead lockers.
We don't know if other airlines will follow suit, but having a backpack instead of a hard shell suitcase for the kids (like a Trunki) means that you can squash it under the seat in front and therefore won't need to pay the additional charge.
If you do pay for the extra cabin bag, we have been using the carryon size from Level8 luggage which is lightweight and easy for the kids to push through the airport.
The kids can also wear them while moving through the airport and have their hands free which is important in case of stumbles or if you want to hold their hand.
Getting travel backpacks for the kids made them feel grown up, especially when they moved up to the backpacks that looked like adult hiking backpacks.
Having their own backpacks actually inspired them to become little hikers and allowed us to explore more of Banff National Park which was a big plus point.
But the best thing about putting kids in charge of their own backpack? It forces them to limit what they take as they don't want their bags to be too heavy so they just pack a few mini travel games and a teddy.
Do the kids need their own travel bag?
Getting the kids to carry their own hand luggage is great, especially after years of lugging everything around yourself. BUT – realistically, there is a time and a place for them. Do you really need them?
If you want to maximise the hand luggage allowance when travelling with small kids, you won't want one of the toddler backpacks using up that allowance.
Even though some of these mini backpacks for kids are tiny and don't hold much, they will still count towards your carry-on allowance and you may not want to waste that allowance depending on the type of trip you are taking.
Sometimes we don't check luggage in if the airline charges for it. We maximise our hand luggage allowance instead. See our tips on packing for a family holiday. We like to travel light.
When we travel with the kids, this means taking four bags of roughly 55cm x 25cm x 25cm (or 22 in x 18 in x 10 in) and usually around 8 to 10 kg. Just be aware that the dimensions change depending on the airline. You can check here for the cabin baggage policy of over 150 airlines.
These bags are too heavy for the kids to carry and they can't have an additional smaller bag, so they occasionally don't have their own travel bag.
What we will do though is use a couple of packing cubes to separate out their clothes in these carry on bags. Each packing cube is like a mini suitcase. Here are the packing cubes that we use.
What type of kids backpacks are best for travelling?
There are so many kids backpacks out there but they are not all suited for travel. The backpacks that the kids use for school are great, but they're not particularly lightweight. Especially if they have extra keyrings hanging off them! Most of the time, they are style over quality.
Travel backpacks are lightweight and ideally hard wearing. All of our recommendations are considered small enough for hand luggage (although always check with the airline you book with) and should be able to fit under the seat if necessary.
Things that we look for in a kids travel backpack are:
they should be as lightweight as possible without compromising the fabric quality
they should have good back ventilation (important in hot countries)
they should have a separate side pocket for water bottles
they should have a chest strap which will help little ones especially feel more balanced
As mentioned, most of the travel backpacks for kids that we recommend (after the toddler stage) look a lot like adult rucksacks.
Our youngest son loves his hiking backpack so much that he also uses it for school. Here it is on the school run…
And here it is in its proper setting :)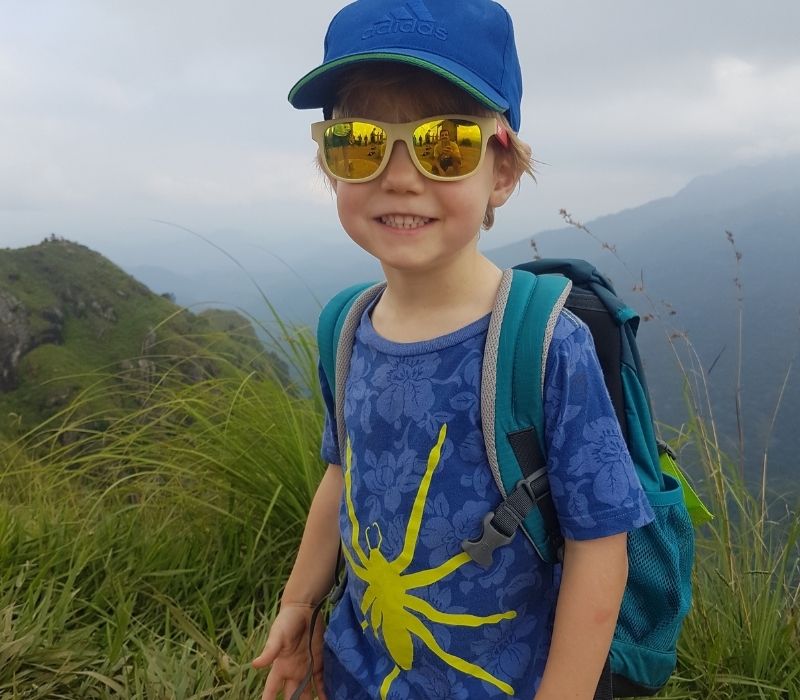 Best backpacks for toddlers
Toddler backpacks are just too cute. These backpacks are not for hiking – but are you going to go hiking with a toddler anyway? If you are, you will probably have some kind of toddler carrier.
Let's face it, it's sometimes hard enough to convince a toddler to cross the road let alone hike long distances with a backpack on.
These small backpacks are for getting through the airport and onto the plane. It starts to give them a sense of responsibility for their stuff.
The aim is to try to teach them not to take absolutely every toy possible with them. And they can't because these backpacks are so mini, they don't hold much.
Some of them have reins which are detachable. It was good to know that we could use them if we were somewhere busy when the kids were really little, like when we took the kids to London.
They're so cute. You could even consider one as a gift for a kid who loves to travel.
Little Life – this is the original backpack with reins (and a grab handle) and is a Mother & Baby award winner. They have an utterly adorable range of mini backpacks from unicorns and fairies to dinosaurs and dragons. This is really more about the reins than a backpack as it only has a 2 litre capacity, but it's great for getting kids used to wearing a backpack.
Skip Hop – more adorable animal characters to choose from with this range of kids backpacks with reins. Our kids had these from aged 2 at nursery. They were the perfect size for a change of clothes, a water bottle and a couple of small toys. There is a mesh side pocket and a chest strap.
We loved the Owl and the Butterfly.
Best kids backpacks for 3 to 5 years
Travel backpacks for kids in this age group start moving away from the cute, character toddler backpacks and getting into the slightly more grown up backpacks.
Jack Wolfskin –  the Jack Wolfskin kids' backpack has an 11 liter capacity, wide shoulder straps and a strap that clips across the chest. There is a side pocket for a water bottle and another front pocket.
Osprey Daylite – the Osprey Daylite kids' backpack has a grab handle at the top which has come in handy on busy streets. It has a 10 liter capacity, mesh pockets on either side, a padded and well-ventilated back and a chest strap and is made out of recycled nylon fabrics. Osprey backpacks are among the best on the market in every age category.
Deuter kids – the Deuter kids' backpack is slightly in character mode but more grown up, this has an 8 litre capacity, side pockets, chest strap and reflective eyes.
Fjallraven mini – we love the eco-friendly aspect of this Fjallraven kids' backpack. 7 liter capacity, front and side pockets, reflectors and a leather grab handle. It even has a fleece lined pocket on the top to store sunglasses.
Best kids backpacks for 5 to 8 years
This is the age that they start moving into big kid backpacks. While they have recently developed a major interest in Pokemon, Star Wars and Minecraft, we prefer them to save the character bags for school.
Our favorite kids backpacks for 5 to 8 years are:
Osprey Jet 12 –  The Osprey Jet 12 (or the Jet 18 for larger 8 year olds) is a slightly larger version of the Osprey Daylite. The Osprey backpacks for kids are fantastic quality. I still have an Osprey backpack that travelled around the world with me for 12 months, taking a good battering through Africa and India. They also come with a lifetime guarantee which is handy.
Deuter backpack – this slightly larger Deuter kids' backpack has a 10 litre capacity, mesh side pockets and a chest strap. Deuter backpacks are a great alternative to Osprey.
Fjallraven Kanken backpack – the Fjallraven Kånken backpacks were designed in the 1970s in Sweden to help with back problems among kids and they have become incredibly popular. You can read more about Fjallraven backpacks here.
Quechua – if you are looking for a super cheap but decent backpack for kids, we recommend taking a look at Quechua 10L bag. You can't beat it for value.
Finally, if you want to maximise the hand luggage allowance and yet still have your small child in charge of their own case, you could try a backpack with wheels.
The Cabin Max is a good option. It obviously won't work for going on hikes or for days out sightseeing though.
Happy Travels!
You may also like…
Flying With A Baby: 15 Tips To Make That First Flight Easier
The Top 5 Benefits of Family Travel