The best family-friendly beaches of southern Sri Lanka
Sri Lankan beaches
Sri Lanka has 1,340km of coastline, most of which is made up of beautiful, palm-fringed sandy beaches. People have been coming to Sri Lanka for many years as the ultimate beach destination, but something you may not know is that while Sri Lanka beaches are beautiful, they are not all family-friendly.
In fact, we'd go as far as saying that they can be quite dangerous for little ones in terms of the rough surf and strong currents. But don't worry! In amongst the huge choice of beaches in Sri Lanka, you can find some real gems that are beautiful and perfectly family-friendly.
If you're planning your family holiday to Sri Lanka, this guide to the best family-friendly beaches in southern Sri Lanka will help you find the most suitable beach for your family.
This post contains affiliate links. If you click on them, we may earn a small commission.
There are so many things to see and do in Sri Lanka with kids. The beaches are beautiful but if you are planning a trip to Sri Lanka, you should also check out the other things you can do like going on a safari in Udawalawe or a safari in Yala or  the tea estates in the hill country. These experiences are the things that will create lasting memories of your trip.
Finding the perfect family-friendly beach in Sri Lanka
We've been on holiday to Sri Lanka three times over the past 9 years because we love it so much. On our most recent two week trip to Sri Lanka with the kids in December 2018, we spent quite a bit of time around the south coast searching for the most family-friendly beaches.
One of the key things about the beaches in Sri Lanka is that the safest beaches for swimming are the ones located in small bays. When you know that, it makes it easier to find them.
For some people, visiting a beach may not be just about the swimming so we've included our recommendations on a range of different beaches from the best beaches for swimming, surfing, facilities, sand to the best city beaches.
Best city beaches
We'll start with the city beaches of Colombo because there's a good chance you'll be spending some time in Colombo and may need an escape from the hustle and bustle of the city or just fancy a sunset meal on a beach away from the crowds.
Wellawatte beach, Colombo
Wellawatte is a suburb south of Colombo, a few kilometres and a couple of train stops south of Colombo Fort (ie. central Colombo). It's the closest decent beach to central Colombo, although don't expect a beautiful palm fringed white sandy beach. It is a city beach at the end of the day but it is an interesting place to come if you are based in or around Colombo and want an evening sunset stroll.
It's a narrow strip of sand with the main coastal train line running right alongside it. You have to actually walk over the tracks to access the beach. Just before sunset, the beach fills up with locals who have just finished work. They come to take in the view and have a splash around in the surf.
We recommend grabbing an ice cream from the ice cream shop opposite the station before your stroll.
Accommodation in Wellawatte
If you're visiting Sri Lanka on a budget and want to spend some time in Colombo, we recommend checking out accommodation in Wellawatte. It has a train station and it's a quick and incredibly cheap train ride into the centre of Colombo and the accommodation is a lot cheaper.
We stayed at the Ocean Breeze apartment which was about 200 m from the train station (and the beach). It was run by a really lovely Sri Lankan lady who could not do enough for us and her home-made breakfasts each morning were enormous and made to order.
The apartment was really spacious with 2 bedrooms and 2 bathrooms, a kitchen and dining/living room area and we had laundry facilities.
Mount Lavinia beach
Mount Lavinia is a little further south from Wellawatte, but just about still classifies as a southern suburb of Colombo. Mount Lavinia has a certain faded charm, and the colonial-style Mount Lavinia Hotel between the train station and the beach adds to the historic feel of the place.
The beach itself is narrow in places but is very long and easy to find a quiet spot. As with Wellawatte beach, this is a city beach and whilst the water didn't seem too bad, neither was it that enticing for a dip as the surf was quite large. Our boys still had a wonderful time there running around, paddling and making sandcastles.
The big draw, however, must be Bubba Beach seafood restaurant – a wooden shack hidden amongst the trees with views out over the sea. It is a lovely setting if you are looking for a low key, beach restaurant for an evening meal where you can feel the sand between your toes while eating and watching the sun go down. They had a great selection of seafood, and the classic chicken rice option for the kids!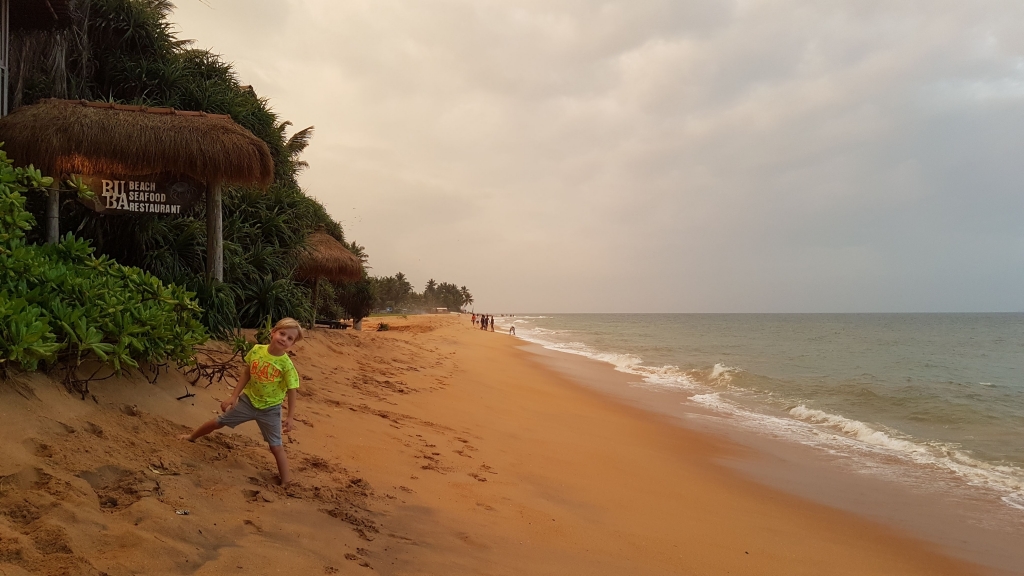 Accommodation in Mount Lavinia
If you're arriving into Sri Lanka on a long haul flight or late at night, you may not want to head straight off on a long train ride down the coast. If that's the case and you aren't convinced by staying in central Colombo, then Mount Lavinia is a good choice and an easy way to ease into Sri Lanka.
Mount Lavinia has the beautiful Mount Lavinia hotel with all of it's colonial charm. You may find that the room configurations don't work for your family though in which case there are plenty of other lovely places to stay. You can still visit the hotel and make use of its facilities if you come and have a brunch.
Best beaches for long walks
Bentota Beach
Bentota beach is a long and very wide stretch of golden sand situated almost mid-way between Colombo and Galle. Being a long stretch of sand as opposed to a secluded bay, there is no protection from the waves so the swimming is not great, but just look at all that sand!
The hotels are all set back from the beach and covered by palms so you get the impression there is no development at all, just a huge, wide expanse of sand. There are also great things to do nearby such as visiting the Kosgoda Sea Turtle Sanctuary or Geoffrey Bawa garden tour at his Lunuganga Country Estate. The tour lasts around 1 ¼ hours and is great for little explorers. You can also stay and eat there.
Accommodation in Bentota
As the swimming is not great in Bentota, we'd recommend finding a hotel with a pool. There are many options to choose from.
We stayed at the Centara Bentota which had a great pool complex, including a kids pool which was about 60 cm deep. The main beach front hotels are all quite expensive here. If you don't mind being a little further along the beach, then Panchi Villa is a great option for a more budget friendly stay.
Best beach for facilities
Unawatuna beach
Unawatuna is a great beach resort if you want to base yourself at a beach with lots of action and it's right next door to Galle with lots of family-friendly things to do. The narrow winding road to the beach from the main road is jam-packed with everything a tourist could ever need – bars, restaurants, coffee shops, small supermarkets, clothes shops, art galleries; you name it.
The beach itself is a wide, curved bay, sloping down to the sea. Unawatuna is quite developed these days, and there's no shortage of beach bars and restaurants with lots of seating and sun lounger options. The downside to this is the sheer number of tourists and the inevitable beach hawkers following them. It was not a hard-sell and everyone was very polite, but be prepared to look at dozens of sarongs if you lounge on the beach!
The far western end of the beach is a little quieter, and also where the small fishing boats are dragged up onto shore when they're not at work. Our boys loved exploring this part of the beach, but after a quick lunch we were keen to move on to find somewhere more peaceful, which is quite easily done in Sri Lanka.
Accommodation in Unawatuna
Unawatuna probably has the highest concentration of accommodation in any of the beach resorts in Sri Lanka. You will not struggle to find something suitable here.
Budget: a good budget friendly choice is Bedspace. It's a little set back from the beach but still only a 10 minute walk. They have the best restaurant in Unawatuna so you can be assured of a great breakfast. We highly recommend checking out their restaurant for dinner even if you're not staying there.
Luxury: If you don't mind being a little bit away from the beach and the centre of Unawatuna (for a quieter stay) then a great option for families is the Good Vibes Villa. The 2 bedroom family bungalow is so secluded and the pool area is perfect for relaxing by in the afternoon after a visit to the beach. It's only a 10 minute tuk tuk ride to the beach.
The hotel manager is really helpful and friendly. He provides nature worksheets for the kids who can tick off what they see and learn about the various trees and animals on the plantation.
Best family beaches in Sri Lanka for swimming
Dalawella beach
Dalawella is situated about 7 km south of Galle (2 km along from Unawatuna).
This is our number one favourite family-friendly beach for a number of reasons. It has a reef which runs right along the length of the beach which acts as a natural barrier to the large surf. This creates a perfectly calm lagoon for the kids to play in (as long as they don't go out as far as the barrier). It's not over-crowded even during peak season. We were there just days before Christmas, and whilst it certainly wasn't empty, there was plenty of space for the boys to play football without getting in other people's way.
There are a handful of sunbeds to hire at around LKR 800 / £3.50 for 2, which is good if you have little ones because there isn't much shade on the beach. The big draw of this beach, however, is the chance of swimming with turtles who drift in and glide among the swimmers. Keep a careful lookout as they can glide past you without you even noticing!
There are a bunch of small guesthouses serving food set back from the beach amongst the palm trees. It's all very low-key which is what we prefer. The best is definitely Wijaya Beach restaurant offering a great selection of beach eats. Go up to the second floor for great views along the beach.
There's also a swing attached to a tall palm tree for a great photo op but the boys were more interested in building sandcastles! We had a definite thumbs up from our boys who claim not to like beaches!
Accommodation in Dalawella
Dalawella is perfectly situated to visit on a day trip from Galle if you are staying there but if you would prefer to be located on a beach, Dalawella has a few accommodation options.
Budget: we recommend Rockside Cabanas. They have cute beach side cabanas but the family rooms are in the main building.
Luxury: we recommend On the Rocks. You can't beat this for location as you have direct access to the most family-friendly beach in Sri Lanka and you have a pool.
Mirissa beach
Mirissa is in here because it's a huge favourite with families. The gently sloping beach makes the waves manageable, although a little rougher than Dalawella. At each end of the beach are rocks, making it good for rock pooling/snorkelling, but be careful of urchins! Surfers head to the right side of the beach (as you're looking out to sea). It's fun to watch them, especially at sunset with a beer. The centre of the beach is best for swimming.
Some of the best seafood we had was in Mirissa. Enormous prawns, lobster, crab, calamari and white fish. It is quite busy these days but still worth visiting.
Accommodation in Mirissa
There are lots of accommodation options to suit every budget.
Budget : Pinki Mirissa for great location and a clean but simple room family room in a friendly house.
Mid / Lux:  Your Dream Home is a lovely villa set back a little from the beach but you have the whole place to yourselves and it's only a 7 minute walk to the beach.
If you want something a little more luxurious and near the beach and don't mind not being in the centre of Mirissa, then head out about 2 km west from Mirissa  and you'll find Imagine Villa with a gorgeous pool and family rooms with 2 double beds or Sri Sharavi Beach Villas for ultimate luxury.
Tallala beach
If you're looking for a quiet beach with a long 2km stretch of golden sand and small surf for the kids to play in, then Talalla may be the one for you. It's about an hour South along the coast from Galle, close to Tangalle – another popular beach on the South coast. There are a few accommodation and eating options but it remains pretty unspoiled and relatively undiscovered.
There's plenty of space for the kids to run around, kicking sand merrily as they go. Warning – the beach is a little sloped and so you still need to watch the kids.
Accommodation in Talalla Beach
There are more limited accommodation options in Talalla.
Budget: Sea Breeze Inn  a 2 bedroom apartment set 100m back from the beach. Clean but simple with friendly host.
Mid:  Talalla Freedom Resort is a lovely, simple guest house with a 2 bedroom bungalow and a pool. Great location set only 100 m from the beach.
Hiriketiya beach
Hiriketiya beach is situated in a natural bay which protects the beach from the large crashing waves. As with so many Sri Lankan beaches, it's lined with palm trees and has turquoise waters. Along to the east end of the beach you can watch surfers which our boys loved. There are a few good places to eat, although it is touristy and so pricier than other places. Same goes for accommodation, but there is a mix to suit all budgets. It also can get very crowded as it's a relatively narrow strip of sand.
Accommodation in Hiriketiya
There isn't a huge selection of accommodation in Hiriketiya but this is part of the appeal.
Budget: Click Hiriketiya is closer to Dickwella than Hiriketiya but the accommodation is perfect for families. The bungalows are clean, spacious and minimal.
Mid: Sandy's Villa Hirikeitya is set back from Hiriketiya Beach closer to Dickwella but it has a lovely family room and a pool
Luxury: The Lookout is a super luxury villa, probably a little big for the average family but if you feel like splashing out, this is the place. It's located on Dickwella beach but is only 500m from Hiriketiya.
Best family beach in Sri Lanka for surfing
Weligama beach
Slightly west of Mirissa, Weligama (which translates as sandy village) is a small town with a large sandy beach. The beach is a 'working beach' and in constant use by fishermen and whale tour companies.
Weligama is a great place for beginner surfers. The beach gently slopes and the waves are small and consistent. It's also not too bad for swimming.  You can see the iconic stilt fishermen here, although these days they are not necessarily authentic and may just be out there posing for photos (and asking for a fee).
You will also see the much-photographed Taprobane Island which lies about 50 meters or so from the shore.
Accommodation in Weligama
There are plenty of accommodation options in Weligama. If you're looking for somewhere right by the beach at the higher end of the budget, we recommend checking out Elephant Stables. It's a pretty small boutique hotel with direct access to the beach and a lovely pool area. Family rooms have a large double bunk beds and the breakfast is outstanding.
At the lower end of the budget, Grand Nest Bay Resort is a 3 bedroom villa set just back from the beach with a garden. It is clean and simple with lots of space for the kids to run around.
Find these family-friendly Sri Lankan beaches on the map below:
For the best selection of accommodation options, search here on Booking.com.


If you found this post helpful, why not bookmark it, share it with friends or pin it for later?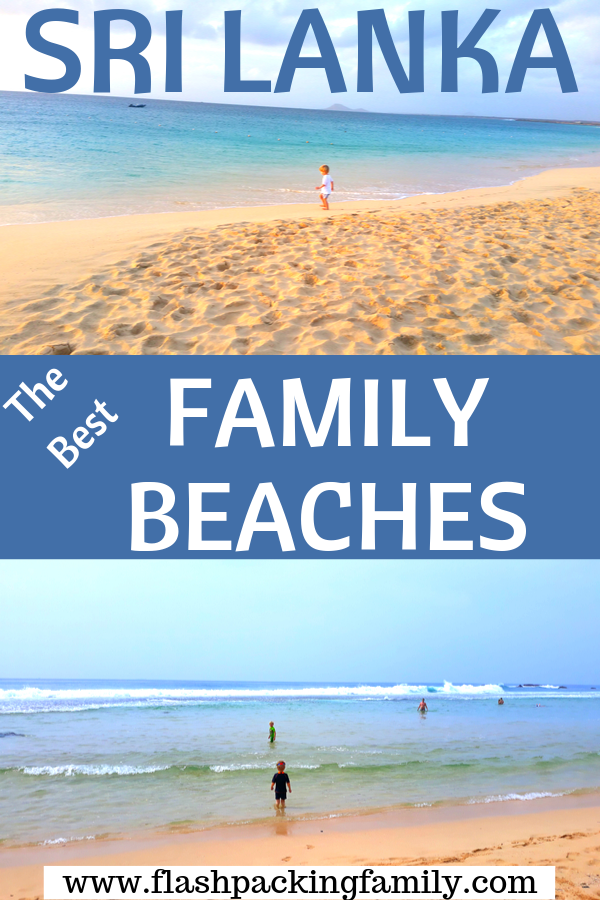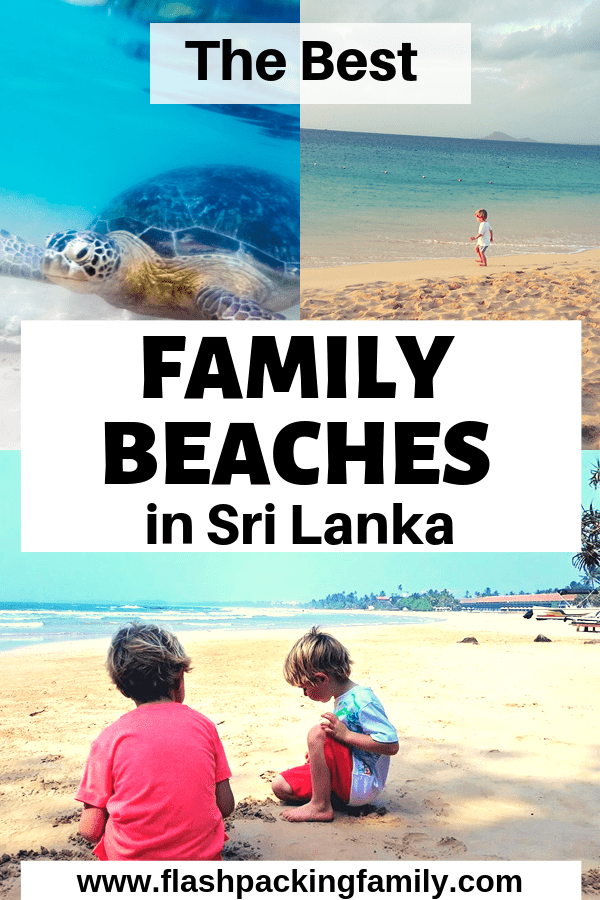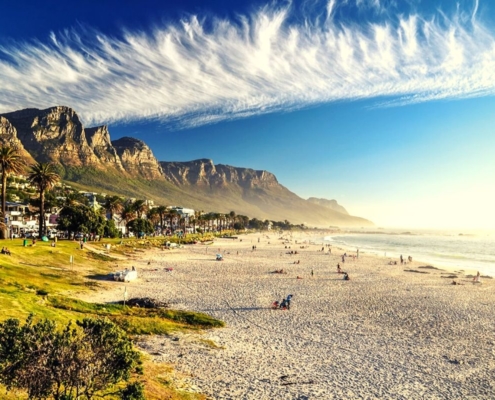 https://flashpackingfamily.com/wp-content/uploads/2019/12/Camps-Bay.jpg
800
1200
Jacs
https://flashpackingfamily.com/wp-content/uploads/2019/02/white-logo-300x150.png
Jacs
2019-12-27 15:15:36
2020-03-30 21:21:44
The 10 Best Family Holiday Destinations for 2020
https://flashpackingfamily.com/wp-content/uploads/2019/12/Nine-Arch-Bridge-Ella.jpg
800
1200
Jacs
https://flashpackingfamily.com/wp-content/uploads/2019/02/white-logo-300x150.png
Jacs
2019-12-11 15:20:58
2020-01-10 21:22:49
The Best Family Accommodation in Sri Lanka to Suit all Budgets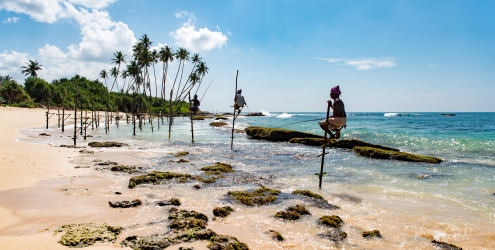 https://flashpackingfamily.com/wp-content/uploads/2019/04/daniel-klein-573630-unsplash.jpg
4912
7360
Jacs
https://flashpackingfamily.com/wp-content/uploads/2019/02/white-logo-300x150.png
Jacs
2019-03-21 05:15:29
2020-02-13 12:24:53
The perfect 14-day itinerary for your family-friendly Sri Lanka holidays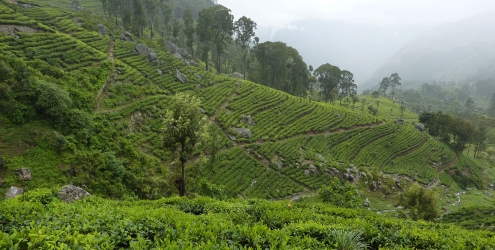 https://flashpackingfamily.com/wp-content/uploads/2019/02/tea-plantations.jpg
1732
2309
Jacs
https://flashpackingfamily.com/wp-content/uploads/2019/02/white-logo-300x150.png
Jacs
2019-03-14 05:58:07
2020-01-08 14:58:34
Tea Tasting & Tea Estates in Sri Lanka's Hill Country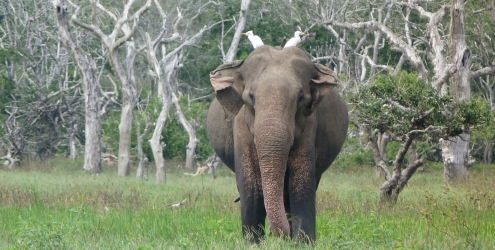 https://flashpackingfamily.com/wp-content/uploads/2019/02/egret-on-elephant.jpg
1732
2309
Jacs
https://flashpackingfamily.com/wp-content/uploads/2019/02/white-logo-300x150.png
Jacs
2019-03-11 19:58:03
2019-12-17 09:51:56
All you need to know about a Yala National Park safari with kids
https://flashpackingfamily.com/wp-content/uploads/2019/02/Bentota.jpg
1732
2309
Jacs
https://flashpackingfamily.com/wp-content/uploads/2019/02/white-logo-300x150.png
Jacs
2019-03-07 13:38:35
2019-12-10 17:43:23
Best family friendly beaches of southern Sri Lanka