Why Levi Ski Resort Is The Perfect Family Ski Destination
If you're looking for the perfect family ski resort in Europe, you absolutely cannot beat Levi Ski Resort!
Not only does it have amazing skiing for families, it is also the home of Father Christmas and one of the best places to see Santa in the world. You can't really top that if you are looking for a family ski holiday – especially at Christmas.
We love that the skiing in Levi with kids is relatively easy with the odd very challenging run thrown in. We love that the ski slopes are virtually empty so it is easy to keep tabs on the kids. We love that the town of Levi is small and easy to navigate.
Our first ever family ski trip was to Zakopane Ski Resort in Poland which was great because it was super cheap. But we felt that we needed more of a challenge this time and skiing in Levi Finland seemed like a great option.
Here are our thoughts on a family ski holiday in Levi. We hope that you will find it helpful and inspire you to visit because it really is an amazing place!
Before you go – make sure to check out our guide on what to pack for Lapland and our recommendations on the best family-friendly activities in Levi!
This post contains affiliate links. If you click on one and buy something, we may earn a small commission but this is at no extra cost to you.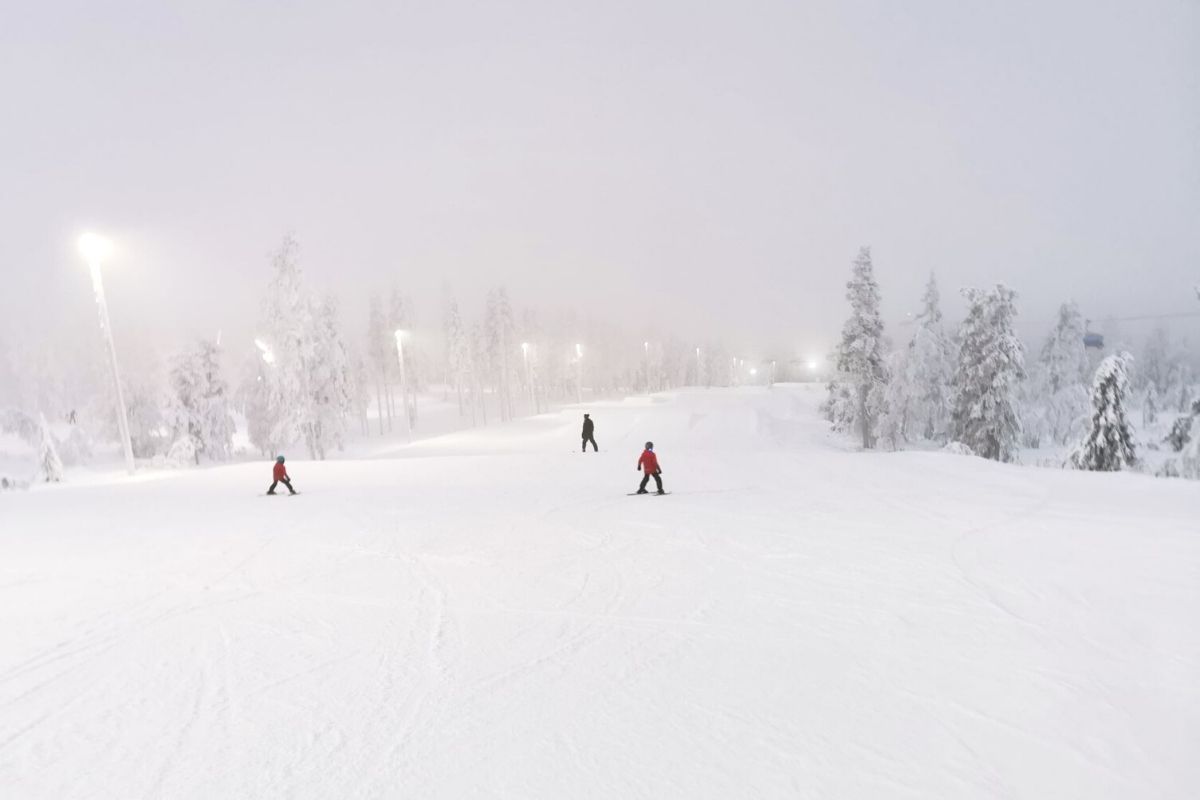 Where is Levi Ski Resort?
The town of Levi is located in northern Finland. It is in Finnish Lapland and is well and truly in the Arctic Circle.
It lies 15km from Kittila Airport which you can reach on direct flights from the UK with TUI  or indirect flights via Helsinki with Finnair.
You can also check other routes on Skyscanner.
When is the best time to visit Levi Ski Resort?
The best time to visit Levi really depends on whether or not you want to have the pre-Christmas Santa visit or not.
The run up to Christmas is peak season in Levi and the hotels (and flights) will be at their most expensive. If you feel that you don't absolutely need to go in December, then visiting Levi Ski Resort in January and February will be much cheaper.
You will also get more daylight hours (if skiing in the dark is not appealing to you)!
There is usually more snow in January and February in Levi, but being so far north, you shouldn't have a problem with lack of snow in December.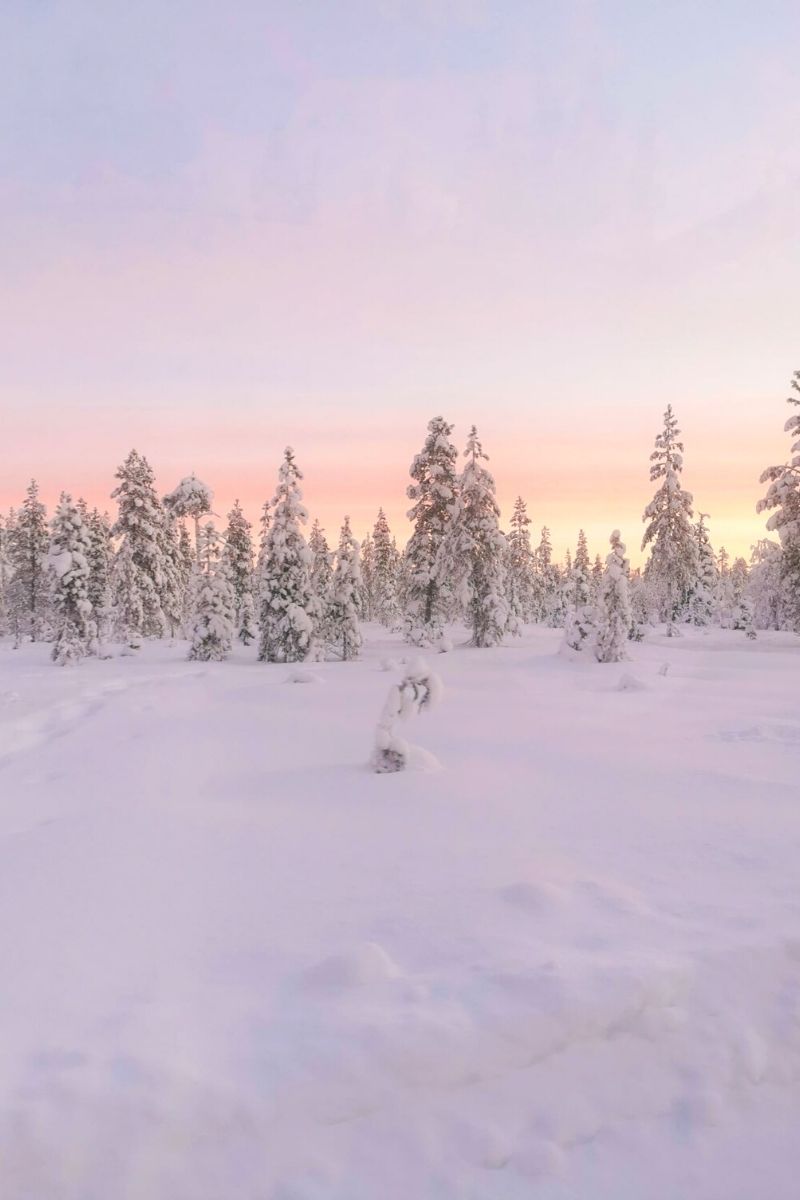 How to book Levi Finland skiing holidays
There are a few options open to you for booking your family ski holiday to Levi. You can book everything independently (read our guide on how to book a DIY Lapland trip) or you can book a ski package holiday through Inghams or Crystal Ski.
We don't have experience of booking through one of the companies mentioned above but what we do know is that booking our holiday ourselves saved us a lot of money!
Levi Ski passes
There are enough runs in Levi and the surrounding area to keep you occupied for a week. Bear in mind that you may want to take some time off to do some of the traditional Lapland activities too. See more on that below.
We think the ski passes are great value compared to other ski resorts in Europe, especially if you consider that you hardly ever have to queue to use the ski lifts.
All of the ski lift passes can be found here. You can purchase the pass online before you go and then pop into Zero Point ticket office, pick up your electronic keycard and have the pass loaded onto it.
A 4 day lift pass for an adult is EUR 157 and EUR 92.50 for children 6 – 11 years old.
Ski lessons in Levi
If you or your kids have never been skiing before, Levi has a great ski school.
You can book private lessons for the family, just for the kids, group lessons, snowboard lessons and a type of ski holiday club that lasts all day.
All of the information on Levi ski lessons can be found on their website. If you have any questions, you can email the ski school and they are very responsive (in English). Their email address is: ski.info@levi.fi.
Because our kids had skied before, we booked a 90 minute private lesson as a refresher. We didn't want to book a whole 3 day course. Their instructor spoke excellent English.
It cost EUR 90 for one plus an additional EUR 35 for an additional child for a private lesson. This is on a par with or cheaper than other European ski resorts.
If you can't find what you need on their website, you can also try Elan Ski (see below information on ski hire).
Ski hire in Levi
There are a number of ski hire shops in Levi. For convenience, you may want to head to InterSport at Zero Point but if you don't mind walking an extra 100m, we highly recommend Elan Ski Shop & Rental.
Their prices were the best in Levi and we also received a 15% discount on our hire which we found in the Levi Tourist Board brochure (ask in the Tourist Office if they are still doing this).
The staff in the shop were really friendly and helpful.
Our ski hire with helmets for a family of 4 for 4 days came to just over EUR 300. You can check their ski hire prices here.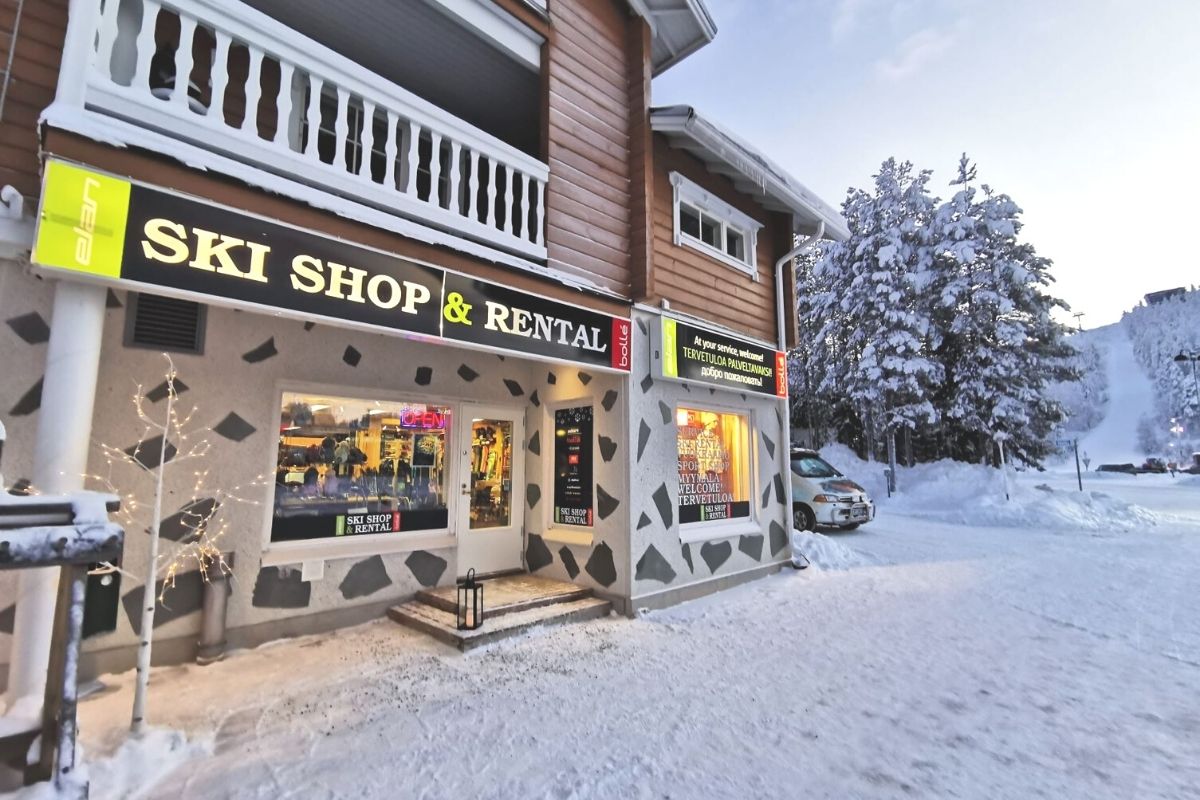 Ski slopes in Levi
We are by no means expert skiers so the ratio of green/blue and red runs to black runs in Levi Ski Resort suited us perfectly. In fact, we took a wrong turn one day and came across one of the black runs and it was like nothing I have ever seen. So if you are an advanced skier, you will be able to challenge yourself here.
There are 43 ski slopes and 27 ski lifts in Levi Ski Resort. Levi is the largest ski resort in Finland.
You can just about make out from the slope map below how many runs there are but you can find more information on the Levi Ski website.
The best beginner slopes in our opinion are at South Point. You can get there by taking the ski bus (which departs from Zero Point) and takes around 15 minutes.
If you have a ski pass, you can buy a daily bus pass for EUR 3. If you just buy your ticket on the bus, it is EUR 4 per journey. Children under 6 travel free with their parents.
You can find more information on the ski bus here.
There is also a fun 1km long terrain park (Junior South Park).  After a couple of days of skiing, our kids tried this out and loved it.
It is brilliant because there is hardly anyone around and you can go at your own pace.
Having skied in Austria, Switzerland, France, the US and Canada where the slopes can get really busy – we were utterly blown away by how quiet the Levi slopes were.
Most people are just coming to see Santa and may do some taster ski sessions which means that you can have the slopes to yourself even in peak season. If that's not a reason to ski in Lapland, we don't know what is!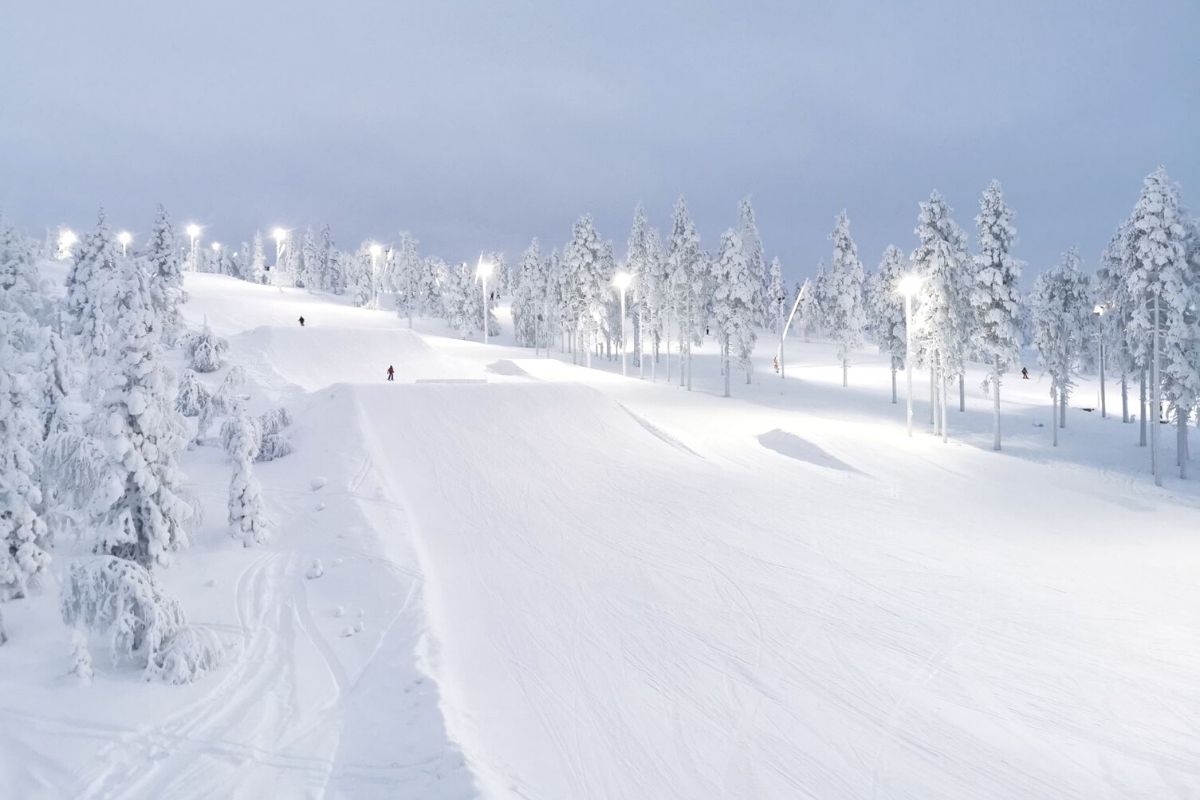 Tips for skiing in Levi, Finland with kids
During the winter months, daylight hours in Finland are short. In December and for a couple of weeks there is something called the Polar Night which is when you have close to zero daylight.
During this time, you will also see some magical colours as the sky turns from deep purple to a cotton candy pink! It is just incredible.
We were there during this time and found visibility on the slopes could be poor. One tip we would give is to take some kind of light and attach it to the kids to make them more visible.
We bought these lights that clipped onto the back of their helmet. You can just see them in the photo below. They really helped on the days when visibility was poor or light was low. We even did night skiing – at 4pm! Bright ski gear is also a good idea.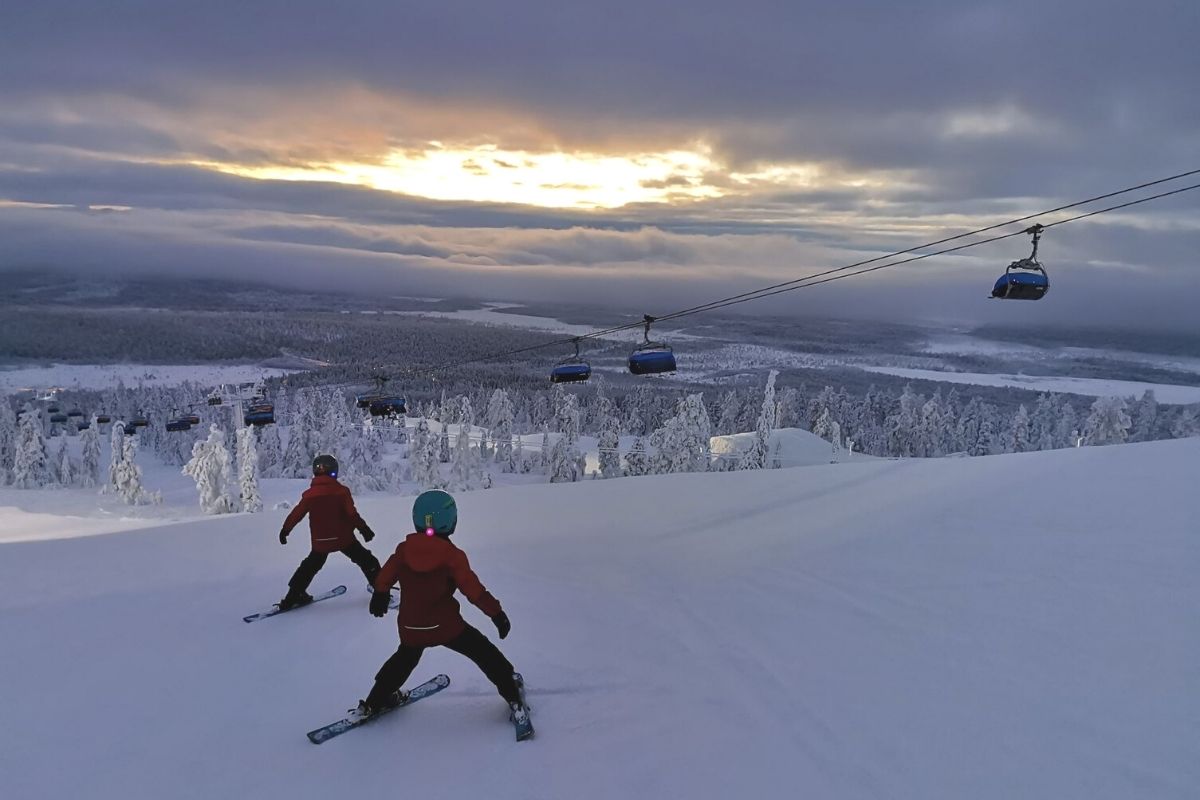 Although some of the hotels have drying facilities in the rooms (check if yours does because it was amazing in the Hotel Levi Panorama!) – it can be a good idea to take another jacket with you.
Our kids jackets got quite wet during a day of skiing. They were waterproof but snow got into the sleeves and down their necks. We took a mountain warehouse water resistant padded jacket that was really lightweight and packed down really small.
On really cold days it even went under the main ski jacket. We were grateful to alternate wearing these in the evenings when we went out.
These jackets then got wet when they inevitably wanted to play in the snow so they would go in the dryer and the ski jackets were lovely and dry for the next day. And repeat!
Here is the Mountain Warehouse jacket.
It can get very cold in Lapland. There was only one day when we thought we should have used hand warmers but the rest of the time they were happy with two pairs of gloves.
We used these magic gloves and then these Trespass waterproof mittens over the top. Mittens are always warmer than actual gloves.
While we're on the subject of what to wear in Lapland, we bought some of these Sorel snow boots for kids from Amazon as they were much cheaper than on the Sorel website.
They were the absolute best thing we bought for the trip as they stayed dry inside despite numerous snow angels being made and wading through deep snow.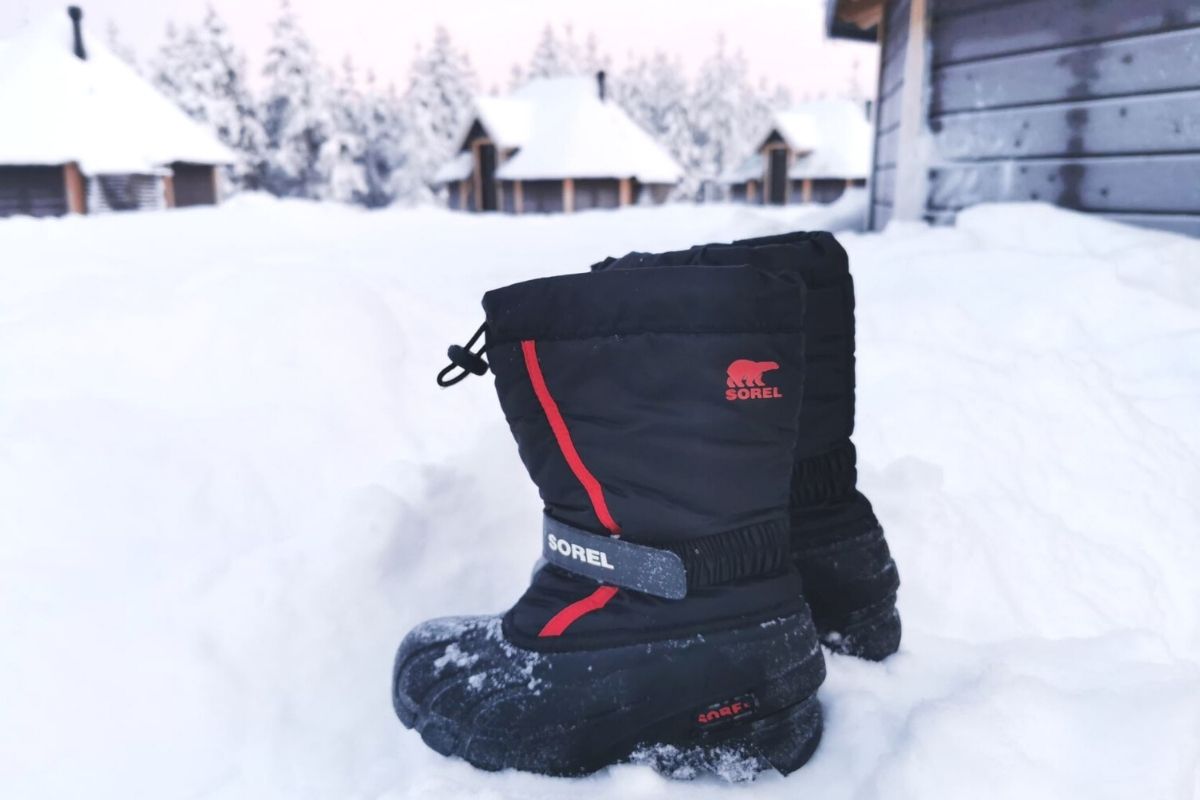 Lapland activities for kids
You can't really come to Lapland and not try out some of the other winter activities. The main ones we would suggest trying with the kids are snowmobiling, husky rides, reindeer rides and, of course, a Santa visit.
You can find all of the activities you could possibly want on GetYourGuide and most, if not all, have free cancellation policy up to 24 hours in advance of the activity.
3.5 hour Northern Lights hunting in a heated sledge (meet at Zero Point).
Family snowmobile excursion (includes hotel pick up and drop off).
2 – 2.5 hour private husky sledding (meet at Zero Point).
3 hour Snowmobile with ice fishing (hotel pick up included).
3 hour family reindeer tour with reindeer ride (pick up at hotel included – also include mini snowmobiles for kids and a 2km husky ride).
Day trip to Santa Claus Village in Rovaniemi (pick up at hotel included).
In addition to these paid activities, there are lots of fun things to do for free in Levi. Our kids loved just playing in the snow.
They would also grab one of the free sledges you find lying around town and tow each other around. Just make sure not to take one that is clearly being used by someone still.
People have reported leaving their sledge outside the restaurant only to find it has been taken when they come out.
For great sledging, you can head up to Hotel Levi Panorama or to Kids' Land. Kids' Land is a great place to visit with the kids and you can take your own sausages to roast on the firepit there.
There is also a creche for kids from 2 – 10 years old if you want to get some time to yourselves to ski without the kids.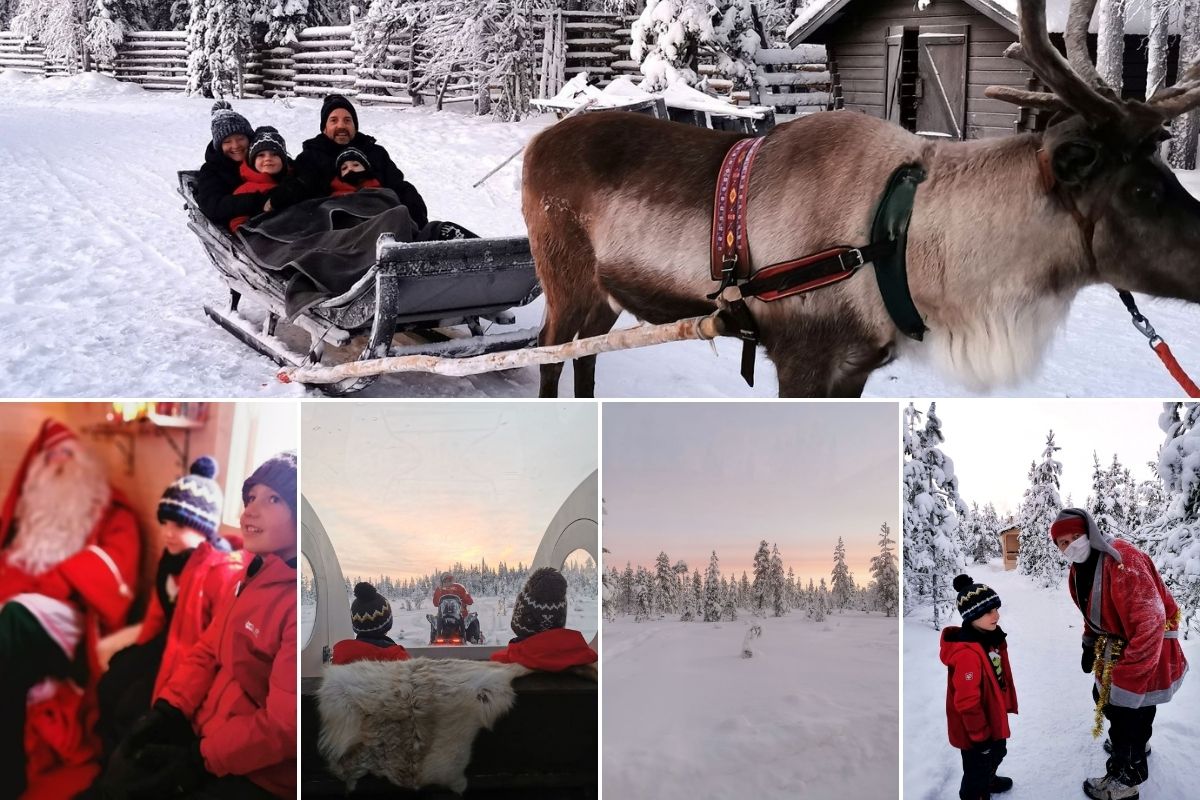 Hotels in Levi Finland for families
There are lots of lovely accommodation options in Levi but if you are there predominantly for the skiing, you really can't get better than the Hotel Levi Panorama.
It is a ski in / ski out hotel on the front slopes of Levi. You can read our review about the Hotel Panorama in Levi here.
Another option would be to book a self-catering chalet like this one which is very close to South Point, direct access to the slopes and includes 2 ski passes!
Other very popular hotels in Levi are:
Levi Hotel Spa – has free access to the spa for guests and soft play for the kids.
Hotel K5 – reindeer behind the hotel which you can go and feed.
Golden Crown – Levin Iglut – a glass igloo on the slopes.
We also stayed at the Levi Northern Lights Village where we did all of our activities but it is a little way out of Levi.
Family-friendly restaurants in Levi
For a town the size of Levi, there are a decent number of restaurants and they're all within easy walking distance of each other.
Our favourite Levi restaurants to visit with the kids were:
Koti Pizza – no frills fast-food type restaurant for the most enormous pizzas you've ever seen!
Ristorante Renna – Italian restaurant with lovely pasta and pizza options.
Stefan's Steakhouse – high quality steaks but quite pricey.
Pannukakkutalo – pancake house serving sweet and savoury pancakes at reasonable prices.
Also, do checkout Campfire Barista who is located in the Christmas Market at Zero Point. He serves the best coffee and you can buy snacks there to roast on his fire.
There are also restaurants on the slopes Horizont and Restaurant Tuikku were good options.