Family-friendly wine tasting in South Africa
OK, we realise that this activity may sound a little irresponsible on the face of it – but we promise, it is a genuinely fun thing to do with kids while visiting South Africa.
How many times have your kids wanted to have a sip of what you are drinking? Our kids were very keen to have a go at a wine tasting themselves, so we set off to find the most family-friendly wine estates.
DISCLAIMER: the kids aren't actually tasting real wine! Thought I'd point that out early on. The 'wine' is actually grape juice – but they don't know that and it makes them feel very grown up to drink out of a proper glass, especially when you treat it like a real tasting and ask them for their opinion on it – hilarious!
See? Promised it would be fun – and I would even go as far as to say educational.
The wine regions of South Africa are some of the most scenic areas in the whole country and are worth a visit just for that reason. Stellenbosch and Franschoek in particular stand out with the soaring peaks, rows and rows of vines, white Cape Dutch buildings – all of this under the deep blue African skies. If you are based in Cape Town, it is less than an hour to Stellenbosch or Franschoek – or you could easily incorporate it into your itinerary if you are doing the popular 'Garden Route'.
If you are a wine buff (or simply enjoy drinking a glass of wine!), you will no doubt want to head there to sample some of the country's very fine wines. The fact that most of the wine estates have much more on offer than just 'wine tasting' though, means that the whole family can enjoy it.
Many of the South African wine estates have realised that more and more families are travelling these days and have ensured that a visit to their winery is family friendly by having play areas for the kids and kids menus at their restaurants. A few examples of family friendly wine farms that we have visited are listed below, but most wine estates (apart from the very traditional) will have something for the kids.
If you are going to make a day of it, why not incorporate a family friendly picnic lunch into your agenda? Another thing the wine estates do really (and I mean really) well, is their picnic lunch – unique to each estate. They will use fresh, local, artisanal produce and can be complimented by a bottle of one of their many wines.
We recommend these wine estates for family friendly wine tastings because they offer the option of a glass of grape juice for the kids :
Fairview –  is actually a vineyard and goat farm so you get the opportunity to have a selection of 6 cow and goats milk cheeses with your wine tasting here.
Van Loeveren – quite commercial but well set up for kid's wine tasting. They also have a lovely garden for the kids to explore.
Spier – all round great for kids with their indoor and outdoor play areas and activities such as their Eagle Encounter.
In addition to searching out the family friendly wine estates, we have also been to a few of the more traditional vineyards for some straight forward wine tasting. Something you might want to consider with all this wine tasting is who will be the designated driver and if nobody wants to, then you can arrange a tour – or spit!
Here is a list of some of the famous but more traditional wine estates in South Africa. We have visited them all on various trips to South Africa with and without the kids and really enjoy their wines. Please note there is a charge for wine tasting in most wine estates these days.
Tip
It is always worth asking locals where they think is worth a visit. We got chatting to the owner of our accommodation in Paarl and he suggested we try a small vineyard called Bon Courage in the Robertson Valley wine region. The whole experience felt similar to the way it used to be when I first visited South Africa 19 years ago. The bottles are bought out to you and you can sample at your leisure. We sampled a few different wines while the boys had some lunch.
We had the place completely to ourselves except for their little dog who hung around to play with the boys. Unlike many of the larger wine estates above, the wine tasting was free. We really enjoyed their wines and bought a few bottles to enjoy during the rest of the trip.
If you have any questions about family friendly wine tasting, please do get in touch.
Cheers!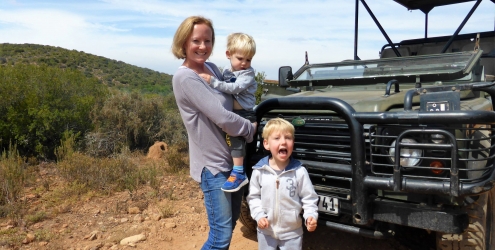 https://flashpackingfamily.com/wp-content/uploads/2019/03/safari-1.jpg
1732
2309
Jacs
https://flashpackingfamily.com/wp-content/uploads/2019/02/white-logo-300x150.png
Jacs
2019-03-22 14:00:23
2019-09-29 13:37:45
South Africa's best family-friendly safari options
https://flashpackingfamily.com/wp-content/uploads/2019/03/camps-bay.jpg
1500
2666
Jacs
https://flashpackingfamily.com/wp-content/uploads/2019/02/white-logo-300x150.png
Jacs
2019-03-20 20:49:34
2019-09-29 13:38:01
Top family-friendly activities in South Africa