The Best London Attractions For Kids In 2023
Maybe we are biased because we are from London but one of the things that makes it one of the best cities in the world for families is the fantastic choice of London attractions for kids.
There is a good mix of free attractions in London for kids and paid for attractions. This means that you can easily tailor your London visit to suit your budget.
Our guide to the best London attractions for kids aims to help you get the most out of your visit to London.
We've sorted out these London attractions for families into PAID FOR attractions and FREE attractions to make it easier for you. We've highlighted the attractions that our kids have loved the best over the years.
This post contains affiliate links. If you click on one and book or buy something, we may earn a small commission but this is at no extra cost to you.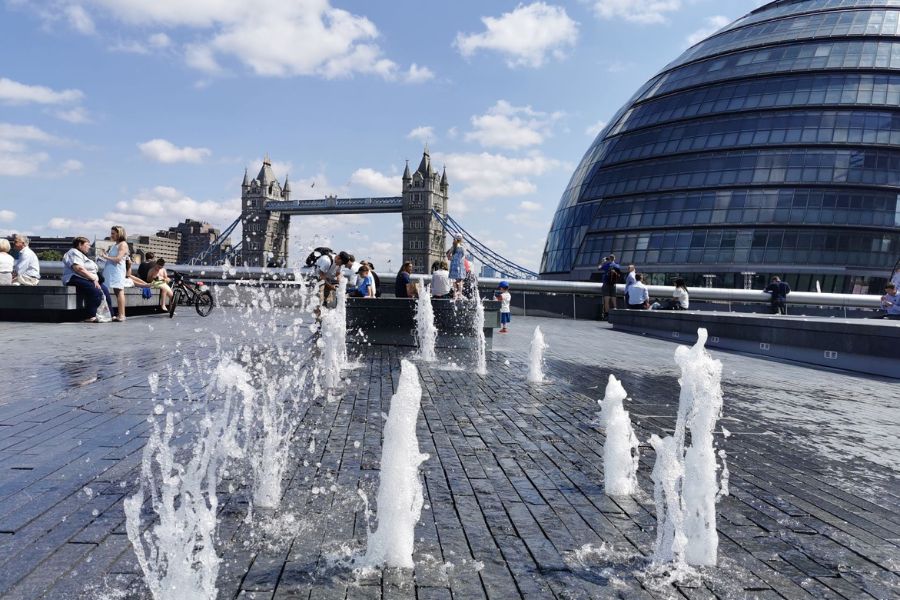 Money saving tips for visiting London with kids…
London Explorer Pass
To save money visiting London attractions with kids, take a look at the London Explorer Pass. It includes a large number of top London attractions. Add 2,3,4,5,6 or 7 attractions and make huge savings. See how it all works here.
Big City Saver
Similar to this is the Big City Saver which is a new pass created for the Merlin attractions (London Eye, Shrek's Adventure, Madame Tussauds, London Dungeons and SEA LIFE).
For meal times, here are our favourite family-friendly restaurants in London and places where kids eat free in London. To make meal times fun, take London themed colouring kits or another child friendly activity. We bring a card game like London Top Trumps or a London colouring book and pens.. We also love these kids' travel guides to London, a London sticker book and things to spot in London book.
For things to do in London with kids, check out our guide to all the free activities in London for families and some London hidden gems, including our favourite London splash parks. We have also recently discovered these London TreasureMapTrails. They are a really fun way to sightsee with kids and are great value. You can also get 10% off with code: FLASHPACKING.
Also check out these family events Fever are running. We love the look of their Jurassic World immersive experience and Dopamineland is really cool!
When booking your London accommodation, make sure to check our recommendations on:
Best London hotels for families for every budget.
Best hotels in London with pools for families.
Best Premier Inn hotels in London for families.
For exploring outside London, we have posts on day trips you can take by train from London and days out for families from London.
For anything else, see all of our London guides here.
Our favourite PAID London attractions for kids
For the best family days out in London, we recommend the following London attractions for kids..
Tower of London
The Tower of London is one of the most iconic landmarks in London and is one of our favourite attractions to visit in London with kids.
We hadn't been since we were kids ourselves. You don't tend to visit tourist attractions in your own city. But when the kids were old enough, we decided to take them to the one of the most visited tourist attractions in London.
They absolutely loved it. They were mesmerized by the Crown Jewels.
Our tips for visiting the Tower of London with kids would be to go early when it opens and head straight for the Crown Jewels.
They also loved the Yeomans tour. The tour is free and is highly entertaining. There was also an interactive room in the White Tower which was perfect for kids.
Read our full review of visiting the Tower of London with kids.
You can buy your skip the line Tower of London tickets here or select it as one of your attractions with the London Explorer Pass.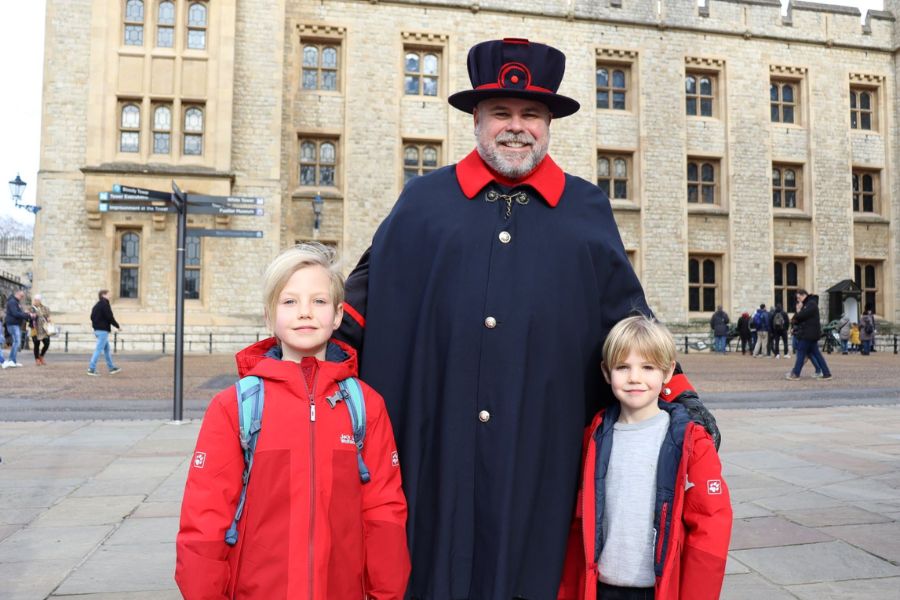 Tower Bridge
If you're going to be visiting the Tower of London, you might as well visit Tower Bridge too as it is right next door!
Did you know that you can climb Tower Bridge and walk over the top? We only found this out recently.
You can do a self-guided tour and learn about the history of Tower Bridge as you go.
The kids will particularly love the glass floor of Tower Bridge where you can watch boats and traffic passing 42 metres below.
We found this to be quite reasonable compared to other attractions in London for kids at around £19.00 for a family.
If you time your visit right, you can also watch Tower Bridge opening to let tall boats through.
You can buy your Tower Bridge tickets here or select it as one of your attractions with the London Explorer Pass.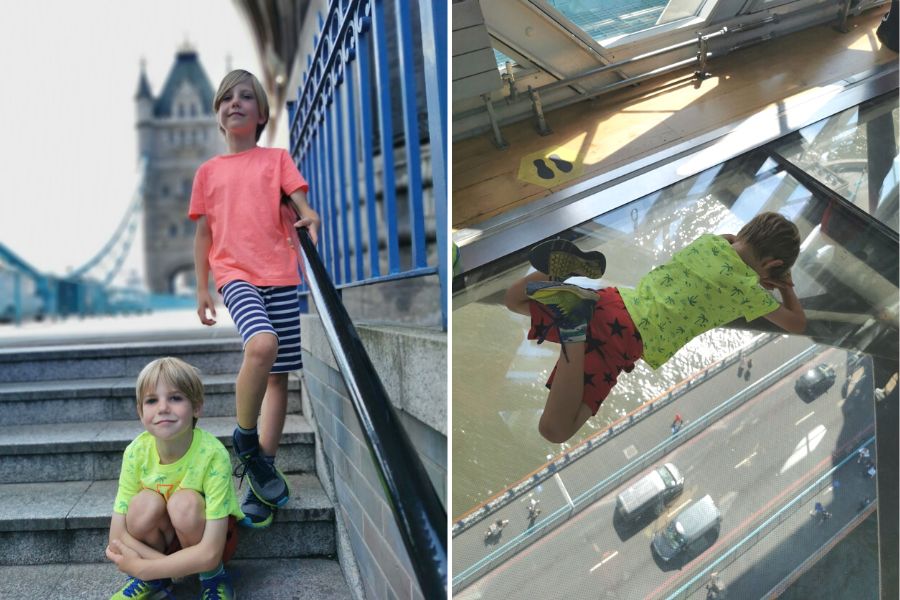 Globe Theatre
If you didn't enjoy learning about Shakespeare in school, you might not think that Shakespeare is fun for kids. But the people at the Shakespeare's Globe have managed to make it fun.
They offer workshops, storytelling and family-friendly tours. They are even teaming up with CBeebies this summer on a live production of Shakespeare's comedy – As You Like It.
You can check here to see what is going on at the Globe Theatre for families.
If you are visiting London with kids at Christmas, they usually have something lovely and festive going on.
See also – other Christmas shows in London:
Buy your tickets here or select it as one of your attractions with the London Explorer Pass.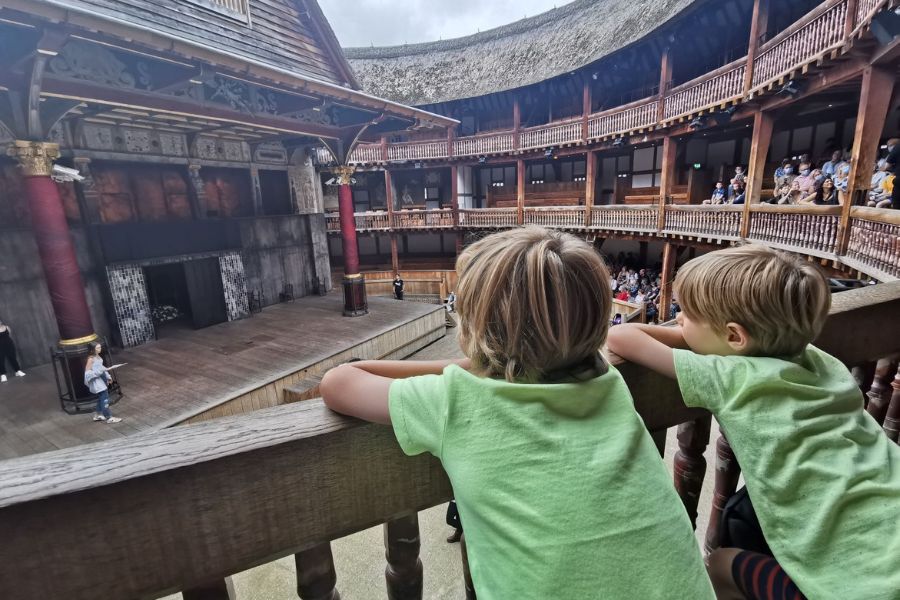 London Eye
We often get asked our opinion on visiting the London Eye with kids. Mostly we get asked whether it is worth it because it is not cheap for a 30 minute experience.
If you are not sure whether to visit the London Eye, you can read our thoughts on whether the London Eye is worth it.
In short, we thought it was worth it. While you can get great free views of London from various different places, it is a unique experience and the kids will love it.
If you have time, make sure to let the kids have a play on the free playground right next to the London Eye.
London Eye tips – buy the fast pass if you are pressed for time because the queues can get big!
Also, try to buy your tickets in advance to make it a bit cheaper. If you are planning on visiting any of the other Merlin attractions listed below, you should also look into the combination tickets and the Big City Saver. This will save you money.
The London Eye website below lists all of the ticket prices and combo deals.
You can find out more and buy London Eye tickets here.
Waterloo is a great place to base yourself for exploring London. See also our guide for things to do near Waterloo with kids.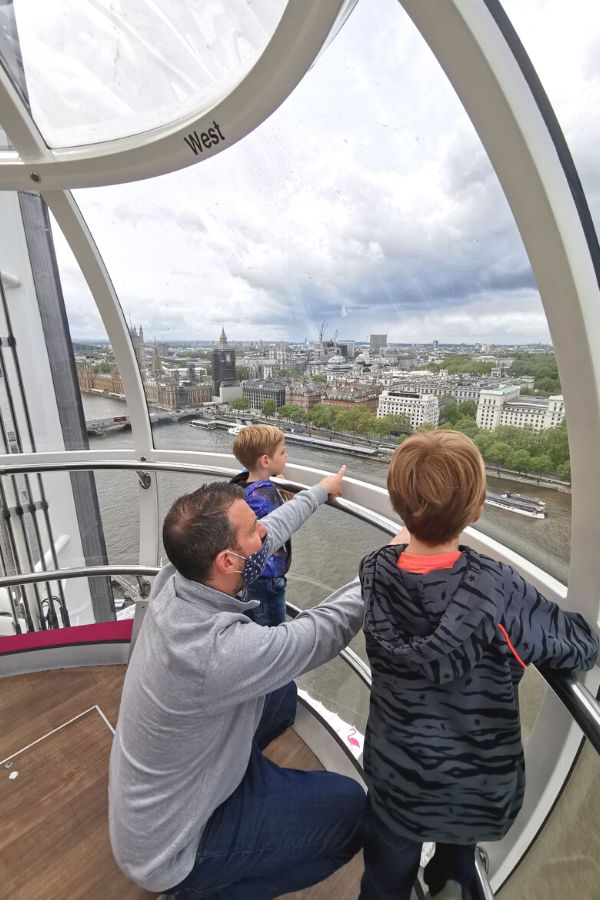 The Shard
Sticking with the theme of London views, The Shard is another great option for getting the best views of London. It has the highest viewing platform in Western Europe –  on the 72nd floor!
If you are feeling like splashing out on a treat, we recommend checking out the Peter Pan afternoon tea for kids at the Shard.
If you don't want to try this one, we have a list of other family-friendly afternoon teas in London. Themed afternoon teas are one of our favourite things to do in London with kids.
If you aren't keen on the idea of the Shard (or the ticket price), we can highly recommend visiting the Sky Garden. It is free to visit but you need to book a ticket.
You can buy Shard entry tickets here or select it as one of your attractions with the London Explorer Pass.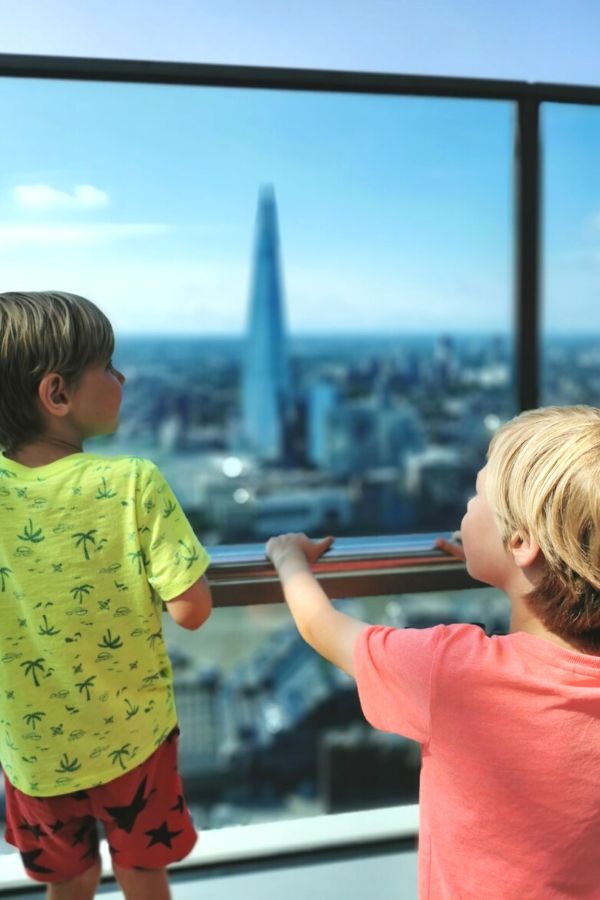 Shrek's Adventure
Shrek's Adventure is a Merlin attraction (remember the combo deal and the Big City Saver) based right next to the London Eye.
It is a fun interactive and immersive (think all five senses) experience that the whole family can enjoy and is top of a lot of people's attractions to visit with kids in London.
In the land of Far Far Away, there are fairytale themed live shows and Shrek characters to interact with. Along the way you need to collect special ingredients to find Shrek and make it home safely.
This is one of the most fun London attractions for kids – especially if they love Shrek!
You can find out more and buy Shrek's Adventure tickets here and read our Shrek's Adventure review here.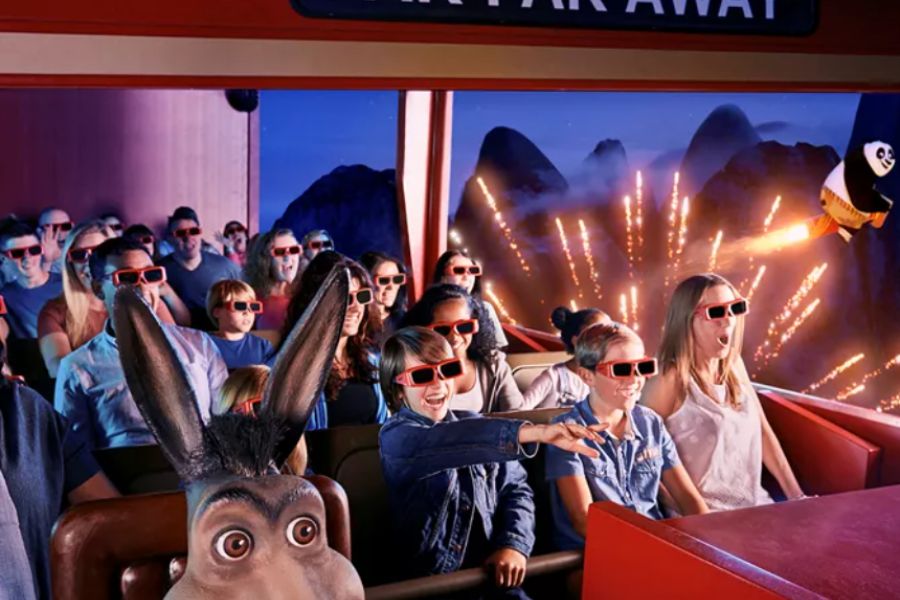 Madame Tussauds
Madame Tussauds is another Merlin attraction (remember the combo deal and the Big City Saver) and has been a firm favourite among the family attractions in London for many years.
I remember visiting 35 years ago long before the era of the selfie!
If you haven't visited for a long time, you will be pleased to know that the wax figures are much more life like these days.
These days there are over 150 famous figures. You are encouraged to get up close and personal with them for the ultimate Madame Tussauds selfie.
They are so realistic that you might be able to fool your friends.
They also offer immersive experiences like the Marvel Universe 4D experience and scenes from your favourite films.
See here for our full Madame Tussauds London review.
You can find out more and buy Madame Tussauds tickets here.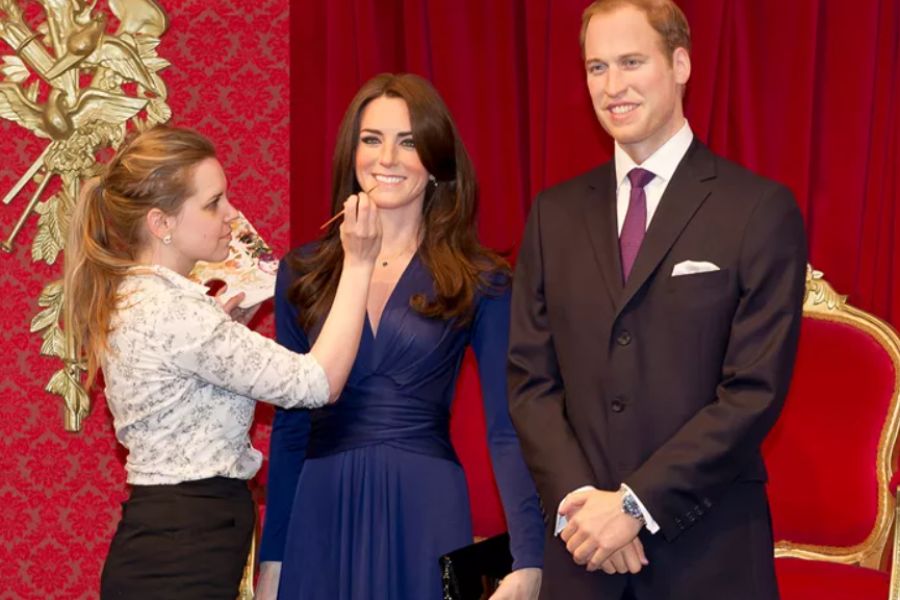 London Dungeons
The London Dungeons are a Merlin attraction (remember the combo deal and the Big City Saver) where you can find out about the darker side of London through the ages.
1000 years of London history is retold with all the gruesome and gory details!
Throw in some special effects and underground rides and you have one of the most thrilling experiences for families in London.
There are interactive shows with live actors who are sure to give you a fright.
Maybe categorise this one as one of the attractions to see in London with kids who are slightly older! Find out why the London Dungeons are not really suitable for younger kids.
If you're looking for something scary to do this October half term in London, make sure to check out what's going on at the Merlin attractions at Halloween.
You can find out more and buy London Dungeons tickets here.
SEA LIFE
SEA LIFE is another Merlin attraction (remember the combo deal and the Big City Saver) where you can see ocean creatures up close in three different aquarium zones.
I'm going to go ahead and say that we don't usually like to see animals in captivity…BUT we know that SEA LIFE does great things for shark conservation and it is a very educational experience.
For this reason, it makes it onto the list of top attractions in London for kids.
We did visit the aquarium in Cape Town and list is as one of the top things to do with kids in Cape Town for the same reasons.
You can find out more and buy SEA LIFE tickets here.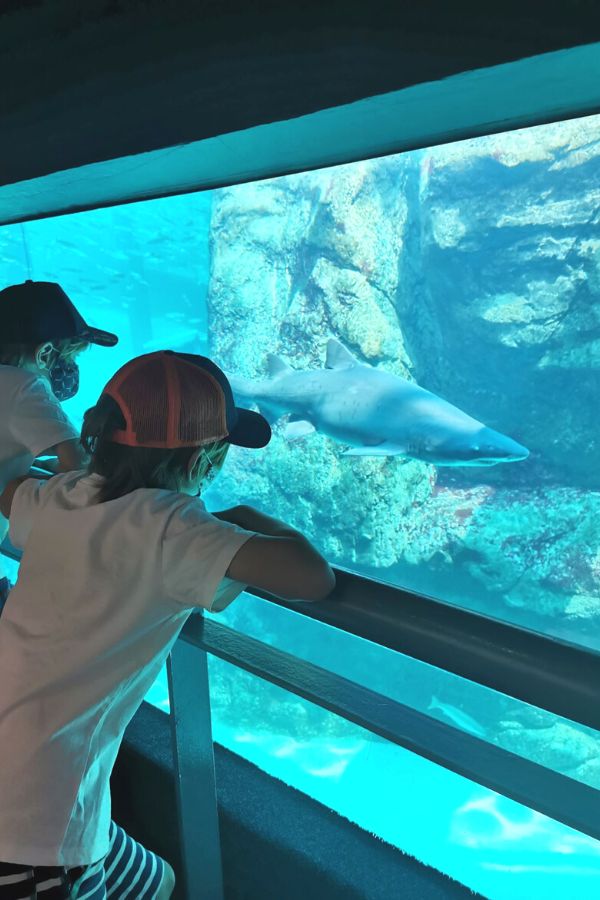 Buckingham Palace
Pussy cat, pussy cat, where have you been?
I've been to London to visit the Queen.
Pussy cat, pussy cat, what did you do there?
I frightened a little mouse under her chair.
Can your trip to London with kids be complete without a visit to Buckingham Palace?
There are lots of things to do with kids when you visit Buckingham Palace. See here for their list of family events.
There are interactive family tours and a Little Trekkers activity trail for under 5s.
If you get a warden to stamp your ticket, it will turn into an annual pass and you can get free entry for the next 12 months.
Also, if you time your visit right, you might catch the Changing of the Guard which takes place daily at 11am.
You can buy Buckingham Palace tickets here or small group Changing of the Guards walking tour here.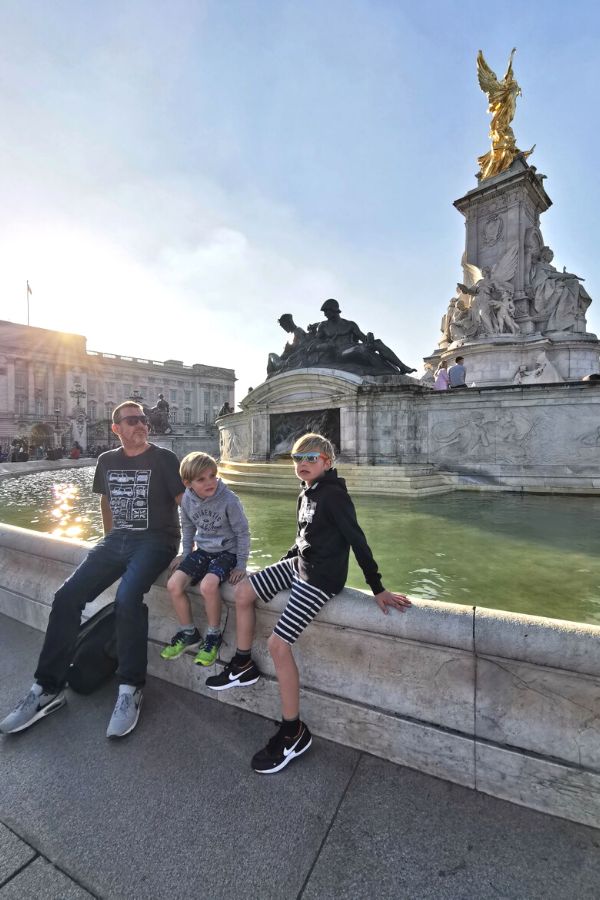 Royal Observatory
There is so much going on for kids in Greenwich and although it may seem like it is a long way from the centre of London, it is very easy to get to on the Docklands Light Railway.
The Royal Greenwich Museums include: The Cutty Sark, The Royal Observatory, The National Maritime Museum and The Queen's House.
The Royal Observatory is a must if your kids are into the stars and planets.
We loved the Night Sky presentation at the Planetarium.
While there, you can also stand on and cross the Prime Meridian (included in your Royal Observatory ticket).
Warning: it is a fair old climb to get to the Royal Observatory at it sits right on the top of a hill in Greenwich Park. This, however, means that the views of London are stunning!
You can buy your Royal Observatory tickets here.
If you are visiting with older kids, you might like to try out the very popular climb the O2 roof experience which is close by. Also – we recommend ice skating at the Queen's House if visiting London at Christmas.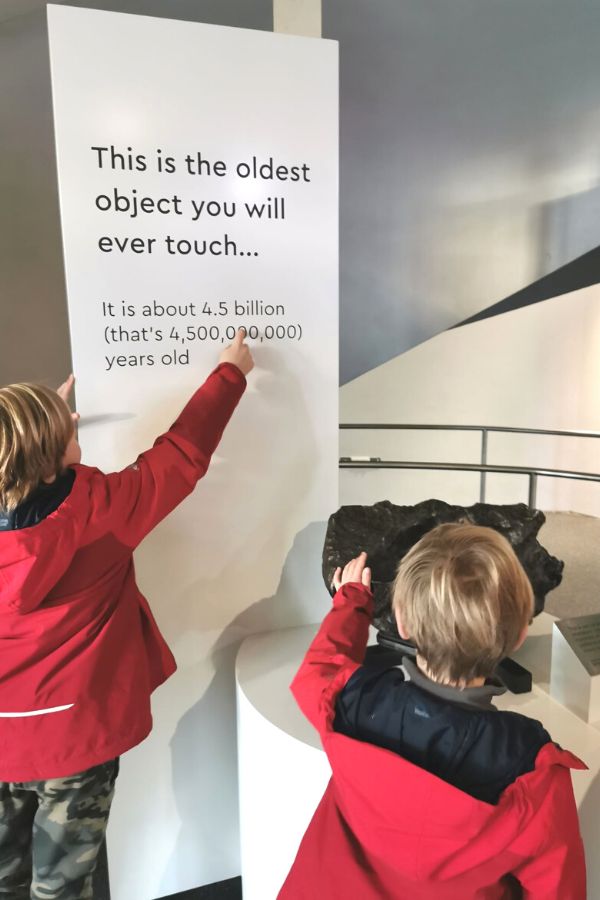 ZSL London Zoo
As we have already said above with SEA LIFE, we don't like to see animals in captivity but it is hard to leave out one of the biggest tourist attractions in London for kids.
Established in 1826, London Zoo is one of the oldest zoos in the world. It is also one of the most respected zoos in the world and is home to over 800 species.
London Zoo is about more than just the animals. During your visit you can learn about ZSL's initiatives around the world, how to pursue a career in zoology, conservation tips, and much more. It is one of the most interesting London experiences for kids who love animals.
If you are visiting at Christmas, they have a lovely Santa's Grotto which is one of the best places to meet Santa in London.
You can buy your London Zoo tickets here or buy an annual membership if you think you will visit more than once. or select it as one of your attractions with the London Explorer Pass.
Once you have your annual membership, you can also take day trips to Whipsnade Zoo which is included in your membership.
Whipsnade is home to elephants and rhinos and offers you more of a safari experience.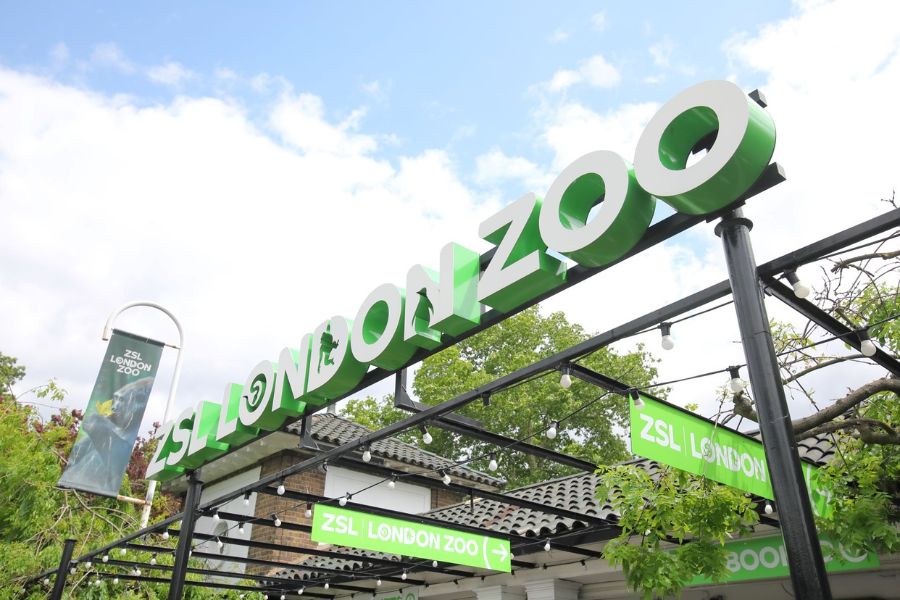 Our favourite FREE London attractions for kids
We have a dedicated post to the free experiences in London for kids but here are some of our favourite museums in London for families.
Remember that whilst they are free, a small donation is always welcome to help keep them open. Check on their individual websites but you may still need to book tickets, even if they are free to visit.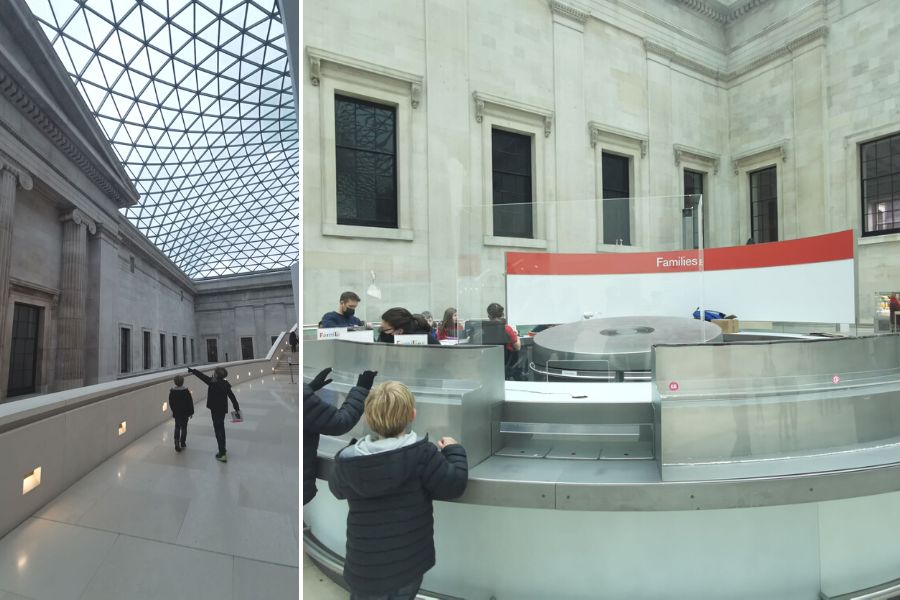 London parks and gardens
London is a concrete jungle but there are also lots of beautiful green spaces and are perfect places for families to go in London to explore and unwind.
Take a picnic if you want to save money on eating out in London. Our favourite parks in London are:
Hyde Park / Kensington Gardens – home to the fabulous Princess Diana Memorial Playground.
Coram's Fields – play area and a large splash pool in the summer months.
Victoria Park – oldest public park in London and a lovely green space in the East End of London.
Battersea Park – adventure playground and Battersea Park children's zoo.
Regents Park – home to London Zoo, beautiful flower gardens and open air theatre events in the summer.
Attractions near London for kids
Warner Bros Studios
Warner Bros Studios is a must for Harry Potter fans. It is perfect for a family day out from London and one of the best Harry Potter days out in the UK.
Tickets to the Warner Bros Studio Tour can sell out so if you can't get tickets on the day you want to visit, you could consider doing a tour from London. Here are a couple of options.
Bus transfer from London with Warner Bros Studios entry.
Coach transfer from London with Harry Potter World tickets.
If you prefer to stay near Harry Potter World, we have a list of family-friendly hotels near Warner Bros Studios.
Legoland Windsor
Legoland Windsor is very easy to get to from central London on the train and is perfect for children up to around 10 years old.
We have a post all about visiting Legoland Windsor with young kids that includes details on rides and money saving tips.
It is a fun place to visit at Christmas and is one of the theme parks in the UK with a Santa Sleepover.
If you are heading out that way, you could also visit Windsor Castle, one of the most impressive and oldest castles in England.
You can buy your Legoland tickets here.
Thorpe Park
Thorpe Park is known for its epic rollercoaster rides and is best for older children, although there is plenty to do there for young children too.
You can buy your Thorpe Park tickets here.
Chessington World of Adventures
Chessington World of Adventures has over 40 rides and attractions and is good for children of all ages. There is also an on-site zoo.
You can buy your Chessington World of Adventures tickets here.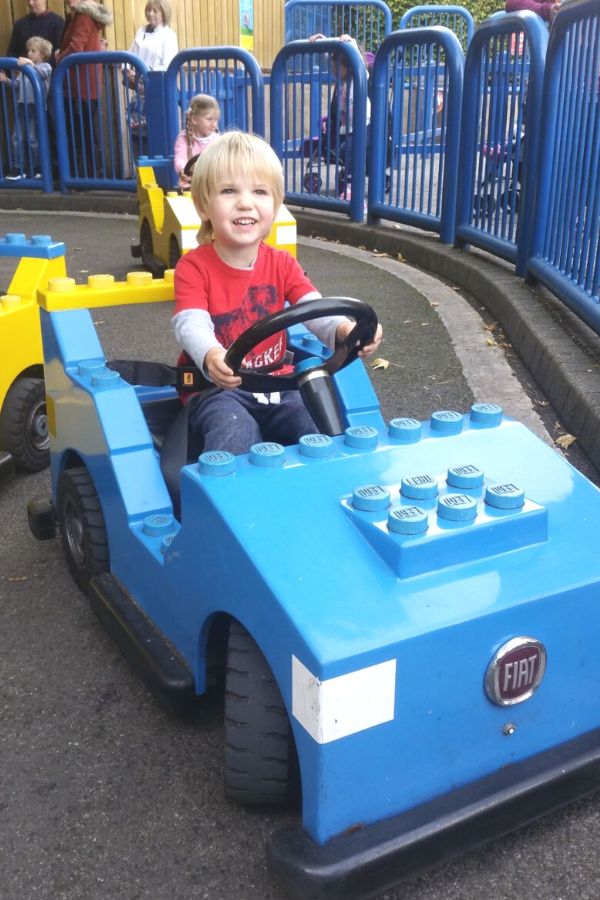 Do you have any London attractions for kids that you love? Let us know!