DIY Lapland Trip: 8 Top Tips To Book Lapland On A Budget
There is no doubt that Finnish Lapland is the ultimate place to see Santa. It is his official home after all! This experience can come at a cost though.
The price of Lapland package holidays can be extortionate and for many people, they are just too expensive. The good news, however, is that you can still visit Lapland by arranging a DIY Lapland trip which will be cheaper than a package deal.
For many people, a DIY Lapland holiday is the most affordable way to visit Lapland.
If you find the idea of booking your own Lapland holiday a little daunting, we hope that this detailed guide will help. It is PACKED with information on how to arrange a DIY Lapland trip that will work out cheaper than package holidays.
Our comprehensive DIY Lapland guide will explain how to book Lapland on a budget, covering the main areas where you can save money with answers to some Lapland FAQs at the end.
But before we get into the hows and whys of booking your own DIY Lapland trip – we need to point out some important information.
This post contains affiliate links. If you book something using one, we may earn a small commission but this is at no extra cost to you.
This post is written from the point of how to research and book cheap Lapland holidays. It is a diary of the steps we took to book our own Lapland holiday. We have now been to Lapland and you'll find advice on the best places to stay in Lapland or the best excursions to book in Lapland in our Finland family travel section. This is purely to help give you some guidance to book your own DIY Lapland holiday.
You need to be aware that booking a DIY Lapland trip may be cheaper than booking a package holiday to  Lapland, but it does not come with the same protection that you will get with a package holiday. You need to make sure that you are fully aware of the cancellation policies for the flights and accommodation and make sure that you have insurance in place.
Most importantly – have don't forget to organise your Lapland Boarding Pass, Lapland Reveal, Lapland invite from Father Christmas or your personalised Lapland hoodie!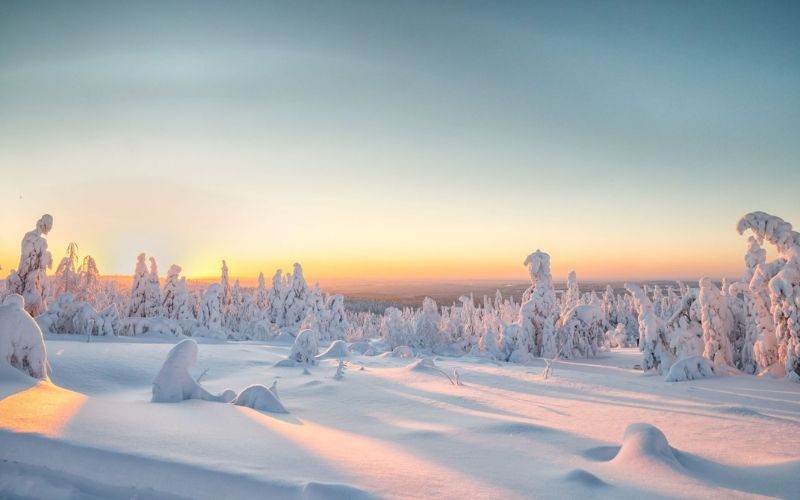 Why we booked a DIY Lapland trip vs a Lapland package holiday
We fully intended to book a package holiday for extra security in case of cancellations – but with holidays from 2020 being carried over to 2021, there just wasn't much availability.
It also seemed that the prices had been increased greatly by the tour operators so we had no option but to book our own budget Lapland holidays.
We wanted to go before Christmas to be able to see Santa which is the most popular (= expensive) time to go. Note that you can see Santa year round in most places but we felt that it was better for the kids to see him before Christmas.
Our DIY Lapland trip came in at £4900 for a family of 4 for 9 nights which included a visit to Santa (and 2 of the 9 nights full board), a night in Helsinki and a night in Amsterdam.

I couldn't price up a comparable holiday because there was no availability on the dates we booked (close to Christmas).
What I found was a 3 night holiday to Saariselkä (with transfers and a few taster excursions and a Santa visit) was £6300 with Santa's Lapland flying on 1st December. The difference is quite staggering,
8 Tips for booking a DIY Lapland trip
Here are 8 ways you can make savings when booking a DIY Lapland trip.
1. Choose which Lapland resort you want to visit
You may be wondering which is the best resort in Lapland? But what you should be asking is where is the best place to see Santa in Lapland? or which is the best ski resort in Lapland?
Choosing a resort in Lapland is an entirely personal choice and the resort you choose will depend on what you want to get out of your trip. You may also be swayed by the flight prices (see #2 on how to book cheap Lapland flights).
These are the main resorts in Lapland and each of them offer something slightly different:
Rovaniemi – the capital of Lapland and a large, lively resort with lots of bars and restaurants. Home to Santa Claus Village.
Levi – the best ski resort in Finland. See here for more information on the ski resorts in Finland. We also wrote a guide to skiing in Levi with kids and family-friendly restaurants in Levi.
Saariselka – the northernmost Lapland resort with a better chance of snow. Good for beginner skiers.
Yllas – a traditional Lappish village with good skiing and home to the Snow Village if you want to stay in a snow hotel.
Luosto – a small traditional village next to the Pyhä-Luoston national park.
Ruka – a small traditional village – see Santa at his cottage about 30 minutes away from Ruka
The resort you choose depends what you are looking to get out of your DIY Lapland holidays. We wanted to combine a visit to Santa with some skiing in Lapland and a decent sized town so we ended up choosing Levi.
As you are arranging everything yourself, you might want to consider the resort you choose based on proximity to the airport. We chose Levi also because it is only 15 minutes from Kittilä airport meaning a quick (and cheaper) transfer.
See #5 for links to the tourist offices for each resort where you will find more information on each resort.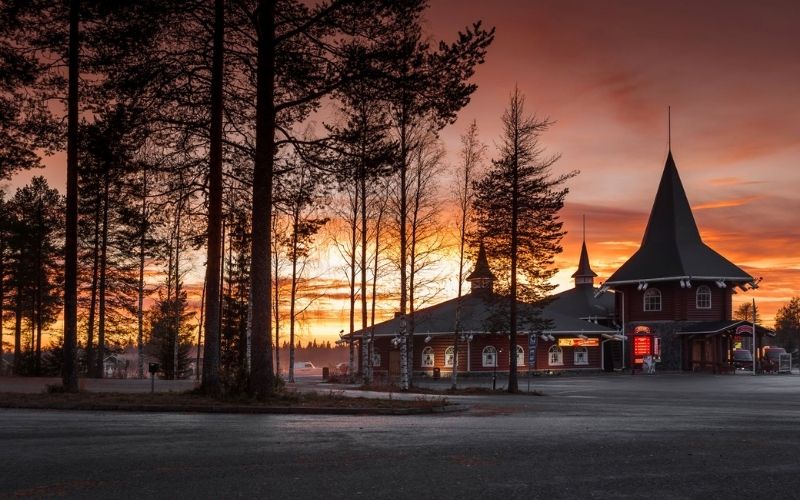 2. How to book cheap Lapland flights
Now that you have chosen your Lapland resort, you can choose your flights. We have some really helpful information in our (bumper) guide to finding and booking cheap flights including which are the best days to book your flights.
The main airports in Lapland are:
Rovaniemi (for Rovaniemi, Luosto) – Rovaniemi airport is 8 minutes from Rovaniemi and 90 minutes from Luosto.
Kittilä (for Levi and Yllas) – Kittilä airport is 15 minutes from Levi and less than 60 minutes from Yllas.
Ivalo (for Saariselkä) – Ivalo airport is 25 minutes from Saariselkä.
Kuusamo (for Ruka) – Kuusamo airport is 10 minutes from Ruka.
Direct flights to Lapland from the UK are the most convenient but can also be more expensive than indirect flights.
You can fly direct to Lapland from the UK with Easyjet flights and Ryanair (to Rovaniemi) or TUI (to Kittilä, Ivalo or Kuusamo).
The key to grabbing cheap flights to Lapland is to book as soon as the flights are released. Easyjet don't have a set schedule of release dates now so the best thing is to sign up to Easyjet flights to get email alerts. You can grab flights to Lapland for under £100 per person.
**22/23 Easyjet Lapland flights are being released on 3rd March 2022**
There was absolutely no availability on TUI to fly direct to Kittilä (for Levi) on the days we wanted and we noticed that Easyjet flights to Rovaniemi were £3500 for a family of 4 so we decided to book indirect flights.
Our flights came to £1800 which is more than we would have liked to have paid but 2021 was a difficult year because there was such limited availability. We would expect this to come in at around £1000 or less normally.

If you need to book indirect flights, the best way to do this is on Skyscanner. If you have any flexibility on dates, choose the WHOLE MONTH option which will pull up the fares for each day of the month and you can then pick the most suitable.
It is not straightforward to find the whole month option so here's how to do it. First, put your flight details in and search for flights. On the results page, you will see 'Show whole month' in the top right (circled in pink below).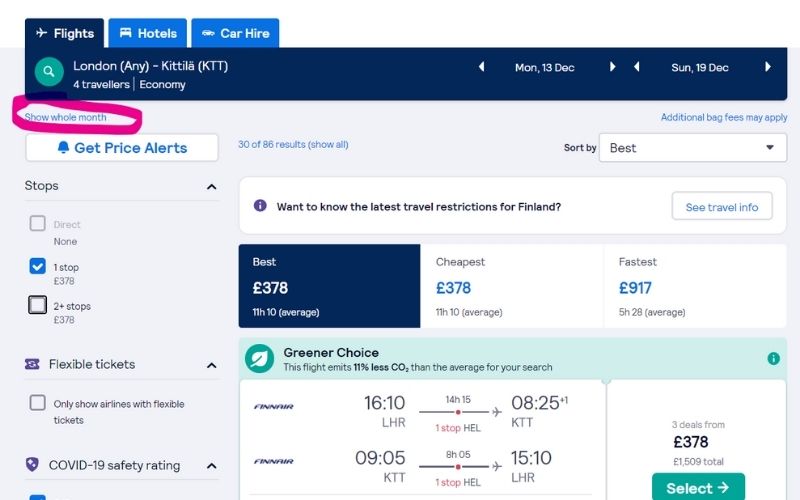 Choose the month in which you wish to travel and it will show you the cheapest days of the month (highlighted blue).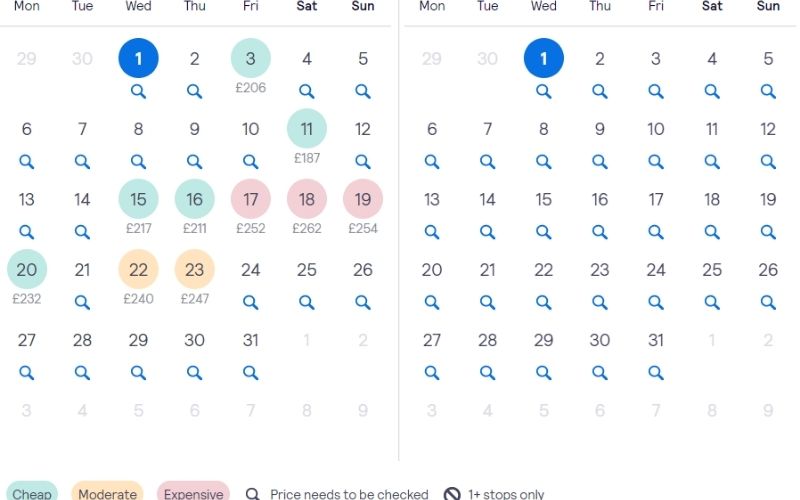 You can even book a multi-city flight and have a stopover in another European city. There is bound to be a beautiful European Christmas market to pop into.
Here is an example of the flights we booked but there are so many different options from London to Lapland with airlines like Lufthansa, Air France and KLM.
KLM were offering the best value flights and at good times so we booked through Skyscanner:
LONDON – AMSTERDAM – HELSINKI – AMSTERDAM – LONDON
We had one night in Amsterdam on the way out and on the way home we just had a quick connection in Amsterdam.
We separately booked Finnair flights from Helsinki to Lapland (Kittilä) on Skyscanner. Even the most basic (cheapest) class allows us to change our flights up to 72 hours before departure (although are non-refundable).
If you are finding that the internal flights to Rovaniemi are quite expensive, you can try looking at the overnight train from Helsinki to Rovaniemi (the Santa Claus Express night train or on VR Matkalla).
3. Lapland accommodation
There is a large choice of accommodation in Lapland ranging from budget to blow-the-budget. We suggest booking your accommodation on Booking.com for two reasons.
We found this was quite a bit cheaper than booking directly with the hotel and often they have a better cancellation policy than the hotel.
We stayed in a 2 bedroom suite with sauna in the Levi Panorama because it is ideally placed for people who want to ski. We also stayed in an igloo in the Northern Lights Village. You can read our review of the Northern Lights Village in Levi here.
We splashed out because of the once in a lifetime experience argument, but there are some lovely self-catering options on Booking.com for a fraction of the price. This is really where you can make some big savings.
An example of the savings we made on a 2 bedroom suite with sauna at the Hotel Levi Panorama for 5 nights:
Direct booking with the hotel = €407 per night (£1750 for 5 nights with NO breakfast)
On Booking.com = £1455 for 5 nights including breakfast. You can read all about our stay at the Hotel Levi Panorama here.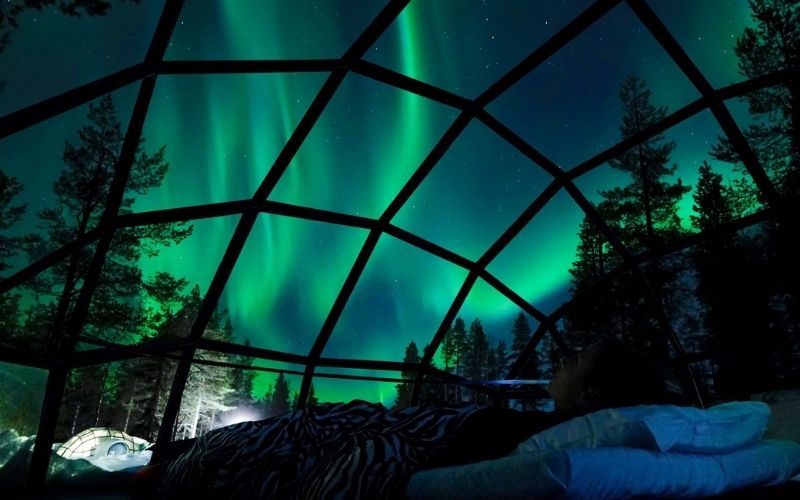 4. Book self-catering accommodation
If you are really looking to do Lapland on a budget, we would suggest booking a self-catering apartment or log cabin and take some supplies with you.
This was one of our money saving tips we used in Iceland where it was very expensive to eat out.
You can book self-catering accommodation through Booking.com which is a great travel resource for cheap holidays to Lapland.
5. Book your excursions through the local tourist office
There is usually a big price difference between the tours offered by the tour companies and those offered by smaller independent tour operators.
Take a look on the tourist information sites for recommended tours and then look on Tripadvisor for reviews to confirm.
You can either contact the local tourist information office to help with booking or you can wait until you get there to book (unless you are going peak season).
The main Lapland tourist boards are:
Lapland Safaris also have a good reputation and cover activities in all resorts.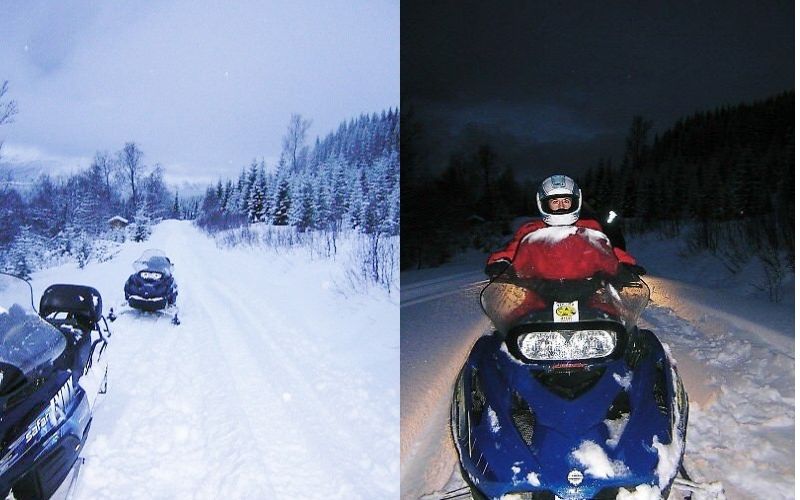 6. Choose your Lapland activities wisely
Our kids love fishing and I imagine they would LOVE ice fishing – but after doing some research, it seems that nobody ever in the history of Lapland has caught a fish while ice fishing. OK, they may still love the experience, but they would probably love a bit of free sledging just as much.
The top activities in Lapland with kids and the ones we have booked are:
Knowing how happy our boys were with all the free things to do in Iceland including playing with snow and ice, we are pretty confident that we don't need to book any other activities in advance.
Just a note on booking activities, remember that in December there are very few sunlight hours and in mid-December you may not even see the sun.
The days are like a permanent dusk with the lightest part of the day being around noon.
Here are some top rated Lapland activities you might want to take a look at. Most of these tours have flexible cancellation up to 24 hours in advance.
Levi: Lapland Reindeer and Husky safari.
Rovaniemi: Snowmobile reindeer and husky safari.
Rovaniemi: Snowmobile tour to see reindeers, huskies and Santa Village.
Rovaniemi: 3 hour family snowmobile tour.
Rovaniemi: family friendly snowmobile tour and artic animal adventure.
Rovaniemi: Ice Breaker cruise with lunch and ice floating.
Levi: Snow Castle guided tour.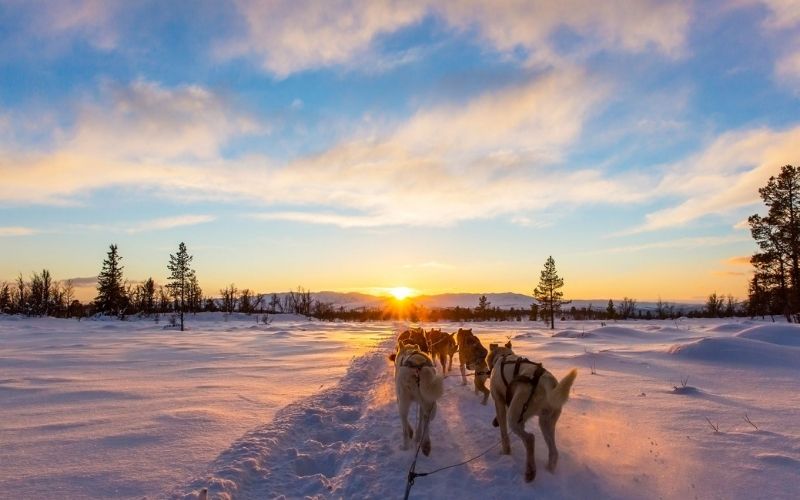 7. Do you need to see Santa before Christmas?
If you are not that bothered when or even if you see Santa, you can save a lot of money just by avoiding the pre-Christmas frenzy.
January and February are better times to visit Lapland because of slightly longer daylight hours and better snow and the prices for flights and accommodation will come down significantly.
8. Book a ski package
If you have the time and like to ski or are interested in learning to ski, why not book a ski trip? There is some great skiiing in Lapland for beginners and intermediates.
A package ski trip to Finland is often cheaper than a package Lapland holiday to see Santa. Have a look at Crystal Ski or Inghams. The Lapland ski holidays are often 7 days as opposed to 3 or 4 days for the Santa breaks.
You can then book local excursions separately (see #5) and it will still be cheaper than the packaged Santa break.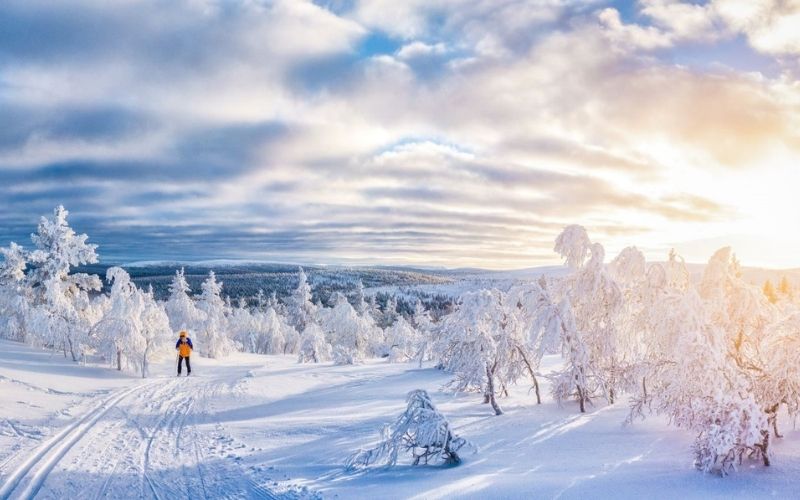 FAQs on your DIY Lapland trip
FAQs on your DIY Lapland trip that we thought you may find useful:
Where is Lapland?
Lapland is in the Arctic Circle but did you know that Lapland spans Finland and Sweden? When people talk about visiting Santa in Lapland, they are talking about Finnish Lapland. If you are looking for a Lapland experience without visiting Santa, then you can also look at Swedish Lapland.
Where is the best place to see Santa in Lapland?
If you are basing your DIY Lapland trip around seeing Santa, you want to choose the best place to visit Santa in Lapland but this choice is still quite subjective.
We hve only been to Levi and we have not tried all of these experiences so we cannot vouch for them. This is simply to pull the information together to save you time with your research on Santa Claus trips in Lapland.
Here are the main places to see Santa in the Lapland resorts:
Rovaniemi is the official hometown of Santa Claus and where you will find the famous Santa Claus Village (and Santa Park).
Levi – Northern Lights Village or Santa's Secret Cabin.
Saariselka – Northern Lights Village or Kakslauttanen Resort.
Luosto – the nearest place to see Santa is in Rovaniemi (see above).
Ruka – Santa Claus at Ruka Village or at Santa's Cottage (about 30 minutes from Ruka).
Yllas – the Secret Cabin or you can arrange for Santa to visit you in your cabin.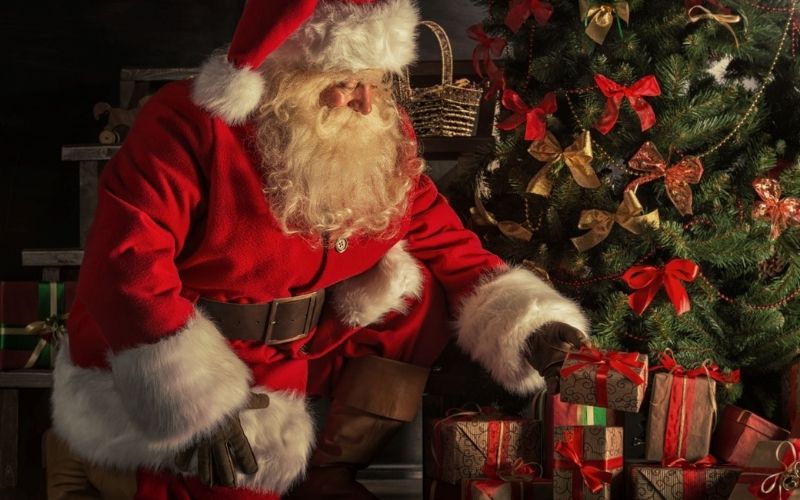 What to wear in Lapland?
If you are wondering what to wear in Lapland in December, make sure to read our guide to what to pack for Lapland.  Temperatures can range from 0 to minus 20 Celsius (and more).
In terms of what to wear in Lapland – it is all about layers. Good base layers / thermals, fleeces and a good quality (warm and waterproof) gloves. Good quality socks like Smartwool also make a big difference and the right footwear is crucial.
If you are booking DIY Lapland holidays, you won't have the snow suits provided by the travel company so you will either need to hire them yourself.
If you are doing some snow activities, you should be able to hire snow suits from the company operating the activity (included in the price of the activity) or you can hire snow suits for the duration of your stay if you prefer.
If you have skiwear already, you should bring that, especially if you are planning on skiing.
Here are the items we take:
Warm waterproof  jacket 
We took our ski jackets with us which worked well.
We use these jackets:
You can find cheaper alternatives at Decathlon or Mountain Warehouse. Mountain Warehouse does good jacket and ski trouser sets for kids.
Waterproof trousers
We use our ski trousers. You can get good, affordable trousers from Mountain Warehouse.
Thermal socks
They are pricey but we LOVE Smartwool socks as they actually work! For a decent, cheaper alternative, we also use Mountain Warehouse thermal socks.
Thermal layers (top and bottom)
We recommend merino wool thermal layers. You should not use anything with cotton because cotton will retain sweat and cool you down.
We use Mountain Warehouse Merino Wool thermals. What I love about the Mountain Warehouse thermals is that the kids age 13 will fit me (5'5″ – size 10). These dino print thermals are really cute.
We also love Decathlon for thermal layers (not merino). See here for tops and bottoms for kids.
See here for women's merino wool thermal layers from Mountain Warehouse and men's thermals.
For a cheaper alternative, you can try the Mountain Warehouse Isotherm thermals (Men) and (Women).
Fleece tops
It is great to layer and fleece tops are warm, lightweight and dry quickly if you need to wash them.
Snowboots
Good quality snowboots are essential, especially if you want to be out at night searching for the Northern Lights.
We use these snowboots:
Hat and gloves
You will want waterproof gloves for the kids as they may insist on playing with the ice and snow! We use Decathlon waterproof gloves for the kids.
Winter clothing rental locations
Levi and Winterent
Rovaniemi and Winterent
Saariselkä
Luosto
Ruka
Ylläs and Winterent
You can also rent your clothing from Lapland Safaris which is present in all of the main resorts except Ruka.
Where are the glass igloos in Lapland?
There is a great article on the different types of Lapland glass igloos and where to find them. There are even some budget glass igloo options.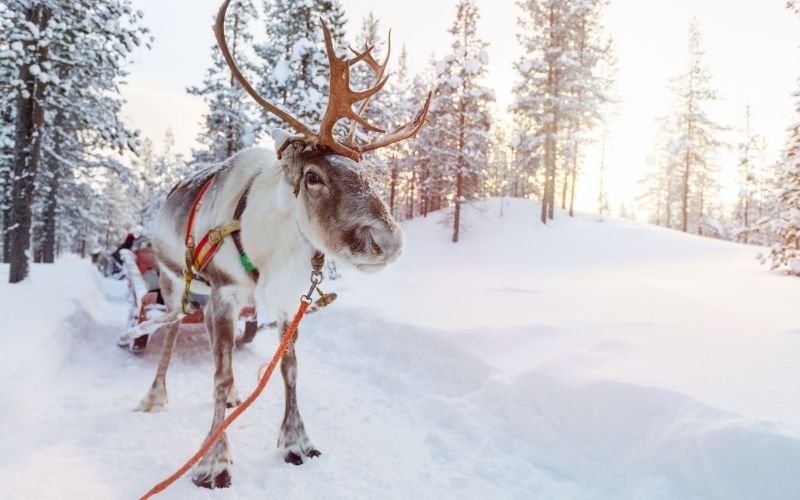 Can you do a cheap day trip to Lapland?
All of the above information is assuming that you want to spend a few days in Lapland but what if you want to do a day trip to Lapland?
In 2019, I saw an advert on Facebook for incredibly cheap Lapland day trips. The catch was, they were departing the following day.
I don't have experience in this but would hazard a guess that it is pretty hard to organise your own day trip and for it to be successful and cheaper than the package deal.
You would need direct flights. It wouldn't be possible to taking a connecting flight. You would need to have everything organised in a military style to be able to get everything done and if it is your first time, this could just all be a bit too much.
Your best option would be to wait until close to your time of departure and see if any of the tour operators are offering last minute holidays to Lapland.
When does it snow in Lapland?
The temperature in Lapland in December varies. There have been reports of very little snow at the beginning of December. This is not ideal at all if you are looking to do all of the winter activities on offer. There is obviously no guarantee of snow, but the later you go in December, the better usually.
The best snow conditions in Lapland are from January to March.
Still not sure about booking DIY Lapland holidays?
If you are really not sure about booking a DIY Lapland trip, then our top tip for booking a Lapland holiday with a travel agent would be to book late. Last minute Lapland holidays can be so  much cheaper IF you are prepared to risk with availability and don't mind where you stay.
Tour operators start releasing their deals for any unsold holidays around 8 weeks before your intended holiday date and there can be big savings. There are unlikely to be many deals in 2021 because everyone who had a holiday booked for 2020 has been moved to 2021 and there is very little availability.
Here are some of the main Lapland tour operators offering holidays to Lapland – some are dedicated Santa holidays and others are just Lapland holidays:
More information on Lapland
VisitLapland is a great source of information for booking your DIY Lapland trip and if you are looking to speak to people who have been for unbiased opinions, we would suggest joining Lapland Budget DIY Trips or the Lapland Holiday Chat groups on Facebook.
There is a lot of invaluable advice on there which may help you narrow down your choice of resort and anything you're not sure about, you can ask.
Can't wait to get to Lapland? Check out these Lapland webcams for Levi, Yllas and Rovaniemi.
Map of Lapland