Hiring a Car in Iceland: Everything You Need to Know
You might wonder why there are so many articles out there about hiring a car in Iceland. Maybe you've hired countless cars during your travels and wonder what all the fuss is about. We certainly wondered, but having now hired a car ourselves in Iceland, we can confirm that Iceland car rental is not quite as straight forward as your average car rental experience.
Iceland car hire is just one of the things you need to know about before travelling to Iceland for the first time. If you want to avoid a huge bill at the end of your rental, it is worth making sure you have read up on our Iceland car hire tips.
Before you go, make sure to grab an Iceland travel guide to help with your Iceland trip planning. Here are some that we recommend.
This post contains affiliate links. If you click on one and buy something, we may earn a small commission, but this is at no extra cost to you.
First of all, this is not meant to put you off car hire in Iceland. Renting a car in Iceland is by far the best way to get around the island. It gives you so much more flexibility which is especially important when travelling with kids.
We were self-catering and were able to get our grocery shops done easily with a car and we could pull off the side of the road whenever we fancied for a scenic picnic. We could also visit places before the main crowds arrived, like the hugely popular waterfalls in Iceland: Seljalandsfoss and Skogafoss or the Secret Lagoon.
There's also cheeky tip we learned from our hotel about spotting the Northern Lights. It requires a car and saved us so much money and avoided dragging the kids out at night on a 4-hour excursion. Read more on our tips for spotting the Iceland Northern Lights.
Even if you're only in Reykjavik for a weekend, you might want to do a quick drive around the Golden Circle.
First, we'll walk you through finding the right car for the right price and then give you all the extras you will need to know about car rental in Iceland.
Finding the right car for your trip
There are different types of car available to rent in Iceland. You can rent a normal 2WD or a 4WD. 4WD rental is more expensive but it may be the most sensible option. You need to think about your itinerary and what time of year you are travelling before renting your car.
Summer car rental in Iceland
If you're travelling in the summer months and you are sticking to the main roads in Iceland such as the famous Ring Road Iceland, the Golden Circle Iceland and the Snæfellsnes Peninsula, then you would be fine with a 2WD. You would only need a 4×4 jeep if you are planning to take any of the F roads in Iceland. Driving on these roads in a normal car can incur huge fines.
Winter car rental in Iceland
If you're planning to visit Iceland in the winter, driving on these roads is a different ball game. The weather in Iceland can be very unpredictable and road closures happen. You may need to be more flexible with your itinerary and route. On really bad weather days, even the main roads will be closed and you should not consider driving.
4×4 cars (or SUV cars with 4WD) are advisable if you are going in late autumn, winter or early spring as there will be snow and ice around. Depending on where you are going, even a 4WD is not enough and you will need a proper 4×4 jeep. Some are better than others for off-roading.
We went to Iceland the end of October and although it was cold, there was hardly any snow around (apart from at the Gerduberg Cliffs) and the roads were not icy. The weather is not something you can predict this before we went so we opted for a 4WD. We chose the Dacia Duster because it was more economical to run than other models.
Finding the best car rental deal in Iceland
The best way to find a good rate is to shop around. There are lots of car rental comparison sites. We did a ton of research on this and found that the best rates for Iceland car rental were on Rentalcars.com.
You can also take a look on TravelSupermarket.
In addition to their great rates, we got an extra 10% cashback via Topcashback. If you haven't joined yet, it is well worth signing up following this link. Once set up, it just involves one extra click and you could save yourself the price of a meal on your car rental.
Make sure you book your car well in advance because they can sell out in peak season.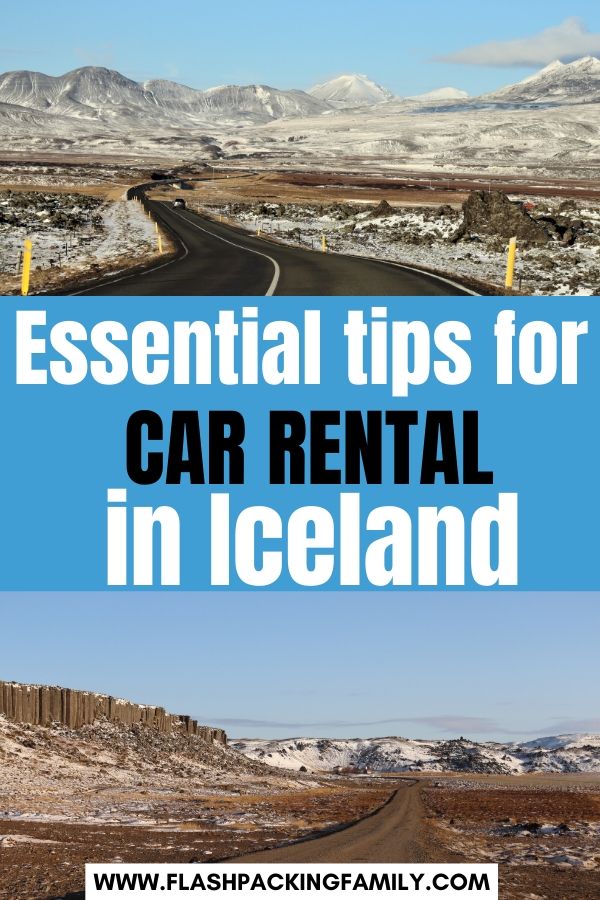 Rental car companies in Iceland
There are lots of car rental companies in Iceland. As you will most likely be arriving in Iceland via Keflavik airport, our top tip for hiring a car in Iceland is to pick one of the companies based in the airport terminal. The companies in the terminal are Budget, Avis, Hertz and Europcar.
All of the other companies are based outside of the terminal and require a shuttle bus transfer. This means waiting with a bunch of other people for the shuttle bus to arrive and then everyone on that bus will be arriving at the car rental office at the same time which means bigger queues and longer wait times.
Car insurance in Iceland
Have you ever hired a car and turned down the additional cover? We wouldn't recommend it in Iceland. If there was ever a place you needed it, it would be here.
You need to make sure that your rental agreement with the car hire company includes Sand and Ash damage cover and if it doesn't, add it on. This type of damage can apparently write off the car and if you aren't covered, you could be liable for the entire cost of the car.
For all other standard additional excess cover such as gravel damage and theft, we would recommend taking out icarhireinsurance rather than buying the rental car company cover as it should work out significantly cheaper. Always read the fine print before buying to make sure you are covered.
Before you leave the airport
Check the hire car for damage
You should receive a slip of paper with your rental agreement which indicates existing damage on the car. Make sure you check the car over and take photographs of anything that is not indicated. If there is anything major, we would recommend heading back to the terminal to tell them. Otherwise, email your photos to the email address which should be included on your rental agreement. Do this before you leave the airport.
Check the petrol tank is full
You will be expected to drop the car off at the end of the rental with a full tank so make sure that they have filled it before you leave.
Tips for driving in Iceland
Don't stop in the middle of the road to take photos and watch out for other people doing this or for them pulling off the road with no warning.
Be careful opening doors on windy days. They have been known to suffer a lot of damage and this is very costly if you don't have full insurance cover. Park facing into the wind if possible.
Stick to the speed limit. It is usually 90km/h on main roads. The roads may be long and straight and empty but don't be tempted to speed. The fine is close to £400.
Don't let your fuel get too low. Petrol stations outside of Reykjavik are few and far between.
Returning your rental car in Iceland
Make sure to fill the fuel tank up otherwise you will incur a hefty charge for them to do it.
Take photos of the car when you drop it off for your records in case you need it when back in your own country.
Leave extra time when dropping the car back for the company to check the car over and provide you with a final statement. This is worth waiting for. We did this and they tried to say that there was a lot of damage to the car caused by us. It turned out they had an old carbon copy of the indicated damage. It probably would have been resolved eventually with lots of emails but they would no doubt have charged the money straight away and it would have been a nightmare to get it back.
The rental car offices are a 5-minute walk from the terminal. If you have lots of luggage and little ones, the shuttle buses are every 15 minutes so you need to factor this in too.
Do ask if you have any other questions because we know it is not entirely straightforward to rent a car in Iceland but hopefully these tips will help.
If you found this post helpful, why not bookmark it, share it with friends or pin it?!