The Best 6 Day Iceland Itinerary For Families
Planning on spending 6 days in Iceland and need help with your 6 day Iceland itinerary? We're here to help!
Iceland is an epic country for big or little explorers. The land of fire and ice. I mean…how exciting does that sound?!
But as exciting as it sounded, we kept putting off visiting Iceland for one reason or another.
It was only when we stumbled on cheap flights from London to Iceland in October that we decided to go and it turned out to be one of the best decisions we made. Iceland in October is fabulous!
This post contains affiliate links. If you click on one and buy something, we may earn a small commission, but this is at no extra cost to you.
Make sure you grab an Iceland travel guide to help you with your Iceland trip planning.
We use this Lonely Planet.
Once the flights were booked, we set about planning our itinerary for our first trip to Iceland… and quickly realised that we would need a strategy to have a cheap Iceland holiday because Iceland can be very expensive.
We had 6 days in Iceland with kids so we researched where to go in Iceland, what to see in Iceland, where to stay in Iceland, what to wear in Iceland and things to do in Iceland.
One of the most important things you need to research is the Iceland weather. Visiting Iceland in winter is very different from visiting Iceland in summer.
Figuring out the best time to visit Iceland will depend very much on what you want to see and do.
In the summer you have a better chance of seeing the puffins. In the winter, there are more options for visiting ice caves and a better chance of spotting the Northern Lights in Iceland.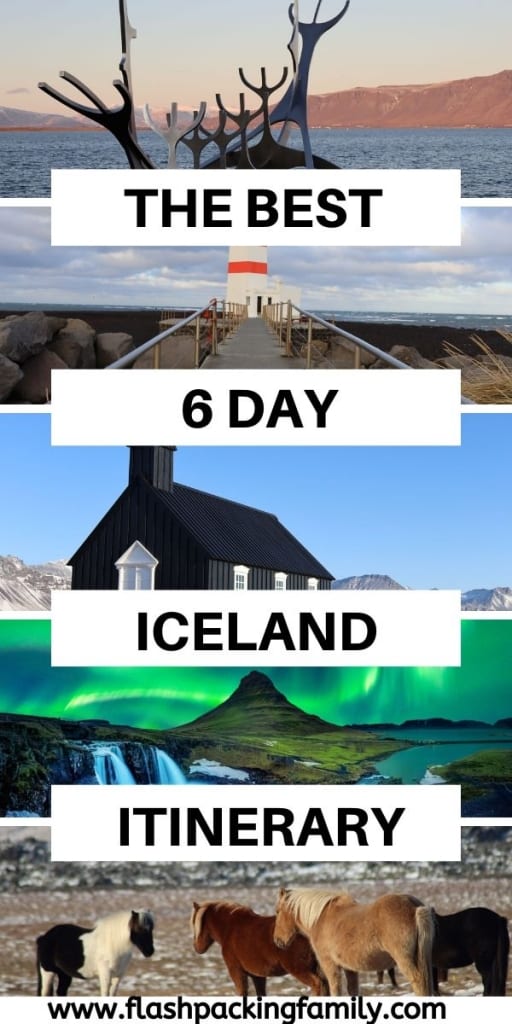 So, with 6 days to play with, we created the best 6 day Iceland self drive itinerary for families. It included all the must-see Iceland sights.
Our 6 day Iceland itinerary with kids included waterfalls, icebergs, black sand beaches, Icelandic ponies and our personal favourite, geothermal pools.
Note that we didn't visit the famous Blue Lagoon and we'll explain why later. We didn't want to spend 8 hours a day driving the entire ring road in 6 days so we decided to stick to the west and south coast.
Armed with this research and recommendations from others, we set off on our epic Iceland road trip itinerary. What we experienced was absolutely mind-blowing and we want to share our a suggested Iceland 6 day itinerary with you.
If you're thinking about a long weekend in Iceland (which is totally doable), you can also take some of these suggestions for your itinerary.
One final note, you can do most of these sights on day trips from Reykjavik, but we find these kind of trips too long for the kids and preferred to do it at our own pace with our own car.
Day 1 Reykjavik
We took a very early Easyjet flight from London Luton to Keflavik. Because of the early start, we opted to spend the first day in Reykjavik rather than setting off exploring further afield.
Garður old lighthouse
We decided on hiring a car in Iceland. We picked up the hire car at the airport and set off for Reykjavik but not before having a really quick stop at the Garður old lighthouse.
Who can resist a beautifully striking red and white lighthouse against a moody Icelandic sky?At this point in your 6 day Iceland itinerary, you may want to visit the Blue Lagoon.
We explain later why we didn't go but if you do want to, it is a good idea to visit either coming from or going to the airport as it is close by.
If you want to visit the Blue Lagoon, you can pre-book tickets here (recommended).
After a very cold and windy introduction to Iceland, we were ready to find our hotel and see if we could check in early.
The trip from Keflavik airport to Reykjavik takes about 45 minutes by car. Thankfully our room at the Hotel Reykjavik Natura was ready so we dumped the bags and went to find some lunch.
One of the things you may have heard about Iceland is that it's expensive. This is true in part but it doesn't have to be.
We had a delicious lunch at Icelandic Street Food (they are no longer around I believe so try 101 Reykjavik Street Food instead).
Feeling warm inside and having read up on what to see and do in Reykjavik, we wrapped up and set off on our DIY walking tour.
One of the great things about Reykjavik is that it's really quite small and the main sights are all within walking distance of each other.
We were also lucky with the weather in Reykjavik because although it was cold, it was beautifully sunny which made the colours of Reykjavik pop.
Here's a quick summary of our route:
walk from Icelandic Street Food to Hallgrimskirkja (one of the most iconic sights in Iceland) via Skólavörðustígur street (the pedestrianised rainbow street)
from Hallgrimskirkja walk to the seafront to see the Sun Voyager (Sólfar).
from the Sun Voyager to the old town and the City Hall. We stopped at Lake Tjornin to feed the birds.
from Lake Tjornin we drove to Laugardalslaug which is the city's largest pool to have a swim in the geothermally heated pools.
for dinner, we went to the Latin-American restaurant Burro but I've recently seen that this has closed.
This would normally have been game over for us. The kids were tired and ready for bed but the Northern Lights forecast was good so we went back to the hotel to get ready.
We shoved on a few more layers and headed out to try to catch them. We were so lucky to see them on our first night.
Day 2 – The Snæfellsnes Peninsula
There are quite a few options for day trips from Reykjavik (and lots more to do in Reykjavik itself) but we decided to start with the Snaefellsnes Peninsula.
It was a relatively early morning start, but not too early because the sun doesn't rise until 9 am in October. It's a good idea to check the daylight hours in Iceland which will vary greatly depending on the time of year you visit.
To reach the Snaefellsnes peninsula you take the Iceland Ring Road north out of Reykjavik but instead of staying on the ring road, you come off at Borgarnes and head north-west on the 54.
It should take around 2 hours from Reykjavik but always budget for more time because you'll probably be pulling off the road a lot to take photos. We stopped off lots of times to see the iconic Icelandic ponies.
Gerduberg cliffs
Our first proper stop was the Gerduberg cliffs. This 1 km long stretch of perfectly hexagonal basalt columns is very striking and well worth stopping off to visit.
We were the only ones there and climbed to the top for some beautiful views. There was quite a bit of snow so our snow boots came in handy.
From the cliffs, we set off for Lýsuhólslaug hot springs. We were pretty excited to try these hot springs out because we had decided not to visit the Blue Lagoon.
Many people are surprised to hear that we didn't go to the most popular attraction in Iceland, but we'd heard that the Blue Lagoon was really commercial these days and full of tour groups.
We just couldn't justify the price for that type of experience. We were also pretty shocked to find out that it was man-made and the water is run-off from a nearby (and very ugly) geothermal plant.
Unfortunately, we overlooked the fact that Lýsuhólslaug hot springs were only open in the summer months. On the plus side, there's a small playground there which the kids took full advantage of.
Búðakirkja (the Black Church)
After admiring some more Icelandic ponies, we set off for Búðakirkja (the Black Church) which sits among a lava field on the south coast of the peninsula.
The black church is so striking against the starkness of the surrounding area. One of our favourite things about Iceland was the odd colourful building standing out against the barren landscape.
This was quite a popular spot, but even so, there were only about 20 people there when we visited.
Kirkjufell
We had to crack on because it was 2 pm and the sun was already starting to set. From here it was up and over the mountains to the northern coast of the peninsula and to Kirkjufell, one of the most iconic sights in Iceland.
We knew roughly where it was and thought it would be easy to find without using Google maps because of its distinctive shape but approaching from this direction, the shape is completely different.
After switching on Google maps to double-check the location, we realised we were right there. Just a little further on by the car park, we could finally make out the famous shape.
We parked in the carpark and walked to the Kirkjufellsfoss, one of the most visited waterfalls in Iceland. There wasn't time to explore Kirkjufell so we tried to get the best view of it from a distance.
Reaching it slightly earlier in the day probably would have been better as the sun would have been on the waterfall too – but you can't have everything!
We had wanted to visit the Settlement Center in Borgarnes to learn more about the Viking settlement of Iceland but we were out of time.
We made our way back to our hotel in Reykjavik and managed a quick dinner there before the boys crawled into bed.
Day 3 – The Golden Circle and the south coast
The day started with a huge breakfast at the hotel and then we set off as the sun was coming up. The light in the morning is beautiful and in October there was plenty of ice around. We had a quick photo stop and some ice skating.
Geysir
Our first stop was Geysir. It's about 100 km from Reykjavik to Geysir and should take you about 90 minutes if you don't stop all the time for photos.
Trust us, you will be stopping for photos! On the way there you pass by Þingvellir National Park, a UNESCO World Heritage Site.
This is where the North American and Eurasian tectonic plates meet. You can call in at the visitor centre and hike in the national park, but we continued on to Geysir.
Geysir is an impressive sight. You see the steam from a way off as you approach but it still doesn't prepare you for the up-close encounter.
When we first got there, it was going off almost every 3 minutes. When we decided to try to get a video, it decided not to blast for about 10 minutes.
Our hands were freezing trying to capture it! You just can't count on nature to do things when you want them to.
Gullfoss
From Geysir, it's a short 10-minute drive on to Gullfoss. It was our first of the main waterfalls in Iceland and it didn't fail to impress.
A little known fact is that Gullfoss is more powerful and larger than Niagara Falls. We went down to the lower viewing platform and then viewed from above.
One thing to note about travelling to Iceland in winter is that some of the paths that can take you closer to the waterfalls are closed because they become unsafe with the ice.
This was the case at Gullfoss. We still had spectacular views, although by 11 am it was already a bit crowded.
Secret Lagoon
From Gullfoss, we headed south to the Secret Lagoon. We had heard that this was a much more authentic experience than the Blue Lagoon.
You can book tickets (and probably should in the summer) but we just turned up fairly early and were lucky. You can pre-book Secret Lagoon tickets here.
Entry is ISK 3000 per adult and children under 14 are free. The water was lovely and warm but keep little ones away from the far corners (this will be explained by staff) because the water is much hotter there.
Reynisfjara black sand beach
From the Secret Lagoon, we had a long 2-hour drive to Reynisfjara, the most famous Black Beach in Iceland.
We didn't have a set schedule for the day but it turns out we timed it perfectly. The sun was just setting and it was beautiful.
One thing to note about this beach is that you need to keep the kids away from the water's edge. There have been fatalities where tourists have ignored the warning signs advising of the dangers of sneaker waves.
We all kept a safe distance and played in the black sand. It's not a beach to hang around on in the winter though.
We took a little walk to the basalt columns at the east end of the beach where the kids had a climb and then set off for our accommodation.
We made a quick stop for supplies in the nearby supermarket in Vik called Kronan. Contrary to popular belief, groceries in Iceland are not too dissimilar in price to the UK.
One or two things are significantly more expensive like perishable goods, but on the whole, non-perishable goods are on a par.
We stayed at the budget-friendly Horgsland self-catering Cottages located about 1 hour east of Vik. They're nestled next to a towering mountain pretty much in the middle of nowhere.
It was a good place to settle in and get warm before stepping out to watch the Northern Lights.
Day 4 – Jokulsarlon Glacier Lagoon and Diamond Beach
Jokulsarlon Glacier Lagoon
Sometimes called Iceland's Crown Jewel,  Jokulsarlon Glacier Lagoon is one of Iceland's most popular attractions and it's best to head there early.
Our journey from our accommodation took about 90 minutes. People do this on day trips from Reykjavik but it's about 5 hours from Reykjavik to Jokulsarlon which is far too long for us. Staying nearby also means you can get there earlier and beat the daytrippers.
The icebergs in the lagoon break off from the Breiðamerkurjökull Glacier and then float out to the Atlantic, leaving smaller ice deposits on Diamond Beach as they go.
It's a spectacular sight and a definite must on your itinerary.
Diamond Beach
After you've walked along the shore of the lagoon, head over the road to Diamond Beach. This is where smaller chunks of icebergs wash up on the beach.
It's very striking with the shimmering white ice against the black sand, especially on a sunny day.
The boys spent some time ice-sculpting and playing in their 'ice caves' then we set off back to our accommodation.
The scenery leaving this area is stunning and the sun was shining so we pulled off the road to have our picnic. One of the great things about staying in self-catering accommodation in Iceland is that you can make your own picnics which will save you a lot of money.
Hof
We set off again and had a quick stop in Hof (which may or may not show up on your map as it's tiny). There was a beautiful traditional turf church there which is worth seeing.
There was just enough time when we got back to our accommodation to climb up the mountain for some stunning sunset views
Back at the cabin we had a hot tub before we shut the doors on the cold Icelandic evening and settled in for a cosy night.
Day 5 – Skogafoss and swimming in Hvolsvöllur
Skogafoss waterfall
We had intended to go to the Westman Islands on this day but the weather wasn't great with poor visibility. It's best to do this day trip on a warmer summer's day so we switched our plans and went to Skogafoss.
It was already quite busy by the time we got there at 10 am, but if you shove your waterproofs on, you can get quite close to the waterfall and away from everyone else.
Our new accommodation, The Garage, was perfectly located only 15 minutes away from Skogafoss so we set off to go and get dry. For us, this was one of the best places to stay in Iceland.
The location is great between two of the most famous waterfalls in Iceland. It even had its own waterfall on the property. It's super stylish and the owners are very friendly.
The self-catering facilities were excellent and there was a washing machine and tumble dryer which is essential after visiting the waterfalls!
Hvolsvöllur swimming pool
As the kids loved the Reykjavik pool so much and seeing as the weather wasn't great, we decided to visit the nearby pool in Hvolsvöllur.
We got there just before 4 pm and were the only ones there. There's a large pool, 3 hot tubs of varying temperatures, a sauna and a water slide (which is switched off it it's too cold).
All the facilities were very clean. Entry fee is ISK 1000 for adults, ISK 500 for children 12 – 18 and free for children under 12.
Day 6 – Seljalandsfoss and swimming in Hvolsvöllur
On our final day, we took an early morning trip to Seljalandsfoss and beat most of the crowds.
Seljalandsfoss is famous for the path that runs behind the waterfall but during the winter the path is closed due to ice so we didn't get to do this.
Despite not being able to walk behind the waterfall, we still got quite close and got soaked. We didn't mind because it was only 10 minutes back to our accommodation to dry off.
After we'd dried off and packed up, we set off for the Hvolsvöllur pool again for one last swim. Luckily we had our Osprey Ultralight Dry Sack with us. We recommend having one on any trip in case you end up with wet clothes on your final day.
From there it was a 2-hour drive to the airport. You need to leave enough time to get the hire car checked over and signed off. See our tips on renting a car in Iceland about this.
Found this article useful? why not bookmark it, share it with friends or pin it for later?