Tea tasting & tea estates in Sri Lanka's Hill Country
No trip to Sri Lanka would be complete without spending a little time in the Hill Country where you will see rolling hills blanketed in luscious green tea plantations. And it is all the more exciting if you're a tea lover. Hill Country (or Tea Country) is arguably the most scenic part of the island and is also quite a bit cooler than the coastal areas due to its elevation.
The climate is changeable and can be quite damp and rainy, so pack a fleece and a lightweight waterproof just in case. We've been a few times over the years, and this post outlines the various tea estates we've visited.
Sri Lanka (or Ceylon as it was known when it was a British colony) is one of the world's largest tea producers. It's said that the first tea plant was brought (British code word for smuggled!) from China by the British in 1824, and planted in the Royal Botanical Gardens in Peradeniya, Kandy. In 1867 James Taylor started growing what was the first commercial crop of tea on the Loolecondera Estate in Kandy. After a blight of the coffee crops, tea began to take over as the main crop and now around 350 million kg per year are exported. According to Google, tea is the most popular beverage in the world.
If you love your tea like Ed (whose dream job would be a tea taster) and would like to learn more about the history and production process, it is well worth visiting the Tea Country where there are dozens of working factories you can tour for free, or at a small cost. It's fascinating to see a tea factory in action; from processing freshly picked leaves through to packing the finished product – and it's cool to wander around the estate grounds taking in the atmosphere and seeing the pickers at work. We learned during our trip from one of our drivers that tea picking is extremely hard work and the workers are not paid very much so we have huge respect for them.
There are quite a few tea growing districts in Sri Lanka covering large areas of the Hill Country, so the chances are you won't be too far from one wherever you are in Sri Lanka.  The main tea growing areas are :
Kandy
Nuwara Eliya
Uda Pussellawa (between Nuwara Eliya and Ella)
Uva (area around Ella and Badulla)
Sabaragamuwa (sweeping from west of Kandy down past Horton plains and to Udawalawe)
Dimbulla (between Hatton and Nuwara Eliaya)
Ruhuna (southern province of Sri Lanka encompassing Yala)
The most popular places to visit tea estates on people's itineraries are Kandy, Ella, Haputale and Nuwara Eliya.
Kandy
Kandy (also known as the 'Hill Capital') is usually on most people's itinerary as it's the second largest city in Sri Lanka and a UNESCO World Heritage site, particularly famous for the Temple of the Sacred Tooth Relic.  If you don't have time to venture further from Colombo into the Hill Country, then Kandy is a good place to go on a tea factory tour.
Kadugannawa Tea Estate
Kadugannawa is about 20km west of Kandy. It's a great factory to visit because the lady giving the tours speaks great English and is very detailed in her explanation. You will get the full explanation about black and green tea production from picking the leaves to the final product. The tours are relatively quick which is good for the kids and are also free, with tea tasting at the end and a boutique with beautifully packaged tea gifts.
Ella
The rolling green hills of Ella with views of Little Adam's Peak make it a beautiful place to stop over and visit a tea factory. Ella has grown hugely in popularity and there is so much for families to do here which we cover in our Ella post.
Halpewatte Tea Factory
If you want to visit a tea factory in Ella, Halpewatte is a good option. It's the largest tea factory in the Uva region and only about 3km out of Ella on the road north. Entrance is LKR 525 / £2. It can be a bit hit and miss with non-production days but seems it is mostly not operational on Mondays. Tours last between 45 mins – 1 hour with tea tasting at the end and a shop for gifts and souvenirs.
If you're really pushed for time and won't have a chance to visit Halpewatte, you could visit the Newburgh Tea Factory which is on the way to Little Adam's Peak on the Passara Road. It produces green tea only and offers a quick insight into tea making.
Haputale
Haputale is about an hour on a very scenic train ride southwest of Ella. The landscape is undulating, luscious emerald hills. On a fine day it's said you can see down to the south coast. Unfortunately, we visited on a cloudy and rainy day – but don't let that put you off! The scenery was still stunning and very dramatic.
Dambetenne Tea Factory
The main factory in this area is Dambetenne. It was built by Sir Thomas Lipton in 1890 and is one of the best tours you can do in the hill country. Realistically you will probably only do one tour on your trip (we did two but it was probably a bit much for the kids!). We chose Dambetenne because we could take a quick and very scenic train ride over from Ella (made all the more special because we weren't lugging our backpacks with us!) and we wanted to check out Haputale and the view from Lipton's seat. The tour fee is LKR 250. It is best to get there early on in the day, partly for the weather but also processing is more likely to take place in the morning. The factory is huge and the tour we had was very comprehensive although have heard that some people had a very rushed tour. We were the only ones there (probably because of the weather!) so maybe that had something to do with it. We watched the production process from beginning to end and enjoyed a lovely tasting at the end. There is no production on Sunday or Monday.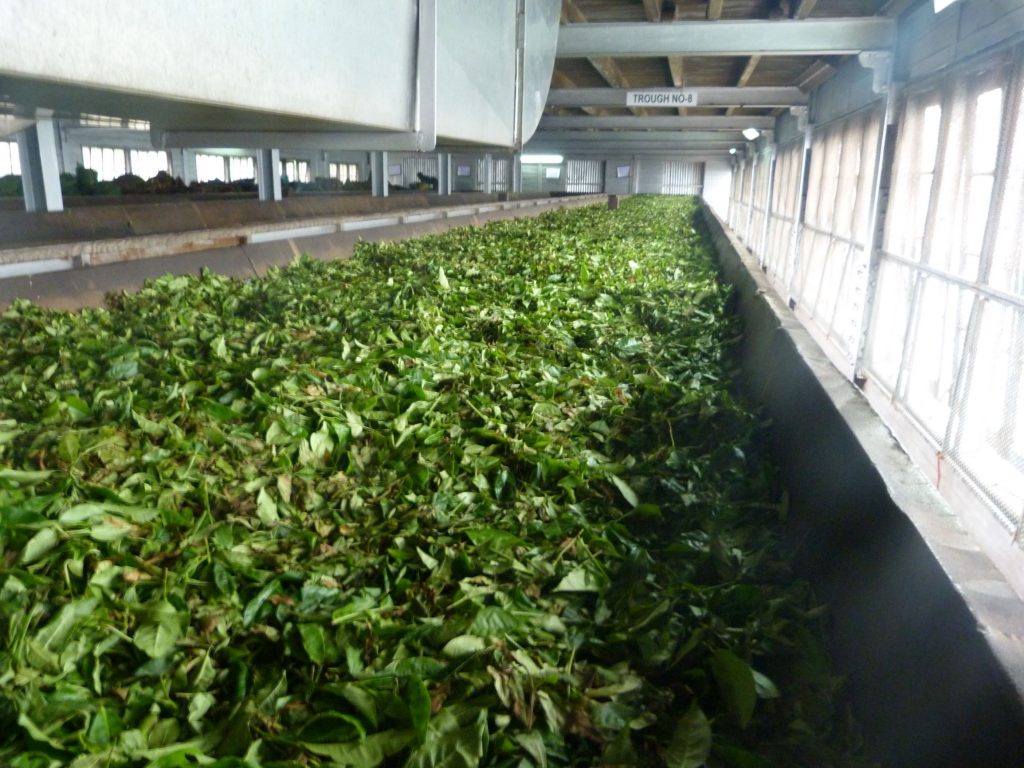 Nuwara Eliya
The Kandy to Ella train journey is one of the most scenic in the world, but at seven hours it can be quite long for little ones. What you can do is take a trip on a shorter section, like Ella to Nuwara Eliya. Nuwara Eliya is beautifully scenic with a few other things to do, but mostly it's about the scenery (along with the 19th century colonial vibes and architecture). If you are stopping in Nuwara Eliya and want to visit a tea factory, you can try Mackwoods.
Mackwoods Tea Centre
Mackwoods is quite a short tour (good for the kids) so you get a rough overview rather than an in-depth explanation. The tour is free with tea tasting included. You can also buy cake to go with your tea. There is a gift shop but it is quite expensive.
Pedro Tea Estate
Pedro Tea Estate is the probably the most famous tea factory in Nuwara Eliya but as it produces a light tea, most of the production takes place at night. You also cannot take photographs here. If you still want to go, it is about 3.5km East of Nuwara Eliya. Entrance is LKR 250 with tea tasting.
Interesting fact – a good old cup of builder's tea is in fact made up of the dregs of the crop called 'dust'!
We hope that you will manage to work a couple of days in the Hill Country into your itinerary. Even if you are not a tea enthusiast and are not tempted by the factory visits, then it is still worth going for the views!
Top Tip for tea tasting
When doing any kind of tour, try to use the toilet facilities in your (or a nearby) hotel when possible, as the facilities in some of the factories are the hole-in-the-ground squat toilets that can get a little messy!
Find accommodation in Sri Lanka's Hill Country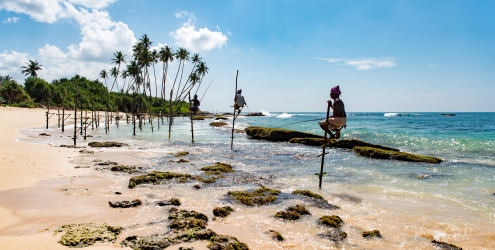 https://flashpackingfamily.com/wp-content/uploads/2019/04/daniel-klein-573630-unsplash.jpg
4912
7360
Jacs
https://flashpackingfamily.com/wp-content/uploads/2019/02/white-logo-300x150.png
Jacs
2019-03-21 05:15:29
2019-11-16 22:30:32
The perfect 14-day family-friendly Sri Lanka itinerary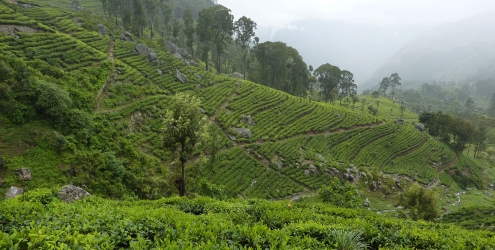 https://flashpackingfamily.com/wp-content/uploads/2019/02/tea-plantations.jpg
1732
2309
Jacs
https://flashpackingfamily.com/wp-content/uploads/2019/02/white-logo-300x150.png
Jacs
2019-03-14 05:58:07
2019-11-09 20:46:03
Tea tasting & tea estates in Sri Lanka's Hill Country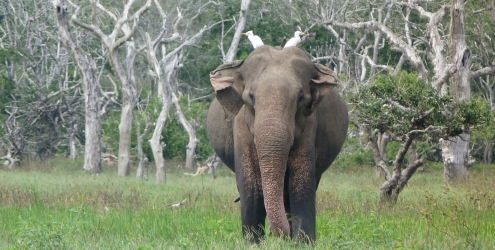 https://flashpackingfamily.com/wp-content/uploads/2019/02/egret-on-elephant.jpg
1732
2309
Jacs
https://flashpackingfamily.com/wp-content/uploads/2019/02/white-logo-300x150.png
Jacs
2019-03-11 19:58:03
2019-09-29 13:35:28
Yala National Park - where crocodiles eat leopards!
https://flashpackingfamily.com/wp-content/uploads/2019/02/Bentota.jpg
1732
2309
Jacs
https://flashpackingfamily.com/wp-content/uploads/2019/02/white-logo-300x150.png
Jacs
2019-03-07 13:38:35
2019-10-15 15:03:43
Best family friendly beaches of southern Sri Lanka