Family Camping With Toddlers: 8 Essential Tips To Make It Fun
For many, the thought of camping with toddlers will send shivers down their spine. For others, camping is the epitome of childhood and it's never too soon to start.
The camp fires, den building and the sheer excitement of sleeping in a tent. Ah, to be young.
We only started camping with kids when we bought our VW campervan. The boys were 5 and 7 at the time. They took to our family campervan holidays easily and we jumped straight in to a six week camping trip in France.
It was so successful, it made us wonder whether we should have tried camping when they were babies or toddlers. Then we started wondering – what is a good age to take a child camping?
We had the feeling that camping with toddlers might be quite tricky which is why we put it off. Do you wonder this too?
We're guessing since you're here, you probably do! Have no fear. We've got you covered. But before you read about tips for camping with young children, you might like to check out our post on general tips for beginner campers.
Looking to get away ASAP but don't have your own bathroom facilities? Check here for a list of the best UK campsites with ensuite facilities or check out these amazing coastal campsites for your summer holidays in the UK.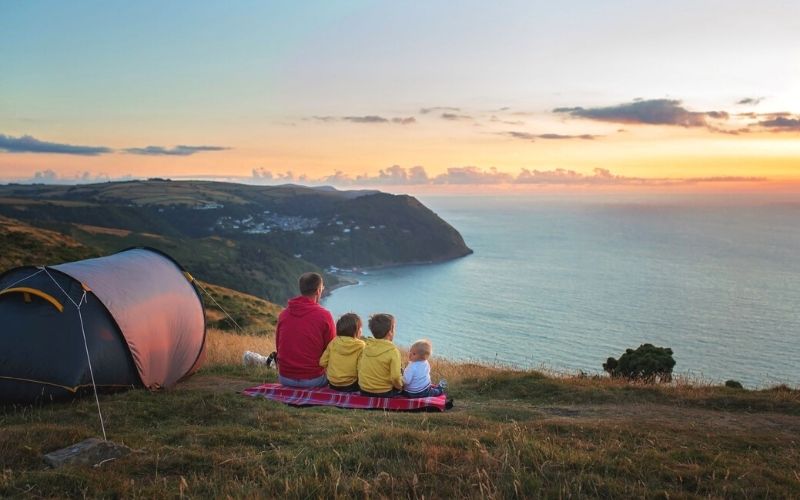 This post contains affiliate links. If you should buy something from one of them, we may earn a small commission but this is at no extra cost to you.
We thought it would be good to pass on some valuable camping with toddlers tips from someone much more experienced in it than us.
We asked fellow blogger, outdoor lover and toddler mama, Jen, from Outdoorsy Days to provide her top toddler friendly camping tips and tricks.  Her tips include essential advice on how to keep kids warm when camping, sleeping in a tent with a toddler and what to pack when camping with a toddler.
The big question we asked was:
"Is camping with a toddler difficult?"
Jen replied:
"It can be, but it's totally doable… and can also provide a huge dose of outdoor, unprecedented fun. Much like how family travel provides a wealth of benefits for kids, family camping creates new experiences for your toddler, supports their development and helps them to connect them with nature".
Sounds great… and here's how to do it.
Jen's top tips for camping with toddlers…
1. Invest in a blackout tent
Let's start with the basics. If you're looking to purchase a new tent to go tent camping with a toddler, then consider a blackout tent with multiple compartments or bedrooms. I'm a light sleeper and when I discovered blackout tents, it literally changed my entire camping experience.
I no longer woke at 5am each morning because of the sun rising and streaming through the tent. Yes, they're a little more pricey but that extra hour in bed, for both you and your toddler, is totally worth it, believe me.
I'd also recommend each child having their own bedroom when camping with toddlers in a tent, so that sleep is mostly uninterrupted.
When searching for the best tents for families – look for dark rest tents, dark room tents or lights out tents. The terminology is different between the brands but the aim is the same. To reduce the amount of sunlight coming into the tent to minimise early morning wakings.
Here are some black out tents you may want to take a look at:
Small family tent (4 man tent)
Quechua 4 person black out air tent (read our Quechua 4 person air tent review here).
Mid size family tent (5 man tent)
Quechua 6 person black out air tent
Coleman Tent Pinto Mountain 5 Plus
Large family tent (6 man tent)
XL Family tent (8 man tent)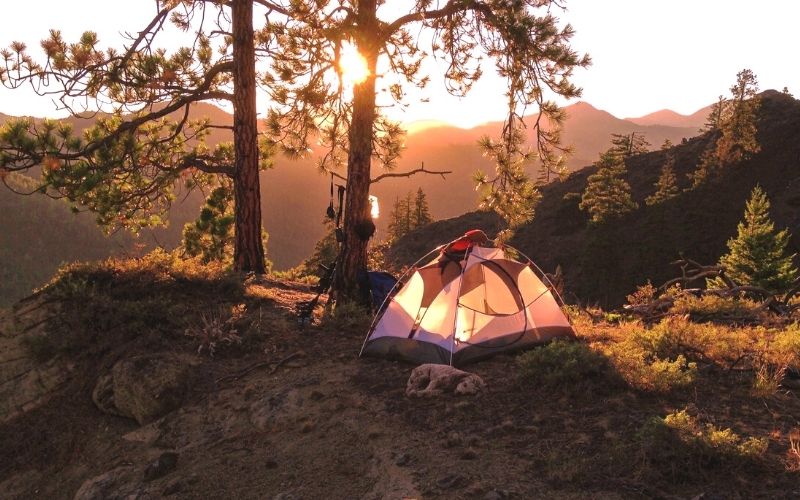 2. What should a toddler sleep in when camping?
Next, your little one is going to need somewhere to sleep. The toddler beds for camping I've seen look incredible, but are totally impractical for many little escape artists.
Taking the travel cot is a guaranteed way to keep them safe at night, plus it's much more familiar territory for them. You can plonk it in their own compartment in the tent and spare yourself blowing up an extra air bed.
3. Prepare for all weathers
Let's face it – weather can be blummin' unpredictable. Prepare for all weathers by chucking a hat and sun cream in your suitcase, even if you're not sure they're needed. And bring the waterproofs.
Take a couple of extra blankets, plenty of layers and a dedicated outdoor toddler sleeping bag. The sleeping bag season rating system, which can be found on most sleeping bags nowadays, shows which sleeping bags are suitable for which temperatures.
1 Season – Ideal for warm nights in the summer months where temperatures are above 5°C
2 Season – Designed for cooler nights in the spring or summer with a temperature range of 0 to 5°C
3 Season – Designed for colder nights without frost (0 to -5°C). Many people choose a 3 season sleeping bag as an all-rounder for year round use.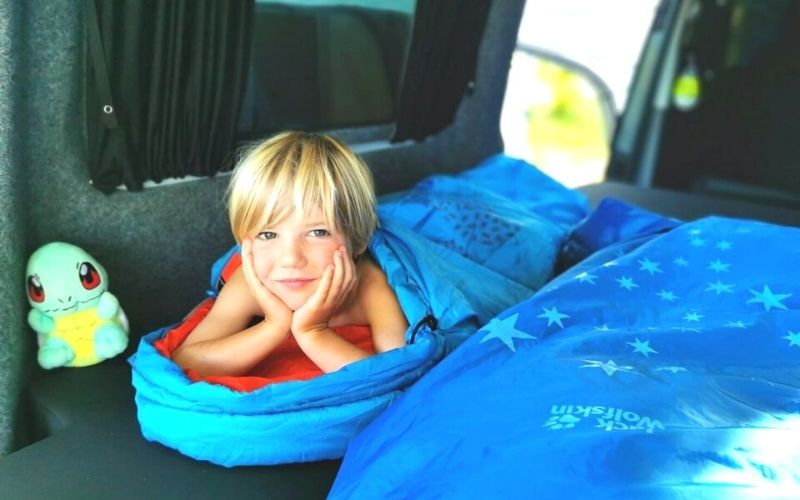 4. Mimic their usual routine (as much as possible)
Okay, so recreating their exact routine is going to be impossible, of course. But, is there anything you can do to make bedtime feel a little more familiar?
Perhaps read a bedtime story, bring their favourite cuddly toy or sing their chosen nursery rhyme. It sounds simple, but routine is so important to young children and signals that it's time to slow down and get ready for sleep.
The chances are, their usual 7pm bedtime will get pushed back an hour or two with all the camping activities for kids going on, but hey, you're on holiday.
5. What to pack for camping with toddlers
Pack the essentials (and the not-so essentials). Nobody likes overpacking, only to return from your break with half of your holiday wardrobe unworn. But, when it comes to camping with a toddler, you have to be prepared.
What you need for camping with a toddler: nappies, wipes, a towel, pyjamas, a potty, coats, a swimming costume, clothes, a stroller, a carrier, a drinking cup, bowls and spoons. Going campervanning with toddlers? Add this toddler camping gear to your campervan essentials packing list.
It can also help to bring a couple of easy-prep meals, plenty of snacks and pop some antihistamine cream in your travel first aid kit in the event of bug bites or other allergic reactions.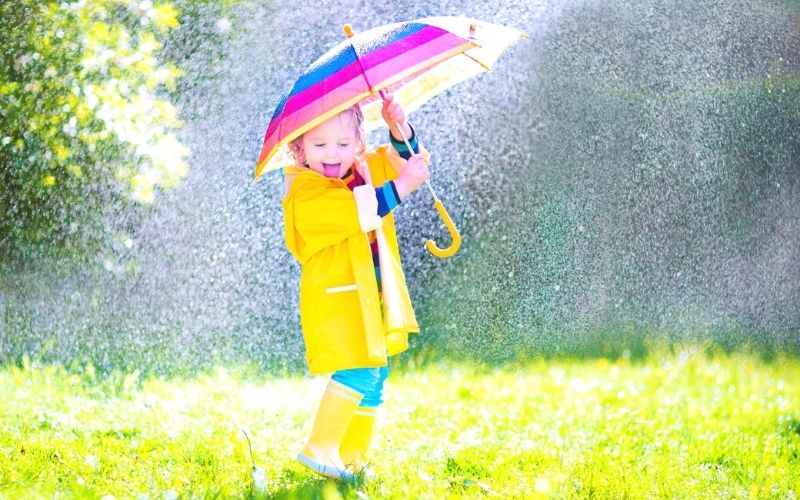 6. How do you entertain a toddler while camping?
The best thing about camping with toddlers is that you don't need to think too much about entertaining them.
Getting out into nature is hugely entertaining for them. Go out on family walks and on bike rides. Let them play with rocks and twigs but, just for fun, why not pack a few little things to help them enjoy the great outdoors?
A head torch, a ball, some glow sticks, some bubbles, a fishing net, a spade and a jar for collecting and studying insects will all go down well.
If they have a balance bike, throw that in too. By the way, these kinds of things make ideal gifts for adventure kids.
Toddlers aren't quite old enough yet to benefit from most these travel games for kids, but keep this list for when they're a bit older.
7. Have a practice run
If you're still feeling overwhelmed at the idea of going camping with your toddler, then why not have a practice run? This could be a night spent camping in the garden or at a campsite up the road from home.
This way, your child can get used to it and you can see what went well and if there's anything you'd change next time. If worse comes to worse, you haven't got far to travel to a nice warm bed.
When choosing a campsite, make sure it has family-friendly facilities. Some specifically bill themselves as family campsites. Maybe try glamping first?
8. Just go with it
My number one piece of advice? Just go with the flow. You're going to soak up the outdoors, make the most of the outdoor activities for kids, have loads of fun and collect tonnes of memories no matter what.
You're going to be completely out of routine and that's okay. Remember that you're on holiday and not to panic if things don't always go to plan.
If your little one can see you relaxed and having fun, then they will too.
Read more: The Mental Health Benefits Of Travel For Children | Top tips for campervanning with kids | Guide to buying a Drive Away Awning | An Olpro Cocoon Breeze Review