37+ Campervan Gifts That Every Campervan Owner Will Love
Looking for practical campervan gifts for family or friends who are new to vanlife? Or maybe you're looking for something fun and quirky for the campervan enthusiast in your life?
Buying presents for someone who appears to have everything can be tricky, but buying them for a campervan owner (who favours minimalism because space is an issue) can be even harder.
This campervan gift guide is focused less on the practical things (although there are some pretty handy items in here) and more on the nice to have items with a few fun campervan themed gifts thrown in.
This post contains affiliate links. If you click on one and buy something, we may earn a small commission but at no extra cost to you.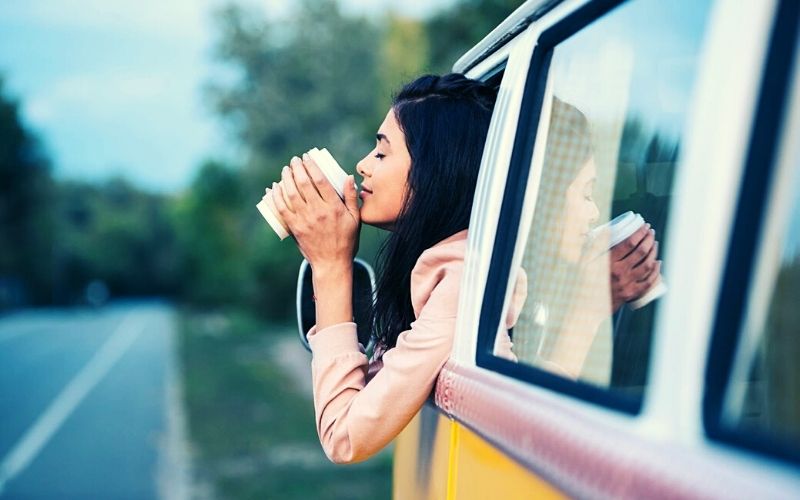 Practical campervan gifts
Tom Tom Go Camper
If a campervan doesn't come with a SatNav system built in (or even if it does), the TomTom Go Camper unit is great for campervan owners. It won't take you down roads that are too narrow for the size of your van because you can programme it with your van stats. It will also connect via bluetooth to your phone and download the latest maps.
While we're on the subject of navigating, the Great British Adventure Map is a lovely map detailing points of interest around the UK. Plug them into your TomTom and you're away.
Tile Mate
The fact that Tile Mate has over 10,000 reviews on Amazon, 90% of which are 4 and 5 stars, suggests that a lot of people lose keys. We have been one of those people and it's not fun!
Tile Pro is great for locating keys, wallets, cuddly toys – you name it. It has a range of 120m and if you're not in bluetooth range (because you don't always lose your keys at home right?), the Tilemate will show you a history of the last location.
There's also a Tile Mate community of people who can alert you to the location of your missing item just by passing within range of it themselves. Note, there is an annual subscription fee for some of the features.
Tog24 Craven Waterproof Jackets
These packable waterproof jackets are utterly ideal for vanlife.  They pack down into a tiny drawstring bag which can be stuffed into all those awkward places or used to keep the crockery from rattling while you are on the move.
They're so small, you can just pack them into your day bag just in case. We absolutely swear by these during the warmer months. You can also buy them for the whole family. They are ideal for a family that campervans with kids.
Swiss Army knife
The Swiss Army Knife, another essential campervan accessory, makes it onto the gift guide because it is practical but also makes a great gift for men or women because it can be personalised. While we're at it, the Swiss Army Knives for kids make lovely gifts for kids who love to travel too and there are some fun ideas in this easy wood carving for children book. **Even though this is a child-friendly knife, supervision should always be used**
Packing cubes
Not everyone has come across packing cubes, but they genuinely are such a practical – and space-saving item for any campervan. They are like mini suitcases that come in a variety of sizes. We recommend the Amazon Basics 4 pack as we like the mesh panel that allows ventilation and enables you to see what is in them.
There are also compression packing cubes for anyone who struggles to pack light as they can fit more in them. We absolutely would not be without ours! See our top tips for campervanning with kids. Packing cubes are a game changer for van life with kids!
Campervan gifts for the bathroom
Scrubba
The Scrubba is a clever design for washing clothes when you don't have access to a washing machine. You just fill it with water, add the detergent and clothes, close it up and then scrub those clothes. Inside the bag is a kind of washboard that will work away on dirty clothes.
You can see here how it works. Ideally you can team it with an eco-friendly detergent.
Eco-friendly toiletries
Eco-friendly toiletries are essential when wild camping, but are good to take camping generally.
Have a look at the Ethical Superstore for some inspiration, but soap bars are a great idea for starters to minimize plastic waste. Read our post on more (easy) ways to be eco-friendly if this is something you are interested in.
Eco-friendly toiletry gift set
This Eco-friendly gift set contains reusable Cotton Pads, Bamboo Toothbrushes, Bamboo Cotton Buds and more.
Microfibre towels
Gone are the days of the practical but dull microfibre towel. There are now some great designs. We use Dock and Bay. They are sand resistant, quick drying and come in different sizes and styles.
Campervan gifts for the kitchen
Water filter bottle
The Lifestraw water filter bottle is a great campervan gift is someone is going off grid and may not have access to safe drinking water. We have the Sawyer water filter, but this is a much easier water filter and bottle in one.
If they haven't got a decent water bottle, the Chillys bottles make a nice gift.
Coffee makers
We swear by our Aeropress for making the perfect cup of coffee in the van. Although we don't have it, we have heard good reports about the Wacaco Nanopresso.
You will need to boil water separately for the aeropress and the Wacaco. We absolutely love our Outwell collapsible kettle but if there is no hob in the van, you can use the Jetboil Flash Java Kit. There are some more great ideas here on how to make coffee while camping.
Beeswax wrap
A great way to avoid using plastics to wrap up leftover food is to use beeswax wrap. It is washable and reusable, a great alternative to cling film or bulky tupperware. Some wraps have really cute designs.
Campervan mugs
You have a choice here. Are you looking for campervan mugs for the campervan or the home? If you are looking for mugs for the campervan, then ideally they should be enamel or some other, non-breakable material. ie – not ceramic. If they are campervan gifts for the home, ceramic is fine. These are both lovely gifts because they can be personalised.
Reading material for campervan owners
Van life goes hand in hand with taking it slow. For avid readers who don't have space for lots of books in the campervan, you might want to consider a Kindle paperwhite. There are so many books these days available as a Kindle edition.
Some books that make fabulous camper van gifts are:
Rough Guide to the North Coast 500
Take the Slow Road: England & Wales
Fun campervan gifts
Portable bluetooth speaker
The Bose Soundlink bluetooth speaker is a great campervan accessory, but if you're looking for a cheaper alternative, the Anker Soundcore bluetooth speaker is great.
GoPro
The GoPro Hero 9 is the best all-round action camera and is great for underwater shots but there are some decent alternatives if you don't want to spend so much.
Also, check out an underwater camera to keep the kids entertained.
Drone
The Snaptain drone for beginners is great for campervan enthusiasts wanting to capture that epic drone shot of the campervan on a scenic road trip.
Also, check out an underwater camera to keep the kids entertained.
Hammock
The Wise Owl hammocks are super lightweight and pack down really small.
Novelty campervan gifts
If you're looking for some novelty campervan themed gifts, here are some fun ideas. You'll find a lot of VW campervan gifts, and quite frankly, they're the coolest!
For lego fans young and old, the lego campervan will keep them occupied for a few hours.
This 1000 piece campervan puzzle is also going to keep them entertained for
Personalised campervan word art picture
Genuine Volkswagen campervan toaster
And last but not least, everyone needs a new pair of underpants at Christmas right?
For the campervan owner who has everything
If you're still stuck for ideas after going through this list, then there's always a gift card option or more of an experience related gift.
Gifts for kids of campervan owners
Frog Bikes
If you're thinking about gifts for kids of campervan owners, we highly recommend Frog Bikes. They are brilliant kids bikes and are great for taking on campervan adventures due to their extremely lightweight frames.
They are so easy to get on and off the bike rack at the back of the van and the kids love that we take them everywhere.