25 Fun Outdoor Activities For Kids In Spring They Will Love
Springtime is our favourite time of year in the UK as we can enjoy more outdoor activities for kids in spring with the better weather.
We firmly believe that getting kids outside and finding fun outdoor activities is so important for their physical and mental health.
As much as we try to get out and about during the winter, there are still those days when we just want to snuggle up and hibernate. The arrival of Spring gives us so much more opportunity to get out and find fun things to do outside.
If you're looking for outdoor fun for kids this springtime, here are 25 excellent ideas for you. These spring activities for kids are guaranteed to put a smile on their faces and the great thing is that so many of these outside activities for kids are free!
This post may contain affiliate links. If you should buy something using one, we may earn a small commission but this is at no extra cost to you.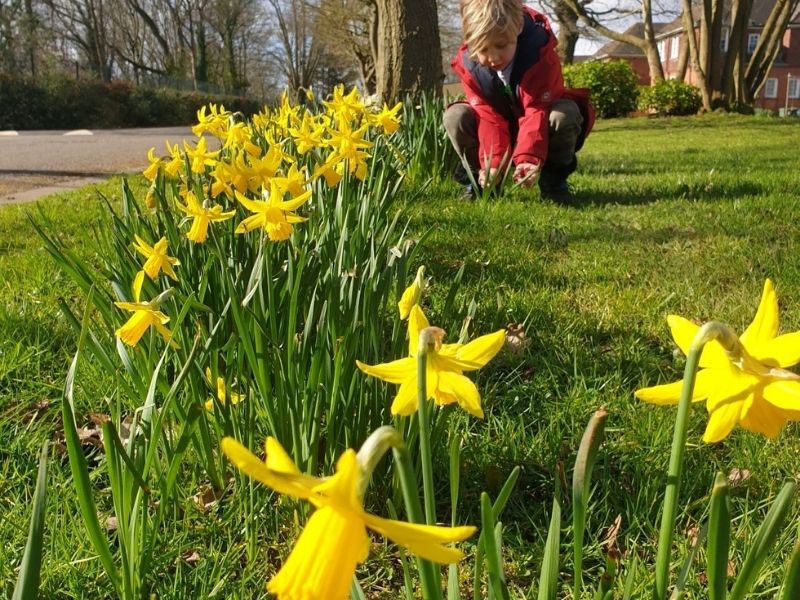 Nature outdoor activities for kids in Spring
1. Go on a nature scavenger hunt
Nature scavenger hunts are a great way to get kids out and exploring nature and are one of our favourite Spring nature activities. They can look for new green leaves, some blossom and flowers growing. You can buy a Nature Scavenger Hunt kit or you can make your own. Check out Pinterest for free printables.
2. Design a garden treasure hunt
This is one of our favourite fun things to do outside with kids in our own garden. It is really simple. Just make up your own code by having a different symbol for every letter of the alphabet.
Give them the first clude which they decipher. This tells them where to find the next code. Hide 10 codes in various places in the garden which they will find each time they crack a code. The final code reveals the location of the hidden treasure.
You can also do this for younger kids but draw a map of the garden (like a pirate's treasure map) instead of the secret code.
3. Play nature bingo
You can download and print a free resource from Pinterest and while going out for a walk, you can get the kids to keep a look out and tick off the items they find. First one to get a Bingo wins a prize.
4. Look for rainbow colours
Similar to nature bingo, a lovely idea for Spring outdoor activities is to see if you can spot all 7 colours of the rainbow in nature. It might be a red ladybird, yellow daffodils, a new green leaf, a bluebell and so on. Orange is always a tricky one. Maybe an old leaf from autumn that is still lying on the ground?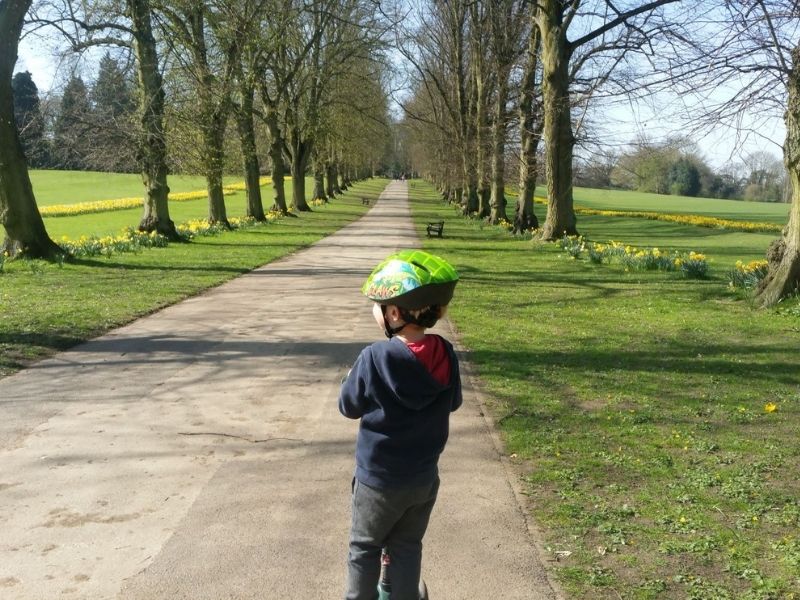 5. Follow a Spring blossom trail
An alternative to taking a Spring walk in the woods or along public footpaths is to walk around your local neighbourhood. There are bound to be some beautiful cherry blossoms or Magnolia out on some streets. Collect some of the fallen blossom for an art project at home.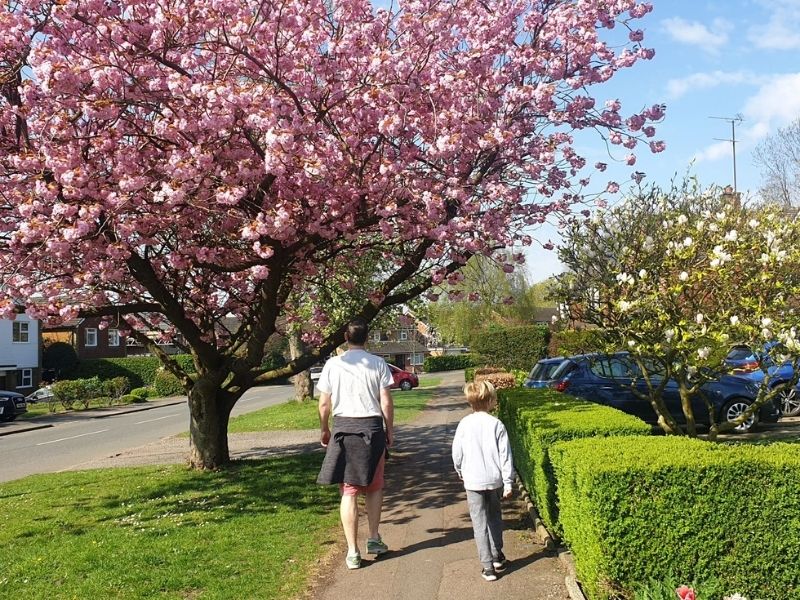 6. Collect Spring flowers
There's something so beautiful about the first flowers of Spring. While we don't encourage picking most wild flowers because we think they should be left for others to enjoy, we might pick a few daisies or buttercups to make daisy chains.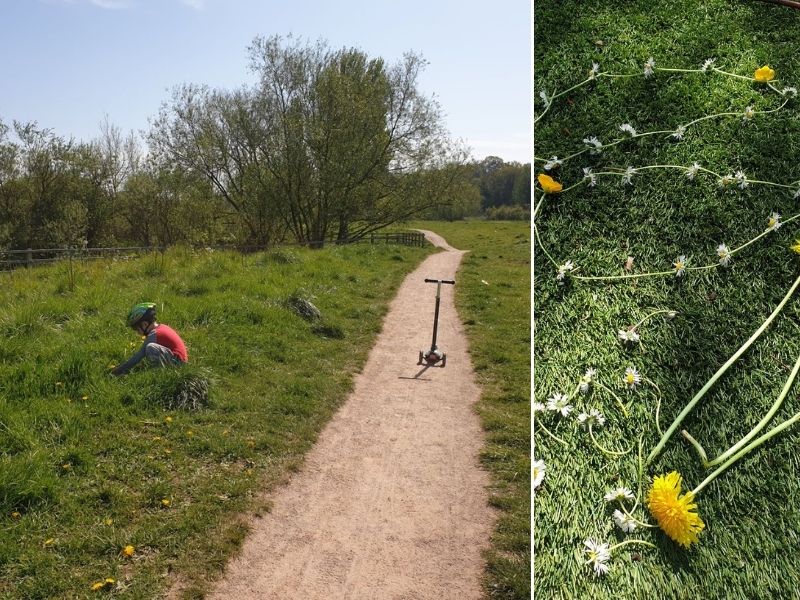 7. Take a walk in a bluebell wood
We have several fantastic bluebell woods in Hertfordshire and they are one of the best places to visit in spring for a family walk. Bluebell woods can be found all over the UK so there is bound to be a bluebell wood near you. Bluebell season runs from around mid-April to mid-May and is truly spectacular. Just be careful not to step on the bluebells as they are very delicate (and protected by law).
Read more: We have a great post on where to find the best bluebell woods in the UK.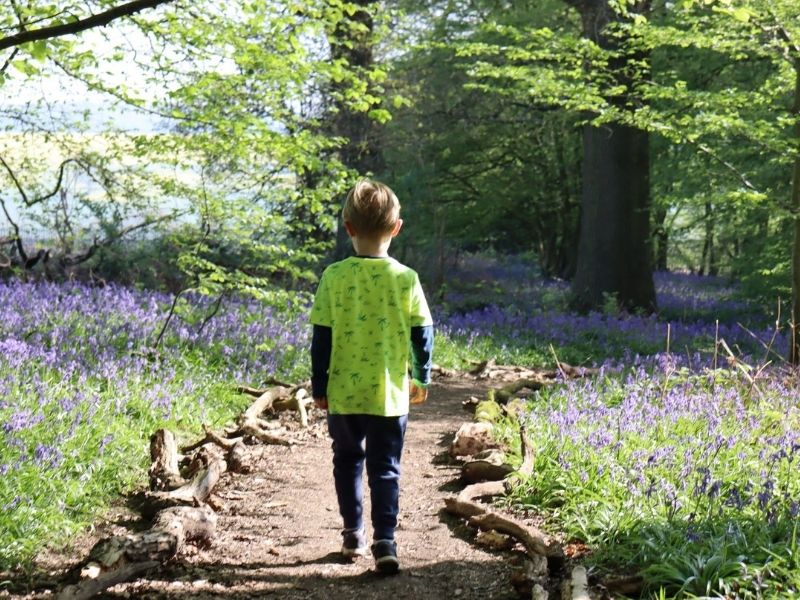 8. Build a den in the woods
Woods and forests are the ideal place for kids to build dens with so many construction materials lying around like fallen branches and leaves. You may come across dens that people have built before you and you can remodel or add your own touches too.
If you're looking for Spring activities for kids that the whole family can get involved with, this is a good choice.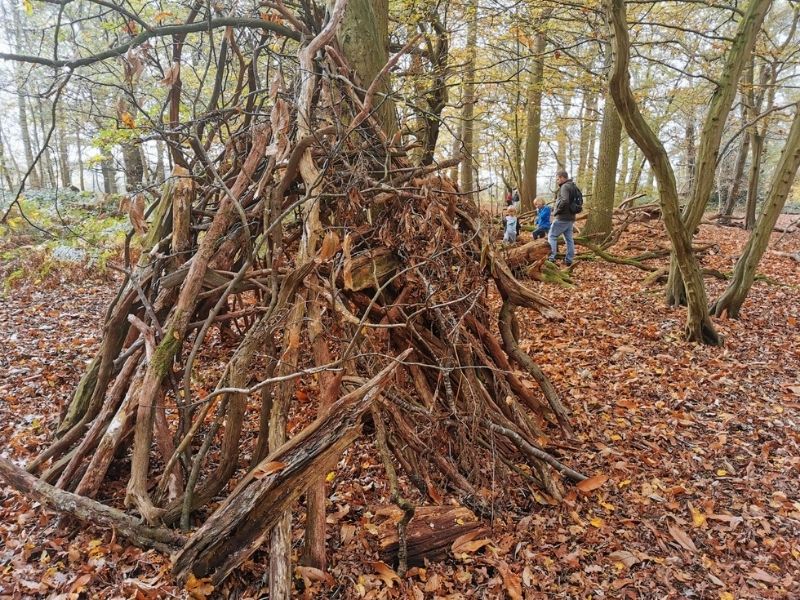 9. Catch a sunrise or sunset at the beach
The weather may not be nice enough just yet to spend a day at the beach but if it's looking like it will be a nice day, you can head to the coast to catch an amazing sunrise or sunset. Combine this with a walk on a beach followed with the promise of the first ice cream of the season for a really memorable day out.
Read more: Best beaches in Suffolk | Best beaches in Norfolk | Best Beaches near London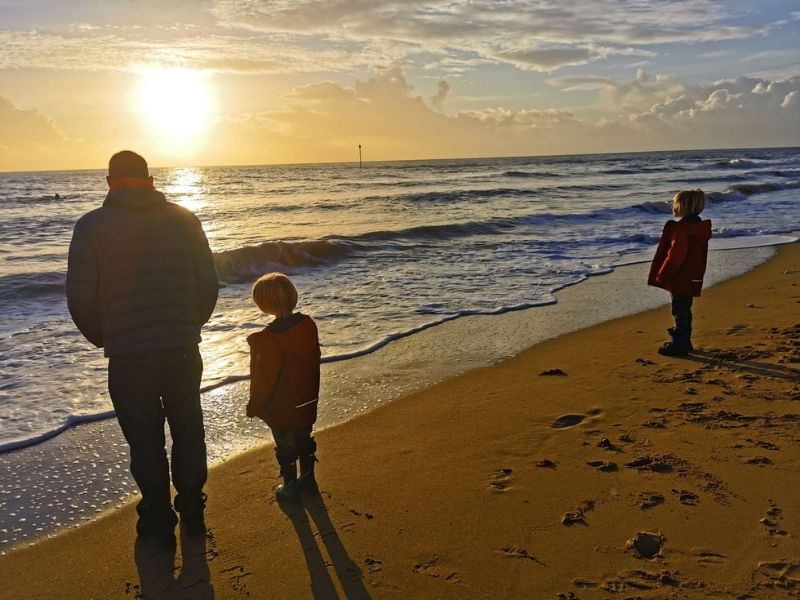 10. Grow seedlings in egg boxes
Spring is the time to plant seeds and it is a great idea to get the kids involved. You can start with used egg boxes, poke holes in the bottom for drainage, fill with potting soil and then put your seeds in them. We grew spring onions, baby spinach, some bee friendly flowers and a very successful broad bean plant! Sunflowers are also really fun to grow.
This is a good one if you're looking for outdoor Spring activities for children that are educational. It also teaches responsibility if you let them take charge of watering the seedlings and transfering them to bigger pots when they outgrow the egg cartons.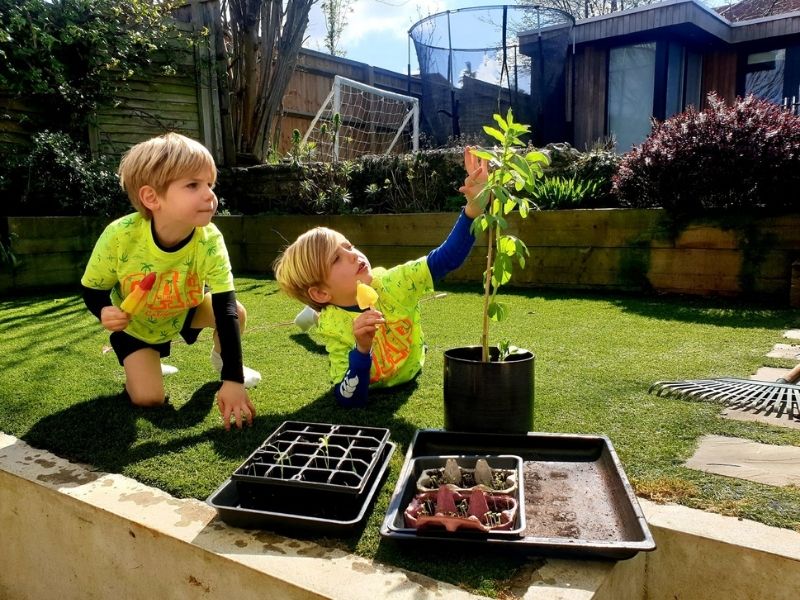 Animal-related outdoor activities for kids in Spring
11. Visit lambs on a farm
Many farms in the UK are diversifying into becoming family-friendly attractions these days. During autumn, you can visit pumpkin farms. During the summer, there are lavender farms. Spring means lambing season and on some farms you can go and see newborn lambs!
There are farm parks that have been around for many years but more recently, working farms have been opening up during lambing season. This is a fun and educational experience for kids and who can resist a cuddle with a baby lamb or maybe the possibility of feeding one?!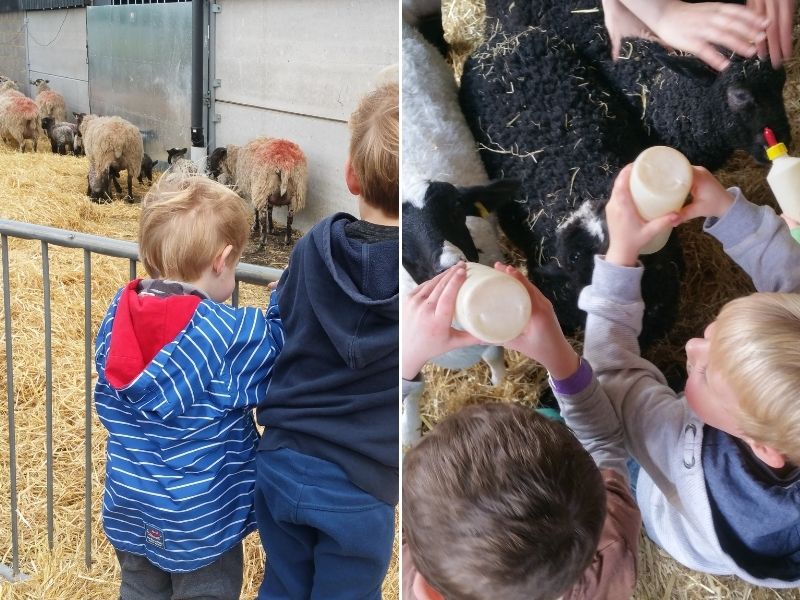 12. Go on a bug hunt
Our kids are experts at spotting the tiniest bugs when they are out in the garden or when we go out on walks. It may be because we don't have any pets but they are absolutely fascinated by little creatures and finding bugs is the peak of outdoor fun for them!
Like the nature scavenger hunt above, you could set a challenge to find various types of bugs in the garden or out on a walk.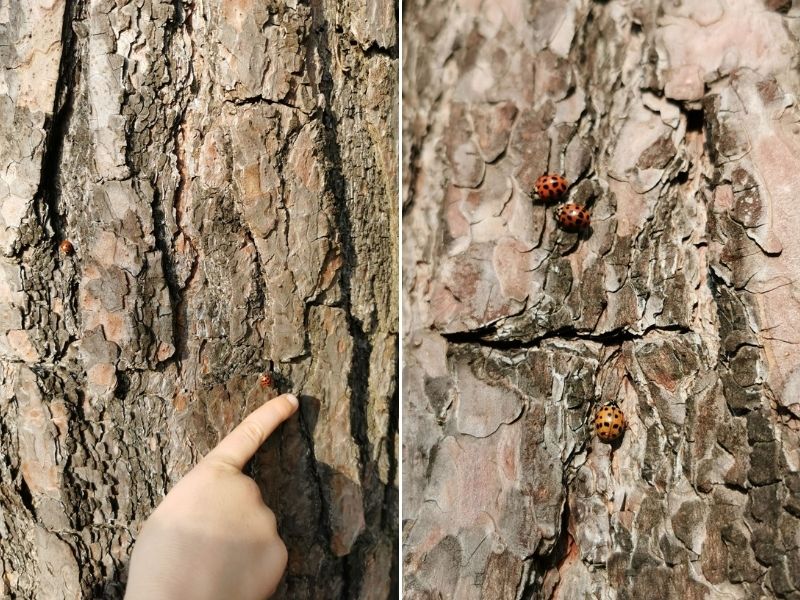 13. Grow butterflies
We bought a caterpillar to butterfly growing kit from Insect Lore and the kids loved it. The kit includes live caterpillars, food and a mesh container. The kids enjoyed watching the metamorphosis which takes about 3 – 5 weeks to complete. The butterflies need to be released at the end of the cycle in good weather.
14. Look for frogspawn and tadpoles
Frogspawn should start to appear around March with tadpoles emerging around April. If you are passing a body of water, keep your eyes peeled. It is not illegal in the UK to collect frogspawn but you should make sure you follow guidelines. More information on how to collect frogspawn and raise tadpoles can be found here.
You can also explore a pond by going pond dipping. Take a net and a bowl and see how many pond animals you can identify. This is one of the really fun and educational outdoor activities for kids in Spring.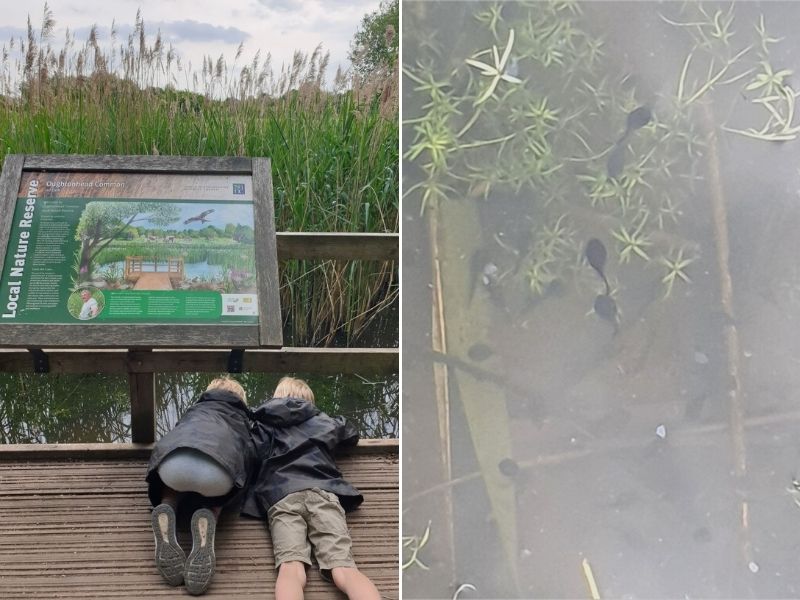 15. Make a bug hotel
Bugs play such an important part in the life of a garden so we need to encourage them to come and visit. What better way than to build a bug hotel?! You will probably find most of what you need in and around the house and garden.
Maybe there is an old pallet or roof tiles that can be used for the main structure? Fill gaps with old cardboard, sticks, tree bark and straw. More details on how to build a bug hotel here. If you don't have the materials, you can also buy bug hotels.
Arts and crafts outdoor activities for kids in Spring
16. Make art from nature
If you've been out in the woods building dens, why not pick up some sticks to bring back home for some Spring craft activities? Making a stick man has always been a favourite outdoor activity for the kids but last Spring we tried something different.
The kids had a geography project to create a map of the world and name the seven continents. They decided to create a map of the world using sticks.
17. Paint outside
If you're not a fan of the kids making a mess in the house and have hidden the paints away all winter, take the paints outside and let them unleash their inner Picasso! We loved creating indigenous Australian art by dipping cotton buds into the paints and making dot paintings.
18. Create shadow art
If you don't want to go as far as getting the paints out, then creating shadow art is a far less messy outdoor activity with kids. With the sun finally popping out in the Spring, grab a piece of paper, a pencil and their favourite toy and let them draw around the shadow that their toy casts on the piece of paper.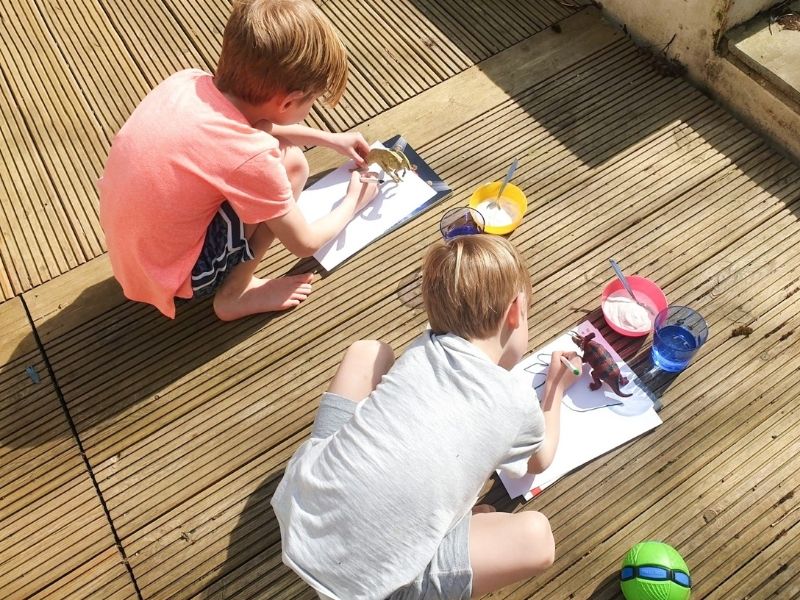 Sporting outdoor activities for kids in Spring
19. Climb trees
Climbing trees is one of our boys' favourite things to do. If I turn my back for a minute, they're up a tree. Climbing trees can help focus their concentration while finding the best route up (and down!) and boost confidence as they achieve this.
20. Enjoy nature's playground
Why not take climbing trees one step further and turn your nature walk in a wood into a trip to the playground? Practice tight rope walking on fallen trees or use fallen branches as monkey bars. You might be lucky enough to find a kind person has built a rope swing in a wood. There's so much fun to be had!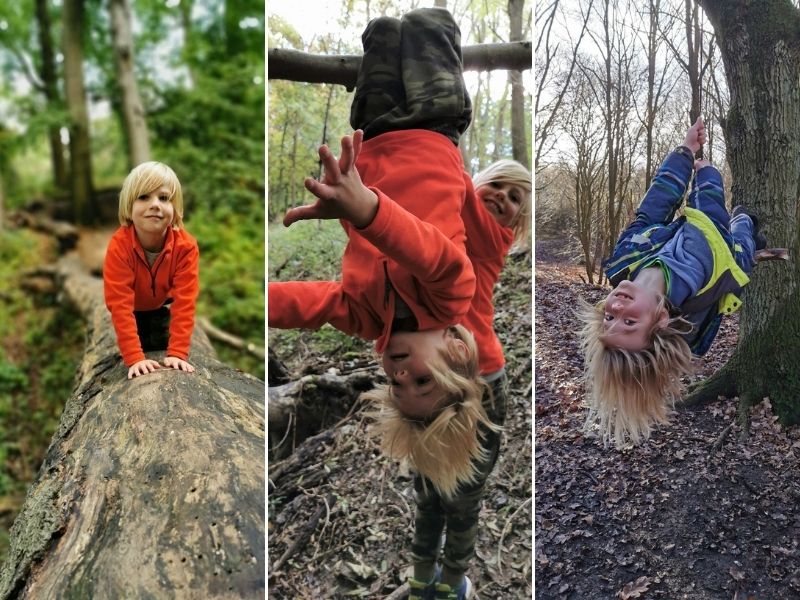 21. Fly a kite
Our kids love flying a kite and we have a fantastic place not too far from us where flying kites is very popular. Ideally, you want to find a hilly or coastal area. Some great places for flying kites are Dunstable Downs, Coombe Hill and Box Hill.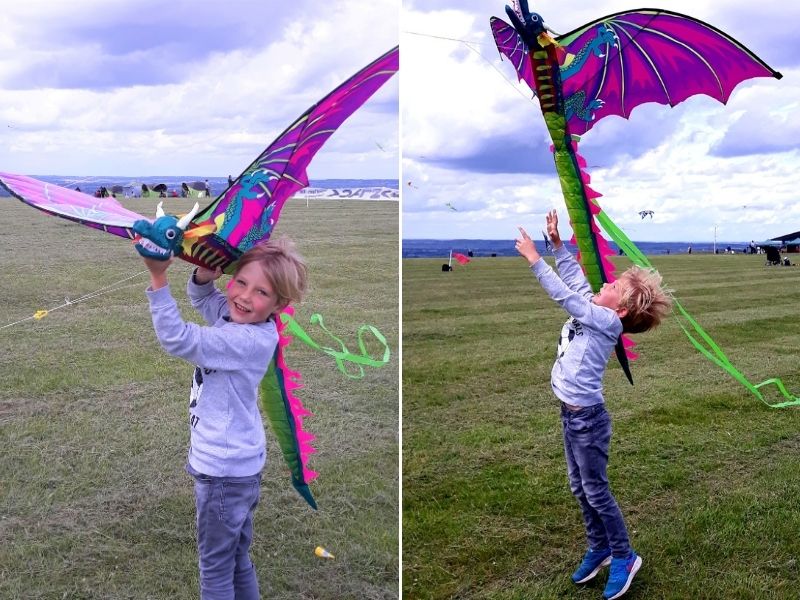 22. Go on a bike ride
If you haven't felt like getting the kids bikes out during the winter then it is time to dust them off and head out for a family bike ride. There's a forest we love to visit in Suffolk with the kids in the spring as it is covered in rhododendrons and is absolutely beautiful for a bike ride.
Take a look to see if there are family-friendly bike rides near you. Maybe a disused railway line?
23. Go on a walk
Family walks are a great way to get kids outdoors and are perfect Spring activities for kids. The Gruffalo trails are one of our boys' favourite things to do outside even now. Our closest one if at Wendover Woods but there are lots more places to find the Gruffalo around the UK.
Read more: Family walks in the UK | Gruffalo Trails in the UK | Ashridge Estate | Panshanger Park | Broxbourne Woods Sculpture Trail | Hertfordshire Walks for Families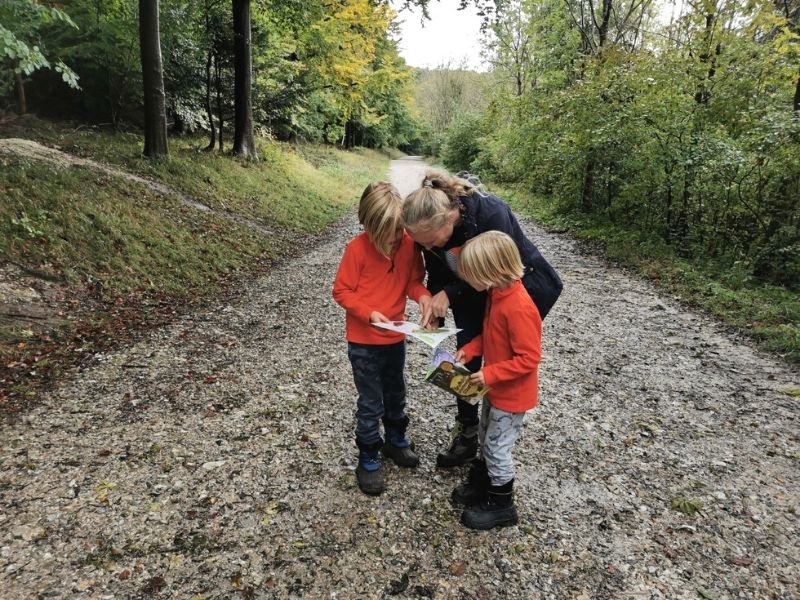 24. Hold a hoola hoop competition
Kids will probably love playing with hoola hoops at school in the playground and hoola hooping is great for fitness. Why not set up a hoola hooping competition at home? Here's a top tip we didn't know before –  the weighted hoola hoops are easier to use!
Mentioning no names here but some in our family take it much more seriously than others :)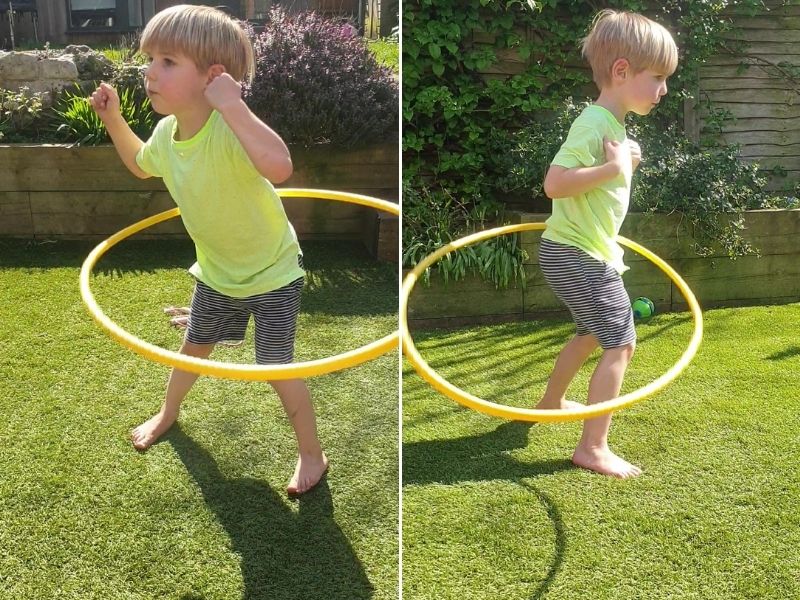 25. Put a tent in the garden
With the weather turning warmer, you might want to consider getting the tent out if you have one. If you are not into camping and can't see yourself going on camping holidays with kids, camping in your back garden is a good alternative. Most kids LOVE camping and will be so excited at the prospect of setting up camp in the garden.
Get a small 2 man tent and take it in turns to sleep out with the kids if you have more than one child. They will love the one on one time as it will make them feel really special. There are some fairly cheap pop up tents if you don't think camping is going to be a regular occurrence.
If you haven't been camping before, doing a test run in the garden is one of our tips for camping with toddlers. We also love to get into the campervan with the kids when the weather warms up, just for a change of scene.
Tips for enjoying outdoor activities for kids in Spring
The weather in Spring in the UK can be very variable and there's an old English saying 'Ne'er cast a clout till May be out' – which translates as don't count on good weather until May has past.
Our top tip is to be prepared for all weather.
We always pack our TOG 24 packable waterproof jackets in case we are out and about and get caught in the rain. They pack down into a tiny bag and are super lightweight. We have them for the whole family and highly recommend them.
It is also worth having some wellies, particularly on muddy nature walks. Hiking boots are even better if you are going on a longer walk.