The Complete 2023 Guide to Legoland Windsor With Small Kids
Wondering whether it is worth visiting Legoland Windsor with small kids? It's true that some of the Legoland rides are off limits for toddlers, but there are still plenty of awesome things to do at Legoland with toddlers.
If you have a little Lego fan, you should visit Legoland Windsor with small kids at least once in your life.
It's one of the UK's top family days out and best tourist attractions near London for kids.
It offers plenty for everyone, even if you're not a Lego enthusiast. Make sure to read our top tips on grabbing a bargain ticket!
This post contains affiliate links. If you book something through one of them, we may earn a small commission but this is at no extra cost to you.
Looking for other Lego themed days out? How about visiting The Lego Discovery Centres? You can find them in Manchester and Birmingham.
Legoland Windsor is a Merlin attraction so if you have an annual pass, you get free entry.
Other Merlin attractions are: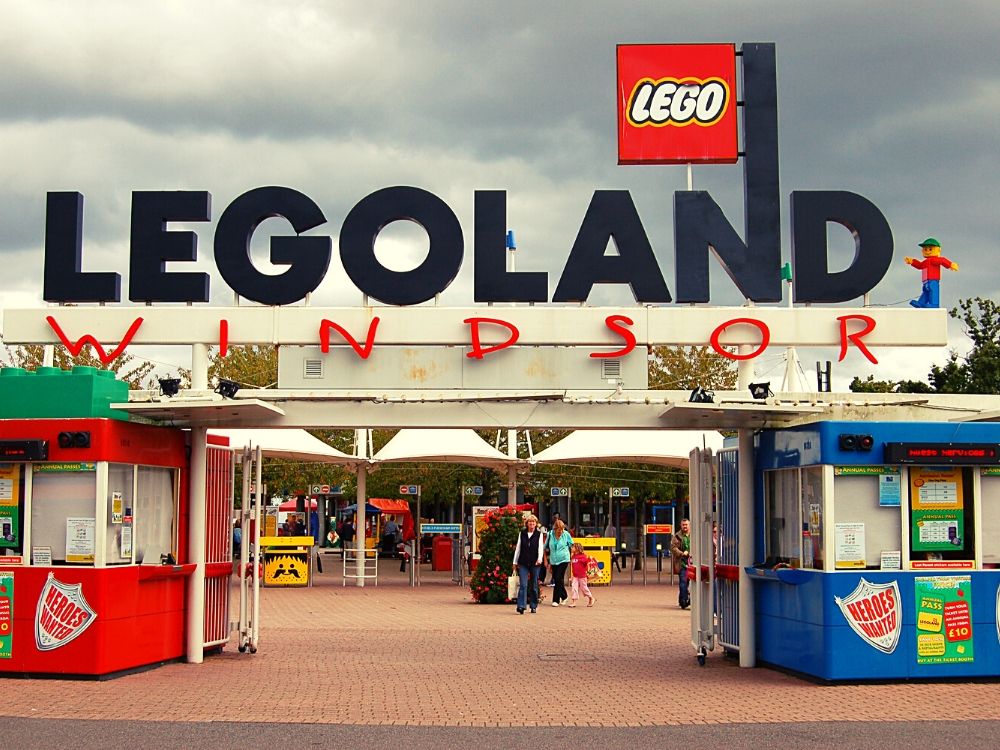 We visited Legoland in Windsor when the boys were 3 (0.9m) and 4 (1.1m)  years old and we all had the best time but if we hadn't planned ahead, it might have been quite different.
We wanted to give you as much information as possible so that you can plan your visit with small children and make the most of your day.
One of our top tips for visiting Legoland Windsor with small kids is to plan your day in advance, especially if you don't want to pay extra for Reserve and Ride (essentially a Legoland Fastpass).
We'll cover a little later whether we feel Reserve and Ride is necessary if you're visiting Legoland with small kids.
Where is Legoland Windsor?
The UK is lucky enough to be one of 8 countries in the world to have a Legoland. Legoland UK is situated just 2 miles outside the town of Windsor and is easily accessible from London by car or train.
The other Legoland resorts can be found in Billund, Florida, California, Nagoya, Dubai and Gunzburg.
Whilst in the area, don't miss visiting Windsor Castle, one of the most impressive castles in England.
Getting to Legoland Windsor
Getting to Legoland by Train and Bus
Windsor & Eton is the nearest train station to Legoland. It's on the Great Western Line and departs from London Paddington.
The journey takes about 30 minutes and then from the train station you will need to take a bus to the Legoland Windsor Resort.
Great Western has made the process as simple as possible by teaming up with local bus companies so that you buy a combined train and bus ticket to Legoland on their site.
You can also take the train from London Waterloo on Southern Railway to Windsor & Eton in around 1 hour.
Getting to Legoland by Car
The Legoland postcode for your SatNav is SL4 4AY although the resort is very clearly signposted from each of the main approaches. It will be easier to follow the brown signs. These are the exits you need to use from the main motorways.
M3 – Junction 3
M25 – Junction 13
M4 – Junction 6
Parking at Legoland Windsor
Legoland Windsor parking costs £8 per day on the day for standard parking and £16 per day for premium parking (closer to the entrance). You can buy your parking online in advance for £7 (and £13 for priority).
Legoland Parking tickets can be bought on arrival but you may have to queue. It's best to buy your ticket online in advance and print the ticket off. You will save yourself time and money because online tickets are £1 cheaper.
Legoland Windsor opening Times
Legoland opening times are generally 10 am – 5 pm during the week and 10 am – 6 pm at weekends and during the school holidays.
Legoland Tickets
The prices for Legoland Windsor tickets vary greatly depending on the day you visit so it's hard to give you an exact price. The best thing is to check on their site for ticket prices for the day you want to visit. In general and with no discounts when you buy on the gate, prices are:
                                           Adult (16+)                      Child (90 cm – 15 yrs)
Day Tickets:                    From £53.00                      From £53.00
If you are visiting Legoland just with a toddler aged under 4, there are better rates available. You can purchase an Adult & Pre-Schooler ticket for £25.00. This is valid for term time visits during the week and must be bought one day in advance. Additional toddlers under 90cm are free.
You might also want to consider a Legoland Annual Pass if you don't live too far away and will visit more than a couple of times a year.
Remember, there is also the Merlin Annual Pass, giving you access to all of the Merlin attractions.
Legoland Deals
If your children are all under 90 cm then they go free and it may not seem like an expensive day out but as soon as they hit 90 cm, the costs skyrocket. Luckily, there are usually Legoland offers to be found to bring the cost down significantly.
Legoland Passes
If you live close enough and know that you'll visit Legoland a few times during the year, you may want to look at the different Legoland Annual Pass options. They include discounts off parking, food, the gift shop and Legoland Hotels.
Toddler pass – if you have a toddler under 90 cm, you can buy a pass for £49 and visit with your toddler on off-peak days as many times as you like during the year.
Legoland annual pass – £89
Legoland Premium annual pass – £119
Merlin annual pass – £179 per person to give you free access to 30 top UK attractions, including Legoland Windsor.
Navigating Legoland Windsor
There are 12 different areas in Legoland Windsor. It's good to take a look at the map and get your bearings before you go.
If you have an idea of the rides you would like to do, make sure that you plan your route. It saves a lot of walking if you are methodical with selecting the rides.
This is obviously subject to change depending on the waiting times on the rides you have selected as you might want to skip some and come back to them.
Lego Mythica – a parallel universe to ours where LEGO creatures come alive.
The Beginning – this is basically the entrance to the park and where you'll find guest services and the Star Wars exhibition.
Miniland – Miniland is at the heart of the park and consists of the major landmarks around the world, all made out of bricks – over 40 million of them! We loved watching the Eurostar travelling from London to Paris through the tunnel.
Imagination – an area for learning and fun with 4D movies and Lego building.
Lego City – where you'll find the popular driving schools.
Duplo Valley – where you'll find many of the rides and attractions for little ones under 0.9 m.
Kingdom of the Pharaohs – visit Egypt and one of our favourite rides – the Laser Raiders!
Heartlake City – Legoland Express starts here and you can watch a pirate stunt show.
Knight's Kingdom – Home of the Dragon (for 1 m and over) and the Dragon's Apprentice (0.9 m and over) rollercoaster rides.
Pirate Shores – for pirate adventures and boat rides.
LEGO Ninjago World – test out your ninja skills on the LEGO Ninjago ride.
Land of the Vikings – spinning water rides and spider.
Legoland Windsor Map
Take a look at the map and try to work out where each of the main rides and attractions are that you want to try during your visit. If you can't see it very well here, try the Legoland site.
Legoland Height Restrictions
Now you have your ticket, you can get planning. There are over 55 rides to check out aimed at children between 3 and 12 years old.
If you only have one day, it might seem a bit overwhelming as you'll want to make the most of your day.
Something you need to be aware of before you go is that there are height restrictions on the rides. The main height restriction is 0.9m which means that anyone under 0.9m will not be able to go on the ride, even with an adult.
This means that out of the 55 rides and attractions, only certain rides are suitable for under 0.9 m and for 1 m and under.
There is plenty to keep you busy during the day though as you need to factor in walking between rides, queue times, lunchtime and all the other attractions.
You can easily locate the rides for really little ones by looking for the Tiny Feet red symbols on the Legoland Windsor map.
You can also check the height restrictions for each ride here just to be sure. To make it even easier, we've listed below the main rides for little people.
Legoland Windsor Rides for Children Under 0.9m
If you're over 1.3m you can go on any ride, even without an adult, which is why we're focusing on the smaller kids.
It's harder to know which rides are suitable for the little ones – so is Legoland good for toddlers? In short, yes.
These are the rides that have no minimum height restriction and are perfect for the really little ones.
Legoland rides for under 90cm
Legoland Windsor Rides for Children 1m and Under
Most of these rides and attractions require a minimum height of 0.9m. If the minimum height is 1m, we've indicated this using **.
Our favourite Legoland attractions for younger children
In addition to the rides above, there are other attractions around the park that are suitable for little ones. Our favourite attractions at Legoland for young children are:
Miniland – they loved watching the Eurostar trains.
Duplo Valley Theatre – catch lovely shows like Goldilocks and the Three Bears through the day. Times are 11.30, 12.30, 14.30, 15.30 and 16.30. This is included in your ticket.
Castaway Cove playground – We based ourselves here and had our picnic lunch.
Splash Safari / Drench Towers – This is a splash park in Duplo Valley. On a warm day, this is a lot of fun. Just remember to bring a change of clothes and a towel.
Driver's School – Last but not least, their absolute favourite thing to do at Legoland for young kids was the driving school. There are 2 driving schools. One for 3-5 year olds and the other for 6-8 year olds.
When it's their turn, kids get to sit and participate in a theory session and then get to take charge of their own car. At the end, they're issued with their own Legoland driver's license.
Reserve and Ride
What used to be called the QBot Legoland is now called Reserve and Ride. This is a payable service that essentially allows to you book rides in advance at an additional cost.
Reserve and Ride prices
If you do want to buy Reserve and Ride, there are 3 options.
Regular (£25pp) – book your ride time and wait for the current wait time until your turn. The benefit is that you don't need to queue. You can go and do something else and Reserve & Ride will let you know when it's your turn.
Express (£40pp) – same as above but cuts your wait time in half.
Ultimate (£90pp) – Instant access to rides.
Is Reserve & Ride at Legoland Windsor worth it?
If you're visiting Legoland Windsor with small kids and can visit outside of school holidays or weekends, then you probably won't need this service.
We didn't pay extra to use this service and managed just fine. The only time we had a long wait was for the Fire Academy. We went on a Friday and Saturday during term time.
Plan in advance which rides you want to go on. Get to the park when it opens and go straight to the ride you want to do first. Make sure to download the Legoland app to help plan ahead of time and on the day.
The best feature is the live queue times so you know which ones to head for or to skip and try again later.
Top tips for visting Legoland Windsor with small kids
You can read our full review of the TOG24 packable waterproof jackets here.
Legoland Hotels
The two Legoland hotels are on-site and staying at the hotel gives you an hour of early access to the park before the general public is allowed in.
You also get free parking, free 2nd day access to the park and additional extras in cute, themed rooms.
Legoland offers Santa Sleepovers at Christmas so make sure to check this post if you want to know more about family Christmas breaks at Legoland. See also our Santa's Grotto post for where to see Santa near you.
They also offer Halloween breaks with lots of spooky Halloween fun.
Hotels near Legoland Windsor
You can check on hotels near Legoland on Booking.com
>