The 40 Best Travel Movies to Inspire Armchair Wanderlust
From an early age I have loved watching travel movies set in far-flung places. One of the best travel movies from my childhood was Anne of Green Gables. I loved the story but I was more drawn to the beautiful scenery of Prince Edward Island.
When I started thinking about writing a post about the best travel films, I realised that I have watched more movies about travel than any other genre, and that a lot of travel movies feature among the best movies of all times.
There are so many movies about travel but here are the best films about travel that should both inspire your wanderlust and provide a lovely watch even if you're unable to travel there in person.
Whilst some of these movies may not be about travel per se, we have included them because of the beautiful cinematography and on-location filming which give dramatic views of the landscape a swell as a glimpse of the culture of a country.
Some are classics, some are comedies, some are true stories and some are docufilms so there's a big mix. Because there's such a genre mix, I've ordered them based on the main geographical location in the movie.
Here are our all-time favourite travel movies.
This post contains affiliate links. If you purchase something through these links, we may earn a small commission but at no extra cost to you. Thank you.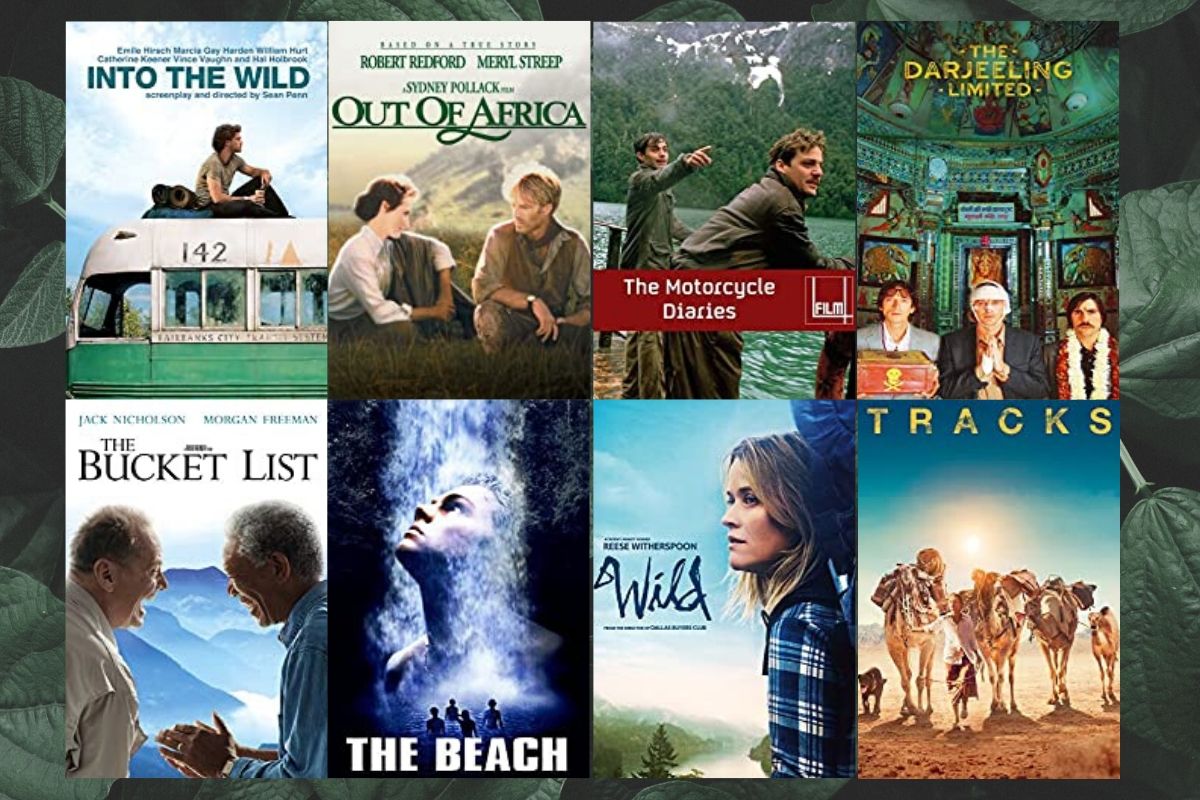 Best travel movies set in North America
Into the Wild – 2007
Into the Wild
is an incredibly moving true story of an American student, Christopher McCandless, who gives up college, sells all his possessions and takes off into the wilds of Alaska.
He aims to get away from it all and survive off the land.
He meets several people hitchhiking his way to Alaska, before heading off on his own into the Alaskan wilds.
Emile Hirsch does an amazing job portraying solitary life for the majority of the film. The Alaskan scenery is just beautiful too.

Thelma and Louise – 1991
A combination of genres,  but most certainly a US road trip classic, Thelma and Louise tells the story of two female friends from Arkansas who set off for a weekend away together.
Things rapidly progress to the pair driving through the southern US as fugitives from justices, and the film ends with the Grand Canyon playing a prominent role.

Wild – 2014
Having gone off the rails after her mother's death,  Cheryl Strayed set off on her journey of self-discovery by hiking the 2000km Pacific Crest Trail solo, with no real hiking experience.
Wild
is an incredible story of never giving up and working to turn her life around to once again be the woman her mother thought she was. The beautiful scenery along the trail is interspersed with flashbacks of her life.
Free Solo – 2018
Free Solo is the story of how professional free climber Alex Honnold prepares for and attempts to climb El Capitan's 900-metre vertical rock face in Yosemite National Park in California.
You may not be tempted to try free climbing yourself after seeing this, but the incredible scenery in this docu-film will definitely make you want to get out and explore the beauty of Yosemite.
Sideways – 2004
Sideways is a wonderfully written, excellently accomplished film about two men who embark on a road trip across California's wine region. Although friends for a long time, the pair evidently have little in common these days.
Each has their own life-issues that they are knowingly, or unknowingly trying to solve through this trip. A thought-provoking mixture of humor, sadness, bonding and wine.
Sideways is expertly directed to elicit emotion from anyone who watches it… and leave you dreaming of a Californian winery road trip.
Best travel movies set in South America
The Motorcycle Diaries – 2004
The dramatization of a motorcycle road trip taken by Ernesto Guevara in his youth (played by Gael Gabriel Garcia) with best friend Alberto Granado.
The Motorcycle Diaries is a coming of age story that showed Che his life's calling as the pair take a 8,000km road trip from Buenos Aires to the Guajira Peninsula in Venezuela.
Many stretches of the movie are just the two of them and the beautiful South American scenery.
City of God – 2002
Set in the favelas of Rio de Janeiro in the seventies, City of God is the true story of two friends growing up and following very different paths, one becoming a photographer and the other a drug dealer.
We see the far-reaching network of the drug world and gang rivalry issues, with the backdrop of the world's most beautiful city.

Best travel movies set in Europe
The Big Blue (or Le Grand Bleu) – 1988
A tale of a solitary free diver, Jacques, who has a deep affinity with the ocean and who's only friend is also his freediving rival, Enzo.
The Big Blue takes you to beautiful locations. There's a lot of underwater photography filmed in the Virgin Islands National Park and also lovely scenes from Amorgos island in Greece.
Midnight in Paris – 2011
On a trip to Paris with his fiancée's family, a screenwriter finds himself transported to 1920s Paris each night, taking long walks around the city to soak up the ambience.
Midnight in Paris feels like a love letter to a Paris of a distant era, but has enough action in the modern day to satisfy current travellers.
Under the Tuscan Sun – 2003
Based on Frances Mayes' 1996 memoir, Under the Tuscan Sun tells the story of a US divorcee who buys a Tuscan villa in the hopes of starting a new life.
Cue plenty of gorgeous scenery, with filming on location across Tuscany and the neighbouring Italian regions.
A Good Year – 2006
A heartwarming tale of a jaded city banker (played by Russell Crowe) who inherits his uncle's wine farm in France where he spent a lot of his youth. He wants to sell it all off and get back to the rat race as soon as possible.
Events keep him there and he slowly re-discovers what he loved about the place. The real star of A Good Year is the Provencal countryside in all of its golden sun-blessed glory.
A Room with a View – 1985
Young English rose, Lucy, is chaperoned on a trip to Florence by an elderly spinster cousin.
A Room with a View, set in Edwardian times, captures the story of how Lucy meets a British father and his son (George) at their pensions, after they offer to swap rooms so that the ladies can have the room with a view.
A connection develops but upon returning to England, Lucy gets engaged to someone else. Circumstances bring them together again and the connection develops into a romance.
The views of Florence and the surrounding Tuscan countryside are spectacular.
National Lampoon's European Vacation – 1985
An all-time classic comedy following the Griswolds on a European holiday they win participating in a game show.
Not the most cultured of travel films, it nonetheless gives great glimpses of famous sights around Europe as the family chaotically visit England, France, Germany and Italy.
If you're looking for light-hearted travel comedy movies, look no further than National Lampoon's European Vacation.
Best travel movies set in Africa
Out of Africa – 1985
Out of Africa is the true story of Karen von Blixen who, bored of life in her native Denmark, married friend Baron Bror von Blixen as a means of escaping Denmark. They used her family money to set up a coffee plantation which subsequently failed.
After her husband was repeatedly unfaithful to her she fell for local hunter, Denys Finch Hatton (played by Robert Redford). You can't help but fall for the beauty of Kenya and dream of taking a Masai Mara safari.
I've been in love with this film for as long as I can remember and had a bucket list moment in 2005 when I stayed in the Muthaiga Country Club in Nairobi which was one of the filming locations.
The Lion King – 1994 and 2019
Some may say that The Lion King is a child's movie, but we think that this moving animated tale of the 'Circle of Life' in Africa is suitable for all ages – and may well inspire you to do an African safari with kids.
The computer graphics in the 2019 version are outstanding and you really feel like you're in Africa on safari (if it weren't for the talking animals!)
Death on the Nile – 1978
Based on Agatha Christie's novel, Death on the Nile is a murder mystery set on a steam boat cruising down the Nile.
Belgian detective Hercule Poirot has to solve the murder of the rich heiress and other members on board before they reach port.
You get to see iconic sights such as the Great Pyramids of Giza, the Sphinx and the temples at Abu Simbel and Karnak.

Hotel Rwanda – 2004
Hotel Rwanda is set during the genocide in Rwanda in 1994 during which an estimated 800,000 Rwandans were murdered.
It is the true story of how the heroic manager of Hôtel des Milles Collines shielded more than one thousand refugees.
Watching it helped prepare us for our visit to Rwanda like no other history book had been able to, and will have you completely gripped.
Last King of Scotland – 2006
The Last King of Scotland is a historical drama based on the life of the brutal Ugandan dictator, Idi Armin.
The story from the point of view of his personal physician follows his rise to power after a coup and the spiralling atrocities he commits during his reign.
An extremely harrowing coverage of these events in Uganda. Much like Hotel Rwanda, it helped prepare us for our visit to Uganda.
Best travel movies set in Asia
The Darjeeling Limited – 2007
A year after their father's death three brothers who haven't spoken for a year take a train journey together across India on The Darjeeling Limited.
They all suffer from depression and start the journey bickering, but after some crazy experiences they come together and heal their rift. The cinematography is genius and the soundtrack is brilliant.
The Best Exotic Marigold Hotel – 2011
The Best Exotic Marigold Hotel is a loveable comedy-drama about a group of British retirees who head out to India to live in a luxury retirement home… but what is in store for them is less than luxurious.
What the hotel lacks in luxury is made up for in the character of the hotel manager (Dev Patel). After an initial bumpy start, the retirees grow into their new life in more ways than one.
Slumdog Millionaire – 2008
Slumdog Millionaire is a beautiful tale of perseverance in the face of adversity. Two brothers growing up in the slums of Mumbai are separated at a young age and experience very different childhoods. Hopelessly romantic and tragic at the same time with a fairytale ending.
The Beach – 2000
The Beach is based on the book by Alex Garland in which protagonist Richard, on his backpacking trip in Thailand, comes into possession of a mysterious map that leads him to a secret beach location.
This is the ultimate backpacker adventure, and a film that put Thai beaches firmly on the map – particularly Maya Beach on Phi Phi Leh island, so much so that the authorities had to close it to tourists in 2018. They plan to open it again in mid-2021.
Eat Pray Love – 2010
Disillusioned with achieving the 'dream' of having a successful marriage and career, Elizabeth Gilbert sets off on a world adventure to try to find herself.
Eat Pray Love is based on the biography of Elizabeth Gilbert and depicts a journey of self-discovery – eating great food in Italy, prayer at an ashram in India and finally finding love in Indonesia.
Lost in Translation – 2003
Lost in Translation gives you a great view of modern life in Tokyo through the eyes of a middle-aged actor in Tokyo to film a commercial and a young college student abandoned for long periods by her husband.
During bouts of insomnia, the pair meet in the hotel bar and chat. They form a great friendship through a shared loneliness, and bond further on a night out with her friends, working through the sights of Tokyo. It's not a traditional love story, and instead of a cliché ending there's intrigue.
Seven Years in Tibet – 1997
Seven Years in Tibet tells the true story of Heinrich Harrer who was mountaineering in British India when the Second World War broke out.
He was imprisoned in a British POW camp but escaped and undertook a treacherous journey on foot across the border to Tibet.
Finding himself in Lhasa he ended up teaching the Dalai Lama, with the two becoming close friends.
Oceania
Priscilla Queen of the Desert – 1994
Priscilla Queen of the Desert is a heart-warming story of two drag queens and a transgender woman journeying through the Australian outback in a giant Winnebago.
The trip takes them all the way from Sydney to Alice Springs, as they travel the remote lands bordering the Simpson Desert. As the film was refused permission to film on Uluru, the (relatively!) nearby Kings Canyon was used instead.
Rabbit Proof Fence – 2002
A harrowing true story of how aboriginal children were taken from their families in 1931 and made to work as domestic staff.
Rabbit Proof Fence is the story of how three little girls escaped captivity and set off on a 1000 mile trek through the outback to get back to their families.
Tracks – 2013
Tracks is based on the memoirs of a woman who leaves everything behind and sets off alone on a 9-month journey across 2000 miles of outback.
She is accompanied only with her faithful dog and four camels, meeting some fascinating characters along the way and learning remarkable survival skills.
When she is asked 'why?', she answers 'why not?' She shows incredible strength and determination and proves that anything is possible if you put your mind to it.
Best travel movies set in Antarctica
March of the Penguins – 2005
March of the Penguins is a documentary showing a year in the life of the Emperor penguins in the Antarctic. We see the many obstacles they overcome to find their mate, protect their eggs and raise their young.
All of this in the most incredibly beautiful but inhospitable place in the world.
Encounters at the End of the World – 2007
Encounters at the End of the World is a documentary by Werner Herzog on the life of the inhabitants at the McMurdo Station in Antarctica. As you would expect, the scenery is desolate but breathtaking.
World travel
The Bucket List – 2007
In The Bucket List two terminally ill men meet in a hospital ward and make a pact to tick as much off their bucket list as they can before they die, with their adventures taking them around the world.
Jack Nicholson's character has the means to fund the adventures and just wants a companion to share the adventures with.
We see them visit the Pyramids of Giza, the Great Wall of China, the Taj Mahal and an African safari. A truly heartwarming drama and a reminder to us all to do the things we want to do as life is short.

The Secret Life of Walter Mitty – 2013
The Secret Life of Walter Mitty is an adventure drama in which Walter Mitty (Ben Stiller) works in the photo negatives department for Life Magazine.
One day he is sent some negatives and a gift of a wallet by a photojournalist but discovers one of the negatives is missing.
Mitty decides to set off to track down the photojournalist to retrieve it. He narrowly misses finding him in Greenland and Iceland and is called back to New York and fired for losing the negative.
Later he learns that the photojournalist is in the Himalayas where he finally catches up with him. Through these adventures, he realizes the life he has always dreamed of.
If you don't have Amazon Prime, you can start a 30-day free trial here.
Don't even get us started on the wealth of documentaries out there about our amazing planet. If you've worked your way through this list of our best travel movies, we highly recommend checking out anything by a true legend, Sir David Attenborough.
Have any travel movies to recommend that aren't on the above list? Drop us a line in the comments section below telling us what your best travel movies are!
If you liked this post, how about sharing it with friends or pinning it for later?