Should You Campervan With Kids? 13 Convincing Reasons To Try It!
My love for campervans started way back when I was little, watching my grandparents animatedly talk about their campervan adventures in the seventies. I've also pored over van life books dreaming..
But it was only during the summer of 2020 that we decided to start our adventures in a campervan with kids.
Our international travel plans had been cancelled and the world was in lockdown. We didn't want to take flights, even when they opened up again, so we discussed our options for a more self-sufficient way to travel. We had always talked of campervanning with kids one day, but never got round to it. Suddenly, it seemed like the perfect time.
A year later, the excitement of getting in the van, even just to go on a local walk with kids, is just as strong. Now that things are opening up, we're excited to be planning a trip based around coastal campsites in the UK for our next holiday.
There are so many reasons to campervan with kids (or indeed to motorhome with kids) and if you are on the fence about whether you should take the plunge to campervan with kids, these reasons may just help you make up your mind!
Want to know more about the practical side of adventures in a campervan with kids? Read our top tips on campervanning with kids. And if you are looking to get away ASAP but don't have your own bathroom facilities, check this post for the best campsites in the UK with ensuite facilities.
Completely new to camping? Make sure to first check out our top tips for first time campers!
This post contains affiliate links. If you should buy something from one of them, we may earn a small commission but this is at no extra cost to you.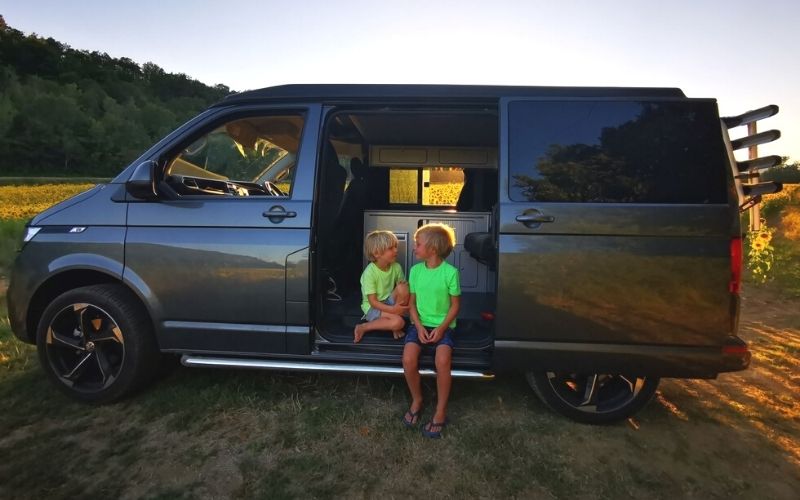 1. Kids LOVE campervans
The biggest reason to embark on adventures in a campervan with kids is because kids absolutely LOVE campervans.
When we first bought the van, friends and family would inspect it with oohs and ahhs with questions about how we all fit in the van and survive van life without too many arguments. (Think you may need more space than the campervan offers? Read about drive away awnings and our review of the Olpro Cocoon Breeze inflatable air awning).
Meanwhile, the kids would go straight up into the roof and make a den with their friends, chatting and giggling. Getting their friends out to go home was a real problem because they wanted to stay.
From a young age, children can sense the promise of adventure in a campervan, even when it is parked in the driveway!
If you want to hear what the kids think of their family campervan holidays, you can hear it from the horses mouth here.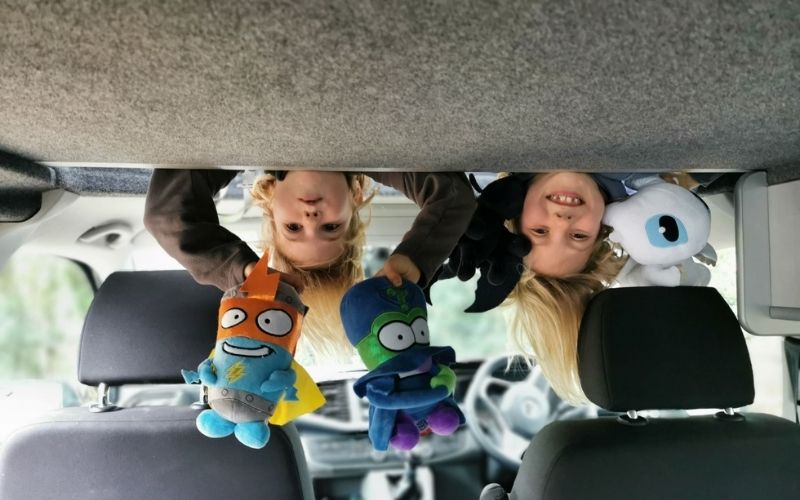 2. It promises adventure
The next biggest reason to campervan with kids is the sense of adventure you will feel. Even if you are just taking the van out on a day trip, it will feel like an adventure, especially for the kids.
As a kid I would love having tea parties in my grandparents campervan. We didn't have to even go anywhere. Just being in the campervan was an adventure.
Every trip we take, whether it is a couple of miles down the road to take a family walk or setting off on a 6 week family camping trip to France, is an adventure.
3. It enables you to be spontaneous
It's not always easy to be spontaneous when you have kids. Packing for a family holiday has its own unique stresses as you don't want to forget anything and you usually need to book accommodation well in advance. Having a campervan helps get back some spontaneity and gives you a sense of freedom.
You can keep all of your campervan essentials in the van and if you get a spell of nice weather and feel like taking off somewhere for a quick campervan holiday with kids, you can just hop in and go.
Equally, when you are on a trip somewhere, if you suddenly see a beautiful river or a lake on a hot day, you can pull over and have a swim because everything you need is in the van. We had some really hot days in the south of France in the summer of 2020. We saw a beautiful field of sunflowers and pulled over. We did a lot of this in France when the temperature soared into the high 30s!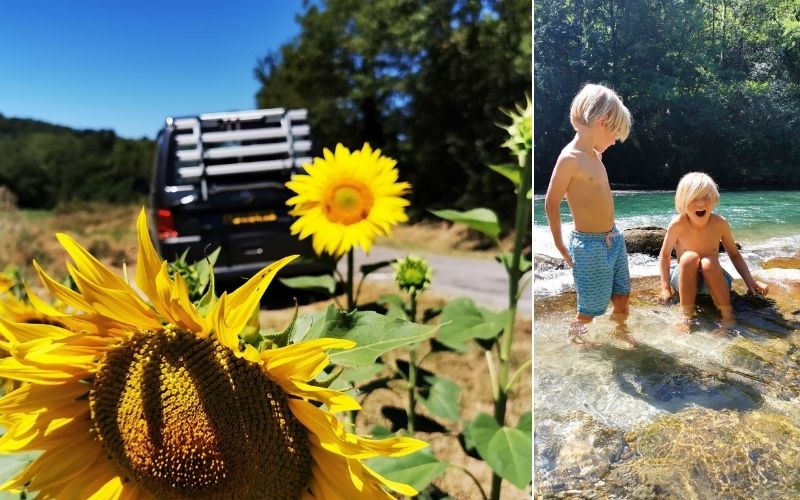 4. You discover more of your own country
We are self-confessed travelholics, taking the kids to family-friendly destinations all over the world. We have previously favoured hopping on an international flight over exploring our own country but our eyes have been opened to the beautiful places in the UK to discover with kids since having our van.
There are so many beautiful parts of the UK, but one of the things we love is visiting places where kids can learn. Say they're learning about Anglo Saxons in school. We can go and visit Sutton Hoo in Suffolk. They're learning about the Romans? Great – take them to Hadrian's Wall or the Roman Baths in Bath.
We also love visiting the amazing English castles, beautiful national parks like the Peak District and fabulous family beaches in the UK, including some incredible beaches in the north of Scotland like Luskentyre on the Isle of Harris that almost look tropical.
Read more: We have lots of helpful posts on discovering the United Kingdom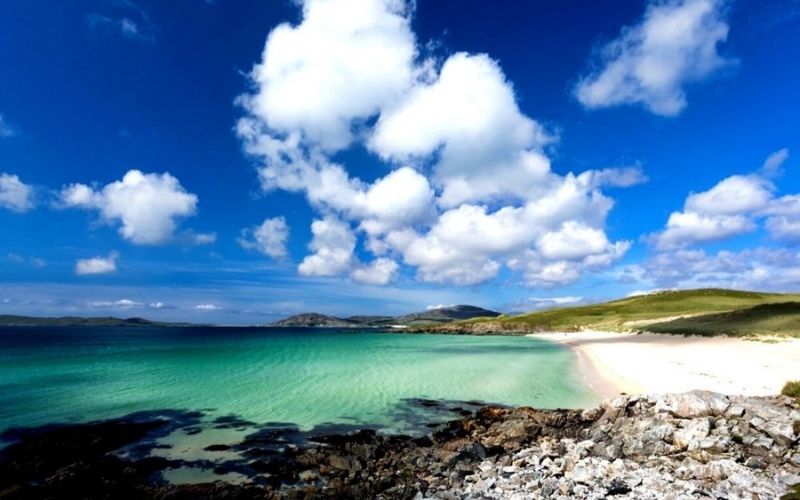 5. Kids sleep well in a campervan
If you're thinking that it must be impossible to fit everyone in the campervan, let alone for everyone to sleep in the campervan, think again.
We find the campervan is much more comfortable to sleep in than a tent because of the proper beds and with the kids running around all day adventuring, you will find that they sleep really well in the campervan.
Our boys sleep 'upstairs' in the pop top roof with a thin tempur mattress and they love it up there with their cuddly toys. We sometimes switch with them because it is so cosy and it has the best views. If we wake up before the kids, we open up the side vents and enjoy a beautiful sunrise.
It is also much easier to black out a campervan than a tent. Decent black out blinds will make sure that you aren't woken early with the sun streaming in. We put these on the cab windows. The rest of the van has blackout curtains.
Read more: Top tips for camping with toddlers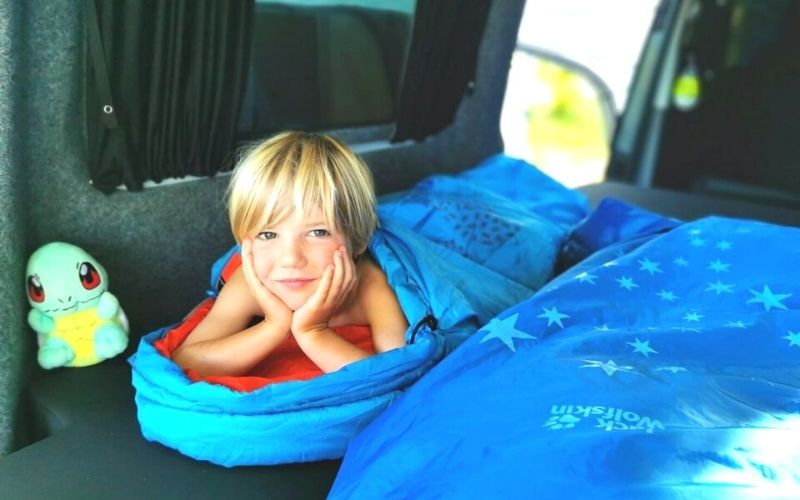 6. It's easy to pack
As we mentioned before, we keep all of the essentials in the campervan so no matter what kind of trip we are taking, we have everything we need. This helps us to avoid overpacking.
When the kids were tiny we used to have a tendancy to pack everything but the kitchen sink. Now we don't need to worry and we definitely don't need to take the kitchen sink because there's one in the van already!
Everything has a place. Our top tip is to make use of collapsible equipment and make sure things like your sleeping bags, towels and waterproofs pack down well because space is a premium. Have a copy of your campervan essentials packing list to hand to check over before you go.
We use the 4-in-1 Jack Wolfskin sleeping bags which double up as a blanket/duvet for us and these kids sleeping bags.
We also love the bike rack on the back of the van as the bikes come everywhere with us and it's really easy to put them on and take them off, especially the kids lightweight Frog Bikes.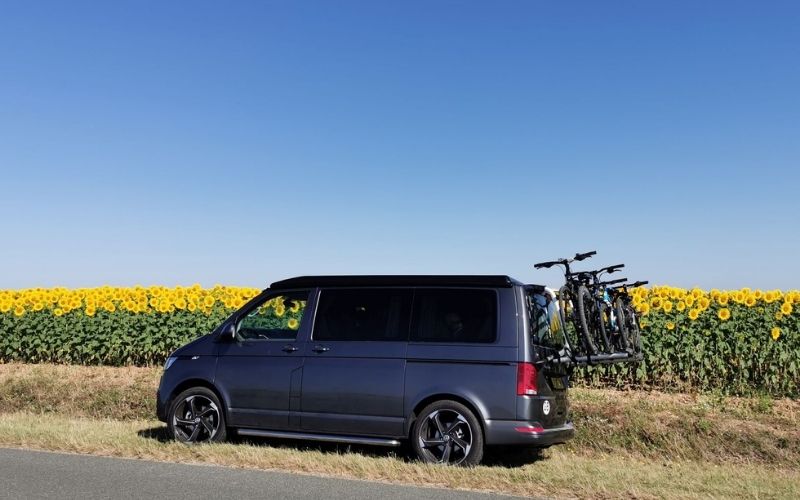 7. It's easy to cook
If you pull in late to your campsite and the kids are hungry, you don't need to set up camp before you're ready to cook. Your kitchen is built in and ready to go whenever you are. The kids' favourite camping meal when we're in a hurry is pesto pasta which takes 10 minutes from arriving to serving.
They can sit at the table in the van to eat which is ideal if the weather is not particularly nice and we don't feel like setting up the awning.
We love having the fridge in the van which also has a small freezer compartment. There's enough room to make ice (for our gin & tonics) and to hold a few ice lollies for the kids.
Not essential to van life but we're also eyeing up a portable gas fired Ooni Koda pizza oven. Camping with kids + pizzas = the perfect combination.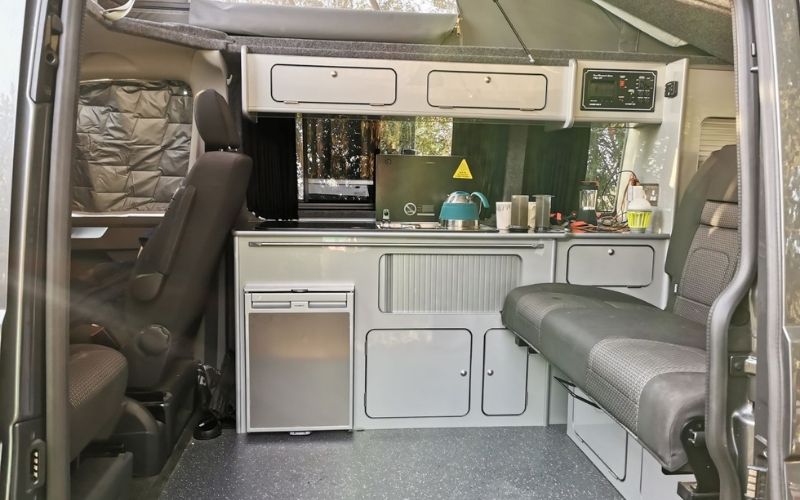 8. Campervanning with kids is very social
People are always popping over to have a look in the van. Van owners love to chat which is a great way to get recommendations for amazing campsites or a must-have van life gadget. Non-van owners like to come and have a look around to see what it's all about, especially kids.
9. Campervanning with kids is cosy
Understandably, the idea of camping in the rain is not all that appealing but if you're used to UK camping holidays, you'll know that a bit of rain is to be expected.
Camping in a campervan in the rain is so much nicer than camping in a tent in the rain. You can pop the kettle on and sit and play your favourite travel game and feel all cosy waiting for the rain to pass.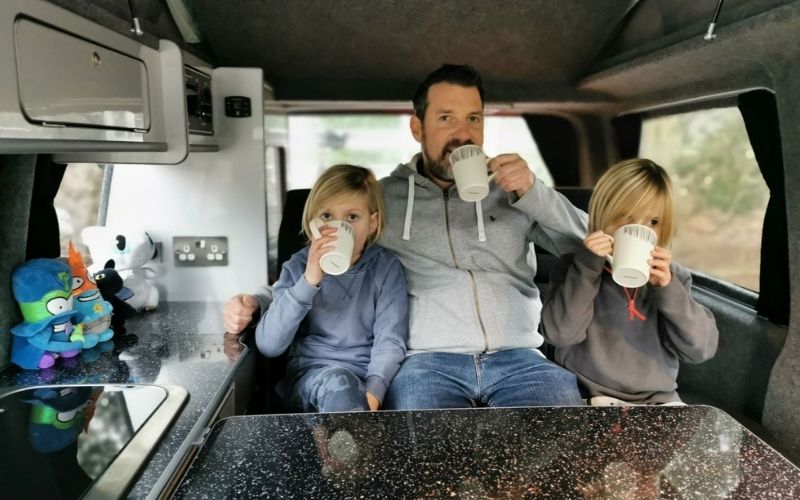 10. It's great for budget holidays
Staycations are what everyone is talking about this year. While international travel looks like it is slowly opening up, lots of people still don't want to take the risk of travelling abroad.
Unfortunately, UK family holidays can be extremely expensive. Thankfully, campervan holidays with kids are much more affordable. Once you have got over the initial outlay for the van itself, (no frills) campsites can be very cheap. In fact, we prefer the smaller, natural campsites without entertainment blaring through the day.
Once international travel opens up again, you can even camp for free or nearly free in many places in Europe by wild camping.
France is excellent destination for family camping with kids, especially in a campervan or a motorhome. We highly recommend Les Castels campsites. They have some of the best campsites for families in France, set in the grounds of beautiful chateaux, like Château de Chanteloup near Le Mans.
11. You can use it as an extension of your home
I used to love just playing in my grandparents camper van and our kids are the same. They will go and sit in it and read or play games. They have their own little cupboard where they keep some of their favourite travel games for kids and some pens and paper.
They were even happy to do their homeschooling in the van when we needed a change of scene! On warm days, we kept ice lollies in the freezer in the van which they got as a treat for great work. I'd say having the campervan for that reason alone was worth it :)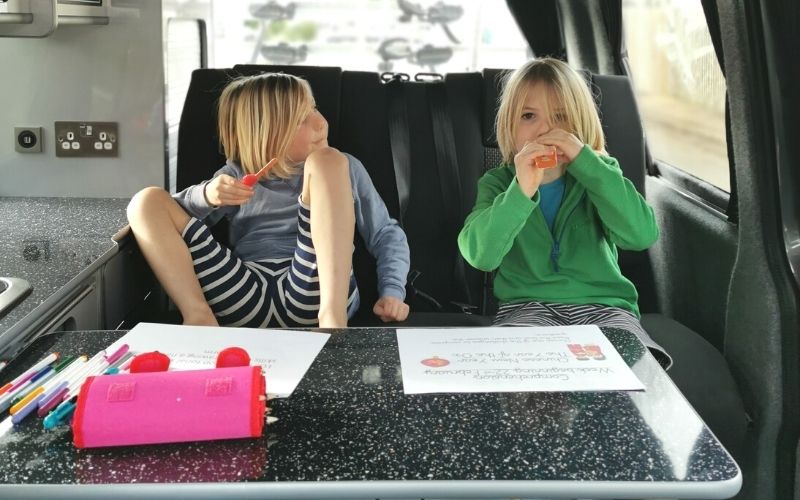 12. Campervans are not just for camping
Don't just think you will only use your campervan on camping trips. The reason we bought our short wheel base VW campervan is so that we could use it as a family run around too.
We can use it when going to the supermarket and have no problem with parking in a normal sized car parking space.
If you're out for a winter walk, it's such a treat to come back to the van and pop the kettle on for a nice cup of tea or a hot chocolate.
We really get our money's worth with the van!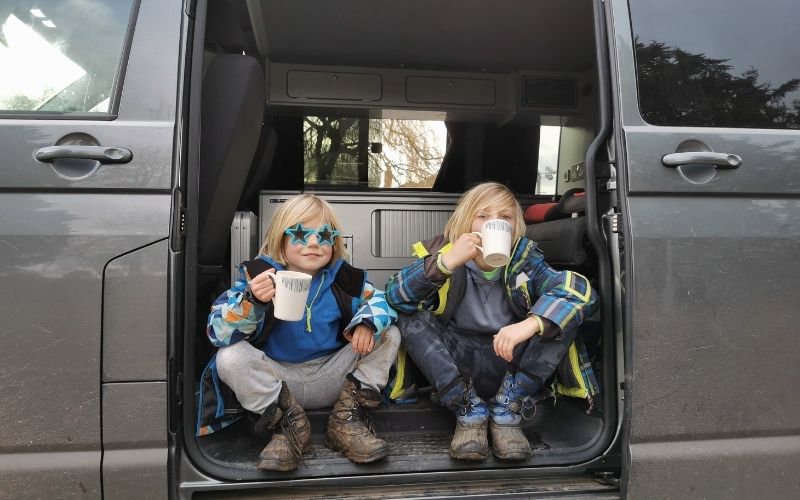 13. Our final thoughts on a campervan with kids
One of the best things about having our campervan is being able to visit my elderly parents. We haven't wanted to stay with our parents due to covid concerns, so being able to camp in their garden and be fully self-sufficient for a couple of days was just perfect. We had a loo and a shower and of course, our own cooking facilities.
Luckily our parents live in Suffolk in a beautiful rural part of the world. It is near the coast where there are some beautiful (and quiet) beaches and there are plenty of outdoor things to do in Suffolk with kids.  If you are thinking of a trip to Suffolk, there are some lovely family campsites in Suffolk.
This is also a good option if there is not enough room for everyone if you are visiting friends or family or if you can't find space in a campsite. We have some more information in our Van Life section of the blog.
Read more: Things to do in Aldeburgh | Things to do in Southwold | Things to do in Thorpeness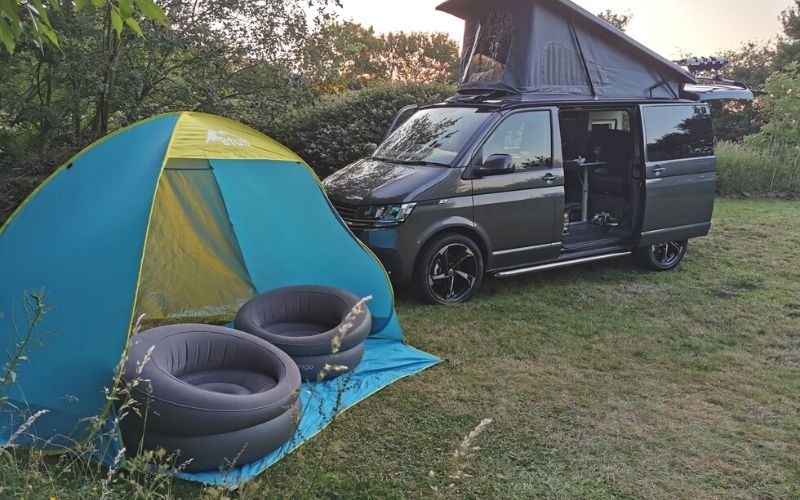 Is it worth getting a campervan?
We've already discussed why it is worth getting a campervan but is it financially worth getting a campervan? We think so.
Campervans really hold their value well, unlike cars. We bought ours in 2020 and have noticed that new vans this year are quite a bit more than we paid, which is good news if we were to sell – not that we're going to!
The best campervan with kids?
We get asked what is the best campervan for families a lot but we can't really answer because we haven't tried out other campervans. This is an entirely personal choice and depends on your budget. WE feel that the VW campervan is the ideal camper van for family of 4 and the main reasons we went for a VW campervan are:
VW are reliable.
the mileage is better than most other vans which means that we spend less on fuel than other higher fuel consumption models.
the short wheel base can be used as a family car and can be parked in any normal sized car parking spaces. Just watch out for carp parks with a 2m height barrier. In theory we should fit under a 2m barrier, but we have noticed that some are less than the stated height.
We bought our van from Cambridge Campervans and were really great with helping us choose the right van for us.
We have a guide on buying a VW campervan which will help if you have made up your mind already that you want to buy a VW campervan. We would recommend you hire a campervan first though and test it out for a weekend or even a week to get a better idea of what you do and don't like about campervanning with kids.
It's not for everyone. We get people asking us how we can live in such a small space. How do we pack everything we need into the campervan? There are lots of questions and really you will only be able to find out if it is for you if you try it. It helps if you have already done some camping with kids and have enjoyed it. If you haven't, this is why hiring a van is a good option.