The Best Harry Potter Experiences In The UK In 2023
With Harry Potter being the best selling book series in HISTORY with over 500 million copies sold worldwide, it is only natural that there would be a whole host of amazing Harry Potter experiences too.
Our kids are 6 and 7 and just getting into the wizarding world so I decided to take a look at a the Harry Potter experiences we could do together as a family and my word there's a lot of choice!
So, what does a Harry Potter experience mean to you? What is the ultimate Harry Potter experience? Is it seeing the Harry Potter steam train? Or maybe it is going on a Harry Potter studio tour?
It probably means different things to different people so we've selected the best Harry Potter experiences around the UK ensuring that there's something for everyone.
Whether you're visiting the UK from further afield or just taking a UK staycation, there are so many Harry Potter experiences waiting for you.
Before you do any of these Harry Potter days out, it's always fun to catch up on the Harry Potter movies so grab that Harry Potter DVD box set or download them from Amazon.
And if you have a Harry Potter fan in your life with a birthday coming up and are wondering what to buy them, check out our Harry Potter gift guide!
This post contains affiliate links. Should you buy something from one of them, we may earn a small commission but this is at no extra cost to you.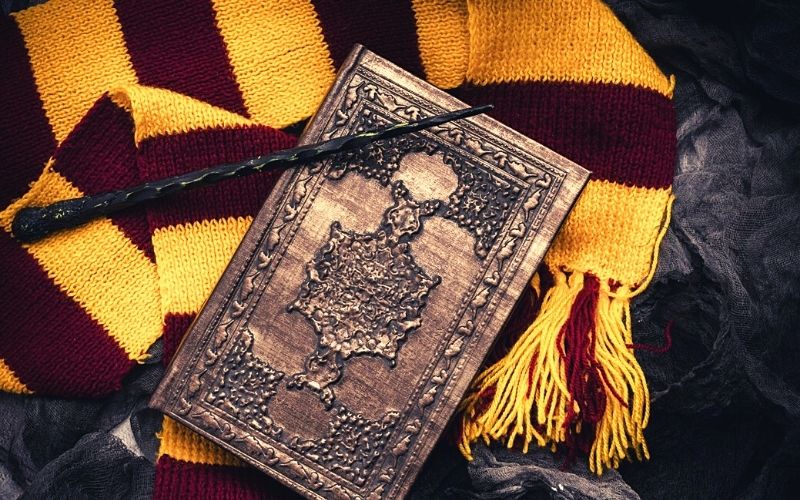 Harry Potter London experiences
Many of the Harry Potter experiences are in London so we'll start with those, but there are lots of other experiences around the country.
1. Take the Harry Potter Studio Tour
Harry Potter World London is probably the experience that most people have heard of, whether they are a Harry Potter fan or not.
It is a multi-award winning tour and one of the best attractions near London for kids so it seems only right to start our own tour of Harry Potter experiences in the UK with it.
The Warner Bros. Studio Tour provides a complete and immersive Harry Potter experience all about the making of Harry Potter. So what is the Harry Potter tour like? Well, first off, it's not a tour as such.
You'll get to wander through the studios without a guide and visit film sets, see props that were used in the movies and learn about special effects. There are also interactive activities along the way.
If you're visiting London at Christmas, you can experience a Harry Potter Christmas at Hogwarts in the Snow (from 12th November to 15th January 2023). It is actually based in Hertfordshire and is one of the best things to do at Christmas in Hertfordshire.
Don't forget to also check out the London Christmas lights if you're doing a walking tour. It's a lovely thing to do at Christmas with kids.
Getting to the Warner Brothers Studios
Warner Bros. Studio Tour London
Studio tour Drive
Leavesden
Hertfordshire
WD25 7LR
Many people search for the Harry Potter studio London but it is actually not in London, it is in Hertfordshire, just a little outside of London.
If you have a car, there is a free carpark on-site. You can also take a direct train from central London (Euston) to Watford Junction. From there you can take a shuttle bus to the studios.
If you prefer to stay closer to the studios, check out our guide to the hotels near Harry Potter World for families. Otherwise, visiting the Warner Brother Studios makes a fantastic day trip from London with kids.
Harry Potter Studio tickets
You must buy Harry Potter tickets in advance. This is one of the most popular tourist attractions in the UK and sells out well in advance.
You can also book a package including transfers from London. See here for Warner Bros Studio tour with transfer from London.
2. Take a Harry Potter Walking Tour
Harry Potter Studio Tours also offer a Harry Potter London tour taking you on a 2.5 walk around London visiting various film locations. You can buy your Harry Potter walking tour tickets here.
3. Visit Platform 9 3/4
Perhaps the next most well known Harry Potter London experience is the Harry Potter Kings Cross Platform 9 3/4 recreation. For years commuting into London I would walk past and not really give it much thought.
There was never a queue of people when I strolled past on the way to work at 7.30 am (or back to the train after a night out) but now when I want to take the kids, there is always a huge queue!
So, either get here very early if you want to avoid queuing or expect a bit of a wait. The trolley is there 24/7 but the only issues with going at unsociable hours are that:
a) you won't get to take a picture with the flowing Harry Potter scarf because there are no employees there to provide you with this prop.
And b) you will need someone there with you to take a photo as their professional photographer will not be there.
You probably also want to go when the Harry Potter shop at Platform 9 3/4 is open. It sells all the Harry Potter merchandise. You don't want to miss out on picking up some Harry Potter gifts here.
We found the shop quite expensive so as an alternative, you can find official Harry Potter merchandise here at Popgear.
The Harry Potter shop opening times are 9 am to 7 pm daily. If you can't get there in person, there's even a virtual Harry Potter shop.
By the way – on the 1st September every year, there is a special train departure announcement at Kings Cross station.  The train to Hogsmeade departs from Platform 9 3/4 at 11am. Don't miss it!
4. Enjoy a Harry Potter afternoon tea in London
One thing you really should do when visiting London is to have an afternoon tea. As a Harry Potter fan, you'll be pleased to know that there are some Harry Potter themed afternoon teas in amongst some of the best places to have afternoon tea in London.
Wands & Wizard Exploratorium – for a fabulously interactive afternoon tea using your wand that you can make at the same venue (see #10 below) to unlock secret compartments in the tea chest and much more.
Cutter and Squidge – for an immersive afternoon tea for wizards in the Potion Room.
The Georgian House Hotel – the afternoon tea is positively wizardly. Even the website cursor is a Harry Potter wand.
5. Take a Harry Potter Muggles Walking Tour
The Harry Potter Muggles Walking Tour is rated as one of the best walking tours in London for Harry Potter fans. You set off from Monument Station and are taken on a walking journey through London to where the world of muggles and wizards meet.
Your guide, a real life witch or wizard, will entertain you with Harry Potter stories and you'll see secret places along the way.
The company is running private tours currently to adhere to government guidelines. The tour lasts about 2 hours and currently costs £90.00. If you are not able to take the tour, they also have a virtual tour available.
6. Watch the Harry Potter Theatre production
Harry Potter and the Cursed Child has been running at the Palace Theatre on Shaftesbury Avenue since the summer of 2016. It has won a record nine awards and is one of the most popular shows in the West End.
You can take a sneaky peek at the Harry Potter London show trailer here:
7. Visit the Harry Potter film locations in London
If you want to do your own walking tour at your own pace, here are some of the Harry Potter film locations in London that you can visit. This is a lovely (and free) way to spend a day in London.
Leadenhall Market – where the Diagon Alley scene from the Philosopher's Stone was filmed (when Harry was first introduced to the wizarding). Look out for the blue optician's shop at 42 Bull's Head Passage which was used as the entrance to The Leaky Cauldron.
Australia House – The scenes inside the Gringotts Wizarding Bank were filmed inside Australia House. Although not open to the public, you can take a peek through the glass doors (weekdays only) at the impressive marble interior and great chandeliers.
King Cross Platform 9 3/4 – although there is a Platform 9 3/4 (mentioned above), the station scene in The Philosopher's Stone was actually filmed between platforms 4 and 5 at Kings Cross Station. The impressive red brick exterior of Kings Cross St Pancras station was also used.
Millenium Bridge – used in the filming of the Half Blood Prince
London Zoo – the reptile house was where Harry Potter started talking in to the python before he knew he was a wizard.
Piccadilly Circus – used in the filming of the Deathly Hallows I where Harry, Hermione and Ron are fleeing from the Death Eaters.
8. Attempt the Harry Potter Escape Room
Fancy getting locked in a Harry Potter themed room for 60 minutes and having to work as a team solving Harry Potter clues to escape? Sounds like fun to us. Check out Enigma Quests'  School of Witchcraft and Wizardry. No age limit but recommended age is 9+.
2-12 Wilson Street, London, EC2M 7LS
9. Visit the Harry Potter bar London
Harry Potter doesn't have to be all about the kids. If you find yourself on a child free day out in London, why not pop into The Cauldron where you can mix cocktails with a difference. They can also be found in New York, Edinburgh and Dublin.
10. Visit Wands and Wizard Exploratorium
The Wands & Wizard Exploratorium shop in London is a fabulous place to take the kids. They have various different events running through the year but the wand making experience is particularly fun.
You can try your hand at making your own magical wand choosing various magical elements to go into it. The wand can interact with the sweet dispensers in the shop or used during the fabulous afternoon tea experience (see #4 above).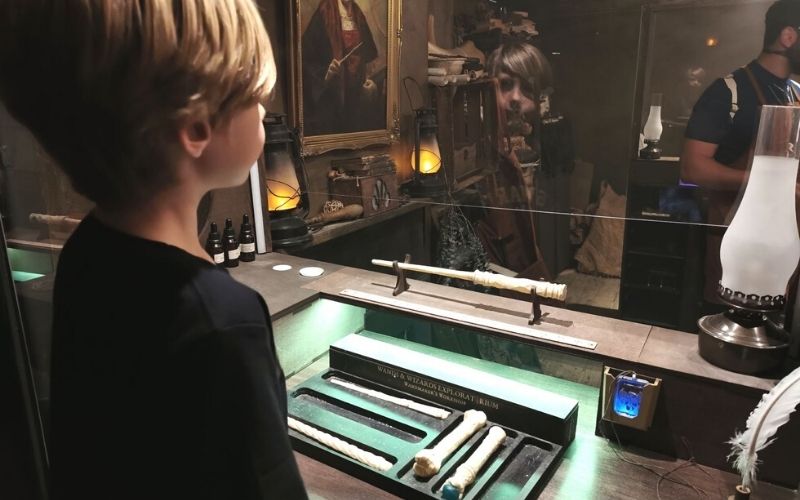 Harry Potter experiences in Scotland
11. Take the Jacobite Steam Train
The Jacobite Steam Train (otherwise know as the Hogwarts Express, Hogwarts train or the Harry Potter train Scotland) has been described as the greatest railway journey in the world.
It is a must for all Harry Potter enthusiasts visiting Scotland – although you don't have to be a die-hard Potterhead to appreciate it. It is a fabulous experience for anyone.
The Jacobite train from Fort William to Mallaig takes you on a 41 mile (65 km) journey through the incredibly scenic Scottish countryside and, of course, over the Glenfinnian Viaduct (aka Harry Potter Viaduct).
The Jacobite costs £30 for a child and £52 for an adult (return).
See here for a day trip from Edinburgh, including a trip on the Hogwarts Express.
See here for a 3 day tour of the Scottish Highlands highlights including the Hogwarts Express, the Isle of Skye and Loch Ness.
If you don't want to take the train, you can just go and watch as it passes. The train crosses the viaduct twice a day; once at 10.15 am and again at 3.15 pm (although check their site in case of changes to timetable).
If you are thinking of visiting the Isle of Skye – you can get the ferry from Mallaig. Read more on some of the top destinations in Skye (Fairy Glen and Dinosaur Footprints beach).
12. Tour Harry Potter sites in Edinburgh
Edinburgh is also an important location in the world of Harry Potter. It all began in Edinburgh with J.K. Rowling drawing inspiration from the fabulously historic Scottish capital and where she wrote the Harry Potter books.
Some important sites around Edinburgh are:
If you're looking for non-HP things to do in Edinburgh? Check out these awesome things to do with kids in Edinburgh.
13. Take a Harry Potter Walking Tour in Edinburgh
There are a number of walking tours you can do. Some are guided tours but using the information above, you can also do self-guided Harry Potter tours of Edinburgh. Here are some ideas for guided tours:
The Potter Trail (they also have a virtual tour)
Get Your Guide has a couple of highly rated tours available:
Harry Potter Magical Guide Walking Tour
Edinburgh Harry Potter Walking Tour
While in Edinburgh – you might also like to try one of these top attractions in Edinburgh:
Edinburgh Castle Skip the Line Tour
14. Attempt the Edinburgh Harry Potter Escape Room
Try The Department of Magic Escape Room (or make your own magic potions).
9 Blair Street, Edinburgh, EH1 1QR.
15. Visit the Harry Potter film locations in Scotland
The most notable film locations in Scotland that you can put on your Scotland itinerary are:
Glenfinnian Viaduct – see the Jacobite Steam Train above
For a day trip from Edinburgh with a trip on the Hogwarts Express (The Jacobite Steam train) – click here.
Loch Shiel and Loch Morar – used as the Hogwarts lakes.
Glencoe – the beautiful scenery around Glencoe was used in many scenes.
For a day trip from Glasgow taking in the Glenfinnan Viaduct, Glencoe and Mallaig – click here.
For a 2 day trip from Edinburgh taking in the Highlands and the Hogwarts Express – click here.
16. Visit the Harry Potter film locations in Oxford
Oxford University is also an important filming location for the Harry Potter series, most notably the Bodleian Libraries (one of the oldest libraries in Europe), New College and Christ Church.
You can read more on the Harry Potter filming locations in Oxford here.
Oxford is easy to reach on a day trip from London by train and you can do a self-guided walking tour or there are also also several guided tours you can take.
For a Harry Potter Guided Tour of Oxford – click here.
For a guided tour of the Harry Potter filming locations at Oxford University – click here.
For a small group tour of the Warner Bros studios in London combined with a tour of Oxford – click here.
17. Visit Alnwick Castle
Alnwick Castle, one of the most impressive castles in England, is also know as Harry Potter Castle. Much of the Philosopher's Stone and the Chamber of Secrets was filmed on location at Alnwick Castle.
The Outer Bailey is where Harry and his friends learned to fly broomsticks and play Quidditch. Harry and Ron also crash landed their car in the Inner Bailey where much of the general goings about was filmed.
Address: Alnwick Castle, Alnwick, Northumberland, NE66 1NQ.
18. Visit Gloucester Cathedral
The magnificent Gloucester Cathedral cloisters were used for the filming of the Hogwarts' corridors in the Philosopher's Stone and the Chamber of Secrets.
You can visit the cathedral from 10 am to 5 pm Monday to Saturday and from 12 pm to 5 pm on Sundays.
Address: 12 College Green, Gloucester, GL1 2LX.
19. Harry Potter: A Forbidden Forest Experience
Arley Hall & Gardens is home to the Forbidden Forest Experience, a nighttime woodland trail with magical creatures and sound and light effects that bring the Wizarding World to life.
Tickets: Adult from £24.00 and Child from £19.00. You can buy your Forbidden Forest experience tickets here.
Address: Arley Hall and Gardens, Arley, Northwich, Cheshire, CW9 6NA.
Harry Potter Accommodation
If you would like to stay overnight in Harry Potter themed accommodation, here are a few suggestions for you.
20. Harry Potter overnight experiences
North Shire in North Yorkshire offers Harry Potter themed accommodation (as well as Hobbit accommodation). check out their Gryffindor Common Room dorm or the Groundkeeper's Cottage.
The Enchantment Chamber is a one bedroom, wizard themed apartment in the centre of York.
Georgian House Hotel – with faux castle detail and stained glass windows in London
DeVere House – Godrick's Hollow where Harry Potter's parents were murdered by Voldemort is actually a beautiful cottage in Lavenham and you can book through Airbnb.
Canongate Luxury Homestay – a beautifully decorated room in a home in the centre of Edinburgh
Also of significance…
The Balmoral – this is where J.K. Rowling would stay when she was writing the final book in the series.
The St Pancras Renaissance Hotel – the entrance of the hotel was used as the entrance to the station in the Philosopher's Stone.
See also Harry Potter breaks with National Holidays.
Virtual Harry Potter experiences
21. Try some virtual Harry Potter experiences during lockdown
If you aren't able to visit any of these experiences in person, there are a few virtual Harry Potter experiences to keep you entertained until you can.
Harry Potter Fan Club
Ever wanted to know the answer to the question 'What Harry Potter house am I?' Join the Harry Potter fan club and you can have a go at the Harry Potter sorting hat quiz. Harry Potter house quiz
Our favourite Harry Potter gifts for kids
Harry Potter Dobble – this is one of our favourite travel gifts for kids. We take ours everywhere with us and it provides hours of entertainment!
The same can be said for Harry Potter Top Trumps. It's nice and small and easy to take out with us. Here are some other ideas:
And if they haven't already got them, don't forget the Harry Potter books and movies.
Or see here for more Harry Potter themed gifts.
Map of Harry Potter Experiences in the UK