The 12 Best Places To Enjoy Afternoon Tea For Kids In London
Afternoon tea in London has traditionally been a rather grand affair at some of the most exclusive hotels in London but the kids are getting in on the action and these days there are some fabulous places serving afternoon tea for kids in London.
If you're looking for a memorable experience, then these children's afternoon teas in London are ideal. Before they even taste the food they will love the afternoon teas inspired by their favourite books like Alice in Wonderland, Charlie and the Chocolate Factory or Peter Rabbit.
Or maybe they will prefer a sci-fi tea with a modern twist? They're fun, colourful and above all, they're super tasty! There really is something for everyone.
And in case you are wondering, afternoon tea for kids does not mean a drop in quality. At each of these restaurants there is an equally amazing adult version, so here are twelve of the best child friendly afternoon teas in London (that are perfectly lovely for adults too)!
London really is a great destination to visit with kids, either on a UK staycation or from further afield, and these fabulous afternoon tea offerings just made it a whole lot better!
If these afternoon teas seem quite pricey, here's a list of free things to do in London to balance it out. Make sure to also check out some of these hidden gems in London and find out if the London Eye is really worth seeing.
This post contains affiliate links. If you click on one and book something, we may earn a small commission but this is at no extra cost to you.
The Langham
The Langham is one of the most child friendly restaurants in London for afternoon tea serving a jigsaw shaped afternoon tea sandwiches and other goodies that are equally as appealing to the child's eye.
Where: 1c Portland Place, Regent Street, London, W1B 1JA
When: Thursday to Sunday with seating times: 12:30/12:45/13:00 – 14:00/14:45/15:00 and 16:30/16:45/17:00/17:30
Price: £29.50 per child (£62.00 per adult)
One Aldwych
Charlie and the Chocolate Factory Afternoon Tea
One Aldwych offers an enchanting afternoon tea inspired by one of Roald Dahl's most famous books for children, Charlie and the Chocolate Factory. There will be snozberry jam, chocolate snudge milkshakes, candy floss and some interesting flavour combinations.
Walking down the stairs into the dining area, the kids will no doubt spot the huge candy floss making machine. Try and guess the flavour of it. It's tricky!
Where: One Aldwych, 1 Aldwych, London, WC2B 4BZ
When: Wednesday to Friday (2pm – 4pm), Saturday and Sunday (12pm – 5pm)
Price: £42 for children under 12 (£42 per adult)
The Sanderson
The Alice in Wonderland afternoon tea at The Sanderson will delight any child. From the menus disguised as vintage books to the enticing 'Drink Me' potions and all of the delicious treats in between, including caterpillars and mushrooms…
Where: 50 Berners Street, London, W1T 3NG
When: Monday to Friday  (12.30 – 4.00) and Saturday and Sunday (1pm to 5pm)
Price: £35 for children aged 4 – 11 (£48 per adult)
Claridge's
Claridge's Children's Afternoon Tea
Afternoon tea at Claridge's is one of the more traditional high teas in London. A selection of sweet and savoury delights using seasonal British produce is served in the stunning Foyer & Reading Room.
If you're visiting London at Christmas (10th November to 3rd January), they offer a festive afternoon tea menu (for a higher price) accompanied with festive Christmas carols.
Where: Claridge's, Brook Street, London, W1K 4HR
When: Daily from 2.45 to 5.30
Price: £30.63 per child (£61.25 per adult)
Fortnum & Mason
Fortnum and Mason Afternoon Tea
Fortnum & Mason offer a very traditional tea with finger sandwiches, scones and tea cakes. During October and November they will be offering afternoon tea for free to anyone in your party with a birthday during those months. Check their website for terms. They also offer a vegan menu.
Where: Fourth Floor, Fortnum & Mason, 181 Piccadilly, London, W1A 1ER
When: Monday to Saturday (11.30 am to 7.00 pm) and Sunday (12.00pm to 6.00 pm)
Price: Children's menu is £30.00 for children aged 4-10 (£60.00 per adult)
Aqua at the Shard
Savour delicious Peter Pan themed treats with a view from the 31st Floor restaurant. The menu changes so keep an eye on their website. They have previously had Mary Poppins and Roald Dahl themed afternoon teas for kids.
Where: The Shard, 32 London Bridge Street, London, SE1 9SG
When: Thursday to Sunday (12.15pm to 4.15pm)
Price: £52.00 per person (£2.00 of which goes to Great Ormand Street Hospital)
The Savoy
Children's Afternoon Tea at the Savoy
The Savoy Afternoon Tea dates back to 1889 when the hotel first opened.  The Savoy is a very traditional hotel and naturally they offer a very traditional afternoon tea.  You'll get traditional afternoon tea sandwiches and signature Savoy cakes all served in the beautifully light and airy Thames Foyer.
Occasionally they have a themed tea. The most recent has been The Tiger Who Came to Tea. They also offer a vegan afternoon tea.
Where: The Savoy, The Strand, London, WC2R 0EZ
When: Monday to Tuesday (2pm to 7pm) and Wednesday to Sunday (12pm to 7pm)
Price: £37.50 per child (£65.00 per adult)
Brigit's Bakery
Peppa Pig Afternoon Tea Bus  Tour
Hop on an iconic red (Peppa Pig themed) London Routemaster bus for a 90-minute tour of some of the most famous sights in London whilst enjoying your Peppa Pig themed afternoon tea for kids.
Where: Departs from Somerset House
When:  Thursdays to Sundays – 12.15  / 14.45 / 17.30
Price: From £45.00 per child (for ages 2+) and (£55.00 per adult)
The Lanesborough
If you have a little one who loves pink, this is the place to go. Peggy Porschen of the much instagrammed pink patisserie in Chelsea has teamed up with The Lanesborough to offer a pink themed afternoon tea for kids.
Where: The Lanesborough, Hyde Park Corner, London, SW1X 7TA
When: Monday to Friday (12.30pm – 4.30pm) and Saturday and Sunday (11.30am – 5.30 pm)
Price: £25.00 per child (£53.00 per adult)
The Ampersand Hotel
The kids will love the dinosaur biscuit, jelly served in petri dishes and rocket shaped cheese straws served on a rocket shaped cake stand with dry ice coming out of the bottom. For the adults, check out the equally amazing Science Teapot Tails or the Science Afternoon Tea. There are vegetarian, vegan and gluten free variations too.
Where: The Ampersand Hotel, 10 Harrington Road, South Kensington, London, SW7 3ER
When: Monday to Friday (1.00pm to 5.30pm) & Saturday and Sunday (12.00pm to 6.30pm)
Price: £31.50 per child (£44.50 per adult)
The Chesterfield Mayfair
The Chesterfield Afternoon Tea
The kids will literally be like a kid in a sweetshop here where you have the choice of either The Original Sweetshop Afternoon Tea or the Winter Wonderland Afternoon Tea (perfect if you're visiting London at Christmas with the kids). According to the kids, this would be their first choice for a child friendly afternoon tea in London.
Where: The Chesterfield, Mayfair, 35 Charles Street, London, W1J 5EB
When: Daily (12.30pm to 5.30pm)
Price: £21.50 per child (£40.00 per adult)
Wands & Wizard Exploratorium
If you have a Harry Potter fan in your family, then you must try the magical themed afternoon tea at Wands & Wizard Exploratorium in SoHo. We were invited to try the experience and the kids declared it one of the most fun things they have done in London!
The food is delicious, but the kids will really love the chance to unlock secret compartments in the tea chest with their magic wand (you can borrow one or try out the wand making experience) and make colourful potions and change the colour and taste of their teas.
This Harry Potter themed afternoon tea experience is bound to bring out the inner wizard in your child.
Where: Wands & Wizard Exploratorium, 26 Greek Street, Soho, London, W1D 5DE.
When: Wednesday to Sunday through the school holidays and Friday to Sunday at other times. Sessions last 1 hour 45 minutes in slots from 11.45 am – 6.30 pm.
Price: £19.00 per child (11 and under) and £35.00 per adult.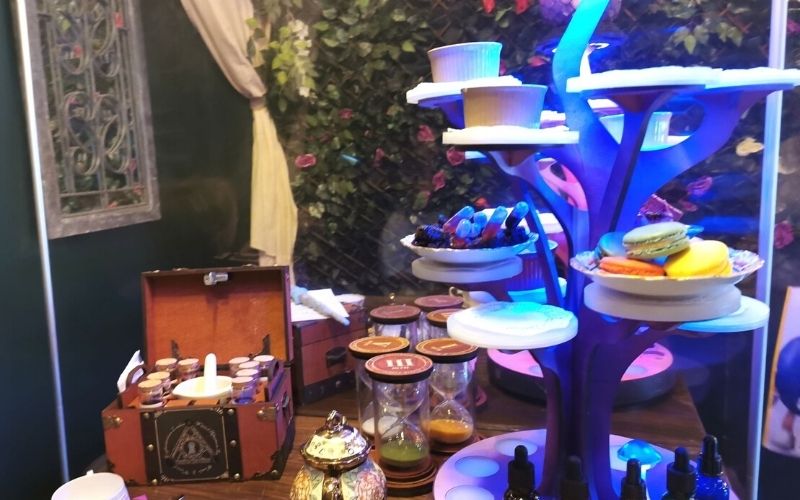 And one final bonus place for Harry Potter fans the Harry Potter afternoon tea at Cutter & Squidge. It's a must if you want to try all the Harry Potter experiences in London.
Looking for family accommodation in London?
Looking for the perfect, family-friendly hotel in London to complete your visit to London?
We recommend the following:
Luxury
The Athenaeum Hotel & Residences – Located in Mayfair, this is a 5 star luxury aparthotel with a difference. We find it so useful when staying in hotels in with kids to have a kitchen. They also have a kids' concierge service where they arrange your kid's favourite DVDs and treats for the room. Guest can use all of the hotel facilities and they have a pool.
See also:
The Ritz – Located on Piccadilly near Hyde Park Corner. One of the most well-known hotels in London. The Ritz being the Ritz, they have a Very Important Kids programme providing anything a child could want in their hotel room. Children under 15 stay for free with their parents in a Junior Suite or above.
The Rubens at the Palace – Located near Buckingham Palace. This boutique hotel has their own Director of Fun and Adventure to organise activities for kids. Children under 12 stay and eat for free and there's a 6pm check out on Sundays.
St Ermin's – Located near St James's Park. They offer a kids concierge to take care of the kids needs with fun and games inside of the hotel as well as outside. They even have their own bee hotel within the hotel. There are 2 new rooms that cater for families of 6. They also do a fabulous afternoon tea for kids.
Mid-Range
Park Plaza County Hall – Located near the London Eye, this is an excellent, centrally located mid-range family hotel in London. If booking the Family Getaway Package, they offer goody bags for kids at check-in and 'Park Plaza money' to spend in the Spectrum Bar and complimentary breakfast for children up to 12 years old. There are also interconnecting rooms for larger families.
Budget
Premier Inn Waterloo – Located by Westminster Bridge near the London Eye. Family hotels in London can be eye-wateringly expensive but the Premier Inn is a great, no-frills budget family hotel in London option if you are looking for a central location.
Map of places serving afternoon tea for kids in London