20+ Of The Best Travel Games For Kids 2023
One of our top tips to make travel with kids easier is to be prepared. Whilst you don't need to go overboard and pack everything but the kitchen sink, it is definitely worth packing some travel games for kids to keep them entertained.
Whether you are travelling long term, taking a family holiday or even just taking a staycation or a day trip, it is helpful to give the kids some form of entertainment during the journey.
If you have a long plane ride or a long road trip coming up, these family travel games really help to pass the time.
Of course, the main benefit of family travel is getting out and exploring new places and meeting new people.
But between these travel highs, there are going to be downtimes and this is where mini travel games for kids come in so handy.
Travel games for children don't have to be expensive. We've also included some ideas for free travel games for kids at the end of the post.
They also happen to be some of our favourite kids travel games, particularly on road trips because everyone can take part, even the driver.
Read more tips on family travel: Holiday packing tips | Flying with a baby | Best kids backpacks for travel | Benefits of Family Travel | Top tips for campervanning with kids
This post contains affiliate links. If you buy something through one of them, we may earn a small commission but this is at no extra cost to you.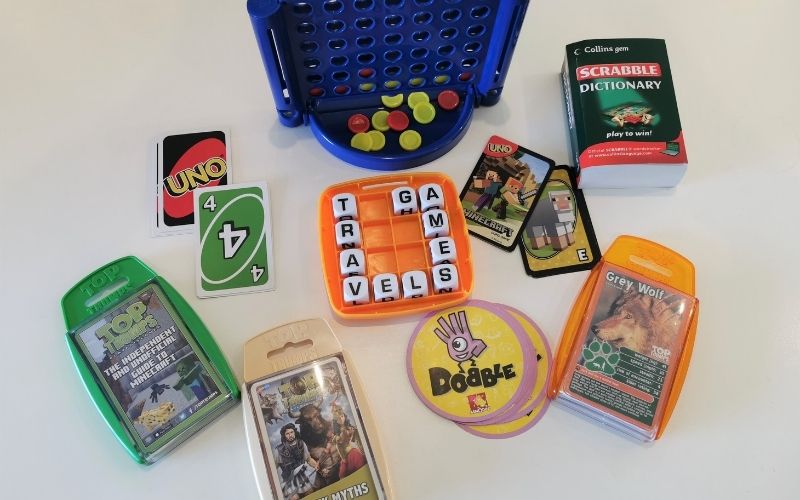 For us, the emphasis is on travel size games because space is always an issue in our VW Campervan.
Mini travel games are on our campervan essentials packing list and come in really handy when we go campervanning with kids.
We also encourage the kids to carry their own games in their travel backpacks. This really helps to limit the amount of stuff they take with them!
Camping with young children for the first time? Make sure to check out our guide on camping with toddlers!
These are the best travel games for kids…
Travel card games
UNO
UNO is a classic game that has been around for years. I remember playing it as a kid. These days there are different themed UNO games, but the classic is our preferred one.
The kids even have Minecraft UNO and despite being massive Minecraft fans, they're surprisingly not so into that version.
Dobble (also know as Spot it!)
Dobble is a fun and easy and without too many rules to learn. It's one of our all time favorite travel card games for kids as it just involves pictures. The skill is spotting the matching pair as quickly as possible.
As with UNO, you can get various versions of Dobble like Harry Potter for Harry Potter fans, and LOL Surprise.
TopTrumps
We absolutely love Top Trumps because the kids don't realise how much they are learning because they enjoy the game so much. We'd say that they started getting into it around 5 years old.
We worked through dinosaurs, top predators and Marvel characters and are currently on Greek Myths, Tudor Tyrants and Roman Emperors (coinciding nicely with their history topics at school).
I have no idea exactly how many different versions there are (best to check on Top Trumps) but there is certain to be something your kids will enjoy.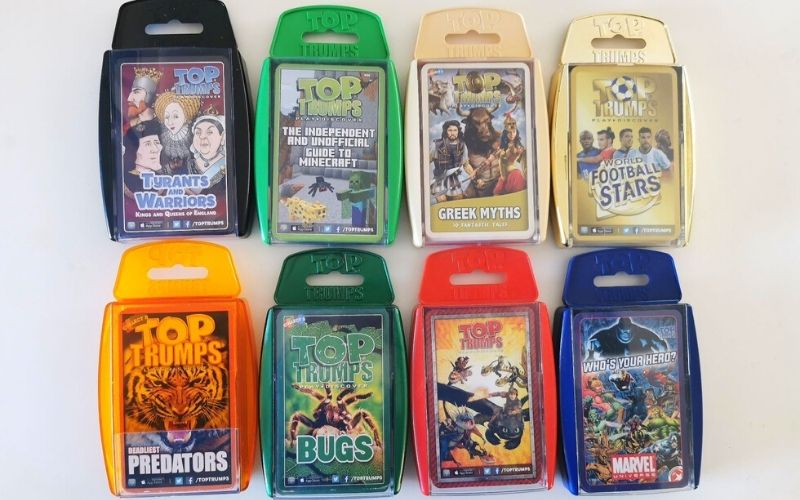 Playing cards
You can't beat a traditional pack of playing cards because it is so versatile. If we want the kids to have some quiet time, they will sit and play Solitaire (also known as Patience).
After being used to so many kids card games, they felt really grown up using a proper pack of playing cards for the first time. Some of our favourite playing card games for kids are:
Snap
Old Maid
Gin Rummy
Go Fish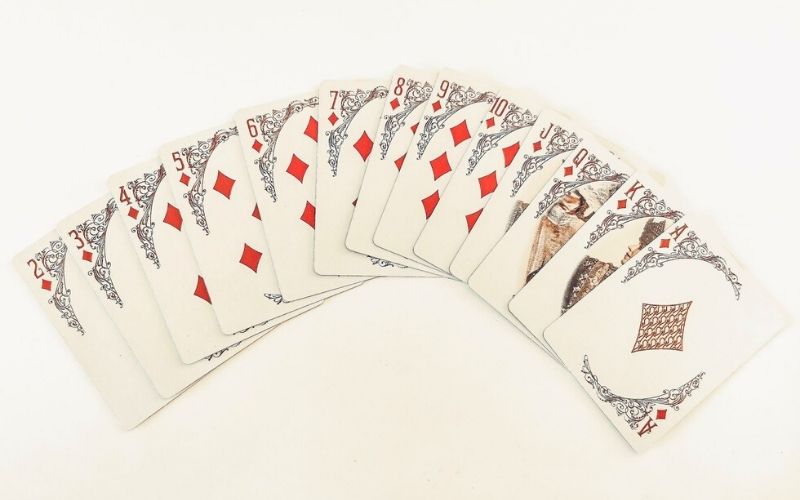 Travel board games
We have our favourite family board games at home and simply buy the equivalent portable travel games.
We don't class them as essential kids travel games though because some of them contain really tiny pieces which are easily lost, but we'll usually take one and mix it up with the other games suggested.
If your family is massively into board games, these are the best travel games for famlies.
Note – these are not ideal to play on a plane or train! Maybe save them for a road trip or the hotel room.
Connect 4 | Monopoly | Cluedo | Battleships | Guess Who | 5 Second Rule | Pass the Pigs | Scrabble
You can also buy a family travel board games bundle.
If you don't mind taking games with small pieces then you could also consider magnetic travel board games.  For older kids there is also travel chess.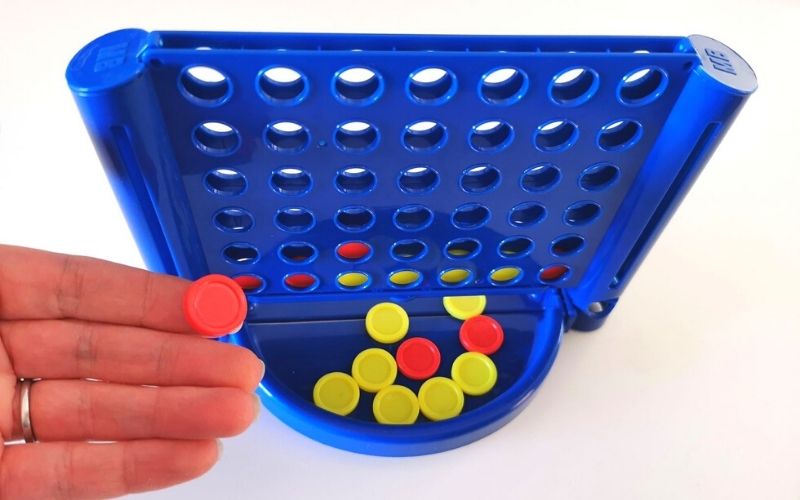 Boggle
Boggle is a really compact travel game for kids and adults. You can adapt the rules to suit the ages of your kids and allow them to find 2 and 3 letter words.
It's one of the best educational travel games for kids and surprisingly fun.
You just need a pen and paper (or see the end of the post for our top tip that allows you to do without paper and pens).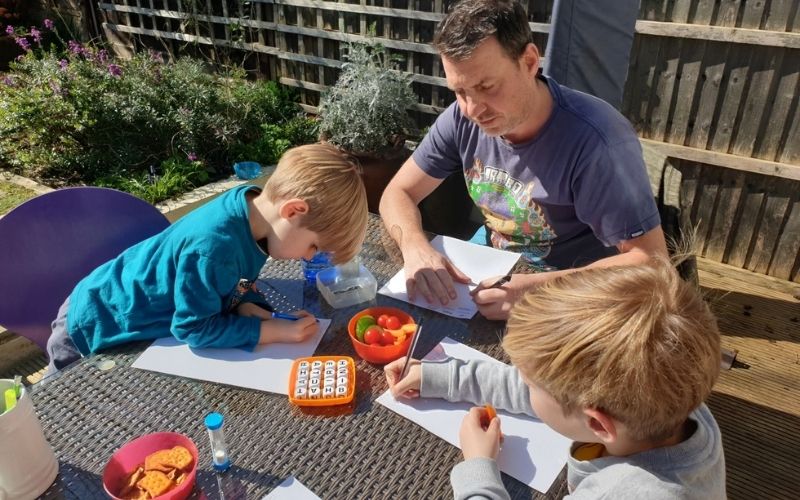 Free travel games for kids
Printable travel games for kids
With all the expense you might have incurred booking your holiday, you may not want to buy new games. As promised, here are some ideas for free travel games for kids.
There are lots of free printable travel games on Pinterest. Check out some of these links for inspiration, including hundreds of road trip games. Just type in printable travel games for kids.
Car travel games for kids
Some of the best games we play while on long journeys are free. We did an epic 1800km Vancouver to Calgary road trip and these road trip activities really helped to pass the time on the longer stretches.
These are our favourite fun travel games for kids to play in the car.
Would you rather?
You need at least 2 players. Player 1 thinks up 2 scenarios. Would you rather X or Y? This is not so much about winning or losing – it's more for amusement and the idea is to get kids thinking.
Here are some would you rather questions for kids to get you started:
would you rather dance or sing?
would you rather eat broccoli or cabbage?
would you rather live on the Moon or live on Mars?
would you rather know everything or be invisible?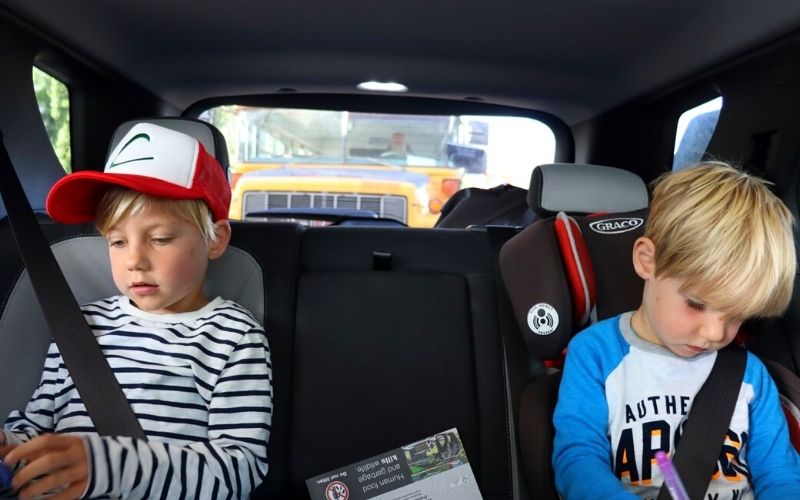 I went on holiday…
You need at least 2 players (although technically it could be played by 1!). First person starts by saying "I went on holiday and I packed a X (e.g. toothbrush)".
The next person says "I went on holiday and I packed a X and a Y" (e.g toothbrush and a teddy). Each person has to remember what the person in front says and then add their own item.
The aim is to continue for as long as possible remembering all items in the right order until someone makes a mistake. It is a great memory game. The kids seem to be far better at it than the adults.
20 Questions
You need at least 2 players. The aim of the game is for people to ask (up to) 20 questions to try to figure out who you are thinking of. Questions can only be answered with a yes or a no.
They can ask questions like
am I male?
am I on tv?
do I play a sport?
This is probably best played with a paper and pen so that you can write down the name of the person that everyone has to guess.
This ensures that the more competitive members of the family don't change their choice of person half way through!
And the one that probably doesn't need any explanation: I Spy
LCD kids writing tablet
This is not a game as such but we absolutely love our LCD writing tablet for kids which can be used to play games. It is super lightweight, slim and is pretty hard wearing having been with us on many trips.
It's kind of like a modern day etch a sketch and means no need for paper and pens if you are really short on space.
At the touch of a button, the screen wipes ready for the next game. Our kids like to play hangman or draw treasure maps.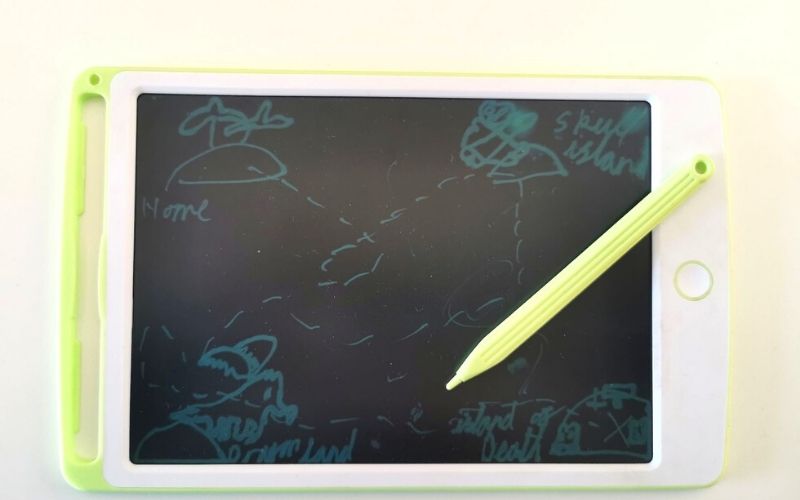 Other tips for travel with kids
We also take a couple of small puzzle books like Sudoku as well as the travel games and a few pens and usually a mindfulness colouring book.
None of these take up much room and they are great when people don't feel like playing games.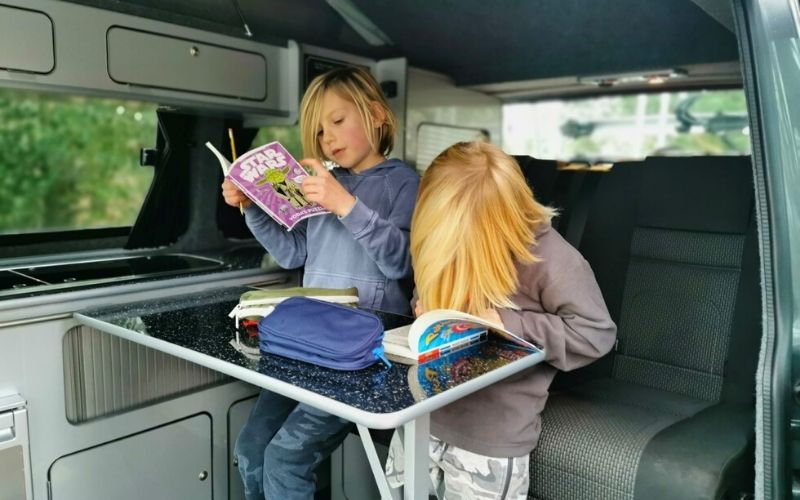 Where to buy travel games for kids
We have bought most of these games on Amazon because it has been convenient but if you have local stores stocking any of these, we recommend going there first, using Amazon or somewhere similar as a backup.