10 Top Tips To Make Travel With Kids Easy (By A Travel Family)
Planning to travel with kids for the first time? Have no fear. It's going to be different for sure, but different in a good way!
We have travelled with the kids since they were very young. Our eldest son was 11 weeks old when we travelled to Italy with him. We have now visited 20 countries with the boys, including Jordan, Iceland, South Africa, Sri Lanka and France and have learned a few things over the years about traveling with children.
But just because we have a lot of experience when it comes to traveling with kids, it does not mean that we know everything. We learn something new every trip. This is either because the kids have different requirements due to their age or because we are visiting a new country. The continual learning journey is what makes travel so special.
These 10 top family travel tips, however, are things that we have learned work well and allow us to travel the world with kids confidently. Some of these tips also come in handy even if you're just doing a family staycation.
Read more: Want to know where to travel with kids? These are our favourite family travel destinations!
This post contains affiliate links. If you buy something from them, we may earn a small commission but this will be at no extra cost to you.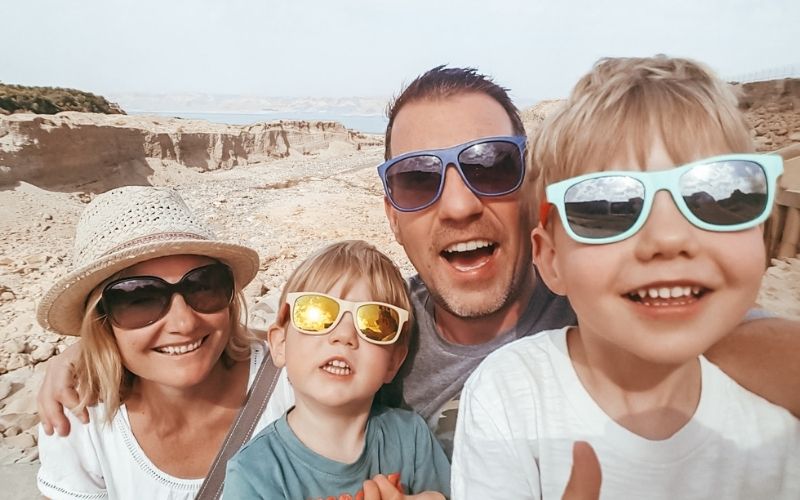 1. Don't wait until the right time to travel with kids
On the face of it, you may not think that this is a tip for making travel with kids easier, but it is. People ask us 'when is the best time to travel with kids?' Our answer is that there is no right time, so there is no need to put it off.
Kids are very easy to travel with from a very young age. It just takes a bit of planning. Traveling with kids from an early age and traveling as frequently as you are able will get the kids used to traveling and it will become easier.
We actually put off camping with the kids when they were really young because we thought it might be difficult, but these camping with toddler tips would have allayed most of our concerns. By the way – if you're wondering whether to try campervanning with kids… do it! Here are some awesome reasons why you should campervan with kids (as well as some practical tips for campervanning with kids).
Travel with kids provides so many benefits. One of our favourite travel quotes sums up one of the best benefits of family travel – "Not all classrooms have four walls". This is so true!!
Read more on the Benefits Of Family Travel and The Mental Health Benefits Of Travel here.
2. Plan your travel around their sleep
If you are taking a long haul flight with the option of a daytime or a night-time flight, go for the night flight. The kids will sleep which will mean less waking hours to keep them occupied.
One of the reasons we love to go to South Africa with kids (apart from the fact it is absolutely beautiful) is because we can take a night flight and there is very little time difference from the UK which means no jet lag.
Just on this subject – jet lag is a big consideration when you travel with kids. We tend to take long haul flights crossing time zones when we are going on a trip of two weeks or more. There is nothing worse than dealing with horrendous jet lag for the first three days of a week long trip.
Overnight sleeper trains are also a great idea when you are travelling long distances with kids for the same reason as overnight flights but with the added benefits of being a fantastic adventure for the kids and saving you the cost of accommodation for the night.
3. Leave yourself plenty of time
We used to be the people checking in at the last minute and running to the departure gate. If my husband had his way, we may even still be doing that, but I have certainly learned that I do not need the extra stress of running late when traveling with children.
Always expect the unexpected and although you can't factor in how long these 'unexpected things' may take or how they will present themselves, allowing yourself a little extra time will ease the stress. You might need a quick nappy change before waiting in line at security. You might want to grab some extra water for the flight.
If you get there early, the kids will love watching the planes coming and going!
4. Travel light
When you travel with kids, there may be a temptation to pack everything 'just in case'. We weren't experts right from the start. We used to pack everything but we learned that most things can be sourced in the country you are travelling to.
If you are really travelling off the beaten path, there are some things that you will need to take with you, but you will be surprised at how little clothing you really need.
Did you know that reducing the amount of luggage you travel with is better for the environment? A lighter plane uses less fuel. When we can, we travel just with hand luggage, especially when the airlines charge for hold baggage.
Read more on holiday packing tips, why packing cubes are the best, eco-friendly travel tips and how to be more eco-friendly here.
5. Be prepared for your flight
Going on road trips with kids is easy because you can pretty much pack as much as you want (although maybe not the kitchen sink)! Joking aside, we love road trips (good news because we recently bought a VW campervan!) and our campervan essentials list is pretty long.
We love that we can just pop the kids bikes on the back and allow them to take a few cuddly toys and some travel games. Taking a flight with kids requires a bit more planning.
Our best advice for flying with kids is to pack a separate back with the essentials and keep it to hand during the flight. This means that it needs to be small enough to store under the seat infront of you.
You don't want to be trying to locate a spare change of clothing after a spillage, especially on a busy flight when the flight attendant has stored your bag way down the other end of the plane.
Read more on flying with a baby here.
6. Travel with kids requires planning
During our backpacking days we loved the freedom of not having any fixed plans. If we liked a place, we would stay longer and vice versa. Whilst that freedom is still possible when travelling with children, it is better to plan ahead (and have a back up plan).
When backpacking as a couple we could arrive late at night in a place and wander around to find accommodation. This is just not convenient with kids and we prefer to have our accommodation booked in advance of arrival.
This doesn't mean booking months in advance. Sometimes we book a day or two in advance if we are taking a longer trip and are travelling around a bit. If you don't like booking too far ahead in case plans change, you can book with companies like Booking.com and look for accommodation with a 24 hour cancellation policy.
We also try to plan our day trips well. If you plan and book some of your tours in advance, you can spread the cost of your holiday. We like to use Klook and GetYourGuide for booking tours.
7. Get the kids involved in planning
We have a Nat Geo Kids subscription and Kids Atlas. We read about the countries we are visiting. There are lots of practical and fun gifts you can get kids for their birthdays or Christmas that will also inspire wanderlust and also come in useful during your travels.
Remember that there is no need to make it all about the kids. It's your holiday too. There are plenty of family-friendly things to do that are fun for the whole family. Although it may not sound like it, wine tasting in South Africa is one of our favourite things to do with the kids!
We find if the kids are involved in the planning stages, they feel less inclined to moan if it doesn't turn out to be as they expected. the caveat here is that this does not work if they are too young to be reasoned with. We have tried it!
Read more on the Best Travel Gifts For Kids here.
8. Don't try to do too much
It is always temping to try to see and do as much as possible when visiting a new destination as you never know when you will be back to visit. But the reality is that kids get tired from so much stimulation, especially in the heat, which can lead to meldtowns.
When the kids were younger, we would try to schedule naps into the day. If we were at the accommodation, it was some lovely downtime for us. If we were doing a road trip with kids, they would sleep in the car. The reason that we usually hire a car whenever we travel with kids is that they could nap as we were driving from place to place.
We would wear them out with the morning activities, have lunch and then set off to our next destination. Even at the age of 6 and 8, the kids will have a quick power nap in the car if they are feeling tired. Actually, at the age of 45 I love a quick nap too!
If we are visiting a hot country like Sri Lanka, our perfect day out would involve some early morning sightseeing followed by a quiet lunch at our accommodation (usually with a pool), an afternoon nap and then some pool time or beach time before heading out again when the heat of the day has subsided.
9. Snacks, snacks and more snacks
One of the top tips for family travel that you will hear from all family travellers is to have enough snacks with you. We take a selection of the kids favourite snacks with us when we travel and supplement these with fresh fruit and local snacks.
When they are older, we will rely more on locally sourced snacks but while they are still young, it is good for them to have some familiar snacks with them.
Things that are light and easy to pack work well. Our favourite travel snacks are breadsticks, mini rice cakes, dried fruits and plain crackers – although their crumbs do tend to end up all over the car! You can never have too many snacks though. And water!
On the subject of water, we always travel with refillable water bottles and even have one with a water filter if we are in places where the water may not be up to standard.
10. Collect memories, not things
This goes hand in hand with travelling light. We tend not to buy souvenirs. We much prefer experiences and it is the experiences that the kids will remember for years to come, not a little bit of tourist memorabilia that will be thrown away in a year or two.
There's a great quote that sums this up: Collect memories, not things. And remember to enjoy the moment.
Sometimes we get so caught up in making these moments special when we travel with kids that we forget to live in the moment. These moments may take the form of the kids stopping to appreciate a little colony of ants going about their work. Don't hurry them along. Enjoy the moment with them.
You might also find these articles useful:
Best kids backpacks for travel
Top tips for flying with a baby
Travel first aid kit: What should you take in yours?