10 Top Tips For Eco-Friendly Travelling In 2023
People travel more (and further) these days and with this increase in travel comes an increased carbon footprint which is harmful to the environment.
If you're looking to reduce your carbon footprint, we have some great tips for eco-friendly travelling.
The good news is that there are lots of ways to reduce the impact of air travel by implementing more eco-friendly travel methods.
Don't worry, we aren't going to recommend travelling less. We would be the last people to suggest that, but we can give you some ideas on how you can become a more eco-friendly traveler.
And if you're not sure exactly what sustainable tourism is, this article is a great primer!
Just implementing one of these eco-friendly travel tips will help. As they say, every little helps.
**This post contains affiliate links, which means that we may receive a small commission, at no cost to you, if you make a purchase through a link**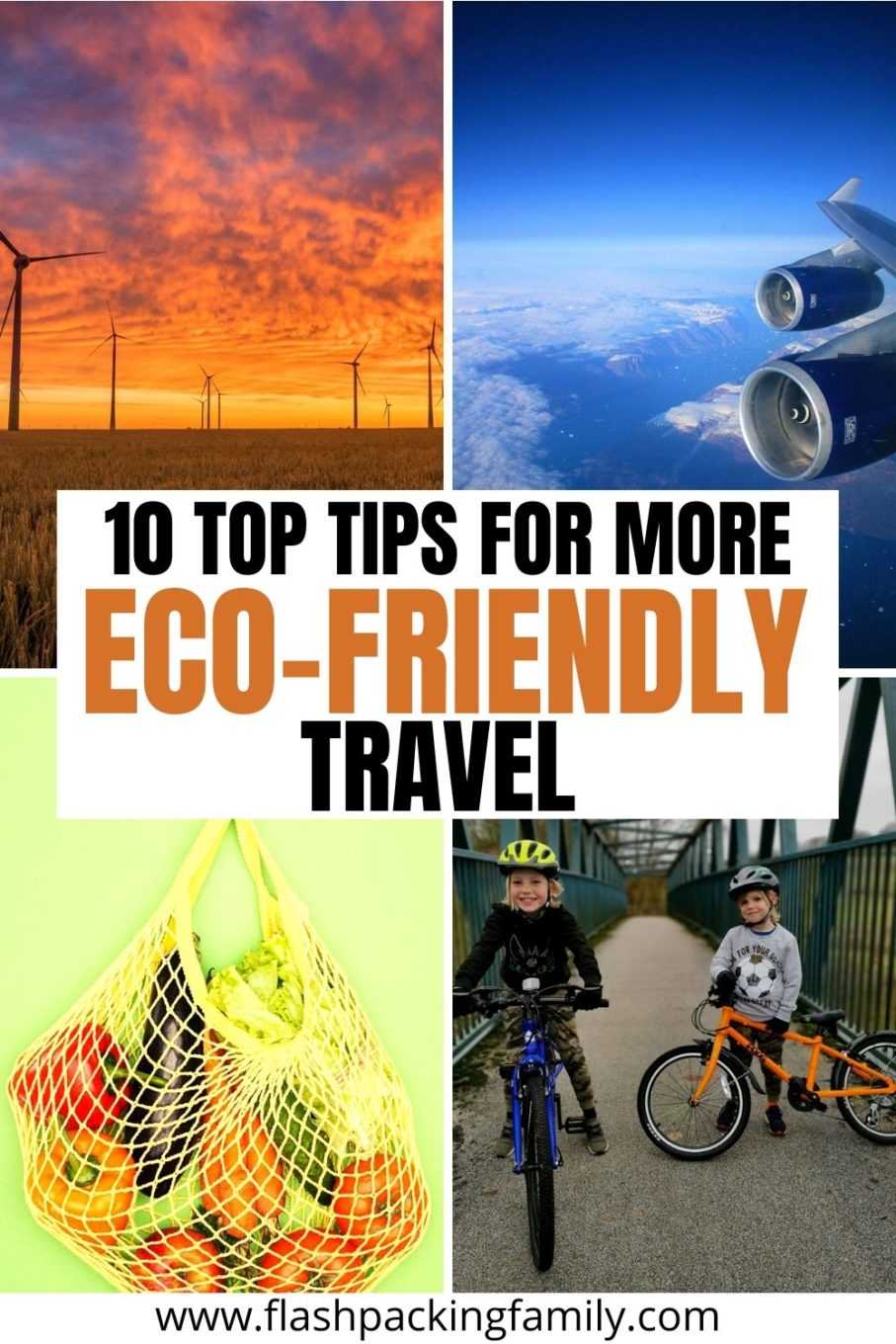 Top tips for eco-friendly travelling
1. Offset airmiles
Did you know that air travel contributes to 2% of the global carbon emissions? Pretty worrying huh?
But did you also know that certain airlines are working hard to try to reduce emissions with corporate initiatives such as fuel efficiency improvement.
Some airlines like British Airways also offer the option to offset your carbon footprint for that flight by paying a little extra (which is quite minimal).
It is worth looking at booking with airlines that are actively seeking ways to reduce emissions.
Airlines with carbon offset programmes :
2. Pack light
Airlines are committing to reducing their emissions by improving fuel efficiency but did you know you can also help in this effort by packing light? It's probably one of the least known eco-friendly travel tips.
A lighter plane produces less carbon emissions so it makes sense to try to reduce your baggage weight as much as you can.
When travelling with kids, it isn't always easy to pack light but we have got this down to a fine art. There is even more incentive these days to pack light with a lot of airlines charging huge amounts for hold luggage.
We're all for packing light, decanting toiletries into smaller bottles and taking less clothes. We pack a small bottle of detergent and wash clothes ourselves when we are away.
We even try to travel with hand luggage only and make use of the kids' hand luggage allowance by taking backpacks for the kids to use.
Want more packing tips? We have a helpful post on packing for a holiday and using packing cubes to be more organized.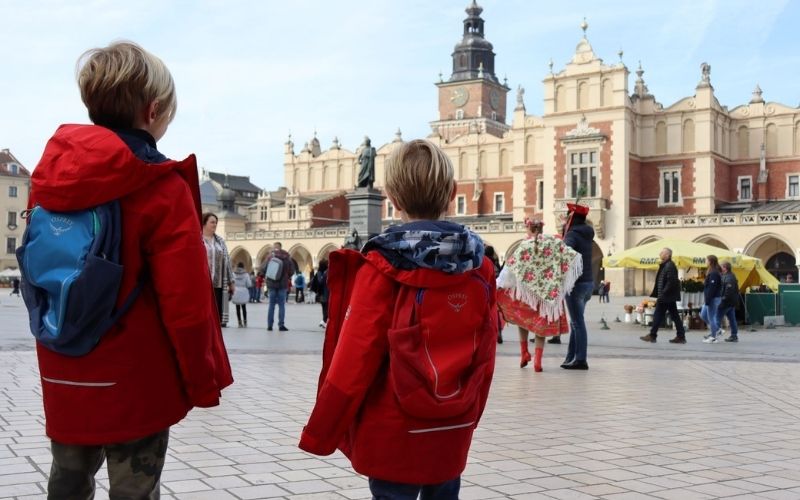 3. Travel local
We're not saying that you should never travel abroad again, but have you considered exploring your own back yard?
We have certainly neglected travel in the UK in favour of more exotic destinations, but each country has something amazing to offer.
As with trying to eat local seasonal produce to cut down on the air miles involved in transporting your food, it is also worth making the most of your own country when it's at its best.
We recently went to the Peak District for a weekend for the first time and were blown away by the beauty and the amount of family-friendly activities on offer.
We have vowed to do more UK family holidays in between foreign trips, including exploring some amazing UK beaches and taking stunning walks.
4. Take public transport
Some countries have fantastic public transport systems, like the railways in India and Sri Lanka.
They are definitely an experience in their own right. You get to know the locals and sample tasty snacks from the vendors.
They are often faster and more convenient than taking a taxi or having a driver (not to mention significantly cheaper!) and you will get fantastic views from the tracks that you won't get from the road.
When we travel with our campervan, we also take our bikes and explore places under our own steam.
5. Use a water filter
One of our favourite ways to be more eco-friendly travelers is to pack a water filter.
When travelling abroad, you may not trust the local water source and prefer to drink bottled water to avoid an upset stomach. This is totally understandable.
But billions of bottles of water are consumed each year. There is an eye watering statistic that one million 1 litre bottles are consumed each minute around the world.
One way to avoid drinking bottled water is to take your own water filter with you. You can then filter your own water from most water sources, although we wouldn't want to try filtering water from a stagnant pool with a dead animal floating in it!
We recommend the Sawyer Mini Filter as it is lightweight and has a high success rate in taking out all the nasties. The other option is the LifeStraw filter bottle.
6. Use reusable water bottles
Our top recommendation for eco friendly travel products is a reusable water bottle. Take one with you to decant your filtered water into.
Now that the kids are a little older, we like the Camelbak Chute bottles because there are no movable parts that can build up with mould and they hold 1 litre.
When the kids were smaller we used the Sistema bottles with the twistable nozzle but you do have to make sure to take them apart to wash them thoroughly to avoid mould build up.
We also like the Chilli bottles that can keep your water refreshingly cool (24 hours) or your hot drink satisfyingly hot (12 hours). There are a whole range of  sizes and fun designs to choose from.
7. Take a bamboo or metal straw
What is the most common piece of rubbish you see on the beach while taking a stroll? For us it is plastic straws, closely followed by toothbrushes and flip flops!
A lot of places have started using paper straws, but you could also take your own bamboo or metal straws just in case. Bamboo toothbrushes are also a good alternative to the more commonly used plastic ones.
8. Invest in good quality flip flops
We all love a pair of flip flops but next time you are doing your holiday shopping, think about going for a more robust pair that will last longer.
It is estimated that 3 billion people wear flip flops because they are cheap but they are made from a combination of Ethylene-Vinyl Acetate and other plastics and are not biodegradable.
There are eco-minded companies that use less toxic textiles in the production of their flip flops as well as making fully recyclable flip flops.
If you are US based, a good choice would be Ocean Minded, which incorporates greener materials like recycled car tires, hemp, and water-based glue into its designs.
Or Feelgoodz, which makes its biodegradable sandals from 100 percent natural rubber.  Okabashi has a closed loop production process making fully recyclable flip flops from recycled material.
We haven't been able to find a company in the UK yet that makes recyclable flip flops.
We like the idea of Ocean Sole which collects up flip flops that wash up onto the East Africa coast and turns them into toys or doorstops seen below.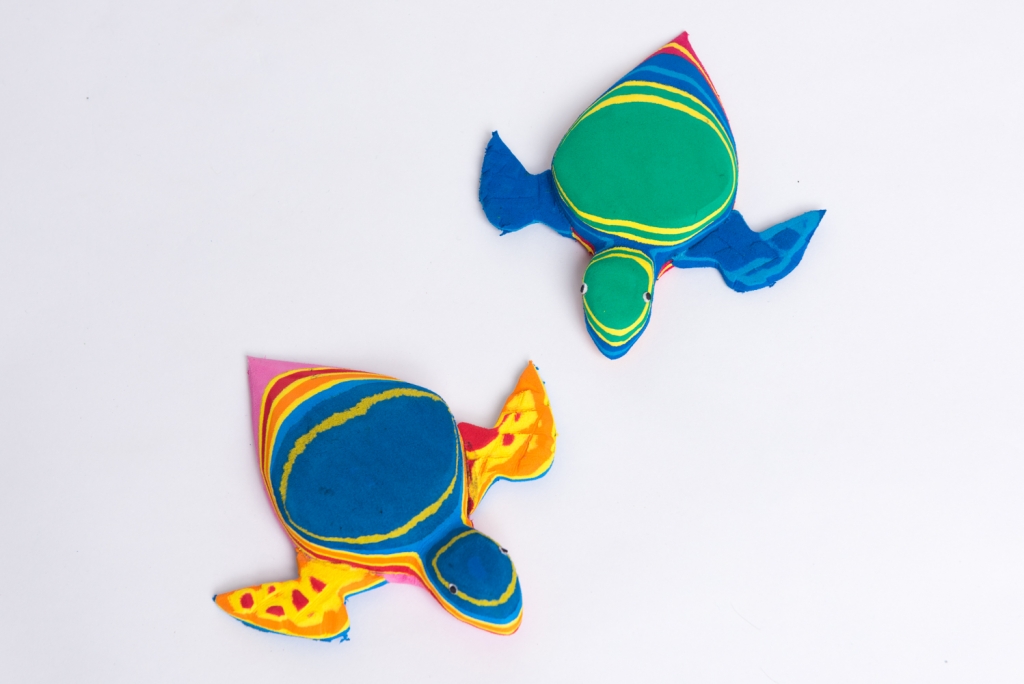 9. Use reusable shopping bags
One of our favourite things to do while travelling is to check out the local markets to see what weird and wonderful foods they have. It's great to support the local sellers and we inevitably end up buying stuff.
But instead of asking them for a plastic bag (which will remain on our planet for 500 years), we use a string bag. We think they look pretty cool and can also double up as a beach bag.
We also use these at home in our attempt to be more eco-friendly when not travelling too.
10. Use eco-friendly toiletries
People are becoming more aware of the fact that some sunscreens are harmful to marine life.
If you lather it on and then go and take a dip, all the harmful chemicals such as oxybenzone, octinoxate or parabens will rinse off in the water and this is what is contributing to the bleaching of the reefs.
You may think that you aren't contributing to this because you just swim in a pool, but when you go home and take a shower, the chemicals will still eventually make their way to the sea.
Some of the sunscreens we love are:
Green People Organic Children (we have found this one is also great for very sensitive skin)
It is also worth looking into the other toiletries that you use, such as shampoo and shower gel. These generally all contain similar nasties.
Green People are our go to ethical company for natural products that won't harm the environment. They have a whole range of lovely products to choose from.
We hope that this has given some food for thought on ways that you can help the environment and still travel to your heart's content.
It is not about reducing your travel, but about being more conscious of the way you travel.
Do you have any eco-friendly travel tips you'd like to share? Please leave a comment!