Campervanning With Kids: 9 Essential Tips You Need To Know
Those beautiful photos (you know the ones I mean) of a campervan in an idyllic setting with beautiful views are truly inspiring and make you want to get a campervan and hit the road.
Whilst campervanning with kids can be idyllic, particularly if you show up to a secluded campsite on the beach with incredible views. But before you hit the road in your campervan with kids, there are some practical things you need to know.
We've written about why you should go campervanning with kids but this post is more about day to day life campervanning with kids. It's about the practicalities and it provides you with some essential tips for campervanning with kids.
If you are considering buying a campervan and have kids or you have bought your campervan but haven't set off on your first adventure yet, read on… and if you are looking to get away as soon as possible but don't have your own facilities, check these campsites with ensuite facilities.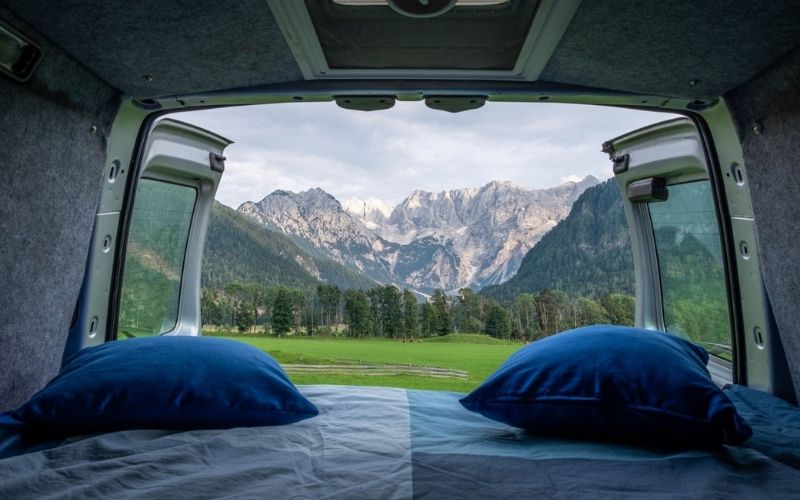 This post contains affiliate links. If you buy something through one of them, we may earn a small commission but this is at no extra cost to you.
1. Get them involved in setting up camp
One of our best tips for campervanning with kids is to get them involved in setting up camp when you first arrive. Our kids are always tasked with getting the camping chairs out of their bags and filling up the water bottles.
Getting them to do basic chores and teaching them basic camping do's and don'ts will stand them in good stead for when they go camping themselves for the first time.
When they're old enough, they can even pop to the on-site bakery in the morning to pick up the bread (and croissants if camping in France). As long as the bakery is within sight, we give the boys the exact money and they go and get them. This helps to give them a feeling of independence.
One of our top tips for international travel with kids – have them learn to say hello in the language of the country you are visiting.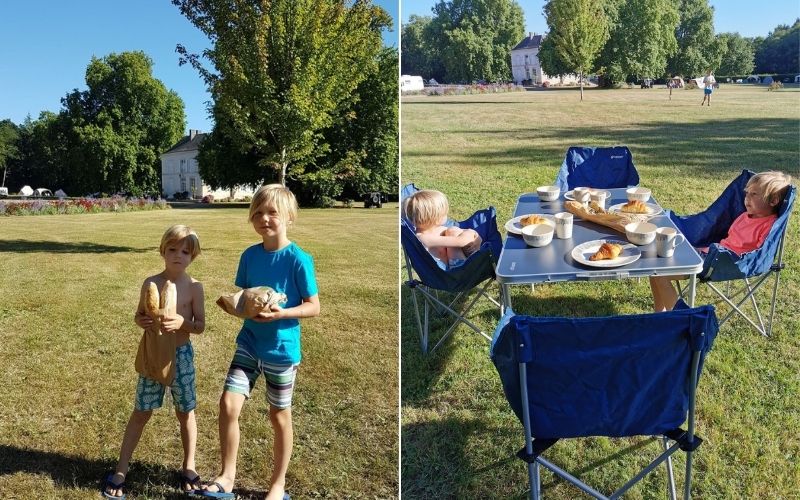 2. Buy a night light
At home, the kids have a nightlight but we didn't think about this for the van.  During our first night in the van our eldest child woke up screaming because he didn't know where he was. It was pitch black and he was completely disorientated.
For anyone new to camping, it can get very dark on a campsite, especially if you are on a smaller, more natural campsite. Even if there are lights around the campsite, you will probably have black out blinds blocking them out.
Our advice is to buy a small night light. We have one that doubles up as a mosquito / bug repeller. The light is dimmable with four settings. The lowest setting is perfect for night time lighting and the brightest is good for hanging on or in the awning if you need some light around camp and to keep the mosquitoes at bay. It recharges by USB during the day.
On the subject of lighting, head torches are ideal when campervanning with kids. Night time trips to the toilet wearing a head torch are so much easier than carrying a hand held torch. Our kids love to play with them making all sorts of shadow shapes. They make great gifts for travel kids.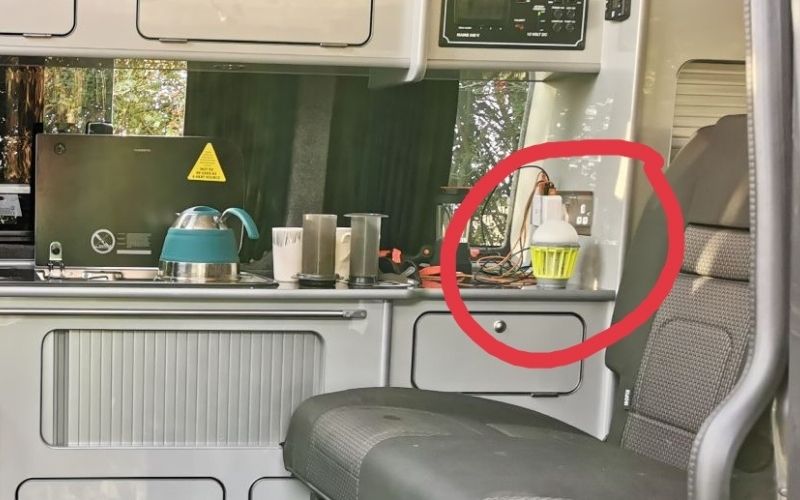 3. Use blackout blinds
On the subject of black out blinds – make sure to buy campervan black out blinds before your first trip. If you are camping with small kids, you may be used to early mornings but you don't want them to become even more early than necessary. With the sun rising at around 4.45 am in the height of summer, black out blinds are a campervan essential.
Look for silver screen black out blinds. The van can start to get warm quickly once the sun is up and the silver screen blackout blinds double up as reflectors as well as helping with insulation when it starts to get cooler at night.
4. Use a child safety net for sleeping in the roof
If you are camping with small children and want them to sleep up in the roof of your campervan, you should invest in an elevating roof child safety net.
The net will stretch across from one side of the roof to the other, blocking the large gap that is directly over the driver and passenger seats. This barrier will prevent them from falling down the gap in the night.
Our children (at 5 and 7) are just old enough to not have to worry about this, but they did once come close to falling down as they can thrash around a bit in their sleep.
We find that they move around less in their sleeping bags, but when it is really warm, we just use a thin double fleece blanket that they can kick off if they get too warm. By the way – kids sleep so well in a campervan!
5. Choose your site and your pitch carefully
When choosing a campsite, make sure it is a family-friendly campsite. The type of facilities they have will tell you if it is going to be good for kids. We look for decent play areas and even smaller toilets and wash basins for kids in the sanitary blocks.
Our favourite sites are ones in a natural setting where kids can be kids and explore nature within sight of our van. This way, they can play while we are preparing meals or packing up to move on.
Set up camp close enough to the facilities that you can make a dash there but not so close that you will be bothered by the noise. The same goes for the play area. You want to be close enough that they can wander over by themselves (if they are old enough) and be within sight but not too close that you get the constant noise.
Read more: Outdoor activities for kids
6. Have additional outdoor space
Whether you go for a large, drive away awning like our Olpro Cocoon Breeze or a small pop up tent, having a little bit more space in addition to the campervan is essential. If we are staying on a campsite for more than one night, we'll pop the awning up and put our storage tubs in there to give us more room in the van.
Our Vango Noosa Low awning is a good size for a family of four and has a decent sized porch which we can sit under in case of light rain.
On really hot days when we find it too hot to sleep in the van, we sleep in the awning. We like the drive away awning that attaches to the side of the van because it means that we can have the side door of the van completely open at night to help with ventilation.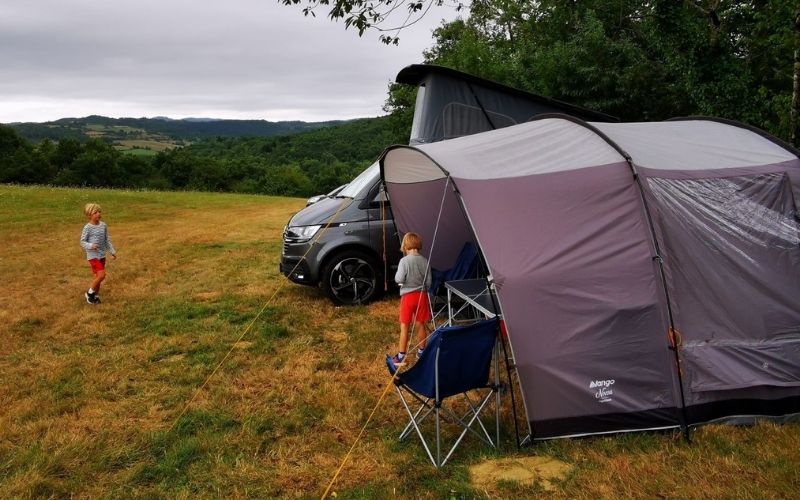 7. Dedicate a cupboard to the kids
If you have the space, let the kids have their own cupboard and everything they want to bring goes in there. If it doesn't fit, it doesn't come. We also have a rule that everything has to go back in it at the end of the day. They have to be repsonsible for packing their own things away. Again, if it doesn't get packed, it doesn't come.
The cupboard we use is right next to the kids seats so that they can access it while we are on the road. They have a bunch of travel games in it like UNO and Dobble and some colouring pens and books. They also have their collapsible buckets, swimming goggles and table tennis bats – essential if you are camping in France :)
It's surprising how much they can fit in there.
8. Use packing cubes
One of our top tips for packing for a family holiday is to use packing cubes. They are a game changer and they also make van life with kids so  much easier.
They are so handy in the van too when the kids don't have their own set of drawers. You can get packing cubes in different colours and we make sure the boys have a different colour cube so they know which one is theirs without opening it. This makes it much easier for them to find their clothes and get dressed themselves.
We find that the medium sized Amazon Basics packing cubes work well for us. You might prefer compression cubes but the kids find these a little harder to zip up.
The picture below shows the pretty standard layout of a VW campervan. We pop the kids' packing cubes in the little cupboards under their seats so that they can easily access them. This packing cube system saves so much time!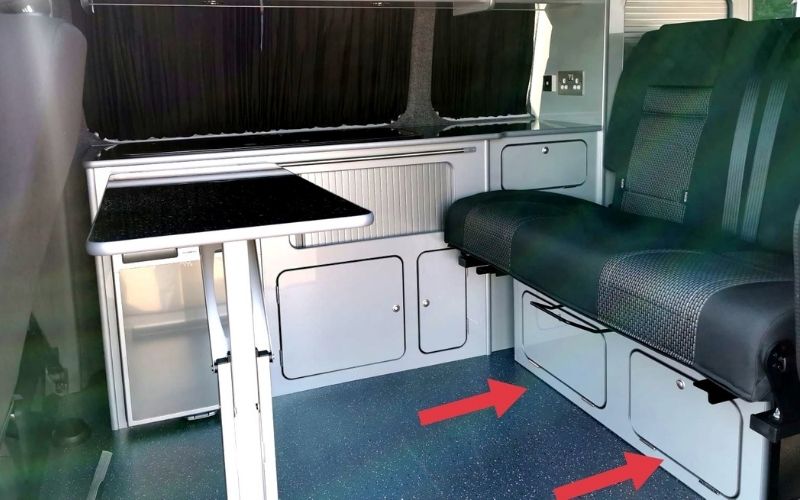 9. Enjoy your time together
Campervanning with kids can be a really relaxed and fun experience if you go with the flow. Let them be a little feral. Who cares if they are running around half naked pretending to be cavemen?! Other campers certainly won't mind, especially if their kids are happily playing with your kids.
This is the perfect time to sit back, grab a drink and relax.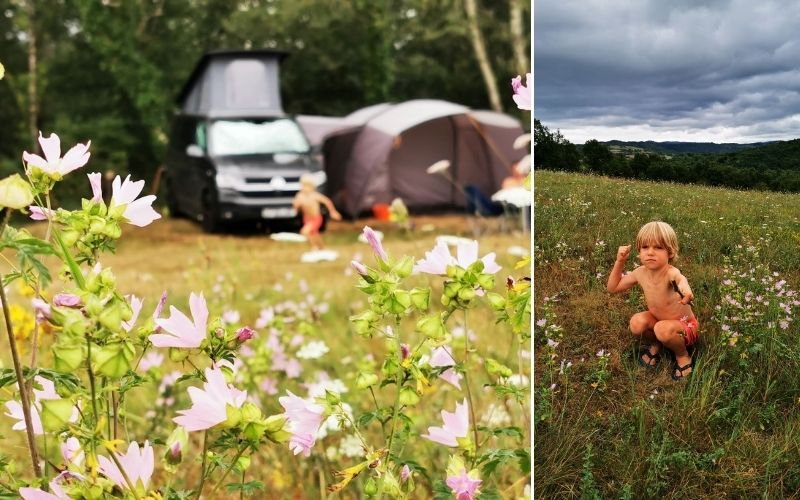 Other tips for campervanning with kids..
If you have a long road trip ahead, have some travel games sorted and a family playlist.
Have a shower attachment for the van so you can do a quick wash before bedtime without having to make a big outing to the facilities. We have an electric camping shower that is rechargeable via USB but you can get simpler camping showers.
You will be living on top of each other during your trip which is great for family bonding – up to a point. Make sure that you have some time away from each other. Take it in turns to take the kids to the pool if someone needs some downtime. I even enjoy the peace and quiet of a solo trip to the supermarket.
Invest in a bike rack that will take all of your bikes. It's great to get out and explore the local area on bikes.