How To Be More Eco Friendly In 5 Easy Steps
When wondering how to be more eco friendly, many people can often feel that it is hard, that it will change their lifestyles too drastically and that they don't know where to start. We are all for positive eco changes, but we are most definitely not about making our life harder.
We have previously talked about the ways we can be more eco friendly when we travel but as we are not travelling so much at the moment, we thought we would write about some very simple ways to be more eco-friendly at home.
While we are far from having a completely eco friendly house, we are working towards it by taking small, manageable steps. These 5 easy and effective ways in which anybody could be more eco-friendly should fit in with a modern lifestyle without too many drastic changes.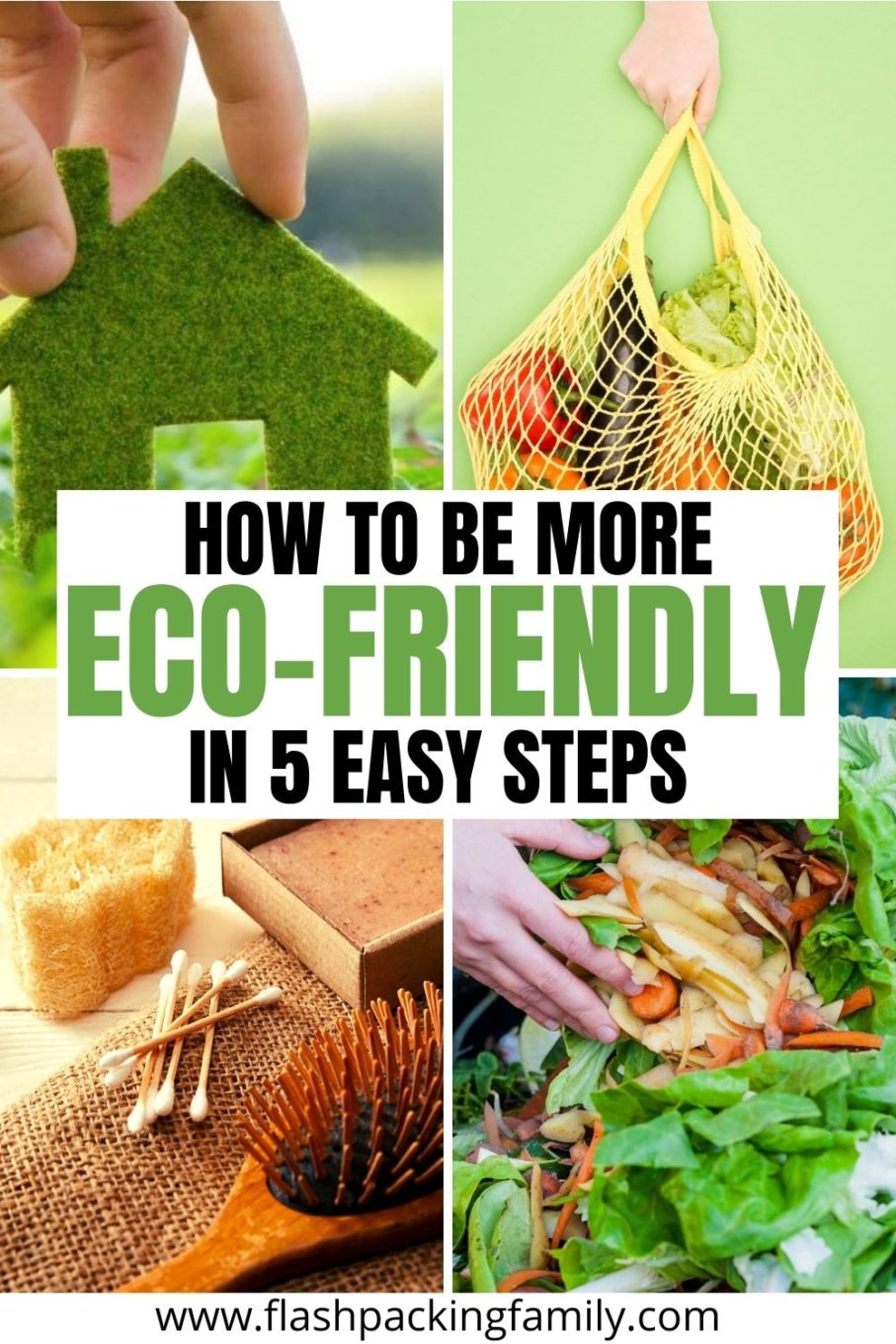 Here are our top tips on how to be more eco friendly…
1. Find reusables that work for you
We are incredibly lucky to have so many fantastic eco friendly products on the market now, including reusable products. Not only will they help to reduce your plastic waste, overall household waste and save you money but they are also easy to use and can fit right in even with a busy household.
Some of the most popular reusable swaps people are finding include reusable wipes (for home, baby, children) and reusable nappies. There are loads of great eco friendly baby products on the market these days and we're all for these because we generally find that they are better for our children's sensitive skin.
For the kitchen, we use eco friendly packaging such as beeswax wraps (to replace clingfilm) and reusable sandwich bags.
For the bathroom there is a great choice of cloth sanitary pads and menstrual cups,  reusable makeup remover pads and flannels.
Having recently bought a VW campervan , one of the products that we consider a campervan essential is a bamboo toiletry kit and it makes a lovely gift for campervan owners but there is no reason why you can't also use this at home.
Some may seem a little pricey to begin with but once you have all the reusables you need and stop paying out for disposables, you will actually be saving money in the long run.
2. Save water
Saving water may not seem like a big deal but climate change is slowly affecting our water supplies. If you can make a few small changes, you could be making a big difference without even realising.
Making sure you turn the tap off as you brush your teeth, only flushing the toilet when you really need to plus choosing eco settings on the washing machine and dishwasher will all help.
You should also opt to use the dishwasher (full) over washing up by hand as this will use less water. If you do wash up by hand, try and save the water in a washing up bowl to water your plants with instead of using the hose. Investing in a water butt will also save on hose use during the summer months.
Our water company came and modified our taps in the house to make them more water efficient which is something you may want to ask your water company about. Every tiny bit will help.
3. Compost
If your local council offer a composting service then you will already be on the right path to being more eco-friendly but unfortunately, this isn't available across the whole of the UK.
Composting is important because food waste going into landfill is a huge contributor towards global warming. Landfill conditions are far from being the right environment for anything to biodegrade safely. Due to this, produce will rot and create methane gas which is released into our atmosphere.
If you can keep these out of your household bin and put them into a home compost bin, you will not only be helping the environment but you will also be rewarded with some amazing compost for your garden – for free!
4. Buy loose produce
If you want to further reduce your household waste and more importantly, your plastic waste, then try only purchasing fruit and vegetables loose rather than pre-packaged.
More supermarkets have realised that there is a demand for this now which means there are more options available to us making this a far easier eco-friendly step to take. Wondering how to be more eco friendly without making much of a change at all? This is the one for you!
When we go to the supermarket, we always take our reusable bags with us. Our favourite bag for carrying the loose fruit and veg is a string bag. These double up as great bags for the beach too as you'll leave all the sand on the beach rather than bringing it home!
5. Walk or cycle
This may seem like an obvious change in how to be more eco friendly but how many of us take the car more just because it's convenient? By planning your day, thinking about timings and choosing a different mode of transport, you will be reducing your carbon footprint in a really simple and achievable way.
We are huge advocates of walking with the kids and take our bikes everywhere with us when we campervan with kids so that we aren't tied to driving everywhere.
France, in particular, has some fantastic cycle routes, and we often choose our family-friendly campsites in France based around the cycle networks. You often see a lot more of a place when you choose to cycle over driving.
These are just some measures that we have introduced into our home. Like we said, we have a long way to go before we feel that we are doing everything we can, but every little helps.
It is a little mind blowing to think how much of an impact we could make if everyone did even just a couple of these things.
Have you been thinking about how to be more eco friendly? If you've been trying out new ways to be more eco friendly at home, we would love to hear from you in the comments.