Travel First Aid Kit: What Should You Take in Yours?
Travel first aid kits are not always at the top of your packing list, especially if you're going to a destination with an excellent healthcare system in place.
But if the country you're travelling to doesn't have great healthcare or you're getting off the beaten track, then it's a good idea to pack your own travel first aid kit and is one of our top holiday packing tips.
Even if there is excellent healthcare where you're going, you will probably want to pack your own mini travel first aid kit so that you don't have to navigate buying plasters or paracetamol in a different language.
We once had issues trying to buy a hydrocortisone cream on our Cape Verde holiday. It was frustrating and stressful, and as the information on the product was in Portuguese, I wasn't even sure we had the right cream.
We have learned over many trips what is essential in our travel first aid kit and what isn't.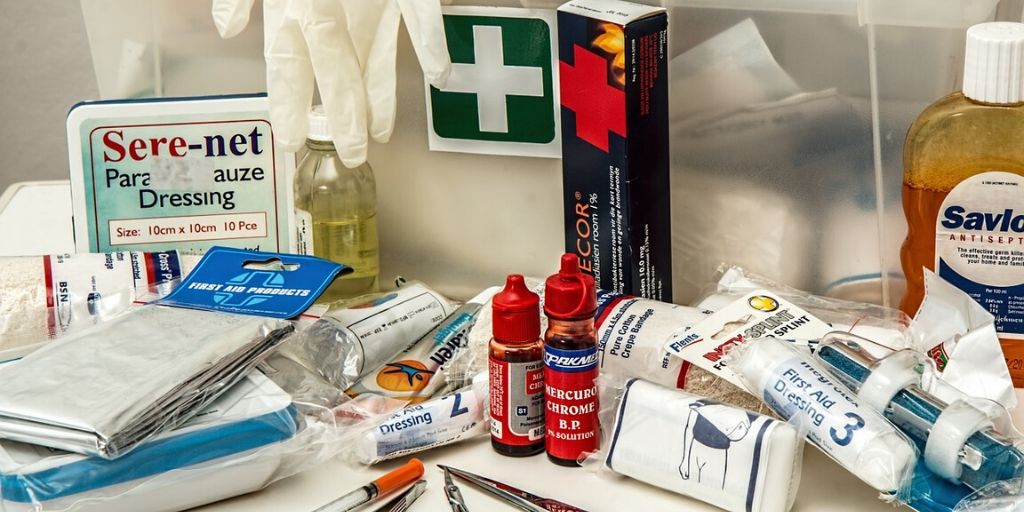 What should be in a travel first aid kit?
Obviously, space might be an issue so when you're thinking about the contents of a first aid kit, think about your first aid kit essentials in your home first aid kit. Start making a travel first aid kit list.
Travel first aid kit checklist
Plasters of varying sizes.
Iodine
Tweezers
Scissors
Swiss army knife – some have scissors and tweezers
Anti-bac hand gel
Antihistamine
Painkillers (paracetamol/ibuprofen/cold and flu)
Aloe gel for burns (including sunburn)
Dioralyte – for rehydrating after an upset stomach
Something that always makes it into our first aid travel kit is our Swiss Army Knife. We may not end up using the tweezers or the scissors, but we'll usually need it for a bottle opener or to cut up fruit from the market! Don't underestimate how handy they can be.
 Children's first aid kit
If you're travelling with kids, you don't need to have a separate first aid kit but there are a few extra items that you should consider including.
Calpol and Ibuprofen – If you've taken the bottle out of the box to save on space, remember to pack the separate syringe.
Thermometer- young children can easily spike a temperature out of nowhere and it is useful to have a thermometer to check the severity of it. We use an ear thermometer but a forehead thermometer is more recommended for young babies as it's less intrusive.
Baby Vicks – we like to keep a small tub of this in case of a persistent cough as it works wonders when rubbed on the soles of their feet.  It's not something I could even begin to explain in another language.
Mosquito repellant – not all mosquito repellants can be used on kids. If we're not in a malarial area, we use natural repellants such as Vie or Incognito
Travel sickness aids – we find that motion sickness bands work best for us or there are tablets
Sterile first aid kits
For most European countries, North America and Australia/New Zealand, basic first aid kits would do fine but if you're travelling to a country where the level of medical hygiene may not be what you're used to, you may want to consider a travel first aid kit with syringes.
There is a range of sterile first aid kits containing basic sterile medical equipment. In case of an emergency, this should be handed to a qualified medical person.
Where to buy first aid kits
You can make up your own travel first aid kit or you can buy ready-made travel size first aid kits. We prefer to make up our own as the ready-made ones are quite basic, but if you want to buy one, then here are some of the best travel first aid kits.
Travel with prescription medicine
We haven't touched on prescription medication as this is entirely personal to your own medical needs but one thing we will say about this is that you should keep the medication in the original packaging so that it is easily identifiable going through customs. This goes for any medication, even over the counter medication.
It is also worth mentioning that you should check the guidelines for the country you are visiting to make sure that the medication is not on their banned list. For example, the UAE has strict rules and includes apparently innocuous medication like common cold remedies and anti-anxiety drugs like diazepam.
If you're travelling there with medication, you need to complete an online form to declare this but it is worth reading their guidelines for travellers so you are fully up to date with the current situation. If you fail to do this you can risk imprisonment.
A final tip for your travel first aid kit
Finally, something we do to make sure we have what we need in our first aid kit when we travel is to keep two first aid kits. This means that we keep a home first aid kit and a travel first aid kit.
We don't dip into the travel kit at home and it's kept at the back of the cupboard for our next trip. If we use something from it on a trip, we replenish it when we get back home so the kit is complete and ready for our next trip.
If we don't do this, there's always a risk that we'll forget to replenish it and the kit is incomplete.
It's not the end of the world as you can pop into the pharmacy at the airport before you depart, but that's only if you have allowed yourself time at the airport to do this. We're usually cutting it quite fine!
**We are not medical professionals. The above list is what we use and we've based it on the NHS Travel First Aid Kit Guidelines. Not all medicines are suitable if you have a particular medical condition. With all medicines, you should always read the instructions for use and determine suitability yourself **