15 Awesome Places To See Santa In London 2022
Looking for places to see Santa in London this Christmas?
We have been to lots of Santa's Grottos over the years and have found that some of the best are in London. London really is one of the best cities in the UK to visit at Christmas with kids as there is just so much to see and do.
We've never managed to get into the Santa's Grotto at Harrods but we'll put it on here anyway in case you happen to be a Gazillionaire (or as lucky as Charlie in Charlie and the Chocolate Factory)!
We haven't been to all of these places to see Father Christmas in London. This post is just a way to let you know what is on this year and we'll aim to update it when more dates are released.
For the Santa's Grottos that have been announced, tickets are selling out fast so book soon to secure your meeting with Father Christmas in London!
Looking for something a bit special this year? How about looking into one of the Santa Sleepovers in the UK or even booking a DIY Lapland trip (which works out much cheaper than the package holidays!)
This post contains affiliate links. If you click on one and buy something, we may earn a small commission but this is at no additional cost to you.
Visiting London for the first time? How about getting some London themed games and entertainment for the kids? Perfect for the hotel room or restaurants…
London Top Trumps and our own London colouring book and pens just in case). We also love these kids' travel guides to London, a London sticker book and things to spot in London book.
And if you are staying over in London and are looking for a family-friendly hotel, check out our recommendations on where to stay in London with kids and our guide to family accommodation in London with pools. We also have a few suggestions at the end of the post.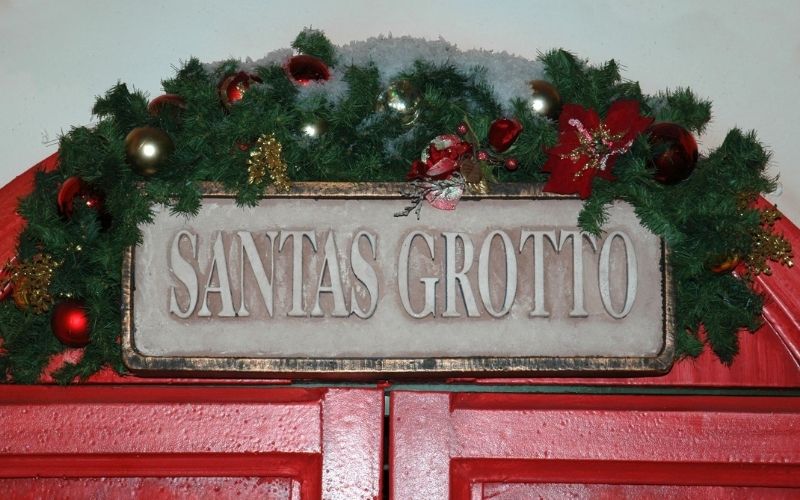 Places to see Santa in London in 2021
Visiting a Santa's Grotto in London is just one of the many fabulously festive family Christmas events in London. These are London Grottos are looking particularly festive this year.
ZSL London Zoo
The Magic of Christmas at London Zoo
Dates: 27th November to 3rd January 2022.
Ticket Price: £13.50 per child (in addition to the Zoo entry price).
Location: London Zoo, Regent's Park, London, NW1 4RY.
They are also offering the opportunity for a VIP Breakfast with Mrs Claus on select dates.
If you live locally, the London Zoo annual membership is definitely worth getting. See also what is going on at Whipsnade Zoo at Christmas as your zoo membership can also get you into Whipsnade.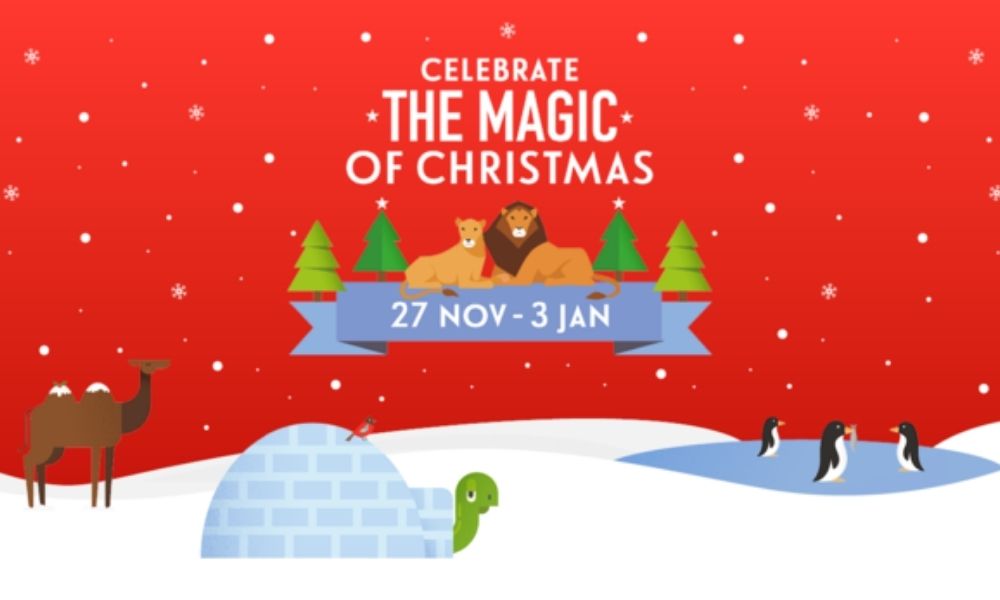 Harrods
Harrods Grotto 2021 (CANCELLED FOR 2021)
Dates: Tickets are usually released mid-November. The caveat is that you need to have spent at least £2000.00 in their store or be one of the 160 lucky families to get a ticket when they are released. This is out of a total of 4,400 tickets so the chances are quite slim.
Ticket Price: £20.00 per child.
Location: Harrods, 87–135 Brompton Road, Knightsbridge, London, SW1X 7XL.
Hamleys
Dates: 20th November to 24th December 2021. Tickets are very limited already.
Ticket Price: Up to 3 people – £45.00, 4 people – £60.00, 5 people – £75.00 and 6 people – £90.00.
Location: Hamleys, 188-196 Regent Street, London, W1B 5BT.
The National Gallery
Dates: Weekends 27th November to 12th December and then daily from 18th to 23rd December 2021.
Ticket Price: From £22.00 per child (under 12) including gift, adults and children 12+ – £12.00.
Location: National Gallery, Trafalgar Square, London, WC2N 5DN.
Selfridges
Dates: 4th to 22nd December 2021.
Ticket Price: From £50.00 per person.
Location: Selfridges & Co, 400 Oxford Street, London, W1A 1AB.
See also Storytime with Santa and Elf School.
The Strand Palace
Dates: 14th November to 24th December 2021.
Ticket Price: £25.00 per child (including gift), £5.00 per adult and £8.00 for a photo.
Location: The Strand Palace Hotel, 372 Strand, London, WC2R 0JJ.
Also just a short stroll from here is the Somerset House ice skating rink, one of the best places to go ice skating in London.
Alexandra Palace
Santa's Grotto at Alexandra Palace
Dates: 3rd to 23rd December 2021.
Ticket Price: £14.50 per child.
Location: Alexandra Palace East Court, Alexandra Palace Way, London, N22 7AY.
You might want to combine this visit with some ice skating too!
Royal Albert Hall
Storytelling with Father Christmas at the Royal Albert Hall
Dates: 2nd to 21st December 2021.
Ticket Price: Tickets go on sale on 15th October.
Location: Royal Albert Hall, Kensington Gore, London, SW7 2AP.
Broadgate Circle
Dates: This will not be taking place this year.
Ticket Price: TBC.
Location: Exchange House, 12 Exchange Square, London, EC2A 2BQ.
Fortnum & Mason
Storytelling with Father Christmas
Dates: Tickets have now sold out.
Ticket Price: N/A.
Location: Fortnum & Mason, 181 Piccadilly, St. James's, London, W1A 1ER.
Kew Gardens
Pop along to see the fabulous Christmas light trail and say hello to Santa along the way.
Dates: 17th November 2021 to 9th January 2022.
Ticket Price: Adult – £21.50 to £26.50, Child (4-16) – £14.00 to £14.50, Under 4 – Free.
Location: Royal Botanic Gardens, Kew Road, Richmond, Surrey, TW9 3AE.
Chelsea Physic Garden
Dates: 4th & 5th and 18th & 19th December 2021.
Ticket Price: £11.50 per child and £9.50 for an accompanying adult.
Location: Chelsea Physic Garden, 66 Royal Hospital Road, Chelsea, London, SW3 4HS.
Rainforest Cafe
The Rainforest Café is one of our recommendations for family-friendly restaurants in London and offers the opportunity to have breakfast with Santa in London. The breakfast lasts 90 minutes and includes a meeting with Santa and a goody bag for children.
Dates: 21st November to 19th December 2021.
Ticket Price: From £15.00 per person.
Location: Rainforest Café, 20 Shaftesbury Ave, London, W1D 7EU.
Hard Rock Cafe
Santa's Grotto & Breakfast with Santa
Dates: Santa's Grotto is taking place at weekends during December.
Ticket Price: Santa's Grotto is free – Breakfast with Santa has sold out but you can get on the waitlist.
Location: Hard Rock Café, Criterion Building, 225-229 Piccadilly, London, W1J 9HR.
Springtime Nurseries
Dates: 12th November to 24th December 2021.
Ticket Price: Children – £12.00, Adults – £4.00.
Location: Springtime Nurseries, Cattlegate Road, Crews Hill, Enfield, EN2 9EE.
National Trust
The National Trust has a few lovely properties in London that usually a meet Father Christmas experience. Make sure to check out their website to see what is going on this year.
These are the best places to see Santa in London in 2021 what else is there to do in London at Christmas?
Other things to do in London at Christmas
You might also want to just wander around and peruse the festive gifts in the London Christmas markets or marvel at the twinkling Christmas lights in London. These are some of our favourite free things to do in London at Christmas.
How about booking an ice skating session at one of the fabulous ice rinks in London?
If you fancy venturing out of London over a weekend, how about these Santa Sleepovers near London? We also have a post on festive Christmas breaks for families.
We also have a whole section on Christmas if you are looking for more festive days out this year, including details on the best Christmas markets in the UK and, if we can travel this year, the best Christmas markets in Europe!
Accommodation in London
Looking for the perfect, family-friendly hotel in London to complete your visit to London at Christmas?
Luxury
The Athenaeum Hotel & Residences – Located in Mayfair, this is a 5 star luxury aparthotel with a difference.
See also:
The Ritz – Located on Piccadilly near Hyde Park Corner.
The Rubens at the Palace – Located near Buckingham Palace.
St Ermin's – Located near St James's Park. They also do a fabulous afternoon tea for kids.
Mid-Range
Park Plaza County Hall – Located near the London Eye.
Budget
Premier Inn Waterloo – Located by Westminster Bridge near the London Eye.
Our favourite Travel Resources
Accommodation: Booking.com is our favourite choice for booking places to stay with their flexible cancellation policy and VRBO for their selection of self-catering rental properties.
Flights: Our go-tos for finding cheap flights are Skyscanner and Ebookers.
Insurance: Staysure is our go-to travel insurance provider. This link gives you 20% off your first policy if you mention my name: Jacquie Hale.
Tours and Activities: We find that GetYourGuide and Klook have the most comprehensive range of activities worldwide.
Airport Lounge Pass: For getting access to 1300 airport lounges in 600 countries around the world, use Priority Pass.
We would not be without: Our National Trust and English Heritage memberships.