30 Best Christmas Movies for Kids (Plus 2021 Releases)
It goes without saying that Christmas will be a very different affair for all of us this year, but at least we can rely on some heartwarming Christmas movies for kids to take us away from it all, even if just for an hour or two.
Watching a family Christmas movie is just one of our suggestions on how to have a virtual Christmas in case all of the Christmas events are cancelled this year.
We've always loved watching family Christmas movies, so in that respect it will be no different. There's nothing better than snuggling up as a family to watch a movie. We're looking forward to the new 2020 Christmas movies but we still love the classic Christmas films.
Here's our pick of the best Christmas movies of all time for kids (and check the details for the 2021 Christmas movies at the end).
This post contains affiliate links. If you purchase something from them, we may earn a small commission at no extra cost to you.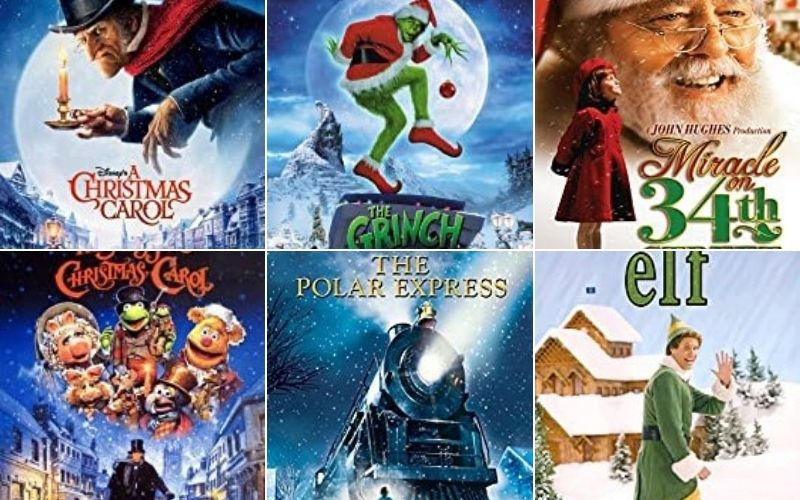 If you don't have Amazon Prime, you can start a 30-day free trial here.
The best classic Christmas movies for kids
The Polar Express
The Polar Express is one of the best animated Christmas movies. The movie is based on the book by Chris Van Allsburg in which The Polar Express stops at a little boy's house in the middle of the night. He jumps on board in his pyjamas and is whisked on a magical journey of self-discovery to the North Pole. The experience turns him from being a doubter into a believer and is incredibly heart-warming.
If you want to try to recreate this experience with your kids, there are Polar Express Train rides in the UK and the US.
How to watch: Amazon Prime
Miracle on 34th Street
When a department store Santa Claus gets drunk on duty, he is replaced by a lovely old man, Kris Kringle. He does such a good job at being Santa, that all the children in New York believe he is the real Santa. All except the daughter (Susan) of the director of special events for the department store who hired him.
Kris Kringle asks what it will take for her to believe (she wants a dad and a baby brother). The former drunk Santa tries to get revenge on Kris Kringle and events take an unfortunate turn for Kris before being righted and Susan being granted her wish.
How to watch: Amazon Prime
The Snowman
The Snowman is a short animated film based on the book by Raymond Briggs. A young boy builds a snowman who comes to life and flies him on a magical adventure to the North Pole to meet Father Christmas. There are no words during the movie, just the beautiful soundtrack including the hauntingly beautiful 'Walking on the Air' sung by a young Aled Jones. It is one of the best family Christmas movies of all time.
How to watch: All 4 | Amazon DVD
The best funny Christmas movies for kids
Elf
Elf is the story of Buddy the Elf (Will Ferrell). He was adopted by Santa's elves after climbing into Santa's sack by mistake one Christmas Eve when he was a baby. He is raised as an Elf but when he finds out about his adoption, he heads to New York to find his biological father.
He encounters a lack of Christmas spirit amongst the people he meets but his endless Christmas cheer is infectious and finally wins through – with a lot of laughs along the way.
How to watch: Amazon Prime
Home Alone
Home Alone is the story of Kevin, part of a large family, who accidentally gets left behind one Christmas when the whole family go on vacation. He makes his way back home from the airport and finds himself having to defend the home against burglers. He comes up with many cunning plans to keep them out. This is one of the funniest childrens Christmas films with so many pranks!
How to watch: Amazon Prime
Home Alone 2
The sequel to Home Alone finds Kevin once again accidentally alone, this time in New York at Christmas. Armed with his parents credit card, he checks himself into a fancy hotel room but it isn't long before he bumps into the same bumbling burglers from the first movie and creates more booby trap pranks to keep us entertained.
How to watch: Amazon Prime
Christmas with the Kranks
Luther and Nora Krank are the King and Queen of Christmas. Christmas is a huge (but costly) celebration for them every year until their daughter decides to leave home and join the peace corps. Instead of decking the house out with every Christmas decoration imaginable, they decide to use the money to go on a Christmas cruise instead.
At the very last minute their daughter decides to come home to celebrate Christmas and the Kranks are tasked with decorating their home at the eleventh hour. Can they do it?
How to watch: Amazon Prime | Netflix
National Lampoons Christmas Vacation
The Griswalds, known for their mishaps in previous National Lampoon movies, are back and are planning to have the best Christmas ever. Of course, it is filled with the usual mishaps, including causing a city-wide power cut after trying to install 25,000 Christmas lights on the house, a kidnapping, an explosion and a Santa sighting.
How to watch: Amazon Prime
The best Disney Christmas movies for kids
If you have a Disney+ subscription, there are plenty of Disney Christmas films for you to watch. Our favorite Disney movies are:
A Christmas Carol
Christmas just isn't Christmas without watching A Christmas Carol. There are so many version of it these days and they all follow the same plot (more or less) but some of them are more suitable for kids than others.
Based on the classic tale by Charles Dickens, the old, lonely and miserly Ebenezer Scrooge is visited by three ghosts; the Ghost of Christmas Past, the Ghost of Christmas Present and the Ghost of Christmas Yet to Come. Each one shows him snippets of his life portraying him as a mean old man – but will he change his ways?
How to watch: Amazon Prime | Disney+
The Santa Clause
When a father spots 'Santa' on his roof, he calls out startling Santa which makes him fall off. He disappears leaving behind his sleigh and his Santa suit with instructions to put it on. He and his son finish Santa's deliveries and then he's transported to the North Pole where the elves tell him that he is now Santa.
His toughest job will be convincing his doubting family that he is the real Santa.
How to watch: Amazon Prime | Disney+
Mickey's Once Upon a Christmas
The story of Huey, Dewey and Louie who rush to open their christmas presents without waiting for everyone else. They fail to notice an important note from Uncle Donald reminding them that Christmas is not just about presents, it is also about family. They go to bed wishing it could be Christmas every day – and their wish comes true.
After a few days, they are sick of Christmas and read the card from Uncle Donald. They vow to make amends and soon realise the true meaning of Christmas.
How to watch: Amazon Prime |Disney+
Mickey's Christmas Carol
This is the same tale as all of the other Christmas Carol movies but this one is perfect for kids with all of the favourite Disney characters starring. As kids Christmas movies go, this is a really lovely adaptation of Charles Dickens' classic Christmas tale that they are sure to love.
How to watch: Amazon Prime | Disney+
The Muppet Christmas Carol
The same goes for The Muppet Christmas Carol. If your kids love the Muppets, they are going to love this movie with all of their favourite Muppet characters telling the tale of Ebenezer Scrooge.
How to watch: Amazon Prime | Disney+
The Search for Santa Paws
Santa Claus gets hit by a taxi while visiting New York and loses his memory. His crystal that keeps him eternal is stolen and it's all up to his new friend, a puppy called Paws, to help save the day.
How to watch: Amazon Prime | Disney+
Frozen
Not technically one of the movies to watch at Christmas but all that snow and ice will get you feeling Christmassy and who doesn't love a good Frozen sing along?
How to watch: Amazon Prime | Disney+
The best animated Christmas movies for kids
How The Grinch Stole Christmas
How the Grinch Stole Christmas is the movie adaptation of the book by Dr Seuss.  It's a story of how the Grinch declares he hates Christmas after an unfortunate event when he was small. He becomes a mean recluse and wants to take revenge on the town folk of Whoville (who like Christmas a lot) by taking away Christmas.
His faith is restored after a heartwarming encounter with a little girl, Cindy Lou Who, and realises that Christmas means more than just gifts and he is welcomed back into the Whoville community.
How to watch: Amazon Prime | Netflix
The Star
The Star is a Christian animated comedy and one of the only Christmas movies for kids that tells story of the Nativity of Jesus through the eyes of a donkey named Bo.
How to watch: Amazon Prime
Klaus
A selfish postman and a reclusive toymaker form a friendship and help to deliver joy to a town that so desperately needs it. Possibly one of the most underrated Christmas movies for kids as we don't hear it talked about much. We love it.
How to watch:  Netflix
Arthur Christmas
Arthur, son of Father Christmas, discovers that a little girl's letter to Father Christmas was missed meaning she wouldn't get her present so he sets off on a mission to deliver it. For any inquisitive kids, the age old mystery of how Santa manages to deliver all the presents to the children at Christmas is answered in this family Christmas film.
How to watch: Amazon Prime | Netflix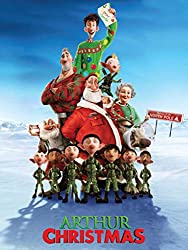 The Grinch
Not to be consfused with the other Grinch movie, How the Grinch Stole Christmas, this Grinch movie follows the same plot but is a computer animated version. It is just as lovely and the animations are amazing.
How to watch: Amazon Prime | Netflix
Santa's Apprentice
Santa doesn't want to retire but he must and he must find a replacement. The conditions are that the child must be called Nicholas and be an orphan with a pure heart. A little boy on the other side of the world is a perfect match and is chosen to be his apprentice.
There are a few mishaps along the way with his training, including Santa being arrested for kidnapping Nicholas, but it all ends well.
How to watch: Amazon Prime | Netflix
Feel good Christmas movies for kids
Christmas Chronicles
A brother (Teddy) and sister (Kate) attempt to catch Father Christmas in the act on Christmas Eve but their plans inadvertently cause Father Christmas to crash his sleigh. An adventurous journey ensues involving a few mishaps but ends with the children helping to deliver the presents on time and restoring Teddy's faith in Christmas.
This is one of the best Netflix Christmas movies. See also the new Christmas Chronicles 2 coming soon on Netflix.
How to watch:  Netflix
Fred Claus
Fred Claus, Santa's older, more self-centred brother, gets in touch with his brother Nick when he's in need of a loan. Nick agrees on the basis that Fred visits him in the North Pole and helps him out during the Christmas season. There's a bit of comedy as you would expect from Vince Vaughn, and each brother learns something from the other. It's an overall feed-good Christmas movie.
How to watch: Amazon Prime | Netflix
The Princess Switch
A Netflix original Christmas movie that provides all the cheesy Christmas cheer of a Hallmark classic. A talented baker (Stacy), heads to a baking competition with her best friend (Kevin) where she bumps into her doppelganger. The mysterious double, Lady Margaret, is actually due to marry a prince but asks Stacy to switch places with her so that she can experience a normal life just briefly before she marries.
Stacy ends up falling in love with the prince and Lady Margaret falls in love with Kevin – but they have to switch back two days later. Will it end happily ever after? Keep an eye out on Netflix for the Princess Switch 2 which is out this Christmas.
How to watch:  Netflix
Christmas movies for toddlers
If you're looking for family Christmas films that are more suited to toddlers, here are a few picks.
Curious George: A Very Monkey Christmas
Rudolph the Red Nosed Reindeer
A StoryBots Christmas Special
Old Christmas movies for kids
If you really want to transport the kids back, here are a few suggestions for some really old Christmas movies!
New Christmas movies 2021
Netflix is great for bringing out new Christmas movies. We find many of our family Christmas movies on Netflix. These are the new Christmas movies for kids on Netflix in 2021:
1000 Miles from Christmas (Released December 2021)
A Boy Called Christmas (Released November 2021)
A Castle For Christmas (Released November 2021)
The Princess Switch 3 (Released November 2021)
See more information about these Christmas movies here.
Other films to watch at Christmas
Although these are not Christmas related, these are some of the films that we loved to watch at Christmas when we were small so they remind us of Christmas and we love watching them with the kids now.
The Wizard of Oz
Charlie and the Chocolate Factory
E.T.
Do you have any others that remind you of Christmas? We'd love to hear them!
Remember to check back here for an update on the films on tv this Christmas when the schedule is released and take a look at our other suggestions for things to do at Christmas with kids.