The Magical Blenheim Palace Christmas Lights 2023
Spectacular, stunning and breathtaking are all words I have used when describing the Blenheim Palace Christmas lights to friends and family.
Maybe it was because we were giddy with excitement at being able to go to a Christmas event after lockdown restrictions eased, but the Blenheim Palace Christmas trail really blew us away.
It really is the jewel in the crown of all of the Blenheim Palace events and one of the best Christmas lights displays in the UK.
Here's a quick snapshot of our visit to give you an idea of what to expect from Blenheim Palace Christmas 2022.
The video will give you a much better idea of what to expect and really bring the beautiful sound and light show at Blenheim Palace to life.
This post contains affiliate links. If you click on one and book or buy something, we may earn a small commission but this is at no extra cost to you.
Where is Blenheim Palace?
Blenheim Palace is a beautiful, 300 year old World Heritage Site set in the Oxfordshire countryside. It is located just outside of Woodstock, only 8 miles from Oxford and about 60 miles from London.
It is ideally located for a day trip from London with kids.
Address: Blenheim Palace, Woodstock, Oxfordshire, OX20 1UL.
Can't get to Blenheim Palace right now? Take a virtual tour!
Visiting Blenheim from Hertfordshire? Here are some more ideas of Christmas events in Hertfordshire.
If you can't visit the Blenheim Palace Christmas lights at all because it is too far, there are lots of similar Christmas light trails all around the country. Just look up 'Christmas light trails near me'.
Some of the more famous Christmas illuminations are at Kew Gardens, Stourhead, Dunham Massey and Christmas at the Botanics in Edinburgh.
How to get to Blenheim Palace
By train
The closest train stations to Blenheim Palace are Oxford, Oxford Parkway and Long Hanborough and are served by Great Western Railway and Chiltern Railways.
Trains from London to Blenheim Palace depart from London Paddington and London Marylebone stations to the nearest stations to Blenheim Palace.
They take from around 90 minutes depending on the service. From the stations, there are several bus services running to the palace or you can take a taxi.
If you're looking for lovely day trips from London by train at Christmas, Blenheim Palace is a great choice.
Blenheim Palace offer 30% discount on Palace, Park & Garden tickets if arriving by train or bus. You can contact customerservice@blenheimpalace.com for your discount code to use when booking your train ticket.
By car
Blenheim Palace is located just off Junction 9 of the M40 (and is signposted from here). Use postcode OX20 1UL in your SatNav.
More information can be found on the 'Getting here' page on the palace website.
Parking at Blenheim Palace
Christmas at Blenheim Palace is a big affair with lots of visitors but don't worry – there is plenty of parking.
As you drive into the grounds through the main entrance you will see large parking areas on either side of the drive.
Parking costs £10.00 and you can add it to the price of your entry ticket (see below).
Blenheim Palace Christmas tickets
When you visit Blenheim Palace at Christmas you can choose to book the Blenheim Palace Illuminated Trail or The Kingdom of the Snow Queen – or both. Blenheim Palace Christmas 2022 ticket prices are:
Illuminated Trail ticket prices:
Adult: £25.00 (£35.00 with parking)
Child: £18.00 (Under 2 free)
Family ticket (2 adults & 2 children) with parking: £84.00
The Kingdom of the Snow Queen ticket prices:
Adult: £32.00 (£42.00 with parking)
Child: £18.50 (Under 2 free)
Family ticket (2 adults & 2 children) with parking: £94.00
Combined ticket prices are:
Adult: £57.00 (£67.00 with parking)
Child: £36.50 (Under 2 free)
Family ticket (2 adults & 2 children) with parking: £176.00
You can get your tickets here. Christmas at Blenheim Palace is on from 18th November 2022 to 2nd January 2023.
Just visiting Blenheim Palace? You can buy your entry tickets here (does not include Christmas extras).
The Blenheim Palace Christmas lights
I guess it should actually be called the Blenheim Palace Christmas lights and sound show to be more accurate because so many of the light displays are set to music.
Once through the main entrance, you'll see Christmas food stalls, fairground rides and then the palace itself. You'll be treated to Christmas music on a loop lasting around 8 minutes.
During this time, Blenheim Palace is lit up with a beautifully co-ordinated light show.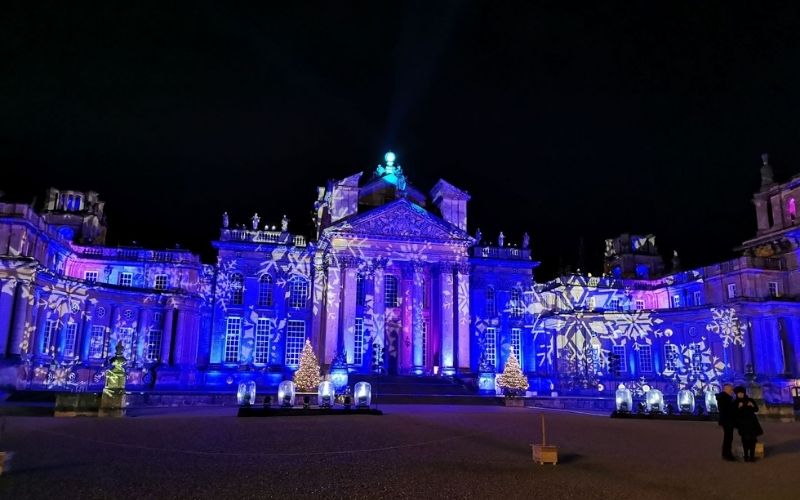 The Blenheim Palace illuminated trail doesn't actually start here. You walk on another 300 metres or so before you reach the start of the trail.
The ground is even and suitable for wheelchairs and pushchairs but it can get quite muddy in places.
The Blenheim Palace light trail will take you between one and two hours to take it all in, especially if you want to stop all the time to take photos.
There are over 1,000,000 lights in the display afterall! We visited with children aged 6 and 8 and it was just about the right distance for them.
Although the Blenheim Palace Christmas lights change each year, I don't want to give too much away so I'll only include a few pictures.
Highlights were the tunnel of light and the amazing sound and light show that cascades down the hill towards the waterfall.
And just to let you know, you might catch a glimpse of Father Christmas towards the end of the trail.
We thoroughly enjoyed seeing the Blenheim Palace lights. We are huge fans of Christmas lights and we were so impressed that we took a trip to London the following weekend – one of the best UK cities to visit with kids at Christmas.
We went to see the London Christmas lights and the London Christmas markets. They're our favourite things to do at Christmas in London with kids.
Final thoughts on visiting the Blenheim Palace Christmas lights…
The illuminated light trail is something very special to do at Christmas. We recommend booking in advance because tickets can sell out fast.
We also recommend wrapping up warm because it is all outdoors and wear appropriate footwear.
What else is there to see Blenheim Palace at Christmas?
In 2022 there will be the The Kingdom of the Snow Queen which will see the rooms throughout the palace transformed into a fairy tale land.
There are also a few vintage fairground rides at the Blenheim Palace Christmas fair and the Christmas market is returning for 2022.
If you are visiting during the day, don't miss out on the Marlborough Hedge Maze, the second largest hedge maze in the world.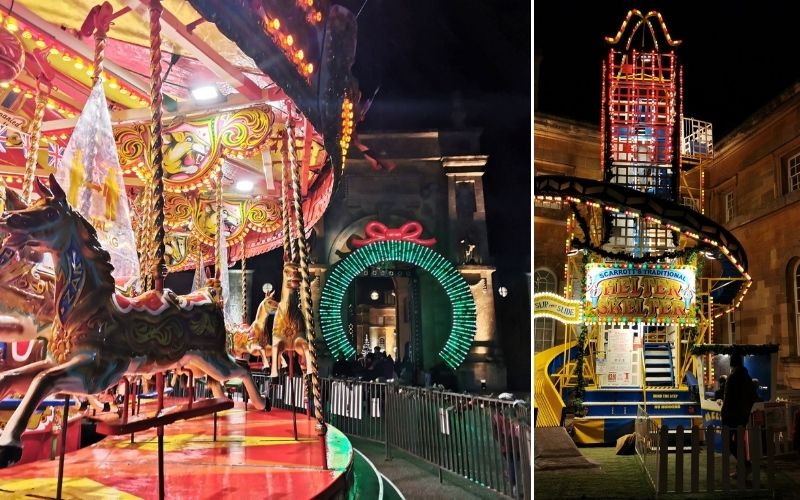 Food at Blenheim Palace
There are a number of snack stalls to choose from and they are located at various places around the palace grounds. The main places to get food are:
just outside the main entrance
just inside the main entrance
just at the start of the light trail
half way round the light trail
There are all sorts of snack foods available from burgers and fries to Make sure to grab a luxury hot chocolate or a mulled wine to warm you up after the walk.
Blenheim Palace accommodation
There is no accommodation at the Palace itself but here are a few options nearby if you are looking for somewhere to stay near Blenheim Palace.
Home Farm Cottage – 2 bedroom holiday cottage
Woodstock Manor House – 7 bedroom holiday home sleeping 18 people
Restaurants near Blenheim Palace
If you don't feel like eating the snack food at the palace, you can stop at one of the places to eat near Blenheim Palace before the light show.
We recommend the Killingworth Castle in nearby Wootton, one of the best pubs near Blenheim Palace.
Other things to do near Blenheim Palace at Christmas
If you are spending a few days in the area, we can highly recommend a visit to Oxford. It's one of the best cities in the UK to visit at Christmas.
You could also look into the Polar Express train ride at Cholsey and Wallingford. It offers one of the best Santa train experiences in the UK.
You might also like…