13 Things to Know About Visiting Iceland For The First Time
When visiting Iceland for the first time, you may have lots of questions. We certainly did! We wanted to make the most of our visit. We wanted to see as much of this incredible country as possible in the time we had and so we did a lot of research to make sure we had the best possible time.
The main questions we had were about when was the best time of year to go. We didn't want to go in the summer because of the crowds but would it be too cold in winter?
Would it be worth buying enough cold-weather gear to survive an Antarctic trek only to discover that the kids didn't like the cold? Would it be so expensive that we'd be eating pot noodles in our accommodation every day? (We actually found a bunch of ways to do Iceland on a budget.
If you're planning a trip to Iceland, make sure you read these 13 essential things you should know before you go which will help you avoid some of the mistakes we made.
Before you go, make sure to grab an Iceland travel guide to help with your Iceland trip planning. Here are some that we recommend.
This post contains affiliate links. If you click on one and buy something, we may earn a small commission, but this is at no extra cost to you.
1. Is Iceland in Europe?
Yes – but we're slightly embarrassed to admit that we had to Google this. It just seemed a lot further away than it actually is but being in Europe means that you can use your UK mobile data. The electricity sockets are standard 2 pin 220v. UK appliances would need these UK to EU travel adaptors. And in case you wondered, Iceland is not in the EU.
2. Iceland currency
Iceland is in Europe but the currency in Iceland is Icelandic Krona. Credit cards are widely accepted so there isn't really any need to have cash on you. Just try to use a card that doesn't charge foreign transaction fees and if you have a choice of paying in GBP or local currency when paying by card, always choose local currency as you will get a better rate.
3. Flights to Iceland
Iceland flights are only 2.5 hours from London to Reykjavik (Keflavik). You can find relatively cheap flights to Iceland from the UK particularly with Easyjet and Whizz Air who both fly from London Luton Airport to Keflavik.
If you're travelling from the US, Icelandair offers a great free stopover in Iceland on routes from the US to Europe. Why not break up your journey with a one, two, three or even a five-day stopover?
4. Weather in Iceland
Iceland lies just a few degrees south of the Arctic Circle and at certain times of the year, it can get very cold. Add to this the wind which can make it feel significantly colder.
Obviously you can dress appropriately to cope with the colder weather, but it might be tougher on little ones if they are visiting sights in the driving snow and wind.  Temperatures can range from -5 in the winter to +15 in the summer months (although it can reach the mid 20s).
5. Best time to visit Iceland
This is a personal preference. If you want to go to Iceland to see the Northern lights, you have a better chance during the winter. If you want to see the puffins, then you need to visit Iceland in the summer months.
We went to Iceland in October and we had a mix of wind, sun and rain but no snow. Temperatures ranged from -2 to +8ºC. The roads were clear. Summer months are pleasant but there are lots more tourists.
The days are short in the winter months with 4 hours of daylight on 21st December (winter solstice) and longer in the summer months with 21 hours of daylight on 21st June (summer solstice).
6. Driving in Iceland
The easiest way to get around is to drive yourself.  There are many tours but they are expensive and you are working to someone else's schedule which, if you have kids, does not always work so well as they usually have their own schedule.
If you stay on the Ring Road or the Golden Circle route (where you'll find Seljalandsfoss and Skogafoss, two of the most famous waterfalls in Iceland), the roads are very good. You should be able to get around in a normal 2WD during most of the year.
There is hardly any traffic on the roads. There are a few smaller roads that would require 4WD but this is not necessary for the main sights. We travelled to Iceland in October and opted for a 4WD just in case.
In Iceland, you drive on the right-hand side. The speed limit on main roads is usually 90km/h. There are speed cameras and police can catch you with a radar as they drive towards you. Many of the roads are long and straight with no traffic so don't be tempted to speed. The speeding fine is close to £400.
A big no-no is stopping in the middle of the road to take a picture of the spectacular scenery. As tempting as it is, it is very dangerous. You should also beware of other people suddenly stopping to do just this.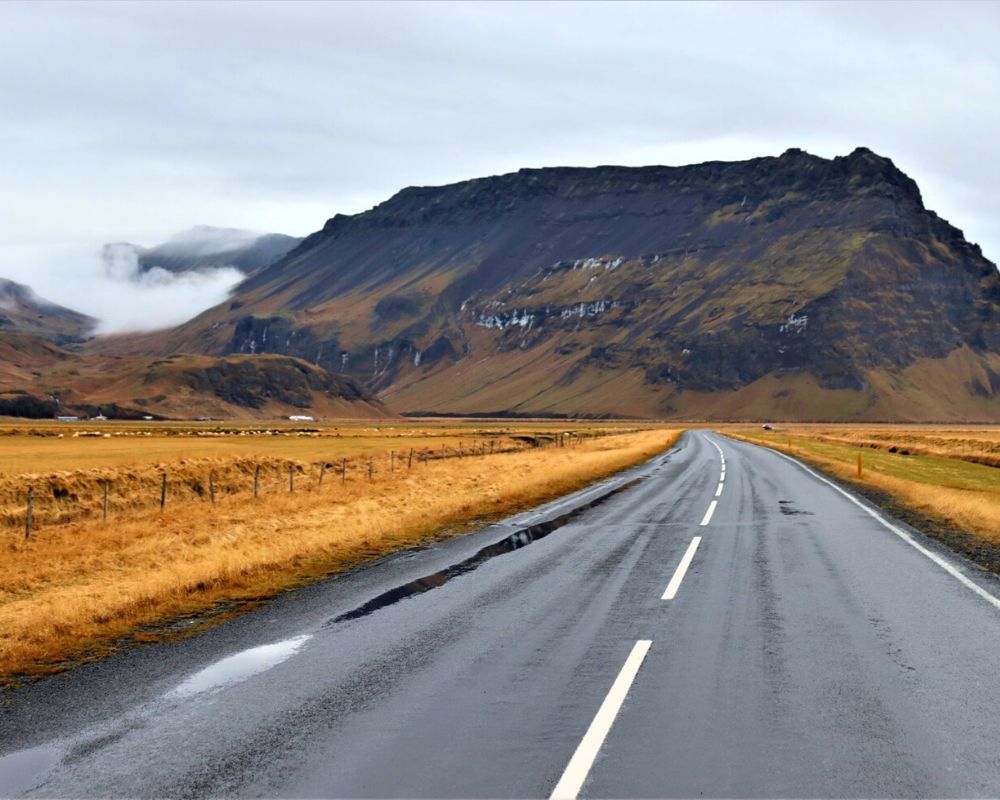 Ring Road in Iceland
7. Iceland Car Rental
There are many articles about hiring a car in Iceland, mainly about the number of scams people have encountered. We can confirm that the scams are a real issue, but being aware of them is key.


Our tips for car rental in Iceland are:
Check on RentalCars to compare car rental prices
The Dacia Duster is a good all-round 4WD and more economical than most
Hire your car from one of the car rental companies in the airport terminal. The companies in the terminal are Budget, Avis, Hertz and Europcar.
Make sure you take out extra insurance, either from the rental agency or with a third party. We prefer to use icarhireinsurance and we get an annual policy because we usually rent a car whenever we travel.
Take photos of your car when you first pick it up so you have a record of the damage. Make sure the damage is noted on the rental agreement.
Be careful opening doors on windy days. They have been known to suffer a lot of damage and this is very costly if you don't have full insurance cover.
Take photos of the car when you drop it off for your records in case you need it when back in your own country.
Leave extra time when dropping the car back for the company to check the car over and provide you with a final statement to make sure they don't add extra charges.
Read our car rental in Iceland post for more information.
8. Accommodation in Iceland
There is a great choice of accommodation in Iceland from hotels to farm stays, self-catering chalets to campervans. The hotels in Iceland are quite expensive, but if you book well in advance, you might find a good deal.
We spent our first two nights at Icelandair Hotel Reykjavik Natura. They had a deal offering free breakfast for the kids with a paying adult and a ISK 2500 credit towards food and drink.
It was just a little out of the centre of town next to Reykjavik airport (not the main Keflavik airport) and was friendly and cosy and their breakfast was outstanding. It was also a 3 minute drive into downtown, and a good option to explore everything Reykjavik had to offer.
We also stayed in The Garage in Vermahlio which was set on a farm between the famous Skogafoss and Seljalandsfoss waterfalls. It was a converted hay shed and very tastefully done with a well-equipped kitchen and washing machine and dryer which came in very handy after getting too close to the waterfalls. There was chocolate cake waiting for us in reception at check-in and they even had their own waterfall.
For a great budget-friendly option, we also stayed at Horgsland Cottages located between Vik and Hof. Going down the self-catering route is a great way to keep your overall budget down.
9. Crime in Iceland
This probably doesn't really deserve a section because Iceland is an incredibly safe country – but now you know!
10. Language in Iceland
English is widely spoken and there were times when we weren't even sure if someone was Icelandic because they seemed to switch between perfect English and to chat to each other. That's not to say you shouldn't try a polite hello or thank you in the local language.
11. Water in Iceland
The tap water in Iceland is perfectly safe to drink. Don't forget to take your refillable water bottle with you so you can fill up before heading out for the day. This will save you the expense of buying bottled water and will help the environment. We love our sturdy Camelbak bottles.
12. Eating in Iceland
Eating out in Iceland is expensive. There are no two ways about it. If you're a foodie, you'll find some great restaurants in Reykjavik serving up lovely, fresh, traditional food with a modern twist.
The emphasis is on seafood. Sadly our kids are not into seafood so we didn't try one of the recommended restaurants, The Fish Market, but we did eat out a couple of times whilst in Reykjavik.
For lunch one day we went to 101 Reykjavik Street Food and we can highly recommend it for a relatively cheap eat. We also went to Burro and had lovely Mexican Tapas. It's not cheap but is very tasty and they have a happy hour between 5 pm and 7 pm.
If you don't have the budget to eat out for the whole of your stay, make sure you book accommodation with self-catering facilities and prepare meals yourself. Despite what you may have heard, supermarkets in Iceland are not that much more expensive than the UK.
Make sure to pack a few snacks in your luggage to keep you (and more importantly the kids) going on long road trips.
13. Things to do in Iceland
Iceland is predominantly an outdoor country and people come to see its natural beauty. Be prepared to spend a lot of time outdoors visiting natural sights. The great thing is that most of the best things to do in Iceland are free (except for some hot springs). There is so much to do but these are the absolute highlights.
Iceland waterfalls
The most famous waterfalls in and around the south coast are Gullfoss, Skogafoss, Sejalandsfoss, but you can see smaller waterfalls all over the place. You may even be lucky enough to have a waterfall in the grounds of your accommodation.
Iceland Northern Lights
One thing to remember is that seeing the Northern Lights is never guaranteed, though there are forecasts you can check to improve your chances. Most large hotels in Iceland offer tours to see the Northern Light, and they will locate the best spots for seeing them on a given night. It also worth remembering that Iceland isn't the only place in Europe you can see the Northern Lights!
Iceland hot springs
Hot Springs are a thing in Iceland and we became huge fans. What better way to warm up after a chilly day of sightseeing? Things to know about hot springs: You must shower naked before you go into the springs. There are very hot patches where the hot water feeds into the pool. Keep the kids away from these areas as the water is scalding.
The most well known of all the hot springs is the Blue Lagoon Iceland but this has become very commercial and expensive.  We preferred the Secret Lagoon which was less commercial and less busy. There are hot springs dotted all over Iceland and some are free although most charge a fee.
As an alternative, you could try one of the municipal geothermal pools which have fantastic facilities. There are slides and various hot tubs and saunas. We loved the one at Hvolsvöllur and Laugardalslaug in Reykjavik.
Iceland beaches
The most famous beaches in Iceland are Reynisfjara next to Vik (otherwise known as the Black Sand Beach) or Diamond Beach at Jökulsárlón glacier lagoon where you will see lots of smaller chunks of ice that look like diamonds on the black sand.
If you have any other questions you'd like to ask, please leave a comment below and we will reply as soon as possible.
If you found this post useful, why not bookmark it, share it with friends or pin it?